Utila Island in Honduras is one of the world's top diving destinations – with down to earth staff, small groups & flexible schedules, find out why you're part of the family when you dive with Gunter's Ecomarine Dive Shop!

Location of Gunter's Ecomarine Dive Shop
From the pier, turn left & Gunter's Ecomarine Dive Shop is just a short tuk-tuk ride or 10 minute walk away.
Located in the neighbourhood of Sandy Bay, it's far enough from the traffic & noise in the centre of Utila, but still close to all the action.
Restaurants, cafes, bars & mini-marts are all within walking distance – besides, Utila is a small island anyway.
Best of all for us here at DIY Travel HQ, the beach is just a few hundred metres away!
Facilities at Gunter's Ecomarine Dive Shop
Gunter's Ecomarine Dive Shop is the only one in Utila without a shopfront on the main road.
The whole operations are run from a deck over the water, accessed via a wooden boardwalk.
Here, you'll find the main office with all the diving information & schedules.
There's also a classroom stocked with lots of great diving material, if you're taking a course or just want to brush up on your reading.
You can relax in one of the deck chairs or hammocks around the wrap-around sun deck – there's a small bar too.
There's no wifi at the Backpacker's Lodge so this is the place to get connected, in more way than one.
If you prefer real communication, it's also a great place to meet people – from the shop staff & divers to locals & expats, you'll always find someone friendly around to chat to.
The community vibes made Utila one of our favourite places to visit in Honduras.
Backpackers Lodge at Gunter's Ecomarine Dive Shop
The Backpacker Lodge run by Ecomarine is open to everyone but divers with the company can stay at reduced rates. It's located across the road from the dive shop & (well) behind Skid Row bar.
The Backpackers Lodge is one long cabin with 8 private rooms & 2 dorm rooms with 4 bunk beds each.
Toilets & showers are shared, and there's also a communal kitchen & fridge.
Our room was simple, clean & comfortable with a double bed, desk, fan, laundry line & hooks.
There's lots of space outside to hang your clothes or simply hang out on the deck.
Private room: $10.00 per room, $5.00 for divers
Dorm room: $4.00 per person, $2.00 for divers
Features of Gunter's Ecomarine Dive Shop
So what sets Gunter's Ecomarine Dive Shop apart from the rest?
Most affordable prices
Small group sizes for courses & fun dives
Social events – regular BBQ, movie & trivia nights
Honest opinions & feedback
Friendly, community atmosphere
Personable service
Flexibility in dive schedule
Kayak & snorkel rental available
PADI Courses & Fun Dives at Gunter's Ecomarine Dive Shop
Utila is known to be one of the least expensive destinations in the world to undertake dive training and Gunter's Ecomarine Dive Shop offers the cheapest PADI courses & fun dives on the island.
PADI Dive Courses
Open Water course:                $269.00
Advanced Open Water:           $269.00
Rescue Diver course:              $269.00
Emergency First Response:   $73.00
Dive Master course:                $650.00
* Includes materials, certification, dorm accommodation + 2 free fun dives (excluding Dive Master
Fun Dives
Discover Scuba Diving:           $85.00
Night dives:                               $45.00
Fun Dives:                                 $35.00 (discounts for multiple dives)
Wreck, Nitrox, PPB, S&R, Naturalist & Deep dives also available.
Diving with Gunter's Ecomarine Dive Shop
We really enjoyed the laid-back approach to diving with Gunter's Ecomarine Dive Shop.
There's flexibility with dive schedules, which we appreciated in the rainy season.
We didn't feel pressured into committing to any dives, even when we were already out on the water – after one of our 1st morning dives, the visibility wasn't very good so we didn't want to dive again & that wasn't a problem.
If you have certain dive sites in mind or sea-life you've got your heart set on, let the dive crew know & they'll try their best to make it happen.
One of the other divers really wanted to see a frogfish & the divemaster just so happened to know where one was – sure enough, we not only found it but had the best dive of the day.
The relaxed atmosphere did not come at the expense of safety.
In fact, I felt more comfortable & secure because I was never rushed, in or out of the water.
The divemasters assisted me with my equipment, briefed us on each site and there were roll-calls before & after each dive.
As an Open Water diver, I also had my own dive master when I was diving with Advanced or higher level divers.
Unlike other centres, Gunter's Ecomarine Dive Shop doesn't operate like a "dive factory".
Their boats hold a maximum of 12 people but often only 4-6 people go out – the smaller groups allow more personalized attention.
You can also have a good amount of input into where & when you want to dive or if you're like us, you can just leave it to the experts.
Tara (the owner) says it best:
"We never treat our divers like a number. We pride ourselves on personal and professional service, reliable and comfortable boats and revealing the best diving Utila has to offer."
Diving on Utila
Beautiful Caribbean Seas surround the lovely island of Utila, which is just 11km long & 4km wide.
It's the smallest of the 3 major islands that form The Bay Islands in the Mesoamerican Barrier Reef, the 2nd largest in the world.
Utila is a diver's paradise of soft coral, tropical fish, sea fans, deep walls & sea mountains. It's also a haven for macro creatures such as the seahorse, pipefish & nudibranch.
Spotted eagle rays, lobsters, barracudas, moray eels & dolphins are commonly spotted, while whale sharks, hammerhead sharks & manta rays occasionally make an appearance.
According to Tara, the top 4 dive sites are:
Ted's Point
Black Hills
Maze
Duppy Waters.
CJ's Drop Off, Airport Caves, Labyrinth and Great wall are also highly rated by the crew.
Other Things to See & Do in Utila
Swim at Chepes Beach (free) & Bandu Beach ($3.00)
Take the free ferry across to Neptune's beach & restaurant for great food & snorkelling
Kayak to the Cays
Stand up paddleboarding
Hike up to Pumpkin Hill for great views of Utila
Explore fresh water caves
Visit the crash site of a drug smuggling plane
How to Get to & from Utila
Utila Dream is the only ferry operator from mainland Honduras to Utila:
Ferries from La Ceiba to Utila depart at 9:30am & 4:00 pm everyday.
Ferries from Utila to La Ceiba depart at 6:25am & 2:00 pm everyday.
Price: Lps/575.00 each way (approx. $25.00) – no discounts for return tickets
Duration: approx. 1 hour each way
Utila Dream runs ferries from Utila to Roatan on Friday, Saturday & Sunday, departing Utila at 10:45am & arriving in Roatan at 1:00pm.
Gunter's Ecomarine Dive Shop Contact
Managers:   Tara & Steve Dankewich
Phone:         + (504) 2425 3350
Email:           [email protected]
Website:      Gunter's Ecomarine
Did you enjoy reading Dive in Utila with Gunter's Ecomarine Dive Shop?
Pin it and help others find it too!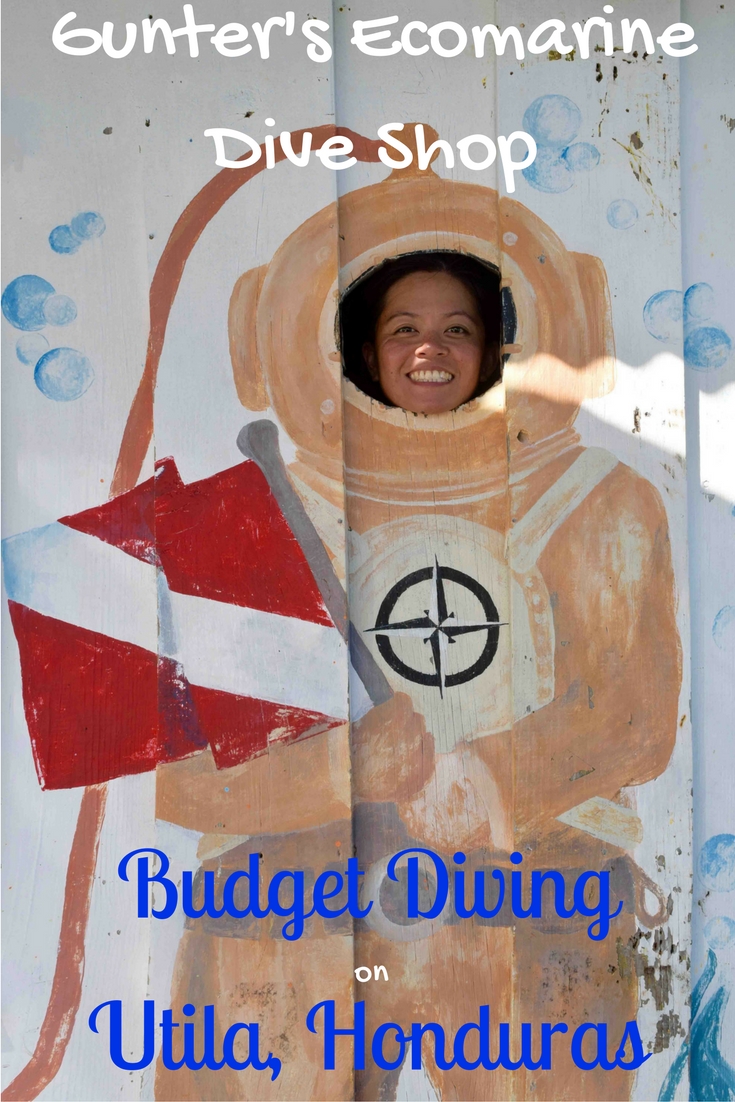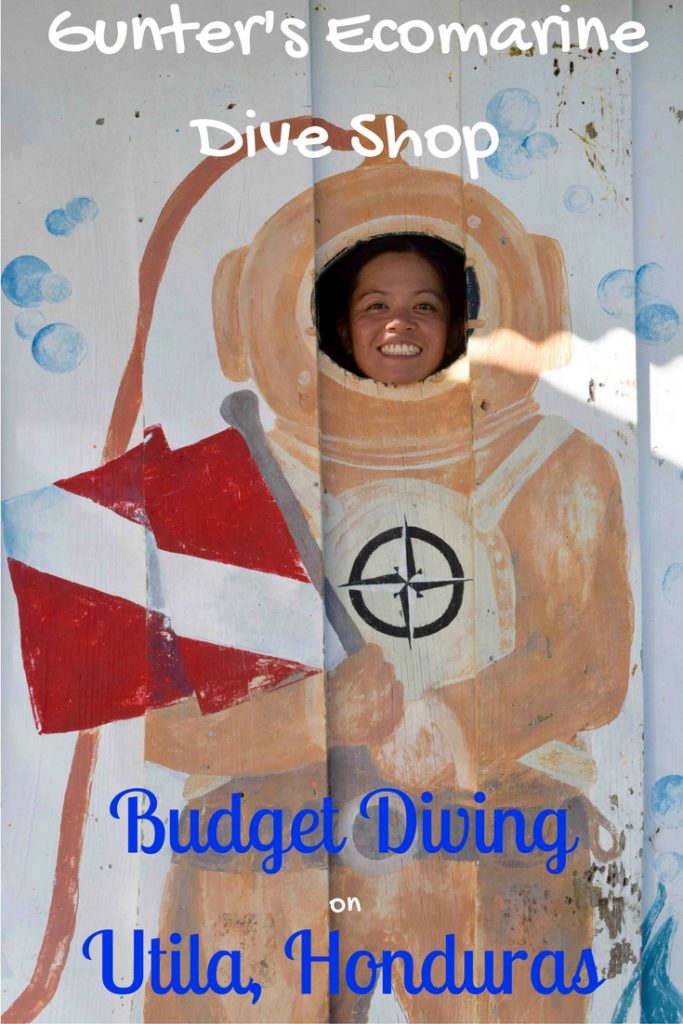 *** The Final Word: Gunter's Ecomarine Dive Shop is the only one in Utila that feels like a family *** 
Do you dive? Where did you learn to dive?
[put_wpgm id=194]
* Thank you to Tara & Gunter's Ecomarine Dive Shop for hosting us!
Visited in November 2016