From accommodation & food to facilities & activities, find out everything you need to know about staying at the rustic Glovers Atoll Resort, Belize.
Glovers Atoll Resort isn't for everyone – there's no electricity or running water & that's only the beginning.
But for a rustic desert island experience, you can't beat the 360-degree Caribbean sea views.
DIY Travel HQ reporting – we're here to help you decide if Glovers is the right island vacation for you or if you should look at other places to visit in Belize. 
That's why I'm writing this from a wooden bench & table, sipping on a coconut, right on Glovers Atoll Resort itself.
Check out our full review, read & see for yourself!
* Don't forget to purchase travel insurance before any trip to Belize. We've been using World Nomads for over 10 years – it's the best-value provider we've found but there are important things to consider. Check out our post & find out which of our claims were successful or denied.
Boat Ride from Hopkins to Glovers Atoll Resort
We arranged a taxi in Hopkins the night before, $10 to Sittee River Guest House for departure to Glovers Atoll Resort.
Solutions Guesthouse, where we stayed, wanted a crazy $30 & Funky Dodo's across the road charged $15.
The ride from Hopkins to Sittee River took 20 minutes.
The other guests were already there at 8:30am – a family of 5 from Denmark, a family of 4 from the US & 2 friends travelling together from the US & Ireland.
The adventurous families chose Glovers Atoll Resort as an excellent diving holiday for kids.
We loaded the boat/catamaran with our stuff & joined the waiting game.
The scheduled departure time for the boat was 9am but it wasn't until 10am that the Glovers crew arrived.
We departed around 10:15am. 
The first stop was the Marina for the boat to fill up with gas & to collect diesel for the island. We stopped here for about 15 minutes.
There are toilets & convenience store, but expect to pay 2-3 times more for soda, beer, chips, snacks, etc.
You can rent a cooler from Glovers for $15 – ice is priced per shovel ($2?), which will be put in here at the marina.
Keep in mind that the coolers are extra large in size so it's going to need a lot of ice. If you're going to rent one, bring enough drinks, meat, fish, etc. to justify the expense.
Together with the 13 of us, there was also a group on Belizean students going to the island to learn to dive as well as the captain's family of 4.
So around 25 people in total + 2 dogs – one of which got seasick twice…
The boat ride took 3 hours. There's a covered seating area but you can sit almost anywhere. It'll be hot, wear sunscreen.
The trip was long & uneventful. You can get to know your fellow islanders or watch the waves roll on & on & on…
Arriving on Glovers Atoll Resort
When we finally reached Glovers Atoll Resort we got off the boat & formed a single line – everything on the boat was unloaded & passed down the chain.
Then we were given a brief tour of the island by the owner's daughter & daughter-in-law, Erin. Everyone broke off to choose their bungalows, cabins, dorms or camp sites.
We returned to the main reception/restaurant area of the island, where the owner Becky gave us a rundown on the island & all the activities & services on offer. From snorkels & kayaks to wi-fi & fresh bread, everything is itemized & comes at a cost.
We were given free water & watermelons as we listened, and a photocopied manual on the island to take away.
We wrote our names in a receipt book – we were to list any purchases or rentals here & finalize the tab by Friday 4pm.
Finally, we had to pay a $15 marine park fee for the World Heritage Site Glovers Marine Reserve that surrounds the island – there were Fisheries officers waiting for us.
Then you're on your own – we were set loose on the island to make of it as we chose.
Glovers is not a serviced resort – you won't have anything to do with the staff members unless you seek them out or need to ask questions.
It's very different from mainland Belize where people are very friendly & always say hello when passing.
The workers are there to help if you need them but it's clear that they're also paid to work, not to socialize with guests.
Glovers Atoll Resort Review
You don't need to worry about cleanliness on the island.
The toilets & showers are well-maintained.
The grounds are neat & tidy – there are always workers walking around, picking things up, raking or making repairs on the bungalows.
Some rubbish has been piled up in the middle of the island but they're mostly out of sight. There are little bits of rubbish on the shore.
Day & night, it's quite windy. There were some rains & storms. You might need some warm clothes at night, especially if you plan to sleep on the hammocks.
The prices on the island for meals & rentals are very high but come prepared & you can minimize your costs. We camped, brought all our own food & drinking water, used coconuts for cooking water & had our own snorkeling masks.
Our only costs for the week were $109 for the camping/transport package & $15 for the marine park fee + the costs of the groceries & water we brought.
If you have the time, Glovers is a great option.
Where else in the world can you camp on a private island for $109 a week?
You have free use of the kitchen & there's walk-in snorkeling literally on your doorstep, just bring your own food & mask.
Accommodation on Glovers
Over-the-water Bungalows – $328 (6 nights incl. return boat transfer)
The over-the-water bungalows consist of a double bed, bunk bed, hammocks, table & chairs.
The "kitchen" area is also inside the room, which is a large table with a 2 stove burner, pots, plates & cups.
The furnishings are wooden & basic.
The room feels quite cramped – throw in 4 people, luggage & food, and it's very tight.
You have an outside deck which goes around the bungalow with deck chairs, providing much-needed extra space & a nice spot to relax & stare out at the sea.
Cabins – $274 (6 nights incl. return boat transfer)
The stilted wood-and-thatch cabins have the same basic layout: a wooden double bed & bunk bed in a room on the top level.
It opens on to deck with hammocks facing the sea.
On the bottom level is your own kitchen, which makes it a lot more spacious & better value that the over-the-top bungalow.
Dorms – $164 (6 nights incl. return boat transfer)
There are 2 dorm rooms above the communal kitchen.
Each room has a double bed & a set of bunk beds. It's small & cramped.
You also have an upper deck with 2 hammocks.
Camping – $109 (6 nights incl. return boat transfer)
You can pitch your tent anyway on the island.
The best spot is behind the camp fire so you're still close enough to the kitchen & toilets.
Best Accommodation Option / Value For Money
Camping or sleeping in a dorm is the best value for money on Glovers Atoll Resort. We camped & there was no-one staying in the dorm, meaning we got the big communal kitchen to ourselves.
There's not much of a price difference between the cabins & over-the-water-bungalows but they both have pros & cons:
With the cabin you aren't on the water but you get your own kitchen, separated from your room.
With the bungalow, you get to be over the water but your kitchen is inside your room, making the space feel even more cramped.
Usually most places charge by the room but at Glovers the price is per person. For 1 person, a cabin or bungalow is great value but less so for 2 or more people, especially if you are a family & sharing the 1 room – the price is 50% less for kids under 12 staying in the same cabin.
For families with older kids, consider splitting up, taking 2 cabins (some are joined by the 1 walking deck) & everyone having more space. Better still, why not have the kids stay in the dorms & experience the best of both world's, while being easier on the wallet?
Keep in mind that at the bungalows, you'll have to walk back & forth to collect well water (there are only 2 spots on the island). You'll be doing dishes out of buckets either in your kitchen inside your room or outside your deck – the other accommodation options have an outside kitchen to use.
Although it might not be good value for money, the bungalows are affordable & Glovers may be the only opportunity you'll ever have to stay over-the-water.
Water on Glovers Atoll Resort
There's no fresh water on the island. You're expected to use drinking water for cooking, or coconut water. There's brown well water from the ground that's used for cleaning dishes, showers & washing your hands at the sink.
We have a LifeStraw water filter bottle which we use everywhere but that wouldn't have been suitable on Glovers.
We took a 5 gallon (19L) container of water, which we bought in Hopkins for $2.75 – on the island, the same price gets you just less than 1 gallon of water ($2.75). There's a $7.50 deposit, which you get back when you return the container.
If there's 2 of you, we recommend taking another 5 gallon container so you don't have to ration your drinking & also have enough for cooking, brushing your teeth or even cleaning dishes if you like.
There are black rainwater tanks around the island but you're not allowed to use any of it.
Kitchens on Glovers Atoll Resort
If you're staying in a cabin or over-the-water bungalow, you'll have your own kitchen. Dorms & campers share a larger communal kitchen.
Adequate pots & plates are provided but if you're a family, you may not have enough cutlery – for example, the communal kitchen for use by all campers & up to 8 people in the dorms had only 3 forks, 3 spoons & 1 knife.
If there's something you're missing, just raid the kitchens of the empty cabins & bungalows, or ask your fellow guests.
There are chopping boards, sharper cutting knives, a kettle, spatula & ladle.
Absolutely no condiments are provided. You'll need to bring your own salt, sugar, oil, etc. if you don't want to rely on borrowing from other guests
You'll be given 2 tubs for doing dishes, one for cleaning & one for rinsing.
You need to collect water from the ground well – we filled our tubs with water from the shower. Add one capful of the bleach provided to each tub.
No washing detergent is provided.
A sponge is provided but you might like to bring a clean, new one. A tea towel for drying or cloth for wiping the table would also be handy.
Oil burners are provided.
The moon may also be quite bright depending on when you're there but a headlamp is handy to have too (for cooking, eating, going to the toilet at night, etc).
Showers & Toilets on Glovers Atoll Resort
There are 2 toilet blocks on the island, each with 2 individual toilets.
It's a solid cabin structure that you climb stairs to reach.
The cubicles are large, the seat is raised – if you're short like me, you're have to jump up a little!
They're pit toilets so after you've finished your business, throw a cup of bark chips in the hole.
There's another bin for toilet paper, don't throw it down the hole. Toilet paper & air-freshener is provided.
There are 2 showers on the island.
It's a simple wooden stand-alone cubicle. The water comes out of an open hole. There's a wooden bench outside to leave your things on, etc.
Both sets of showers & toilets are located near each other, with a wash basin between them. It's operated by a foot lever.
The water is slightly brown & salty, I would recommend brushing your teeth with drinking water. No hand soap is provided.
Food on Glovers Atoll Resort
If you don't want to cook, meals are provided on Glovers:
Breakfast – $12
Lunch – $12
Dinner – US$18; lobster US$22
French bread & banana bread is baked every Tuesday & Thursday – put your orders in the night before.
French bread is $5 a loaf
Banana bread is $8 a loaf
We didn't eat there so we don't know what they consist of but the food has great reviews on TripAdvisor. Personally, we found the prices very expensive compared to the mainland (we travelled in Belize for 2 & a half weeks).
You can also buy fresh fish to cook yourself. They can be very generous with what they give you per pound. The prices are:
Cleaning is $4.50 a pound
Filleting is $7 a pound
If you want to cook on the island, you need to plan for 6 breakfasts, 6 lunches & 6 dinners. 
Bring snacks & water for the 3 hour boat ride there & back, not including waiting time.
There are several supermarkets & fresh fruit stalls in Hopkins where you can buy everything you need.
Coconuts on Glovers Atoll Resort
All the coconuts on the island are free, eat & drink as much as you can.
On first impressions, there appear to be an endless supply.
And that there is – but most of the good ones on the ground have been taken, the coconuts left are old & rotten & the ones in the trees are too high to reach.
If you want coconuts, you're going to have to work for them.
First, make things easy for yourself & scout the grounds of the islands. Then, look for a tall stick to use to knock coconuts down from trees.
There are a couple of ladders scattered on the island, use them to get to the coconuts on shorter trees.
Generally, the coconuts in the trees are to drink, the ones on the ground are to eat.
Green coconuts are fresh & ripe.Light brown/yellow coconuts will probably contain water.
Peel on the iron bar by the burn piles and use a knife to take the coconut flesh out.
You might need to use the machete. There's also a grating station.
We didn't want to use our drinking water so we used coconut water for cooking: boiling rice (making delicious coconut rice), coconut curry.
You can also use coconut water as a source of drinking water.
Activities on Glovers Atoll Resort
A large portion of your time will be spent preparing & cooking breakfast, lunch & dinner. This includes collecting & opening coconuts for boiling water & cooking by lantern.
You need to collect water from the ground well for washing dishes – we filled our tubs with water from the shower. We changed water daily.
Without running water or electricity, basic tasks take a lot longer.
If you're energetic or have the cash for it, the rest of your day can be filled with fishing, kayaking, diving, snorkeling or swimming. We went for a snorkel at least once a day.
In your down time, spend time in hammocks reading or taking naps 🙂
There's a book exchange & a few board games available in the reception area.
If you don't have your own equipment, snorkel masks & fins can be rented:
Snorkel: $5 a day or $18 for the week
Fins: $5 a day or $18 for the week
Snorkelers can join dive trips for $15 for a single tank dive or $25 for a 2 tank dive.
There are 3-4 main snorkelling spots around the island – go towards the white buoys.
There's no close walk-in snorkelling, which was disappointing. You have to swim a fair way out. There you'll see some decent coral, not many fish or big fish – I would rate the snorkelling good to very good, not excellent.
The snorkelling tour we took to Hol Chan Marine Reserve from Caye Caulker was much better.
Diving
We were looking forward to diving but the prices were a lot higher than previously advertised on the website or on the many posters plastered up across Belize:
Shore dive w/ equipment – $26
Boat dive w/ equipment – $49
If you're looking to do a lot of dives & have your own gear, bring it – you'll pay around half-price.
One family went diving & said it was excellent.
3 hours of trolling with a guide is $150 + gas at $6 a gallon, split with other fishermen.
You keep the fish which is usually bonito tuna, barracuda, king fish, wahoo, tuna jacks, snappers, etc.
You can do drop fishing.
You can bring you own kayak to the island for $30 or they can be rented:
3 hour rental – $20 per peson
Day rental – $30
Weekly rental, single kayak – $125
Weekly rental, double kayak – $150
Lost paddles are charged at $100.
Kayaks are good to take further out in the sea, anchor & snorkel – particularly if you're not a great swimmer. You could also fish from the kayaks.
In the evening around 6pm, the Glovers fishermen clean fish at the dock & plenty of nurse sharks & rays come to feed on the fish blood. 
They are well accustomed to this schedule so even if there's no cleaning, you'll still see nurse sharks & rays in the water at the same time every evening.
The water is shallow at the dock but you can swim with them.
Reef sharks also sometimes come in – if you see one, get straight out of the water.
At night, you can start a bonfire at the pit near the dorm cabin & kitchen.
Build the fire with coconut palms & empty shells.
The husks catch on fire quickly but burn fast too, so to keep the fire going, you'll need to continually feed it.
We wish we brought marshmallows!
Wildlife on Glovers Atoll Resort
We had the best wildlife watching experience on our first night at around 9pm.
We were lying on hammocks near the beach & heard a lot of sand shuffling.
We shone our headlights & saw a huge old turtle digging in the sand!
She was preparing to lay her eggs! She didn't like this particular spot as after awhile, she moved to another spot.
We watched the turtle do snow angels with all 4 of her flippers as she prepared her space.
Then she started digging into the sand, using her back flippers, one at a time, as scoops, to make a hole.
It was incredible to see.
She did this for a long time, digging down as deep as she could.
Unfortunately, she was also digging up many other turtle eggs that she had either buried earlier & forgotten about, or some other turtle's eggs.
They were in exactly the same spot as she was digging in so it seems like they were her own eggs.
She seemed completely oblivious as she kept digging up eggs & crushing them in the sand as she was moving her flippers around.
Finally, after she had dug as deep a hole as she could, she started dropping her eggs.
She must've laid dozens, they just kept coming – now we understood why she needed such a deep hole. It was a very beautiful experience.
When she had finished, the mother turtle sighed & took a break.
Then she covered up the hole with sand & used her whole body to smooth over the entire area.
Then, without so much as a backward glance, she made her way back out into the sea & we made out way back to our tent.
The whole process took around 1.5 hours & we felt very privileged to have witnessed the experience – it was much better than releasing sea turtles at Barra de Santiago in El Salvador.
The next night, around 7pm, another turtle came right up to one of the cabins & started the same process of laying eggs.
If you're lucky enough see turtles laying their eggs on Glovers, observe with an unobtrusive red headlight. I took a few photos, the turtle didn't like the light from the flash & froze each time.
On the island, hermit crabs are everywhere – you'll find them in all shapes & sizes, they can get very large.
The owners have 4 dogs that roam the island but they are very calm, quiet & relaxed.
There are few ants, no mosquitoes but plenty of very annoying sand flies & I also got stung by a few large horse flies.
On the plus side, you don't need to worry much about your food being eaten by animals.
Reception Area/Restaurant on Glovers Atoll Resort
In this area is the restaurant & staff kitchen where meals are prepared.
If you are missing a few ingredients, you can check to see what's available – groceries are charged at cost price + 20%.
If you're staying a 2nd week or longer, you can also order groceries at cost price + 20%, without having to leave the island.
There's also a book exchange here & a few board games.
There's no computer but wi-fi is available. $4 for 15-30 minutes or $25 for the week – don't expect any fast service. You can charge your electronics in the evening & night when the generator is on.
If you're taking any dive courses, your classes will be in here.
There's a whiteboard where you put your name down for meals, bread, diving & fishing.
Keep track of your expenses in the receipt book & settle your bill by Friday 4pm.
Glovers Guest House on Sittee River
You're asked to check-in Glovers Guest House at Sittee River on the Saturday before departure to confirm your stay but this isn't necessary or recommended.
The Guest House is basic & far away from everything. There's nothing to do, though you can use their kayaks for free & paddle around the river. If you do choose to stay there, bring all your own food (unsure if there are cooking facilities though), entertainment & insect repellent.
If you need to go to a supermarket on restaurant, a taxi to Hopkins will be at least $10 each way.
Rates at Sittee River Guest House, per person (add 12% tax):
Private cabin – $19
Private room w/ shared bathroom – $12
Bunkhouse – $9
Camping – $4
The 3rd night is free – but you're already going to be spending a week off the grid at Glovers Atoll Resort, do you also want to do it by the side of a mosquito-infested river?
Staying in Hopkins
We recommend staying in Hopkins before going to Glovers Atoll Resort.
The people are very friendly but there's nothing to do in Hopkins & the beach is not very nice, so 1 night is enough.
There are a few supermarkets & a couple of fruit & veg stores – one is a stall & the other is an air-conditioned store. The prices are similar. The supermarkets also stock some produce. Fresh stock comes in every Friday.
Remember to buy your water here – a 5 gallon container is $2.75 + a $15 deposit, which you'll get back when you return the container.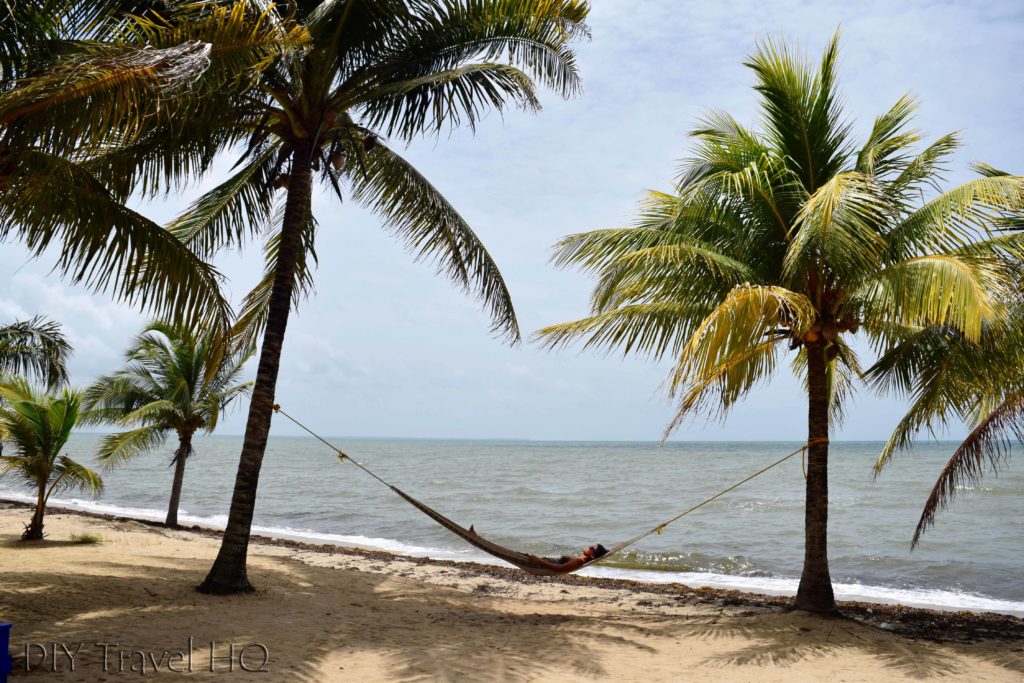 Things to bring on Glovers Atoll Resort
Essentials:
Enough water for drinking & cooking
Lighter for cooking & starting a fire
Headlamp
Snorkel mask
Optional:
If you're a germ-a-phobe or money/luggage room is not a problem for you, these will help make your stay more enjoyable:
Sponge
Dishwashing Liquid
Hand wash
Peler
Paper towels
Cleaning cloth
Leaving Glovers Atoll Resort
The boat back to Hopkins departs quite promptly on Saturday, 7am.
It takes 2.5 hours to reach the Hopkins marina, from where the trip ends – unless you've left your rental car at Glovers Guest House in Sittee River, in which you take the boat for another 30 minutes.
From the marina, Glovers can organise a taxi to take you back to Hopkins village – there were 8 of us so a van was arranged, the driver wanted to charged a steep $7.50 a person for the short ride. We protested & he reduced it to $5 a person.
If you have a hotel or resort booked in Hopkins, ask if they can pick you up for free.
We recommend Booking.com for the best rates & selection of accommodation in Belize. Make a booking with our link & receive $20 back on your card after your stay.
That's it from us! Interested in starting your own travel blog? See How You Can Set Up a WordPress Blog in 15 Minutes at Bluehost.com
Did you enjoy reading Glovers Atoll Resort: The Full Review? 
Pin it and help others find it too!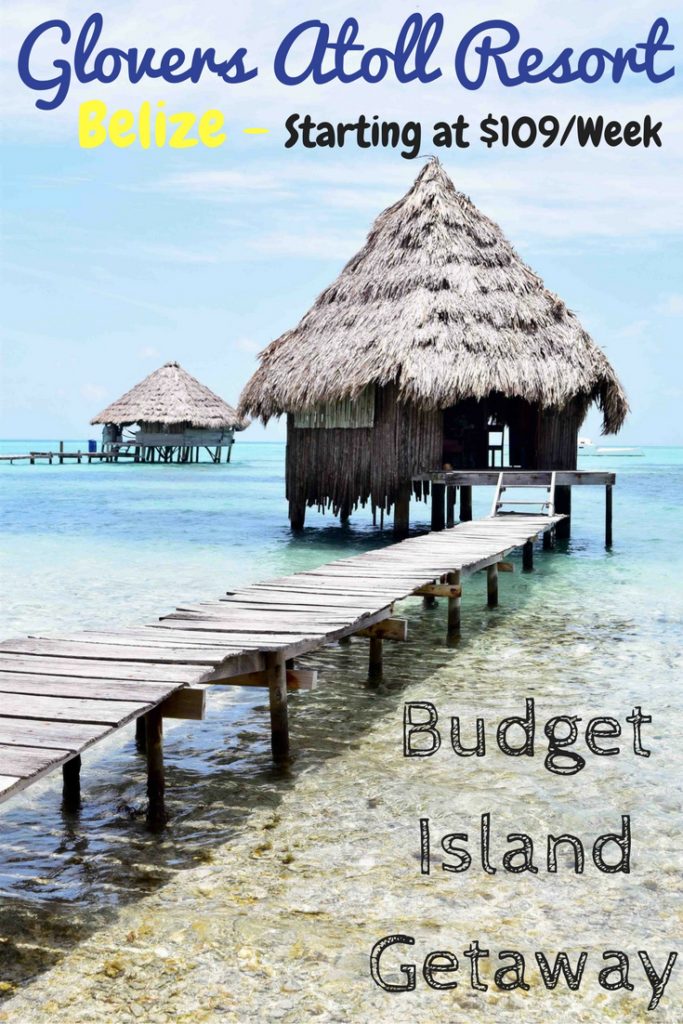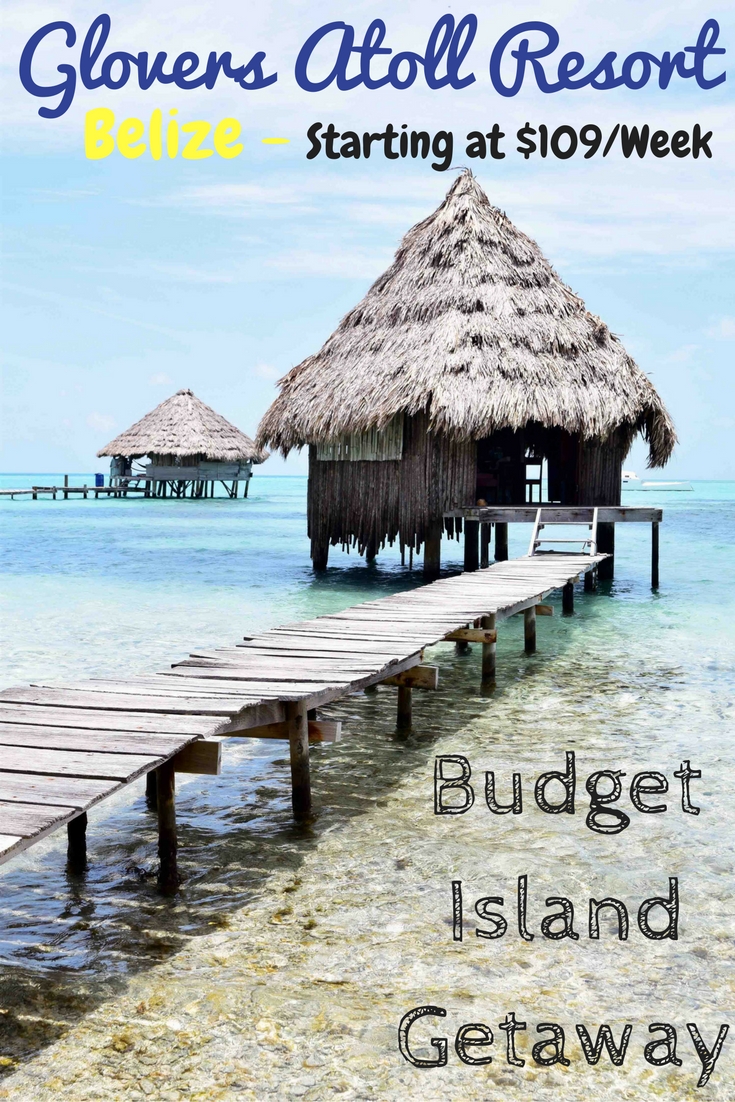 *** The Final Word – Everyday tasks take a lot longer without electricity or running water.
Everyday becomes repetitive fast & you can easily become bored.
Glovers Atoll Resort is best for those on longer travels through Central America, especially camping or staying in a dorm, where the investment in time & money is not as great.
If you're flying into Belize just for Glovers, for your 1 holiday for the year, you may want to consider something more convenient or comfortable ***
Is there possibly anything else you'd like to know about staying at Glovers Atoll Resort?!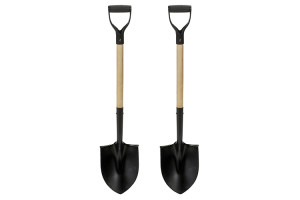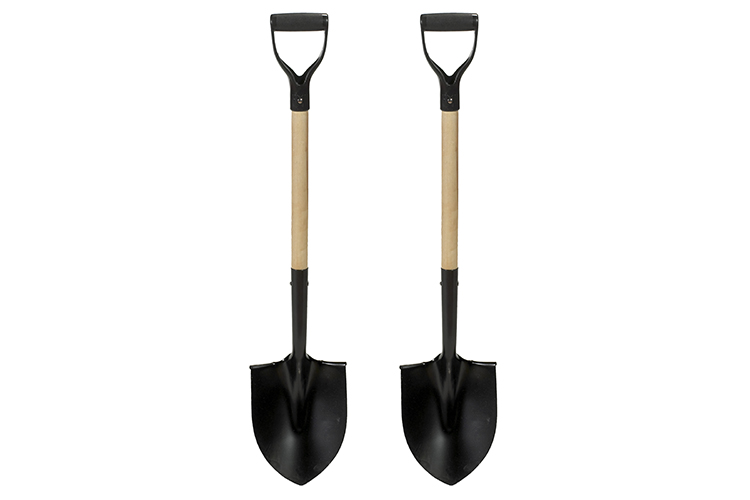 Not recommended DIY travel; take a tour instead
* For consistency, all prices are listed in US dollars but they're interchangeable with Belize dollars – BZ$2 = US$1. Supermarkets in Hopkins will list prices in Belizean dollars but also accept payment in USD. Glovers Resort lists prices in USD but accepts payment in both currencies.
Visited in July 2016