Gila Cliff Dwellings National Monument, New Mexico is one of the few places where you can still walk through 13th century Native American cave ruins. Find out what else you can see and do at this amazing park!
Things to Do in Gila Cliff Dwellings National Monument
Gila Cliff Dwellings National Monument, New Mexico is famous for the Native American cave ruins. You can also visit several hot springs in the nearby Gila Wilderness Area, and camp for free. Let's find out all the things to do in Gila Cliff Dwellings National Monument.
Gila Cliff Dwellings Hike
For most tourists, a visit to Gila Cliff Dwellings National Monument is all about visiting the cliff dwellings, naturally. Luckily, this is an easy one mile loop trail. The bad news is that the hike only takes an hour, and the drive takes 1.5 to 2 hours each way from City of Rocks or Silver City.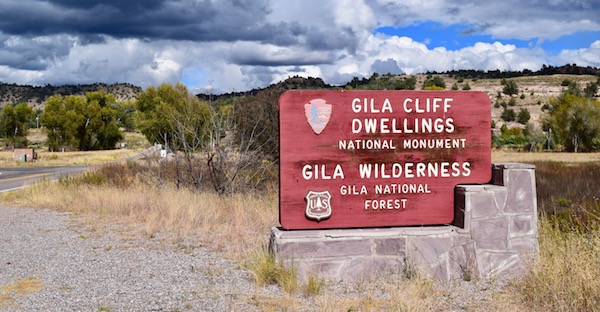 The easy one mile loop trail to the Gila Cliff Dwelling is best approached in a clockwise direction. This knocks off the 180 foot elevation change in the beginning, and allows some views of the cliff dwellings you might miss hiking the other direction.
Once you cross the bridge spanning a creek, you walk deeper into the canyon until you zigzag up the switchbacks. Towards the top are two different vantage points that take in both cave entrances that are linked inside.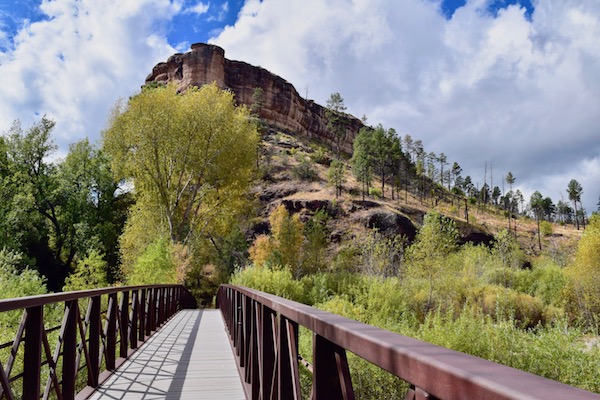 The structures you are viewing were built in the 13th Century by the Mogollon Culture. Despite being nomadic, they decided to base themselves along the Gila River for roughly 20 years during a drought before moving on again.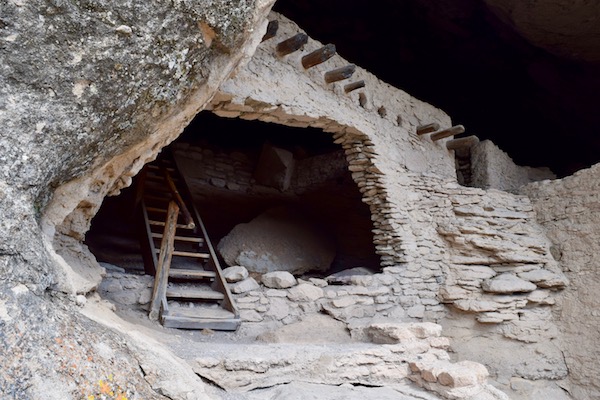 Follow the steps inside to start exploring their dwellings, and appreciate their stonework. The first section is rather sparse, but the second half is the highlight where you can climb ladders or view through windows for better vantage points.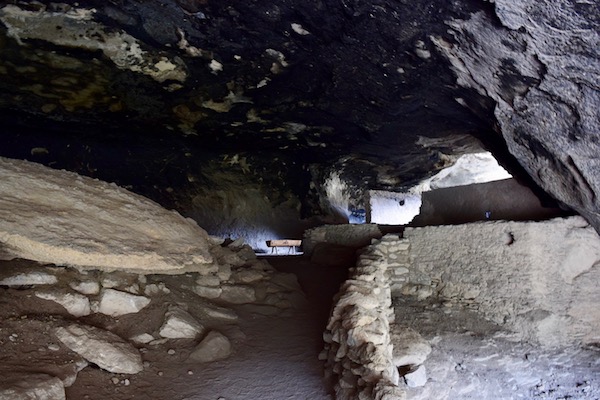 When you are ready, return to the beginning to descend the stairs, or climb down the wooden ladder. You then follow the trail back to the bridge.
Gila Wilderness Area Hot Springs
There are both public and private hot springs around Gila Cliff Dwellings National Monument, New Mexico. The Middle Fork Trail near the Gila Visitor Center grants access to both public Light Feather and Jordan Hot Springs.
Light Feather Hot Springs is a short walk, while Jordan Hot Springs is a longer hike. Assuming you find them, the hot water can help soothe your aching muscles.
Light Feather Hot Springs
While we were at Gila Cliff Dwellings National Monument, Sheena and I tried another short trail that leads to Light Feather Hot Springs. We did find our own lackluster hot spring, but failed to find Light Feather Hot Springs.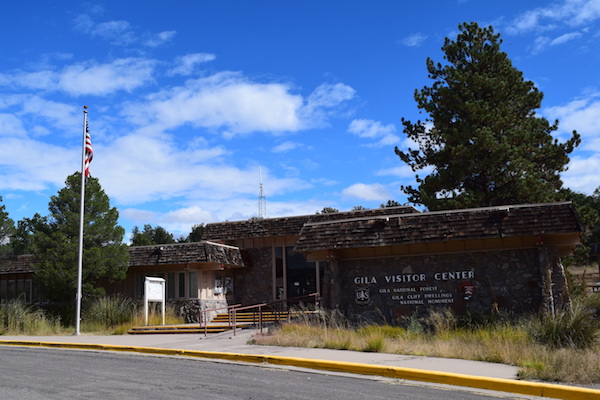 Light Feather is ¾ of a mile past the trail head by an unusual rock grouping. Looking at pictures online, the area is marked by a circular group of rocks in the river. We did not see that, but we did find a small, uninviting hot spring on the edge of the Gila River. There are several river crossings along the way.
Jordan Hot Springs
If you have the time and energy, visiting Jordan Hot Springs may be worth a long hike. Plan on camping at Gila Cliff Dwellings for a night. Personally, I would say the best use of your time would be to hike inside the Gila Cliff Dwellings and combine the rest of your day visiting City of Rocks and Silver City.
Continuing on from Light Feather Hot Springs, you can reach Jordan Hot Springs after another 8.5 miles and dozens more river crossings. Alternatively, you can hike Little Bear Canyon until it meets Middle Fork, and then continue for another 2.5 miles for a total of 7 miles one way.
The Jordan Hot Springs are located on the right side of the canyon above a mossy area. In order to make sure you didn't hike all day for nothing, download Maps.me and the local map before arriving since there is no cell phone service in the park.
If you choose to visit either hot spring, plan on multiple river crossings and be prepared for a full day of hiking with proper food and gear. In order to save weight, we like to bring LifeStraw that filters water whenever and wherever we need it.
Although the US is a relatively safe country to travel in medical costs are high so we always recommend purchasing travel insurance before any trip. We've found World Nomads to be the best provider in term of price and coverage and we haven't had any issues on the few occasions we've had to make (fortunately) minor claims.
For more details check out our World Nomads review here.
Gila Cliff Dwelling National Monument Entrance Fee
Admission is $10 per person, but we strongly suggest buying the America the Beautiful National Park annual pass for $80. It not only covers admission to per vehicle attractions, but up to 4 people at per person sites. The investment can easily pay for itself with just a couple National Park visits.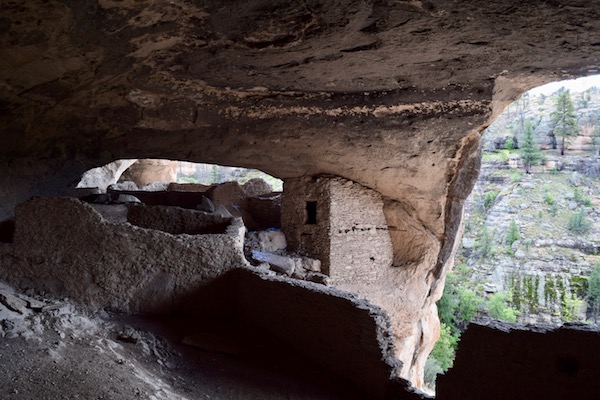 You can purchase the annual pass or daily admission at the Gila Visitor Center. You may also place your sealed envelope with payment into a lock-box at the start of the Gila Cliff Dwelling trail. A park ranger is stationed at the entrance to answer any questions.
Gila Cliff Dwellings Camping
Gila Cliff Dwellings camping is only worth it if you are hiking to Jordan Hot Springs, or on a tight budget since the campsites are free! Otherwise, there aren't too many things to do in Gila Cliff Dwellings National Monument to warrant staying longer than a day trip.
All four campsites are first come, first served and have vault toilets. The two better options are the Upper and Lower Scorpion Campgrounds since they have tables, grills, and potable water nearby.
The nearest big city for non-campers is Silver City, which is 45 miles or a 1.5 hour drive away. There are around 15 places to stay starting from $50-60 at motels.
Airbnb has more options, though there aren't any hostels.
Gila Cliff Dwellings Nearby Attractions
Visiting just the cliff dwellings takes roughly 5 hours for transportation and hiking. Try to combine this with a visit to City of Rocks and Silver City. Below is a quick synopsis though we also recommend picking up a guide book to plan your journey.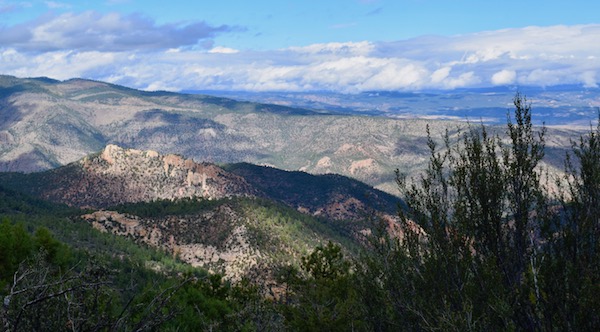 City of Rocks has several clusters of weathered rocks that are great for kids and kids-at-heart to explore and play inside. You can also use this as a regional base since there are around 50 campsites to stay at with an on-site shower.
It is possible to explore Silver City in 1-3 hours. Start at the visitor center where there is a replica cabin where Billy the Kid used to live, head over the bridge, and explore the downtown. Don't miss views of Chino Mine when leaving. There are also affordable hotels and many stores to stock up on supplies before or after visiting Gila Cliff Dwellings National Monument.
Find more inspiration in one of the New Mexico guide books below!
Know Before You Go
Gila Cliff Dwelling Hours: Visitor Center is open from 8:30 am to 4:30 pm; Trail is open from 9 am to 5 pm
Gila Cliff Dwelling Entrance Fees: $10 per person, per day
Duration: 4-6 hours including driving to/from Silver City
Camping: Free on a first come, first served basis
Nearest Large City: Silver City is 45 miles or a 1.5 hour drive away
Website: National Park Service
Phone Number: (575) 536-9461
Disclaimer: This post contains affiliate links which means that we receive a small commission if you click on a link and purchase something that we've recommended, at no extra cost to you.

Visited in October 2018
Updated August 2019