From temples & museums to markets & lakes, there are many free things to do in Yangon – find out the top 10 attractions in Myanmar's largest city.
Like Canada, Australia, Brazil, South Africa and Turkey, the capital of Myanmar is often mistaken to be its largest and most famous city, in this case – Yangon.
At least that's the mistake we made here at DIY Travel HQ.
Indeed, it was a former capital (largely under its colonial name Rangoon) and though superseded by the city of Naypyidaw since 2005/2006, Yangon remains the country's most important economic and collective centre.
The number #1 attraction in the city is undoubtedly the dazzling Shwedagon Paya – that costs 8,000 kyat / $8.00 in 2014 to visit but there are many free things to do in Yangon.
Keep reading to find out why Yangon is one of the best places to visit in Myanmar!
Top 10 Free Things to Do in Yangon
If Shwedagon is the heart of Yangon, then Sule is its definitive downtown meeting point, socially and politically, as evident from its rallying role in the 1988 demonstrations and 2007 Saffron Revolution.
Sule is a 46m pagoda said to contain a hair of the Buddha. It also serves as a traffic island and shrine of worship.
Around the chaotic circle, one can also change money, purchase bus tickets and surf the net, making it a convenient one-stop shop for one's spiritual and consumerist necessities.
Sule Playa Entrance Fee: Foreigners $3.00, locals free
This Reclining Buddha rests in a large shed with a six layered roof of corrugated iron sheets, hence it is also commonly known as the Six-Storied Pagoda.
It was first built in 1907, and then renovated in 1966 with donations solely from Buddhist and foreign visitors, the names of which are inscribed around the figure.
During this time, 5m were added, bringing the total measurements of the Buddha to 65m in length and 16m in height.
Chaukhtatgyi Paya Entrance Fee: Free
Around the pagoda are several monasteries, housing monks and nuns.
A "World Peace" pagoda built for the 1954-56 Sixth Buddhist Synod celebrating the 2500th year anniversary of Buddha's enlightenment.
Modern and circular, it measure 34m both in height and diameter.
Kaba Aye Paya Entrance Fee: Free
The "Great cave" is also a man-made one, situated across from Kaba Aye Paya, and similarly, constructed specifically for the Sixth Buddhist Synod.
Within the enormous cavern, the main hall measures 67m long and 43m wide, with a capacity of 10,000 people.
The high ceilings and cool grotto-like temperatures adds to the cold, artificial mood and indeed, it is now used for religious ceremonies, meetings, conferences and Buddhist examinations.
Haha Pasana Guha Entrance Fee: Free
#5. Bogyoke Aung San Museum
This 1920's colonial villa was the last residence of General Aung San before his assassination in 1947.
It was also the childhood home of his 3 children, including Aung San Suu Kyi, with the small lake where his second son drowned.
The house is still in its original state with memorabilia of books, furniture, family photos, portraits and clothing on display.
It was established as a museum in 1962 but under past military policy it was only allowed to be opened once a year, Martyr's Day on July 19th.
This ban was lifted in 2012 and it is now open Tuesday-Sunday, 9:30am-4:30pm.
Bogyoke Aung San Museum Entrance Fee: Foreigners, 300 kyat. Locals free.
#6. Aung San Suu Kyi's House:
No. 54 University Avenue, where the Nobel Peace Prize laureate was housed arrest for 15 of the 21 years between 1989-2010.
No entry permitted.
#7. Holy Trinity Cathedral
Myanmar's main Anglican church, built between 1886-1894.
Holy Trinity Cathedral Entrance Fee: Free
#8. Bogyoke Aung San market:
This is a sprawling covered market where you can find a large selection of souvenirs & handcrafts, as well as local food options inside & outside.
It's also a good area to see some of Yangon's decaying but fascinating architecture, a throwback to it's days as a 19th century British colonial capital.
Bogyoke Aung San Market Entrance Fee: Free
Kyauktawgyi Pagoda houses the Lawka Chanthar Arbayar Laba Muni Buddha image, carved from a single piece of flawless, white marble rock.
It measures 11m long, 7m wide and 3m thick, built in 2000 & is located at Mindhamma Hill, Insein Township, approximately 16km from downtown Yangon.
Kyauktawgyi Pagoda Entrance Fee: Free
Close to Kyauktawgyi, it is home to an Elephant House with 3 rare, white elephants: Rati Marlar, Theingi Marlar and Yazagaha Thiri Pissaya Gaza Yaza.
Hsin Hpyu Daw Park Entrance Fee: Free
Other Free Things to do in Yangon:
Ngahtatgyi Paya
Ah Lain Nga Sint Paya
Botataung Paya
Maha Wizaya (Vijaya) Paya
Kohtatgyi Paya
Me La Mu Paya
Swe Taw Myat Paya
Yau Kyaw Paya
Kheng Hock Keong (Chinese temple)
Moseah Yeshua Synagogue
National Museum
Martyr's Mausoleum
Yangon Zoological Gardens
Myanmar Gems Museum and Gems Market
Kandawgyi Lake
Inya Lake
Accommodation in Yangon
Okinawa Guesthouse #2 is a real hostel, a Myanmar rarity. It boasts a fantastic location just off Sule Pagoda, with the original Okinawa #1 down the road.
Dorm w/ shared bathroom, wifi & daily changing breakfasts: $10.00
Photo courtesy of Travelfish.
How to Get from Yangon to Kalaw
The approximate departure times for the bus from Yangon to Kalaw are 5pm, 6pm, 7pm.
The bus costs 10,500 kyat / $10.50 & takes approximately 10 hours.
If you're planning a trip to Myanmar, check out our post on our 3 day trek from Kalaw to Inle Lake!
Did you enjoy reading Top 10 Free Things to do in Yangon?!
Pin it and help others find it too!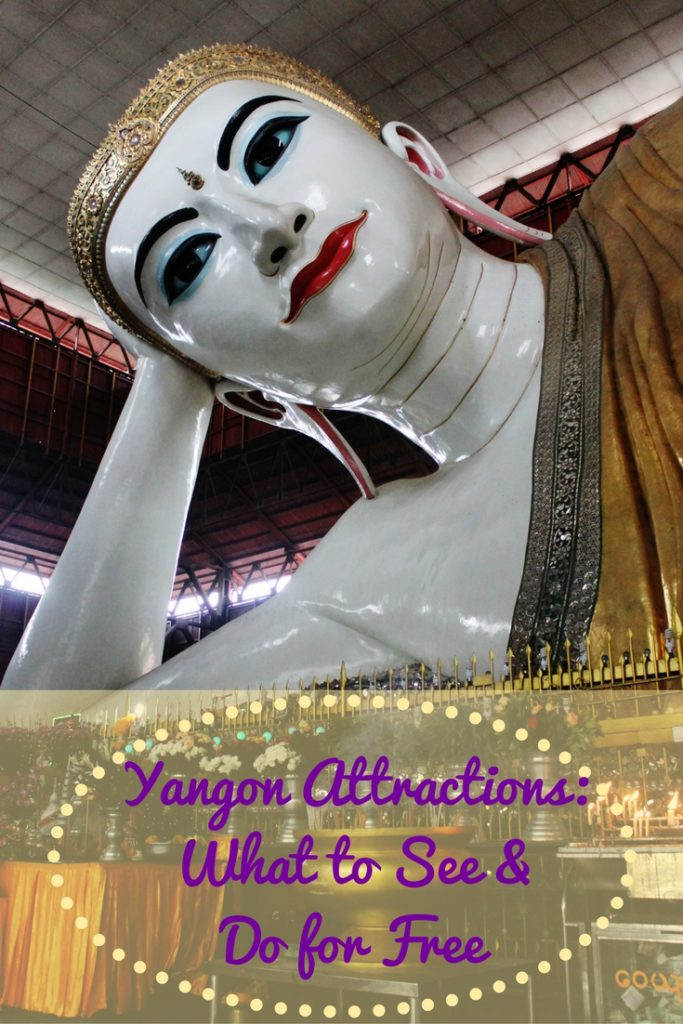 *** The Final Word – Apart from Shwedagon Pagoda there are no standout sights but there's still enough of sightseeing free things to do in Yangon for 1 or 2 days ***
Beside Shwedagon Pagoda, what's your favourite attraction in Yangon?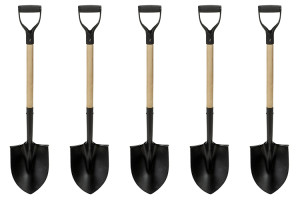 Super easy DIY travel around city centres
Visited in June 2014