From temples & museums to lakes & markets, there are many awesome things to do in Yangon – find out the top 35 attractions in one of Asia's most underrated cities.
Yangon is definitely the biggest city in Myanmar but many travelers are surprised to find that it's not actually the capital. Indeed, it was a former capital (largely under its colonial name Rangoon) but that title has been with the city of Naypyidaw since 2005/2006.
Still, Yangon is the beating heart of the country and where most visitors begin their visit. In this post we'll cover: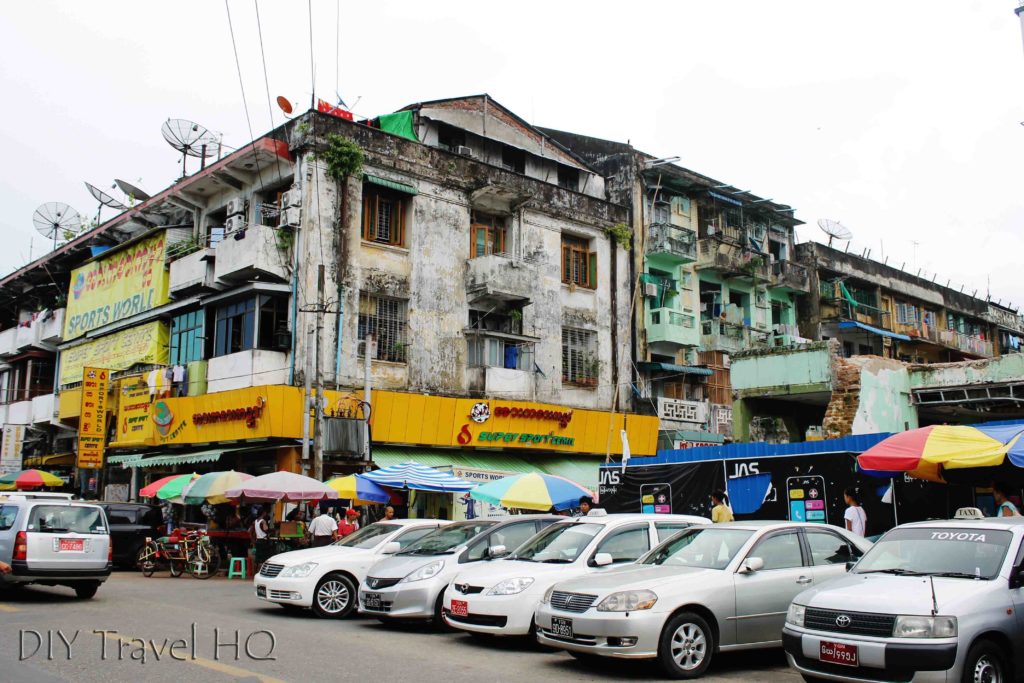 Things to Do in Yangon
Wondering what to do in Yangon? We've got you covered from the big tourist sites to the more off-the-beaten path activities. We've also listed some fantastic places to eat and drink as well as places to visit around the city.
Most temples and Yangon attractions are free for locals but require a small entrance fee from foreigners. Even if you're backpacking in Myanmar, you'll find Yangon sightseeing to be very light on the wallet.
Pick up a guide book and keep reading to find out why Yangon is one of the best places to visit in Myanmar…
Top 12 Places to Visit in Myanmar
From South to North, our Myanmar itinerary will take you overland across the top 12 places to visit in the Land of the Golden Pagoda!
Read more
#1. Shwedagon Pagoda
If you visit only 1 temple in Myanmar (which would be really hard!) make it Shwedagon Pagoda. Situated on the top of Singuttara Hill, you can see it from almost every point in Yangon. The main golden dome rises 99m high with lots of smaller shrines and stupas around it.
You can enter Shwedagon by stairs, escalators or elevators. Move clockwise around the complex, in accordance with Buddhist tradition. You'll see many buddha statues, bells and pavilions along the way. We also recommend visiting the Golden Rock near Bago which said to be perched on a lock of the Buddha's hair.
Shwedagon is not only a site of worship and prayer, but it's also a place of art, history and architecture. Don't miss out on of the most beautiful temples in Asia.
Shwedagon Pagoda Entrance Fee: 10,000 kyat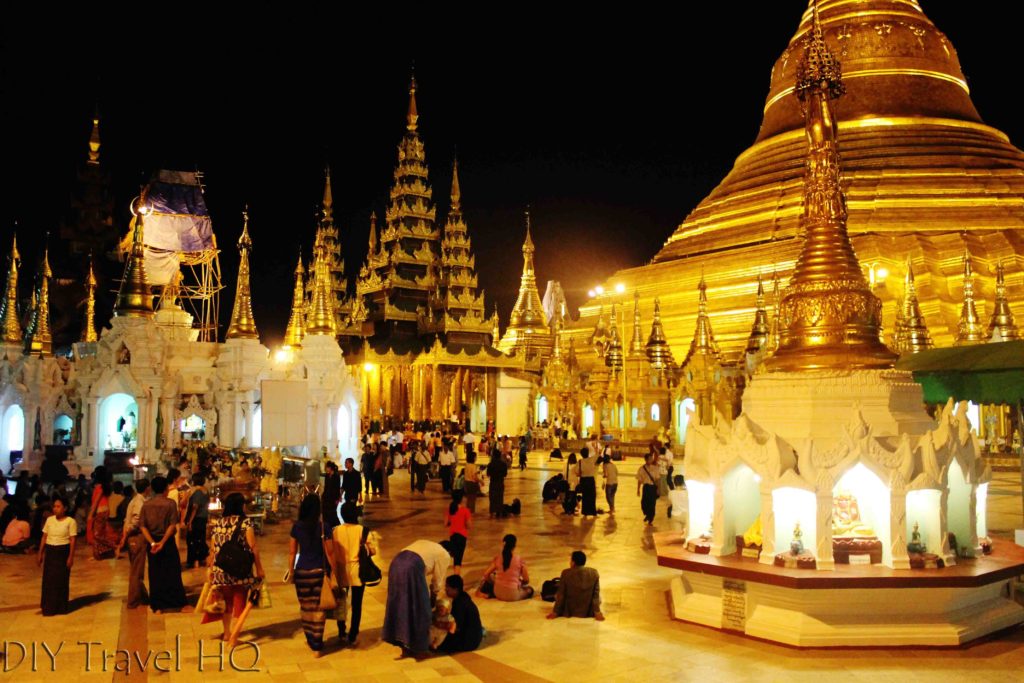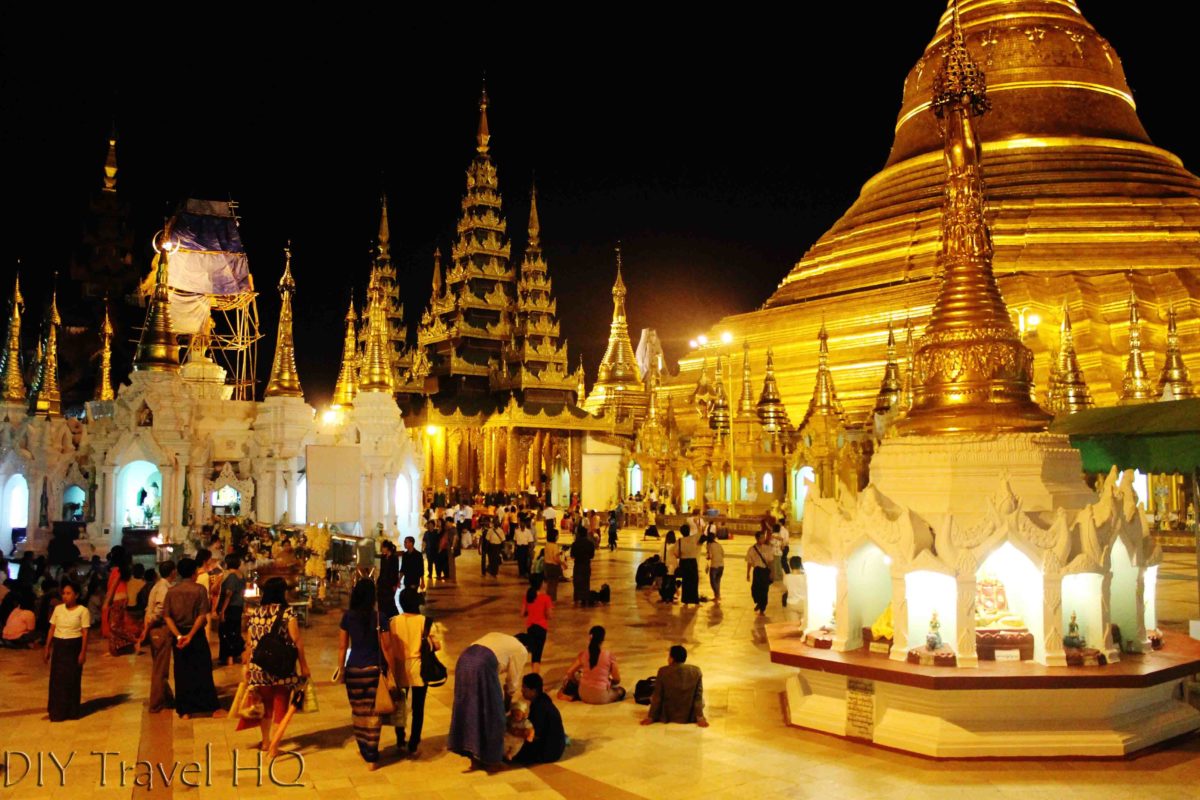 #2. Sule Pagoda
If Shwedagon is the heart of Yangon, then Sule is definitely its downtown meeting point – socially and politically, as evident from its rallying role in the 1988 demonstrations and 2007 Saffron Revolution. It's also one of the best places to visit in Yangon.
Sule is a 46m pagoda, said to contain a hair of the Buddha. It also serves as a traffic island and shrine of worship. Around the chaotic circle, you can also change money, purchase bus tickets and surf the internet, making it a convenient one-stop shop for your spiritual and consumer needs.
Sule Pagoda Entrance Fee: 4,000 kyat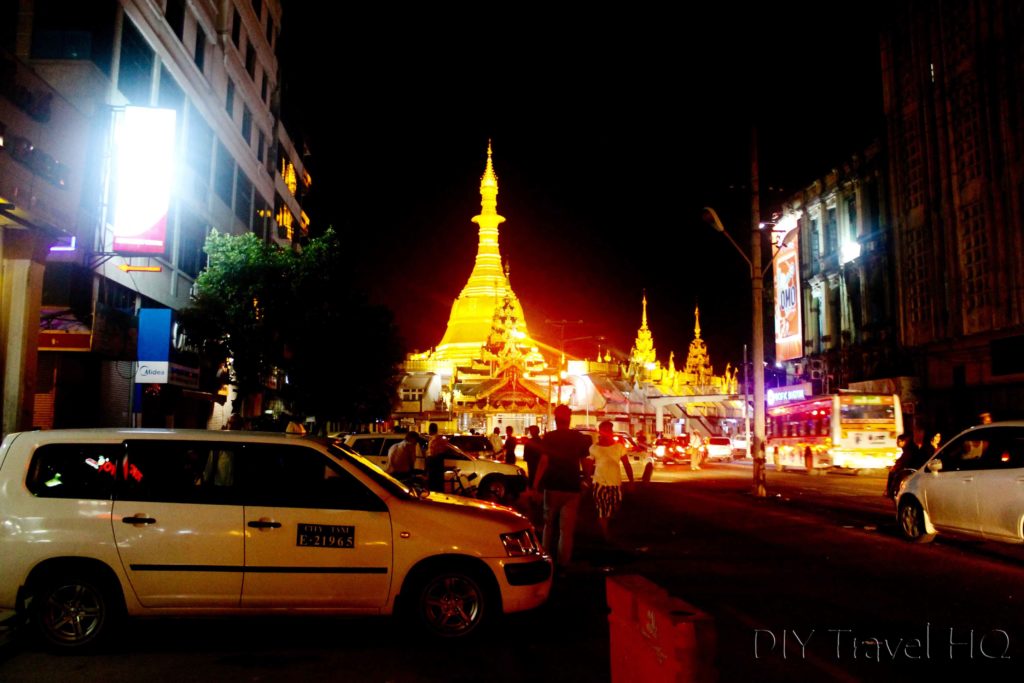 #3. Chaukhtatgyi Pagoda
This Reclining Buddha at Chaukhtatgyi Pagoda rests in a large shed with a six layered roof of corrugated iron sheets, hence it is also commonly known as the Six-Storied Pagoda. Seeing the reclining Buddha is definitely one of the top things to do in Yangon.
It was first built in 1907, and then renovated in 1966 with donations solely from Buddhist and foreign visitors. Their names of which are inscribed around the figure. During this time, 5m were added, bringing the total measurements of the Buddha to 65m in length and 16m in height. Around the pagoda are several monasteries, housing monks and nuns.
Chaukhtatgyi Paya Entrance Fee: Free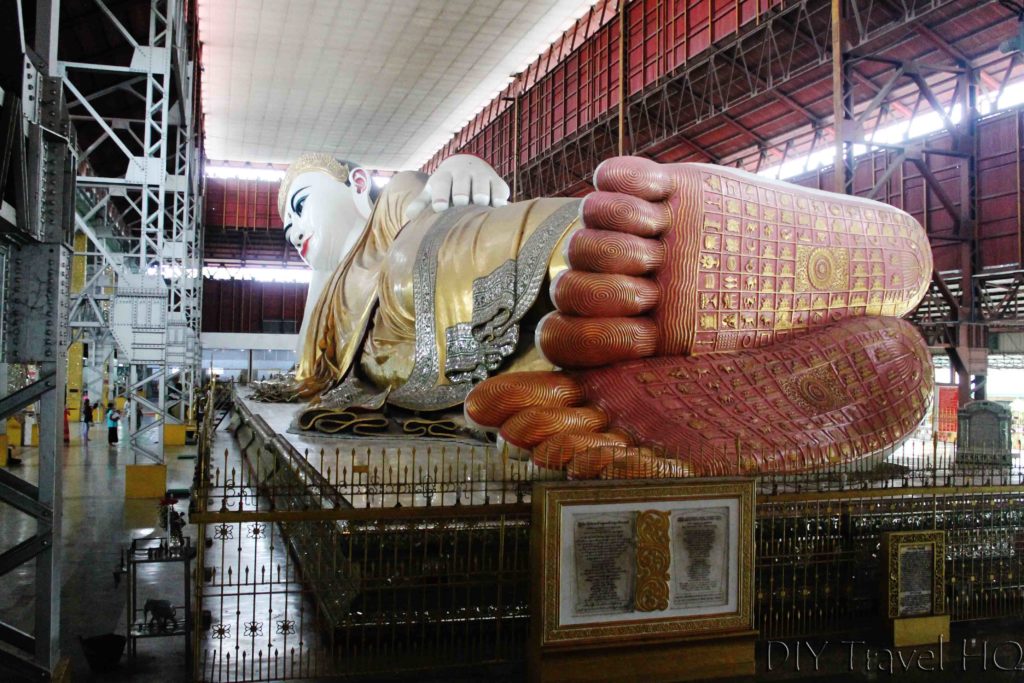 #4. World Peace Pagoda
Kaba Aye Paya is a 'World Peace' pagoda built for the 1954-56 Sixth Buddhist Synod, celebrating the 2500th year anniversary of Buddha's enlightenment. The pagoda is modern and circular, with 5 entrances each guarded by an image of the Buddha. It measures an impressive 34m both in height and diameter.
Kaba Aye Paya Entrance Fee: 5,000 kyat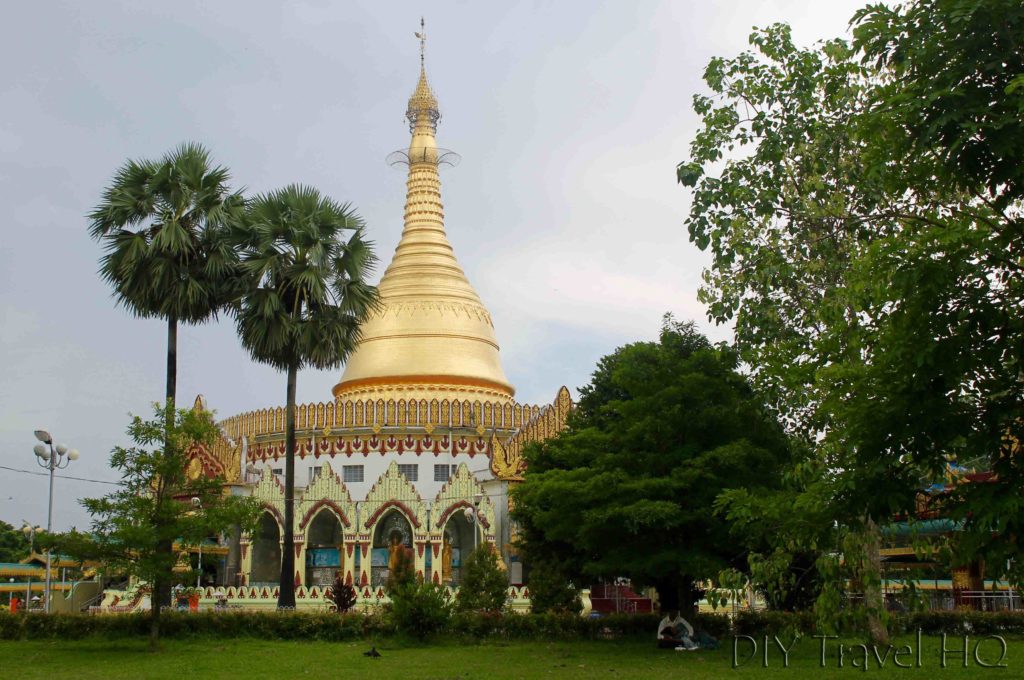 #5. Maha Pasana Guha
The 'Great cave' is also a man-made one, situated across from Kaba Aye Paya. It was also constructed specifically for the Sixth Buddhist Synod.
Within the enormous cavern, the main hall measures 67m long and 43m wide, with a capacity of 10,000 people. The high ceilings and cool grotto-like temperatures adds to the cold, artificial mood though it's an interesting site. It's now used for religious ceremonies, meetings, conferences and Buddhist examinations.
Maha Pasana Guha Entrance Fee: Free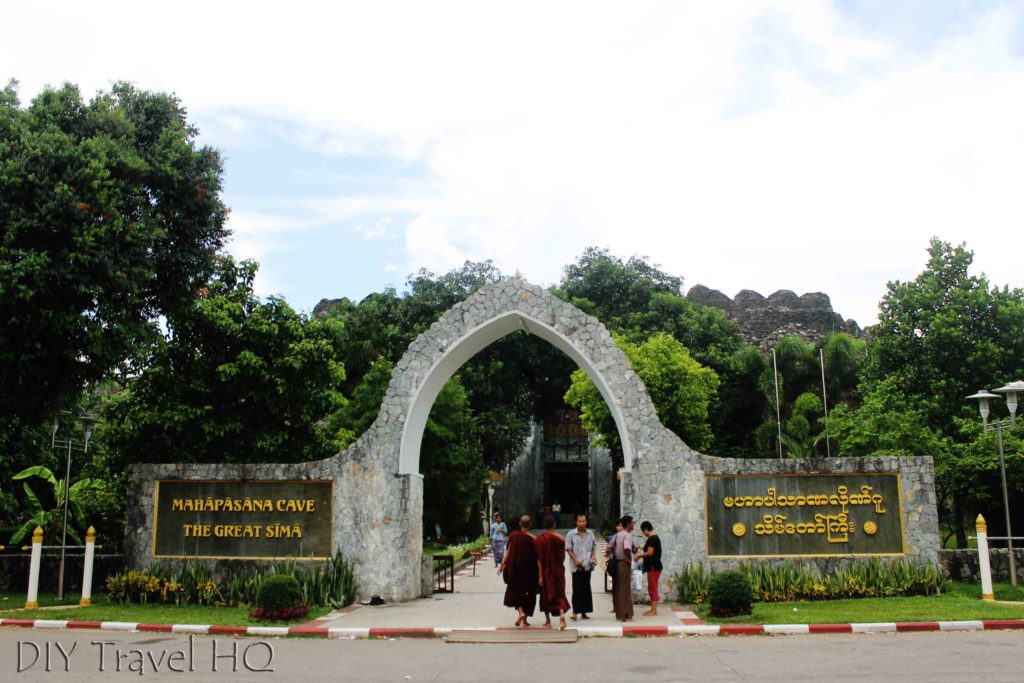 #6. Bogyoke Aung San Museum
This 1920's colonial villa was the last residence of General Aung San, before his assassination in 1947. Today it's one of the best Yangon tourist attractions. Aung San was regarded as the father of modern day Myanmar and died 6 months before Burma's independence from British rule.
The residence was also the childhood home of his 3 children, including Aung San Suu Kyi. Outside there's a small lake marked with a plaque where his second son drowned.
The house is still in its original state with memorabilia of books, furniture, family photos, portraits and clothing on display. It was established as a museum in 1962 but under past military policy it was only allowed to be opened once a year, Martyr's Day on July 19th. This ban was lifted in 2012 and it is now open with regular hours.
Bogyoke Aung San Museum Entrance Fee: 5,000 kyat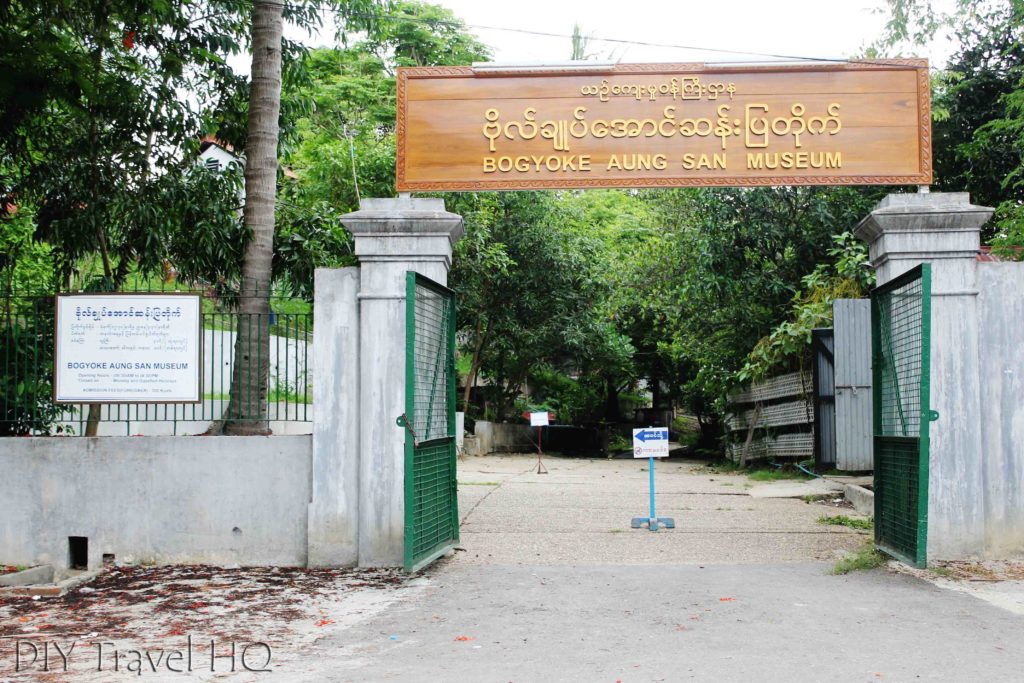 #7. Aung San Suu Kyi House
Still not sure what to do in Yangon? Well make a quick stop at 54 University Avenue where Aung San Suu Kyi lived under house arrest for 15 of the 21 years between 1989-2010. There's not much to see and you can't go inside but it's an important site in Myanmar's modern history.
Aung San Suu Kyi is the daughter of General Aung Saung. She became a political leader herself and then a controversial political prisoner and Nobel Peace Prize laureate. Aung San Suu Kyi is currently the State Counsellor, a position akin to a Prime Minister.
No entry permitted.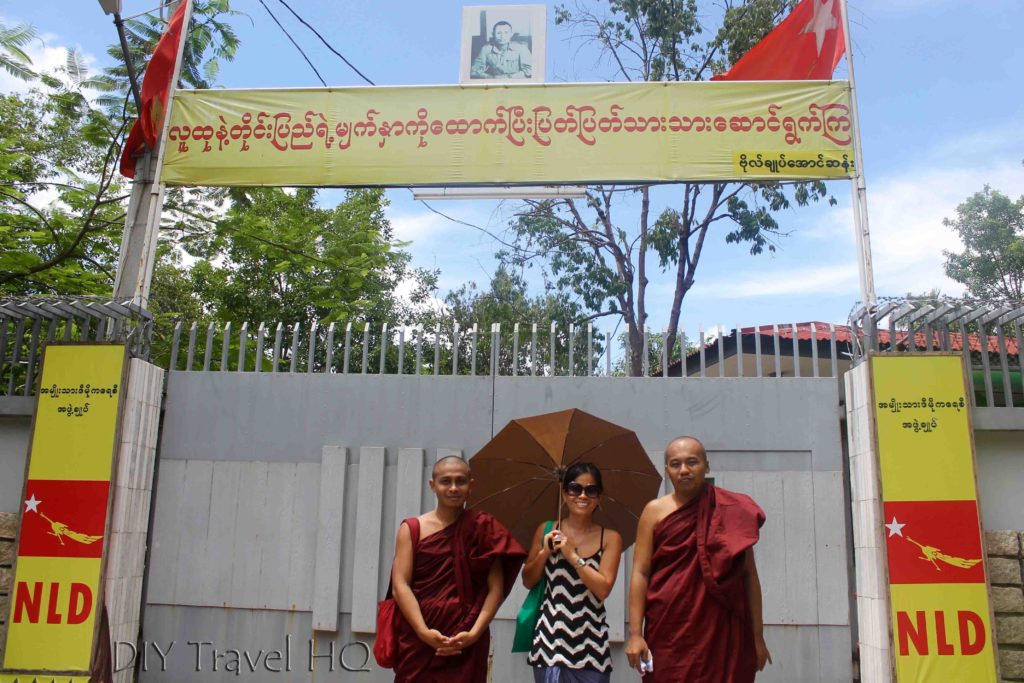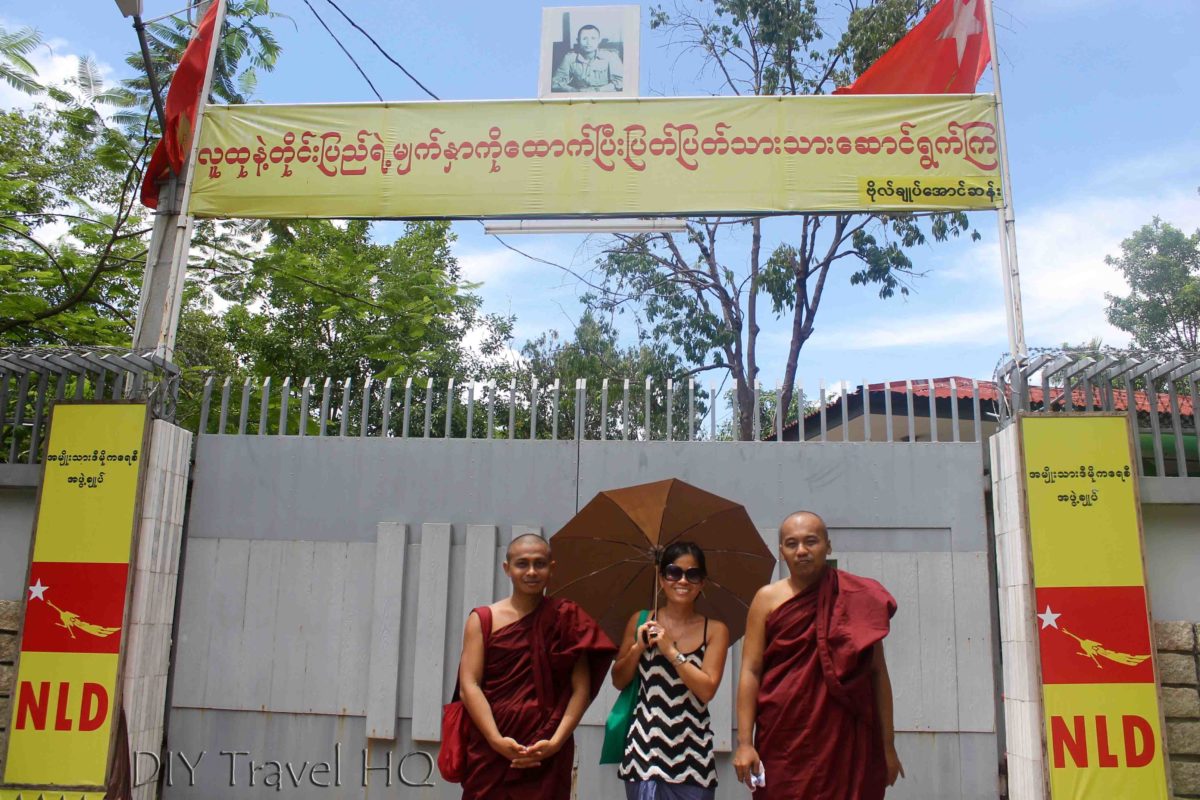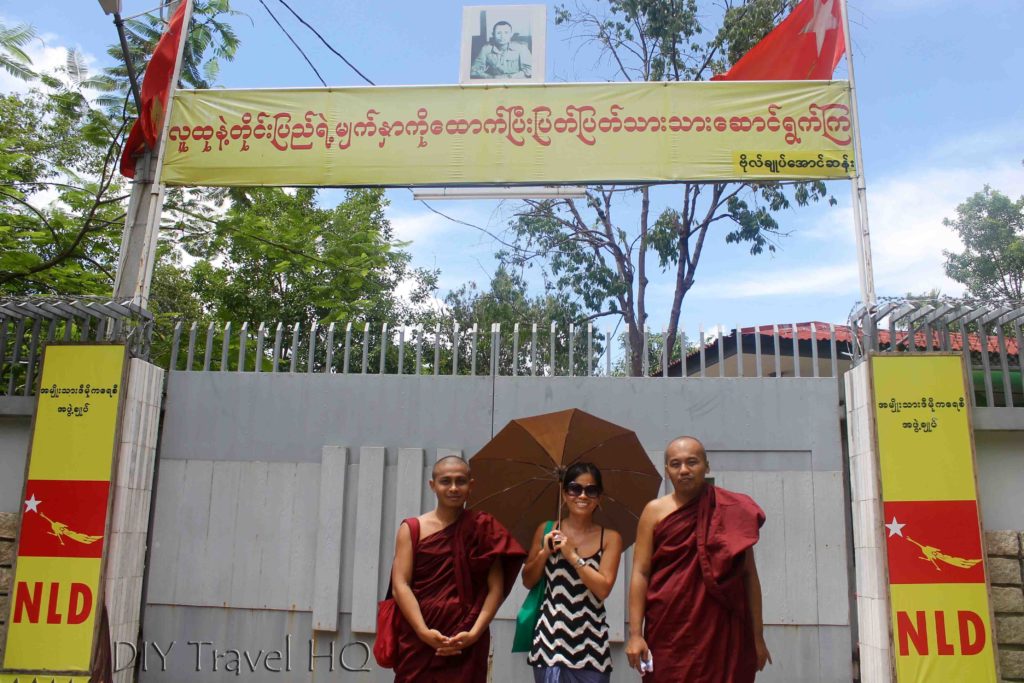 #8. Inya Lake
Slow down the pace with a relaxing stroll around Inya Lake. It's the largest in Myanmar so you'll need a few hours if you want to do a whole lap. There are numerous places to stop for a drink or a bite along the way including nice restaurants for a date. Sunset on the lake is very romantic!
You can also rent a boat and enjoy some time on the water with BYO drinks. Inya Lake is popular with locals and young couples, making it a great spot for people-watching at one of the most famous places in Yangon.
Inya Lake Entrance Fee: Free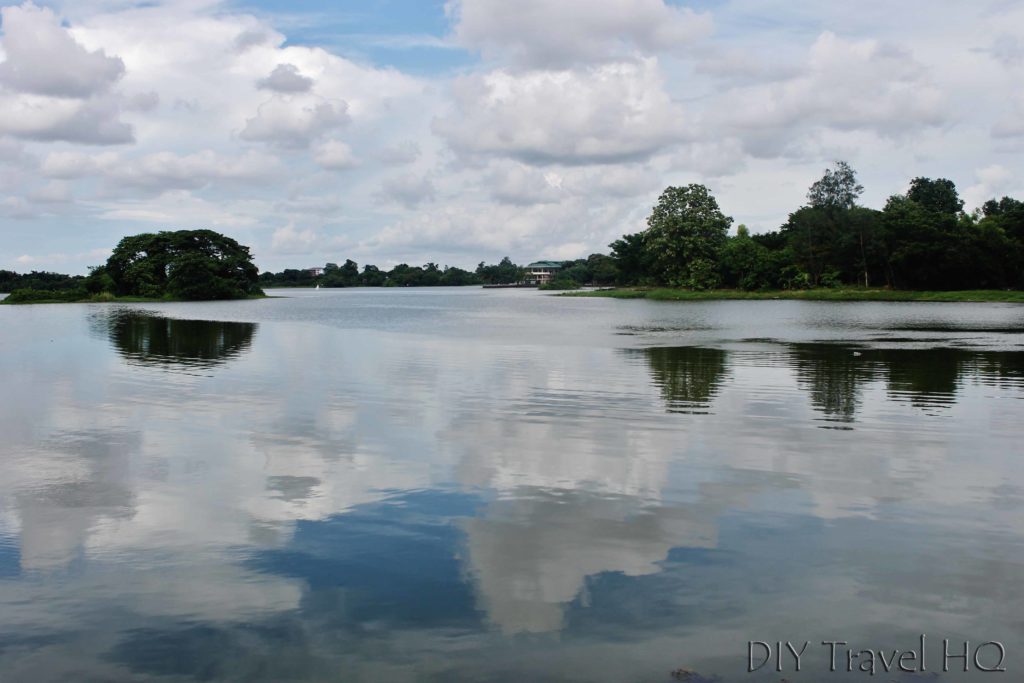 #9. St Mary's Cathedral
Admire the neo-gothic architecture before attending mass at St Mary's Cathedral. Built between 1886-1894, it's a stunning red brick church, coupled with soaring white spires. The interior is equally splendid with patterned arches and colorful statues at the altar. Mass is held in English at 8:00am on Sunday and 5:00pm on other days. Hear the bells toll at noon.
St Mary's Cathedral Entrance Fee: Free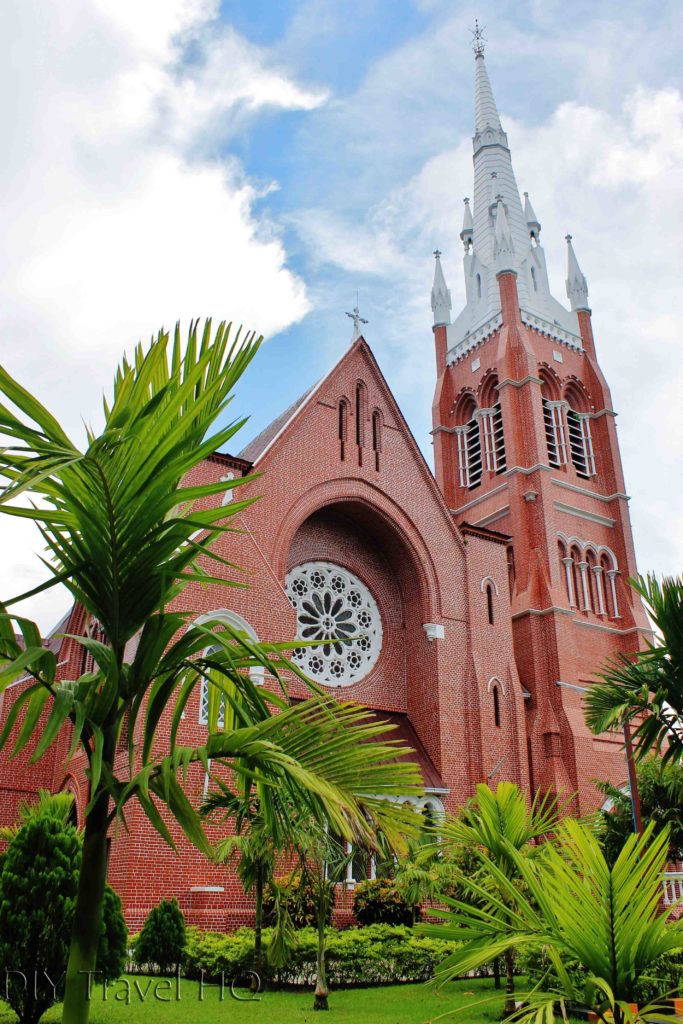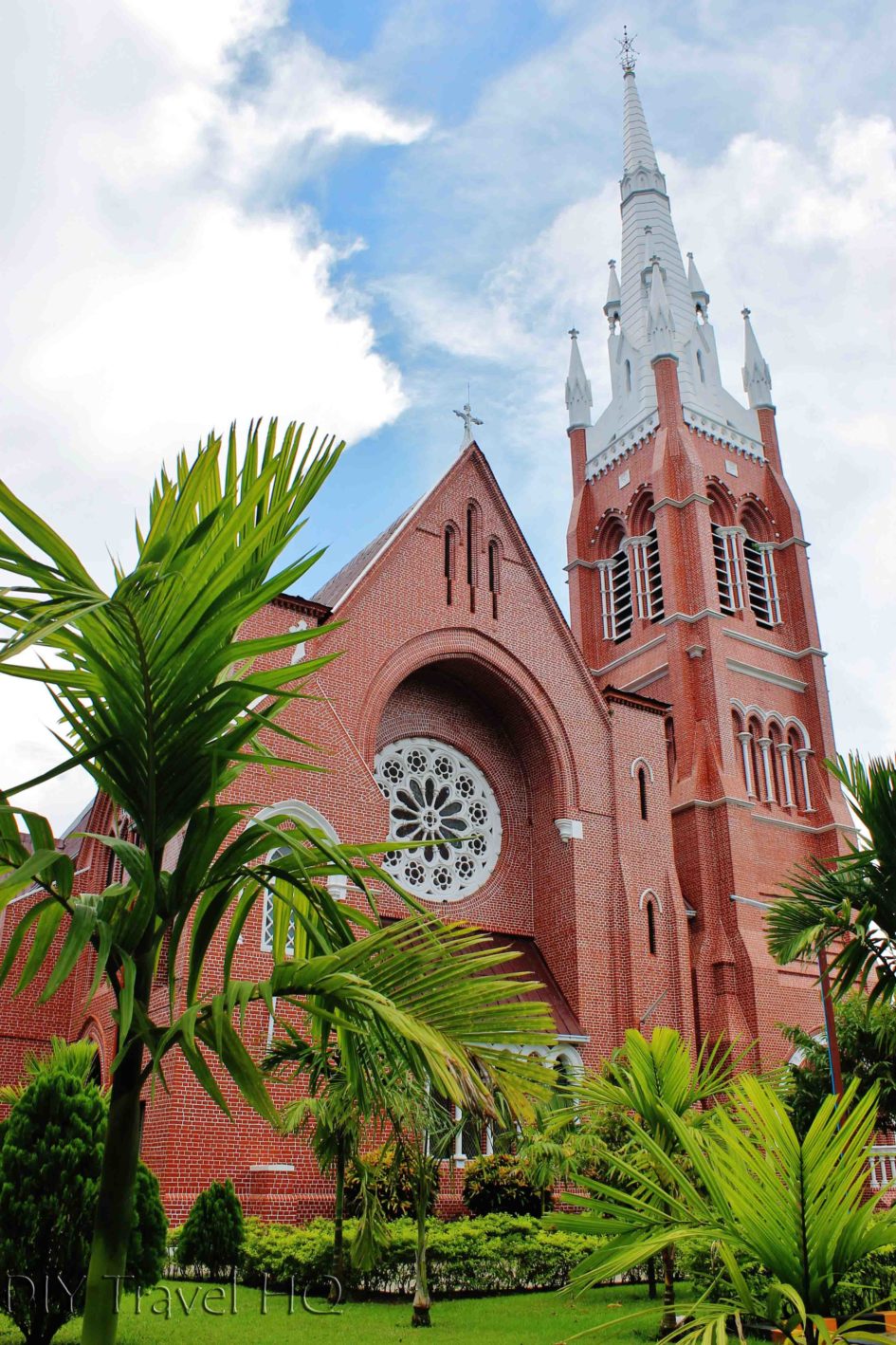 #10. Bogyoke Aung San Market
This is a sprawling covered market where you can find a large selection of souvenirs & handcrafts, as well as local food options inside & outside. It's also a good area to see some of the decaying but fascinating architecture in Yangon, a throwback to it's days as a 19th century British colonial capital.
Bogyoke Aung San Market Entrance Fee: Free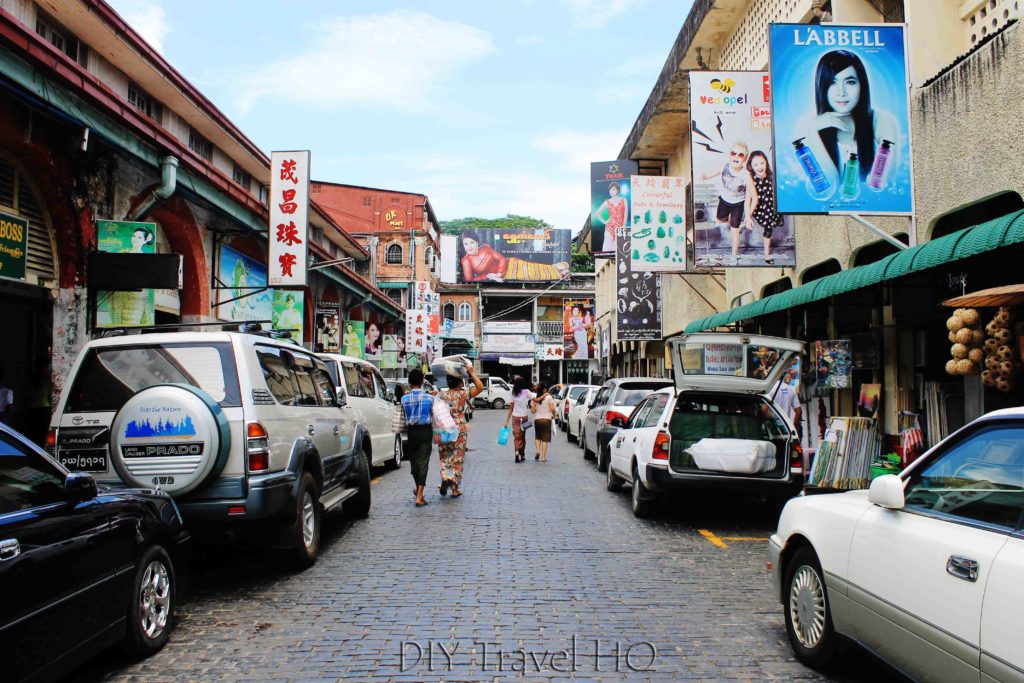 #11. Kyauktawgyi Pagoda
Kyauktawgyi Pagoda houses an incredible image of the Buddha, carved from a single piece of flawless, white marble rock. It measures 11m long, 7m wide and 3m thick. Built in 2000 & the temple is located at Mindhamma Hill, Insein Township, approximately 16km from downtown Yangon.
Kyauktawgyi Pagoda Entrance Fee: Free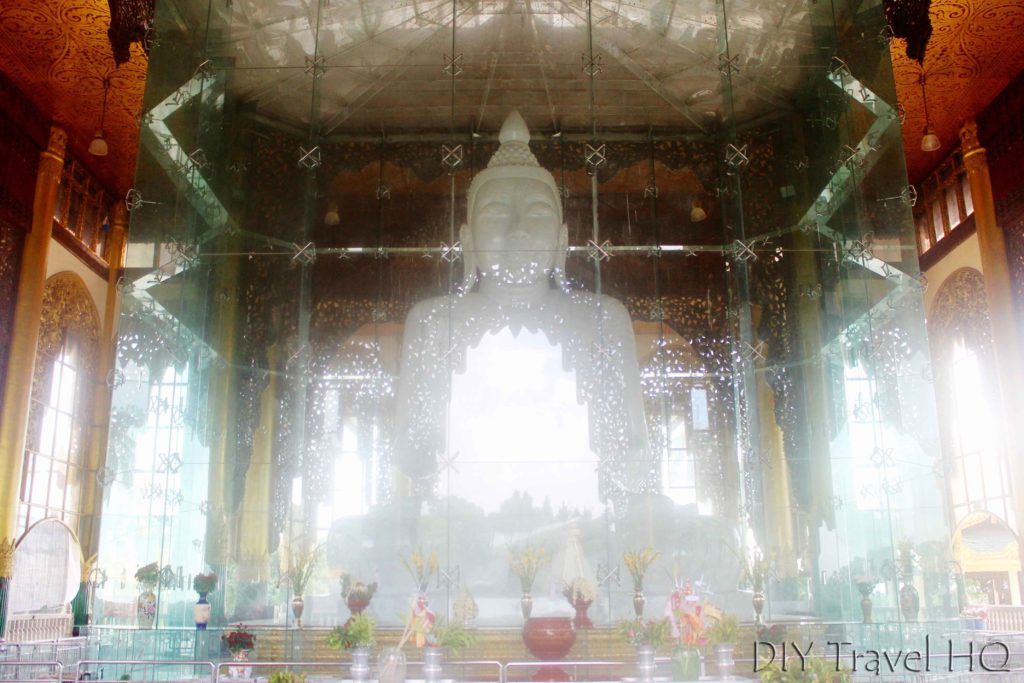 #12. Hsin Hpyu Daw Park
Close to Kyauktawgyi, Hsin Hpyu Daw Park is home to an Elephant House with 3 rare, white elephants named Rati Marlar, Theingi Marlar and Yazagaha Thiri Pissaya Gaza Yaza. They're actually more pink than white though.
There's no need to go out of your way to visit especially if you care about animal welfare. The elephants are chained at the legs and spend their days pacing back and forth. However the park is really close to the white marble Buddha so you can combine both in a visit.
Hsin Hpyu Daw Park Entrance Fee: Free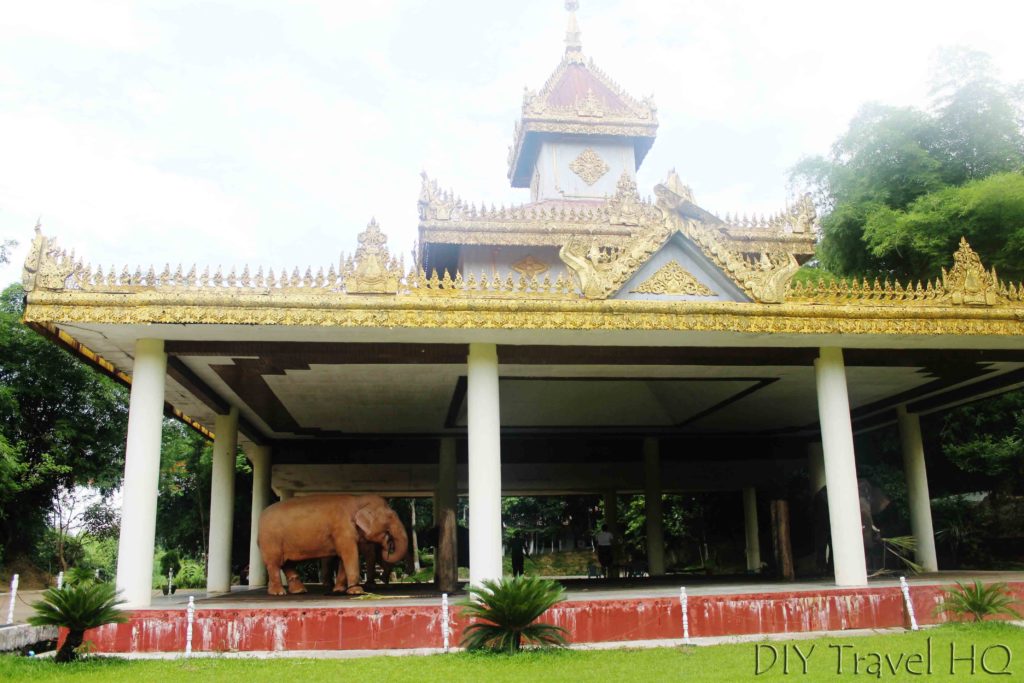 #13. Chinatown
No trip to Yangon should be complete without a barbecue meal in Chinatown. Walk down 19th Street and sit down at one of the many open-air restaurants just like Anthony Bourdain did on an episode of 'Parts Unknown.'
Pick out your one skewers of meat, seafood and vegetables and it'll be cooked for you and served at your table. Wash it down with big glasses of draught beer and soak in the lively atmosphere.
Free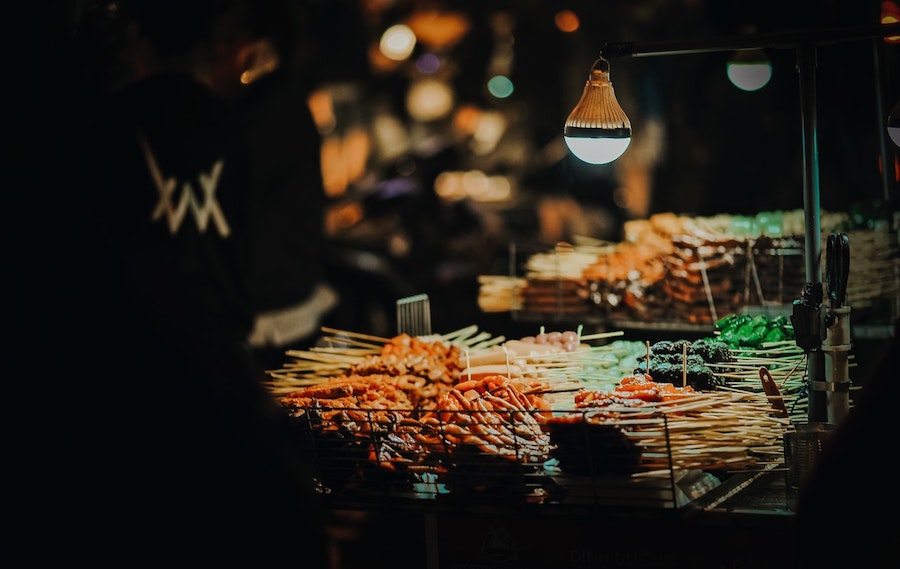 #14. Kandawgyi Lake
Go for sunset stroll along the boardwalks of Kandawgyi Lake and admire the gliterring reflection of Karaweik Palace in the water. You can even see Shwedagon Pagoda from certain sections, making the lake one of the best attractions in Yangon. Stop for a drink at a lakeside café and enjoy a relaxing, balmy evening with young lovers.
Kandawgyi Lake Entrance Fee: 300 kyat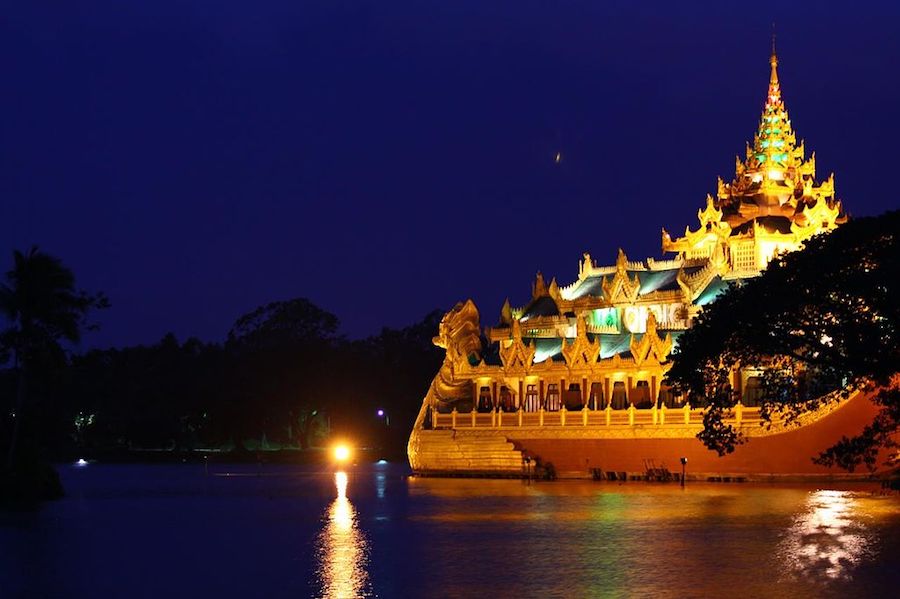 #15. Abandoned theme park
Search for an abandoned theme park next to the Yangon Zoo. Find a hole in a fence and sneak inside, you'll have the whole place to yourself with perhaps a few locals. The park was closed in mysterious circumstances in 2013 but the amusement rides remain covered in vines, amidst the overtaking jungle. It's an eerie place to explore and photograph, well off the beaten track.
Free
#16. National Museum
Wander through 5 rooms of Burmese art history and culture at the National Museum. The highlight is the spectacular Lion Throne on the ground floor. There were once 8 thrones used by the Burmese monarchs but this is the only one that survived the bombings of WWII. The museum in a dimly lit and in need of some TLC but there are many hidden treasures to discover, especially if you're a history buff.
National Museum Entrance Fee: 5,000 kyat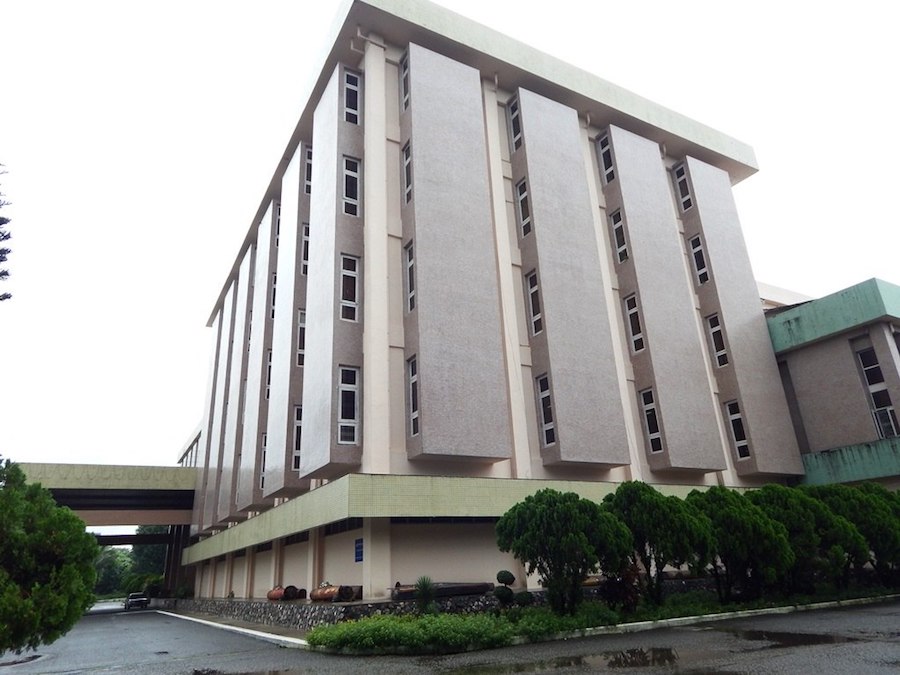 #17. Ko San Double Happiness Bar
Hang out with backpackers and locals at Ko San Double Happiness Bar in Chinatown. $1 cocktails will definitely have you feeling extra cheery in no time. Despite the cheap prices, Ko San isn't a crazy party place but more of a chill spot to relax with a few drinks and a light meal. If you're into low-key vibes, it's one of the best bars in Yangon.
#18. Maha Bandula Park
Hang out with locals at the wonderful Maha Bandula Park in the heart of downtown Yangon. Don't be surprised if students come up to you, hoping to practice their English. Look around at the heritage buildings around you such as City Hall and the High Court. You also can't miss the 165ft tall obelisk, a symbol of Myanmar's independence.
Maha Bandula Park Entrance Fee: Free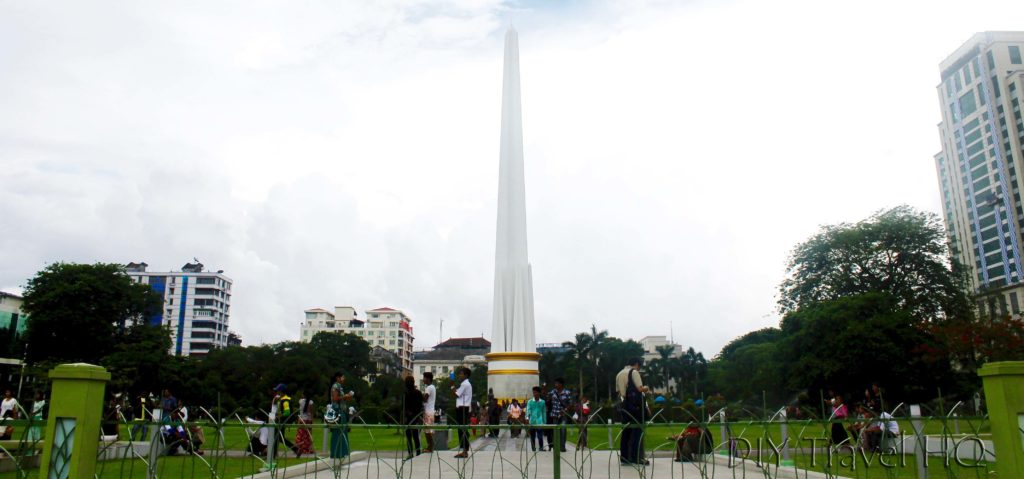 #19. The Strand Hotel
It's high time you experienced afternoon tea in an elegant colonial setting with impeccable service at The Strand Café. Choose the 'Classic' style for a traditional set or pick 'Myanmar' for a local interpretation. Provide the good company and conversation, as you while away the afternoon enjoying small bites and sipping premium tea.
The Strand High Tea: From $20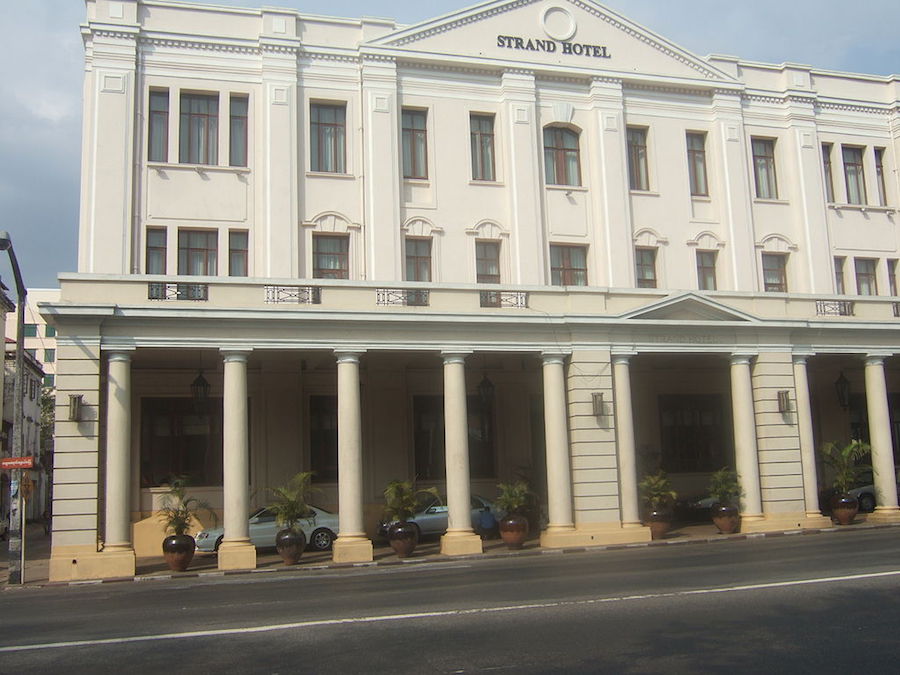 #20. Yangon Night Market
Walk down Strand Road every night from 3pm to 11pm and you can try every type of local street food imaginable at the Yangon Night Market. It's a great local alternative to the more commercialized barbecue stalls on 19th street. But the hygiene levels are questionable so avoid the drinks and anything that's not cooked. Even if you don't eat, it's a fun opportunity for people watching and checking out the street food scene.
Free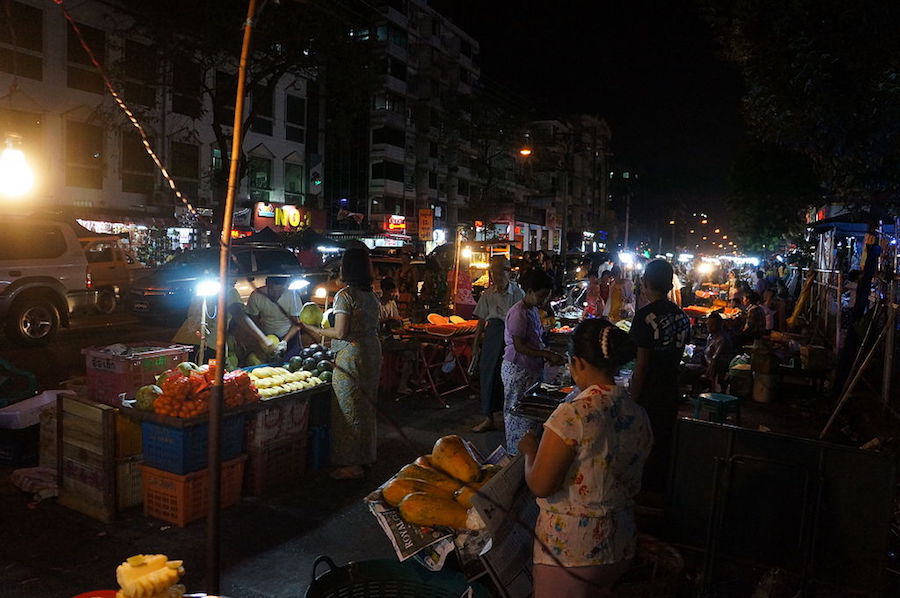 #21. Happy World Amusement Park
Take a break from temples and Buddhas at the Happy World Amusement Park. It's free to enter with small charges on the (old) rides and attractions. Have fun on bumper cars, ride the roller coaster, paddle a boat on the lake and play sideshow games at this very local theme park.
Happy World Amusement Park Entrance Fee: Free
#22. Thiripyitsaya Sky Bistro
Still wondering what to see in Yangon? Enjoy panoramic views of Yangon as you wine and dine on the 20th floor of the Sakura Tower. The Thiripyitsaya Sky Bistro is the highest bar in Yangon and from up here, you've got a birds eye view of the whole city. The best time to visit is at night when you can see the Shwedagon Pagoda on one side and the Sule Pagoda on the other, both glittering in golden light.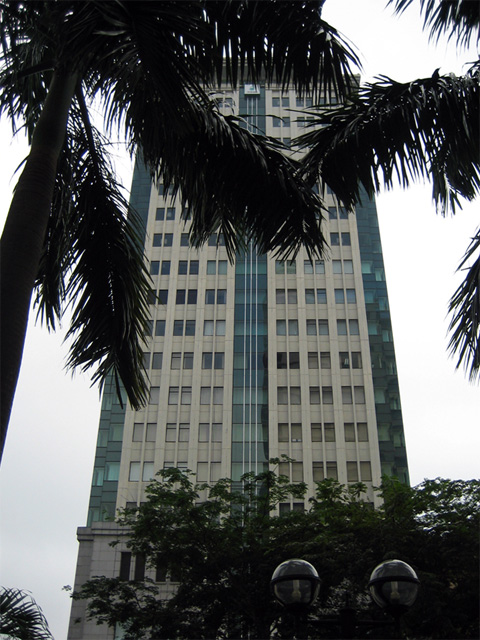 #23. Botataung Pagoda
Botataung Pagoda is a unique temples and one of the best places to visit in Yangon. It's actually hollow inside but you can walk through a mirrored maze-like walkway, decorated with dazzling gold relief. The lines can be quite long as locals come to see the sacred hair of the Buddha, despite it being house in a small box behind a glass shrine.
Botataung was first built at the same time as Shwedagon Pagoda, about 2500 years ago, but it was destroyed during WWII. The current pagoda is a complete replica of the original and is definitely worth checking out.
Botataung Pagoda Entrance Fee: 6,000 kyat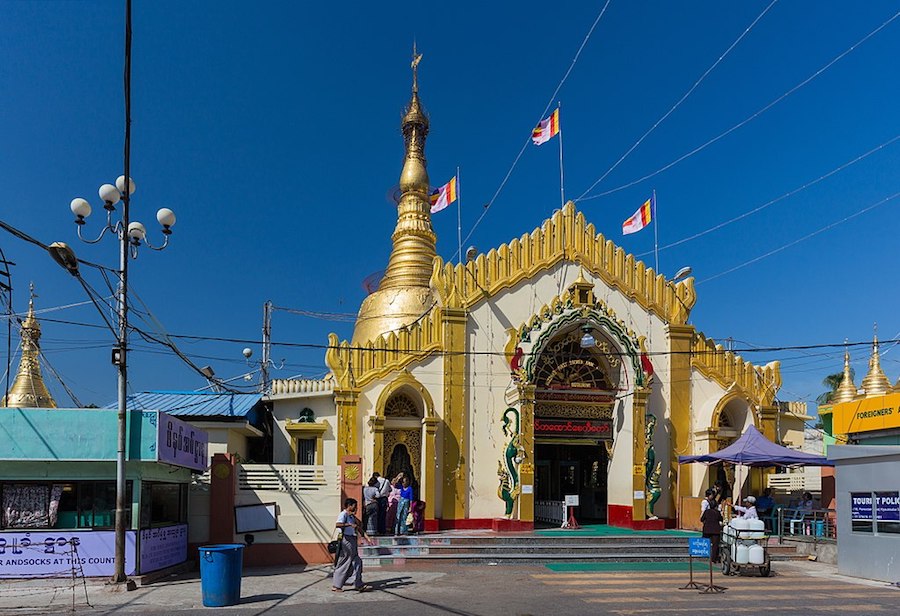 #24. Myaungmya Daw Cho
Start your day with a typical bowl of breakfast noodles at Myaungmya Daw Cho. Mohinga is a specialty here, a rice noodle and fish soup dish garnished with fried onions, spring onions, dried chillies, fish sauce and lime. Pull up a plastic stool at this very local joint and enjoy Myanmar's national dish.
#25. Musmeah Yeshua Synagogue
Visit the Musmeah Yeshua Synagogue, an unexpected place of worship in Yangon. It's a little hard to locate but you can find it between Muslim trade stalls and Indian hardware stores in Chinatown.
It's a small building but like the handful of Jewish people remaining in the city, it stands resilient and proud. Admire the modest architecture inside and look up at the women's balcony and original blue and white Star of David on the ceiling.
Musmeah Yeshua Synagogue Entrance Fee: Free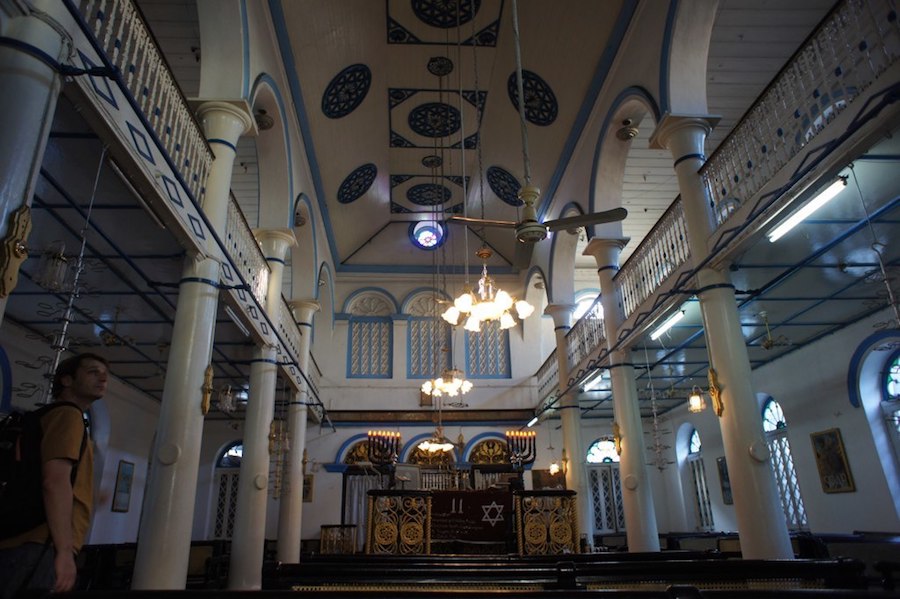 #26. Trish Gallery
Let your Yangon sightseeing journey take you to a unique collection of artworks at Trish Gallery. Many styles are on display from antique furniture to traditional sculptures and contemporary paintings. Learn more about the Burmese art tradition from the friendly staff, who can also help you select a work of art to take home.
Free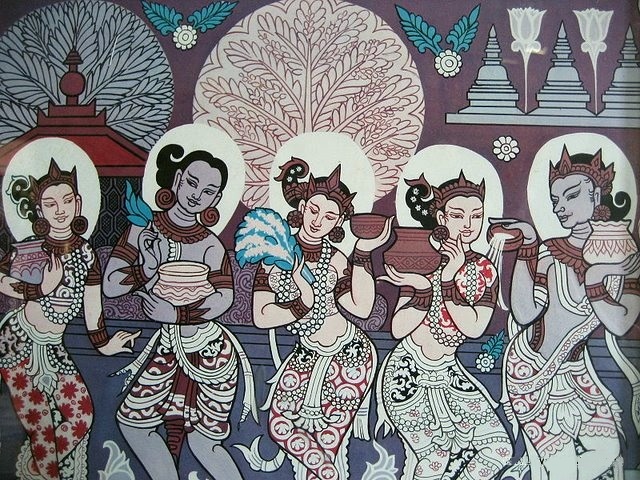 #27. Burrito
Say "Aung myin par say" (cheers) to Burbrit, the first microbrewery in Myanmar. Drink in the taproom or in the outdoor garden and try a paddle of all 9 varieties of craft beer. From pale ale to cider, find your favourite Burmese beer at Burbrit brewery.
#28. Swal Taw Pagoda
Join the pilgrimage to the Swal Taw Pagoda for a glimpse of the Buddha's tooth relic. It's said to be one of only two holy teeth in existence. It sits on a pedestal in the middle of the temple, encased in a glass case with mini jade Buddha statues.
Gaze up at the large white building and be dazzled by its shimmering gold decorations. Step inside the pagoda from one of its four entrances guarded by mythical lion-like Chinthe sculptures. Most Buddha relics are kept hidden so take the opportunity to go off the beaten path and see a revered national treasure.
Swal Taw Pagoda Entrance Fee: 3,000 kyat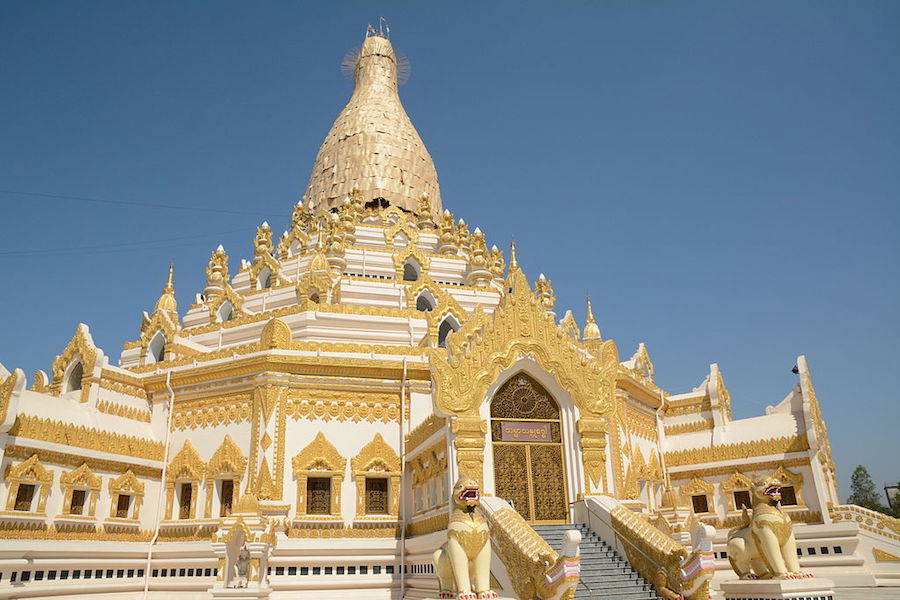 #29. Rangoon War Cemetery
Enter the gates of the Rangoon War Cemetery and leave the bustle of Yangon behind. Stroll through the verdant grounds of this well-manicured Commonwealth war grave, in solemn peace and quiet.
This was the first cemetery established in Yangon after it's liberation from Japanese occupation in 1945. The Rangoon War Cemetery is smaller than the more famous Taukkyan cemetery but it's closer to the city and equally significant.
Rangoon War Cemetery Entrance Fee: Free
#30. Yangon Circular Train
Take a slow tour of Yangon, aboard an old carriage on the circular line train, where the experience is more about the journey than any particular destination.
Look outside the window and watch everyday life go by as you pass through villages along the tracks. Buy snacks from the vendors who come aboard at every stop and meet locals over shared fruit. The train departs from Yangon Central Station. Tickets are dirt cheap but the experience is priceless.
Yangon Circular Train: From 200 kyat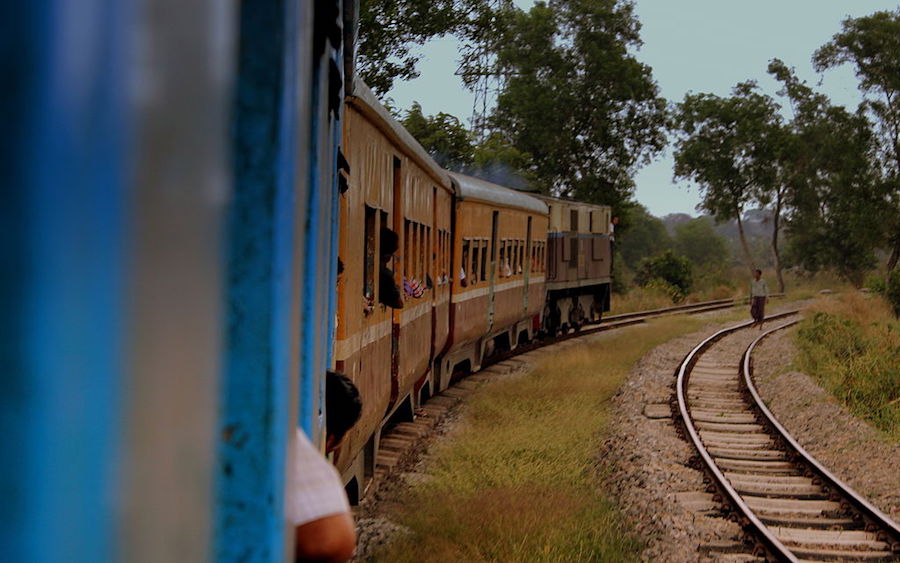 #31. Dala Ferry
Head to the Pansodan Road Jetty and take the 10 minute ferry across the Yangon River to the small village of Dala. Your fellow passengers will be locals, chickens and the occasional goat, along with fresh produce, furniture and stacks of boxes. Wander around the dusty streets of the Dala township, browsing at the markets and visiting the lovely Shwe Sayan Pagoda.
Dala Ferry: From 2,000 kyat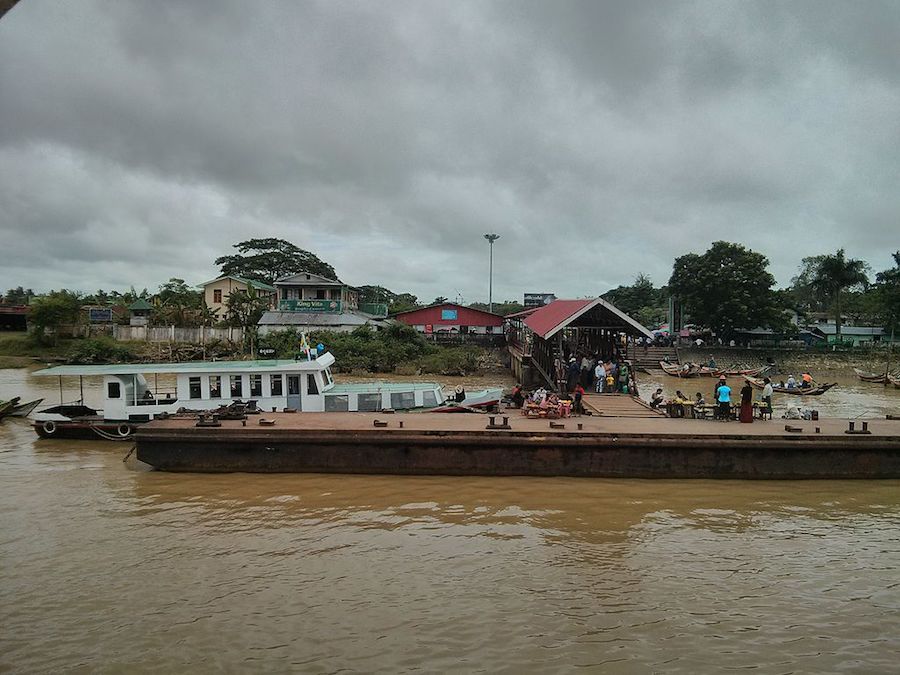 #32. Baungdawgyoke Pagoda
After disembarking from the ferry in Dala you can also take a taxi to Baungdawgyoke Pagoda aka the Snake Temple. Cross the wooden walkway to the shrine in the middle of the lake. Inside you'll find devoted nuns watching over more than a dozen pythons some up to 3m long. Join the locals who come from near and afar to make an offering and a wish, but only one or it won't come true.
Baungdawgyoke Pagoda Entrance Fee: Free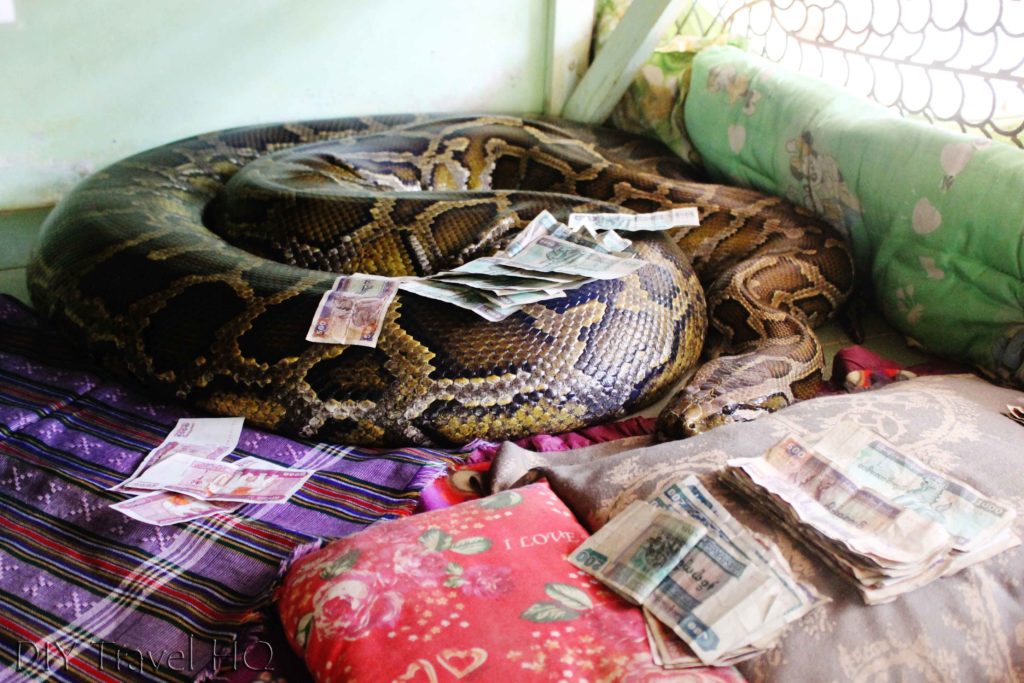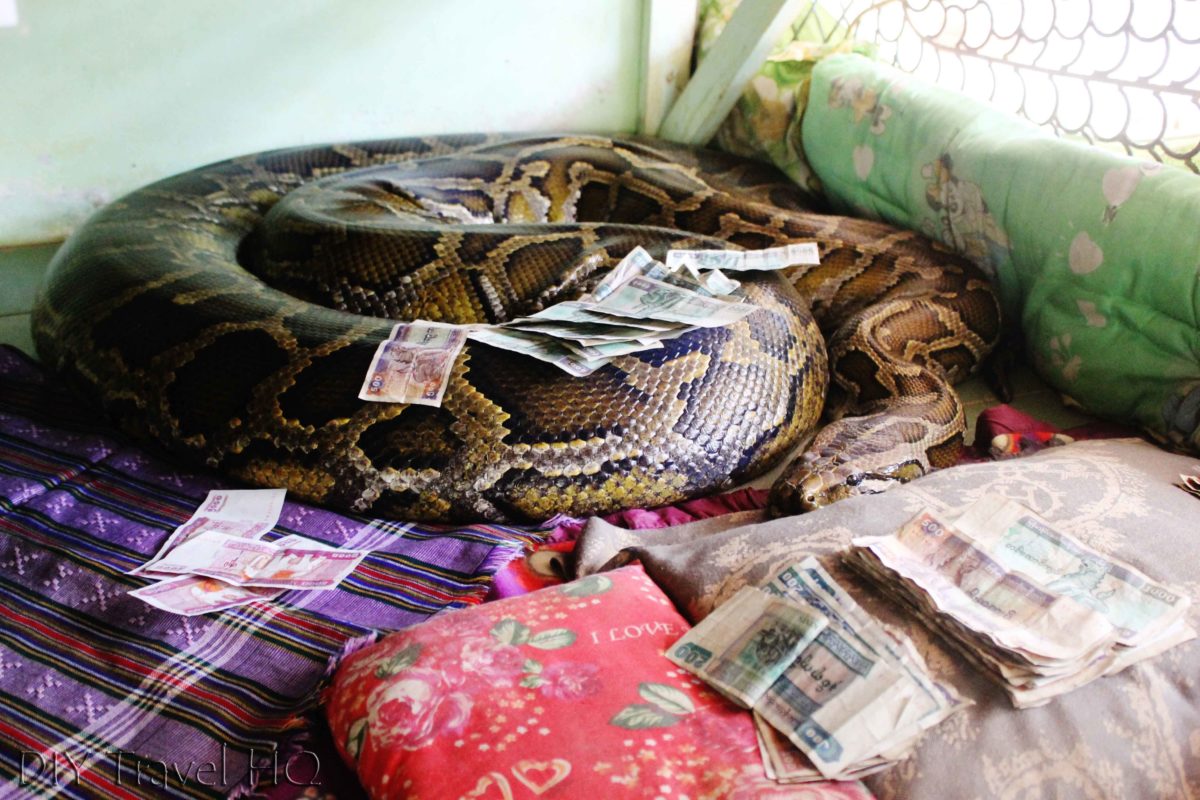 #33. Baungdawgyoke Pagoda
Be wowed at the sheer number of fruits and vegetables being bought and sold under the one roof. Almost all produce in Yangon comes through the 24/7 Thiri Mingalar Market. It's a wholesale market but you're not coming here to shop. If you can handle dirt, grime and overpowering smells, head to the outskirts of the city to experience the grittier side of everyday life in Yangon.
Free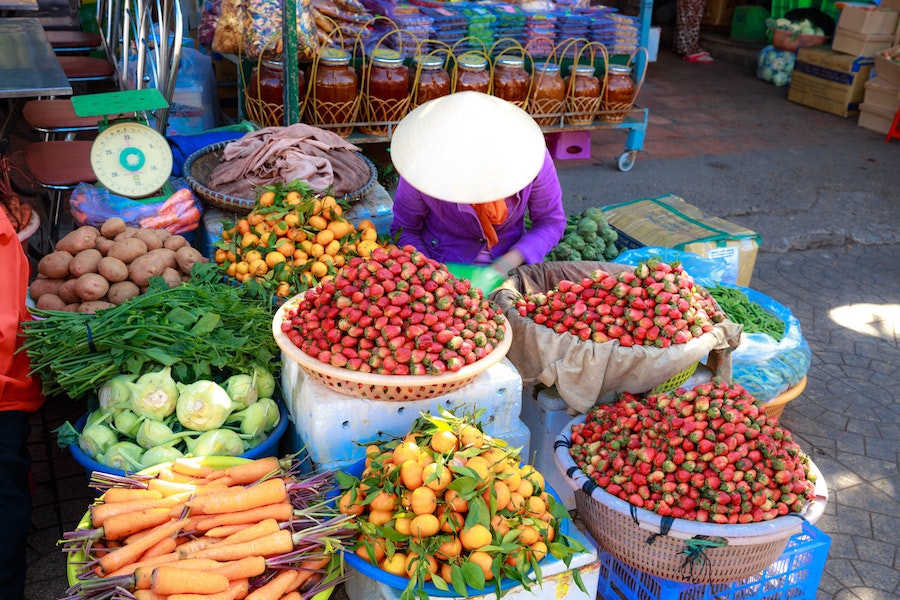 #34. Baungdawgyoke Pagoda
Experience a morning at a working religious community at Kalaywa Monastery. Get there early to wander around the grounds and see how young monks and nuns live, study and sleep. Observe them lining up in a silent procession for lunch at 11:30am. Visitors, photographs and donations are welcome.
Kalaywa Monastery Entrance Fee: Free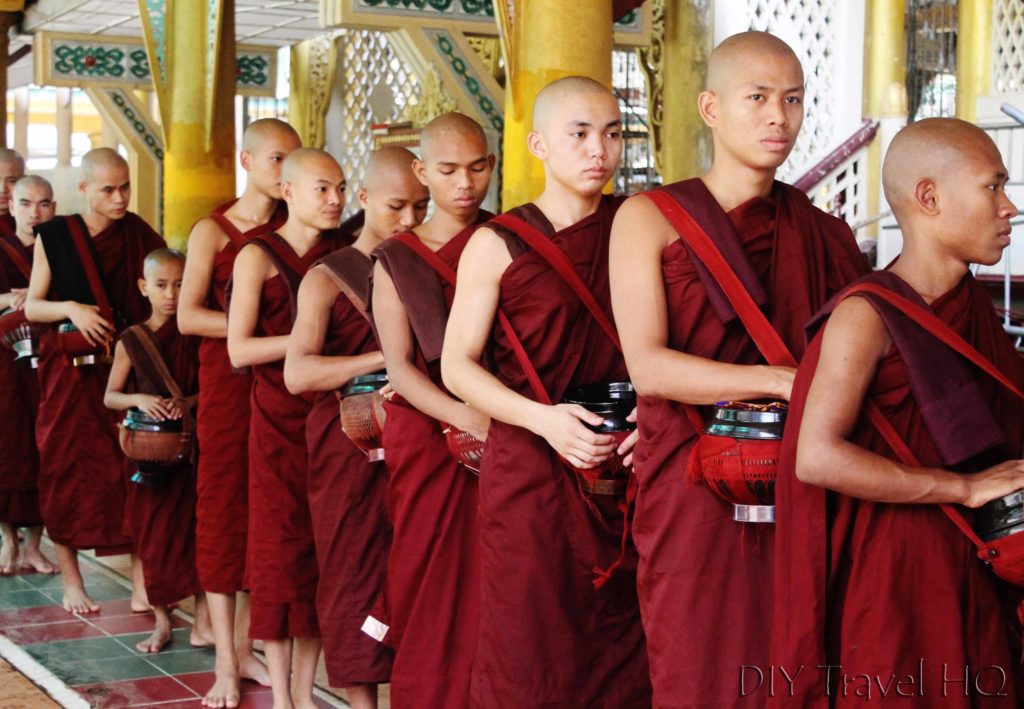 #35. National Race Village
See the traditional houses of the Kachin, Bamar, Mon, Chin and every other Burmese cultural group at the National Races Village. It offers an interesting insight into the lives of Myanmar's diverse ethnic groups.
National Race Village Entrance Fee: 3,000 kyat
More Things to do in Yangon
Ngahtatgyi Paya
Ah Lain Nga Sint Paya
Maha Wizaya (Vijaya) Paya
Kohtatgyi Paya
Me La Mu Paya
Swe Taw Myat Paya
Yau Kyaw Paya
Kheng Hock Keong (Chinese temple)
Martyr's Mausoleum
Yangon Zoological Gardens
Myanmar Gems Museum and Gems Market
Is Myanmar Safe?
As of mid 2019 the US Government is issuing a Level 2 travel advisory for Myanmar. Travelers are advised to exercise increased precautions due to areas of civil unrest and armed conflict. There are a number of townships you should definitely avoid but Yangon is safe to visit. You can check the current US travel advisory here and of course, you should consult your own government advice as well. Circumstances can change fast, especially during elections.
Tourists can often be targeted in foreign countries so always be aware of pickpockets. We recommend wearing a money belt with RFID blocking and traveling with an anti-theft daypack. But if you simply use common sense & precaution you'll be ahead of the game.
We recommend purchasing travel insurance before any trip to Myanmar. We've been using World Nomads through 80+ countries over the past 12 years and have been really happy with their coverage and services.
For more details check out our World Nomads review here.
Yangon Accommodation
There are around 20 hostels in Yangon, with dorms starting from 7000 kyat / $4.55. The most popular ones are Hostel9 Yangon and Little Yangon Hostel. I stayed at Okinawa Guesthouse #2 and liked it a lot. It had a fantastic location just off Sule Pagoda, with the original Okinawa #1 down the road. Breakfast was included.
Airbnb is also a great option. You can stay in private houses apartments with local hosts from $10. Click here for $40 off your first booking.
Booking.com lists over 300 properties. The majority of hotels are under $50 and you can even find rooms from $10.
Check hotel prices now
Where to Next?
From Yangon I headed next to Kalaw. The approximate departure times for the bus from Yangon are 5pm, 6pm, 7pm. The bus costs 10,500 kyat / $10.50 & takes approximately 10 hours.
Transportation options in Myanmar can be found on Bookaway, which covers departure times, locations, duration, and prices.
If you're planning a trip, check out our next post and happy travels in Myanmar!
3 Day Kalaw to Inle Lake Trek
3 days & 2 nights alongside patchwork farms, tribes & villages, rivers, jungle & a bamboo rocket competition… find out why the Kalaw to Inle Lake trek is the most popular hike in Myanmar
Read more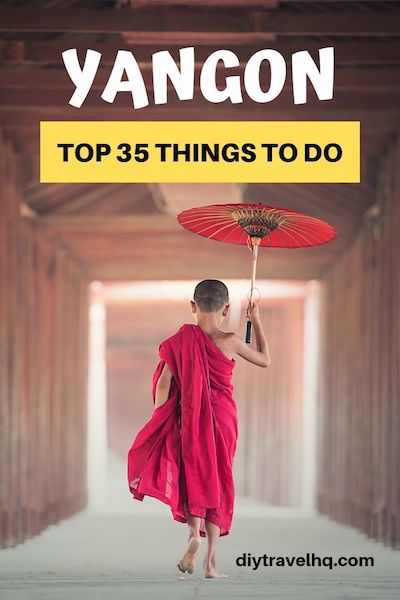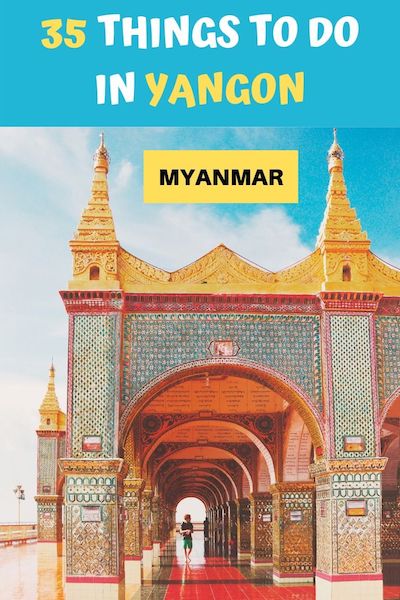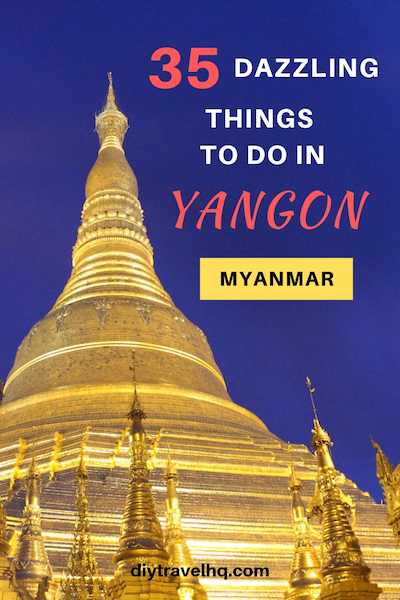 Updated in August 2019
Disclaimer: This post contains affiliate links which means that we receive a small commission if you click on a link & purchase something that we've recommended, at no extra cost to you.