Cuban street food is arguably the cheapest in the world – find out the top 15 things to eat and how you can easily eat 3 meals a day for less than $1!
Street food in Cuba is not mentioned anywhere in Lonely Planet but it's essential for any budget traveler to know about.
Some of the best Cuban street food to try is:
This post will also cover:
Cuban Street Food
Food
#1. Pan (con tortilla)
You can get very cheap bread with egg, ham and/or cheese for around 2-5 pesos / $0.08-$0.20.
Pan con tortilla was our favourite, we usually paid 3 pesos / $0.12 – sometimes the cheapest isn't always the best.
Don't expect it to come with any margarine, butter, salt, pepper, ketchup or mayonnaise – on peso menus, what is listed is exactly what you get. The most common varieties of pan are with:
Tortilla = egg omelet
Jamon = ham
Queso = cheese
Sometimes you'll find pan with:
Chorizo = chorizo
Guayabara = fruit jam
Huevo frito = fried egg
Minuto = fried fish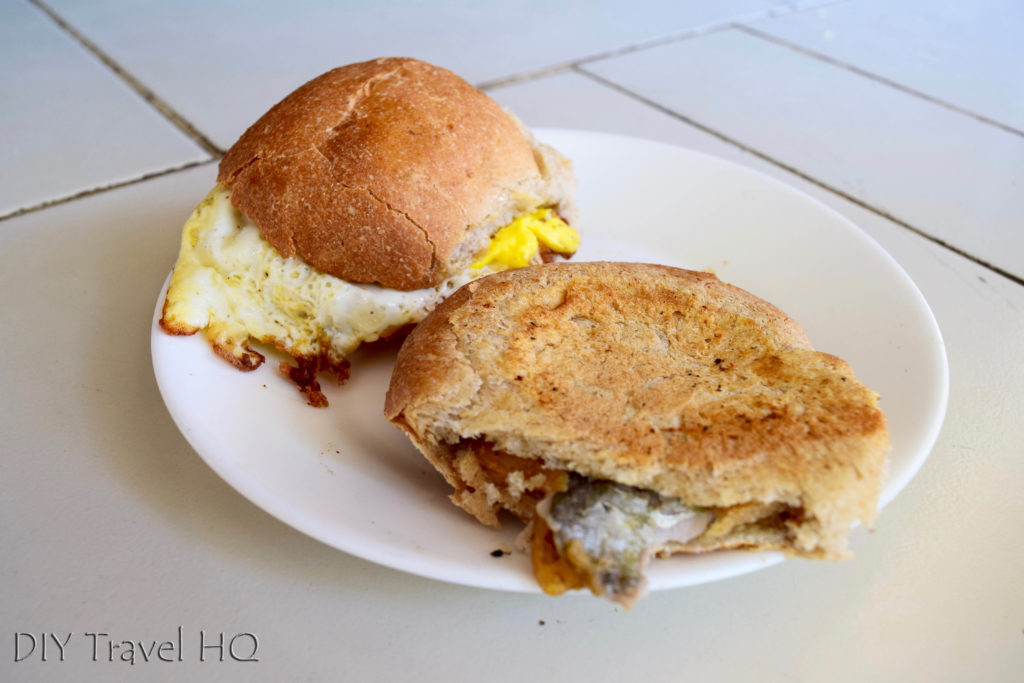 #2. Pizza
Pizza is the most filling food you can get at a peso stall. Salt is sometimes available, go crazy on it as this adds a lot of flavor to the otherwise bland pizza.
Pizza con queso (with cheese) is the cheapest, don't pay more than 5 pesos / $0.20.
Pizza con jamon (ham), chorizo or hawaiiana costs a little more, around 7-10 pesos / $0.28-$0.40.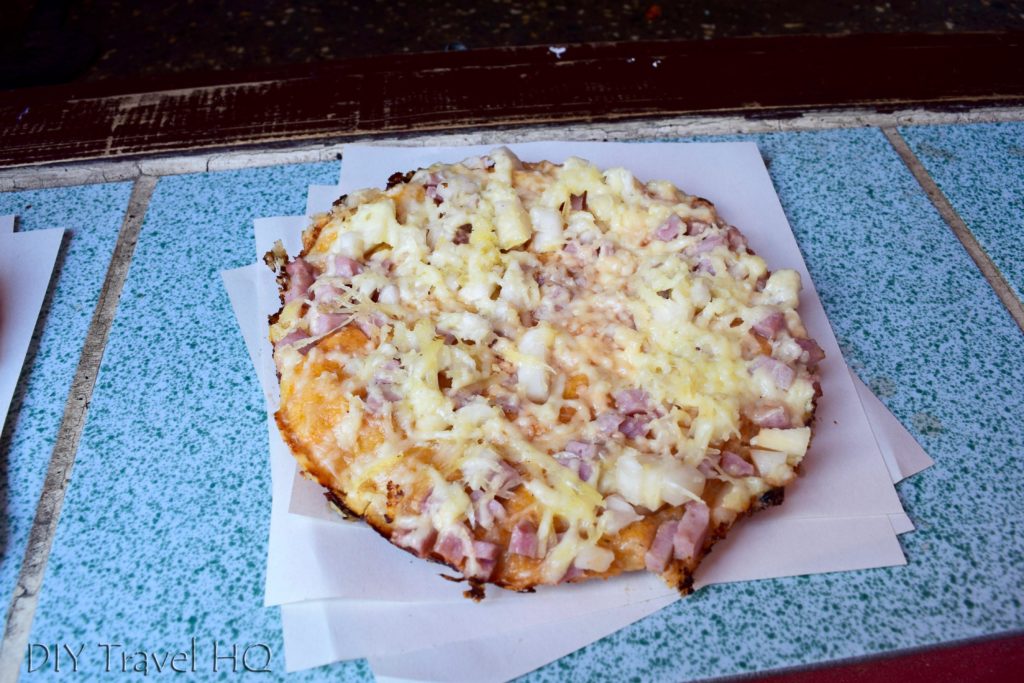 #3. Spaghetti
Spaghetti is good for lunch or dinner. There are usually only 2 varieties offered:
Spaghetti con queso (cheese) – 5 pesos / $0.20
Spaghetti con jamon or chorizo (ham or chorizo) – 10 pesos / $0.40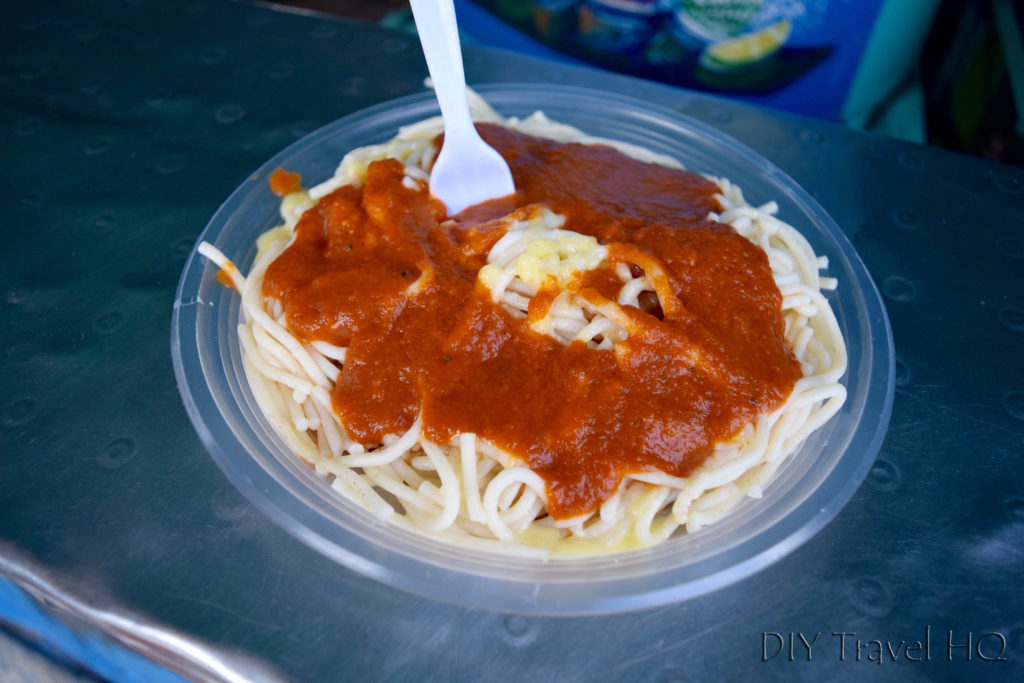 Drinks
#1. Café
A shot of coffee is always 1 peso / $0.04.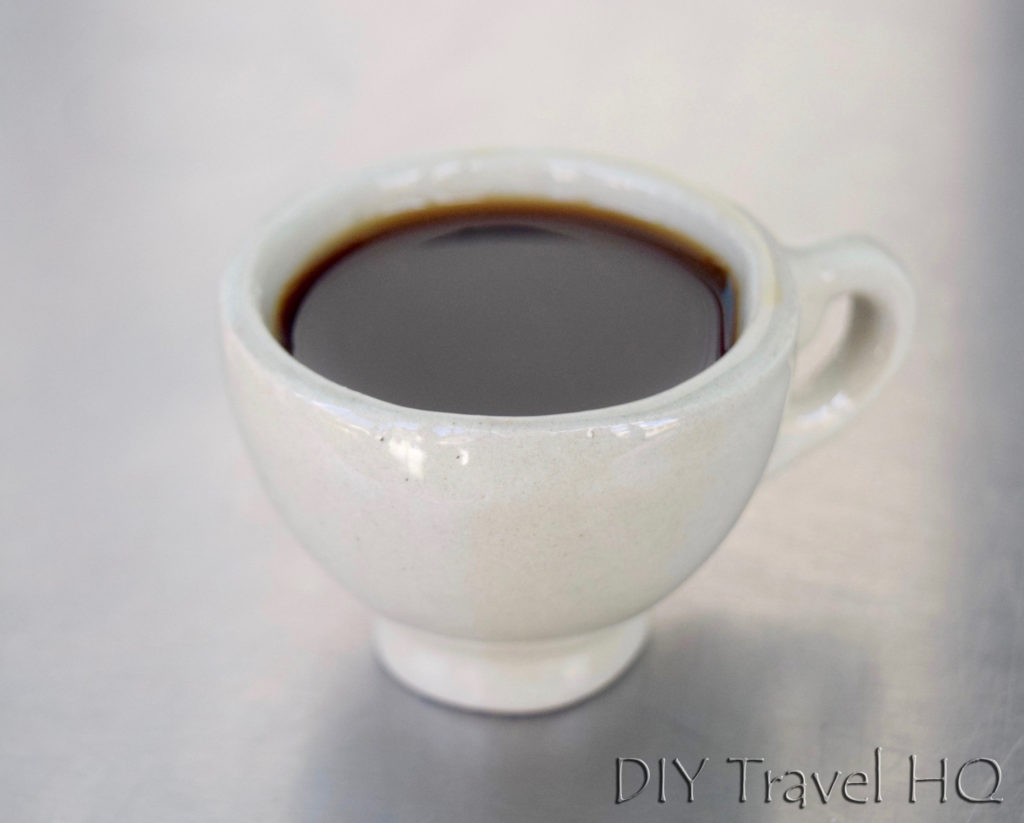 #2. Refresco / Gaseosas
A glass of refresco, cold flavoured drink, similar to a soft drink, is usually 1 peso / $0.04.
You can also get Gaseosas, which are home-made soft drinks. Never pay more than 2-3 pesos / $0.08-$0.12.
A glass is around 232ml – this throwback to the times of austerity during the Special period is listed on most menus.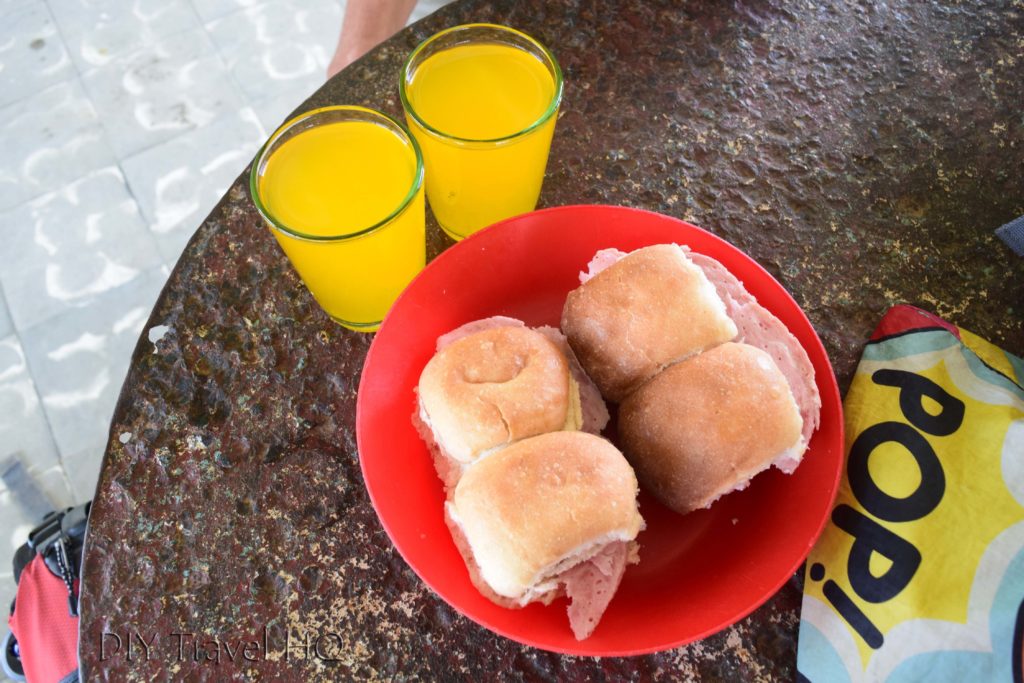 #3. Guarapo
Ice-cold sugar cane juice, aka Guarap, was our favourite drink in Cuba!
Slam 'em down for 1 peso / $0.04 each – you'll get a big sugar high before coming crashing down!
#4. Jugo
A glass of fresh juice is 2-3 pesos / $0.08-$0.12 & one of the best bargains in Cuba.
Flavours include tamarind, sugar cane, guayabana, pina, grapefruit & mango.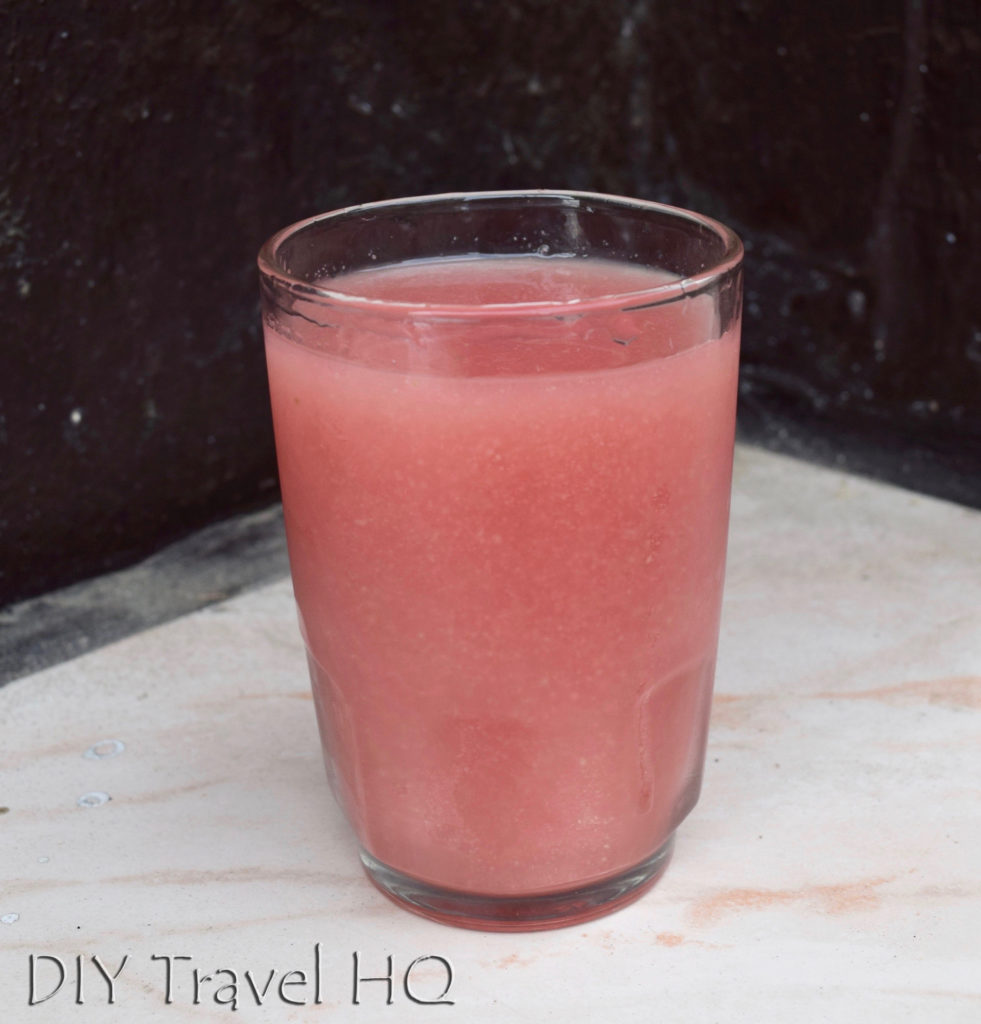 #5. Granizado
Freshly shaved ice with flavoured syrup for 2 pesos / $0.08 each.
Look out for vendors pushing their snow cone carts, there are many flavours to try!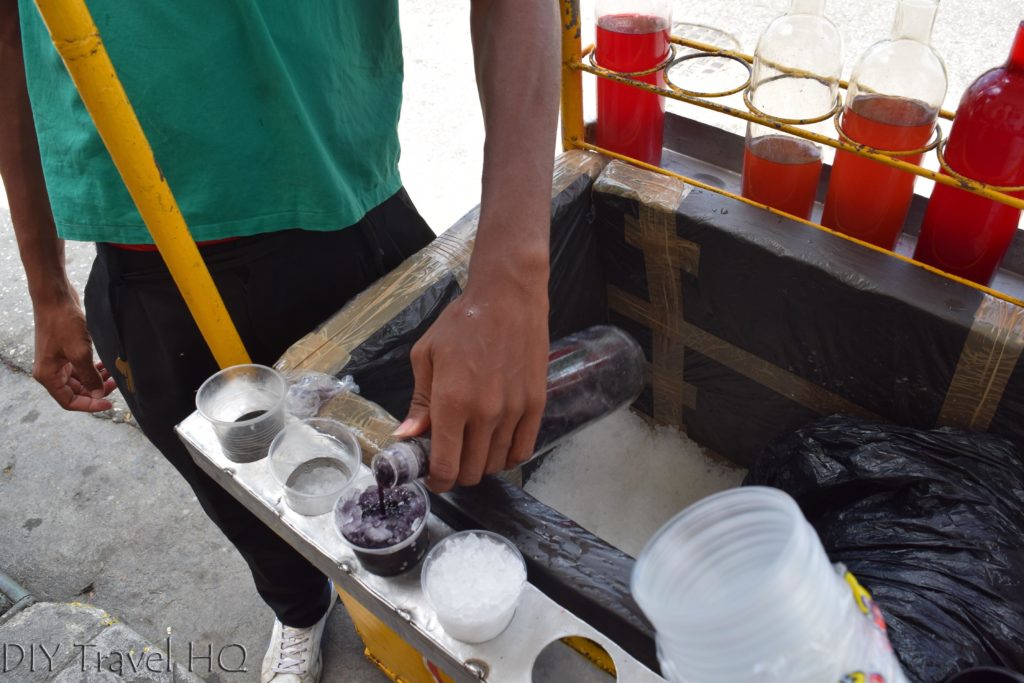 #6. Batido
Batidos are Cuban milkshakes made with water, milk or condensed milk, fruit & ice – it's similar to a smoothie.
We didn't really like them but they usually cost 3 pesos / $0.12.
#7. Cerveza
Look out for local beer dispensaries that sell cups for 6 pesos / $0.24 each.
Every town in Cuba should have one but they're hard to come by – we found them in Havana, Trinidad & Guardalava.
Local bottles of beer cost 10-15 pesos / $0.40-$0.60.
Bucanero is a popular brand – it's strong at 5.4% but we didn't like the taste at all (25 pesos / $1.00).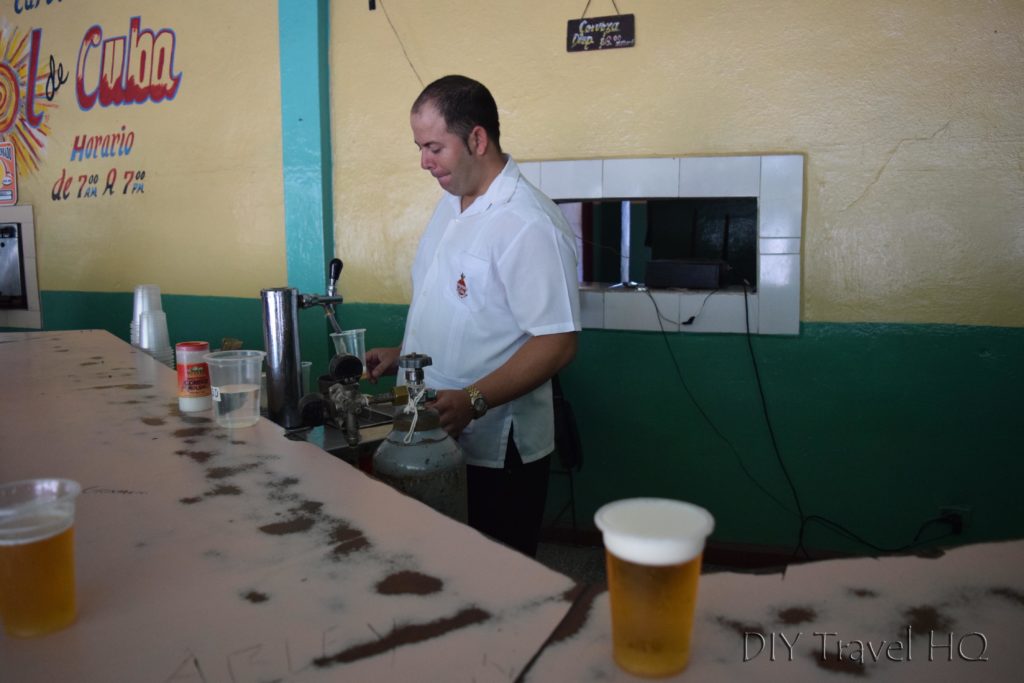 Snacks
#1. Ice cream
Soft serve ice cream can be found for 1 peso / $0.04.
Chocolate, strawberry & coconut ice cream is usually 3 pesos / $0.12 – never pay more than 5 pesos / $0.20.
Other flavours are sometimes available too.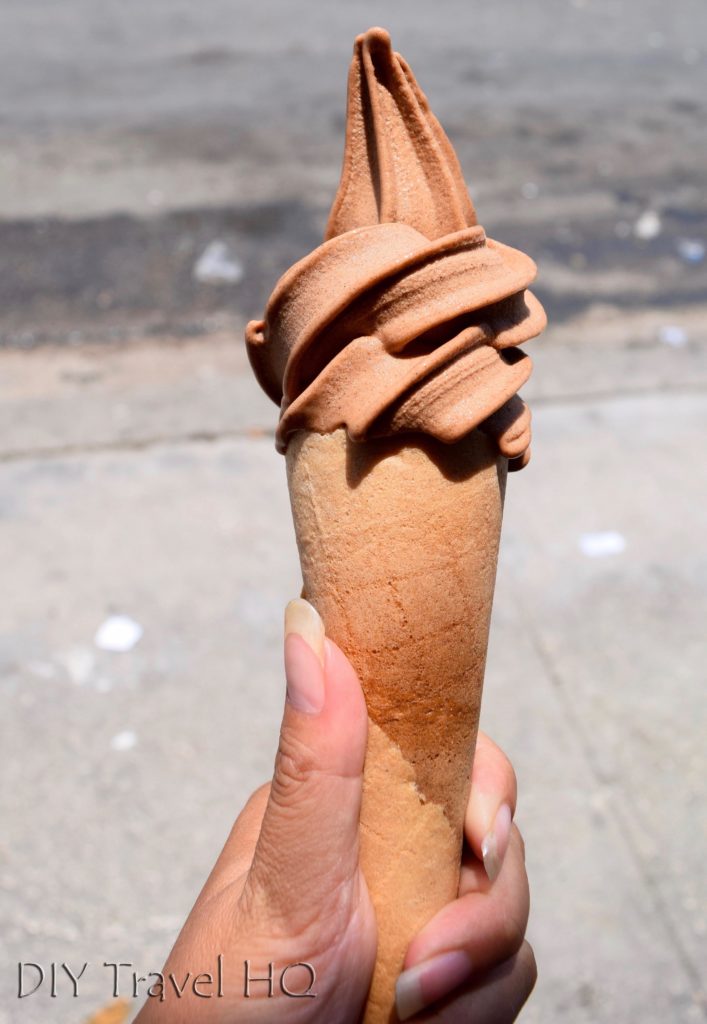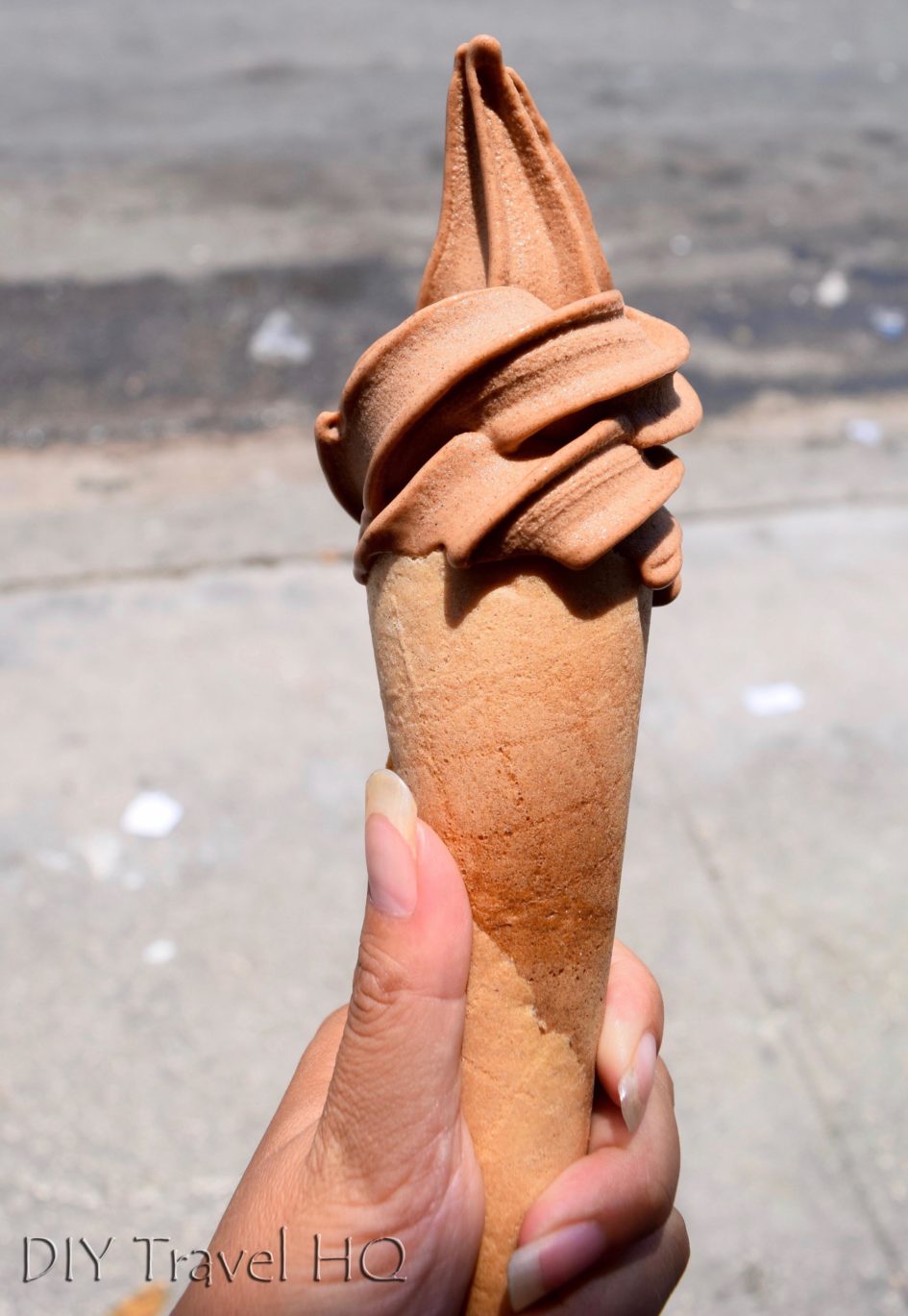 #2. Cookies & cakes
We found freshly-baked cookies in Vinales for 1 peso / $0.04 each – we bought 20 to take on a hike in Parque Nacional Vinales!
They were absolutely delicious! It's common to find cookies & cakes for sale in town for 1-3 pesos / $0.04-$0.12 each.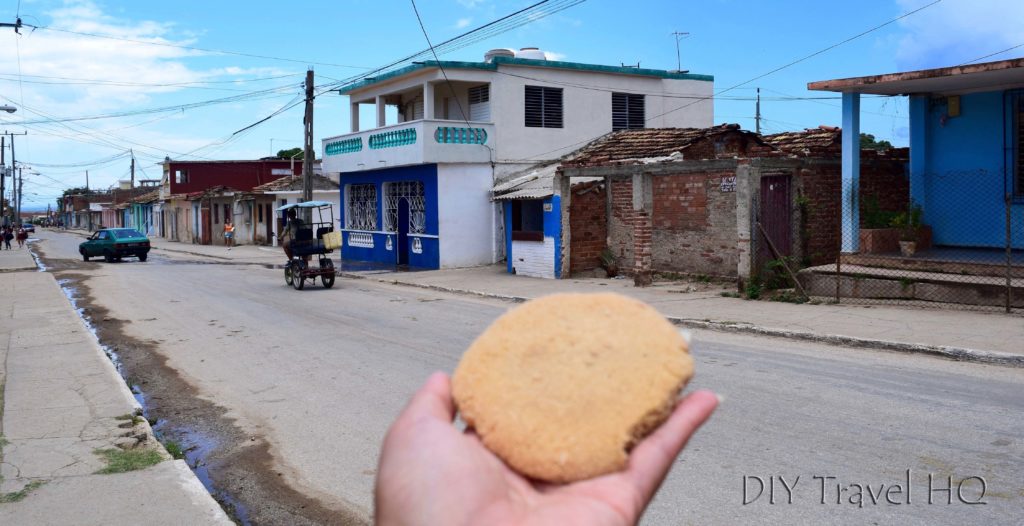 3. Croqueta
You can get 2 croquette balls (small breadcrumbed fried rolls) for 1 peso / $0.04.
These ones are filled with jam – better fillings cost more.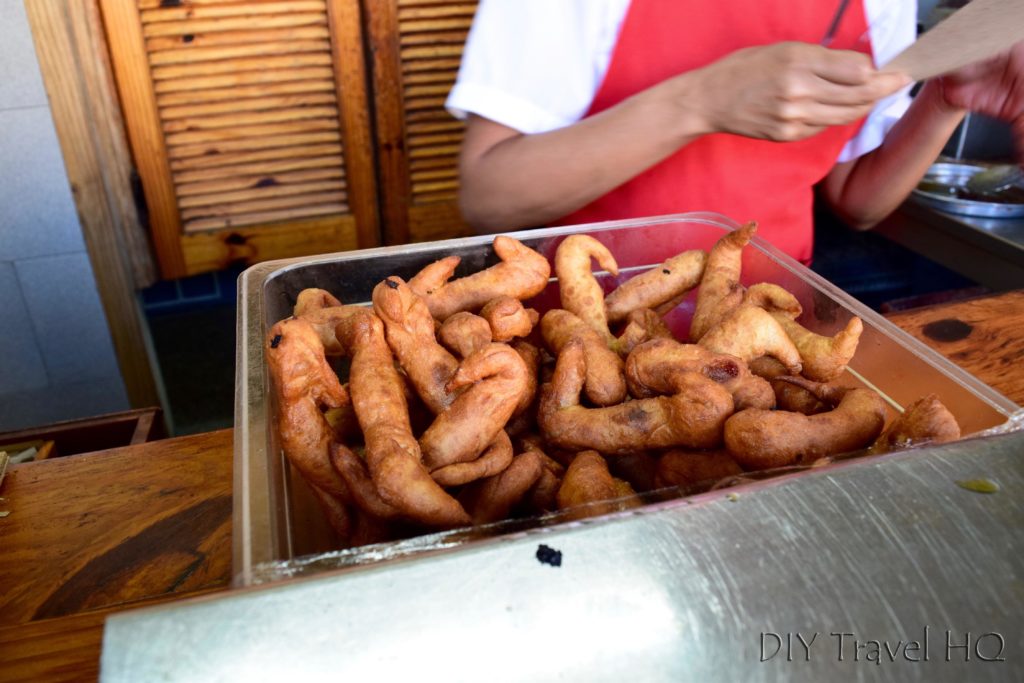 #4. Misc Snacks
Other snacks you can find in Cuba are:
Popcorn – 5 pesos / $0.20
Hot dogs – 10 pesos / $0.40
Empanada – 1 peso / $0.04
Cacao chocolate fudge – 2 pesos / $0.08
Churros – 3 pesos / $0.12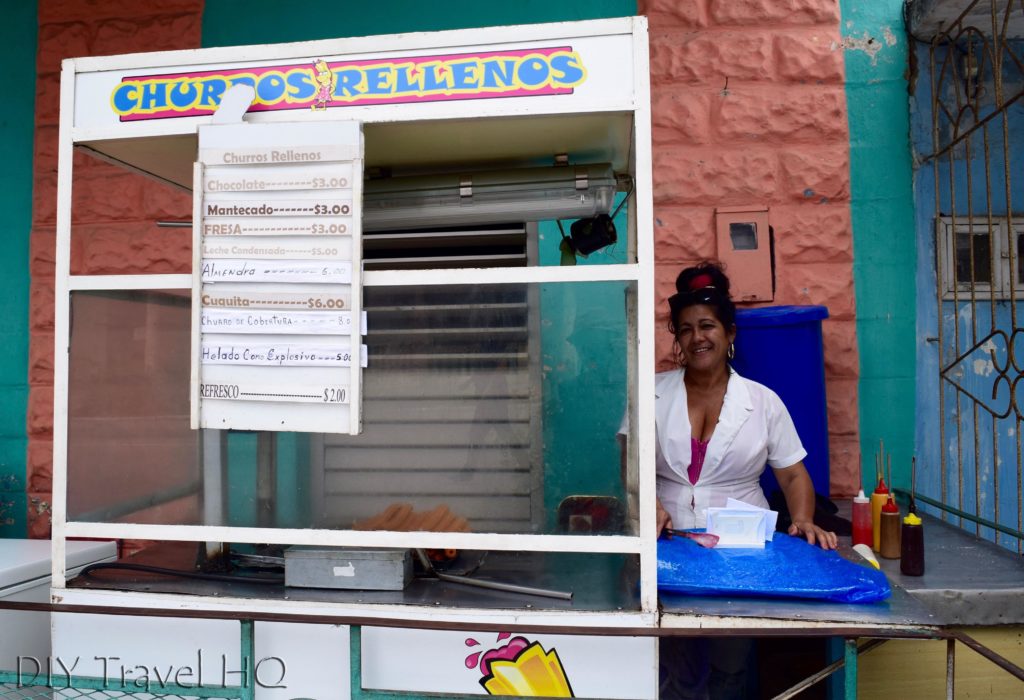 Honorary Mention
#1. Cuban cigar
You can't eat it but it does go well with food or drinks! Did you know that you can buy local Cuban cigars for 1 pesos – that's 4 cents!
We aren't cigar connoisseurs so this was perfect for us! FYI: you can bring in 25 cigars a person from Havana Airport to Mexico!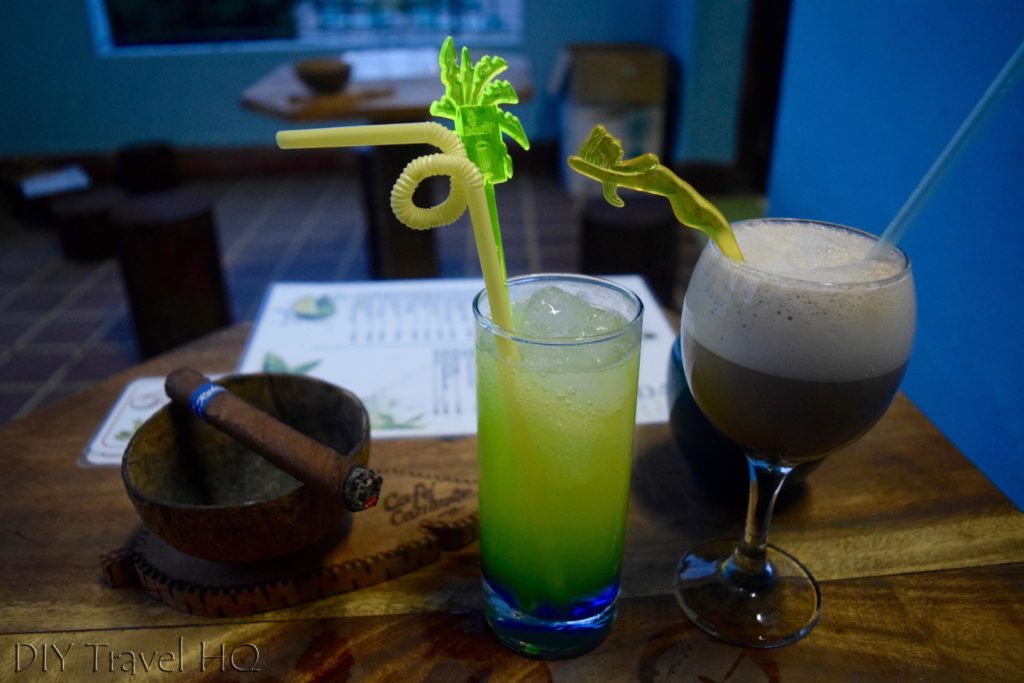 Why Eat Street Food in Cuba?
You can find street food & drink stalls in all the places to visit in Cuba – there's little variety but this is how the locals eat.
Cuban street food might not be the tastiest or most nutritious but it's very cheap & you can certainly fill up on many pizzas & juices for almost nothing.
Cuba has a dual currency system – the convertible pesos (CUC$) & Cuban pesos (moneda nacional, MN$).
Essentially, CUC$ is used for anything to do with tourists & the tourism industry, while locals almost solely use the Cuban peso.
CUC$1 = 25 peso (or MN$25) or US$1
1 peso ($MN) = US$0.04 or CUC$0.04
So as a DIY budget traveller, eat as a local in pesos & your money will go extremely far…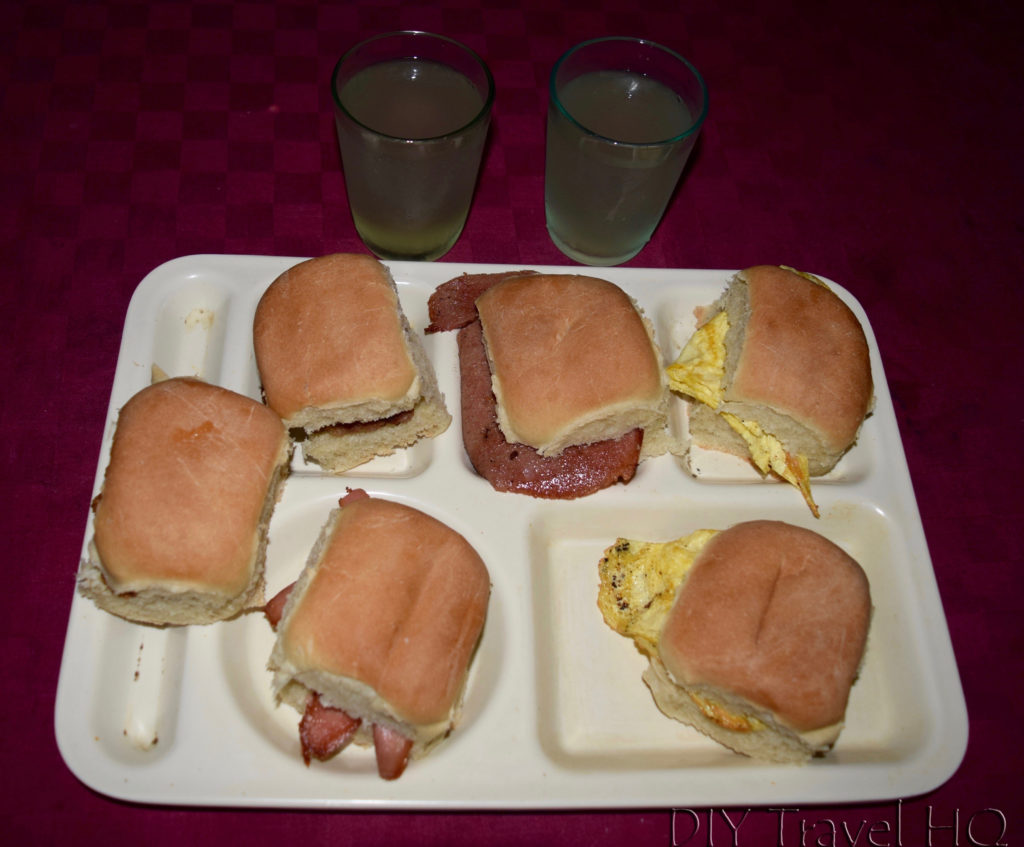 Street Food Prices
When discussing prices, we recommend that you confirm which currency is being used.
For example, coffee (café) is usually 1 peso on the street but you could easily assume it's CUC$1 – 25 times more!
After awhile, you'll quickly get a sense of prices, but there could always be that odd hustler trying to take advantage of tourists.
Keep in mind that you can buy a lot of street food in Cuba for 1 peso (US$0.04 cents) & a hell of a lot for 25 pesos (US$1).
You can easily eat 3 meals a day with snacks & drinks for less than $1. Go crazy for $2-3 a day!
We happened to be travelling with a pack of oregano (from when we would cook when travelling around Mexico).
This proved to be really handy & a good addition to Cuban spaghetti & pizza – see cover photo!
Top tip: buy a 1.5L bottle of local soft drink for 25 pesos & refill this bottle time & time again, with refresco for 7 pesos / $0.28!
You can also refill your bottle with juice or beer for the equivalent of 7 glasses!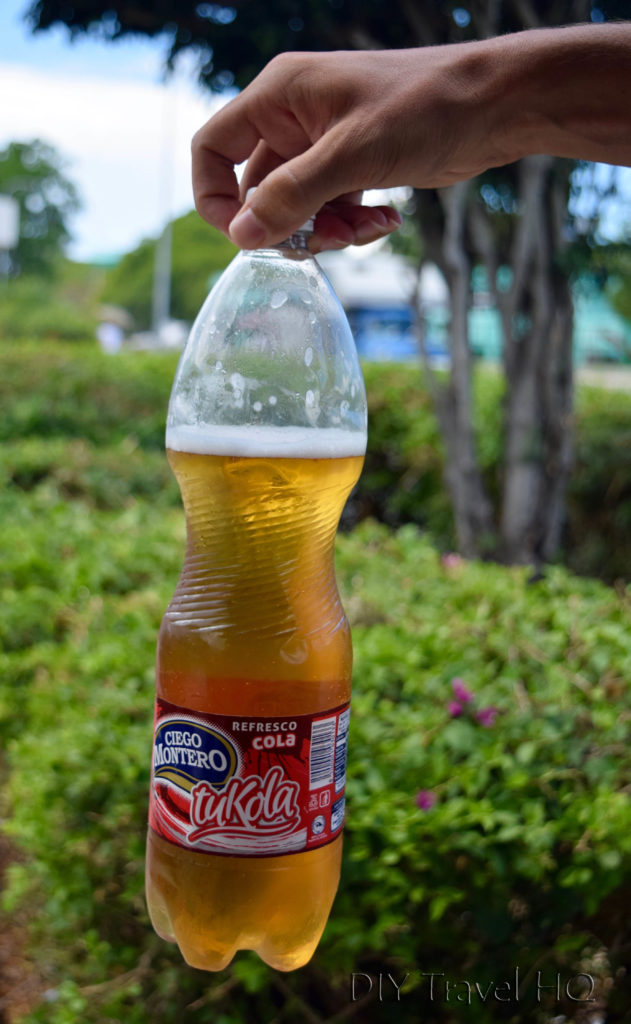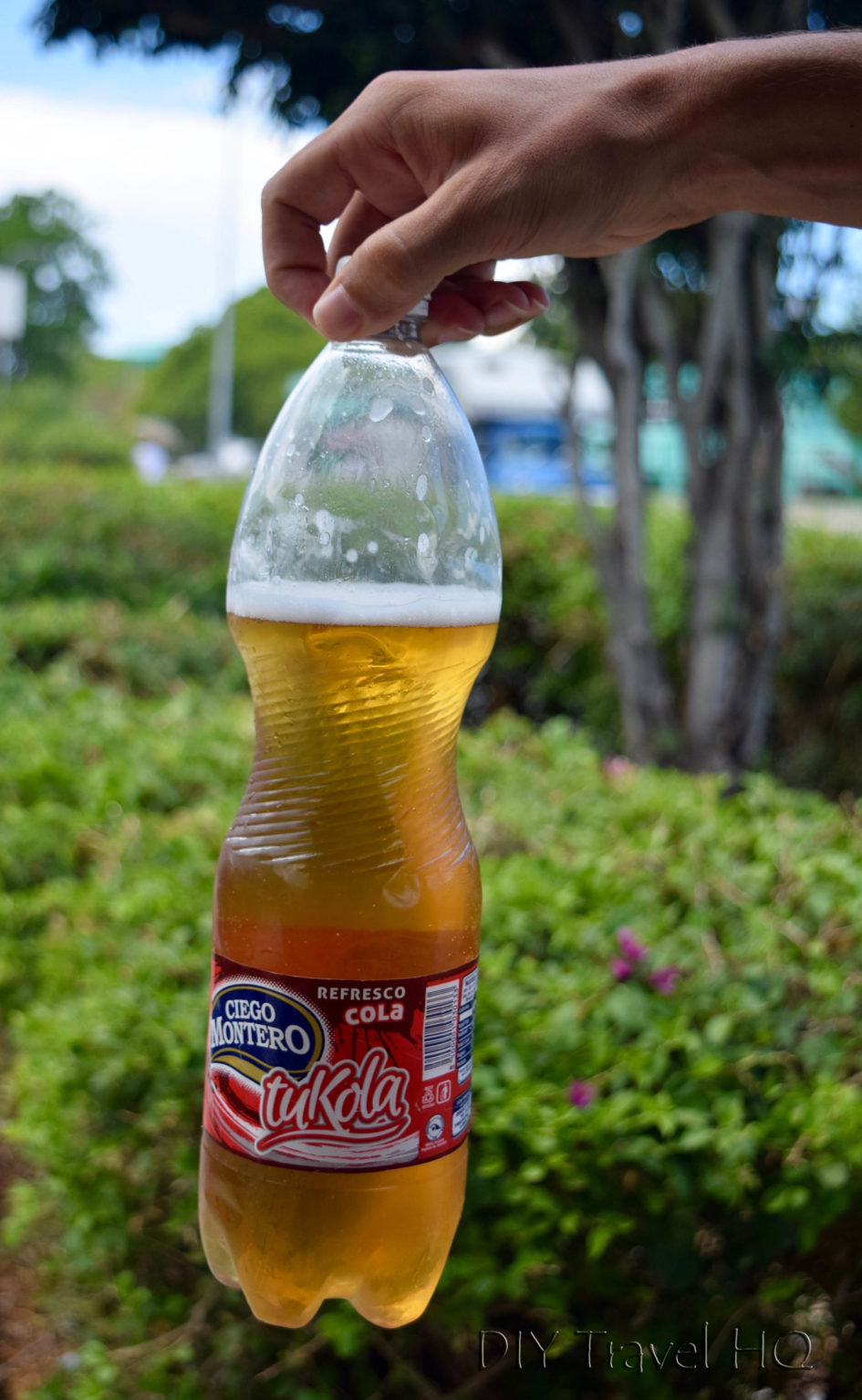 Government Restaurants
Mix-up your Cuban street food diet with occasional government restaurants in Cuba.
Also, keep in ind that Street Food in Havana is more expensive – expect to eat from not $1 a day but $3 a day. Shocking I know!
Before travelling to Cuba, familiarize yourself with these very predictable staples that you'll find on every peso menu…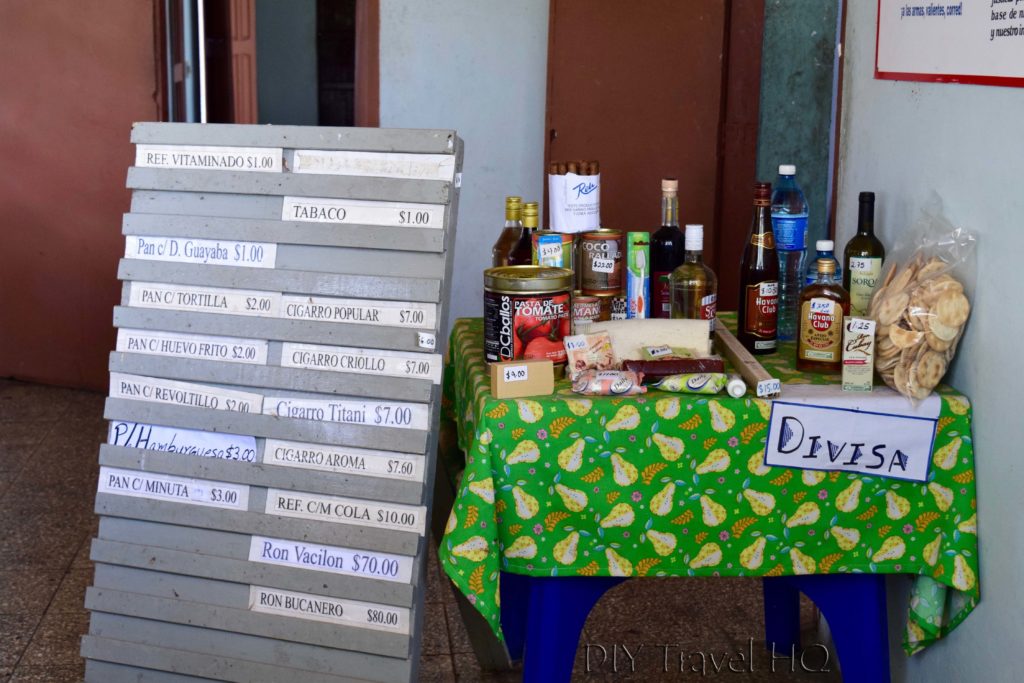 Where to Next?
Check out our Cuba Budget Travel Guide for more important things to know about traveling in Cuba.
And always be aware of pickpockets. We recommend wearing a money belt with RFID blocking & traveling with an anti-theft daypack.
* Don't forget to purchase travel insurance before any trip to Cuba. We've been using World Nomads for over 10 years – it's the best-value provider we've found but there are important things to consider. Check out our post & find out which of our claims were successful or denied.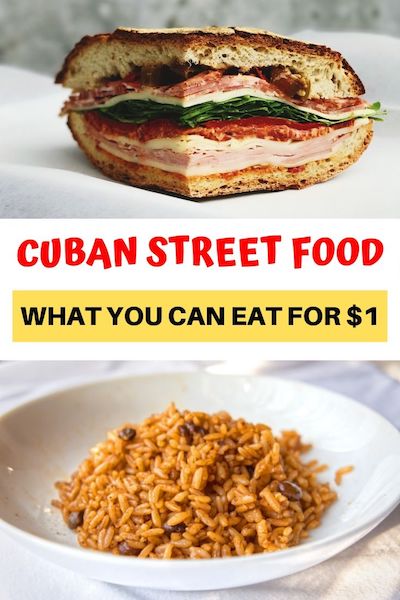 The Final Word – For extremely cheap eats & the best value street food in Cuba, head to the nearest peso stall!
Where else in the world can you eat for $1 a day?!
Disclaimer: This post contains affiliate links, which means that we receive a small commission if you click on a link & purchase something that we have recommended, at no extra cost to you.
Tasted in May-June 2016
Updated in August 2019