For travelers coming from Belize, Flores will be your 1st stop in Guatemala in order to visit Tikal. Find out where to stay and things to do in Flores, Guatemala!
Things to Do in Flores, Guatemala
Flores is more than just a base town for visiting Tikal. There are so many things to do in Flores, Guatemala.
There are a handful of attractions on Flores Island, and the rest can be easily reached via lancha. When you exhaust all there is to do in Flores, Guatemala check out our favorite places to visit in Guatemala.
Find more inspiration in one of the Guatemala guide books below!
1. Walk Around the Island
The best way to explore a new place is to start walking around as you never know what you will discover. Flores, Guatemala also has the added benefit of being small enough to complete a loop in under 30 minutes.
The colorful town is very quaint and has a wonderful main plaza to sight see or people watch. You'll know you are close when you start to climb up cobblestone streets.
Although you can see the top attractions in Flores rather quickly, there is a lot more to do than meets the eye. Things also change depending on the day or even time so keep reading to find out all the things to do in Flores, Guatemala.
2. Parque de Flores
Parque de Flores is the heart of Flores, Guatemala. Not only is it located roughly in the center of the island, but it has the highest elevation as well with outstanding views.
The highlights include the gazebo in the middle, a lively basketball court, Catedral de Flores, and Castillo Arizmendi.
Anyone checking off their list of things to do in Flores, Guatemala will visit here.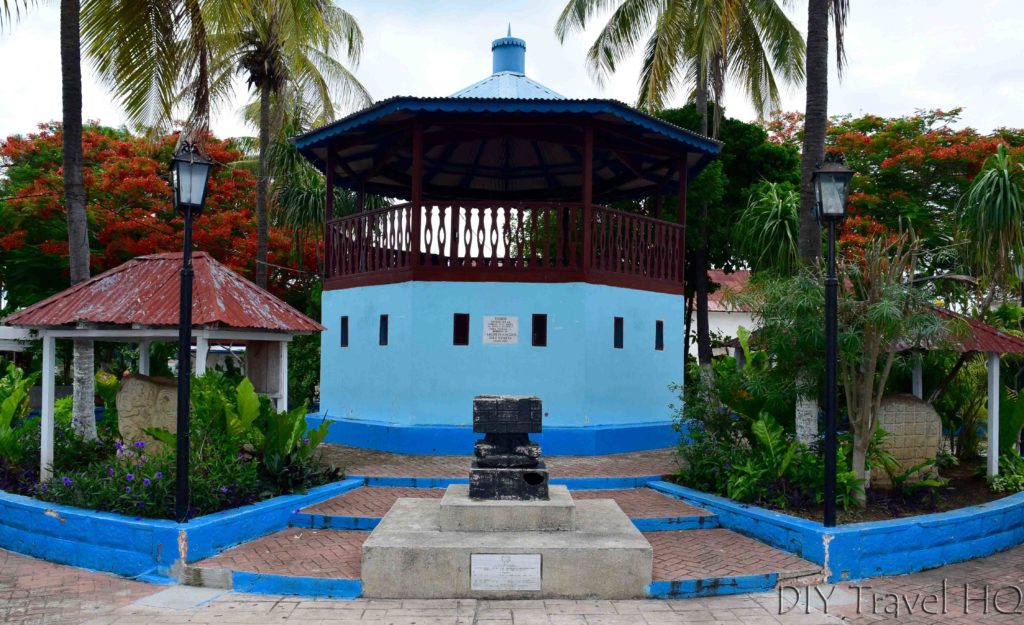 3. Catedral de Flores
Catedral de Flores sits at the top of Parque de Flores, and is most active on Sundays during mass. Besides the colonial-style exterior, visitors can see stained-glass windows and black Jesus at the altar inside.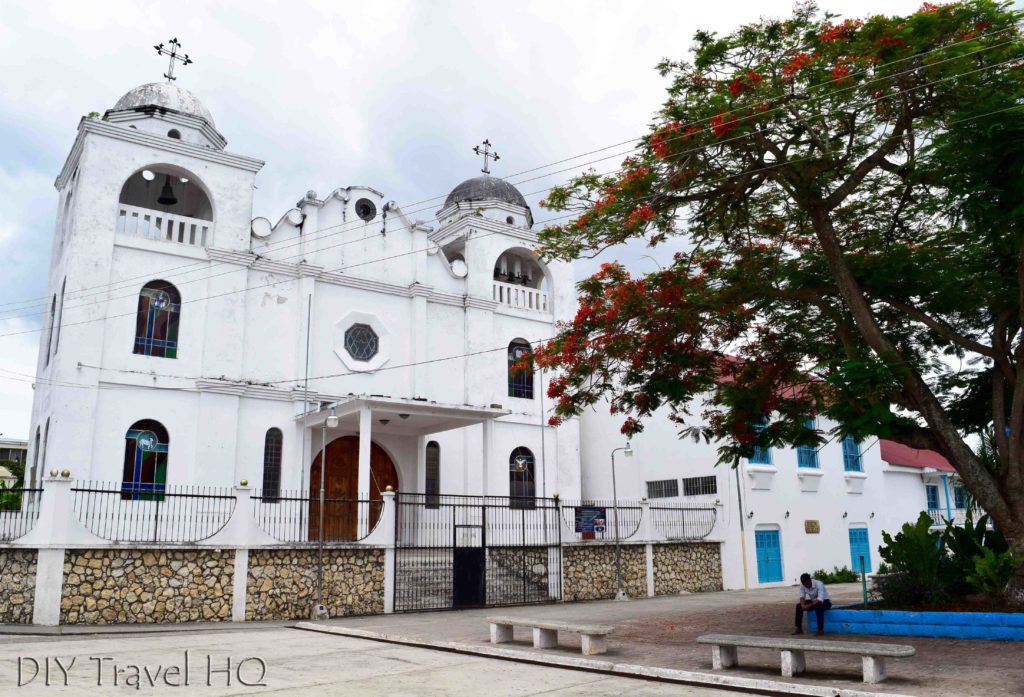 4. Castillo Arizmendi
Castillo Arizmendi is also located along the Parque de Flores perimeter, and honors the captors of the island in 1697. Inside you can find several vendors selling wood carvings from El Remate artists.
5. Swim in Lake Peten Itza
One of the best things to do in Flores, Guatemala is to take a swim in warm Lake Peten Itza. The nicest spot to enjoy the water is the midpoint of the Flores – Santa Elena causeway.
Parque Concordia, located in the middle of the causeway, also has piers for fishing and ferries to other locations.
The lake has risen recently, and half the docks are now under water which makes getting to a swimming depth easier. Other popular places to swim in Flores, Guatemala are Playa El Chechenal Peten and Jorge's Rope Swing.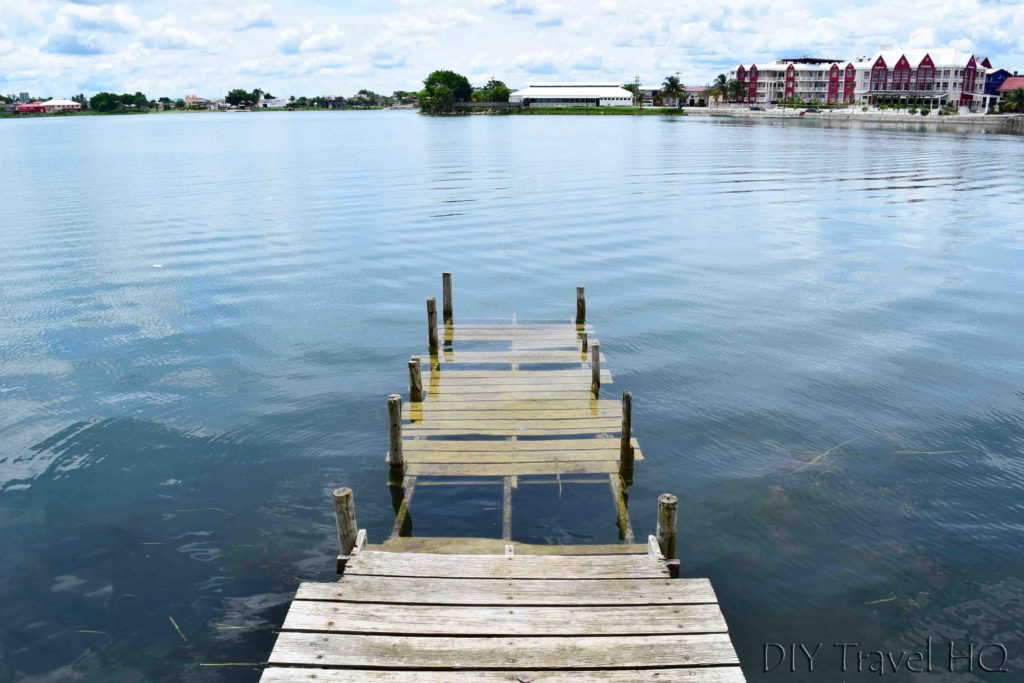 Keep an eye out for ducks that pop in and out of the water as they hunt for fish.
6. Rooftop Sunset Drinks
The best place to relax in Flores, Guatemala after a day of sightseeing is Sky Bar. Grab a drink on the rooftop overlooking Lake Peten Itza and watch the sunset before heading over to the Flores night food market for a snack.
7. Santa Elena Market
Santa Elena market is where to go if you want a cheap meal during the day in Flores, or you need to replace lost or broken items.
This a local market so don't expect to find any souvenirs – for that, head straight to the famous Chichicastenango market.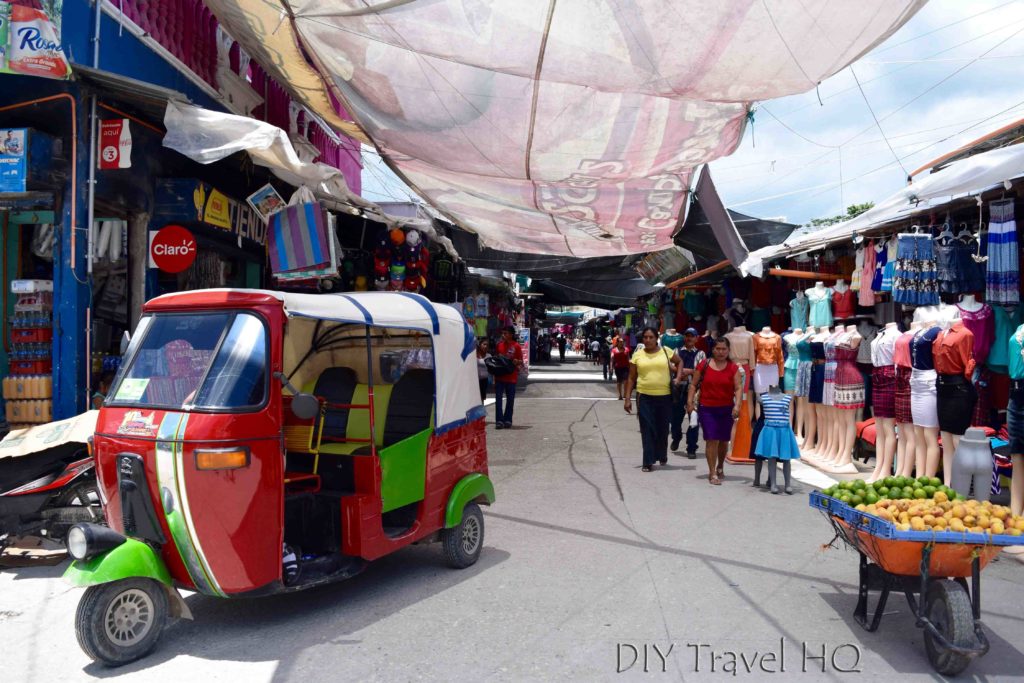 8. Zip-Lining at Ixpanpajul Natural Park
If one of your things to do in Flores, Guatemala is to go zip-lining, then you have to visit Ixpanpajul Natural Park. The two most popular activities are the Sky Way that immerses you in the canopy with howler monkeys on six suspension bridges, and zip lining on the Tarzan Canopy Tour.
The prices are on the steep side for Guatemala, but will be an experience you won't forget. Consider sourcing your own transportation there as their shuttle is way over overpriced, and isn't too far away from Flores, Guatemala.
Hours: 7 am – 5 pm daily
Activity Prices:

Sky Way Suspension Bridges – $25
Tarzan Canopy Tour – $30
30 Minute Horseback Ride – $10 (free if you book both above)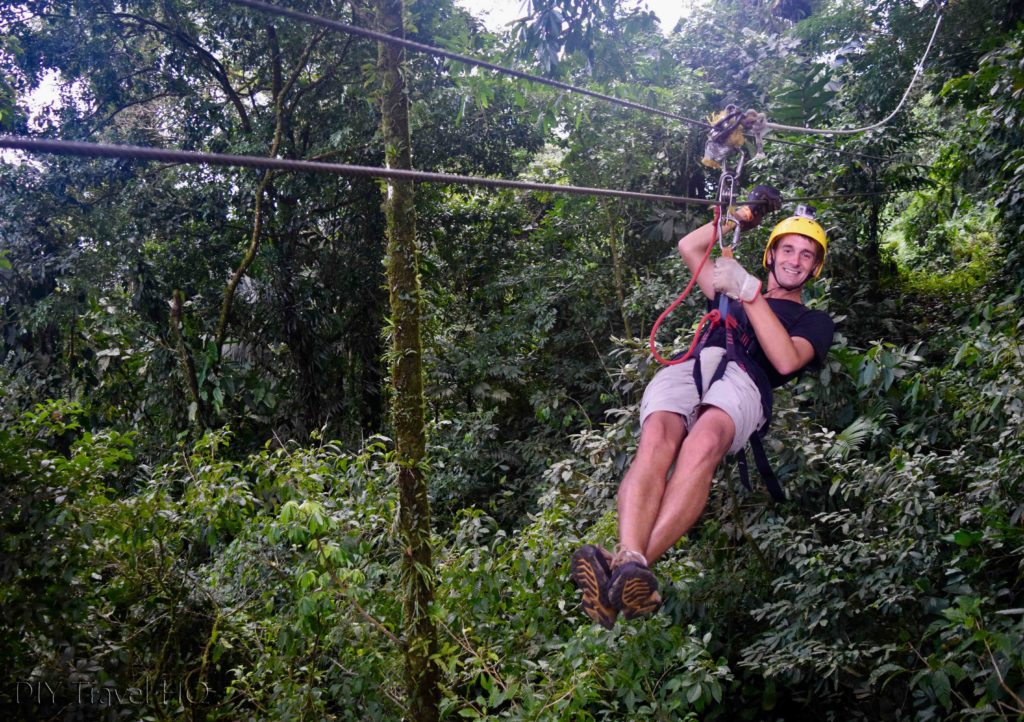 9. Ak'tun Kan Caves
Ak'tun Kan translates as Cave of the Serpent, and is a great half day adventure from Flores, Guatemala. You can go spelunking on your own, or hire a guide for a 45 minute tour at the entrance depending on your comfort level.
Besides natural features that a guide could point out best, there are also Maya ceramics that you might otherwise miss. Should you venture on your own, the winding, snake-like cave has periodic directional signs pointing to the exit should you get lost.
There are no permanent lights installed so remember to bring your headlamp. They also rent mediocre headlights in case you don't travel with one. Good shoes and plenty of water are also highly recommended.
Another great cave adventure in Guatemala is Semuc Champey cave where only candles are used for light!
Hours: 7 am – 5 pm daily
Entrance Fee: Q35
Tour Guide: Q40 Max
Tuk-Tuk: Q10-15
Headlamp Rental: Q10
10. Learn Spanish
Flores, Guatemala is a great base to learn Spanish with so many things to do in Peten nearby. You can improve your language skills and practice on countless day trips, or just relax and enjoy Lake Peten Itza.
One of the more popular places to learn is Dos Mundos Spanish School with 20 hour group lessons starting at $125. Groups never exceed four students, and there are private lessons as well.
Another great place to learn Spanish for travel in Guatemala is Lake Atitlan. Sheena spent a week mastering the basics at San Pedro Spanish School.
Spanish Lesson Plans: $125 and up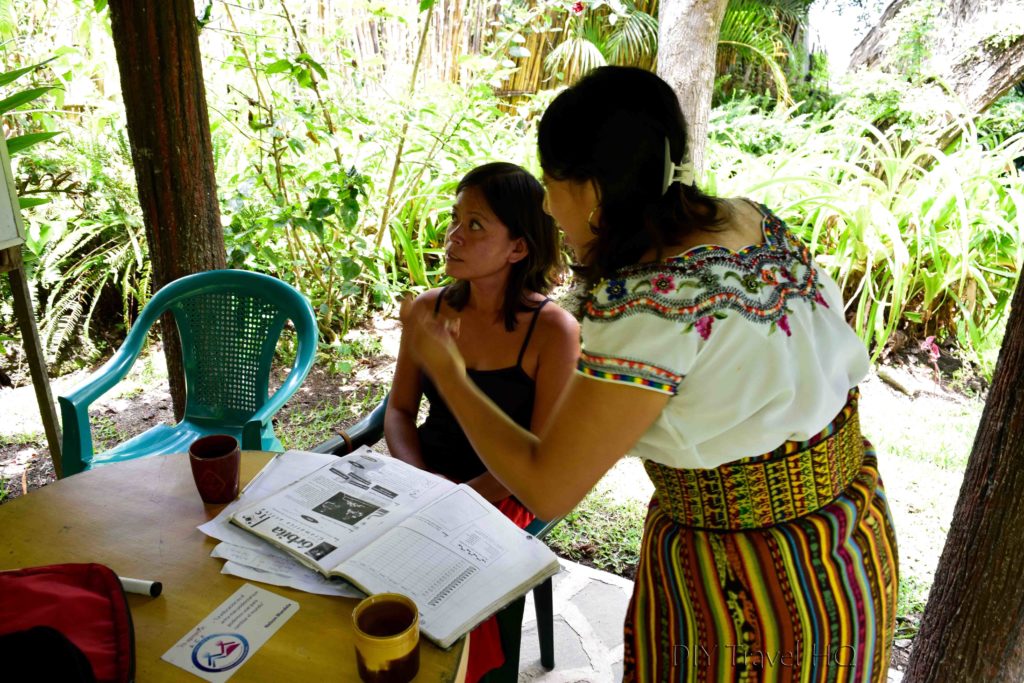 11. Rent a Kayak or Canoe
Getting out on Lake Peten Itza under your own power is a special feeling. Kayaking for free if your hotel has a complimentary rental is even better!
Those of you that aren't that lucky can still rent a kayak from the Kayak Rental Lacandon on the northwest waterfront in Flores, Guatemala. The kayak rental price is Q25 per hour, or Q100 for the day.
It is also possible to rent a canoe from Los Amigos Hostel if you don't feel confident paddling by yourself.
Kayak Rental Fee: Q25 per hour, Q100 per day
12. Night Food Market
One of the best places to grab dinner or a snack in Flores, Guatemala is the nightly food market along the western waterfront. A handful of vendors gather and sell:
Tostados (3 for Q5 / $0.70)
Tamales (2 for Q5)
Tacos dorados (3 for Q5)
Custard dessert in cup (Q5)
Slices of cake (Q10 / $1.40)
Many other things are on offer – you really can't go wrong with the prices and variety.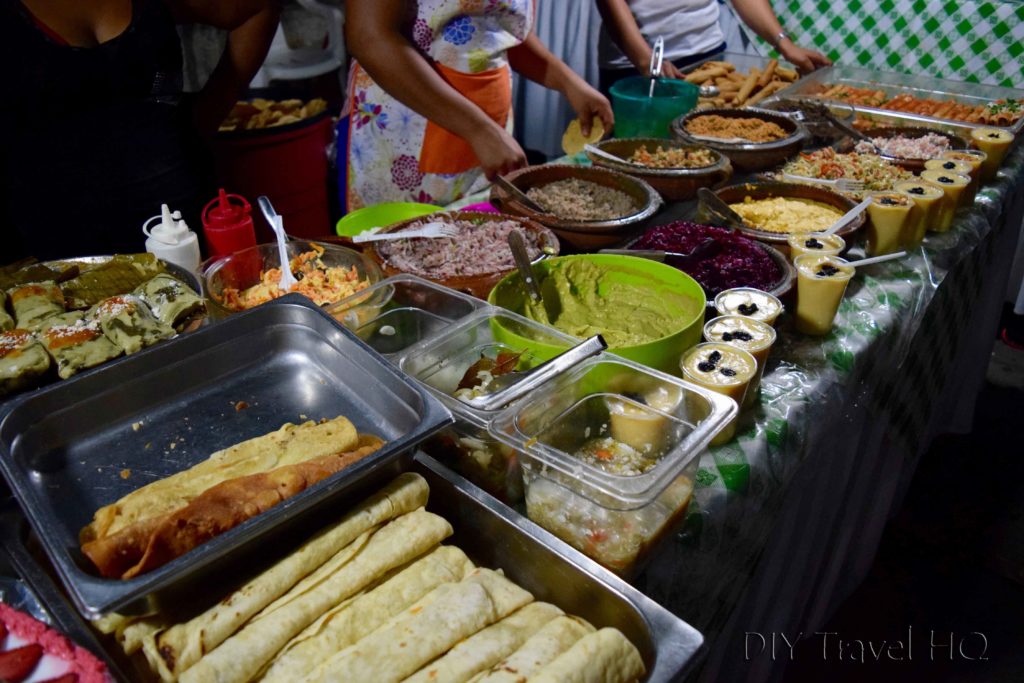 13. Hire a Boat
Flores, Guatemala is surrounded by Lake Peten Itza making hiring a boat essential to maximizing your experience. The following seven things to do in Flores, Guatemala are best reached via boat.
The short boat ride from Flores to San Miguel is the only fixed rate route (Q5 / $0.70). Ferry boats depart on the northeast waterfront in Flores, and leave with as few as one customer.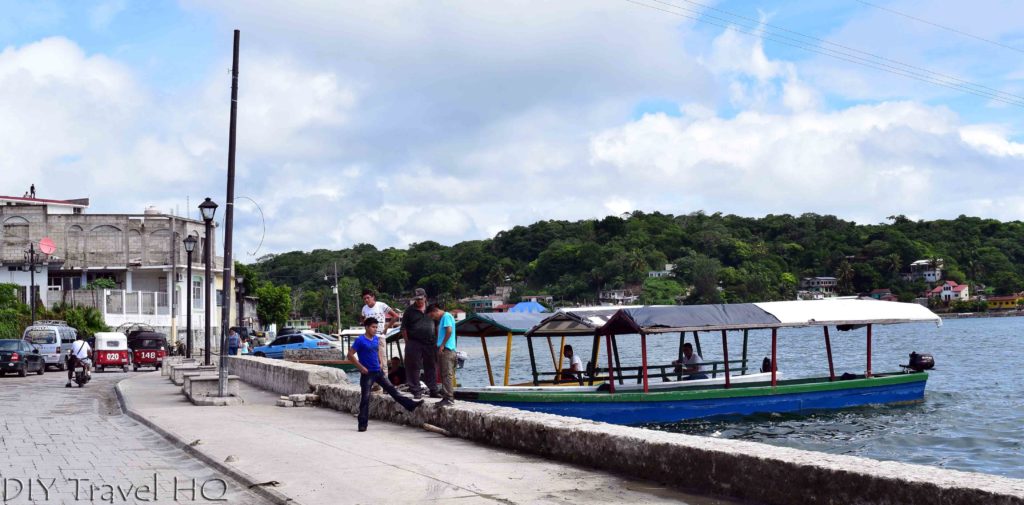 Lanchas to other destinations on Lake Peten Itza dock on the southwest portion of Flores, Guatemala at the ferry terminal. It is also possible to arrange a tour to explore the lake.
There are no fixed rates so expect to haggle with the boat workers. You can use the cost to San Miguel as a guide, but keep in mind that odds are less that they will have a return fare to subsidize your portion.
14. Museo Santa Barbara
Museo Santa Barbara is reachable by a lancha, small hired boat, and displays Maya artifacts from Peten, Guatemala. They also have accommodation and a restaurant on their private island.
Hours: 8 am – 5 pm daily
Entrance Fee: Q20
15. Tayazal Maya Archaeological Site
The Mayas built a new twin pyramid complex every 20 years in Tikal. A similar example can be found on the San Miguel peninsula loop trail.
They built pyramids on the east and west of the square. The north side contained a stela and altar, while the south side contained a building with nine entrances.
All that remains today are mounds of dirt and a poorly preserved stela, but the design is unmistakable if you have been to Tikal or Quirigua first.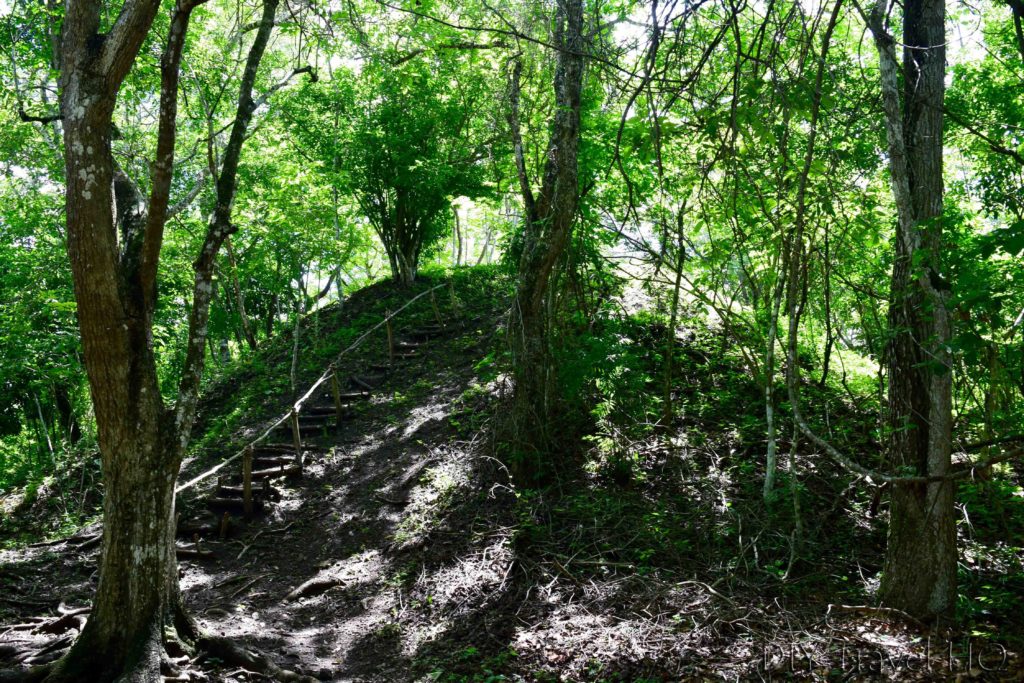 16. El Mirador del Rey Canek
The highlight of a day trip to San Miguel is to get a panoramic shot of Flores, a small island in the middle of Lake Peten Itza. Here at DIY Travel HQ, El Mirador del Rey Canek helps put Flores on our list of top destinations in Guatemala.
The lookout tower El Mirador del Rey Canek resembles a tree house as the wooden structure is supported by the trunk and branches.
It's not to be confused with the lost Maya city of El Mirador, which is a strenuous 5 day hike from Flores, Guatemala!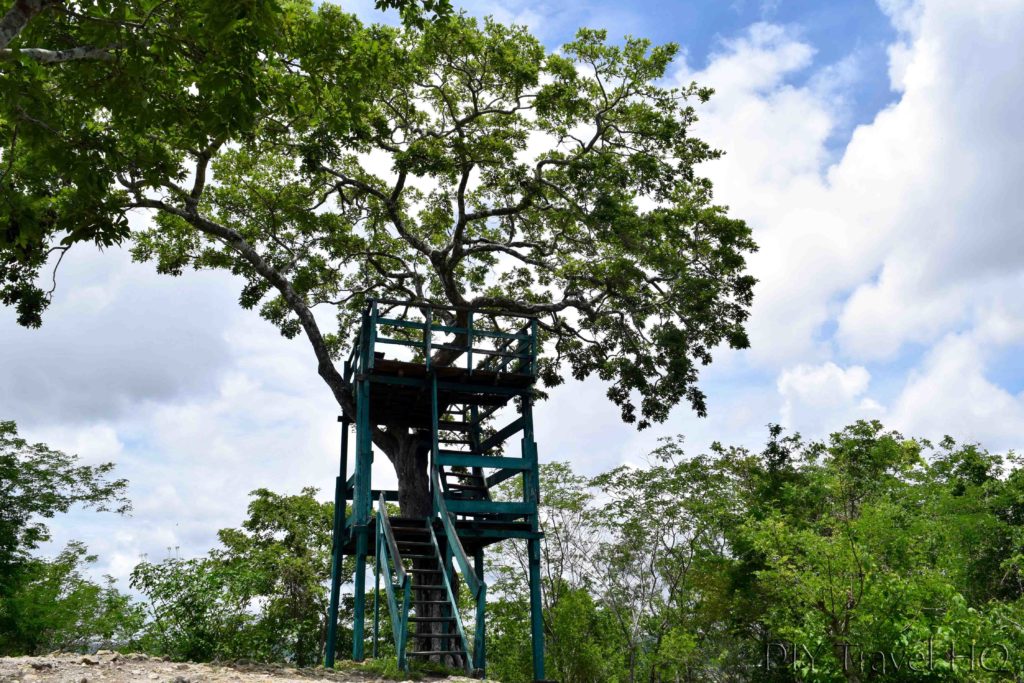 You get beautiful views from both sides as you peer through the branches.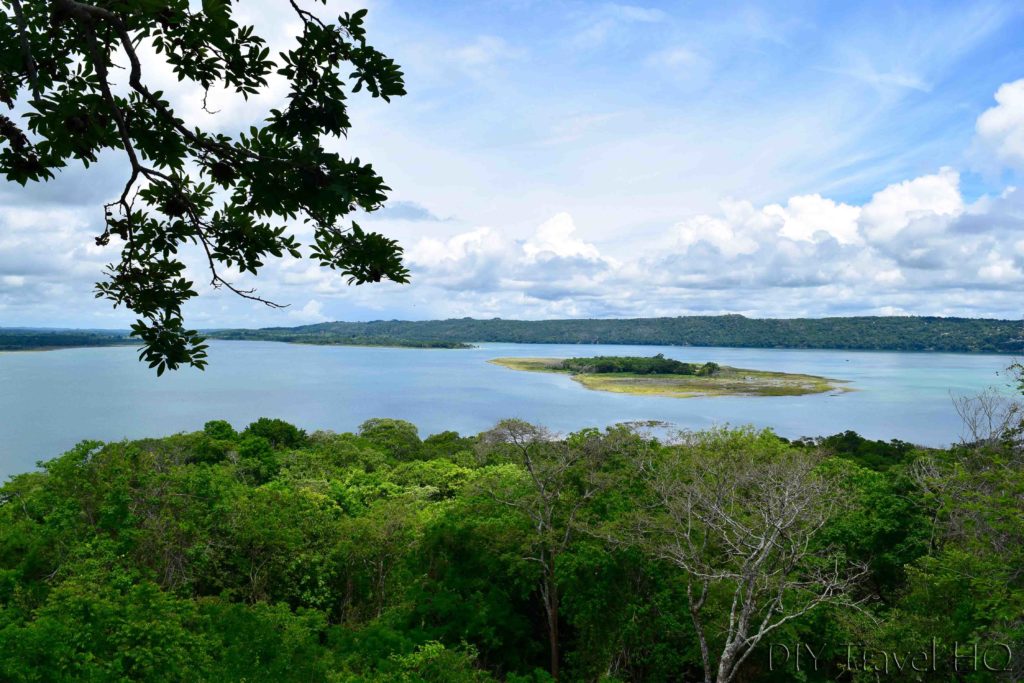 17. Playa El Chechenal Peten
Chechenal beach (Q5 / $0.70) is a bit out of the way as you have to walk 500 meters there and back from the San Miguel peninsula loop trail.
The site has barbecue pits, bathrooms, shade umbrellas, and a pier that gets you to deeper sections of the lake. What they don't have is a nice beach despite their name.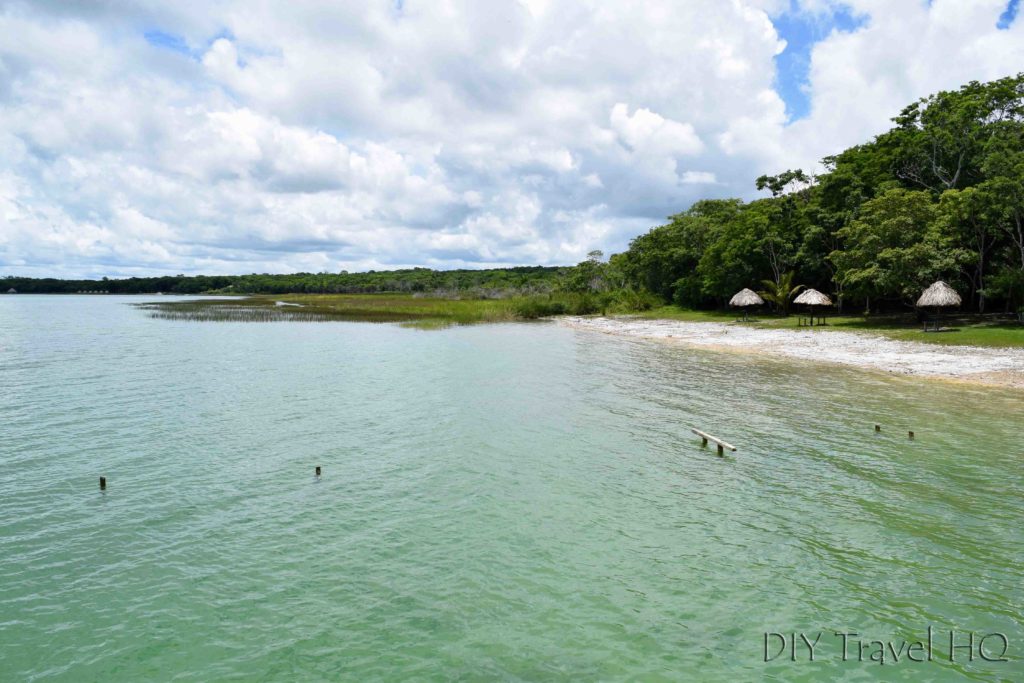 The water at Playa El Chechenal Peten is cleaner than around Flores, Guatemala. You just need to go to the end of the pier for Lake Peten Itza to be deep enough to swim in.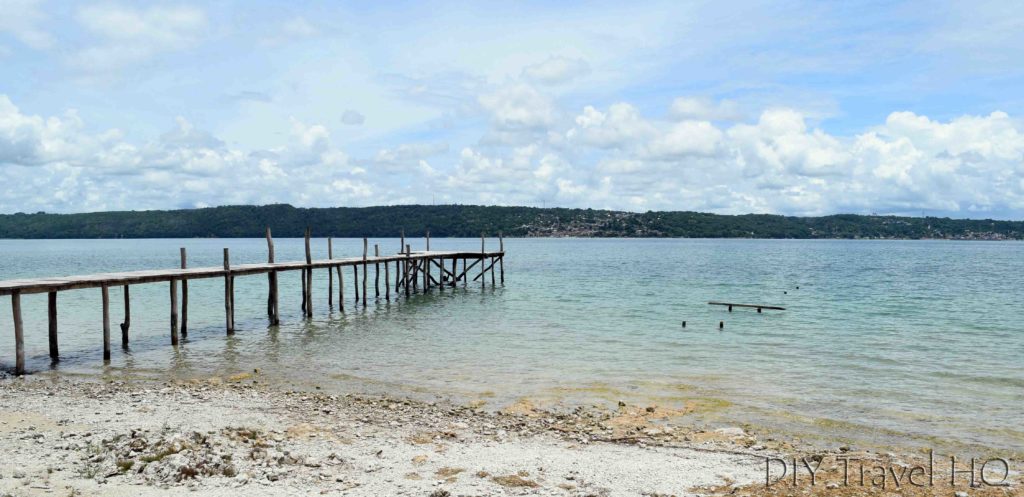 Only consider visiting if you brought your bathing suit, a packed lunch, and have time to kill.
18. Jorge's Rope Swing
If you want to try something more adventurous than jumping off the end of the pier at Playa El Chechenal Peten, then head to Jorge's Rope Swing. You have your choice between a diving board or three rope swings.
In between plunging up to 10 meters into Lake Peten Itza you can relax in hammocks or underneath a palapa with snacks and beer. This is another great place to watch the sunset too.
Entrance Fee: Q10
Boat Taxi: Q10-20 each way depending on haggling
Beer: Q15
19. Petencito Zoo
Tucked away on San Miguel peninsula is Petencito Zoo, which acts as a sanctuary for rescued animals. Although small compared to US zoos, it has a wide assortment of big cats, monkeys, tapirs, agoutis, and other animals.
Entrance Fee: Q40
Boat Taxi: Q100-150 with wait time
20. Volunteer at ARCAS Wildlife Animal Protection
Those with more time to spend in Peten, Guatemala can volunteer at ARCAS Wildlife Animal Protection. Here you can help make a difference with local wildlife in need of assistance.
Participation Costs: $200 and up per week for accommodation and meals
21. I Love Peten Sign
If you collect I love signs, then you can add the local variation Yo Amo Peten to your list of things to do in Flores, Guatemala. The sign is located at the end of the causeway as you enter the island.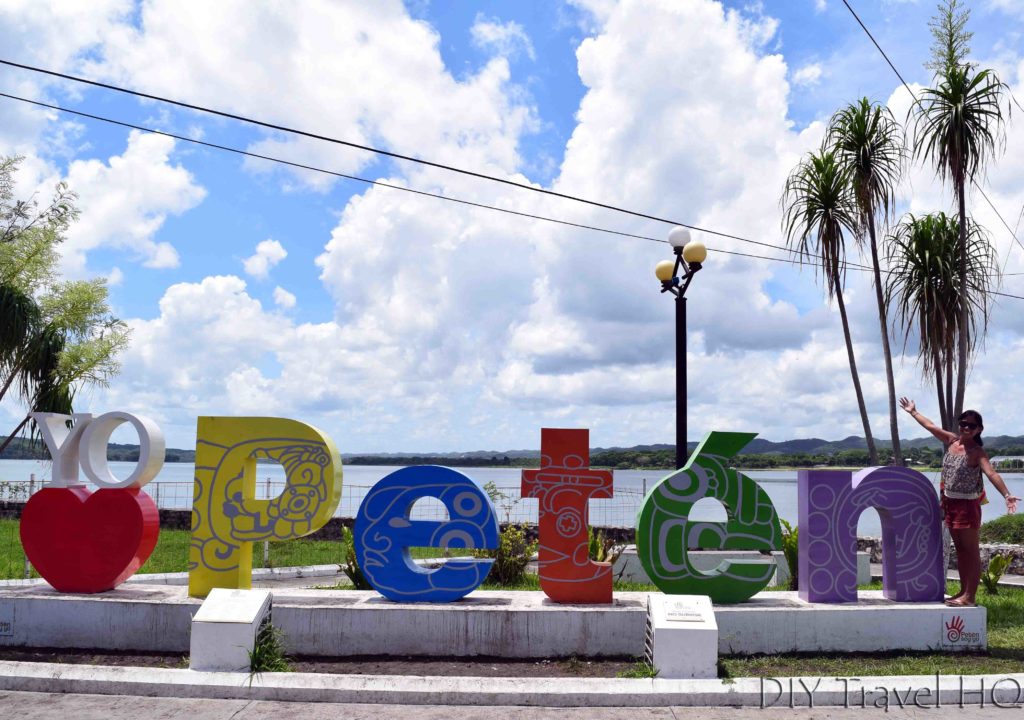 Things to Do Around Flores, Guatemala
Most of the things to do around Flores, Guatemala consist of Maya ruins or observing wildlife in the Peten jungle. The Maya Biosphere Reserve contains several national parks and most of the sites. Flores provides a great base to explore them all.
Don't forget to purchase travel insurance before any trip to Guatemala. We've been using World Nomads for over 10 years. It's the best-value provider we've found but there are other important things to consider. Check out our post and find out which of our claims were successful or denied.
1. Tikal Ruins
As nice as the things to do in Flores, Guatemala are, the main reason tourists visit is for easy access to the Tikal ruins. Tikal National Park is truly world class and the best restored Maya ruins in Guatemala.
Highlights include Temple V, the Grand Plaza, an abundance of wildlife, and so much more. If you are only choosing one ruin to visit in the Maya Biosphere Reserve, make it Tikal.
Hours: 6 am – 5 pm
Entrance Fee: Q150
Museum Hours: 8 am – 6 pm
Museum Entrance Fee: Q30
Transportation: Q70
Tour with Guide: Q110
How to Visit Tikal Ruins Without a Tour
Find out everything you need to know about Tikal National Park before visiting!
Read more
2. Uaxactun Archaeological Site
Uaxactun, Guatemala is located 12 miles north of Tikal National Park along a dirt road in the Maya Biosphere Reserve and sees far fewer visitors. Although smaller, it is notable for having a Maya astronomical observatory.
The atmosphere is also completely different since there is also a village mixed in with the Uaxactun ruins. They harvest natural chewing gum and xate palm leaves nearby.
3. Yaxha Archaeological Site
Yaxha is located east of Tikal, and is the third largest Maya ruins in Peten, Guatemala. The importance of the site is best reflected by twin-pyramids that is rarely seen outside Tikal.
Most tourists visit Yaxha for a more peaceful experience, and to see the stunning sunset over Lake Yaxha from Temple 216. This is the must see sunset in the Maya Biosphere Reserve.
Hours: 8 am – 6 pm
Entrance Fee: Q80 (grouped with Topoxte, Nakum, Naranjo)
4. Topoxte Archaeological Site
Topoxte is located on an island in Lake Yaxha, and is only reachable by boat. Despite few people venturing to Yaxha, even fewer make the extra journey to Topoxte.
Most visitors find the experience of being on an island with only howler monkeys part of the fun. It is also possible to see alligators on the boat ride over. Most of the ruins have yet to be excavated.
Hours: 8 am – 6 pm
Entrance Fee: Q80 (grouped with Yaxha, Nakum, Naranjo)
5. Nakum Archaeological Site
Nakum is part of the cultural triangle Yaxha Nakum Naranjo National Park located in the Maya Biosphere Reserve. It is best known for having many restored buildings with an impressive amount of Maya script and main temple roof comb.
Hours: 8 am – 6 pm
Entrance Fee: Q80 (grouped with Yaxha, Topoxte, Naranjo)
6. Naranjo Archaeological Site
Naranjo completes the cultural triangle, but unfortunately had most of the stelae severely looted before becoming protected. It is now known for the use of polychrome stucco.
As a crossroads in the Maya empire, Naranjo was constantly caught in the middle of feuding cities with several key victories and defeats. Xunantunich, Belize is thought to have been under the influence of Naranjo.
Hours: 8 am – 6 pm
Entrance Fee: Q80 (grouped with Yaxha, Topoxte, Nakum)
7. Estacion Biologica Las Guacamayas
Estacion Biologica Las Guacamayas is located in Laguna del Tigre National Park, which is part of the Maya Biospere Reserve. The biological station helps promote the conservation of natural resources, and offers several pricey tours.
The most popular tour is a birding expedition on the water where birds are more visible. You can also go deeper in the jungle in search for jaguars, tapirs, and other animals.
8. El Mirador, Guatemala
El Mirador in Peten, Guatemala is a hidden gem buried deep in the Maya Biosphere Reserve. Its remoteness limits the number of tourists, but they are rewarded with a great experience when they finally arrive.
La Danta temple stands 72 meters tall and is the largest pyramid by volume. Climb 55 meter high El Tigre for excellent sunset views of La Danta.
It takes 5-6 days for a return hike. Tours can be booked in Flores, Guatemala or you can attempt to go on your own via Carmelita.
How to Visit El Mirador, Guatemala
Find out how to visit El Mirador and what to expect!
Read more
9. Piedras Negras
Piedras Negras is the first Maya ruin in Peten, Guatemala that is not part of the Maya Biosphere Reserve. It is located southwest of Flores, Guatemala and best reached by boat from Frontera Corozal, Mexico. However, it can also be reached on a tour from Flores.
The Maya city existed due to trade along the Usumacinta River while competing with Yaxchilan in Chiapas, Mexico over control of the river. Much of the site has yet to be restored, but the abundance of stelae and altars have led to a better understanding of Maya political history.
Piedras Negras does not see many visitors due to the expedition required to reach the site. The boat ride is 4-6 hours each way so plan on a full day. Remember to plan ahead as there are no facilities at Piedras Negras either.
10. Dos Pilas
Dos Pilas is a medium sized Maya ruin accessible by bus and a 30 minute walk to the site. The highlights are the hieroglyphic stairways. Much of their history is tied to the rotating control by Tikal and Calakmul.
Flores, Guatemala Hotels
Flores, Guatemala has a mix of hotels, AirBnB, and hostels for backpackers. The market is competitive so prices remain good value.
The most popular place is Los Amigos Hostel. They have a nice courtyard and common facilities, but charge Q95 / $12.50 per large dorm.
We chose to stay at Hotel Mirador del Lago, which had the cheapest rooms during our visit. For Q140 / $18 you can share a room with two single beds. A double room will cost you Q190 / $25, or Q60 / $8 in a 4-bed dorm.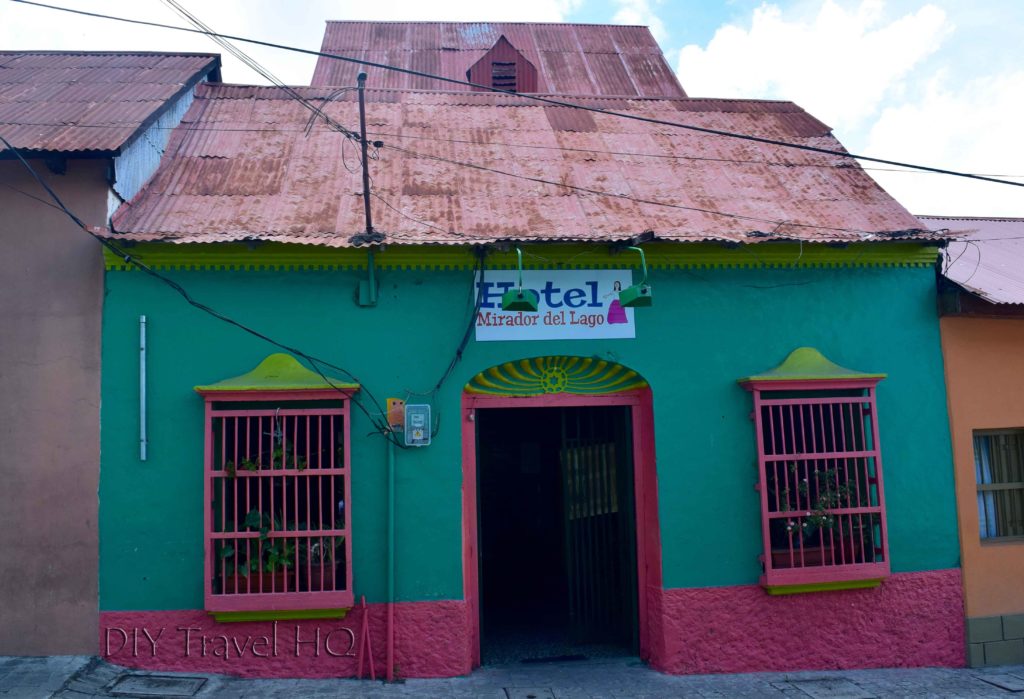 The WiFi router is in the rear communal area, so try to get a room nearby. It's also close to all the things to do in Flores, Guatemala.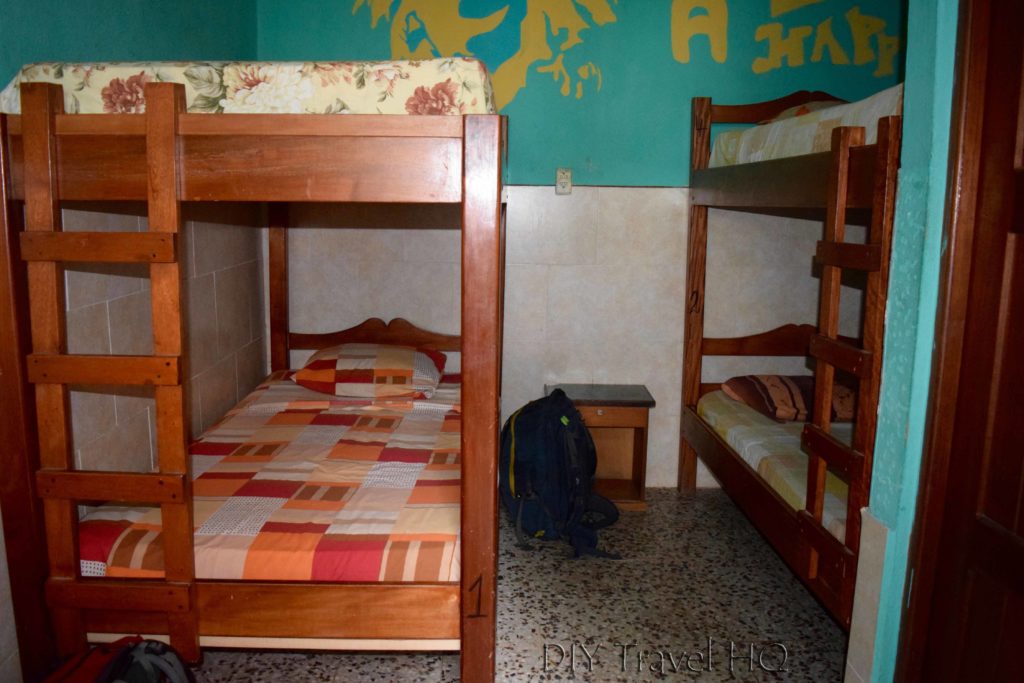 If you want to book ahead, the best Flores hotel prices are on Booking.com and start at $12. Even more options can be found on AirBnB, and first time users can get up to $55 off their first stay!
Flores, Guatemala Restaurants
All packaged food and drinks in Flores are overpriced. They take the island mentality and charge more to 'import' the goods across the 200 meter causeway. For this reason, head to Santa Elena to stock up on sodas, beer, and snacks.
It is also common for set meals to be Q15 / $2.05 at the market in Santa Elena, and Q25 / $3.45 and up in Flores. The best value is the Flores night food market.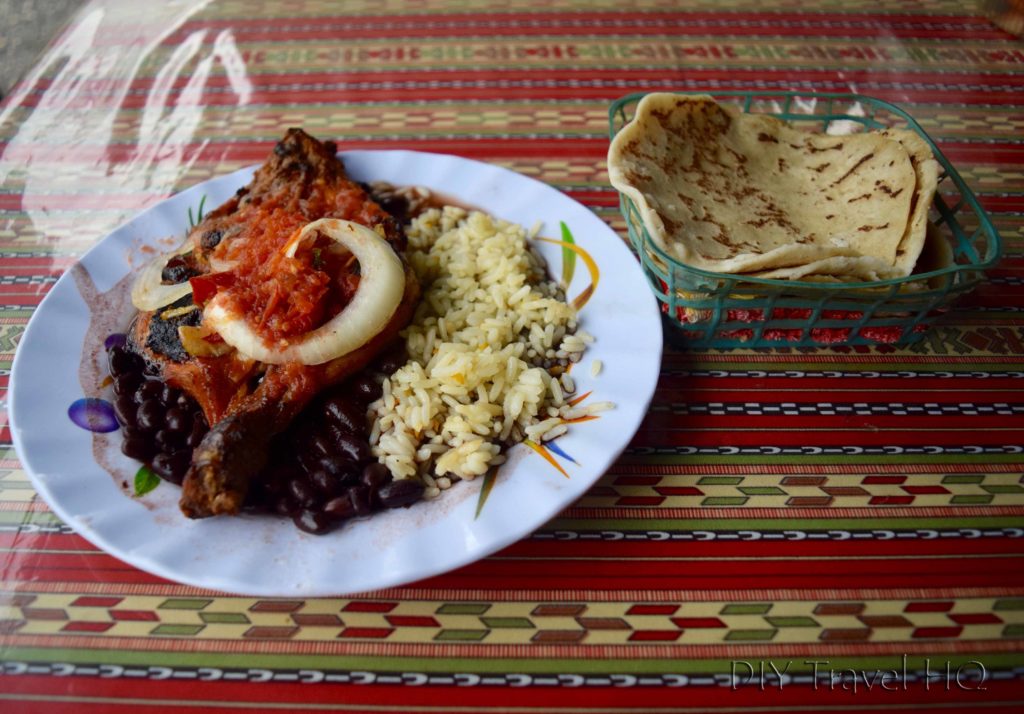 One of the strangest places we ate was Pollo Campero. They have merged fast food with waiter service, and in our opinion it seems a bit odd.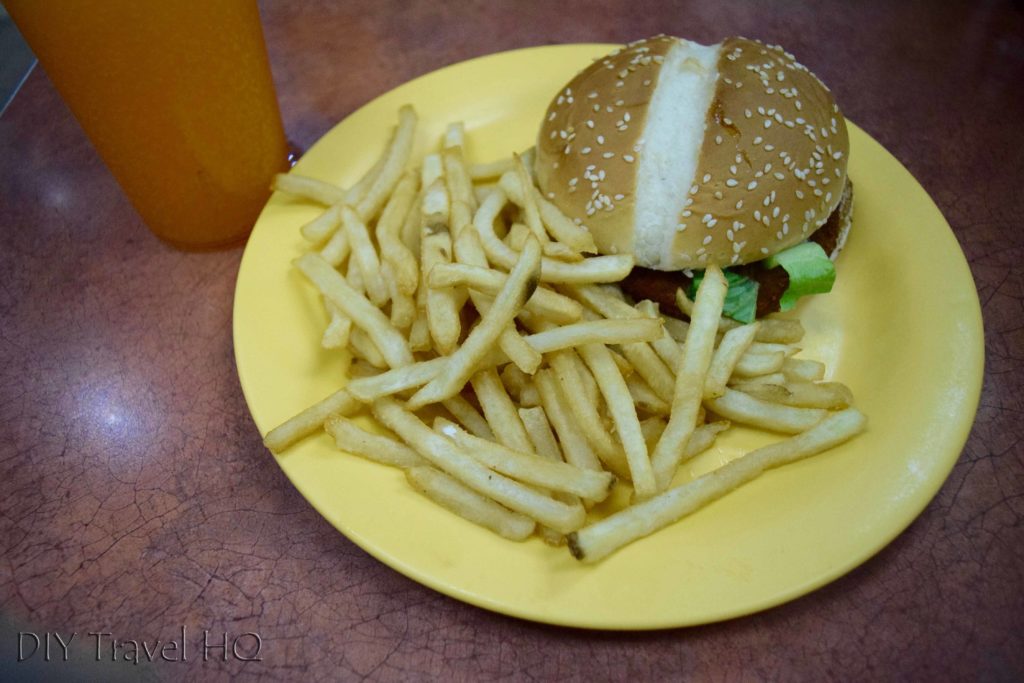 Drinks
The cheapest place we found to drink was a small bar on 15 de Septiembre with liter bottles of Brahva (Q10 / $1.40), and cheap cocktails for Q20 / $2.75 and under. They also offered a set pasta meal as well.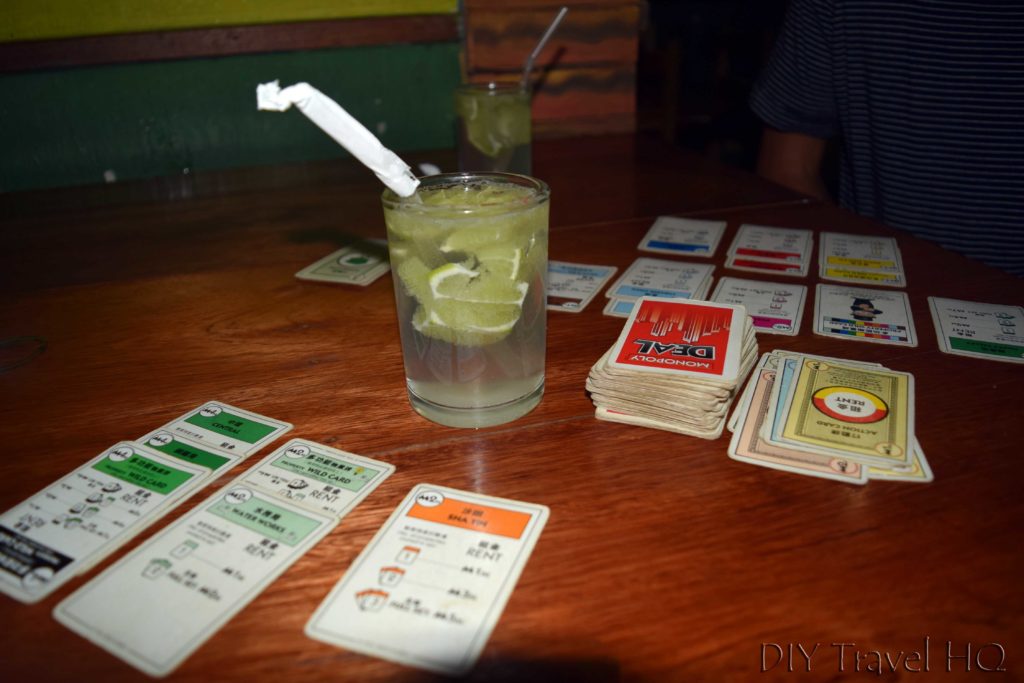 Flores, Guatemala Safety
Although we did not hear about any specific security concerns, take caution when out late at night or visiting remote attractions on San Miguel peninsula.
It is always a good idea to leave your valuables at your hotel and back-up your pictures before going.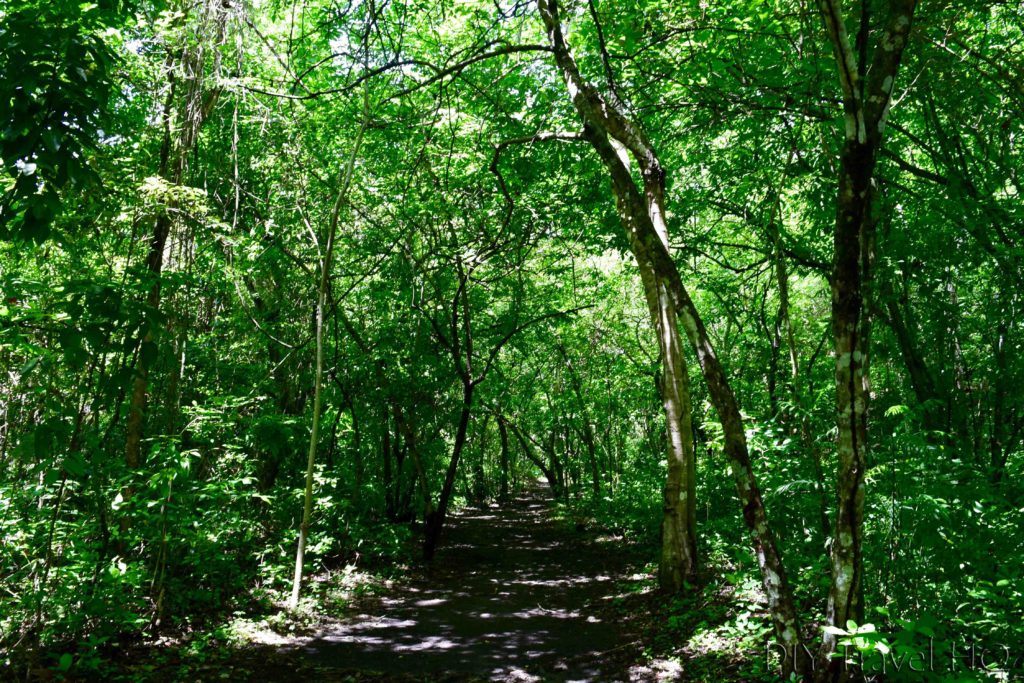 Flores, Guatemala Scams
Do not choose travel agents or tour operators based solely on price!
Read reviews on things to do in Flores, Guatemala tours first to make sure previous customers were not taken advantage of or short-changed.
This happens frequently in Flores so we recommend the DIY travel method as much as possible when visiting Maya ruins in Peten, Guatemala.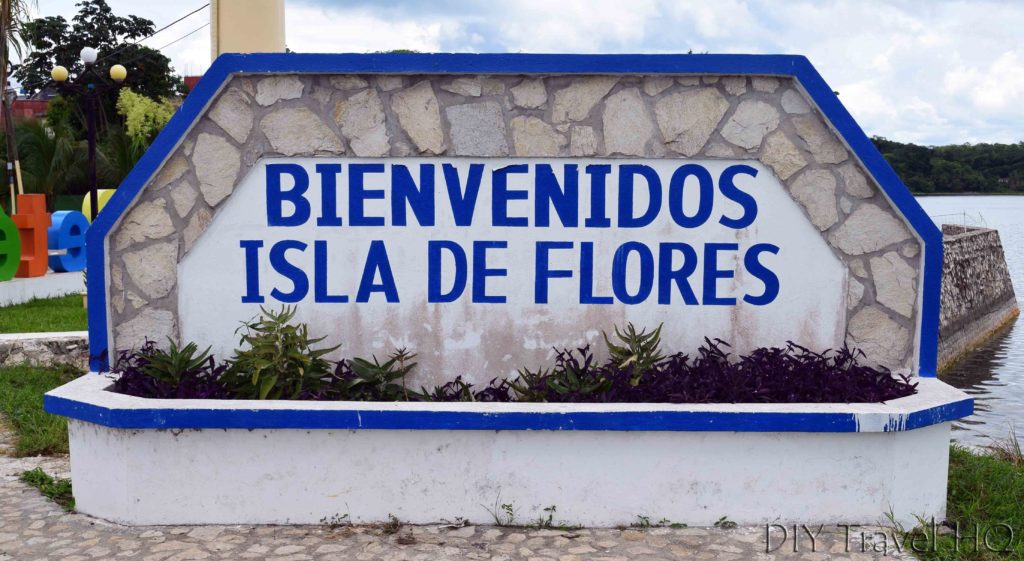 How to Get to Flores, Guatemala
Getting to Flores involves reaching Santa Elena first. Consider purchasing your ticket directly to save money, and to make sure you aren't taken advantage of by a less than honest travel agent.
Microbuses to Tikal should not cost more than Q70 / $9.65 return. Check out our post on Tikal for more information.
Regular microbuses ply the route to Melchor de Menchos (Q30 / $4.15) to cross into Belize. Visit our post Benque to Melchor de Menchos Border Crossing for more information.
Fuentes del Norte runs regular buses to Rio Dulce (Q65 / $8.95).
Look into options to Guatemala City and other cities at the Terminal Nuevo de Autobuses.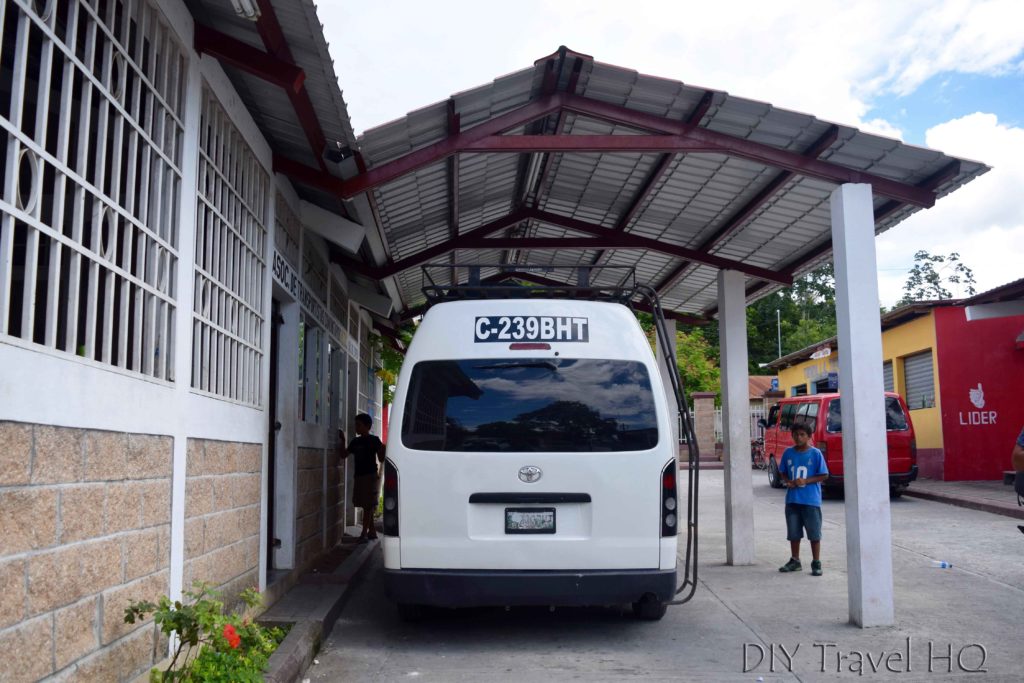 Getting Around Flores, Guatemala
It is possible to walk anywhere in Flores and Santa Elena.
The bus terminal in Santa Elena is 2 km away from Flores, and a tuk-tuk costs Q5-10 / $0.70-$1.10 depending on the number of people and bags.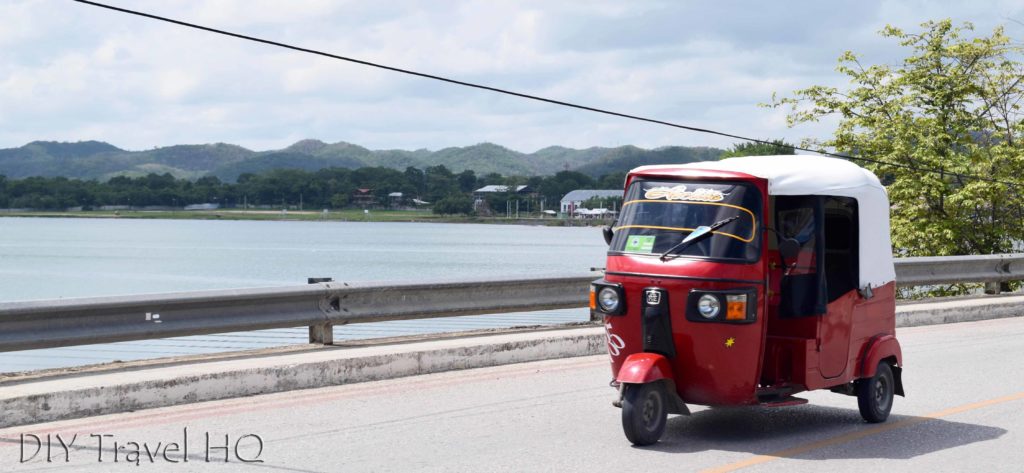 San Miguel Peninsula Loop Trail Directions
The main thing to do in San Miguel, Guatemala is to hike to the lookout tower, but you can also stop at a small Maya site and Playa El Chechenal on the loop trail.
Path to Tayazal
Head left a short distance until you reach 8a Avenida from where the boat drops you off in San Miguel, Guatemala.
The 'Avenue' is little more than a set of concrete stairs before turning into a real street at the top. Follow this road until you reach a T-intersection.
Then turn left onto 4a Calle, and a quick right onto 7a Avenida. A recreational field will be on your right.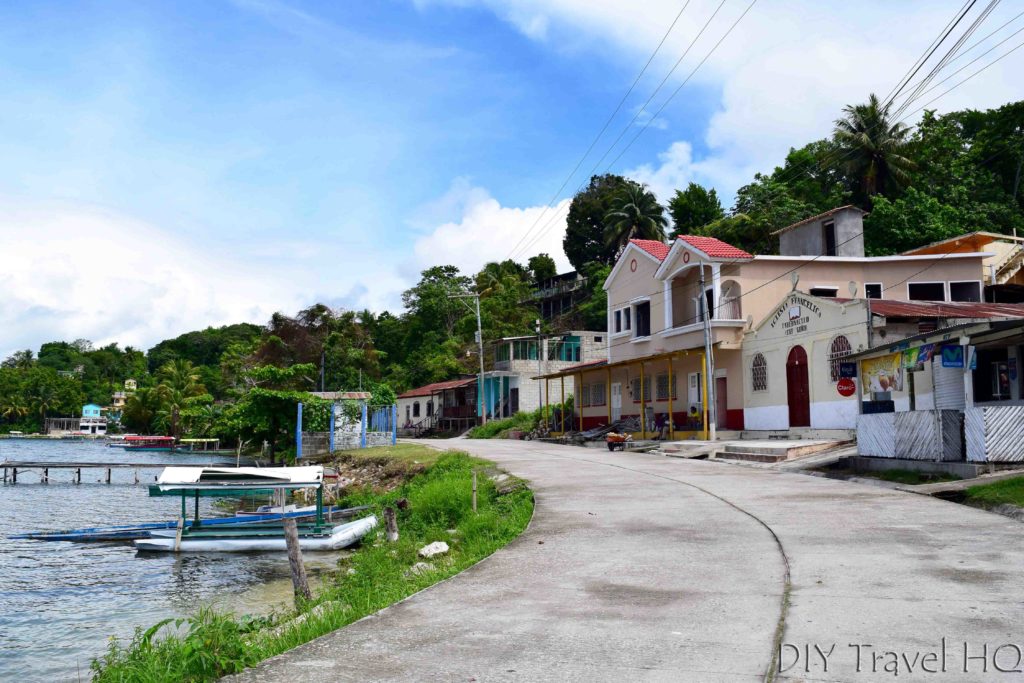 Follow this dirt road and make your first left. This will lead you to the Maya twin pyramid complex Tayazal.
Take time to look around, and do not continue on the main road! This is the only point that we got lost. Follow the path at the far right side of the complex.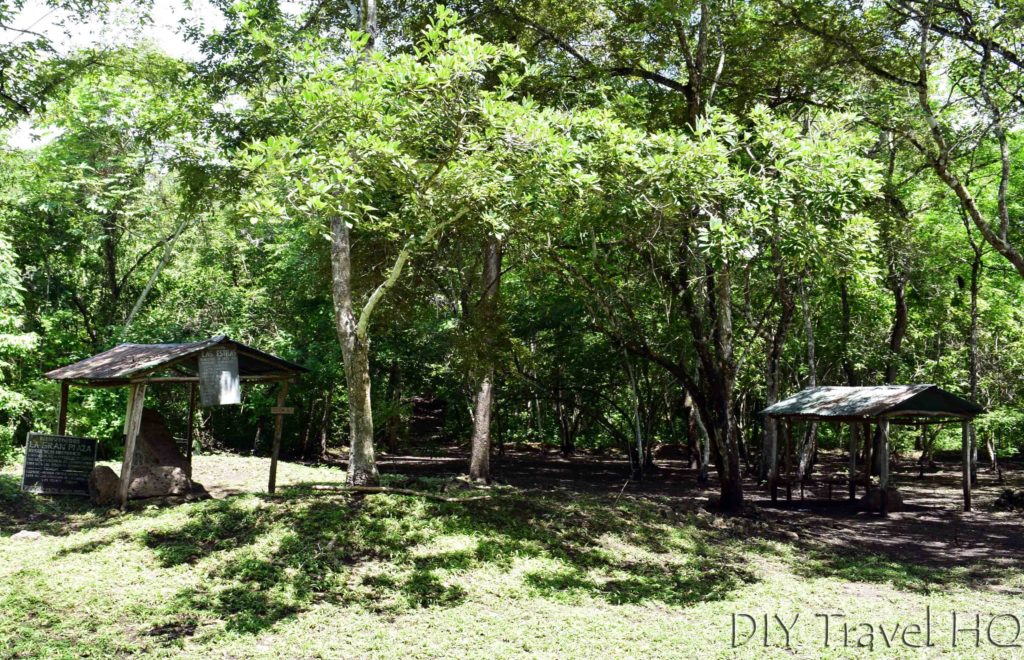 San Miguel Peninsula Loop Trail
This is the start of the loop trail. At the 'Y', going left will take you to Tayazal, and Playa El Chechenal to the right. Both directions lead to El Mirador del Rey Canek, which is at the other end.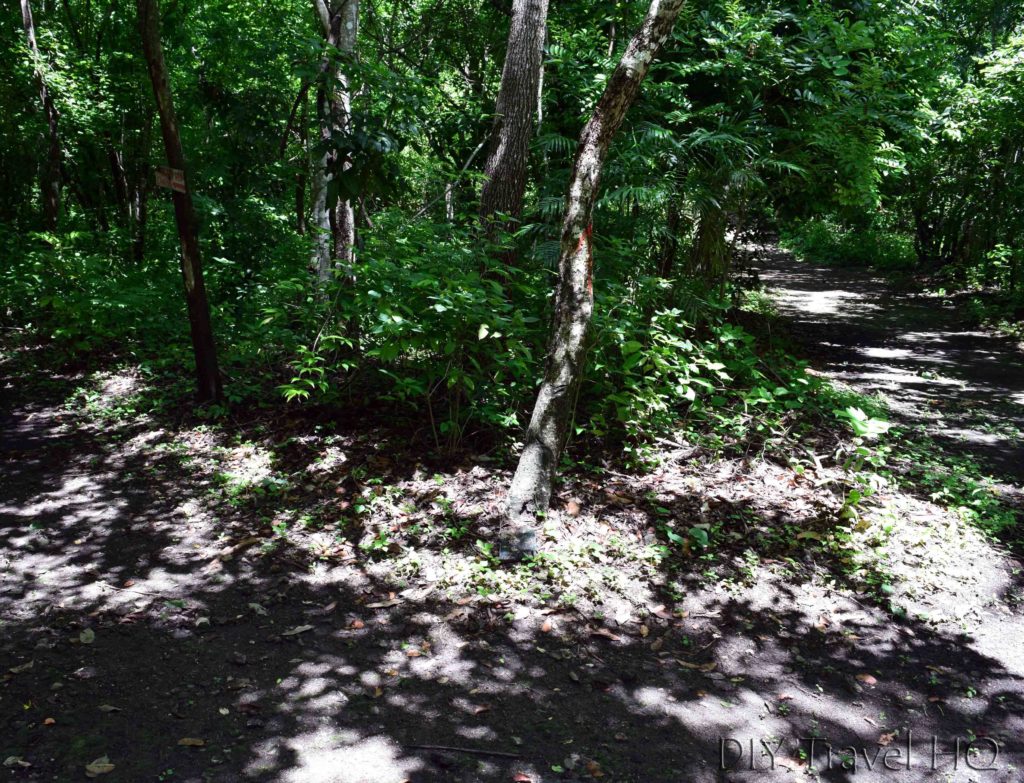 El Mirador del Rey Canek Directions
Continue down this path until you reach a T-intersection, and signs pointing right to the mirador. You will then come across a small opening with a pavilion, and a series of stairs leading up the hill.
Climb the stairs to reach the lookout tower, and proceed up the tower itself. There is a shortcut on the main path to El Mirador del Rey Canek as well. A set of steps before you round the corner also takes you to the lookout tower.
If you are using Maps.me, then you can see that the stairs would lead you to the mirador despite not being marked on the map.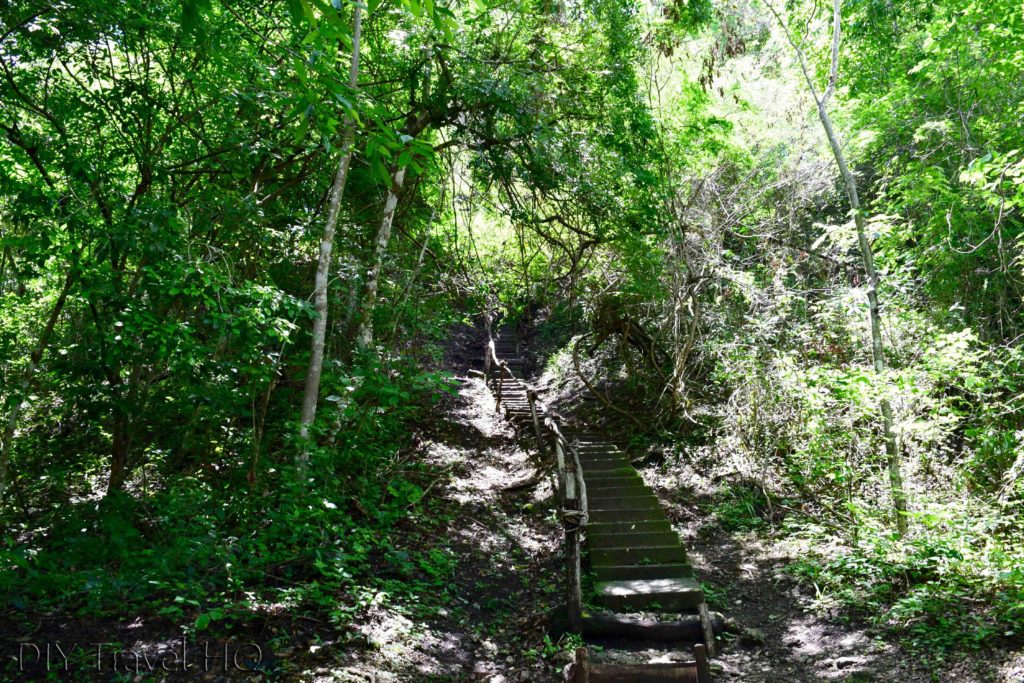 Playa El Chechenal Peten Directions
Returning down the stairs to the open square, turn right and follow the path until you see signs for Playa El Chechenal Peten. The distance is 500 meters each way. Upon your return, turn left and follow the trail back to San Miguel.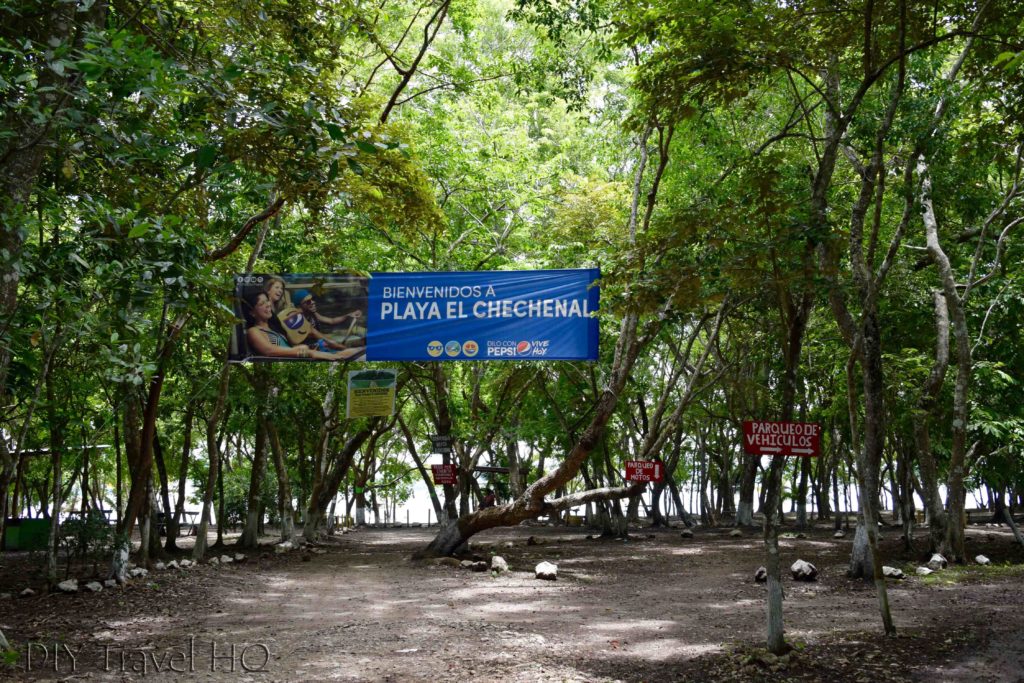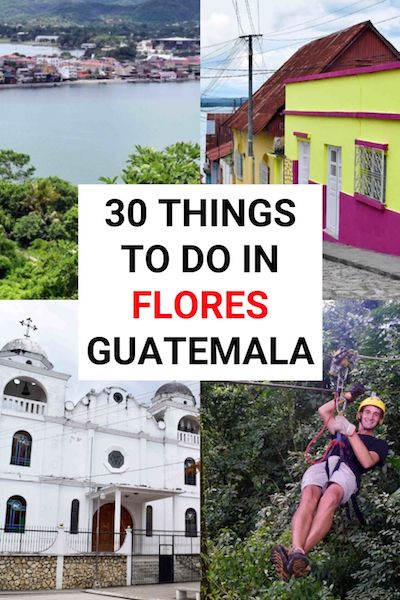 ***The Final Word – Flores is your best base for visiting Tikal as it has ample infrastructure for tourists.***
What was your favorite part of Flores, Guatemala?
Visited in July 2016
Updated in February 2020
Disclaimer: This post contains affiliate links which means that we receive a small commission if you click on a link and purchase something that we've recommended, at no extra cost to you.