Eastern Indonesia is a wonderful region full of adventure, on & off the beaten track – follow our itinerary and find out what to see & do in Bali, Java, Flores & Timor!
Have you traveled mainland Southeast Asia and want to escape the well-trodden pancake trail, but are not quite ready to leave the banana pancakes behind just yet? Are you an Australian looking to explore Indonesia further than just Bali?
For you and anyone else contemplating a trip to Eastern Indonesia, we here at DIY Travel HQ offer a rough guide to jumpstart your trip.
We also recommend Lonely Planet's Indonesia Travel Guide
to help you plan your trip.
Keep reading & check out our day-to-day itinerary from Kuta, Bali to Dili, East Timor!
*** Please note that anyone planning on crossing into East Timor by land MUST pay for an Indonesian visa, even if they qualify for free entry. The free Indonesian visa has limited entry and DEPARTURE points ***
* And don't forget to purchase travel insurance before any trip to Indonesia. We've been using World Nomads for over 10 years. It's the best-value provider we've found but there are other important things to consider. Check out our post and find out which of our claims were successful or denied.
Days 1-9: Bali, Eastern Indonesia
There are so many places to visit on Bali that sometimes it becomes difficult to decide on a base. Select the best area to stay in Bali with this questionnaire that narrows down the choices for you. If you are still not sure, check out the most beautiful places in Bali and then decide on accommodation.
Day 1:
Fly into Kuta. Depending on your arrival time, check out Kuta Beach after finding accommodation and stay for sunset.
Subject to your energy level, grab a massage and head to bed or indulge in the best nightlife in Indonesia.
Day 2:
Rent a motorbike and head out of town for the day. Those venturing to East Timor should apply for the Visa Application Authorization in Denpasar in the morning, then head to Tanah Lot or Ulu Watu early afternoon, and catch the latter for sunset.
Grab another massage and head back out for the evening.
Day 3:
For your last day in Kuta treat yourself to a haircut, mani/pedi, or any other treatment. Take a moment to reflect on the Bali Bombings at the memorial, which saw the death of 202 tourists and locals in 2002.
Finish your tour around Kuta shopping for things you never knew you needed before starting the nightly ritual of massage and drinks.
Day 4:
Have a leisurely morning, and make your way to Denpasar for an afternoon visa pick-up.
From there, take a bemo to Ubud.
Day 5:
In Ubud, visit Ubud Palace and Pura Taman Saraswati before a leisurely walk through the rice fields. Play with the monkeys in Ubud Monkey Forest to end the day.
If you aren't all massaged out, get another as the price goes up outside Kuta and Ubud.
Day 6:
It's time to rent a motorbike, and hit the road again. The itinerary features four iconic temples, and ends with the Tegallalang Rice Terraces. The best temples in Ubud are:
Goa Gojah
Gunung Kawi
Tirta Empul
Pura Kehen
Ubud tour options:
Day 7:
Today is an early, but easy day. Catch the 8:30 am Perama bus to Sanur for the connecting public slow boat at 10:30 am to Nusa Lembongan.
Choose your accommodation and dive shop before taking a breather from the more hectic mainland Bali.
Day 8:
Spend the day diving for Mola Mola (Sunfish) between the months August to October at Crystal Bay, or enjoy equally nice coral at the northern tip of Nusa Penida.
Day 9:
Rent a motorbike, and explore Nusa Lembongan and Nusa Ceningan.
Watch locals at the Nusa Lembongan seaweed farm at low tide, gander at the Mangrove Forest, explore the back roads, and get back in the water at Mushroom Bay.
Tour option: Nusa Lembongan Snorkel Tour
Days 10-15: Lombok, Eastern Indonesia
Day 10:
The distance from Nusa Lembongan to Gili Air may not be much, but it does take a considerable amount of time. Flashpackers can take a fast ferry to Gili Air for roughly $40, but the whole journey can be done for about half taking local transport. The first leg consists of a slow boat back to Sanur, and then a bemo to Padang Bai. Blue Lagoon is worth checking out for snorkeling.
Ferries to Lombok run hourly and take 4-5 hours so a night's accommodation can be saved if boarded around midnight.
Day 11:
The next leg of the journey to Gili Air consists of a bemo ride to Mataram's bus station, a bus ride to Bangsal Harbor, and a public ferry to Gili Air.
Day 12:
You can learn to dive on Gili Air, snorkel, walk around the island, sunbathe on the beach, veg out, and enjoy sunset over the other Gili islands.
Tour option: Gili Islands Snorkeling Tour
Day 13:
Having a taste of Gili Air, it's time to pick up the pace with a few more strenuous days. Today, you will travel by boat, bus, and motorcycle taxi to Senaru.
In your free time, make sure to see the two Sindang Gila and Tiu Kelep waterfalls. If you don't have camping gear, it's possible to arrange rentals for the duration of your climb.
Day 14:
Up until this point your trip has been mostly relaxing, but it's time to burn off some extra calories. Hiking Mount Rinjani without a tour or guide takes approximately 8 hours so plan on a full day.
The earlier you arrive, the more dramatic your tent view as spaces fill up fast. Lighting for pictures is best in the afternoon, should there not be any clouds.
Day 15:
Today is still tough, but at a more leisurely pace. It'll be hard not to wake up for sunrise with all the activity, but the inside of the crater doesn't get adequate light until at least 9:30 AM.
The only item on the agenda is to enjoy the view and make it back down Mount Rinjani.
Days 16-26: Flores, Eastern Indonesia
Day 16 & 17:
You have two options to travel to Flores:
The first option is an expensive boat tour that takes three days, but has numerous attractions to see on the way.
The other option is two days of bus and ferry combinations.
Day 18 & 19:
Diving around Komodo National Park is world class so at least two days of three dives each is warranted.
This is also a great place to see manta rays as the dead coral bottom leaves nothing to be distracted by. Dives can be easily arranged the night before.
Day 20:
Dive companies offer an option to visit Rinca Island as part of the itinerary, which saves time and money. This is ok if you want to see lazy Komodo dragons by the kitchen in the afternoon.
However, Komodo dragons are most active during the morning, and going independently allows you freedom to stay longer than an hour.
Day 21:
Today is all about transportation, with one stop on the way. Take a bus, and get off at Cancar. It is a short walk to the Cancar Spider Web Rice Fields, and you may leave your large bag at the ticket office/house.
Afterwards, flag a bemo down to continue onto Ruteng.
Day 22:
There is one bus a day to hike Wae Rebo without a tour or guide so make sure you are on that bus.
Otherwise, you can rent a motorbike so you don't have to stay at the overpriced village.
Day 23:
The transportation back to Ruteng leaves very early in the morning, but allows you to catch a connecting bus to Bajawa.
Day 24:
Rent a motorbike, and visit Bena & Wogo traditional villages.
Nearby Bena is a hot spring that mixes with a stream for a natural sauna.
Day 25:
Catch a bus to Moni the next morning.
Day 26:
Start to hike Mount Kelimutu without a tour or guide in the middle of the night to catch sunrise over the three colored lakes.
Upon your return, catch a bus to Ende.
Days 27-28: West Timor, Eastern Indonesia
Day 27:
Ferries from Flores to West Timor are irregular at best, so flying is an affordable option to Kupang.
Once there, visit the pure Crystal Cave for a dip and enjoy the night food stalls.
Day 28:
Today is a long day.  Start early and take a bus to Tamkessi village in West Timor junction.
From there hire a motorcycle taxi to the village top, before returning and catching an onward bus to Atambua.
Days 29-30: East Timor
Day 29:
Cross the border into East Timor, where there are a number of things to do in Dili.
Day 30:
Extra Day of your choosing, or cushion for when things don't go according to plan.
For more information, please visit each respective post and checkout our complete 60 day itinerary…
Top 20 Places to Visit in Indonesia
Volcanoes, beaches, diving, temples, rice fields, villages… Indonesia has so much to offer & in 60 days you can see it all. From Sumatra to Timor, find out where to go in Indonesia!
Read more
Did you enjoy reading our Eastern Indonesia Itinerary?!
Pin it and help others find it too!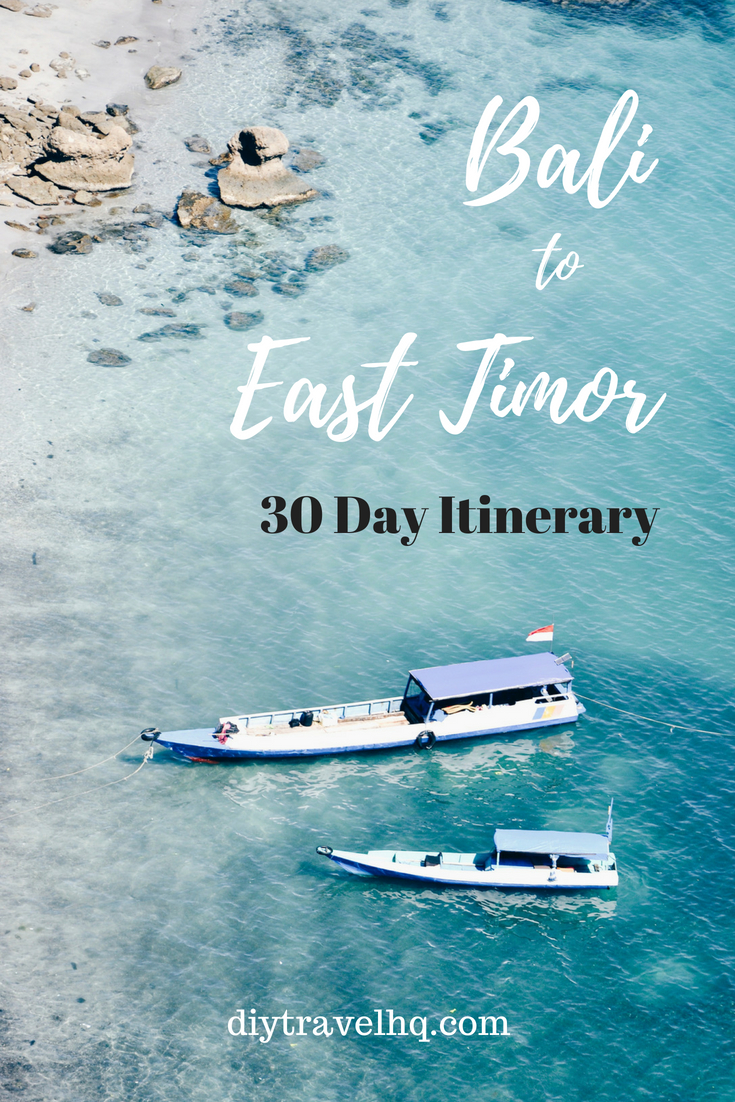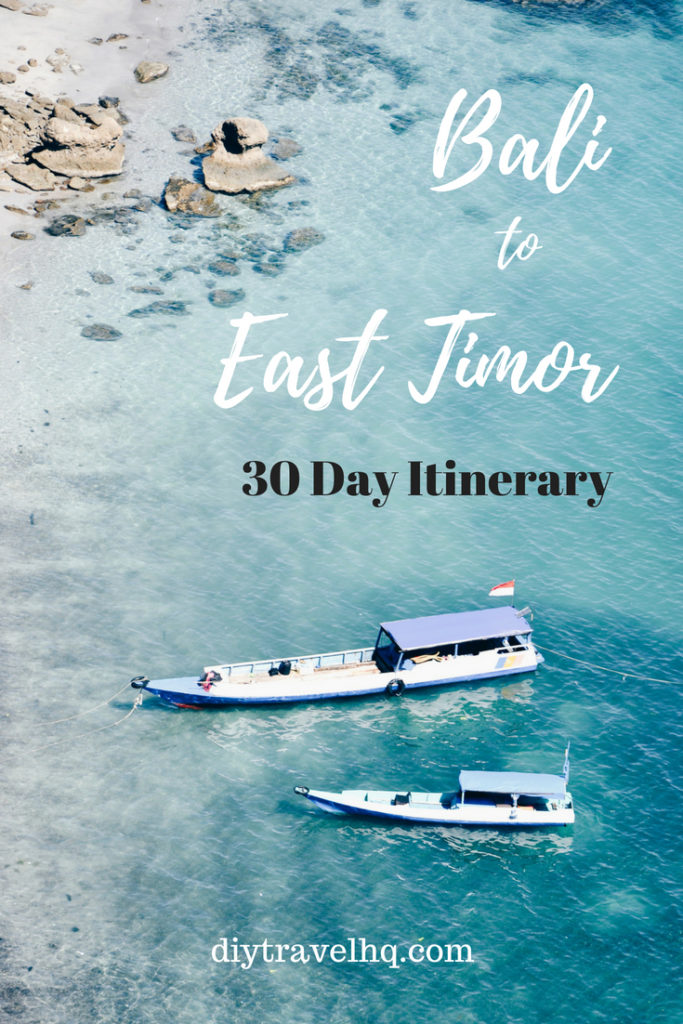 *** The Final Word: Visit Eastern Indonesia for beaches, volcanoes, villages, temples, Komodo dragons & more! ***  
What's your favourite place in Eastern Indonesia?
Disclaimer: This post contains affiliate links which means that we receive a small commission if you click on a link & purchase something that we've recommended – at no extra cost to you. This helps us to keep our site running so we can continue to provide free content. Thank you for your support!
Visited in September-November 2015