Kuta is famous or infamous, depending on your expectations when visiting. Knowing the pros and cons will help you decide whether or not to visit the party capital of Bali, Indonesia.
Should I go to Kuta, Bali?
For most people, Kuta is the launching (and sometimes only) point in Indonesia as Denpasar International Airport is well served
Kuta has a wide range of tourist infrastructure to stay, eat, drink, and pamper oneself
Kuta Beach is a popular spot to surf, sunbathe, and watch sunset with every other tourist
Touts are everywhere and extremely persistent in touristy Kuta
Traffic fills the streets and gangs (alleys) with constant motorbikes and cars squeezing past
We also recommend Lonely Planet's Indonesia Travel Guide
to help you plan your trip.
With its close proximity to Denpasar International Airport and cheap flights from most of Australia, the stigma is that Kuta is filled with booze-infused youth splashing money around on a quick getaway.
While this is partially true, it's also possible to avoid this scene like we did – let us show you how to take advantage of all the amenities that Kuta's popularity has brought.
Don't forget to purchase travel insurance before any trip to Indonesia. We've been using World Nomads for over 10 years. It's the best-value provider we've found but there are other important things to consider. Check out our post and find out which of our claims were successful or denied.
Accommodation
The first question that needs to be answered if visiting Kuta is Where To Stay. Despite commonly being grouped into Kuta, the area is actually comprised of four distinct neighborhoods.
Closest to the airport is Tuban, which features a couple large hotels interspersed with smaller ones, a street devoted to cheap massages (50,000-70,000 IDR/hr or $3.75-$5.25), restaurants and a large mall.
North of Tuban is Kuta proper, which offers easy access to the beach and a plethora of value-driven amenities. The best place to stay is between Legian Street and the beach.
Farther north, Legian used to be the quieter version of Kuta, but has since become indistinguishable.
For individuals looking to get away from it all in secluded resorts, or splurge on the hottest restaurants and clubs then Seminyak is the place to be.
Tuban & Kuta Accommodation
Here are examples of what to expect for Tuban and Kuta:
If your main purpose to visit Kuta is only to fly in/out of Bali, then there are several options just north of the airport and easily reached within 5 minutes on foot.
One nice option for solo travelers is Bali Semesta Hostel that has AC dorms, Wi-Fi and lockable storage containers for 70,000 IDR / $5.25. The frugal can even sleep in the airport outside the International departure section as the airport is open 24 hours and very clean.
For our needs, Kuta was the most convenient neighborhood to stay. We rented a simple but nice room at Guesthouse Pondok Satwa on Jalan Benesari – a room with AC, TV, Wi-Fi and breakfast cost 150,000 IDR / $11.25. It is possible to find cheaper places but this offered the best value with an excellent location close to cheap amenities, Legian Street & Kuta Beach.
Getting Out of the Airport
Once you have decided where to stay in Kuta, then the next priority becomes how to get to/from the airport. Although you will be hounded by airport taxi drivers shortly after passing through the duty free shop, you can reduce the cost by walking straight 200 meters and catching a Blue Bird metered taxi just outside the airport. The average cost from the airport vicinity to Kuta is 30,000 IDR.
Bemos cost 10,000 IDR / $0.70 or less but are not door-to-door, try to overcharge or refuse service, and not so economical if traveling with at least one other person. It is also possible to walk into town if you travel light, or want to get a feel for Kuta on the way to checking-in.
You can also arrange a private airport transfer here.
Attractions & Activities
Kuta lacks a lot of must-see tourist sights. In fact, there are arguably just two:
Bali Bombing Memorial
Kuta Beach
Alternatively you can hire a car with a driver to tour the whole of Bali.
On October 12, 2002 two explosions sent shockwaves throughout Bali and the tourism industry. The first backpack bomb destroyed the entrance to Paddy's Pub causing patrons to flee, and seconds later a larger car bomb exploded decimating the Sari Club and the crowds nearby. Overall, more than 200 people perished, and an additional 200 people from roughly two dozen nations were injured. The local neighborhood was badly damaged, and tourism in Bali did not fully recover for over three years.
Members of the Islamist group Jemaah Islamiyah were convicted for the bombings. Three fanatics received the death penalty, but several contributors are still believed to be at large. Osama Bin Laden purportedly recorded a message indicating the Bali bombings were a direct result of Australia's role in liberating East Timor, and the United States' war on terror.
Today, a permanent stone memorial (Bali Bombing memorial) commemorates each fatality with their name and nationality inscribed on a marble plaque. Flags from each respective country are also flown and frame the memorial.
Hidden behind a decorative wall, Kuta Beach is the main attraction in Kuta and where everyone visits at least once during their stay. The most popular time as evidenced by the throngs of people is at sunset where it appears every tourist is sharing the same magical moment with you. Luckily, the beach is large enough to accommodate everyone without ruining the experience.
It is possible to rent a chair and/or buy a refreshing drink from the vendors. Otherwise, choose any free spot of sand and make yourself comfortable. While you are waiting for sunset you can watch surfers, girls practicing the perfect selfie and planes bringing in the next wave of tourists to take your spot.
Things to See & Do in Kuta
Daytime activities include much of the same, but throw in sunbathing and surfing besides fun in the sand, water and via beach thrill rides. Surfboards are easily rented on the beach with the optional lesson attached. The same vendors can arrange banana boats or parasailing.
Day trips from Kuta can include either Ulu Watu or Tanah Lot, two of the best temples in Bali. Both are best at sunset and require your own transportation or a tour since bemos run infrequently in the afternoon and not at all after sunset.
The most popular activity in Kuta involves pampering yourself. These and other treatments are extremely cheap:
Haircuts: 11,000 IDR / $0.85 at local establishments, 40,000 IDR / $3.00 at English speaking parlors
Manicures and pedicures: 50,000 IDR / $3.75 each
Massages: 50,000-70,000 IDR/hr / $3.75-$5.25
As you can see you can really enjoy budget massages in Bali. Balinese massage is closest to Swedish, and best enjoyed in Kuta or Ubud due to availability and price. Massage is usually limited to reflexology in Muslim sections of Indonesia.
Food & Drink in Kuta
Considering Indonesian food leaves a lot to be desired, Kuta hits the mark for mix of domestic and international cuisine. Cheap warungs will sell local dishes and/or juice starting at 10,000 IDR / $0.75. Traditional restaurants will price local food between 20,000-40,000 IDR / $1.50-$3.00 and western food between 30,000-80,000 IDR / $2.25-$6.00.
Price does not dictate quality nor quantity so read some Kuta reviews on TripAdvisor or check out customers' dishes before dining. Please be aware that nicer restaurants will sometimes exclude 10-20% needed for taxes and service from the per item price. This is usually stated at the bottom of the menu or on the last page.
The one stand out place for lunch was 2nd Floor coffee on Jalan Benesari, which had a quality pizza and drink for 28,000 IDR / $3.75.
A large Bintang will typically cost between 30,000-35,000 IDR / $3.75 and may actually be cheaper in bars, especially during happy hour. Bali Hai is also another Indonesian beer.
Cocktails can be purchased for as cheap as 10,000 IDR / $0.75, but contain Arak. Unlike traditional moonshine, each batch has the potential to form dire methanol levels. There have been several cases of blindness originating from Arak so choose carefully. Again, price does not always indicate quality.
The best convenience store in Kuta and Indonesia is Indomaret, as they offer the best prices with a wide range of choices. A small percentage of stores have soft serve ice cream for 3,000 IDR / $0.25 but none will sell alcohol.
How to get to & from Kuta
For travelers diving further into Bali, your best bet is to travel with Perama. You can book directly with them, or with Bookaway for better customer service.
Although you can travel via bemo, it is incredibly time consuming, frustrating and not much cheaper. Notable exceptions are to the far north of Bali. Blue bemos to Denpasar stop at the T-intersection 100 meters east of Bemo Corner and the fare is 6,000-10,000 IDR / $0.45-$0.75). From there you will have to transfer to another terminal (10,000 IDR / $0.75) before catching a bemo to your final destination.
ALL Bali bemo drivers will try to overcharge and convert the ride from public to charter if empty. Do not assume you will get the local price even if you know the rate! Indonesians have a strange pride where they will refuse inflated prices if they do not feel it is high enough. This runs contrary to Western thought where negotiation is in good faith.
Not sure where to go next? Check out our 30 Day Eastern Indonesia Itinerary…
Where to Go in Eastern Indonesia
Eastern Indonesia is a wonderful region full of adventure, on & off the beaten track – follow our itinerary and find out what to see & do in Bali, Java, Flores & Timor!
Read more
Did you enjoy reading our guide to Kuta on a Budget?!
Pin it and help others find it too!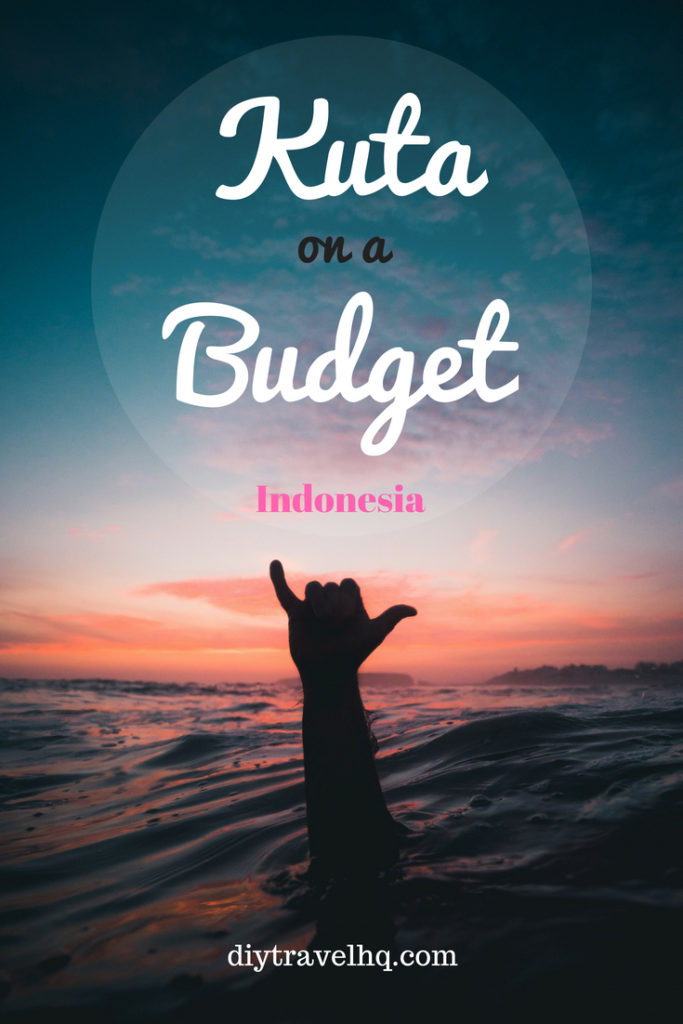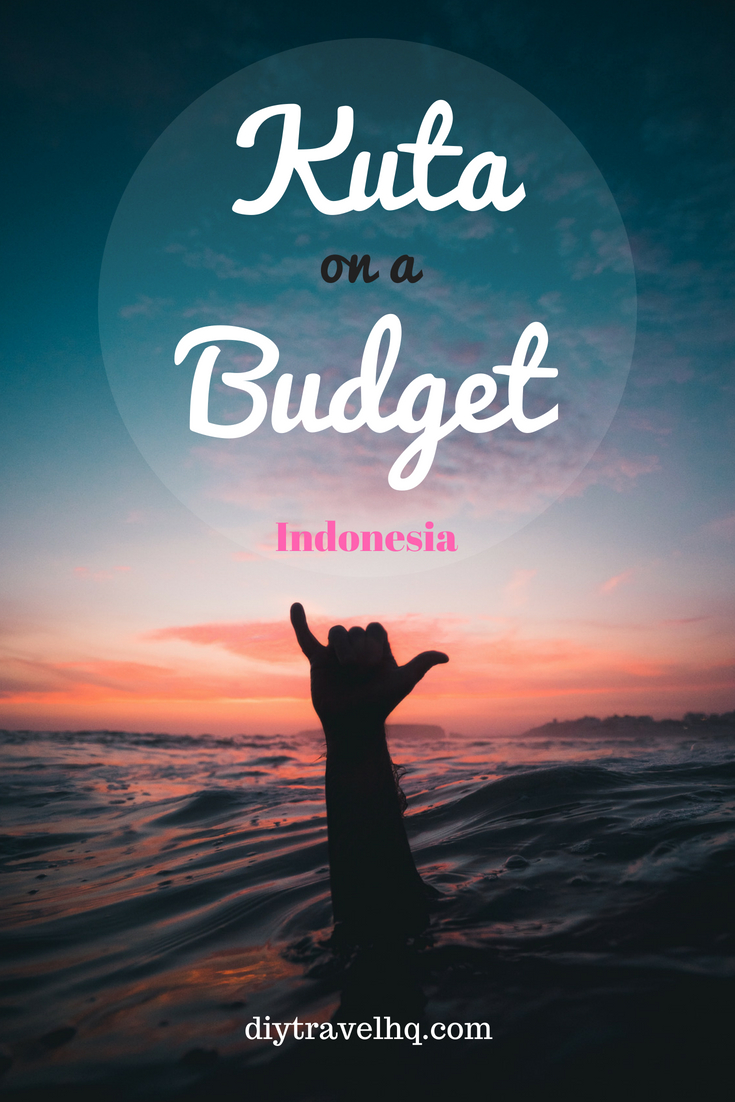 *** The Final Word: Kuta is fun & easy with all the Western conveniences! ***
Have you been to Kuta? Did you love it or hate it?
Disclaimer: This post contains affiliate links which means that we receive a small commission if you click on a link & purchase something that we've recommended – at no extra cost to you.
Visited in October 2015