Dili is arguably the most expensive capital of the poorest country in South-East Asia – find out how visiting this charming seaside city doesn't have to break the bank.
First, you need to obtain an East Timor visa from Kupang or elsewhere, especially if you want to attempt the East Timor border crossing at Atambua.
We really enjoyed our time in Dili, it was great break from the touts of Indonesia, if only for a few days.
Dili is a relaxed coastal city, without hassle, where the comforts of home are available – at a price.
Let us here at DIY Travel HQ show you how to travel Dili on a dime!
* Don't forget to purchase travel insurance before any trip to East Timor. We've been using World Nomads for over 10 years – it's the best-value provider we've found & we've also never had any issues on the few occasions we've had to make a claim.
History of East Timor
A remote outpost during colonial times, Dili suddenly found itself thrust onto the international stage in 2002, when it became the capital of East Timor – the world's newest independent country.
Achieving this status had been a long & deadly struggle, beginning on November 28, 1975 when the former Portuguese colony declared itself independent for the first time since the 16th century.
Nine days later, Indonesian forces invaded & occupied the territory, later claiming East Timor as it's 27th province. This integration was enforced over the next 2 decades through a system of violence & oppression that left up to 250,000 people, from both sides, dead.
In 1999, the United Nations intervened, leading to a referendum that supported independence. Still, the Indonesian persecution & pacification continued, turning into a civil war that wrecked most of East Timor's infrastructure.
After an Australian-led UN peacekeeping force took control & re-established peace, on May 20, 2002 East Timor was formally declared an independent state under the official name of the Democratic Republic of East Timor.
East Timor vs Indonesia
These days, life in East Timor has remained at ease. In the capital Dili, there's a lot of promise, with new business & investment pouring in – the streets are in a constant state of construction.
You can definitely feel that you're no longer in Indonesia.
The major differences between Indonesia & East Timor are:
Currency – East Timor uses US dollars. The presence of UN forces & aid organisations drove up prices, which remained when they departed.
Costs – from food to accommodation to transport, everything is a lot more expensive
People – expect little hassle, locals here are used to expats & foreigners
Dili Attractions
Most of Dili's infrastructure was destroyed by the Indonesians, but a few government buildings remain from the colonial area, with little other formal attractions:
Palacio de Gobierno (Government Palace)
Presidency of the Democratic Republic of East Timor
Don't miss out on the Archives & Resistance Museum of East Timorese – learn about the struggle for Independence and what the people went through. It's mostly signage & posters with little artifacts.
There's a lot of information available to read, it's moving if not repetitive too. Entry is US$1.
Cristo Rei of Dili is a 27m high statue of Jesus on top of a globe, on top of a hill, reached via a stairway of 600+ steps.
It was a gift from Muslim Indonesia to Christian East Timor in 1996, to mark the 20th anniversary of East Timor's "integration" into Indonesia.
The statues stands at the end of a beautiful coastal road a few km's from the centre of Dili, popular for exercising & offering superb snorkeling.
To reach Cristo Rei, you can take a mikrolet part of the way, to a market just outside the city centre.
From here, take a taxi or enjoy a long but scenic walk, taking breaks at the many bars & restaurants along the coast.
Snorkelling & Diving in Dili
On the other side of Cristo Rei beach, you'll find excellent – & free – snorkeling.
Climb the stairs leading to the Jesus statue – just before you reach the top, there will be another set of stairs to your right, leading down to the other beach.
It's secluded by the tall hills but it's a popular spot with locals, especially on the weekends. This is evident by the amount of rubbish that's left behind, sadly scattered throughout the shoreline.
The water is warm & calm, the snorkeling is wonderful. You can see some smaller, tropical fish but the highlight is the colorful mix of soft & hard coral.
The best diving area in Dili is on Arturo Island – in fact, it's one of the premier sites anywhere in the world.
Few people visit Dili & even fewer go to Arturo Island – this isolation has left much of the underwater life in pristine condition. Here, visibility is always excellent, the fish are up to twice as big & the coral is healthy & vivid.
Arturo Island is only 30 km directly north of Dili however independent travel is difficult & private transportation/tours are costly. More adventurous travelers can try their hand going to Jaco Island on the east coast, but tourist infrastructure is still limited.
There are no public ferries or boats but if conditions are suitable, you may be able to hire a fishing boat very early in the morning to take you there & back – this is also assuming you have your own equipment, or just snorkeling may even be worth it. Otherwise, your only option is to join a very expensive diving tour…
Dive Timor Loraise offer day trips to Arturo Island for US$165.00 ($155.00 with your own equipment). Prices include 2 dives, a dive guide, lunch & refreshments. A minimum of five diverse are required.
Food in Dili
Eating out in Dili is a lot more expensive than anywhere in Indonesia.
If you have access to a kitchen (eg. Couchsurfing like we did), visit a local fruit & vegetable market & pick up a bunch of bargains.
US$1 can buy you the following items:
A bag of tomatoes
4 huge avacadoes
2 onions
2 unripe mangoes
6 eggs
Transport in Dili
Local mikrolets around Dili: 25 cents (US)
Minivan from the Batugade border to Dili: US$10
Taxi from Cristo Rei to the airport: US$10
Did you enjoy reading Dili on a Dime: A Budget Travel Guide?
Pin it and help others find it too!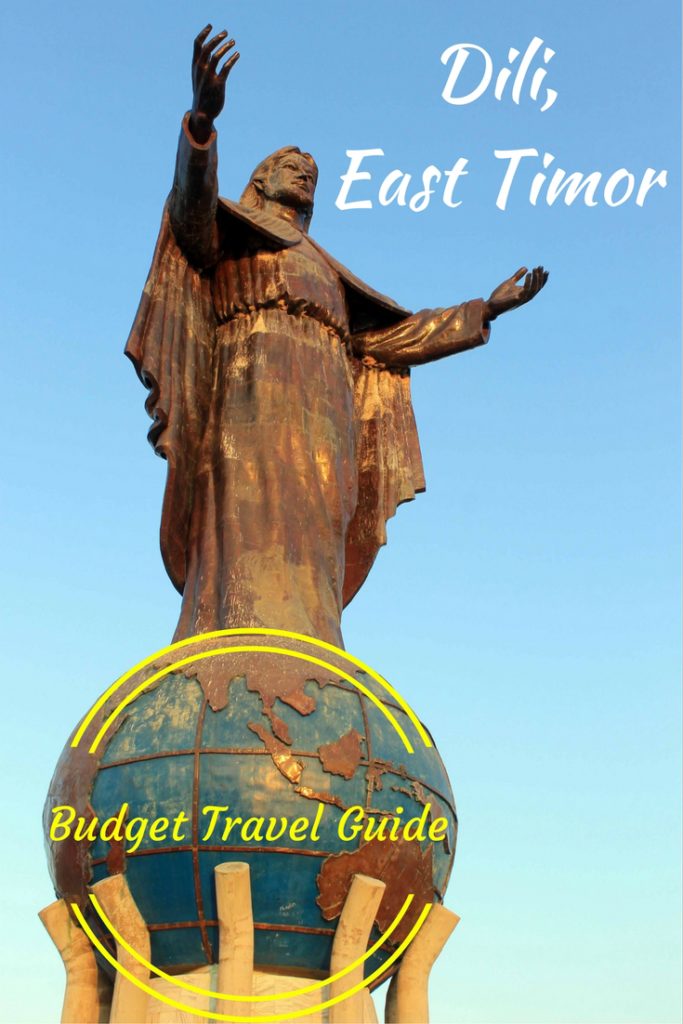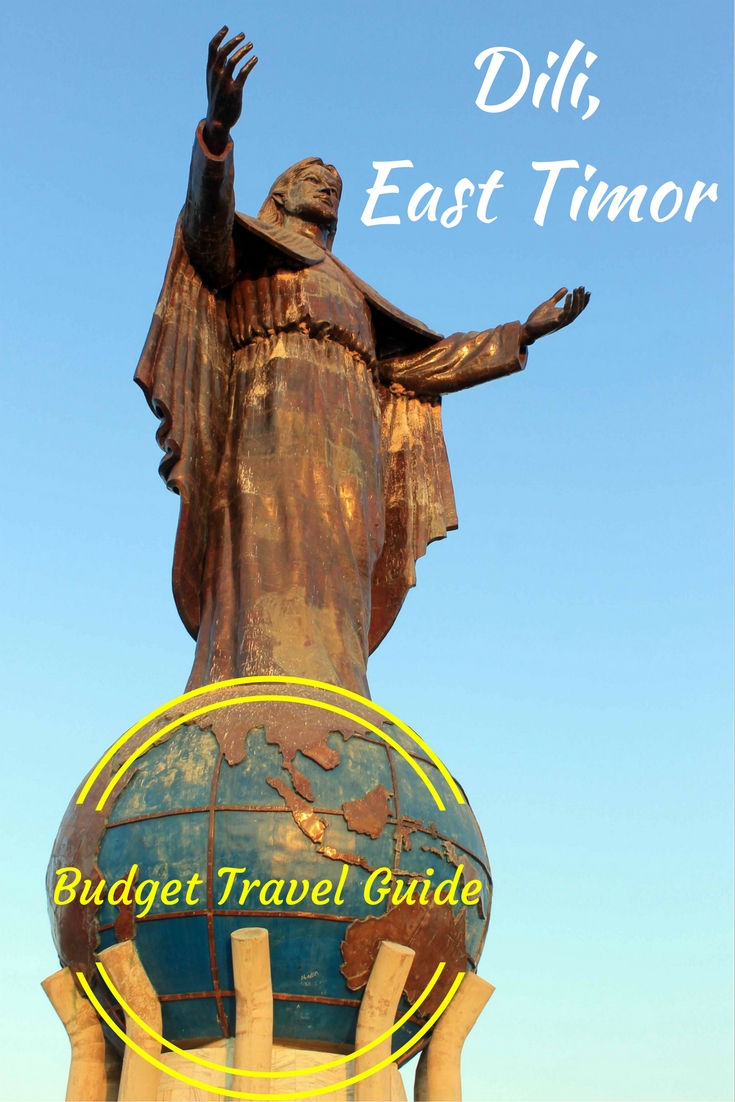 *** The Final Word: Fly in & out of Dili for a few relaxing days or travel longer in East Timor, a wonderful destination off-the-beaten-track ***
Have you visited Dili or other places in East Timor?
Visited in October 2015