A guided nature walk is the top reason to visit Monteverde, Costa Rica & Curi Cancha is the best park for wildlife spotting – find out how Oscar from Nasua Tours made all the difference!
Oscar from Nasua Tours Background
Let us here at DIY Travel HQ introduce you to Oscar from Nasua Tours!
Oscar is a certified naturalist in Costa Rica that is fluent in both English & Spanish.
He started working in Monteverde over 10 years ago & has accrued a vast knowledge base about these particular ecosystems.
He originally started working as a guide for one of the parks, but recently branched out to be an independent guide.
* Don't forget to purchase travel insurance before any trip to Costa Rica. We've been using World Nomads for over 10 years – it's the best-value provider we've found & we've also never had any issues on the few occasions we've had to make a claim.
His main complaint about his previous employment was that he didn't have the flexibility to customize tours to individuals.
Park guides are forced to adhere to the allotted time for tours regardless if they have seen a lot of wildlife.
Oscar now has the ability to extend his tours if needed & freely roam the park for the best wildlife spotting results.
After all, Curi Cancha is one of the top places to visit in Costa Rica for flora & fauna.
What we love about him besides his obvious impeccable skill set is his friendly demeanor & eagerness to leave each customer & even other park guests with a positive experience during their time in Monteverde & Costa Rica.
He still gets excited for spotting birds & other creatures that he sees regularly, which is contagious for everyone around him.
Equipment
Oscar loves being able to share Costa Rican nature with tourists from around the world.
We are privileged to enjoy his knowledge, ability to increase our odds of spotting animals, & having the best equipment to view wildlife once spotted.
Oscar uses a Swarovski spotting scope which is smaller & lighter than the competition, but more importantly collects more light & has a wider field of view.
This is important when you are viewing birds & other non-stationary wildlife from a distance.
Taking Pictures
If you love birds & other wildlife, then joining Oscar from Nasua is a no brainer.
He is also perfect at taking sharp pictures using just a cell phone's camera through his spotting scope. We got better pictures using this method than with our DSLR camera.
We don't recommend trying to take pictures yourself unless you have had practice as the wildlife doesn't pose for long. Oscar is a pro at accurately lining the camera up with the spotting scope eye piece.
* Top Tip – Remove your cell phone's password protection for the duration of the nature tour to speed up the picture taking process.
Which Park to Choose
Oscar from Nasua Tours provides the option to visit several parks around Santa Elena & Monteverde.
Curi Cancha Wildlife Refuge is more open & better for spotting wildlife, while Monteverde Cloud Forest Reserve is a denser cloud forest conducive for enjoying the flora.
Oscar recommended Curi Cancha Wildlife Refuge in the morning to spot wildlife & then Monteverde Cloud Forest Reserve for the night tour.
What you can Expect to See at Curi Cancha Wildlife Reserve
We at DIY Travel HQ typically don't use the services of guides for attractions & wildlife spotting, but now we see what we have been missing out on.
If we had visited Curi Cancha Wildlife Reserve independently, we would have spotted only agouti & coatis near the entrance & hummingbirds around the feeders.
However, with the help of Oscar & his top of the line Swarovski spotting scope we were able to see a porcupine hidden in a tree's cavity, a venomous pit viper curled up in the branches, & many birds that would have been too distant to distinguish.
The birds we were able to spot included the rare Highland tinamou, blue-crowned motmot, white-naped brush finch, golden-browed chlorophonia, euphonia, & warblers to name a few.
The quetzal still eludes us, but a lot of Guatemalans have been visiting Curi Cancha Wildlife Reserve to see their national bird.
They favor the avocado trees found within the park.
Oscar was very knowledgeable about all aspects of the park from the wildlife to insects to plants.
He was able to show us a wasp nest hanging from a branch, the solitary tarantula hawk wasp, & a burrow of stingless honey bees.
Of course Oscar was gushing with information about every living creature.
We learned that the female tarantula hawk wasp has the most painful sting in the world, & stuns tarantulas before burying them with offspring so they have food to grow into adults.
The stingless honey bees were not introduced around the world since they are not as efficient at making honey compared to bees we are more familiar with.
Since wildlife spotting usually involves a bit of waiting, Oscar was kind enough to keep us occupied with facts about the flora as well.
We learned that the strangler fig grows from the top down before growing stronger & ultimately killing the host tree.
Another interesting fact is that trees in Costa Rica don't have countable rings since the temperature remains constant the entire year preventing a hibernation period.
We also saw one of the smallest orchids & had to use the spotting scope to see the fine details.
These are all things that normal Curi Cancha Wildlife Refuge guests would just walk right past without realizing how interesting even the smallest aspects of nature may be.
With daily tours, Oscar knows where animals have been seen recently, or even where they prefer to sleep & eat so you have the best possibility of seeing wildlife.
Nasua Tour Options
Oscar from Nasua Tours runs three types of tours that can be booked for either Curi Cancha Wildlife Refuge or Monteverde Cloud Forest Reserve.
Private tours to focus on a particular interest are possible for each tour option listed below at a cost of $100.
Admission fees are always paid separately at the corresponding park, & transportation can be arranged on your behalf.
The tour options are as follows:
Bird Watching starts at 6 am & lasts 5 hours ($120 up to 4 people)
Natural History Walk departs at 7:30 am & lasts 3 hours ($20/person up to 10 people)
Night Tour starts at 5:30 pm & lasts 2 hours ($20/person including flashlight)
Know Before You Go
Nasua Tours Location: Oscar guides nature walks at either Curi Cancha Wildlife Refuge or Monteverde Cloud Forest Reserve. You can arrange transportation with him, or arrive independently & meet at the entrance to each respective park.
Nasua Tours Prices: Nature walks typically cost $20/person except Bird Watching, with private tours going for $100. Transportation & admission fees are excluded.
Park Admission Fees:
Transportation to the Parks:
It is possible to arrange transportation with Oscar. Otherwise, you can arrange a shuttle for $2/person each way, take a taxi, or walk.
Contact Information:
Did you enjoy reading Curi Cancha Nature Walk with Oscar & Nasua Tours
Pin it and help others find it too!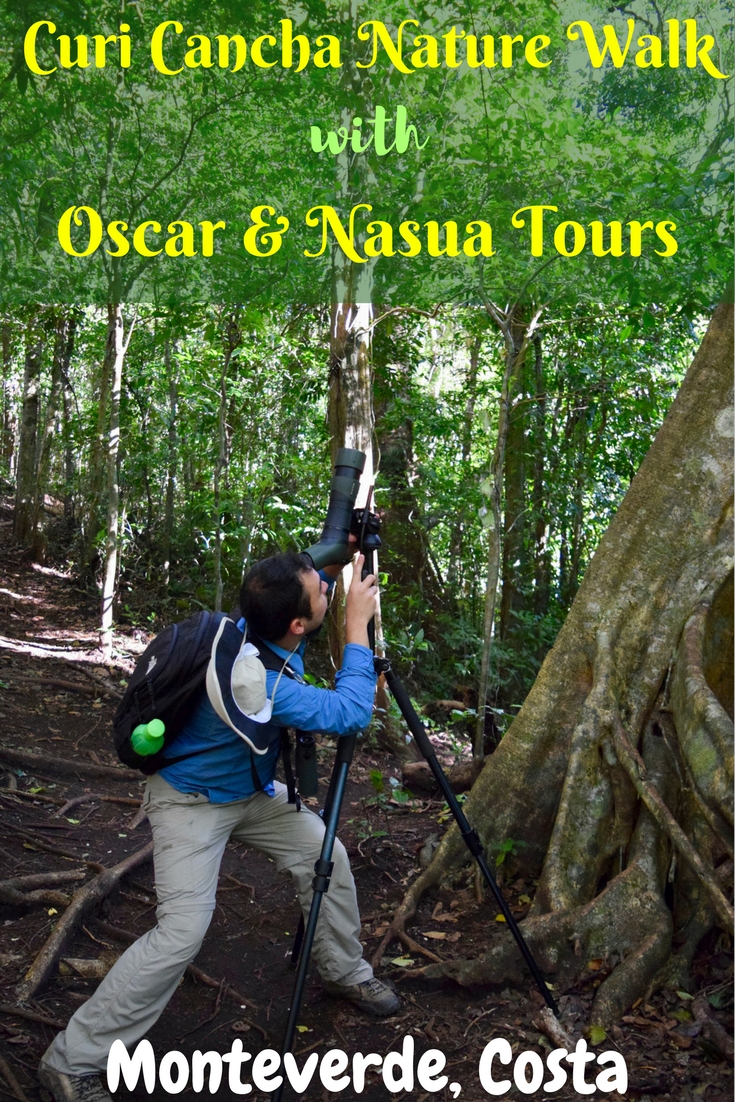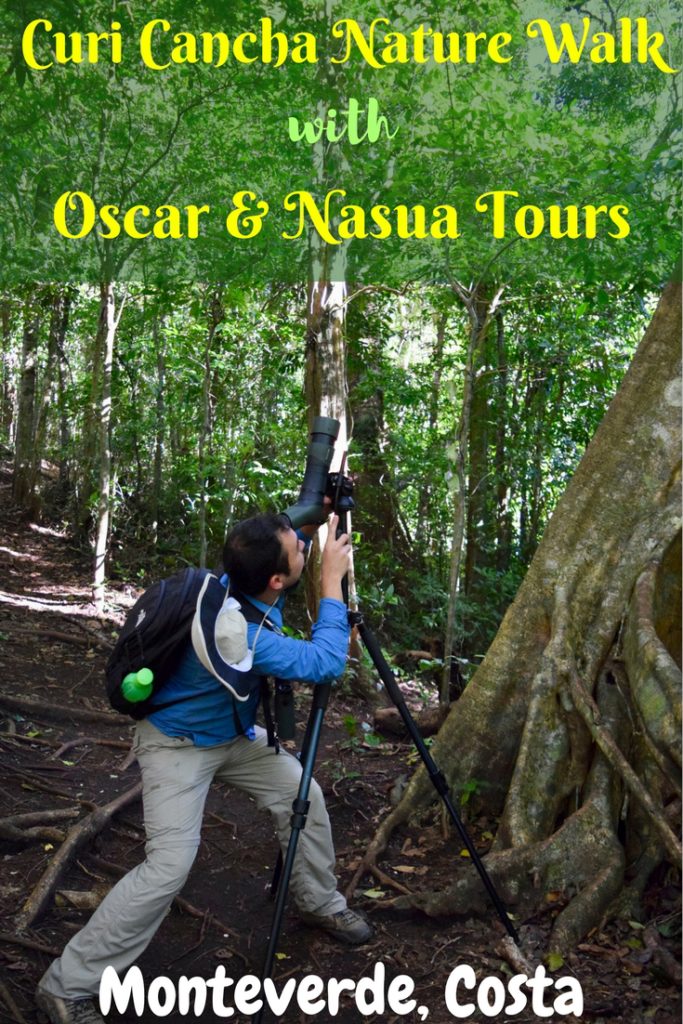 ***The Final Word – Oscar from Nasua Tours is friendly, knowledgeable, & knows how to increase your odds of seeing wildlife. We would not have seen nearly as much without his assistance!***
What have been your experiences with guided nature walks?
* We received a complimentary Nature Walk with Nasua Tours, thank you to Oscar for hosting us. We only recommend fun, value for money activities & experiences that we believe our readers would enjoy. As always, all opinions are our own.
Visited in January 2017