Arco Iris Lodge combines the convenience of a town location with the tranquility of a natural environment – find out why these hilltop cabins make the perfect getaway in the heart of Santa Elena (Monteverde), Costa Rica.

Arco Iris Lodge History
Let us here at DIY Travel HQ introduce you to Arco Iris Lodge.
Arco Iris Lodge began with 4 Costa Rican brothers in 1990, before being sold to a German couple on vacation in 1993.
It was a spontaneous purchase for Susanna & her husband, but they have since developed the property into one of the most beloved hotels in Santa Elena & Monteverde.
Over the years, additional cabins have been added, built by local craftsmen with wood & materials from the surrounding forests.
It was our favourite accommodation in our One Month Costa Rica Itinerary.
The property has also expanded to include many fruit trees, horses, a greenhouse & even a small coffee plantation.
Arco Iris Lodge is located close to the centre of Santa Elena but with a tranquil natural setting that makes you feel high in the mountains.
Whether you're in your wooden cabin or sitting out in the garden, it's hard to believe that shops, banks, supermarkets & restaurants are all just around the corner.
Arco Iris Lodge Reception
Making a booking at Arco Iris Lodge was a seamless process. The owner, Susanna, was fast to respond to our emails & questions.The excellent customer service continued on arrival too, when we were welcomed by John & Fabi at check-in.
John gave us a thorough explanation of the hotel's amenities & services, including breakfast & tour options. He gave us recommendations of things to do in the Santa Elena & Monteverde Area, as well as nearby restaurants & facilities.
We were really impressed with John's professionalism & on a side note, it turned out that he & Erik grew up in the very same suburb of New Jersey.
We later met Susanna too, who was also very down to earth & accommodating.
Here at reception you can also find a reading area with a large selection of books, 2 computers & filtered drinking water.
Arco Iris Lodge 2 BR Cabin
Arco Iris Lodge was fully-booked when we checked-in so we received an upgrade to a 2 bedroom cabin – and we were blown away when we were taken to our room.
It was spacious, elegant & tastefully decorated with a living room & 2 full bedrooms, each with their own ensuite bathroom.
The beds were very comfortable with thick, quality bedding – at an elevation of 1440m, Santa Elena gets chilly at night so it was very cozy to sleep in. Next to the bed were 2 bedside tables & lamps, including a safe to keep valuables.
The practical touches were also there, including hooks, shelving & hanging space with hangers provided. Extra pillows & blankets were also provided.
The bathroom was almost as large as the room! The shower was separated, with very hot water & excellent water pressure. Ample toiletries & towels (about 8!) were provided.
The living room let in plenty of natural sunlight through the spider web windows – we loved this quirky feature, especially as it looked out onto the leafy gardens.
It also included a long sofa, bar fridge & coffee table, with an LED TV featuring cable channels mounted high on the opposite wall.
Our cabin also featured a front patio with wooden tables & chairs for 4 people. It was wonderful sitting out here with a bottle of wine, enjoying the fresh air & peaceful serenity.
Keep your eyes & ears peeled for jungle sounds & wildlife – we saw an agouti from our window & fell asleep to the chirping of insects 🙂
The 2 bedroom cabin is not normally advertised so if you're interested, contact Susanna for more information.
Arco Iris Lodge: Rooms Available
Arco Iris Lodge have cabins to suit every taste, group size & budget:
Budget Rooms: Smaller rooms with a combination of double & bunk beds, with ensuite bathroom.
Standard Rooms: Most rooms come with a double & single bed, with ensuite bathrooms with rain showers
Superior Rooms: Duplex cabins with 2 queen-sized bens & twin sofa beds, with refridgerator & ensuite shower with walk-in shower
House: Larger cabin with fully-equipped kitchen & living room, 2 bedrooms & a private garden with hammocks
Honeymoon Cabin: Located in a secluded corner of the garden
Vacation Rental Home: Located on an organic farm, 3kms from Arco Iris Lodge
Arco Iris Lodge Landscaped Grounds
The cabins at Arco Iris Lodge are situated on a vast property of preserved forest & landscaped gardens, with some of the tallest trees in Santa Elena.
Native ornamental plants make up most of the garden, but other tropical species such as bromeliads & ferns have also been planted.
There are many fruit trees, too: lemons, oranges, grapefruit, bananas, guavas & wild avocados. The fragrance of the trees & flowers in the gardens attract butterflies & birds of all kinds.
A coffee plantation lies further above the property, where there are also Criollo horses grazing on their own pastures.
And if you potter more around the grounds like we did, you may come across the greenhouse hidden behind the restaurant. Here, we saw all kinds of herbs & vegetables growing, which are used in their breakfast menu. It doesn't get more organic than that!
When you're finished with wandering around the grounds and inspecting the trees & flowers, it's time to relax! Take a seat in one of the hammock swings under the shade of a tall tree, soak up the sunshine in a wooden sun lounge and of course there are also the tables & chairs on your own outside patio.
Arco Iris Lodge Breakfast
The gourmet breakfast was a highlight of our stay at Arco Iris Lodge. It consisted of a delicious buffet of mixed European & Costa Rican cuisine, where you can have yoghurt muesli alongside gallo pinto (rice & beans).
Other breakfast items included fried plantains, ham & salami, cornflakes, sweet breads & tropical fruit.
Eggs were made to order and drinks included coffee, tea & fresh juice.
Our favourite were the different types of breads & homemade jams – from multigrain & baguettes to passion fruit & papaya, there were many possible combinations but not enough stomach space!
What's more, Arco Iris Lodge tries to source local produce as much as possible:
Milk & cheese are from the famous Monteverde Cheese Factory
Coffee is from a small local cooperative
Honey is from a local beekeeper
The buffet was an excellent spread, where neither quality or quantity was compromised. The friendly wait staff were also fast to replenish any low items.
Breakfast is served from 6:30-9:00am, so you can fill your stomachs before heading out on a morning nature walk. A late breakfast a la carte menu is also available.
Price: $7.50
Open to guests & non-guests
Arco Iris Lodge: Other Features
Free on-site parking
Laundry for $8.00 a load
Hot & cold drinks available
Night security guard
Tour desk
Transport reservations
Eco-friendly practices & policies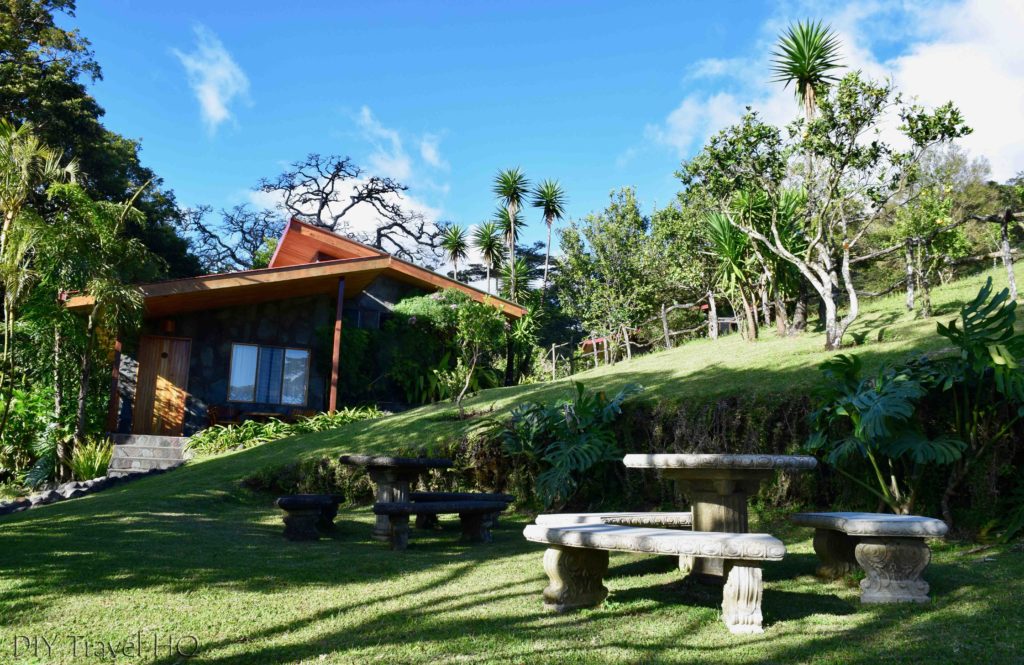 Things to See & Do in Santa Elena / Monteverde
Take a nature walk at Curi Cancha, Santa Elena or Monteverde Cloud Forest Reserves
Go tree climbing or canyoning at Finca Modelo Ecologica
Try zip lining with a Canopy Tour
Explore sweet-smelling gardens at Jardin de Orquideas (Orchid Garden)
Serpentario
Spot frogs, eggs & tadpoles at Ranario (Frog Pond)
Observe more than 50 different species of butterflies at El Garden de las Mariposas (Butterfly Garden)
Take a bird walk or nigh walk at Bosque Eternal de los Ninos (Children's Eternal Rainforest)
Learn all you wanted to know about bats at the Bat Jungle
How to get to & from Santa Elena / Monteverde
There are local buses between Tilaran & Santa Elena several times a day. The trip takes approximately 1.5 hours & costs C$900.00.
If you're travelling to or from La Fortuna, the most convenient option is to take a Jeep-Boat-Jeep tour (which doesn't actually involve any Jeeps but 4WDs instead). It costs around $25-30 & takes approximately 3 hours – bookings can be arranged at Arco Iris Lodge.
In a Nutshell
Address: Carretera Monterverde a Tilarán, Monteverde, Costa Rica
Prices: Variety of rooms from $44.00 (budget) to $200.00 (honeymoon cabin)
Contact:
Read their Tripadvisor reviews here
Did you enjoy reading Arco Iris Lodge: Charming Eco Retreat in Monteverde?
Pin it and help others find it too!
[put_wpgm id=218]
*** The Final Word: Enjoy nature with convenience, in comfort & style, at Arco Iris Lodge ***
Have you ever stayed in a cabin or lodge? 
* We enjoyed a complimentary stay at Arco Iris Lodge – thank you to Susanna for hosting us. We only recommend great value accommodation that we would choose to stay at regardless & as always, all opinions are our own.
Visited in January 2017