If you only do one adventure activity in La Fortuna, make it an ATV our with Power Wheels Adventures – so put your thumbs to the throttle & go off-road, we guarantee you'll have a wheely wheely good time!
Private ATV Tours with Power Wheels Adventures
La Fortuna is the adventure capital of Costa Rica & while we were in town, we here at DIY Travel HQ road-tested many of the activities on offer.
The ATV Tour with Power Wheels Adventures was the one we were most excited about – it lived up to expectations & was one of our favourite things to do in Costa Rica.
* Don't forget to purchase travel insurance before any trip to Costa Rica. We've been using World Nomads for over 10 years – it's the best-value provider we've found & we've also never had any issues on the few occasions we've had to make a claim.
Power Wheels Adventures offer private-only ATV Tours, so it's just you & your party (partner, kids, family, friends).   There are several different tours to choose from, ranging in time & terrain, but all can be customized to suit your needs. For example, you can set your own tour time so you can fit more into your day.
With a private tour, you have the full-attention of the guides (you will likely each have your own) so you can feel comfortable going at your own pace. Don't forget to bring a camera or smartphone – the guides are happy to help you take as many photos as you like!
Getting Started at Power Wheels Adventures
The VIP treatment begins with a hotel pick-up to the main office, 1.5kms on the main road from La Fortuna.
Here, we met with Jeff, the founder of the company. A California-native, Jeff first visited Costa Rica on holiday some years back, taking a couple of ATV tours along the way. When he decided to move permanently & settle in La Fortuna, he saw a gap in the market for customized, personalized private tours & so Power Wheels Adventures was born.
We had a quick tour of the office, including the ATV workshop with a full-time mechanic. It's always reassuring to know that your vehicle is going to be road-worthy!
We were fitted with rubber boots & helmets, then we headed out to meet our ATV's. We were introduced to our guides, who gave us a short lesson in operating the ATV. Before we knew it, we were then on the road!
We drove slowly around the back streets, testing the throttle & brake (very important!), with the guides on their own ATV's close at hand. We were pretty nervous as it had been over a year since either of us had even driven a car – and that was on the other side of the road, Aussie-style!
But after the training session, we felt comfortable in the hands of our guides, Gato & Joel, and were ready to put metal to the pedal… or thumbs to the throttle!
How to Ride an ATV with Power Wheels Adventures
Use your right thumb to accelerate
Use both hands to brake
Change gears by pressing buttons on the left side or with your left foot – watch the guide ahead for hand signals
Lean forward & accelerate when climbing uphill
Lean back & brake when going downhill
ATV Tour Course with Power Wheels Adventures
There are several ATV tours to choose from with Power Wheels Adventures but we went with their most popular, " The La Guaria Bosque Finca/Rio (Farm/ River) Tour".
We couldn't have asked for more, it was a fantastic course! We rode through a private farm, all 400 acres of it, passing through steep hills & low valleys, going up, down & around the foothills of Arenal Volcano. It's a pity that Arenal is no longer erupting (dormant since 2010) but we had more than enough thrills to keep us happy!
The ATV tour really lived up to its name as we certainly did ride through all types of terrains. From gravel to dirt roads, unpaved & back roads, we also passed through villages, farms & jungle areas, even crossing rivers & bridges – such a blast 🙂
We didn't think about it before, but an ATV tour is actually an awesome way to explore the local area around La Fortuna. We got glimpses of the village life & farmland around the village of La Guaria, so you don't need to rent a car to go off the beaten track!
ATV Tour Landscape with Power Wheels Adventures
All the while, I couldn't stop taking photos! It wasn't the safest driving but the landscape was too incredible to resist. The guides could see that it was a compulsion of mine & they indulged me greatly, taking us to the best lookouts & stopping at many scenic spots.
One of the highlights was when we drove up to the Mirador, a 150m high viewpoint. From here, we could see the whole, lush green valley & the meeting point of the Palma & Arenal rivers. It truly took our breaths away.
Of course, our guides Gato & Joel took photos of us here, as they did throughout the tour.
On one muddy stretch, they even let us go back & forth a few times so that we could get the perfect capture on camera!
And here's our best take: 🙂
Oh yes, you'll definitely get muddy but that's all part of the fun, our favourite part in fact! Just know that the faster you go, the muddier you'll get but you also don't want to take it too slow or you'll probably get stuck in the mud – so the choice is yours 🙂
That happened a couple of times too & again our guides were very patient & helped us to get out of the mud unscathed.
Another highpoint was towards the end of the course, when we actually rode our ATV's across a running river. On the other side of the riverbank was a tranquil forest, where we stopped for a break (not the 1st by the way).
We wished we had our swimmers with us as that would've been a really refreshing dip in the most beautiful of environments, not to mention washing away a lot of the mud .
It was the perfect way to finish the ATV tour with Power Wheels Adventures, before the final ride back to reality.
ATV Tour Wildlife with Power Wheels Adventures
The wildlife we encountered on the ATV tour with Power Wheels Adventures was an unexpected bonus.
Not long after we rode away from the office & entered the farm, our guides pointed out a sloth high up in the trees – no idea how they spotted it but they obviously have experience & well-trained eyes!
Further along on the ride, up on a hillside, one animal we couldn't miss were the cows that were blocking our path! There were about 15 of them, big white cows, grazing peacefully on the grass. They weren't really disturbed by us at all.
It was only when we got really close with our ATV's that there was a bit of stand-off with a few cows. We stared each other down, before inching closer with our vehicles until the cows finally made way for us!
Finally, at the riverbank, the guides found a tiny dart frog for us – I believe it was a strawberry poison-dart frog. They can be poisonous to humans but we touched them & held them in our hands so I assume this frog at least was not that harmful!
Monkeys, toucans & all sorts of birds are also apparently common so while you're out on the road, keep your eyes & ears peeled.
Top Tips for an ATV Tour with Power Wheels Adventures
Wear clothes you don't mind getting dirty – you will get wet & muddy!
Bring socks (you'll be given rubber boots to wear) & a change of clothes/footwear (including a towel) – you can hose down at the office after the tour & there's also a shower you can use
Wear a swimsuit if you want to have a dip in the river near the end of the tour
Bring a camera, GoPro (with clips) or smartphone for photos
The guides will provide you with bottled water on the tour
It's suitable for all ages, no experience necessary!
In a Nutshell
Address: 1.5 Km west (toward the volcano) from the center of La Fortuna
Prices: ATV tours from $95.00, The La Guaria Bosque Finca/Rio (Farm/River) Tour $139.00 (2.5 hours)
Contact:
Read their Tripadvisor reviews here
Did you enjoy reading Power Wheels Adventures: #1 ATV Tour in La Fortuna?
Pin it and help others find it too!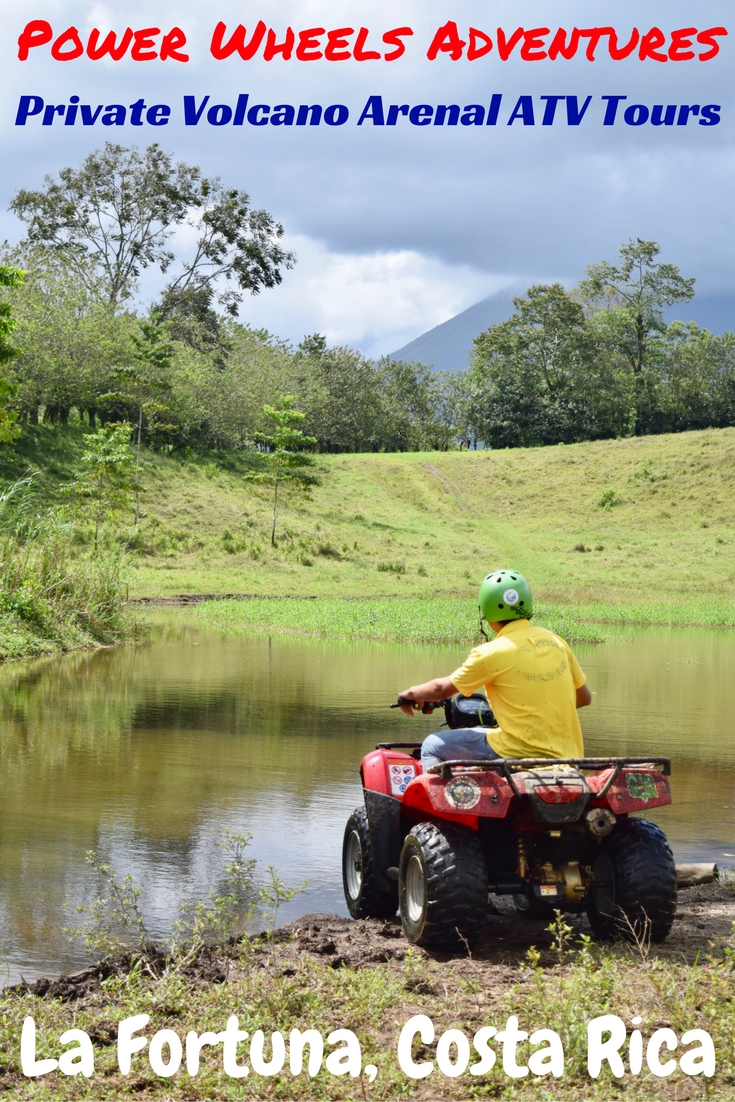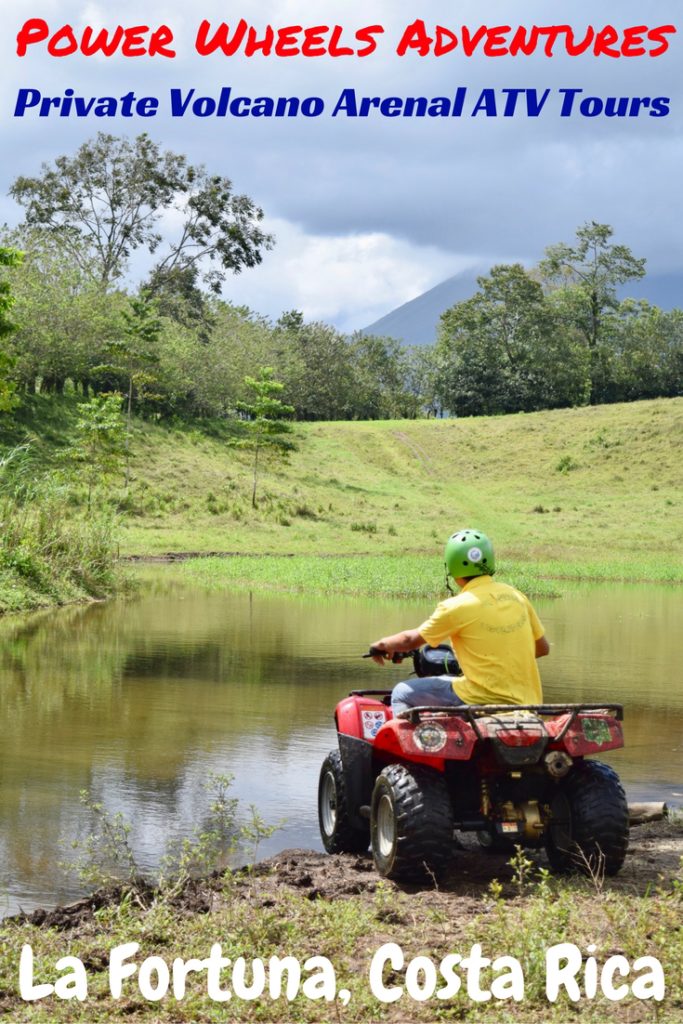 [put_wpgm id=216]
*** The Final Word:  Don't miss the ATV Tour with Power Wheels Adventures in La Fortuna, Costa Rica – you won't regret it! *** 
Have you ever ridden an ATV? Where?!
* We received a complimentary ATV Tour with Power Wheels Adventures, thank you to Jeff for hosting us. We only recommend fun, value for money activities & experiences that we believe our readers would enjoy. As always, all opinions are our own.
Visited in January 2017