It's an unforgettable & expensive experience but find out where to find a cheap Isla Mujeres Whale Shark Tour in Mexico – and why it's a risk you may not want to take…
Isla Mujeres Whale Shark Tour Experience
It isn't a whale, it isn't a shark but it does resemble both & it's the largest fish in the world!
Here at DIY Travel HQ, my Isla Mujeres whale shark tour started with a 1hr fast boat ride in very rough waters, out to the middle of the ocean.
* Don't forget to purchase travel insurance before any trip to Mexico. We've been using World Nomads for over 10 years. It's the best-value provider we've found but there are other important things to consider. Check out our post and find out which of our claims were successful or denied.
The captain starts looking for fins, when they're spotted he drives closer & you jump straight in. It's quite chaotic, a few sharks circling in the water & many boats & people circling around them.
Only 2-4 people can jump in at a time. I got about 4 jumps, seeing 5 whale sharks & a few more from the surface – sometimes there's dozens, the day before there was 100!
But it all happens so quickly, I would love to find somewhere to dive & spend more time with them in the water, rather than jumping in & out of a boat for just minutes at a time.
Gray Whale Watching in Baja, Mexico also looks like an amazing experience.
Whale sharks come to the surface to feed on plankton, you've got to swim pretty fast to keep up with them – hence this shaky mess of a GoPro
video.
How to Find a Cheap Tour
If you're a budget traveler, a whale shark tour is probably going to be a significant expense.
You'll come across vastly different prices whether online or in person.
Don't book anything online or in advance, as it's a lot more expensive than what you can find once you're on Isla Mujeres.
Online, it's hard to find a tour to swim with whale sharks on Isla Mujeres for less than MN$2000 pesos/$110, but there are cheaper options on the island. Shop around as the only other place to snorkel with whale sharks in Mexico is in Cabo San Lucas.
The tours that are much cheaper may not be licensed operators, but that in itself may not be illegal, I'm not sure. You will probably be put in with another tour agency, probably reputable but for half the price – at least that's what happened to me…
Apparently the price difference is a matter of fuel & how far out into sea the boat will go to look for the whale sharks. Another popular launching pad that covers the same section of the Caribbean looking for whale sharks is Isla Holbox.
If you're looking to save money, it's hard to know who or what to believe, especially as there's no guarantee of seeing the whale sharks.
Most agencies will agree to refund you 50% of the price if no whale sharks are spotted on tour.
It's up to you if it's worth it to take a risk with an unknown operator or to go with someone with a strong reputation & Tripadvisor reviews you can count on.
We recommend Lonely Planet's Mexico Travel Guide
to help you plan your trip.
Compare other tour options:
My Cheap & Dodgy Tour
Poc-Na Hostel offers whale shark tours for around MXN$1350 pesos – I went with an agency just up the road for a negotiated price of MXN$1200 pesos.
This tour agency had a proper shopfront & was run by a seemingly decent guy that spoke good English.
In the morning, I arrived at the agency & the man took me to the pier where I had breakfast with another tour group.
When they all left for their tour, he then brought me to another tour group. Then they all departed on their boat & I was stuck waiting.
All of this made me feel really worried, uncomfortable & confused.
The man kept telling me that my boat was running late. I ended up waiting for at least 30 minutes from when I finished breakfast with the 1st tour group.
I turned out that my Isla Mujeres whale shark tour was coming from Playa del Carmen.
I was an add-on on a tour with an official company – I'm guessing that I paid at least half the price as the other customers onboard.
The rest of the tour ran smoothly, once the boat finally arrived.
We went out very far to sea, to where many other boats were circling for whale sharks.
We were served a decent lunch of sandwiches & ceviche with crackers, with water, soft drinks & Corona.
This was when the boat was anchored in Playa Norte so there was also swimming time.
You're given a snorkel and fins
but a wetsuit costs extra – don't worry, the water is warm, it's not necessary.
I was, however, told that there would a snorkeling stop on the tour, which there was not.
If my boat was a local tour & not one originating from Playa del Carmen, I think there would've been snorkeling because there would've been time.
Know Before You Go
After a very shaky & uncertain start, I was happy with how my whale shark tour worked out, especially with the price. I paid only $64.00 to go out with a first-rate operator.
I'm not sure if this is how it always works, but I thought I would share my experience for other budget travelers looking to swim with whale sharks.
Tour price: MXN$1200 pesos / $64.00
Inclusions: Breakfast, snorkel, fins, lunch, drinks
Non-inclusions: Wetsuit (extra charge but not necessary)
Tour agency: Unknown. Walk straight down the road from Poc-Na Hostel for 1 minute & it's on your right
Did you enjoy reading Where to Find a Cheap Whale Shark Tour?!
Pin it and help others find it too!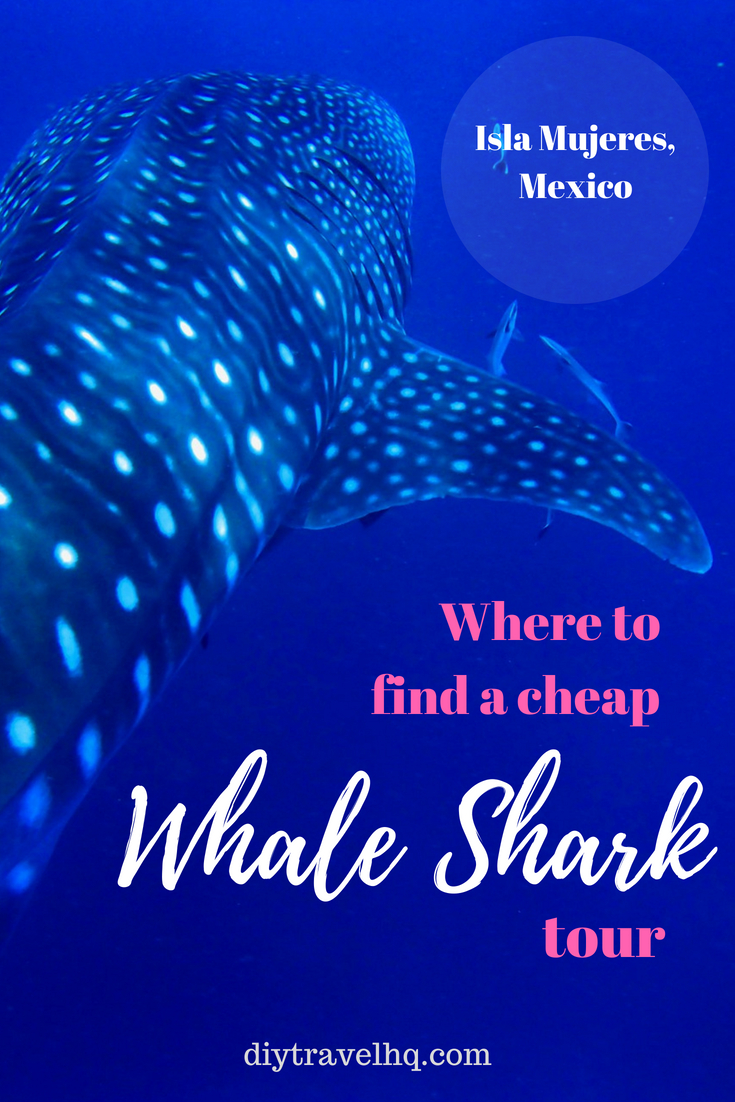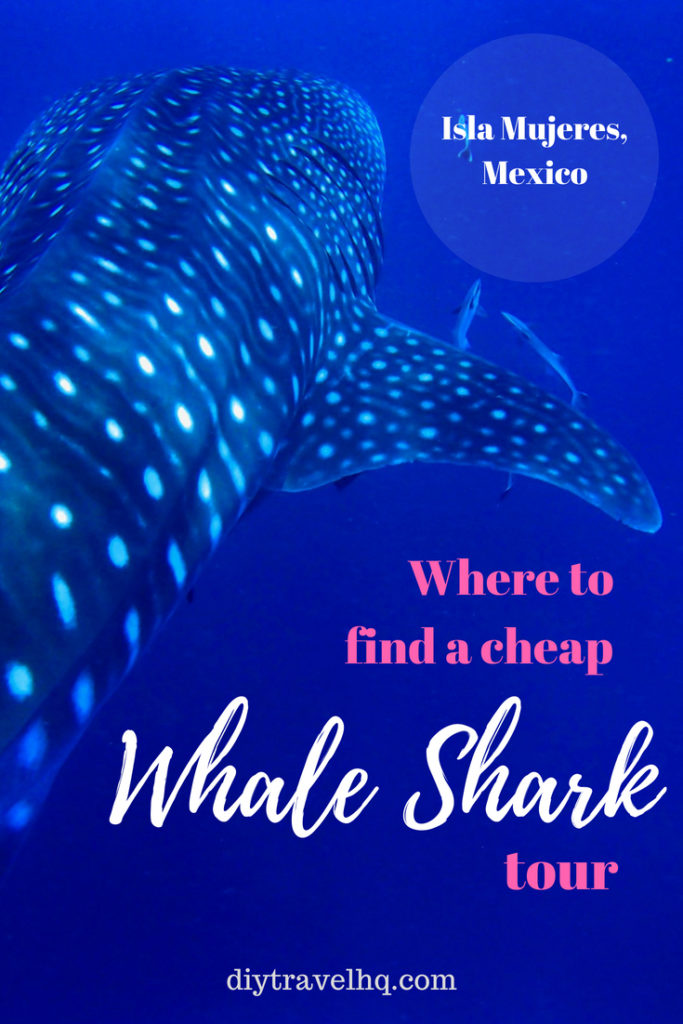 Feature image courtesy of Mexico Whale Shark
Disclaimer: This post contains affiliate links, which means that we receive a small commission if you click on a link & purchase something that we have recommended – at no extra cost to you. This helps us to keep our site running so we can continue to provide free content. Thank you for your support!
Visited in June 2016