The Casablanca forts were designed to keep people out, and at 6 CUC per fort we did just that. Find out what you can see for free across the bay from Old Havana!
Over the years, Havana spared no expense for protection. Each new exposed weakness was rectified with a new fort or city wall. Two such examples are the Casablanca forts Castillo de los Tres Santos Reyes Magnos del Morro, and Fortaleza de San Carlos de la Cabana. Watching over everything was Jesus, and more recently, Che.
Castillo de los Tres Santos Reyes Magnos del Morro
El Morro was completed in the early 17th century, and guarded the eastern entrance to Havana harbor. Castillo de San Salvador de la Punta protected the western side, with a 250 meter chain linking them at nightfall.
The necessity for this fort originated when the city was attacked in 1555 by the French. Much like White Castle, Havana was sacked by foreigners (just not Asian, Indian, and Canadian). Virtually impregnable, the 3m thick walls and deep moat repelled numerous attacks from the sea.
Although you can visit the interior of El Morro fort (6 CUC), there is quite a bit you can see from the outside. Many online reviews mention the views of Old Havana as the highlight. Near where the vendors set up in the southeast corner is a great vantage point of Old Havana.
Not only can you see Old Havana, but you can take in the cannon defense system as well as the turret and lighthouse (additional 2 CUC).
Most people not planning to enter stop here, but don't! Head down towards the entrance, and through the imposing tunnel.
On the other side are further great views of the city, and you also overlook the cannons.
When you return to where the vendors are, walk along the wall until you reach the coastal cannons that scream, "Let me take a selfie!" Just in front are a series of installations that used to house the ammunition and gun powder. Most visitors do not take the time to see these free aspects of the fort, and are rushed around on a tour.
Keep an eye out for small lizards that frequent this area.
Fortaleza de San Carlos de la Cabana
Do you remember how I said El Morro fort repelled numerous attacks from the sea? Well, they failed to fend off a British siege from this hill, and thus Fortaleza de San Carlos de la Cabana (6 CUC, 8 CUC after 6 pm) was constructed to defend El Morro and the rest of Havana. There was layer upon layer in Havana fortifications.
Compared to El Morro fort, La Cabana is massive. Stretching more than 700 meters, this fort became the saving grace for Havana, much like Jesus. Covering such an expanse of land, pirates and foreign invaders were dumbfounded on how to attack. That is why they never did.
Each night at 9 pm, La Cabana fort performs the canonazo ceremony. Although the fort never fired shots of aggression, they reenact firing a cannon over the harbor in full period clothing. Many reviews state that the procedure is drawn out, and not that impressive. The admission fee also costs 2 CUC extra. Another place to see a reenactment is St. Augustine, Florida.
From the outside, it is possible to see many curvatures of the moat, outer fortifications, and a small weaponry display.
Here, you can find missiles aimed in all directions. There are also rockets, fighter jets, and artillery guns.
Estatua del Cristo
Watching over Havana is this statue of Christ. It is easily seen from the other side of the harbor in Old Havana.
Religious folk may appreciate pictures with his holiness, but others may enjoy staring out over the harbor better. Much like the views at El Morro fort, there are stunning skyline shots to be had.
The marble statue was dedicated to former President Batista by his wife in 1958. It was to commemorate the failed assassination attempt on his life just a year earlier. A week after the unveiling, the assassin got his wish as Batista fled the country and forfeited his power. Ironically in 1959, Che lived in La Cabana (6 CUC) across the street as he helped plan the future of Cuba.
Transportation to Casablanca Forts
Getting to the Casablanca forts is painless. From Old Havana, take a ferry to Casablanca (1 peso covers 2 people). The ferry terminal is located across the street from the Russian Orthodox Church.
Once you pass through security, wait in the left two lines until instructed to board. There is so much security as at least one attempt has been made to hijack the boat and travel to Florida with it. So far, no one has made it out of Cuban waters.
Upon landing in Casablanca, head straight up the park stairs, turn left, and follow the windy road. You will first come across Che's Cabana and the Statue of Christ. Following the road behind the Cabana leads you to La Cabana fort, and El Morro fort.
From Casablanca you can also take the Hershey train, which departs 3 times a day. If your schedule does not allow for a ride, then try to time your visit to Casablanca around 12 or 4 pm when the train will be at the station.
Did you enjoy reading Casablanca Forts: Watching Over Havana?
Pin it and help others find it too!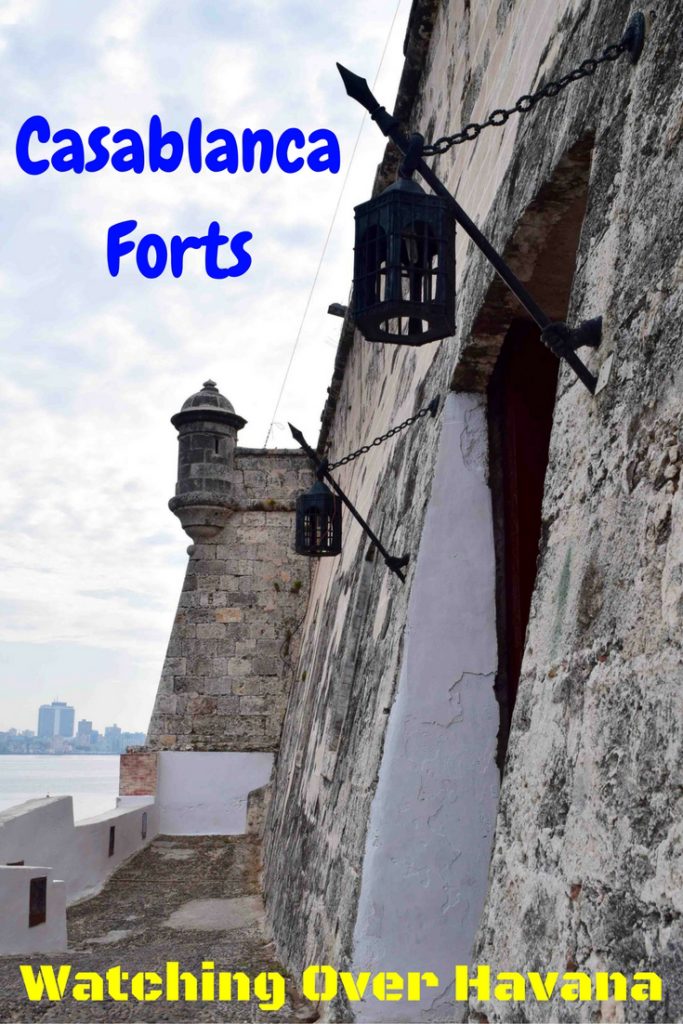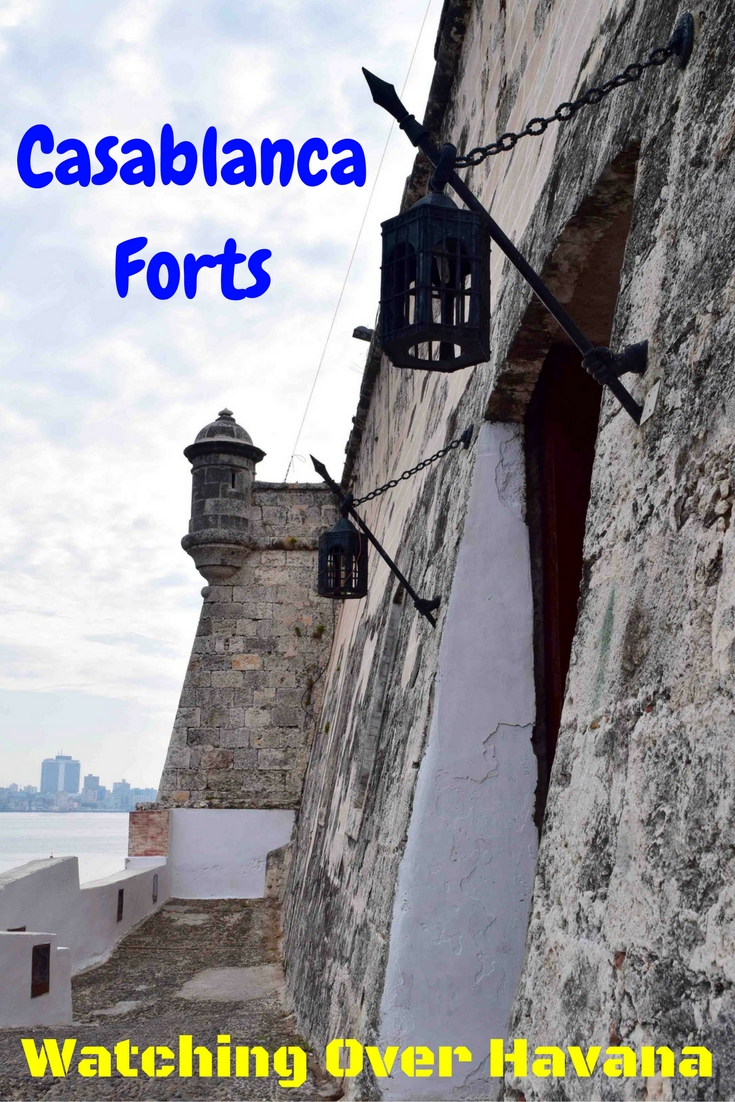 ***The Final Word – Visiting the forts of Havana is worth the effort, and a great introduction to the city. We recommend tackling these attractions immediately after landing since they are open late and won't fill an entire day.***
What is your favorite fort that you have been to?
[put_wpgm id=90]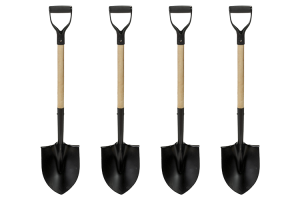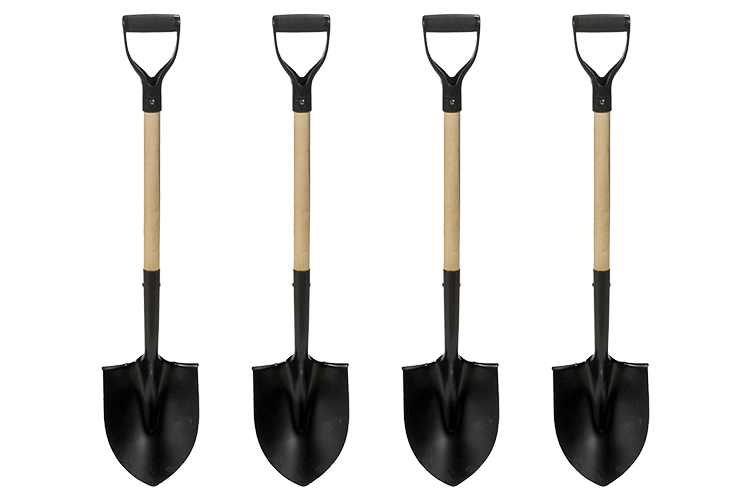 Easy DIY travel outside city centres using public transport
Visited in May 2016