Casa Cristina is the perfect base for exploring Antigua – with charming rooms, free breakfast, stunning rooftop views & affordable prices, there's no better deal in town!
Casa Cristina is located in a quiet cobblestone street, just half a block from La Merced church. Parque Central, Santa Catalina & all the attractions of Antigua are within walking distance.
The hotel is in a small red building, with ornate grills on the door & windows and dangling flowerpots – the charm begins before you even set foot inside!
We here at DIY Travel HQ took the first shuttle bus from San Pedro at 4:00 am so it was early when we arrived in Antigua. We were also a little tired so we really appreciated the warm welcome from Jose & early check-in.
Our Room at Casa Cristina
We were shown to our room on the 3rd floor & we immediately fell in love! The walls very brightly painted in orange & a striking cobalt blue, accentuating all the little decorative touches around the room (see the feature image).
From the linen to the furnishings, the deep colours are all very earthy & warm. The art deco design is also charming, with intricate wooden carvings and a red & white patterned floor.
We were also surprised to find a large plasma tv mounted on the wall opposite the bed – it had cable channels in English too! There was a small fridge in the corner, which is always a bonus as we love keeping drinks cold, even if it's just water 🙂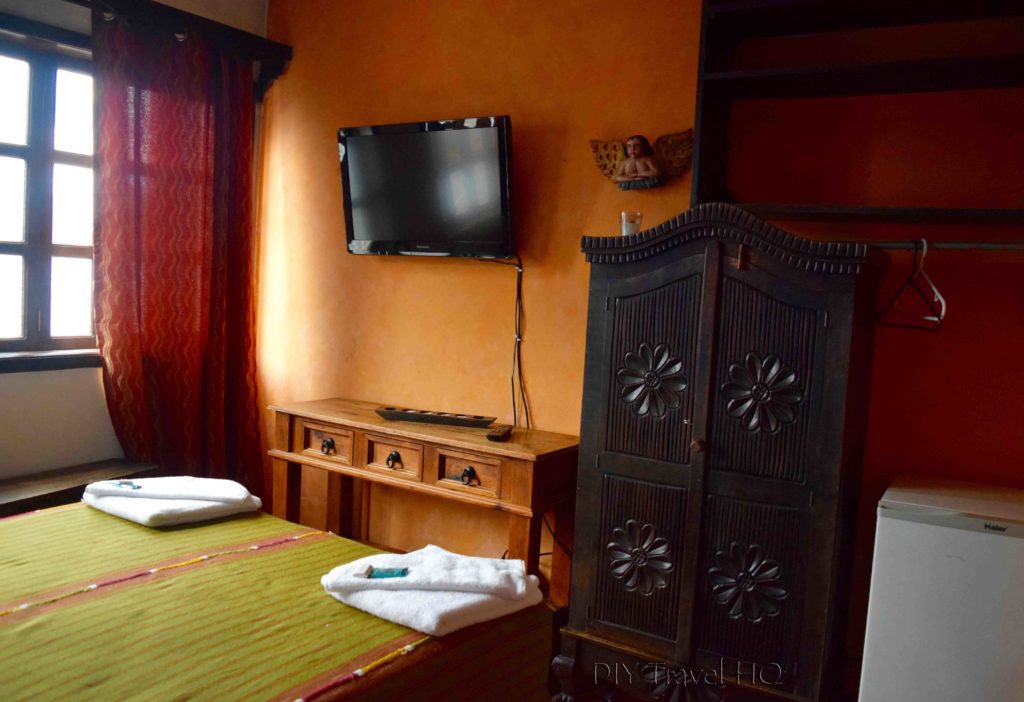 The double bed was very comfortable & with such lovely surroundings, we certainly slept well!
Be sure to take a woolen blanket from the cabinet as it gets a bit chilly at night.
Our room was spacious though the bathroom was on the small side. However it was very clean & functional, with 2 large wooden-framed mirrors & flowery pattern on the tiles.
The showers have adjustable hot & cold water taps & excellent water pressure.
We were really impressed with all the other features in the room:
Cabinet
Desk & chair
Lamps
Mirror
Hooks & hangers
Side tables
Our room at Casa Cristina really had everything you need in a hotel room & more – including windows which opened on to an amazing view of Volcan Agua.
That was one of our highlights of traveling in Guatemala!
Reading Room at Casa Cristina
There is a large, shared lounge room on the 3rd floor, with big windows – it's a lovely, sunny place to relax
You'll also find:
Comfortable sofas
Magazines
Book exchange
Tour information
Table & chairs
There's also free coffee, tea, purified water & a microwave available to use at all times.
In the morning, fresh Guatemalan sweet bread is also offered.
Rooftop Terrace at Casa Cristina
Check out the 360 degree views of Antigua from the rooftop terrace at Casa Cristina!
You can easily see the distinctive yellow church of La Merced & on a clear day, you can't miss Volcans Agua, Fuego & Acatenango – that's 3 volcanoes!
Bring up a coffee & a piece of sweet bread from the reading room downstairs & enjoy breakfast with a view. Or watch the sun go down with a bottle of wine!
There's a wooden seating area, surrounded by lots of beautiful pot plants & flowers.
Services at Casa Cristina
It may be called a Casa but Casa Cristina has all the services of a top hotel.
Daily housekeeping is offered, with a fresh change of soap, shampoo & towels. In fact, towels were aplenty – apart from towels for showering, we also had face towels & bathroom floor towels. All were new, white & fluffy!
Wifi is available, with a separate network & password on each floor – this explains why we always had such a strong & fast connection.
The large reception area is staffed 24/7, where you can also organize tours & shuttle transportation. The prices seemed very reasonable, the same as what we saw other agencies offering around Antigua. There's also a computer you can use.
The front door stays locked for security but just ring the bell, there's always someone around to let you in quickly.
Check-out is at 12:30 pm – you can request a late check-out & there's also luggage storage available at no extra charge.
We met Karin, Rosario & Jose during our stay at Casa Cristina – all the staff were friendly & helfpful, always taking the time to chat with us & making sure everything was ok. They speak Spanish, English & German!
We loved the customer service, there was always someone around if you needed anything, but you also had your privacy & space.
It's a small hotel so it quickly feels like home & family 🙂
Recommendations for Staying at Casa Cristina
There are 14 rooms in Casa Cristina, each with their own individual character. Take a look at a few, but we're sure they all very stylish & tastefully decorated.
We would recommend staying in a room on the 3rd level, to be close to the reading room & rooftop terrace 🙂
Out of interest, we checked out a few other hotels around the city, as we are returning to Antigua next week after visiting Guatemala City – in terms of price, location & quality, none compared to Casa Cristina!
In a Nutshell
Hotel: Casa Cristina
Location: Callejon Camposeco #3-A, Antigua
Price: from Q185 / US$25
Website: Casa Cristina
We recommend Booking.com for the best rates & selection of accommodation in Antigua. Make a booking with our link for 10% off your stay.
*** The Final Word – Look no further than Casa Cristina for the best-value hotel in the center of Antigua! ***
What's most important for you in choosing a hotel?
[put_wpgm id=171]
* Thank you to Casa Cristina for hosting us!
* This post contains affiliate links, which means that we receive a small commission if you click on a link & purchase something that we have recommended – at no extra cost to you. This helps us to keep our site running so we can continue to provide free content. Thank you for your support!
Visited in October 2016