Solola is home to 'Space Cowboys', one of a few Guatemalan villages where men still wear traditional clothing. Find out why it's #1 on our list of things to do in Solola.
For us the main reason to visit Solola, Guatemala was to see out-of-this-world men wearing their 'space cowboy' traditional clothing.
We heard their outfits described this way, and couldn't think of a better nomenclature.
Find more inspiration in one of the Guatemala guide books below!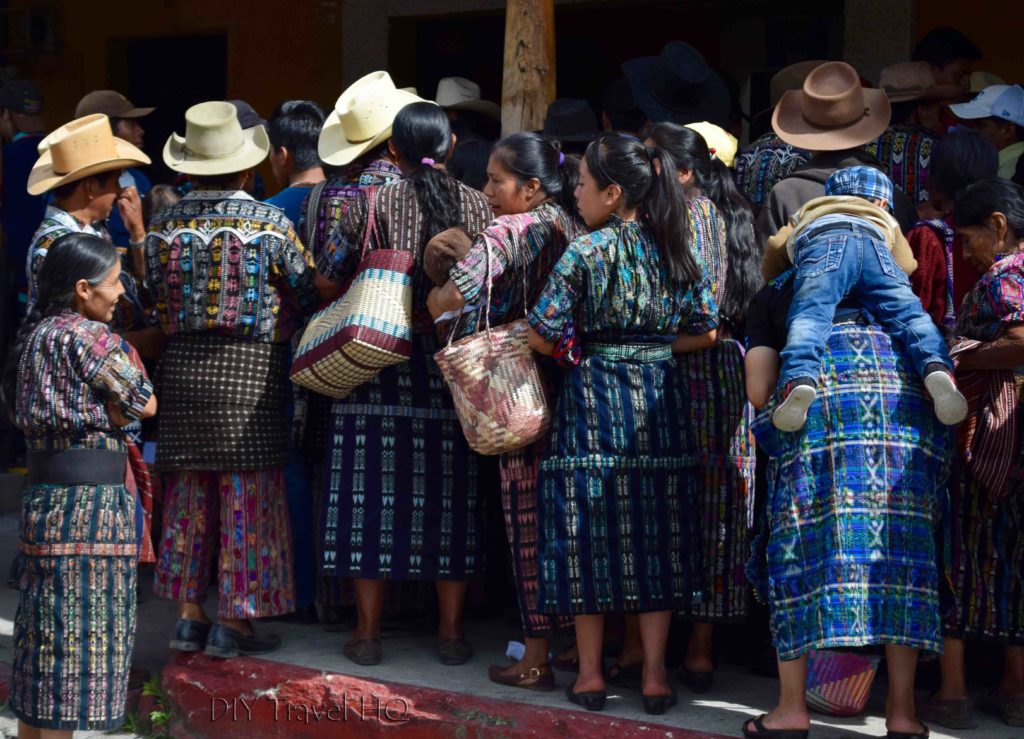 Their attire is a mix of western cuts mixed with colorful Maya weaving for both the shirt and pants. They also wear a wool wrap (rodillera) around their waist, and a cowboy hat.
The space aspect comes from the eccentric mix-match of colors, and embroidered bird between their shoulder blades.
This makes Solola one of the best places to visit in Guatemala for unique traditional clothing.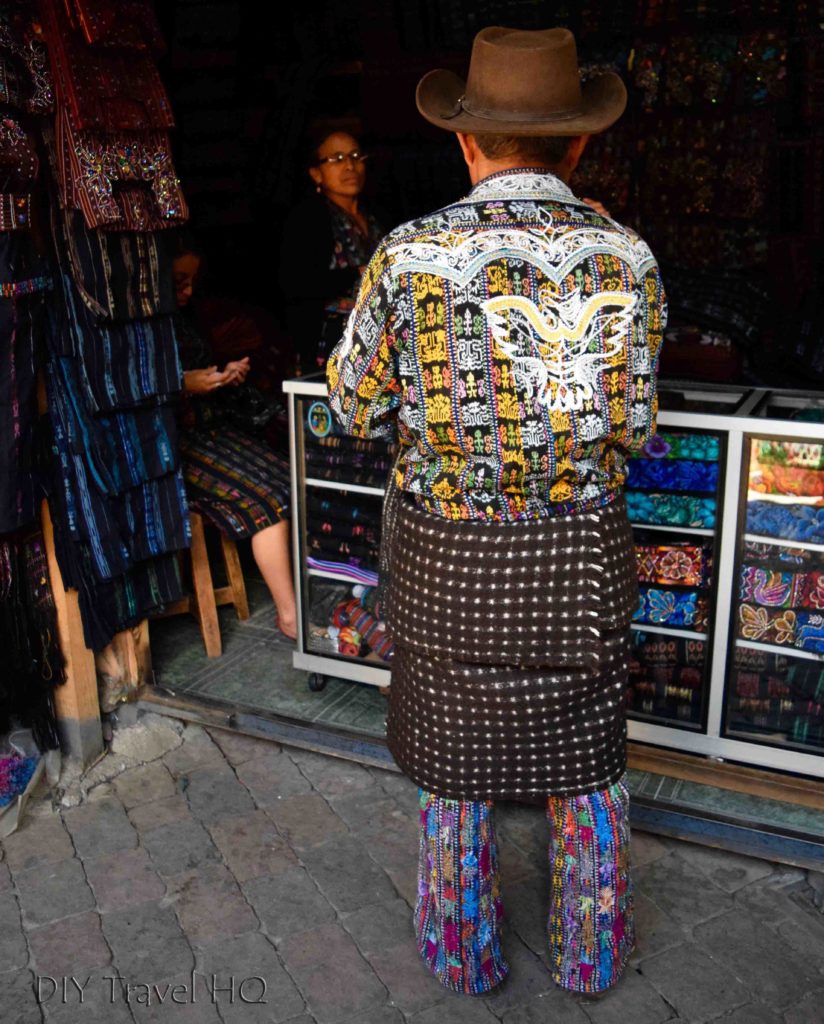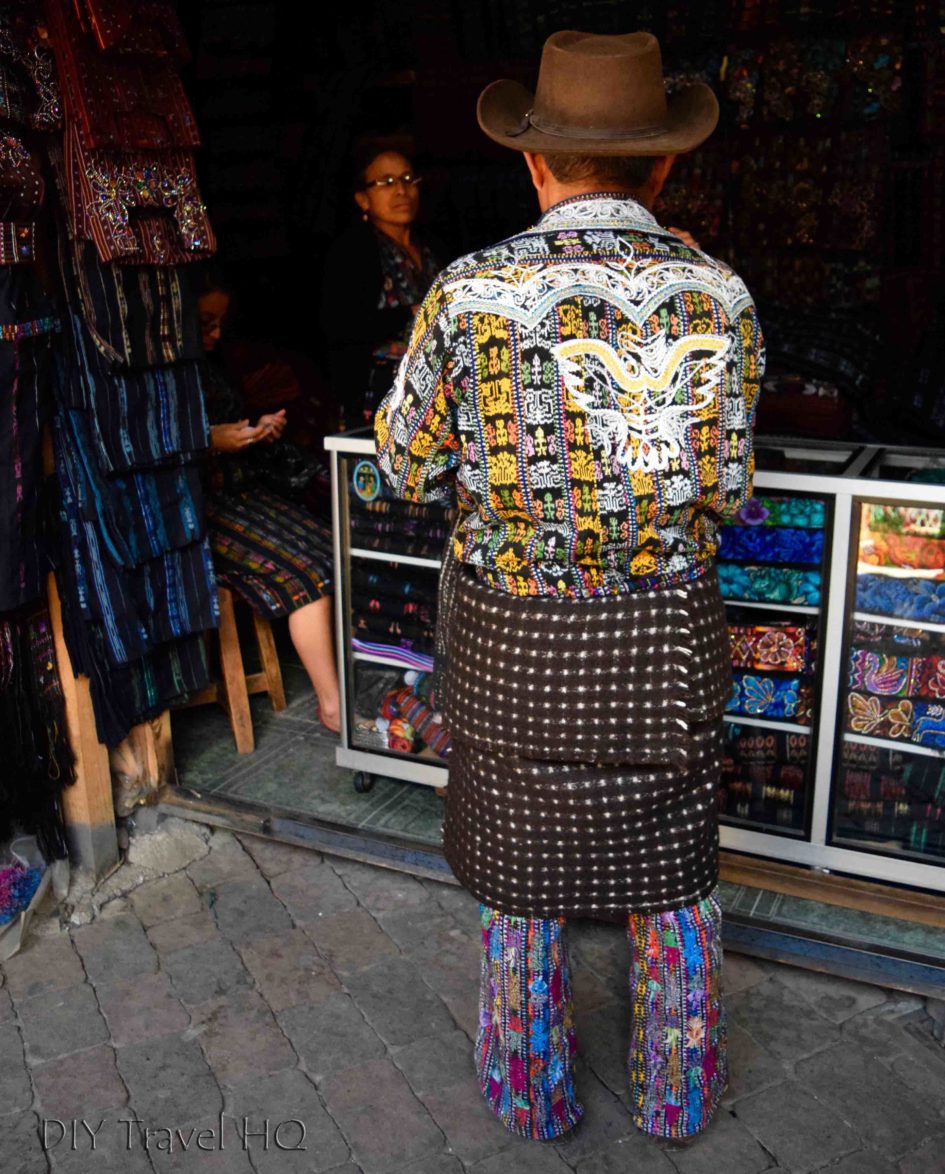 If you want to see locals dressed in their finest traditional clothing, then you need to visit during their weekly market day.
Afterwards, check out their main plaza and church. There aren't that many things to do in Solola but it's a true Guatemalan village.
Also don't forget to purchase travel insurance before any trip to Guatemala.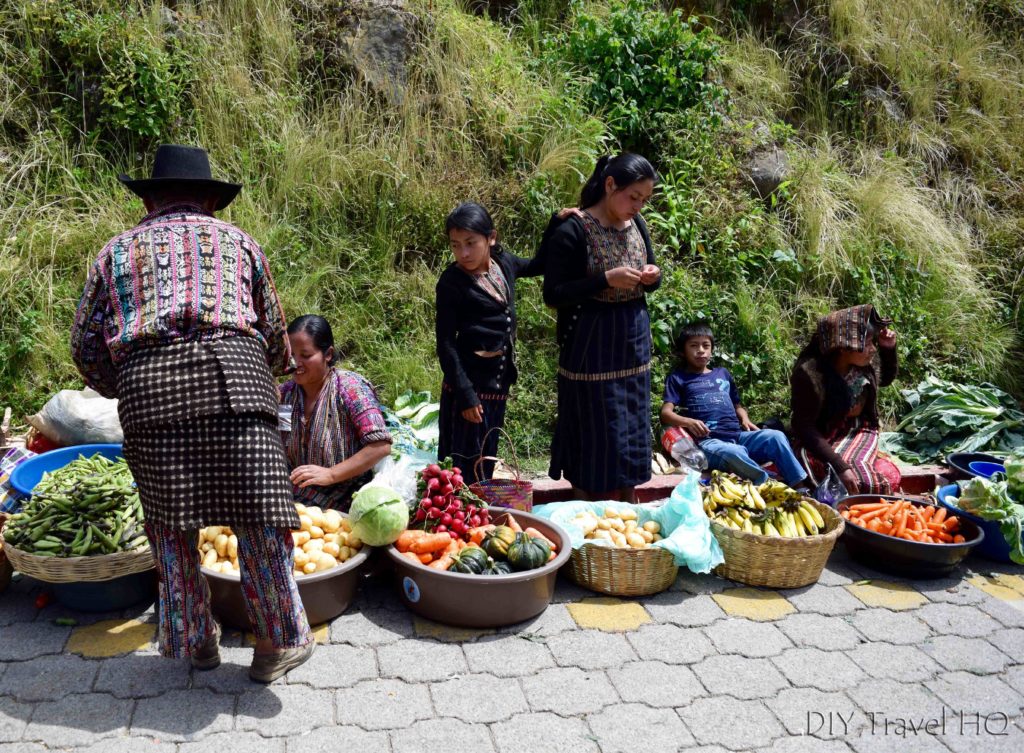 Things to do in Solola, Guatemala
1. Weekly Friday Market at Central de Mayoreo
Although there is a covered market every day, Solola overflows with Guatemalans from the surrounding villages on Friday.
People come to buy and sell as the streets are overtaken with vendors. Compared to nearby Panajachel, this is a strictly local affair.
Very few tourists make the short journey here by 'chicken' bus.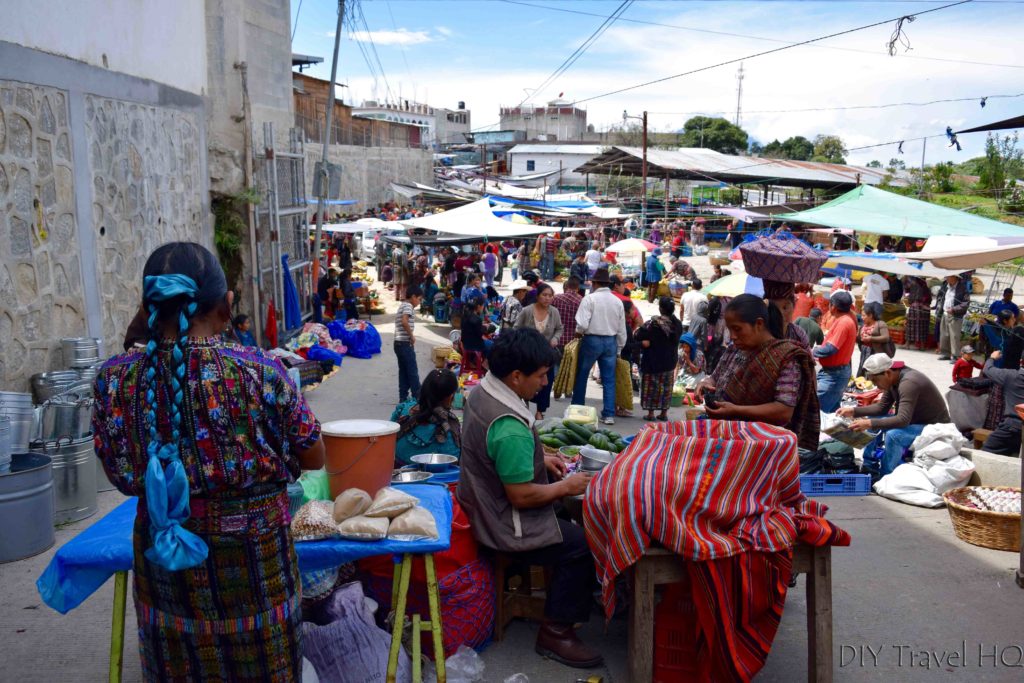 The covered section is comprised of vendors selling fruits, vegetables, pots and pans, and packaged food.
There is also a whole 'avenue' of shoes with a dozen odd vendors selling roughly the same variety at the same price.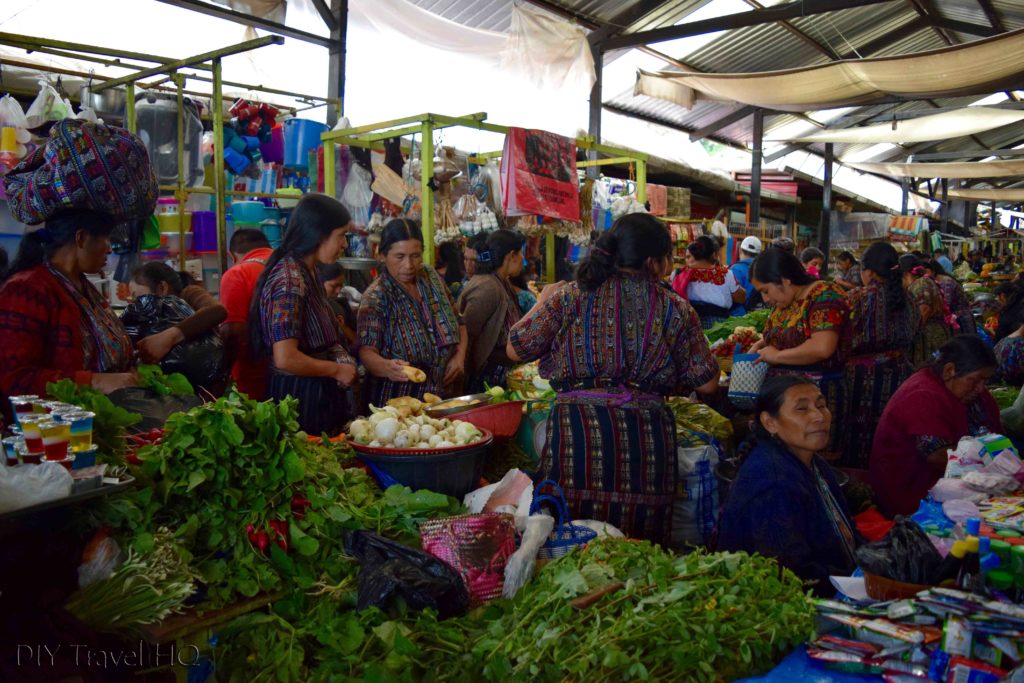 We always wondered why there isn't one person that wants to be different and steal all the customers.
Don't count on too many options for women's athletic shoes since there isn't a huge market for them.
Another option is to fix your shoes for as little as Q10 / $1.35. They will glue and sew your soles back on!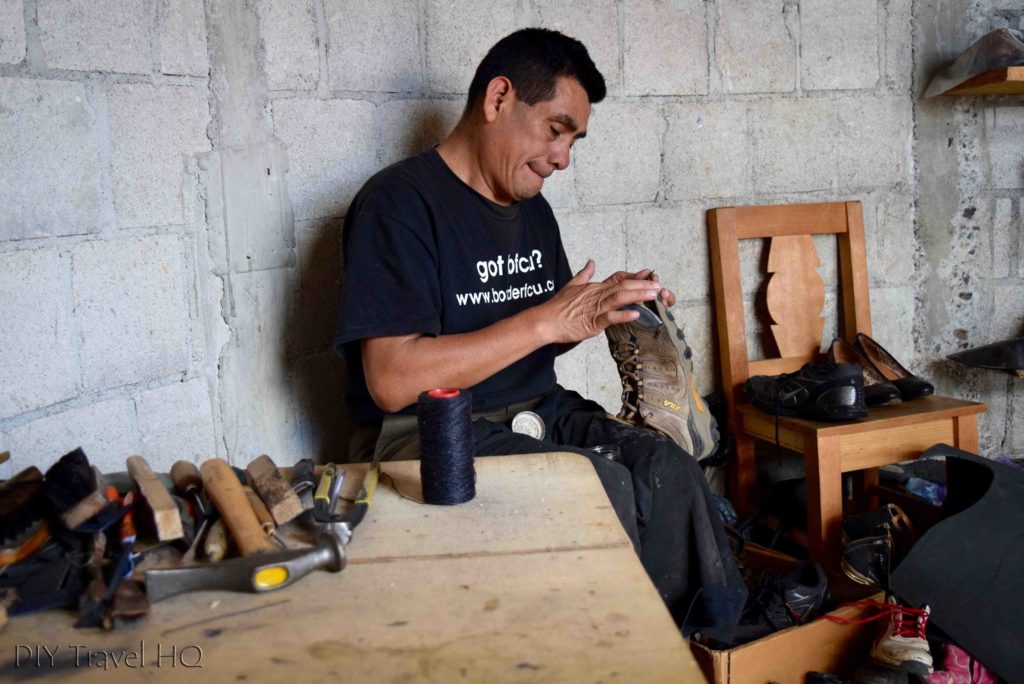 Since we were staying in San Pedro La Laguna, this was an excellent chance to stock up on items we couldn't find at our market or were too pricey.
Peanuts, blackberries, and strawberries were all on our short list.
It was amazing how much better quality the vegetables were. It's like San Pedro La Laguna gets the leftovers that don't sell.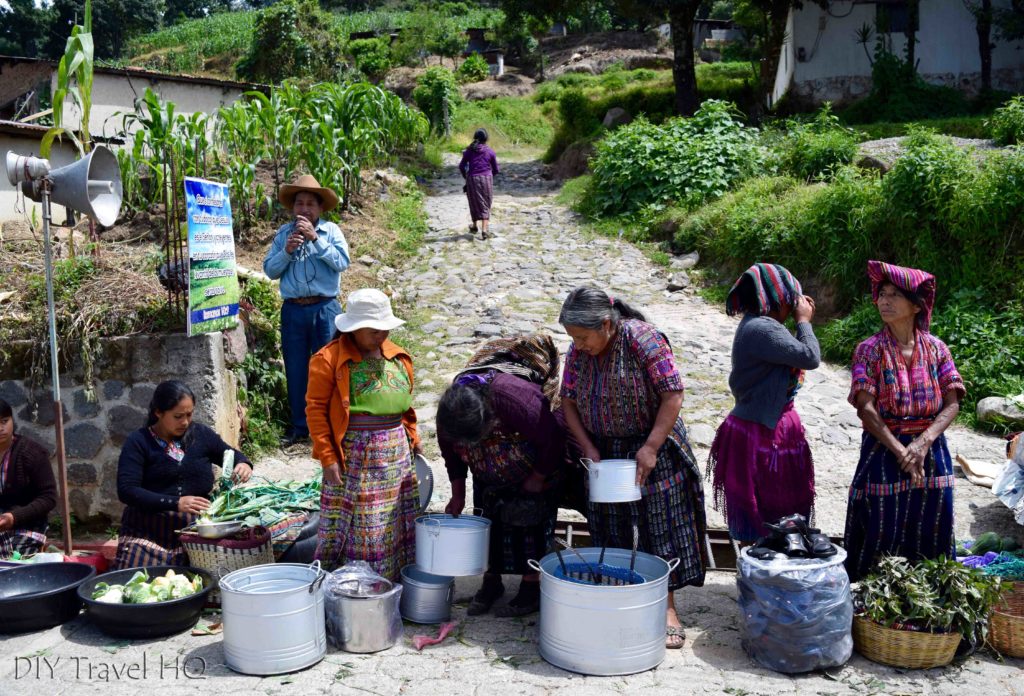 One of the most colorful displays inside Central de Mayoreo was a vendor selling huipiles (blouses).
The variety or weaving patterns was breathtaking to admire.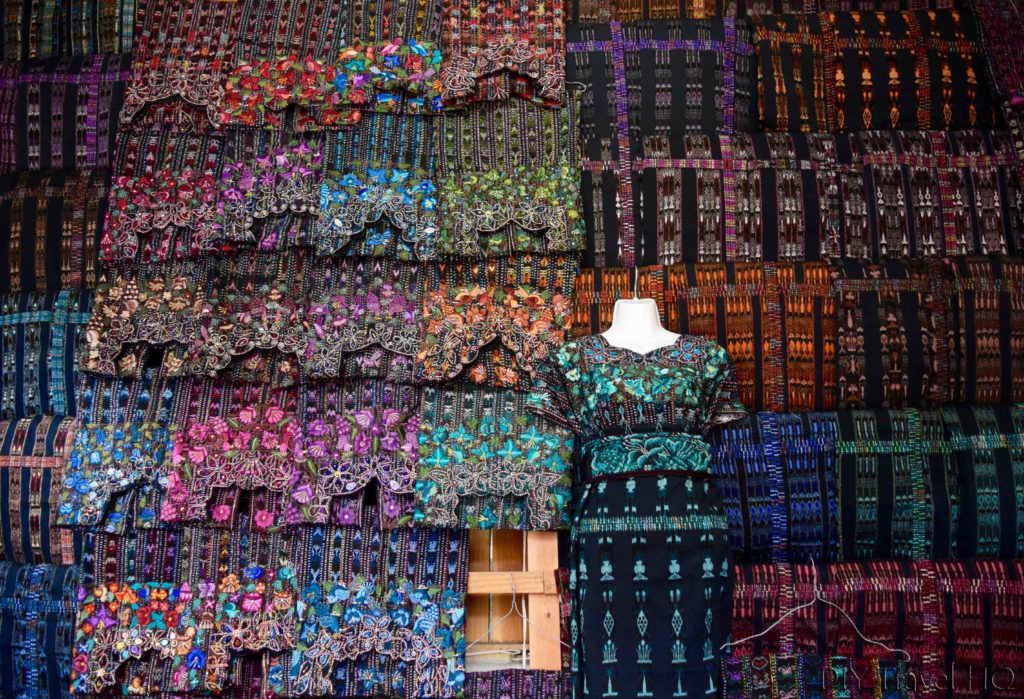 2. Central Plaza
The central plaza is your base for transportation to and from Solola, Guatemala
Relax, and watch the locals pass by or just hang around without a care in the world.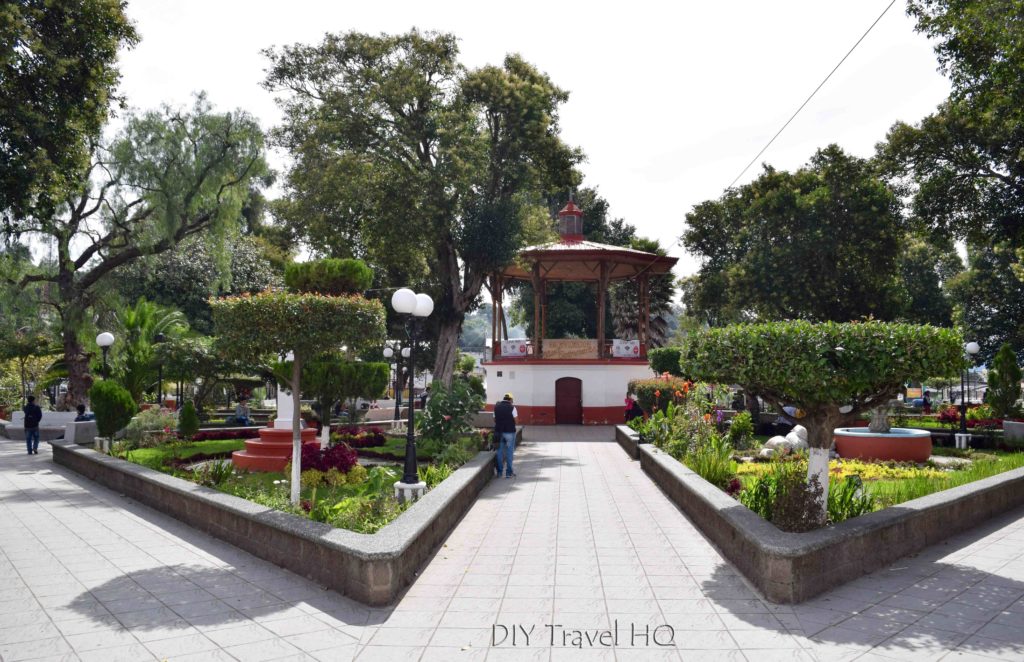 Across the street is a government building that stands out, and helps you stay oriented.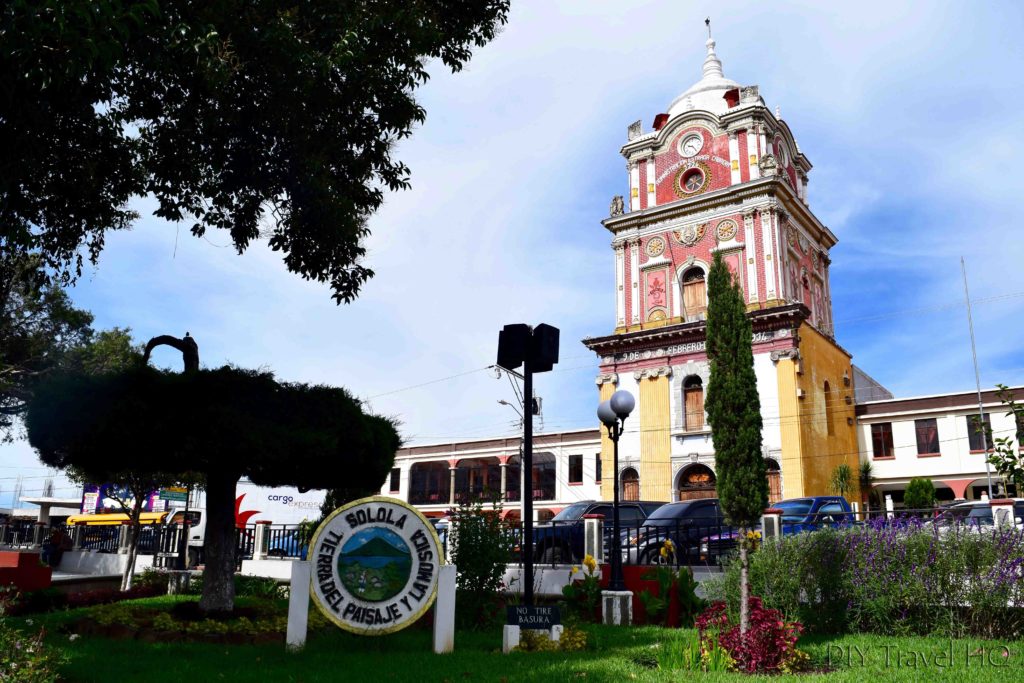 More impressive was the congregation of locals at the Solola Municipal Office.
We couldn't have asked for a better opportunity to witness a collage of traditional clothing.
The women donned brilliant huipiles, and the men wore their futuristic space cowboy attire with pride.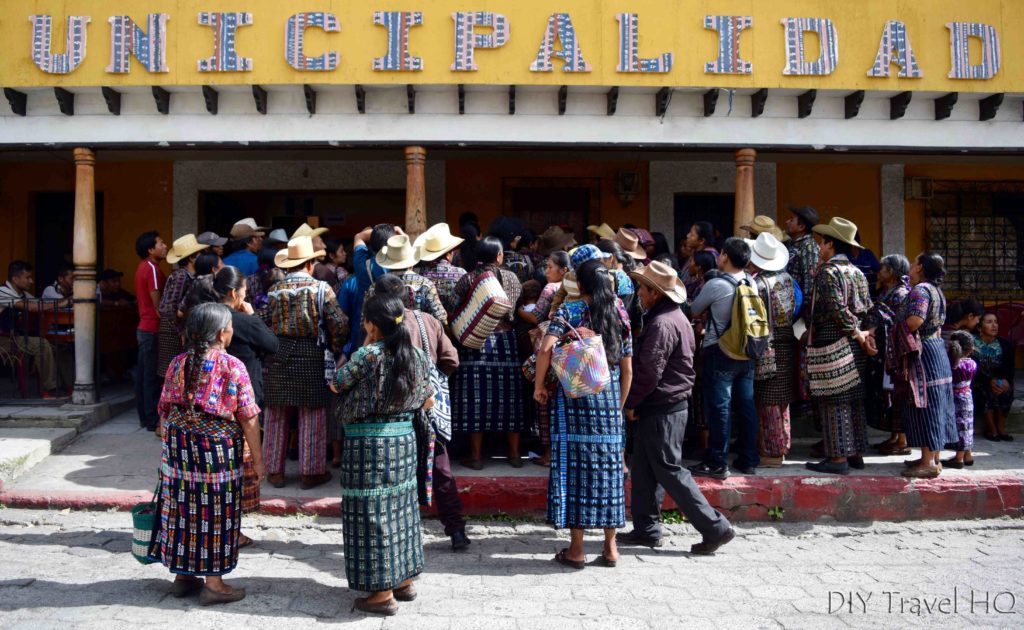 3. Church
Adjacent to the main plaza is Solola's church.
It is hard to miss with bright ribbons floating above the entrance.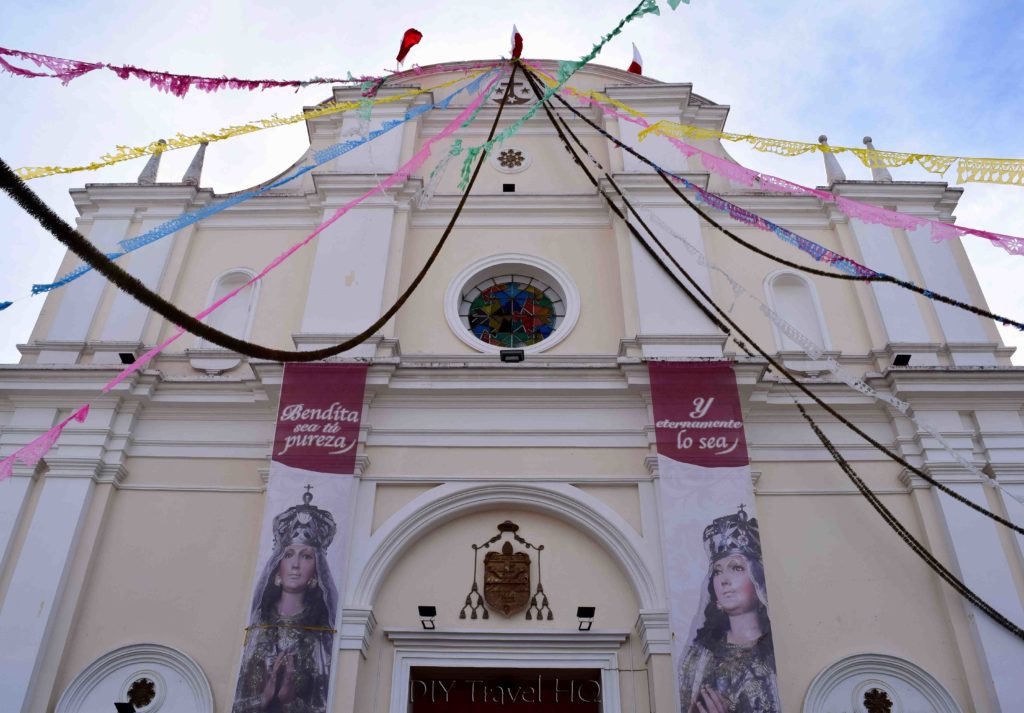 The décor continues inside with red and white banners stretching across the ceiling.
The aisle is filled with faithful crawling on their knees back and forth to the altar for prayer.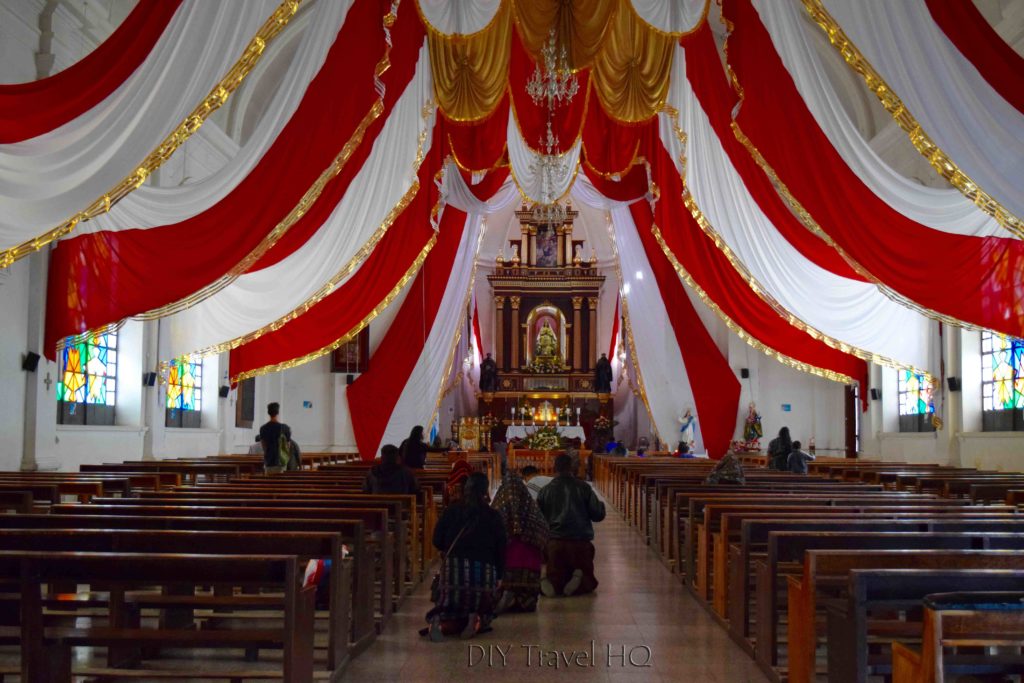 4. Miradors (Lookouts)
There are a few miradors overlooking Lake Atitlan on the road from Panajachel since the road climbs to Solola.
Consider walking to one of them from either Lake Atitlan town on nice days, and then taking transportation the remainder of the way to the other village.
You can find three lookouts marked on Maps.me.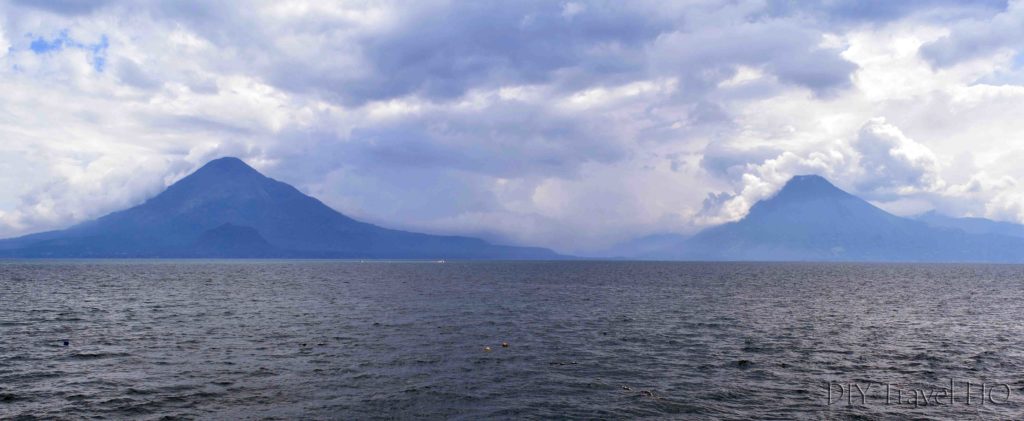 5. Eating Tamales
After checking out the things to do in Solola, you've probably worked up an appetite!
Solola does tamales (Q3 / $0.40) differently than most Guatemalan villages.
They grill them, which takes away the soggy steamed texture. We are big fans even though mine had chicken bones inside. Why!?
There is also a fishbowl-sized ceviche (up to Q35 / $4.75) vendor on 6a Avenida.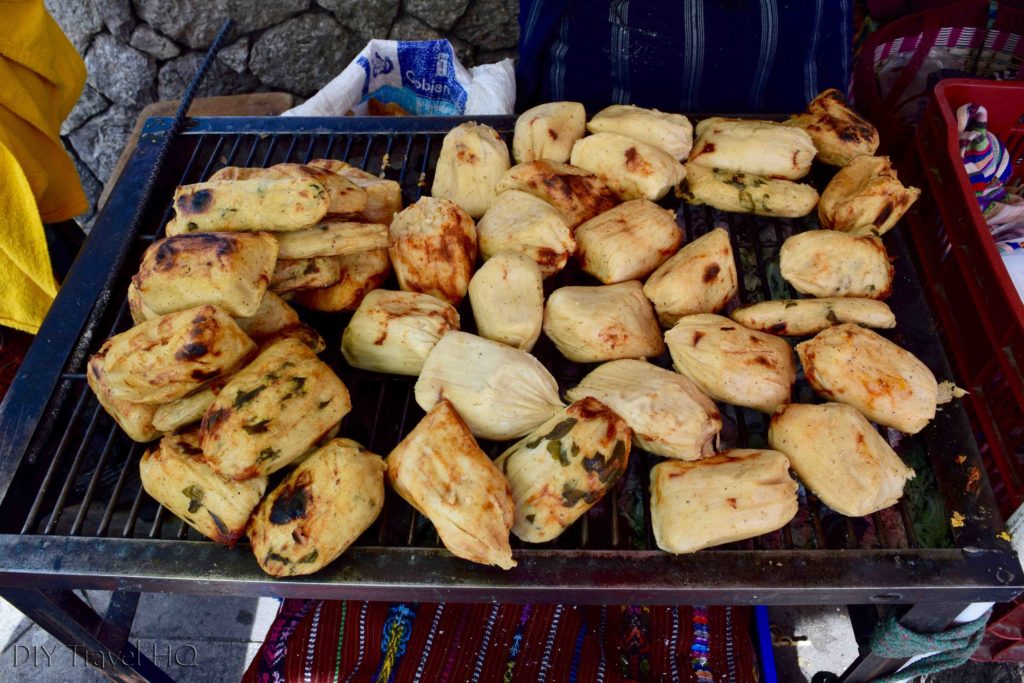 How to Get To & From Solola
Getting to Solola is easy from Panajachel.
Simply catch a 'chicken' bus on Calle Real (Q3 / $0.40), and hop off at the main plaza. Do the opposite to return.
To reach the market, follow 7a Avenida and swing back on 6a Avenida when done. These are the streets running north/south on both sides of the main plaza.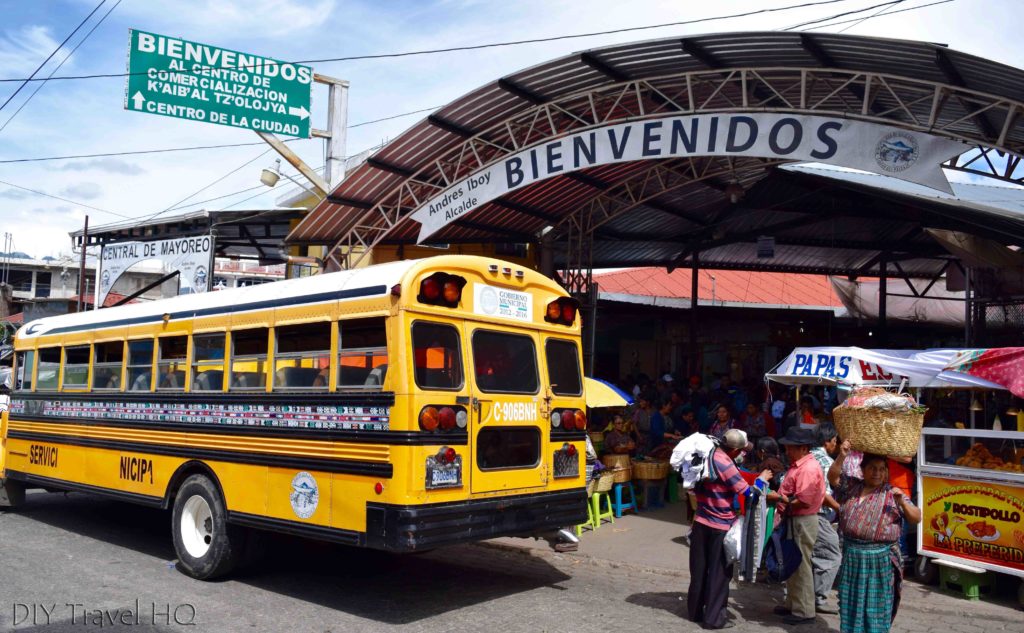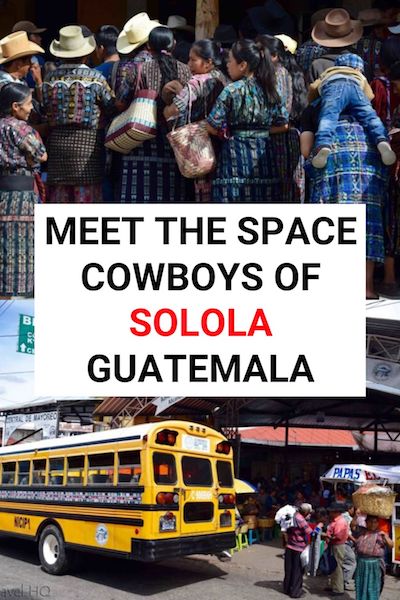 *** The Final Word – Try and time your visit to Solola to coincide with the Friday weekly market ***
Disclaimer: This post contains affiliate links which means that we receive a small commission if you click on a link and purchase something that we've recommended, at no extra cost to you.

Visited in August 2016