Havana cuban food on a budget is harder to find & more expensive than anywhere else in Cuba – we'll show you where to find some of the cheapest eats in the city!
We here at DIY Travel HQ spent 5 days in Havana without setting foot in a tourist restaurant!
There's lots of peso street food but we also ate at a couple of government & private restaurants.
These were at least 3 times cheaper than tourist restaurants but the quality & quantity of Havana cuban food seemed the same.
* Don't forget to purchase travel insurance before any trip to Cuba. We've been using World Nomads for over 10 years – it's the best-value provider we've found but there are important things to consider. Check out our post & find out which of our claims were successful or denied.
Keep reading for all the places where we found Havana cuban food on a budget!
Where to Find Havana Cuban Food on a Budget
El Bulevar (Calle San Rafael)
This pedestrianized part of Calle San Rafael (near Hotel Inglaterra) & the streets around it in Centro Havana is peso Havana cuban food central.
Here you can get a glass of refresco for the standard price of 1 peso / $0.04!
*Budget Havana Cuban Food Top Tip: buy a 1.5L bottle of local soft drink for 25 pesos / $1.00 & refill this bottle time & time again,with refresco for 7 pesos / $0.28! You can also refill it with juice or beer for the equivalent of 7 glasses!
Check out our guide to Cuba's dual currency system for an overview of the difference between CUC & CUP.
Other Havana cuban food street classics cost more in the capital  than in other places in Cuba:
Pizza con queso (with cheese) – 10 pesos / 40 cents
Spaghetti con queso – 10 pesos / 40 cents
Sandwich – 10 pesos / 40 cents
Jugo (juice) – 2-5 pesos / 8-20 cents
There are a couple of government & private restaurants on & around El Bulevar.
Our favourite had dishes like:
Filete de pescado (30 pesos / $1.20)
Fricase credo (30 pesos / $1.20)
Fajitas de pollo (35 pesos $1.40)
All of these Havana cuban food dishes came with rice & beans and salad.
We recommend Lonely Planet's Cuba Travel Guide
to help you plan your trip
Paseo de Marti (Paseo del Prado)
There are several peso food stalls serving Havana cuban food on Paseo de Marti, between San Jose & Brasil (Teniente Rey) streets, opposite El Capitolio & next to the classic American cars parked near the Jose Marti statue
Here, you can find the following snacks:
Popcorn – 5 pesos / 20 cents
Ice cream – 1 peso / 4 cents
Hamburger – 8 peso / 32 cents
Croqueta – 1 peso / 4 cents
Just off Plaza de Armas on Calle Brasil, you can find more Havana cuban food on a budget – here, there's a small shop that sells decent peso food:
Sandwich – 10 pesos / 40 cents
Big glass of juice – 5 pesos / 20 cents
Coffee – 1 peso / 4 cents
There's a peso restaurant on the south side of Plaza de Armas with:
Spaghetti – 12 pesos / 48 cents
Refresco – 2 pesos / 8 cents
There's a fruit & vegetable market around Calles 17 & K in Vedado with cheap peso Havana cuban food & even a restaurant.
We ate at this restaurant – fish & pork dishes with rice & beans, salad & fried plantains for 40 pesos / $1.60.
Pineapple refresco was 3 pesos / 12 cents.
Don't miss the best ice cream in Cuba on Calle Obispo! Just 1-2 pesos / 4-8 cents each!
The best flavours to choose from are chocolate, coconut & strawberry.
The legendary state-run Coppelia ice cream parlor is located on the corner of Calles 23 & L. in Vedado – you can't miss the big sign & huge queues outside.
It's incredible that Cubans will wait all day for ice cream but then again, lining-up has been well-ingrained in their lives (eg. at shops, banks, etc).
Ice cream costs 1 or 2 pesos a scoop but if you haven't got hours to spare, you can join a shorter queue for CUC$ paying customers & tourists.
There's a peso Havana cuban food stall with hamburgers & hotdogs on the street opposite Coppelia.
South of the market on Calle Desamparados (Centro Cultural Antiguos almacenes de Deposito San Jose) is a beer dispensary selling glasses of beer in a bar for 6 pesos / 24 cents.
It ran out of beer while we were there – we hope you have better luck!
Now that you have an idea of where to find Havana cuban food on a budget, check out our Cuba budget travel guide for more information on travelling to the island nation!
That's it from us! Interested in starting your own travel blog? See How You Can Set Up a WordPress Blog in 15 Minutes at Bluehost.com
Did you enjoy reading Havana Cuban Food on a Budget: Eat for $3 a Day?
Pin it and help others find it too!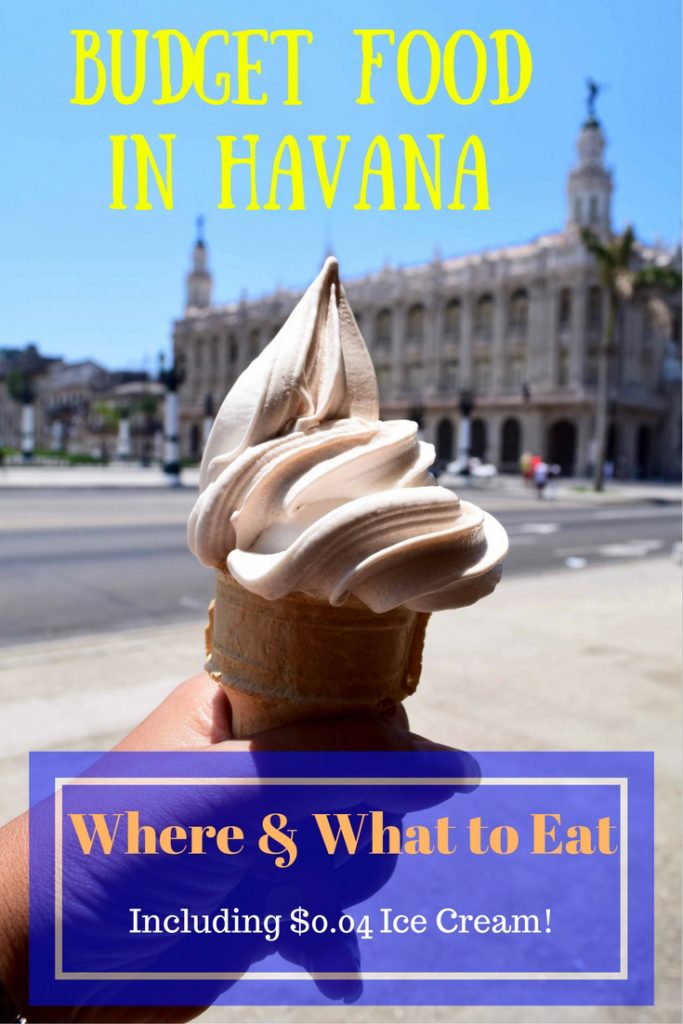 *** The Final Word – You can easily eat 3 meals, snacks & drinks in Havana for less than $3 a day! ***
What was your favourite Havana cuban food?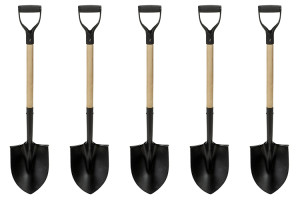 Super easy DIY travel around city centres
Visited in May-June 2016