The border crossing between Guatemala & El Salvador from from Valle Nuevo to Las Chinamas is easy – find out how to get from Antigua to Ahuachapan for the Ruta de las Flores.
Antigua to Valle Nuevo Via 'Chicken' Bus
If you are heading from Antigua to Ahuachapan for the Ruta de las Flores, then one of two border crossings is from Valle Nuevo, Guatemala to Las Chinamas, El Salvador.
This is the more direct way, but involves a confusing 'chicken' bus transfer in disorganized Guatemala City.
DIY Travel HQ clarifies the bus exchange to make this border crossing faster, cheaper, and easier.
From Antigua, take a 'chicken' bus from the terminal to Guatemala City (Q10 / $1.35, 60-90 minutes), and ask to get off at the end of Calzada Roosevelt before the bus turns towards the terminal in Zone 3.
It is roughly the same distance from both locations – 3.5 km, but you have more bargaining power along the highway than at the remote bus terminal.
Clarify with the bus driver that you want to go to the bus terminal for Valle Nuevo on the Frontera with El Salvador.
Most drivers will still be confused, so mention Cuilapa since they recognize that name, and the buses to Valle Nuevo are a few blocks away.
In general, you want to get to Torre del Reformador as the bus passes within a few blocks of Guatemala's Eiffel Tower.
We paid Q25 for the taxi between 'chicken' buses since we negotiated the fare ourselves.
The bus conductor was more than happy to arrange the fare for us at Q40 / $5.45, but we knew the extra amount would only be lining his wallet.
The driver we selected wanted Q50 / $6.80 compared to our Q20 / $2.75 starting point, and we agreed on Q25 / $3.40 in the end.
The 'chicken' bus to Valle Nuevo costs Q30 / $3.89 and takes at least 3 hours.
However, it drops you off right at Guatemala Immigration in Valle Nuevo.
Exchange any leftover Quetzales on the Guatemala side for better exchange rates.
El Salvador uses American dollars, which makes things easy.
We only had $3 worth of Quetzales to exchange, but received a fair commission charge of 3%.
Try to budget your last few days to minimize losses.
Disregard the sketchy guys asking for your passport outside the Guatemalan Immigration Office, and walk along the right side of the building until you reach the appropriate room.
The attendant at the window will just confirm which direction you are heading, and stamp your passport indicating you have checked out of Guatemala.
There are no fees involved.
The Immigration Officer will also duplicate the stamp on the piece of paper that you need to hand over on the El Salvador side.
After exiting the office, walk down the road past military patrols, and cross the bridge.
We were ecstatic to finally leave after travelling in Guatemala for 90 days.
You are now officially in Las Chinamas once you cross half the bridge span – Welcome to El Salvador!
The El Salvador Immigration is even easier as you simply hand in the stamped piece of paper to an Official underneath a portable canopy.
There is no fee here either, and the whole process was very straightforward.
The reduced formalities are due to both countries belonging to the CA-4 – you can read more about extending your CA-4 visa here.
Another option is to do a CA-4 visa run to Mexico.
Walk up the hill for 200 meters to reach a bus parked on the left side of the road heading to Ahuachapan from Las Chinamas ($0.50).
What we enjoyed most were the individual seats, and lack of people on the bus.
You can then head to Tacuba for hiking in Parque Nacional El Imposible or use Ahuachapan or Juayua as a base for Ruta de las Flores.
Know Before You Go
Antigua to Ahuachapan Costs: Q40 / $5.45 for two 'chicken' buses, Q25 / $3.40 for Guatemala City taxi, $0.50 for El Salvador bus
Valle Nuevo, Guatemala to Las Chinamas, El Salvador Border Crossing: Straightforward, no fees, and 3% fee for exchanging money
Did you enjoy reading Border Crossing: Valle Nuevo to Las Chinamas?
Pin it and help others find it too!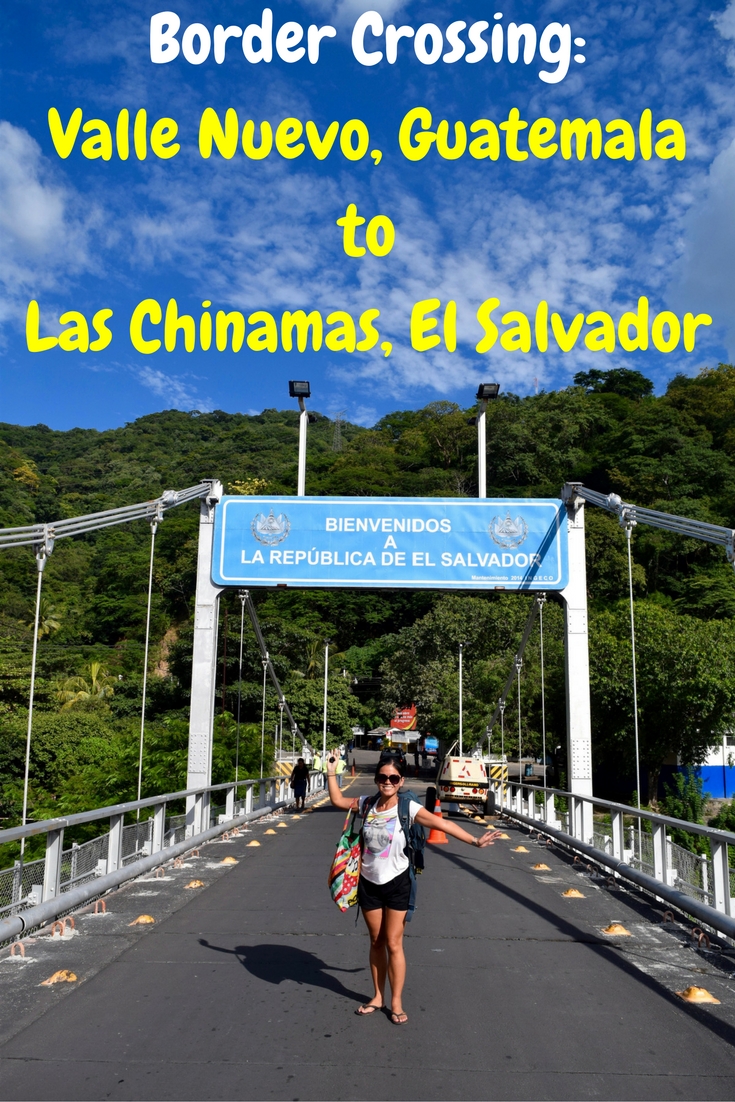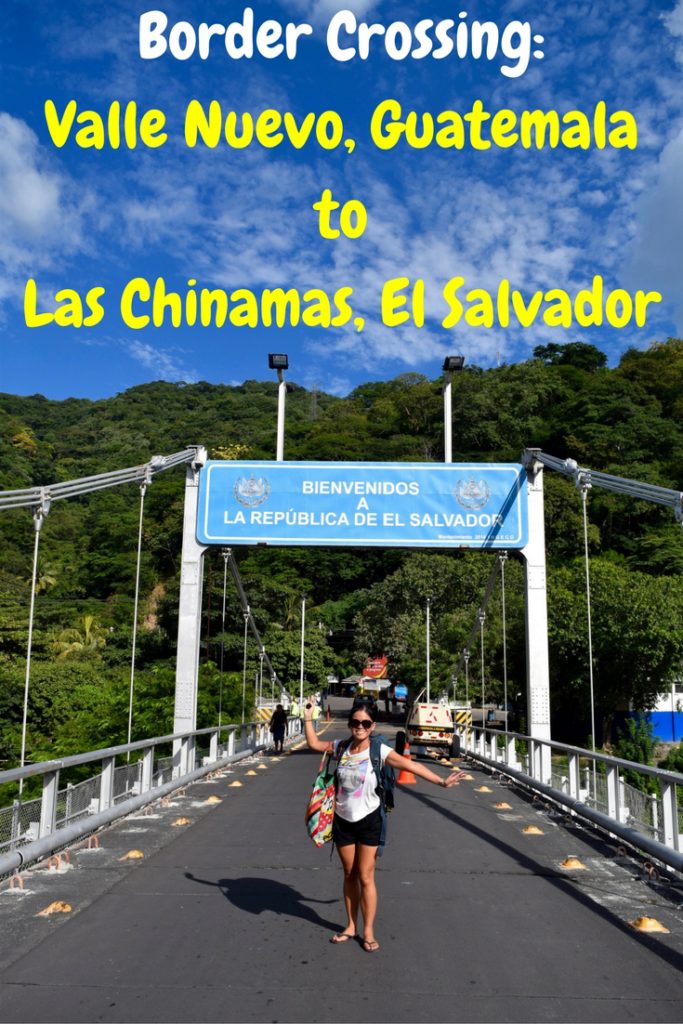 ***The Final Word – Despite the Guatemala City bus transfer, this is the most direct way to cross between Guatemala and El Salvador.***
What method did you decide to take to go from Guatemala to El Salvador, or vice versa?
[put_wpgm id=179]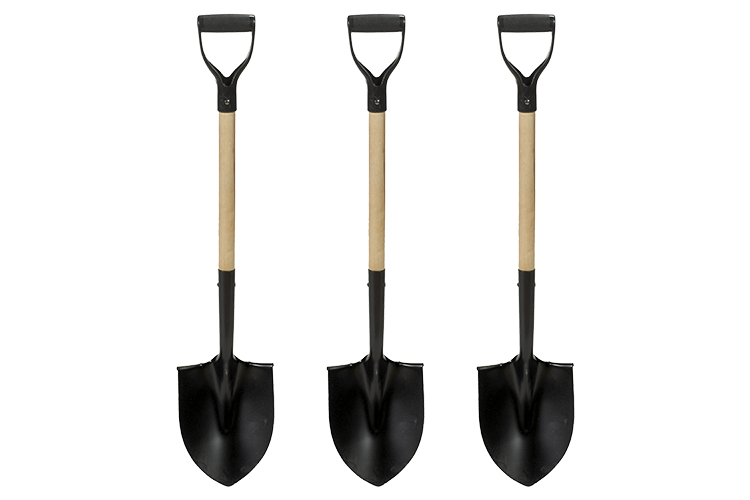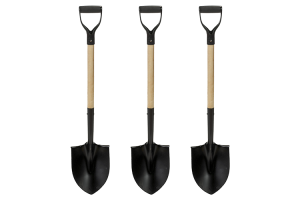 Accessible DIY travel to more distant locations via multiple connections or longer forms of local transport
Visited in October 2016