The Mexico exit tax is not a scam – you must pay 390 pesos / $18.25 if you stay over 7 days regardless of if you have a Mexico tourist visa. Find out if you already paid it, how to pay it if you didn't, and how to avoid paying it again.
Mexico Exit Tax: Scam or Legit?
Many people WRONGLY think that the Mexico exit fee is a scam by corrupt Mexican land border officials.
The Mexico exit tax is equivalent to a tourist visa, but only applies to people staying over a week.
It is usually contained in your Mexican flight's taxes and surcharges, which is why most people are unaware of the tourist fee.
The only time it really surfaces is when you try to leave Mexico by land such as the El Carmen border crossing with Guatemala.
We recommend Lonely Planet's Mexico Travel Guide
to help you plan your trip.
If you flew into Mexico like us here at DIY Travel HQ then there is a good chance you paid the tourist fee indirectly.
However, you need to prove that you paid it to the Mexican Immigration Officers to avoid paying it again.
To do that, you need to produce a detailed receipt showing the MX – Tourist Tax.
We flew Interjet round-trip from Cancun to Havana, and they did not include the Mexico exit tax upon analyzing the itemized receipt.
We aren't sure if they never do, or if they don't include it when they don't know when you are departing Mexico.
It is worth it to check so you know what step to take next.
* Don't forget to purchase travel insurance before any trip to Mexico. We've been using World Nomads for over 10 years – it's the best-value provider we've found but there are important things to consider. Check out our post & find out which of our claims were successful or denied.
Paying the Mexico Exit Fee
Like many visitors to the country, we didn't have to apply for a Mexico tourist visa. However the Mexico exit tax is equivalent to a tourist visa and must be paid if you stay over 7 days.
For those that did not have the Mexico exit tax included in their flight, you can pay 390 pesos / $18.25 to any bank.
They will give you an official receipt to show at a land border crossing, and there will be no issue.
Do keep your passport in an RFID blocking passport holder or RFID blocking travel document organizer.
And always be aware of pickpockets. We recommend wearing a money belt with RFID blocking & traveling with an anti-theft daypack.
Avoid Paying the Mexico Exit Tax
Alternatively, computer savvy backpackers can edit their flight receipt in word, acrobat, or photoshop to include the MX – Tourism Tax.
Immigration Officials are not going to verify the authenticity of each flight receipt so it just has to say the key words they are looking for.
This trick cannot be done if you entered Mexico via land since the stamp location will give away that you did not arrive by air.
That's it from us! Interested in starting your own travel blog? See How You Can Set Up a WordPress Blog in 15 Minutes at Bluehost.com
Know Before You Go
Mexico Exit Tax: 390 Pesos / $18.25 for tourists staying longer than 7 days
Mexico Exit Tax Payment: At a bank, or included with your flight
Proof of Payment: An official receipt from a bank, or itemized flight receipt
Did you enjoy reading Mexico Exit Fee via Land Border Crossings?
Pin it and help others find it too!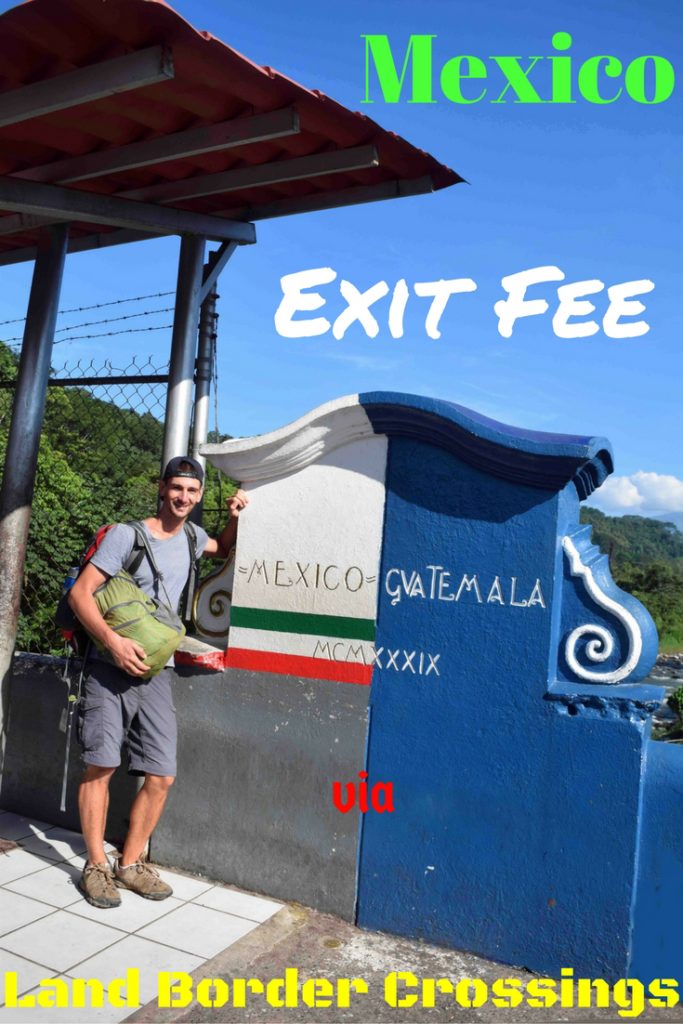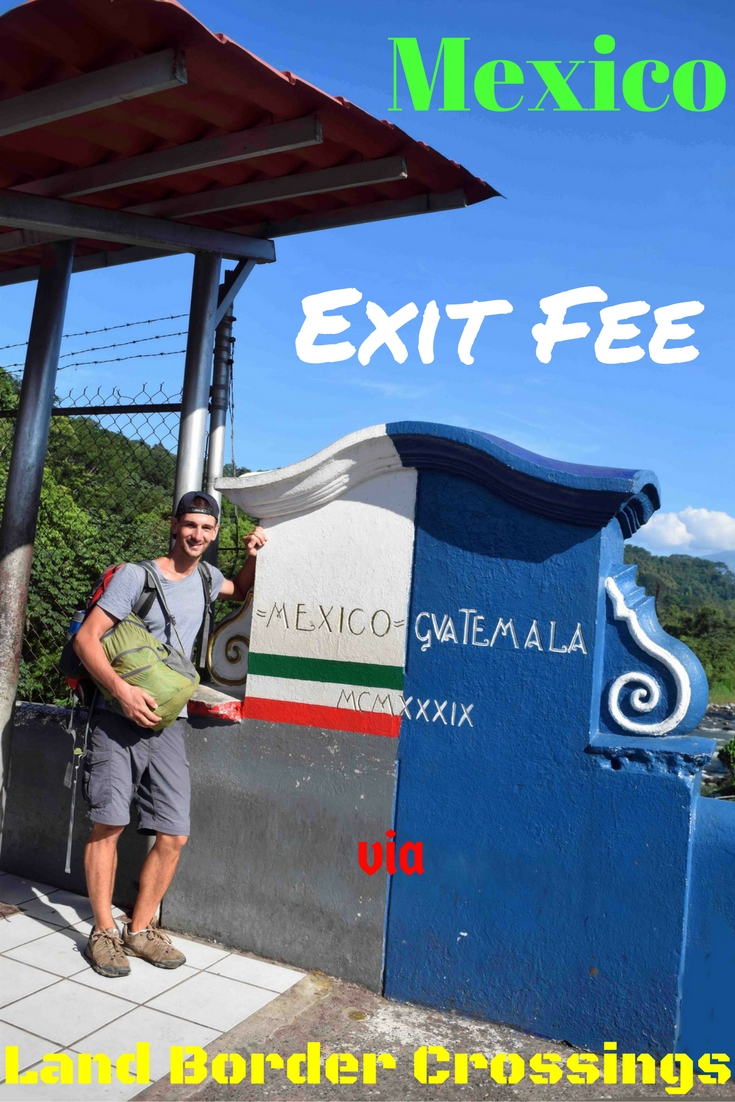 ***The Final Word – Mexico is very generous with their 180 day visa, but doesn't mean we want to pay the extra if we don't have to.***
Did you decide to pay the Mexico exit tax?
Disclaimer: This post contains affiliate links, which means that we receive a small commission if you click on a link & purchase something that we have recommended – at no extra cost to you. This helps us to keep our site running so we can continue to provide free content. Thank you for your support!
Visited in October 2016