Eat, drink, sleep & be merry at Los Portones de Ataco, a cafe-hotel located on the Ruta de las Flores – find out why it's the perfect hub for exploring this beautiful region of El Salvador.
Los Portones de Ataco is located on Avenida 2, the main street in Ataco – it's close to the market, supermarket, main plaza, restaurants & everywhere you may need to go in this small town.
Whether you're a tourist or local, Ataco is a lovely place to spend the weekend & one of the highlights of El Salvador.
It's at the start of the Ruta de las Flores, El Salvador's Flower Route. From Ataco, you can easily visit all the attractions of the region, by car or bus.
The entrance to Los Portones de Ataco is cool & quirky, decorated with coffee drawings & more – but don't be deceived, this cafe is also a very nice hotel.
Let us here at DIY Travel HQ show you around! 🙂
Our Room at Los Portones de Ataco
We stayed in Room 2 at the back of the hostal – this was great for us, as it was away from the music of the café, but we still had a perfect wifi connection to the Internet.
Our room was very clean, compact & comfortable. The bedding & mattress were of excellent quality, we certainly slept well all 3 nights.
The décor is simple with blue & beige walls, a patterned curtain & a vibrant African painting.
There was also a LCD TV on a table in the corner, with Spanish cable channels. Other features included:
side table
large floor lamp
floor fan
hooks & hangers on the back of the bathroom door
Speaking of which, the bathroom was very clean & tastefully decorated. Bath & hand towels are provided, along with soap & shampoo.
The shower is electric, with excellent hot water & water pressure.
La Estancia Café & Restaurant
Los Portones de Ataco also hosts a fantastic café & restaurant called "La Estancia".
There are 6-7 tables, it can easily seat 20 people at a time.
There's also a small bar if you want to pull up a stool & watch tv or read the paper.
We love the exposed brick walls & quirky, rustic décor such as painted doors, "fruit boxes" & a whimsical, large red mural.
The restaurant offers a menu of local & Western dishes including meat, seafood, pasta, paninis & desserts for breakfast, lunch & dinner.
We didn't eat there but the coffee was excellent.
The owner, Julio, also works in the coffee trade so he knows how to make a great brew. The coffee bar is separate from the restaurant & there are also comfy couches to relax in.
There are also tables & chairs in an upstairs loft area, that overlooks the restaurant on one side & the main street of Ataco on the other – this is a great place to hang out & watch local life passing by on the cobblestone streets.
Features of Los Portones de Ataco
Here's a re-cap of some of the features of Los Portones de Ataco:
Hostal with 7 rooms
Café-restaurant
Coffee bar
Wifi
Los Portones de Ataco also features a cool lounge area with large sofas & couches, as well as a book exchange & travel information for the region.
Behind this, there's another seating area in a small indoor courtyard.
We loved chilling out here, amongst the plants & vines in the natural sunlight.
Things to See & Do in Ataco
The best thing about Ataco is simply wandering its cobblestone streets & checking out the handicraft stalls & artisan shops such as Diconte & Axul and Artesanias Madre Tierra.
It hosts a vibrant artistic community, whose works grace the beautiful large murals on many of the buildings around the village.
Ataco is the perfect base from which to explore the Ruta de las Flores – it's the most picturesque town with the widest variety in accommodation, food & drink.
It's easy to travel by car or bus along El Salvador's most famous route, exploring the attractions & towns along the way:
From Ataco, it's also easy to reach Parque Imposible for hiking and to see sea turtles laying eggs at Barra de Santiago.
Los Portones de Ataco Wrap-Up
With quality food & accommodation, Los Portones de Ataco is the best value-for-money in town.
The rooms have everything you need, all of which come with private bathrooms. And if you want a snack, meal or drink, the café-restaurant is always open & ready to serve.
There are also many awesome spaces where you can relax with a good book & coffee.
Julio & all the staff members are very hospitable – they're happy to offer recommendations & advice on traveling in the region & elsewhere in El Salvador.
From the décor to the staff, there's a wonderful, friendly atmosphere at Los Portones de Ataco, especially on the livelier weekends. During the week, it is quiet & peaceful.
If you're after affordable comfort, cleanliness & convenience in accommodation & dining on the Ruta de las Flores, look no further than Los Portones de Ataco.
* Top tip: book ahead on weekends!
We recommend Booking.com as a trustworthy source of accommodation in El Salvador. Make a booking with our link for 10% off your stay.
In a Nutshell
Location: 2da. Avenida sur, Numero 2, Ataco
Price: from $30.00
Website: Los Portones de Ataco
Did you enjoy reading Eat & Stay at Los Portones de Ataco, Ruta de Las Flores?
Pin it and help others find it too!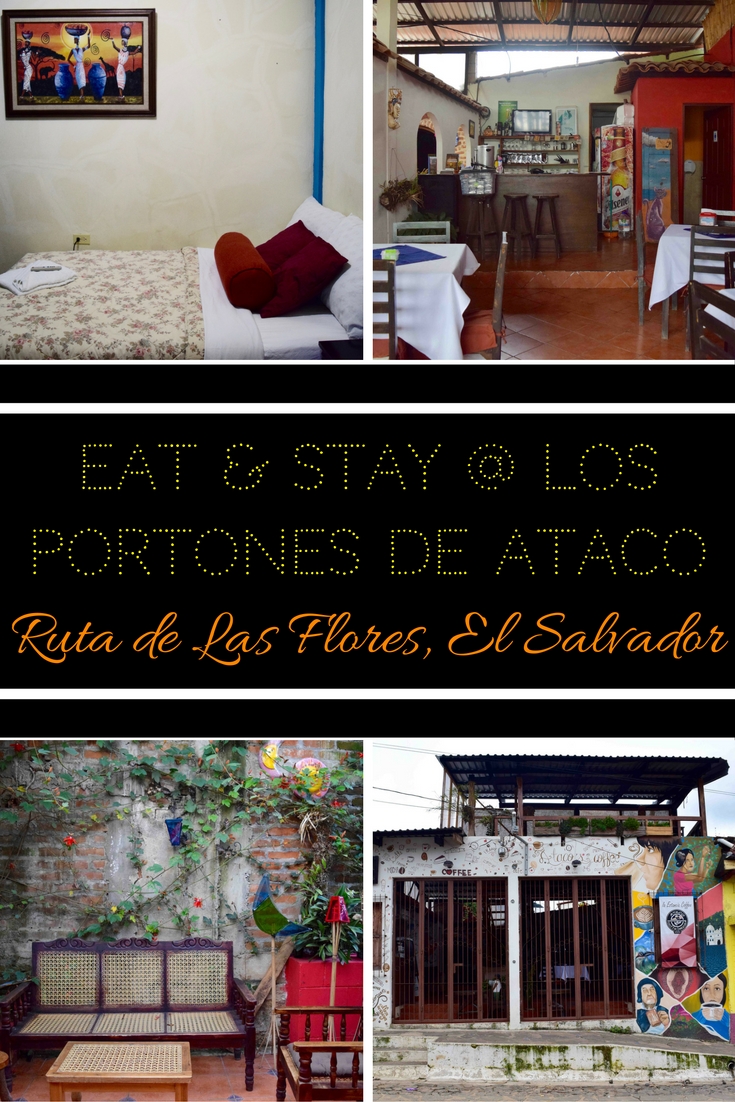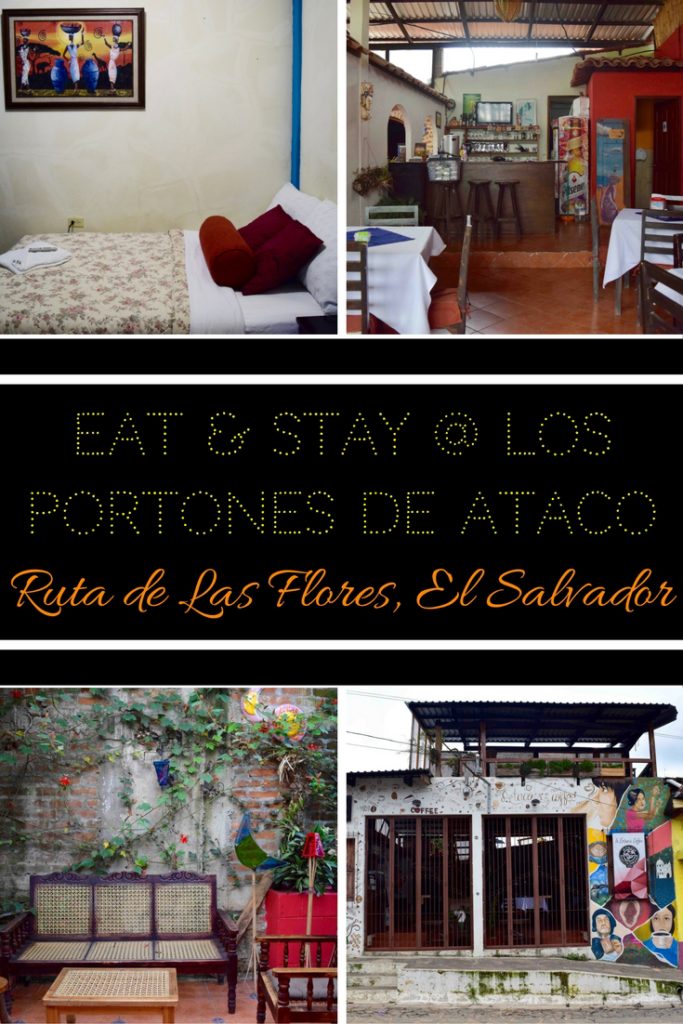 *** The Final Word – Los Portones de Ataco is the best-value accommodation on Ruta de las Flores! ***
Have you visited Ataco or travelled along the Ruta de las Flores?
[put_wpgm id=181]
* Thank you to Los Portones de Ataco for hosting us!
* This post contains affiliate links, which means that we receive a small commission if you click on a link & purchase something that we have recommended – at no extra cost to you. This helps us to keep our site running so we can continue to provide free content. Thank you for your support!
Visited in October 2016