There's nothing like unwrapping a shiny new toy! With a mix of high-end, mid-range & inexpensive items, our list of the best travel electronics has something to suit every budget.
Best Travel Electronics
#1. Smartphones
Go all out & gift a brand new iPhone X to your favorite loved one. The best travel feature is the upgraded 12MP camera with 10x zoom and optical image stabilization.
Phones always get a work out on the road so battery life is all-important. The X has up to 2 more hours of battery than the previous model (iPhone 7) and it also features rapid wireless charging.
The front & back of the phone are made of durable glass and surgical-grade steel so it's harder to crack. It's dust and water resistant too.
The Samsung Galaxy S9+ is also fantastic for travel. Take shots of all the people and places with the dual aperture lens which adapts superbly to light.
You can also use the camera to translate signs and images in different languages – so handy when traveling in non-English speaking countries!
There can be a lot of down time when you're traveling, whether you're waiting at airports or going from one place to another. The Infinity Display and edge-to-edge screen on the Samsung Galaxy S9 makes catching up on your favourite shows all the more enjoyable!
#2. Laptops
The Macbook Air has long been regarded as one of the best travel laptops. For both frequent flyers and backpackers, every pound matters. The Macbook Air weighs just 2.96 lbs and it's protected with an aluminium unibody shell.
It also features fast SSD flash storage (22 times faster than a hard drive) so it's perfect for backing up your photos on the go.
The FaceTime HD camera makes it fun and easy to stay in touch with friends and family around the world.
A new contender for the best travel laptop is the Asus Zenbook. At 2.47 lbs, it weighs even less than the Macbook Air.
The Zenbook is ultrathin yet durable. It'sprotected by Aerospace-grade aluminium alloy, which is 50% stronger than a standard alloy used for laptops.
The fingerprint sensor is also handy so you don't have to type in your password every time you're away from the screen.
Going bang for buck, the Asus Zenbook is the best buy out there for the budget conscious traveler.
#3. Camera
The Sony a7R III is one of the best high-end mirrorless cameras for travelers. Pair it with the Sony 24-70 f2.8 lens for superb street, landscape, food, and portrait photography – under all conditions, including low light.
It can also go full silent which is handy when shooting in temples/churches or during ceremonies.
However the biggest advantage for travelers switching to mirrorless cameras is the weight. The A7Riii is lighter than any pro-level DSLR, even with lenses attached.
#4. Tablets
A tablet is an excellent alternative to carrying a laptop on your travels. It's lighter, runs longer than a laptop and springs to life instantly.
At just 1 lb and 7.5mm thin, the iPad is so mobile you can take it everywhere you go.
Shoot photos and record videos with the front and back cameras – you can even put together a video with iMovie as you travel.
The iPad packs enough power to use multiple apps at once so that you can browse online while making a FaceTime call simultaneously. Plus, the screen is large enough to get work done or catch up on your favourite shows.
Purchase a keyboard and it's like a tablet mini laptop and entertainment system all in one.
Samsung has a leading range of tablets to suit different needs.
The Galaxy Tab A range is made for entertainment with a powerful processor and a long-lasting battery:
Music play time is up to 187 hours
Video play time is up to 13 hours
Internet use time is up to 13 hours
It also features a microSD card slot for expandable memory to store more photos music and movies.
The Samsung Galaxy Tab S4 delivers PC power – at a PC price point. With the keyboard cover (sold separately), you can transform the tablet into a full desktop experience, familiar taskbar and all.
The Tab S4 is always at your command, even when it's out of reach. It can listen and respond to your voice get answers take calls, play a song and more.
#5. GoPro HERO6
The new GoPro HERO6 is the leader of the pack for action cameras. It looks identical to it's predecessor (the HERO5) but a lot has changed on the inside – with superior white balance and video stabilization, the HERO6 is better in every way.
It performs brilliantly underwater shooting smooth footage and amazing color tones. It's waterproof without a housing down to 10 meters and can be controlled by using simple voice commands.
The Hero 6 captures high definition, high quality video and images of your adventures like never before.
#6. Drone
The DJI Spark is one of the smallest and more budget friendly drones on the market.
Pictures are captured at 12 MP and it has decent video quality including automatic modes, where it can track an object 'hands free' or even spiral up and around a subject.
It has a controller range of 1.2 miles enough for a wide variety of shots. You can also fly it from a mobile device so it's a great beginner option for travelers.
#7. Kindle
The Kindle is by far the world's most popular e-reader especially for travelers. It can hold thousands of books yet it's lighter and smaller than even 1 paperback.
There are now 4 models on the market:
Kindle (basic)
Kindle Paperwhite
Kindle Voyage
Kindle Oasis
The Kindle Oasis is the most expensive overall but the most appealing for travelers due to its waterproof feature.
It's also the thinnest and lightest Kindle with an extended battery life that can last for weeks. With the built-in adjustable light, read your way around the way indoors and outdoors, day and night.
#8. Dive Computer
If you're a diver & sometimes feel a little bit out of your depth, a dive computer can make you feel a whole lot more comfortable.
The Suunto Zoop Novo Dive Computer is easy to use with a super-bright phosphorescent LCD display. The monitor has big numbers & it's easy to read. It comes with a built-in dive planner to log your dives & view data.
One of the best features of Suunto Zoop is the automatic safety stop count. When you ascend & reach a depth of 15 ft (5m), it will automatically start a count down. There are audible alarms if you ascend too rapidly, and also when you reach maximum depth and dive time
The more advanced features will be helpful as you gain experience and confidence as a diver.
#9. Apple Watch
The Apple Watch doesn't just tell the time – it's also a wrist computer and fitness tracker with high tech functions that benefit frequent travelers.
The watch can be used as a GPS and it provides directions at a tap of the wrist. You can actually take in your surroundings as you go rather than constantly looking down at your smartphone.
Flight alerts, hotel check-ins ,weather updates and world clocks are some of the most useful apps that can be set.
The Apple Watch helps you stay healthy, active and connected on the road.
#10. Bluetooth Speaker
If you need a soundtrack for your travels, the Anker Bluetooth Speaker will be music to your ears.
Simply connect it to your phone tablet or laptop and be impressed with its deep bass stereo sound.
It's lightweight yet robust so you can just grab, go and listen wherever you may be going.
#11. Portable External Hard Drive
Try to get into a good habit of backing up your photos every day while traveling. This can minimize heartache in case of:
theft
losing your camera
faulty SD card
accidentally deleting photos
The best way to back-up you photos is with a portable external hard drive like the Seagate Backup Plus. You can use it with a laptop, tablet or smartphone.
#12. International Adapters
With all these travel electronics you'll definitely need to travel with international adapters.
All-in-one adapters are popular but from experience they can be bulky and unreliable.
A better alternative is buying an International AC Plug Adapter Set and just traveling with the ones that you need.
#13. USB charger
Most electronic devices are powered by USB so the Anker USB Wall Charger is a handy travel accessory.
It has a compact design and is compatible with international voltage levels. It's also intuitive enough to charge different devices at their optimal levels.
Consider getting longer cables so that you can use your device comfortably while charging.
#14. Portable Charger
Have powerfor days – literally – with the Anker Portable Charger. It features advanced high speed charging technology in a pocket-sized device that can easily fit inside backpacks and purses.
The Anker Charger is universal compatible with virtually every device that charges from a USB port. It also features an inbuilt safety system for complete protection.
#15. Travel Electronics Organizer
With all these electronics and chargers, you're going to need one final accessory to get everything in order – and a travel electronics organizer will do just that.
Keep all your SD cards, earphones, USB cables and everything else in the one place, yet in its own compartment. This will save you time looking for items and it will also prevent things from going missing.
Be sure to choose a larger size bag if you want to store actual electronics like a smartphone, iPad, tablet or camera.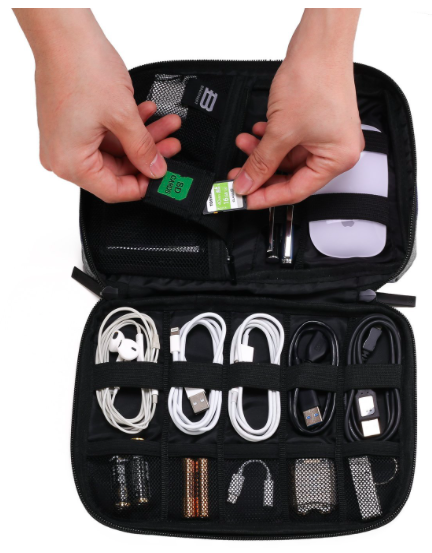 Did you enjoy reading our list of Travel Electronics Gift Guide?
Pin it and help others find it too!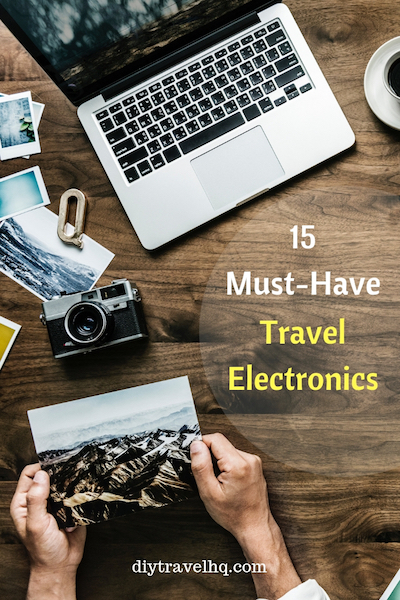 Disclaimer: This post contains affiliate links which means that we receive a small commission if you click on a link & purchase something that we've recommended – at no extra cost to you. This helps us to keep our site running so we can continue to provide free content. Thank you for your support!