Are you travelling in Bali, Indonesia on a budget? Our Ubud Itinerary features the best free temples, rice terraces & more – all within walking distance of the town centre!
Situated 200m above sea level, Ubud is nestled on the slopes of Bali's central mountains. We loved its cooler temperatures – lower than most of the island, contributing to the all-round feel-good spirit in the town.
Ubud's hotels, restaurants & cafes are decidedly upmarket but there are places to suit every Bali travel budget. The infrastructure supports a trove of temple treasures, farming fortuity & architectural affluence.
Many attractions can be strict on admission, somewhat at whim – take a sarong in case it is required, although sometimes entry is only allowed to those in full Balinese attire: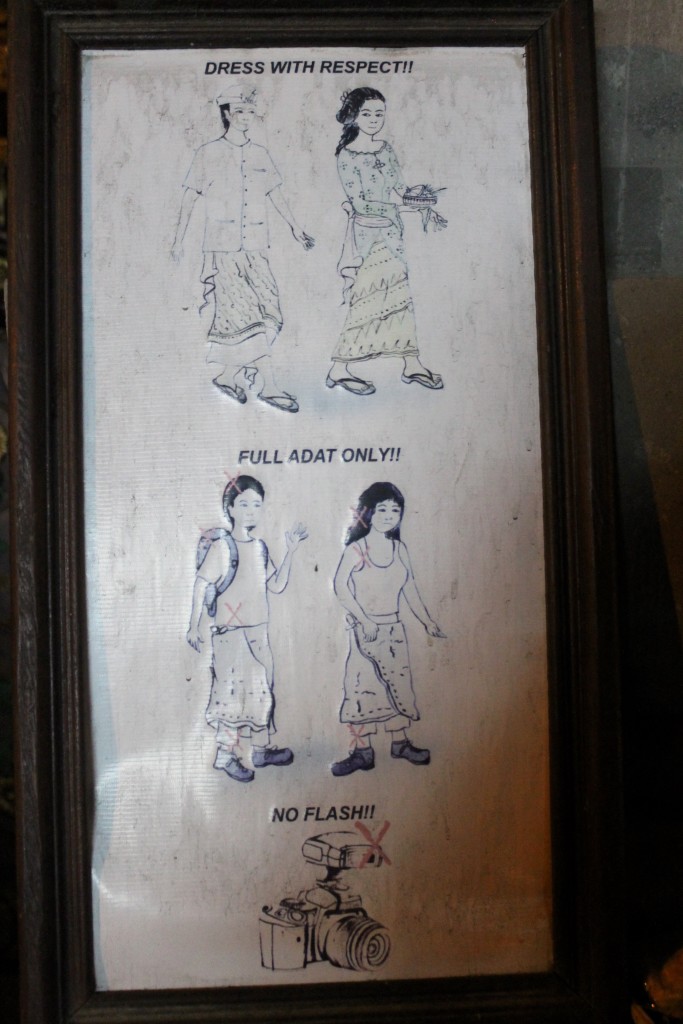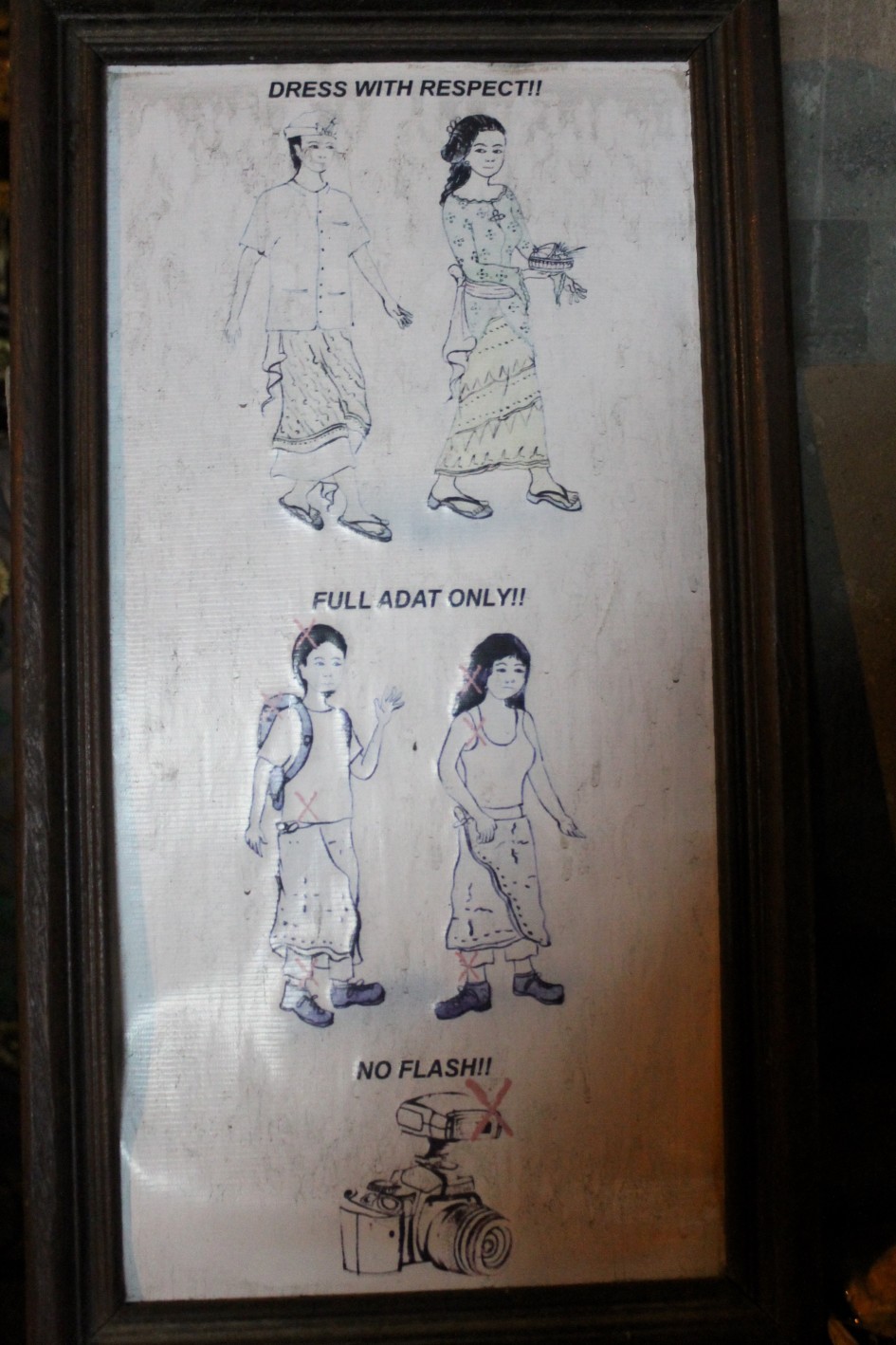 Always be aware of pickpockets in Indonesia – we recommend carrying your valuables in a secure money belt at all times. You can even wear it under a sarong 🙂
As the cultural hub of Bali, Ubud is the place to partake in all things arts, craft, dance, cooking, yoga, meditation, health & wellbeing.
With all the activities & amenities on offer, many visitors end up staying longer than they plan for.
Ubud tour options: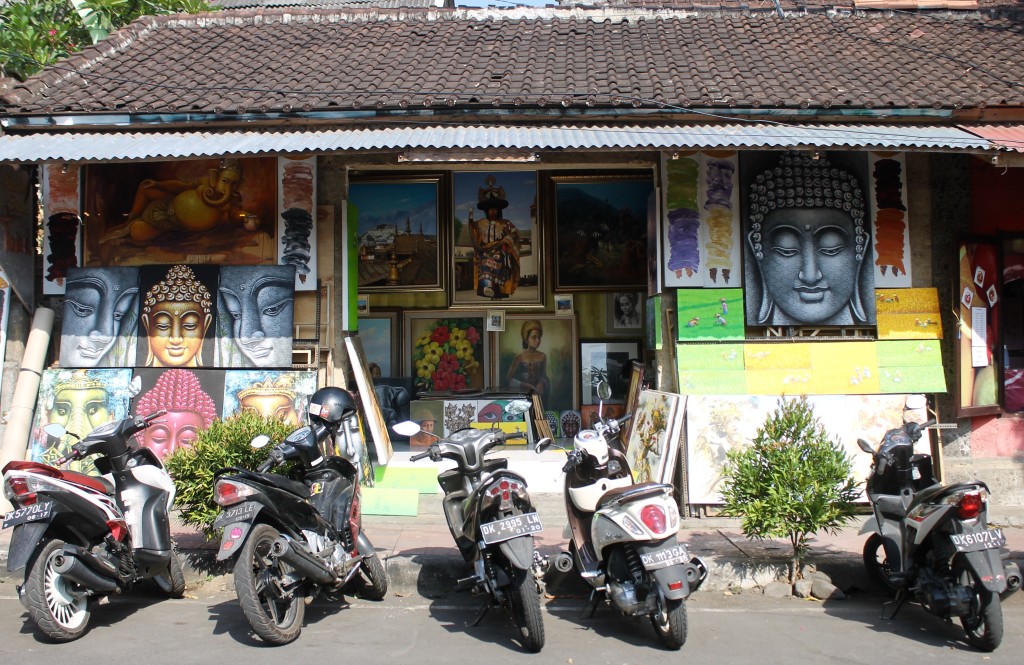 Ubud Itinerary
We recommend at least 2-4 days in Ubud!
1-2 days in the city center exploring the Royal Palace, Saraswati Temple, Campuhan Ridge Walk (not recommended), surrounding rice terraces, Ubud Monkey Forest & Central Market
1-2 days exploring the attractions outside Ubud including Goa Gajah, Gunung Kawi, Pura Kehen, Tirta Empul & Tegalalang Rice Terraces
Add extra days if you're interested in taking classes or courses
We recommend Lonely Planet for more travel inspiration in Ubud & Bali.
This itinerary covers a full day in the city center, where you can travel on $10 a day in Ubud!
All the places to visit on this itinerary are within walking distance of each other – except for the Monkey Forest, all attractions are FREE! After all, Indonesia is one of the cheapest travel destinations in the world.
However that doesn't mean that you should forgo travel insurance. We've been using World Nomads for over 10 years. It's the best-value provider we've found but there are other important things to consider. Check out our post and find out which of our claims were successful or denied.
Free Things to do in Ubud
1. Ubud Royal Palace (Puri Saren Agung)
Constructed in the 19th century, Ubud's Royal Palace is the official residence of Ubud's royal family. Members of the nobility are said to be still living here although these days, the palace grounds is also host to various international festivals & events.
Most of the complex is off-limits to the public so the temple is essentially just a series of small courtyards & monuments. While these do showcase the ornate wooden/stone carvings and elegant portal structures characteristic of Balinese Hindu architecture, the palace is mostly indistinguishable from the many other temples in the area.
However, it's situated in the middle of Ubud, across the road from the markets, so for a Royal Palace, it's worth a quick 5 minute stop.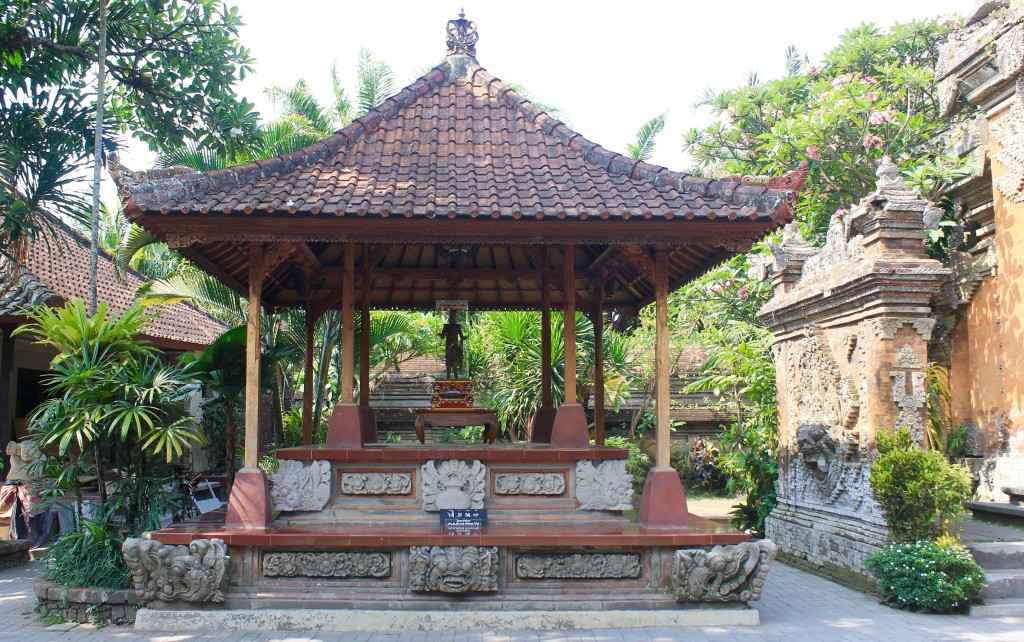 2. Saraswati Palace
The Saraswati Palace is dedicated to the Hindu deity of wisdom & learning, Goddess Saraswati. An unassuming entrance between Café Lotus & Starbucks leads to a full-frontal assault of the senses, with this incredible panorama.
It's a stunning, symmetrical view – a middle path flanked by lotus ponds on each side, leading up to an intricately-decorated, 19th century temple.
On the way to the central gate, admire the water lilies & lily pads in the water. The plants to the left are plump & sleek, thriving in the sunlight.
On the right, they are withering & patchy, devoid of light in the shade of towering trees. But it is on the right side that the lotus blossom emerges in greater numbers (see above photo) – such is the balance of nature.
The entrance to the temple is via the door on the left side. There's no entrance fee but you're required to wear a sarong & cover your shoulders – you could take a chance & enter regardless, as we did.
The temple itself is small anyway, shrines & altars around a central courtyard, surrounded by plant & bonsai trees.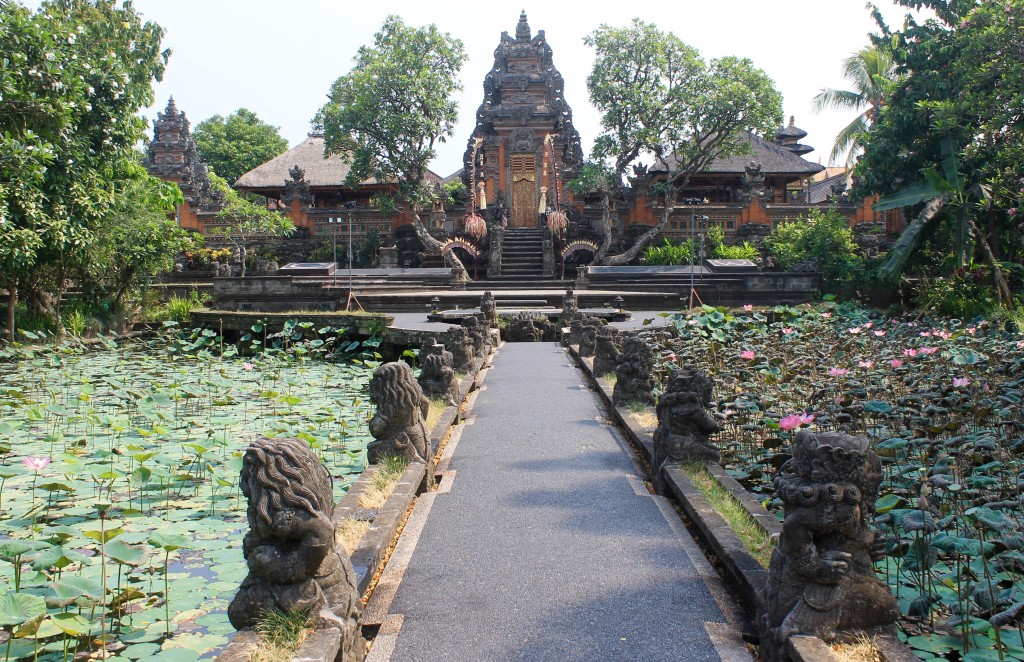 3. Campuhan Ridge Walk
Campuhan Ridge Walk is a very average 2km ridge path, which appears to be designed by cafés & galleries to lead visitors to their shops.
Despite the photos, the views are mostly ordinary & the trail isn't at all challenging, despite the reviews.
Perhaps it was the time of year. In October most of the rice fields were already harvested & dried brown instead of lush green.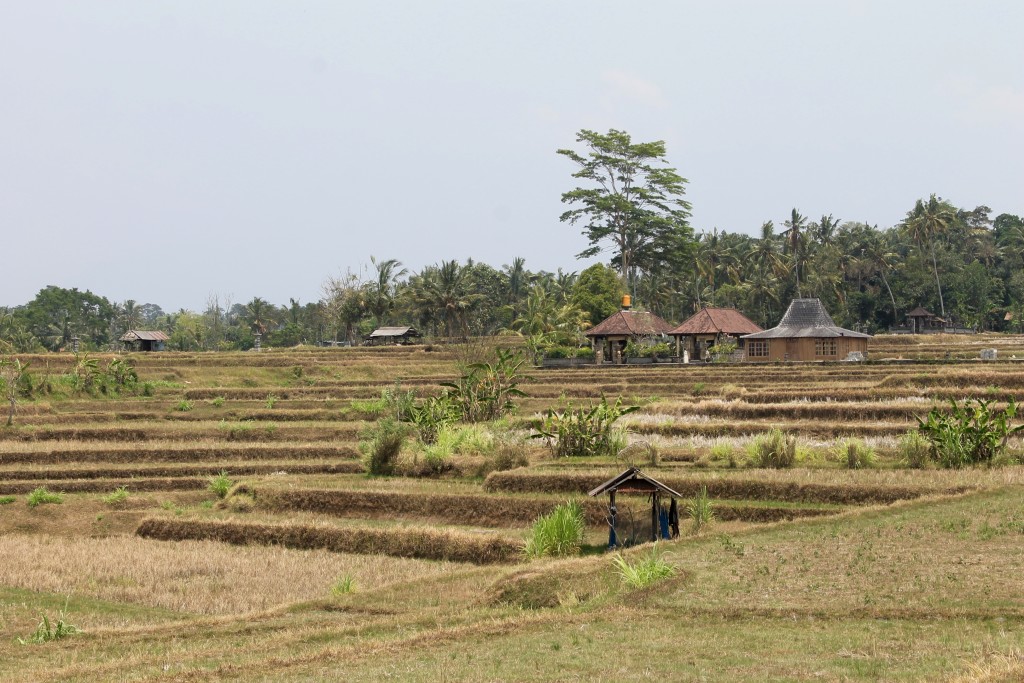 Still, the walk is lined with souvenir shops year round, not a welcome sight on a nature trail.
The ploy works though, we ourselves succumbed to a coconut from one of the hotel restaurants, but more as a consolation from the Campuhan's disappointment.
We cannot recommend the walk but for the sake of thoroughness, the trail begins a little outside the city center, behind the impressive but discriminatory Pura Gunung Lebah temple.
Even though our legs & shoulders were covered, we were still kicked out of the complex. Perhaps, Erik's towel was not fully appreciated…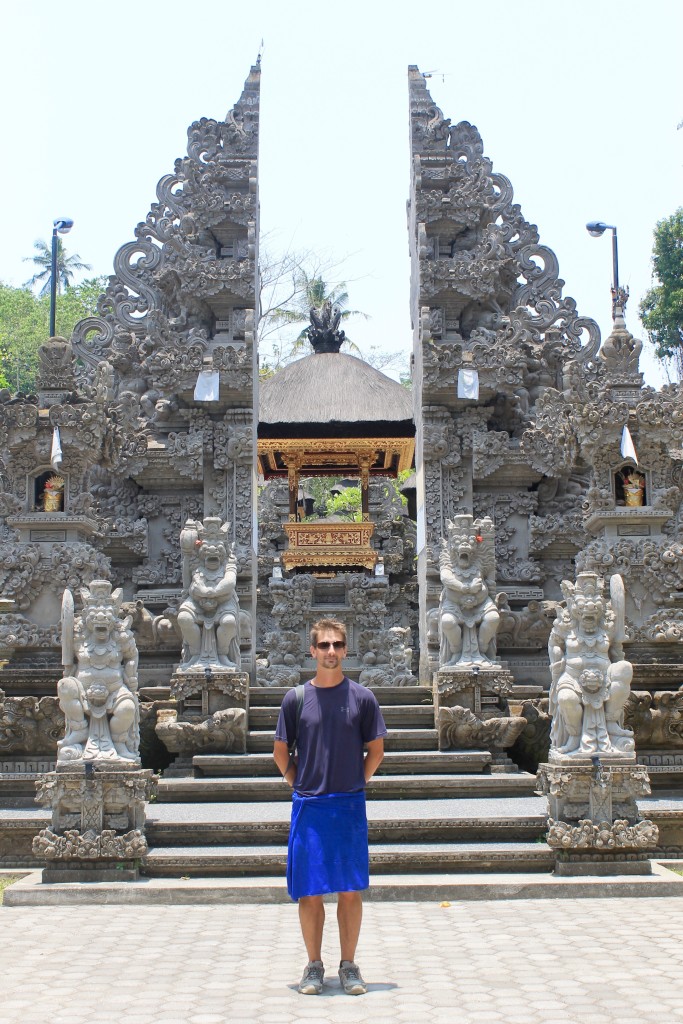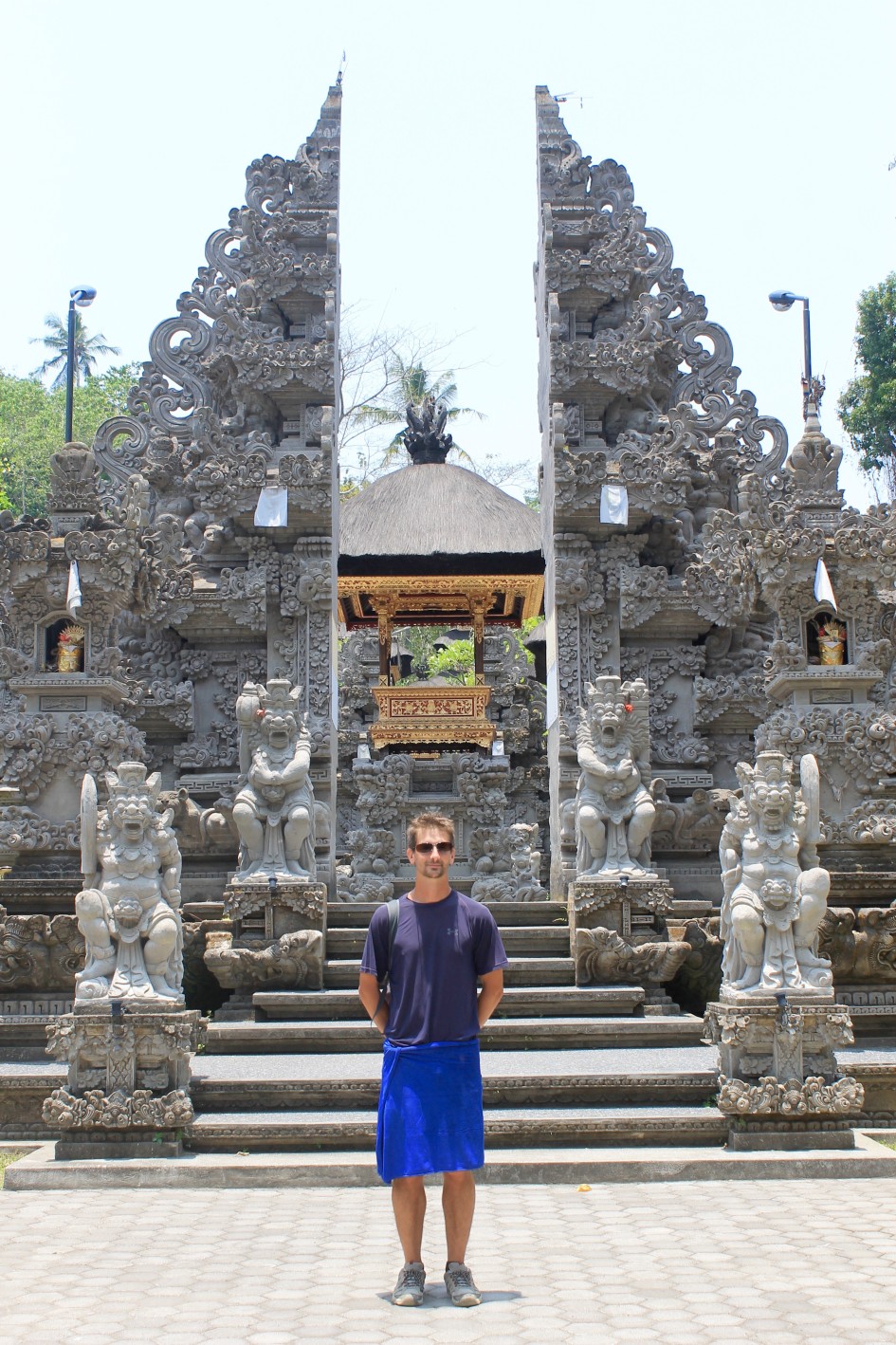 4. Rice Paddy Fields
Coming from the town center on Jalan Raya Ubud, a much more scenic walk amongst rice paddies can be found one street before the Campuhan Ridge Walk turn-off.
Turn right at this spot & continue to follow the signs: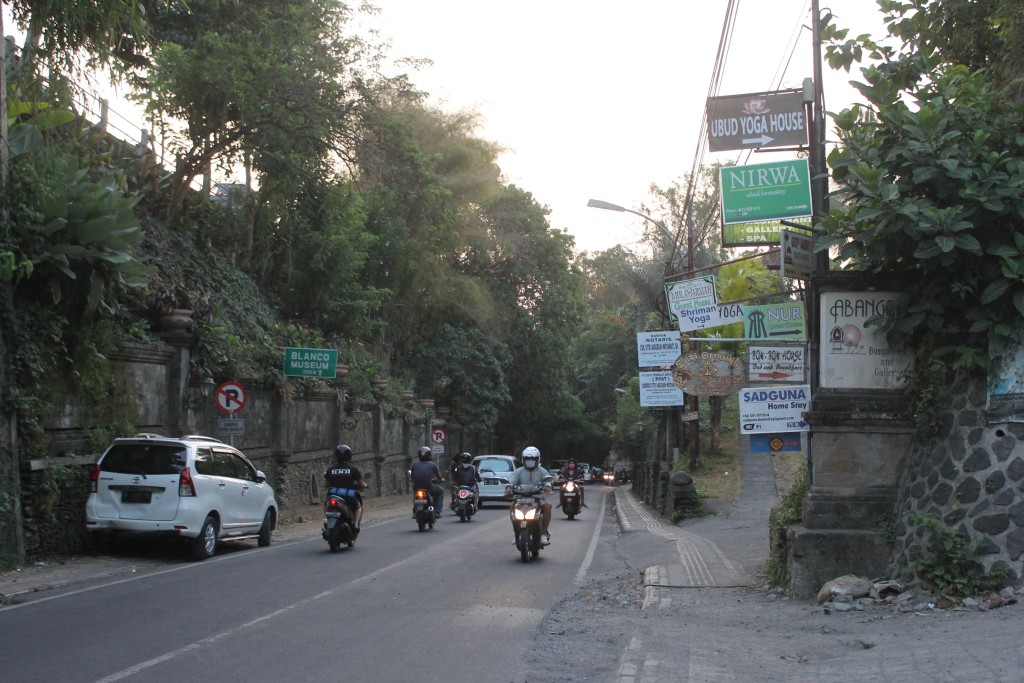 From the start of the trail, the views already surpass the best that Campuhan could offer.
It's a small path, shared by the local villagers & tourists on foot, bicycle & motorbike.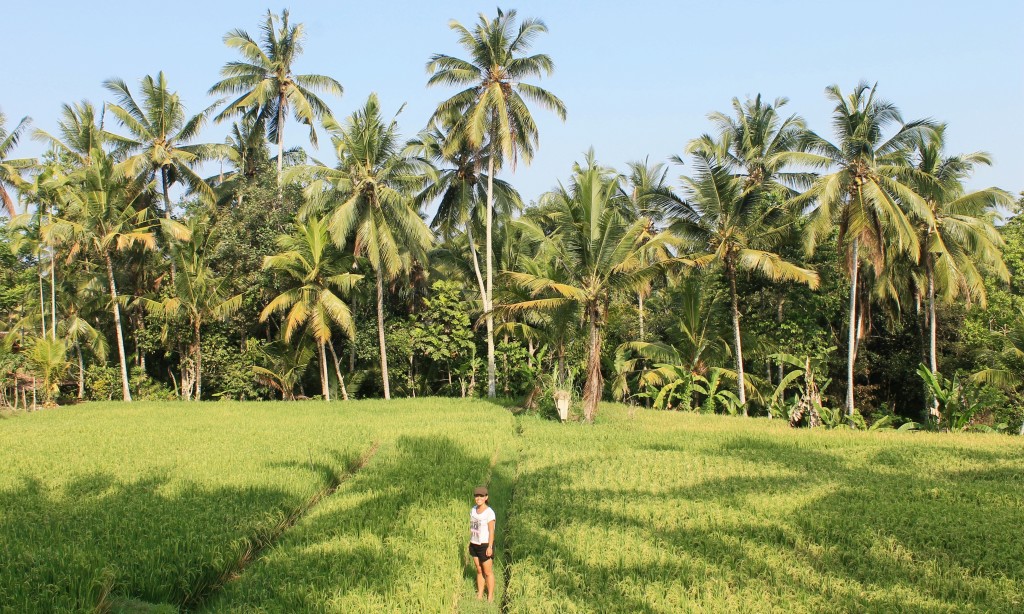 Signs of development from Ubud are evident as modern concrete houses slowly encroach upon the rice fields.
In fact, many of these are rented out as holiday homes, especially those constructed in the traditional style. The setting is utterly idyllic.
A few shops alongside the route offer refreshments for sale but unlike the souvenir-stable of Campuhan, it's much more of a working village.
Sifting & sieving, farmers in conical straw hats, long-sleeve t-shirts & pants tend to the vast crops of rice, still using traditional methods & processes.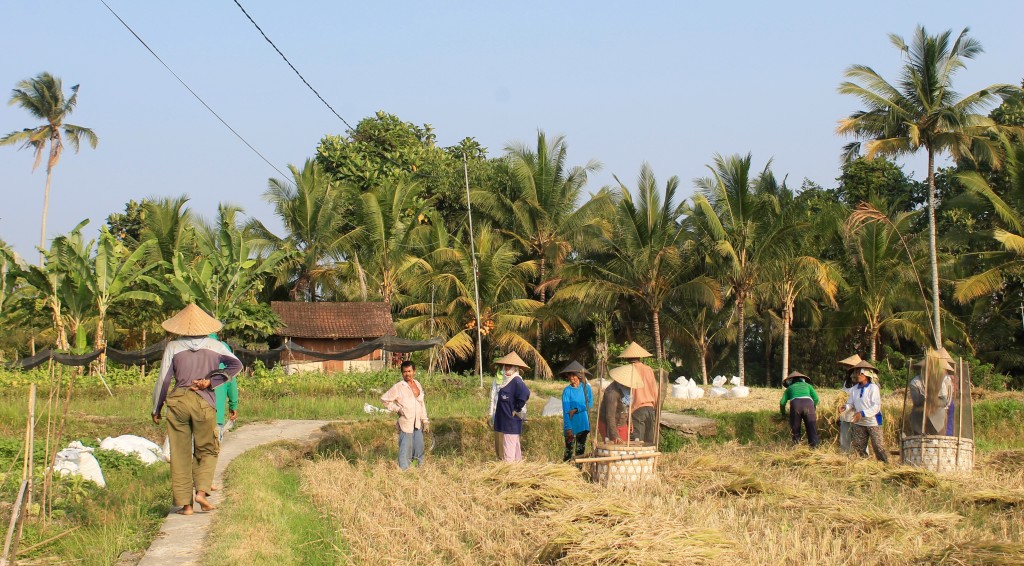 Towards the end of the trail is an unlikely art gallery, watched by an enthusiastic minder, keener on selling coconuts.
He'll direct you to a path on the left that, via a steep descent, leads you to a small waterfall. The few tourists that come this far take a refreshing dip; locals bathe & wash their clothes.
As we climb out of the waterfall, the painting/coconut vendor is back. He seems to have been waiting the whole time, & coconut negotiations begin again. It's all good fun & set-your-own-price.
With rope-tied feet, he climbs up the nearest coconut tree, shuffling up at great speed – it was all very exciting! Before long, he was back on the ground, hacking away at our fallen coconut.
It was delicious & at 1,000 IDR / $0.75, half the price, but double the experience, of Campuhan – symbolic of the wider comparison between the rice fields.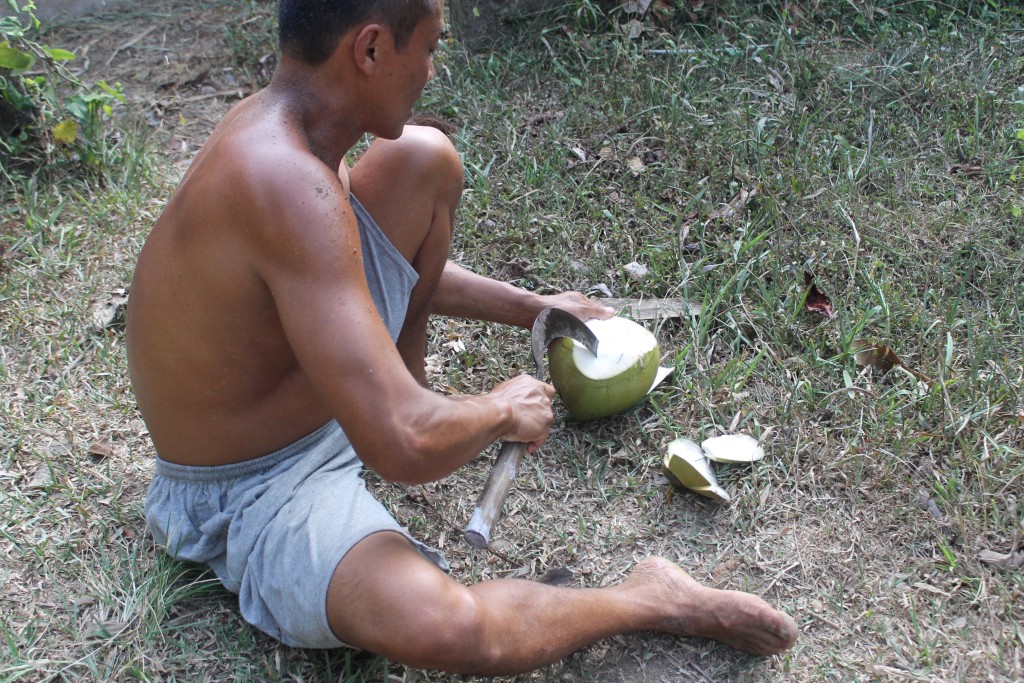 5. Ubud Monkey Forest
Ubud Monkey Forest is not free but it's not expensive either – you can also fit this into a 1 day Ubud itinerary, along with all the other attractions listed here.
Plus, it's the popular attraction in Ubud & fabulous fun for all ages, with monkeys of all ages!
Visit Ubud Monkey Forest
Find out everything you need to know about visiting the Ubud Monkey Forest & check out the cutest semi-wild monkey photos you've ever seen!
Read more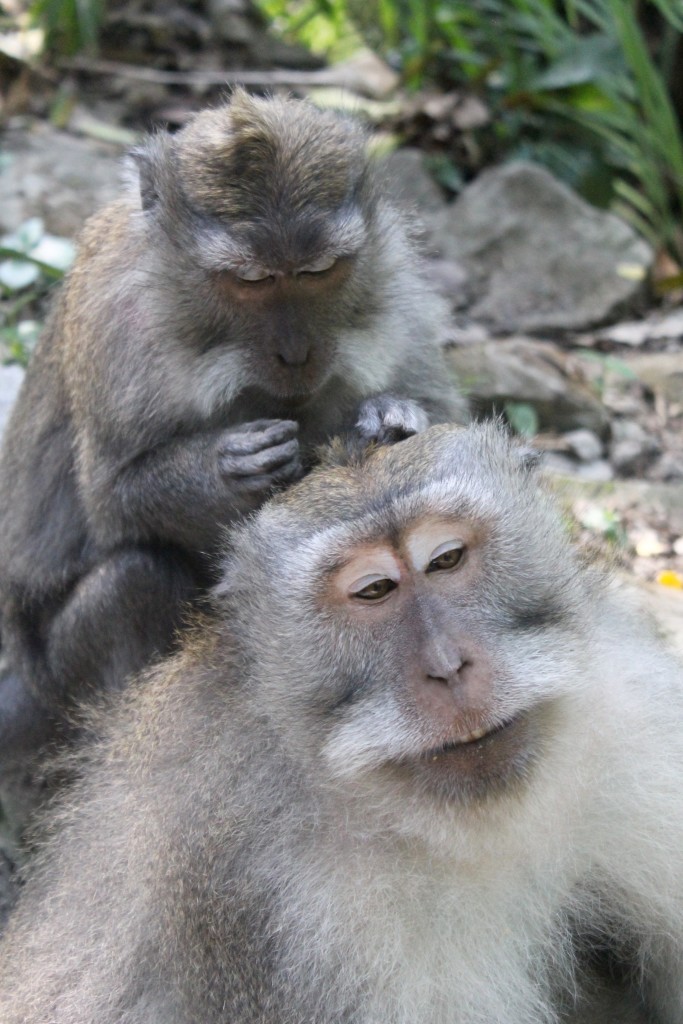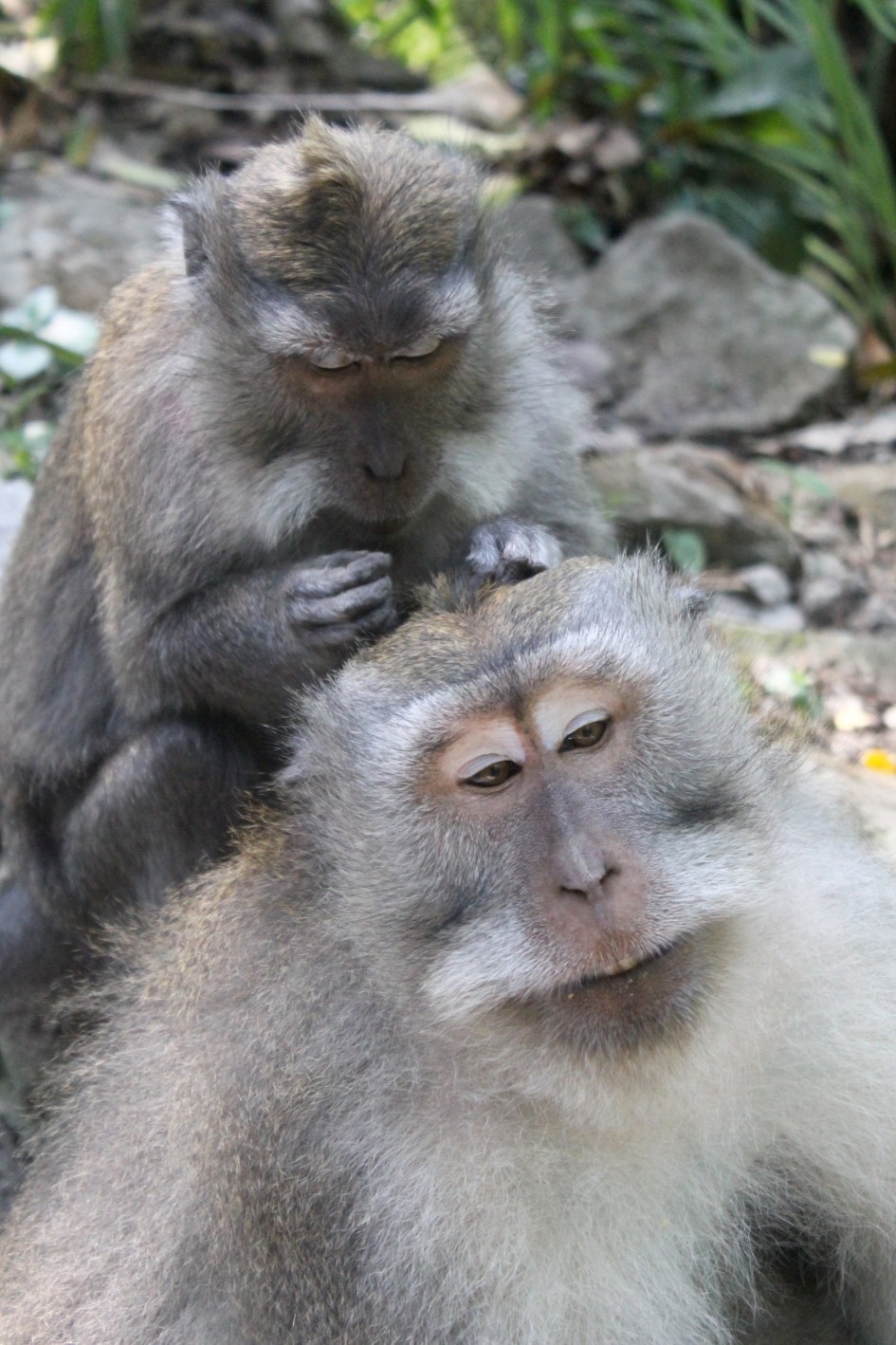 6. Ubud Central Market
On the corner of Jalan Monkey Forest & Jalan Raya, the Central Market is sprawling area of shops & stalls, teeming with clothes, souvenirs, wood carvings & all kinds of tourist-orientated goods.
In the early morning, locals shop here for offerings & food. Be prepared to bargain hard & expect vendors to start asking for prices at 10 times the going rate.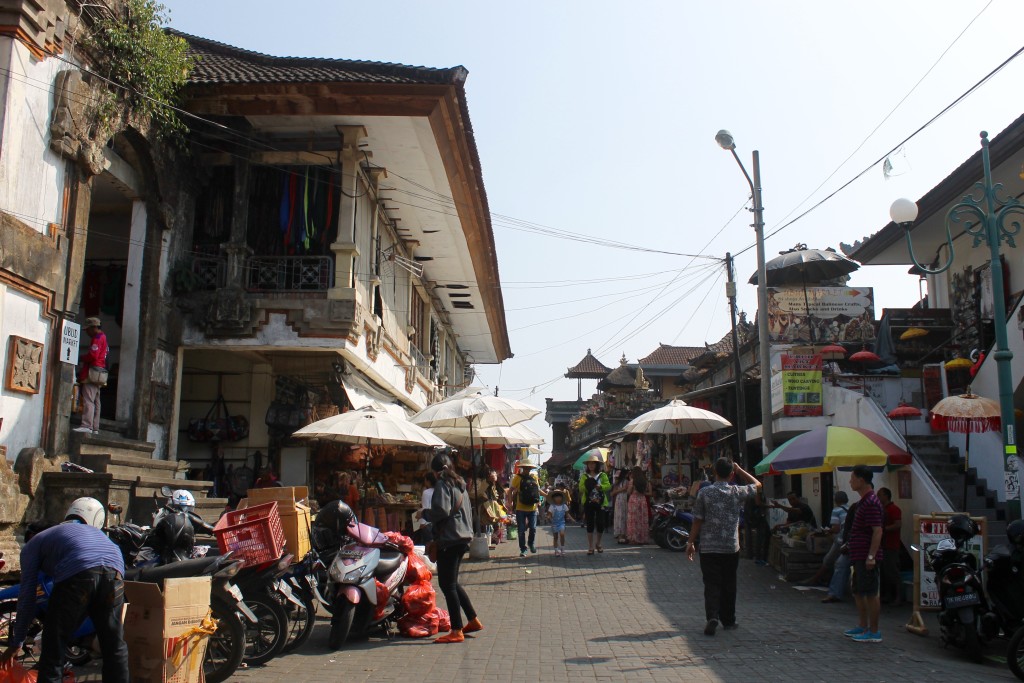 Ubud Accommodation
Many budget lodgings can be found on Jalan Arjuna, off Jalan Raya. It's a competitive area & rooms w/ breakfast can be found for less than 100,000 IDR / $7.50.
For a spacious room, modern bathroom, rice field views & an actual hearty breakfast, we recommend Kabera Bungalows 2 for 130,000 IDR / $9.75.
You can easily find & negotiate cheap accommodation in Ubud in person. Check out Hostelworld if you prefer to book in advance.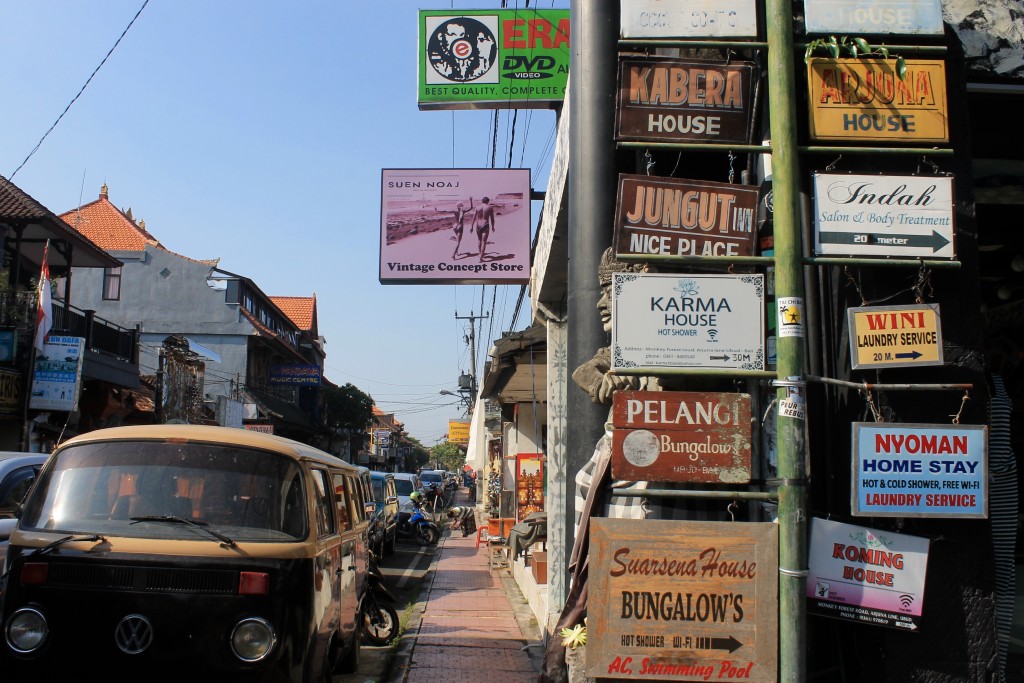 Budget Food in Ubud
Also on Jalan Arjuna, we recommend eating at Arimas Warung for a good selection of tasty Indonesian & Western dishes at the cheapest prices in town – we ate here 5 times!
This pesto penne was our favorite for 25,000 IDR / $1.90: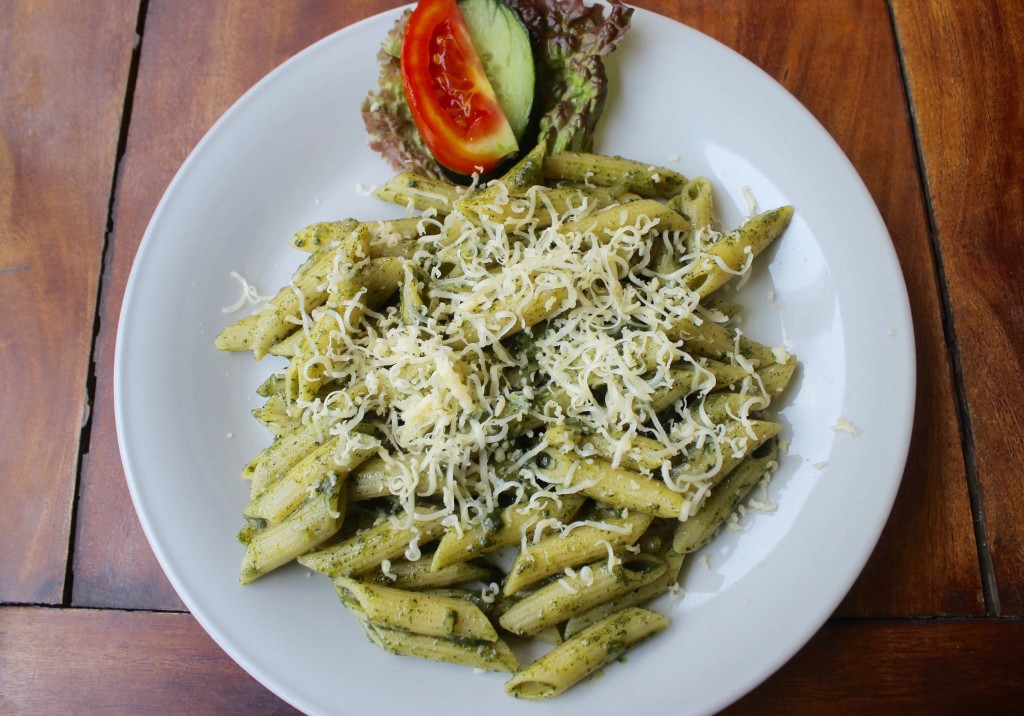 Massages in Ubud
Beauty salon services are a little higher here than in Kuta, expect to pay at least 70,000 IDR / $5.20 for a 1hr Balinese massage.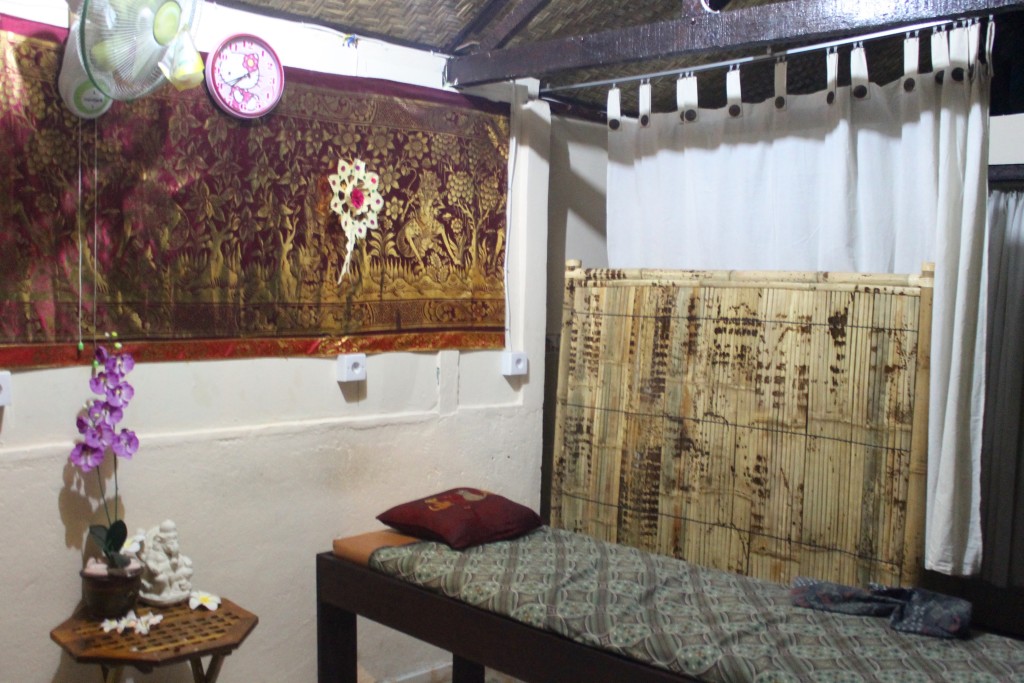 Traditional Dance in Ubud
Every night, a traditional Balinese dance performance takes place within certain temple complexes such as the Royal Palace & Saraswati Temple. These shows invariably feature a combination of Barong, Legong & Kechak dances, sometimes with a fire-twirling act.
Masked characters, traditional costumes, elaborate headwear, repetitive music & slow, deliberate movements tell the story of a never-ending battle between good & evil. The show can be seen from the outside, without a ticket (which is 80,000 IDR / $6.00).
We stopped to check it out for a moment & found it quite boring, as we have also heard from many reviews. However, Bali is the centre of Balinese dance so if you've ever had the urge to enjoy a quasi-cultural touristic performance, this is the place to be.
Quirky Fact of Ubud
Everywhere in town – and throughout Bali – you will see black & white chequered cloth draped over trees & statues. In Balinese, this fabric is called "saput poleng" or two-coloured cloth.
The black & white symbolises good & evil, right & wrong, happiness & sorrow – the cloth being a constant reminder that one can easily be swayed between 2 opposites.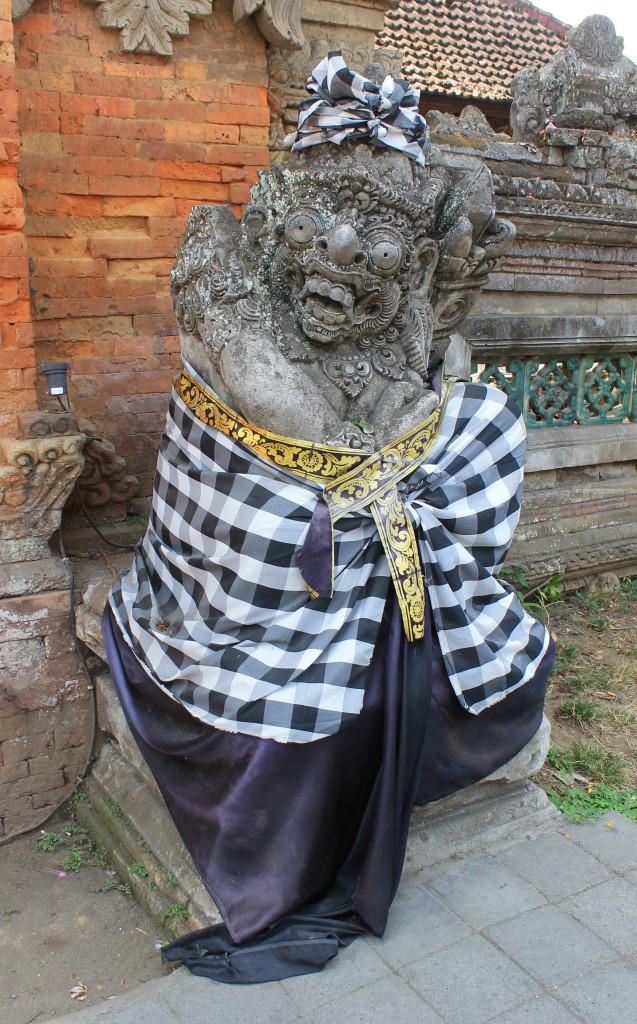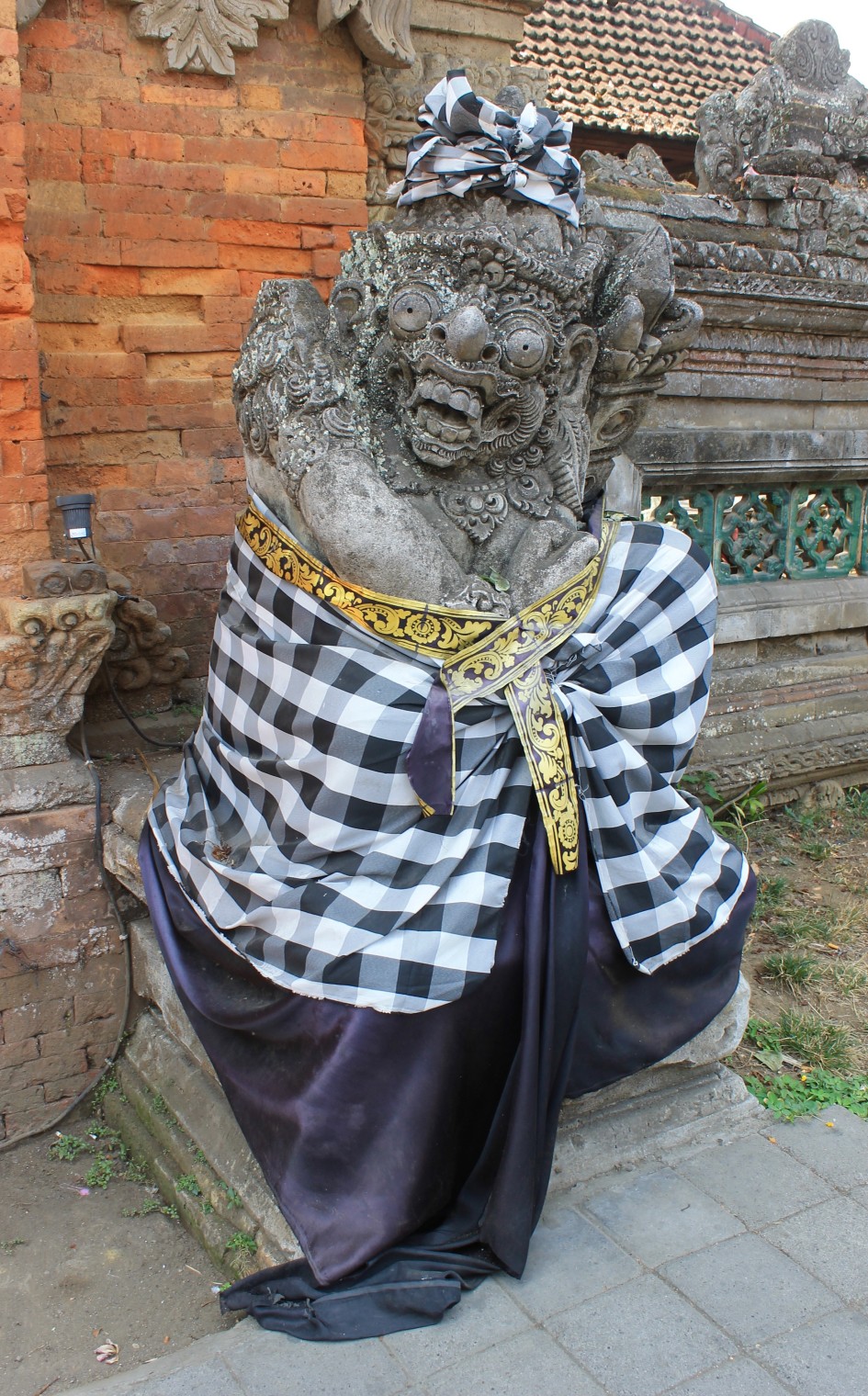 Getting In, Out & Around Ubud
Don't waste your time with local transport/bemos, as we did. To get in & out of Ubud, try to form a group of 4 to share a taxi, or travel with Perama buses.
To visit the temples & rice terraces outside of Ubud, hire a motorbike for the day for 40,000 IDR / $3.00 (+10,000 IDR / $0.75 insurance with US$100 excess).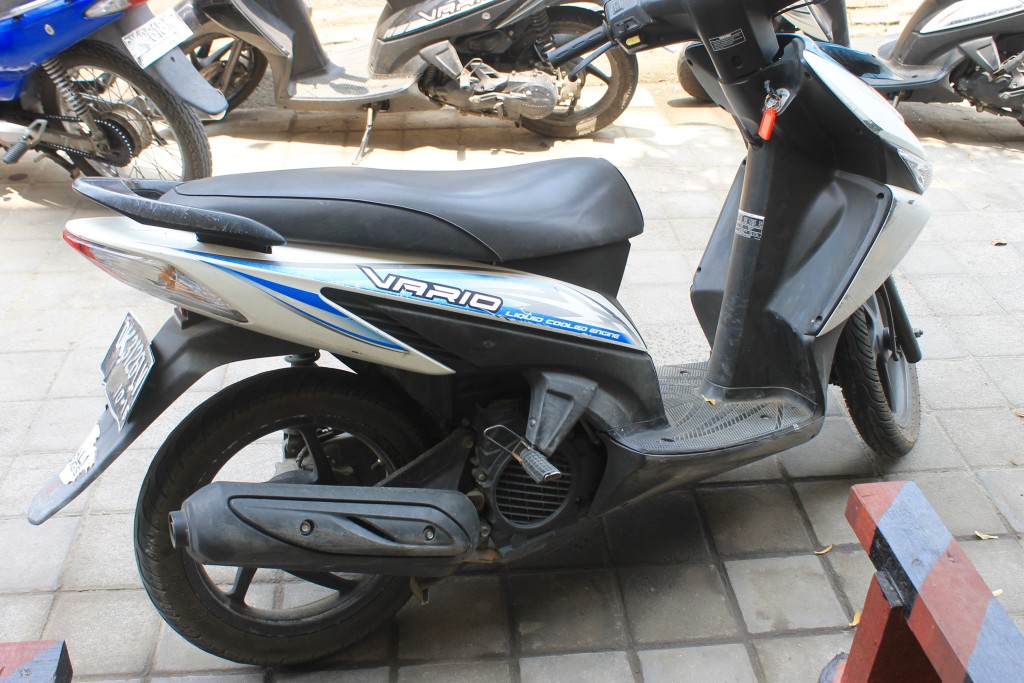 Otherwise, join one of the many group tours on offer.
Unlike in the rest of Indonesia, bemos in Ubud are infrequent & problematic.
When a foreigner approaches for a ride, local transport suddenly turns into a charter, even if there are other passengers, or you're willing to wait & even offer to pay double the local fare – drivers would rather leave you behind if it's not near the tourist price they have set between themselves. From bemos to taxis & buses, this "driver mafia" state is sadly common in much of the country.
So take our tips, avoid hassles & "Namaste"!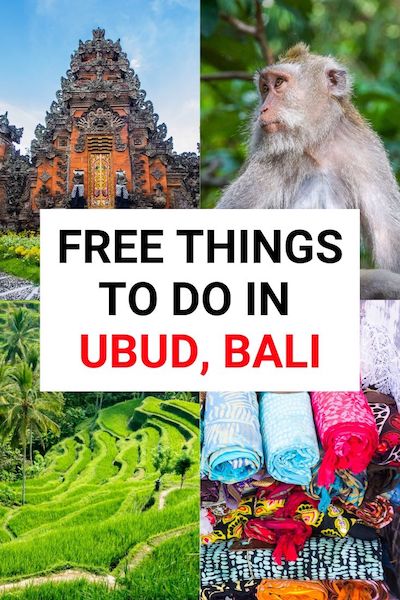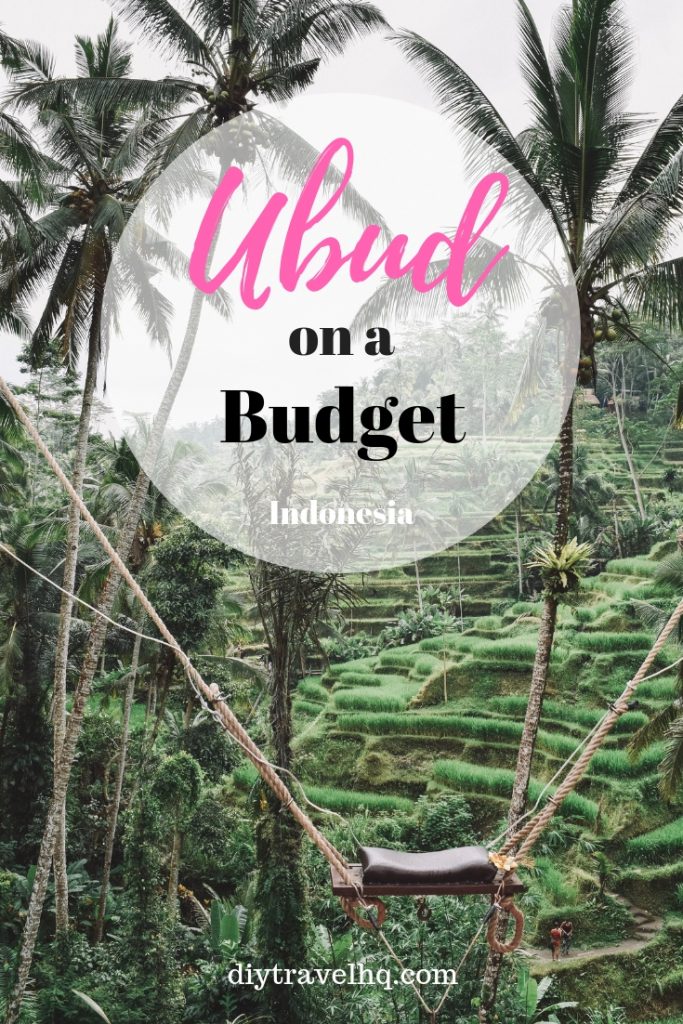 *** The Final Word: Follow our itinerary & discover that the best things in Ubud are free! ***
Do you know anything other free things to do in Ubud?
Visited in October 2015
Disclaimer: This post contains affiliate links which means that we receive a small commission if you click on a link and purchase something that we've recommended, at no extra cost to you.