Ahuachapan is a pleasant intro to El Salvador and home to Los Ausoles geysers. Check out our Ahuachapan Travel Guide & find out more about visiting this Ruta de las Flores base town.
Things to Do in Ahuachapan
Ahuachapan is a very pleasant town that has a commercial center bookended by two parks.
Here at DIY Travel HQ it was our first stop on our 1 month itinerary in El Salvador.
Parque General Francisco Menendez (aka Parque Central) is the hub for transportation and markets, while Parque Concordia is the more scenic of the two.
However the star attraction of our Ahuachapan Travel Guide are the Los Ausoles geysers, .
#1. Parque General Francisco Menendez & Around
Even if you aren't staying in Ahuachapan, you will surely pass through on your way to/from the El Salvador border crossing with Guatemala.
Buses congregate on the northeast side of Parque General Francisco Menendez so this will be your first impression.
During the day, the area is very chaotic with a covered market on the east side, string of cobblers on the south, and market stalls lining the streets north.
Meanwhile, buses ply the streets and fight for passage out of the congestion.
Inside the park it is slightly calmer, but still full of congregating people.
The two 'attractions' are a statue of General Francisco Menendez and a gazebo in the middle.
Otherwise, grab a seat and enjoy the shade.
#2. Parque Concordia & Around
The other slice of green in Ahuachapan is Parque Concordia, 5 blocks south of Parque General Francisco Menendez.
Between the two are banks, second-hand clothing shops, and places to eat.
This area is surprisingly quiet compared to the market area.
Parque Concordia is a leafy square with a clock tower in the center.
There is Wi-Fi in the park, but is painfully slow.
The south side is bordered by upscale street food vendors.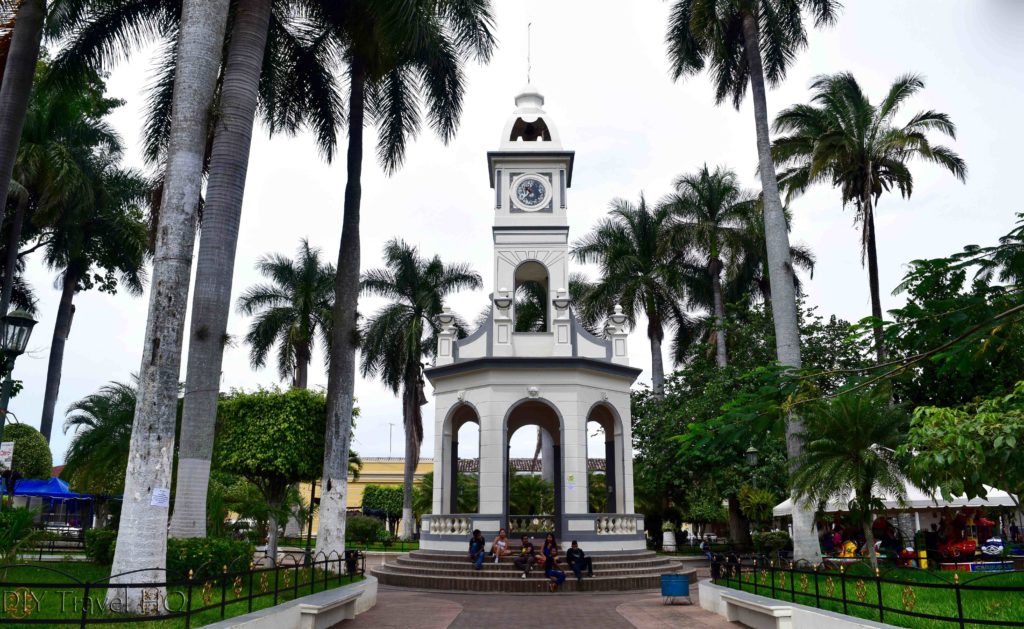 Parque Concordia is the real heart of Ahuachapan.
Iglesia Parroquia de Nuestra Senora de la Asuncion
More attractive are Iglesia Parroquia de Nuestra Senora de la Asuncion and Casa de Mamapan on the east side.
The white-washed church stands on a 'pedestal' as you have to walk up a flight of stairs to enter.
You have nice views of Parque Concordia from here as well.
Wander around the perimeter, and take a peek inside.
Running between Iglesia Parroquia de Nuestra Senora de la Asuncion and Casa de Mamapan is Pasaje La Concordia.
The entrance to the corridor is marked by a set of arches with a fountain shortly thereafter.
This is illuminated at night in a collage of colors.
The rest of the street is filled with cafes, and is notable for their murals that line the walls.
#3. Los Ausoles Geysers
For us, the main reason to visit Ahuachapan was to visit Los Ausoles geysers.
Transportation details can be found below, just keep reading our Ahuachapan Travel Guide…
Once you come across the first house on your left after the geyser field, pay the woman $0.50 to access the path for Los Ausoles that crosses her land.
From the top of the mound you can see the power plant that used to generate electricity for as much as 70% of the country!
Located around the vacant property are several steam vents, but the highlights are the boiling mud puddles tucked behind the mound.
The bubbles are generated from heat so don't think it is just pressure being released and get closer than you should.
Ahuachapan Travel Guide: What to Eat
Plan on eating early if you want a wider selection of budget restaurants in Ahuachapan.
You can find comedors selling meals for $2, and 1.25 liters of Coke for $0.75.
One such place is across from Casa de Mamapan between 11 am until 2 pm.
At night time, Parque Concorida has upscale street food vendors selling pupupas (2 for $1), crepes, fries, and smoothies.
Alternatively, walk down the Pasaje La Concordia for a small vendor selling pupusas for 3 for $1.
Where to Stay in Ahuachapan
Ahuachapan doesn't have much budget accommodation so this is a great place to spoil yourself and stay somewhere nice.
Exploring Ahuachapan and Los Ausoles geysers takes less than a day so you have time to enjoy the hotel as well.
Our Ahuachapan Travel Guide recommends Casa de Mamapan, which has an excellent location right on Parque Concordia.
Rooms are spacious complete with A/C, TV, hot water, and Wi-Fi.
They host events throughout the year so the common areas are well decorated.
The interior rooms carry this trend over and have all the fine details associated with more expensive hotels.
We recommend Booking.com as a trustworthy source of accommodation in El Salvador. Make a booking with our link for 10% off your stay.
How to Get To and From Ahuachapan
If you are traveling between Guatemala and El Salvador and visiting the Ruta de las Flores, then you will at least pass through Ahuachapan.
Buses tend to congregate around the northeast side of Parque General Francisco Menendez by Dollar City.
Take bus #263 to Las Chinamas ($0.41, but charged $0.50) for the border with Guatemala.
Bus #249 for Sonsonate stops at all of the villages, and can be caught at the start of the Ruta de las Flores road.
You can also catch bus #'s 264 & 15 to Tacuba for Parque Nacional El Imposible.
How to Get to Los Ausoles Geysers
In order to reach Los Ausoles geysers take bus #809 ($0.25) from Parque General Francisco Menendez, but clarify they go all the way to Los Ausoles.
We took one bus per a ladies advice, but it randomly stopped half way.
If you aim for the yellow school buses and not the shuttle buses you should be okay.
Get off at the La Geo sign, and walk up the cobblestone road on your right.
It is a short walk to Los Ausoles geysers from where the bus drops you off.
You will notice an open field on your left with barbwire and start smelling rotten eggs.
Pay the $0.50 admission fee at the first house you come across.
* Ahuachapan Travel Guide Top Tip
Alternatively, you can sneak underneath the fence for free, but it is better to just pay the woman to use the path that crosses her land.
It is a lot easier than getting caught on barbwire, or finding yourself accidentally stepping in a steaming hot geyser.
Did you enjoy reading Ahuachapan Travel Guide & Visiting Los Ausoles Geysers?
Pin it and help others find it too!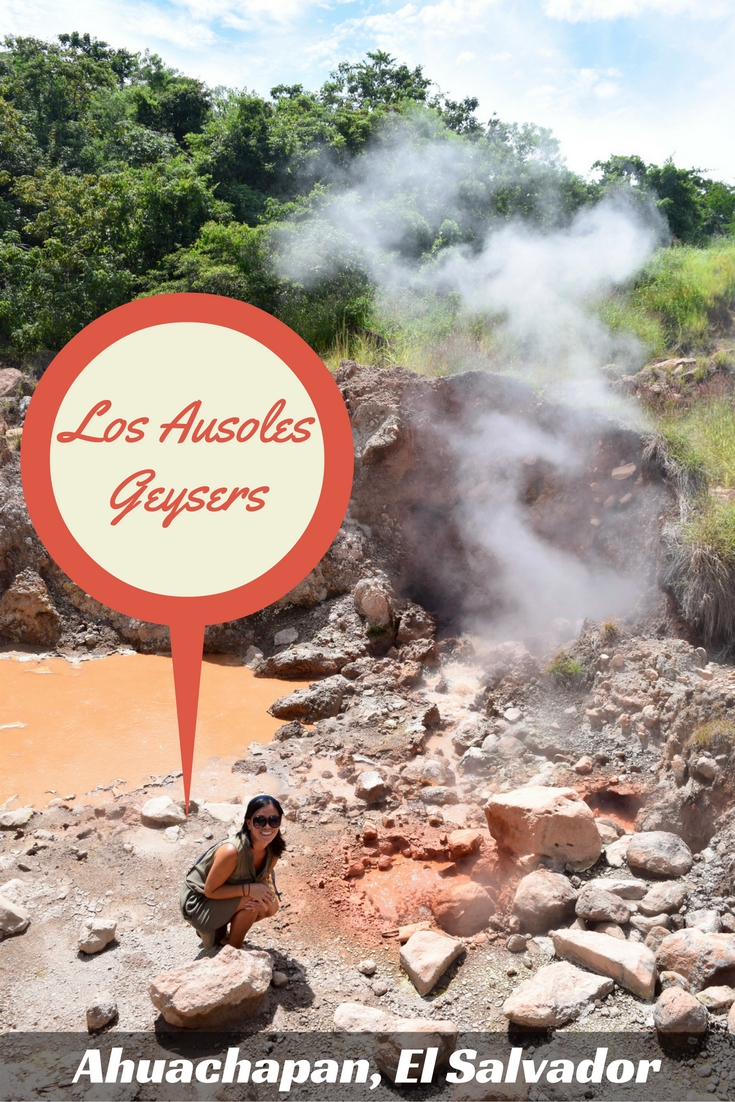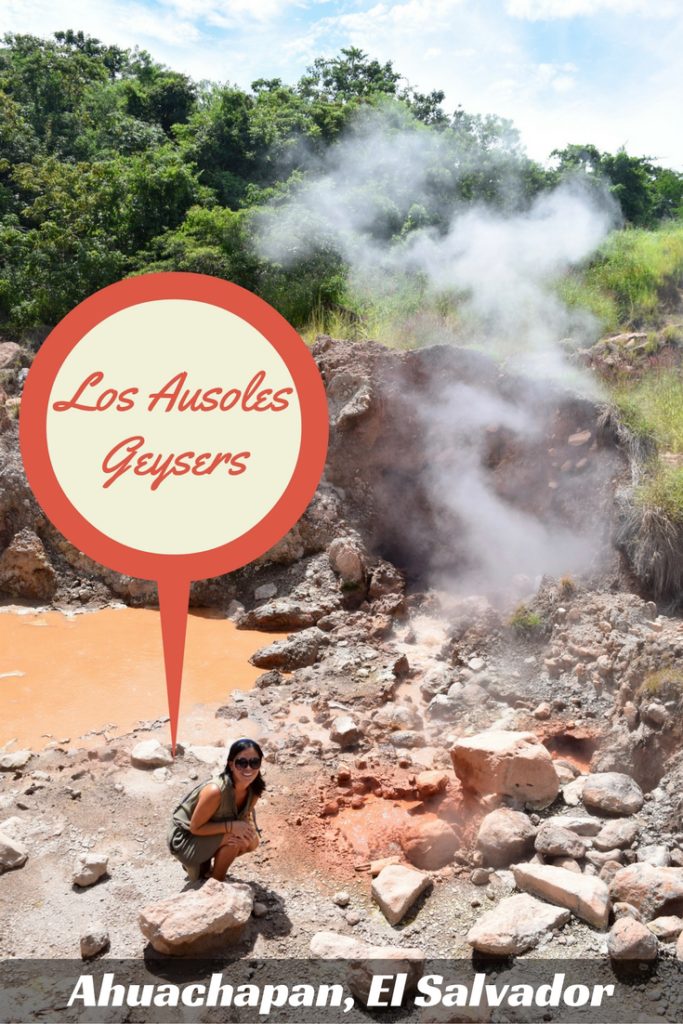 ***The Final Word – Ahuachapan is a pleasant town to explore Los Ausoles geysers, and can be used as a base for the Ruta de las Flores.***
Have you ever seen geothermal activity?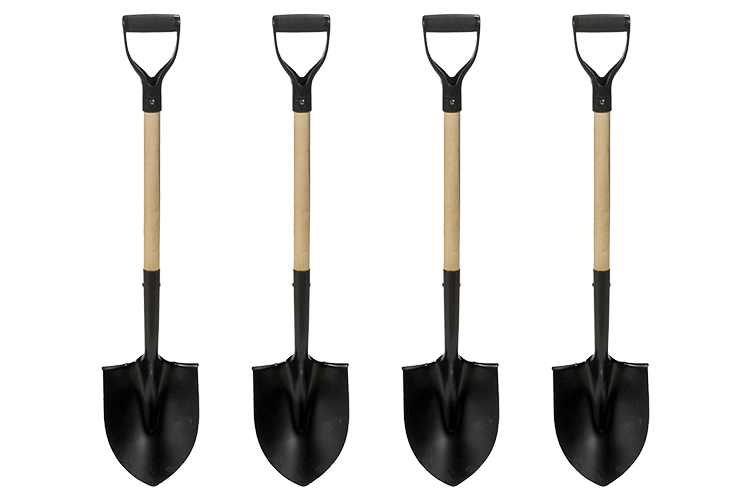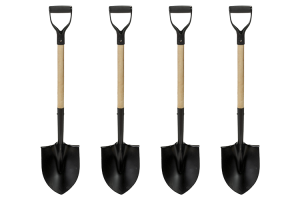 Easy DIY travel outside city centres using local transport
Visited in October 2016