Stay in the heart of Ahuachapan in a gorgeous 19th century building, with comfort & character – find out why La Casa de Mamapan is easily the best hotel in town.

Hotel La Casa de Mamapan has an unbeatable spot in Ahuachapan, El Salvador, located next to Nuestra Senora de Asuncion church & directly opposite Plaza Concordia, in the center of the city.
It's a large, historic property that has been in the same family for more than 150 years.
Here at DIY Travel HQ we found two giant El Salvadorean characters waiting to greet us at the door – say hello to Mama Nena & Papa Chepa!
Of course, don't forget to take a photo – they may just be the most photographed tourist attraction in Ahuachapan 🙂
The quirkiness continues inside the hotel, with antiques & collectibles to feast your eyes on as soon as you set foot inside.
The old suitcases & telephones in the reception area are utterly charming!
Next to reception, there is a sun-lit space filled with rocking chairs & old typewriters.
It's a lovely room to relax in & flick through the large coffee table books on the places to visit in El Salvador.
King Room at Hotel La Casa de Mamapan
We stayed in the King Room at Hotel La Casa de Mamapan, with an absolutely enormous bed – as you can see, it easily holds 4 pillows!
The bed was super-comfortable as well, which for us is the most important thing.
The blanket is quite thin so if you get cold at night like we do, ask the staff for an extra one.
The room was very spacious, and with the high ceilings & arched frame over the bed on the feature wall, it all felt very grand.
The decorations in the room are simple but it features everything that you need, plus more:
Air-conditioner
Wifi
LCD TV with Spanish cable
Table lamps
Hooks & hangers
Bookshelf
The bathroom is also roomy with plenty of towels & toiletries provided.
The shower is electric, with excellent hot water & water pressure.
We were impressed by the cleanliness of the room & the bathroom, which was well-maintained by the daily housekeeping.
The Charm of Hotel La Casa de Mamapan
Hotel La Casa de Mamapan is bigger than it looks, with rooms & hallways branching off in every direction.
We loved finding cute surprises around every corner 🙂
Salvadoran artworks share wall space with old family photographs, wine bottles dangle from the roof, vintage cameras are displayed alongside flower teapots… we adored all the little antique knick-knacks around the hotel.
Hotel La Casa de Mamapan features plenty of natural sunlight & green plants.
From couches to rocking chairs to, there are numerous areas you can relax in with a book or cup of coffee.
Services at Hotel La Casa de Mamapan
Hotel La Casa de Mamapan is a small boutique hotel, providing high quality amenities & services:
Wifi is available throughout the hotel
Free public parking on the street
Laundry: $5 for half a bag, $10 for a full bag
Breakfast, lunch & dinner available on request
Though they don't speak English, the staff are very friendly & will do their best to meet your needs.
Hotel La Casa de Mamapan also hosts events & functions, such as training workshops, business meetings, parties & weddings.
They have fully-equipped facilities, including indoor & outdoor spaces, a kitchen & large dining room hall.
Don't forget that the hotel is located next to Nuestra Senora de Asuncion church & Plaza Concordia, which makes it a very convenient place to get to & from.
Things to See & Do in Ahuachapan
As we mentioned, Hotel La Casa de Mamapan has the perfect location in Ahuachapan – from here, you can walk to all the attractions in town:
Iglesia Parroquia de Nuestra de Senora de la Asuncion
Plaza Concordia
Parque Central
Don't miss out on the Los Ausoles geothermal springs located just 5kms from Ahuachapan.
You can get there by local bus or enquire with reception for available tours or transfers.
Hotel La Casa de Mamapan Wrap-Up
If you like the convenience & variety of being in a big town, explore the Ruta de las Flores & surrounding region from Ahuachapan.
Ahuachapan is also the closest major town to the Las Chinamas border with Guatemala.
Hotel La Casa de Mamapan is easily the best choice in town for accommodation, with excellent rooms, quality amenities, charming environment & friendly customer service offering great value for money.
We don't hesitate to recommend Hotel La Casa de Mamapan & we look forward to staying there again on our next visit!
We recommend Booking.com as a trustworthy source of accommodation in El Salvador. Make a booking with our link for 10% off your stay.
Know Before You Go
Location: Pasaje La Concordia, Ahuachapan, El Salvador
Price: from $45.00
Website: Hotel La Casa de Mamapan
Did you enjoy reading La Casa de Mamapan: #1 Hotel in Ahuachapan?
Pin it and help others find it too!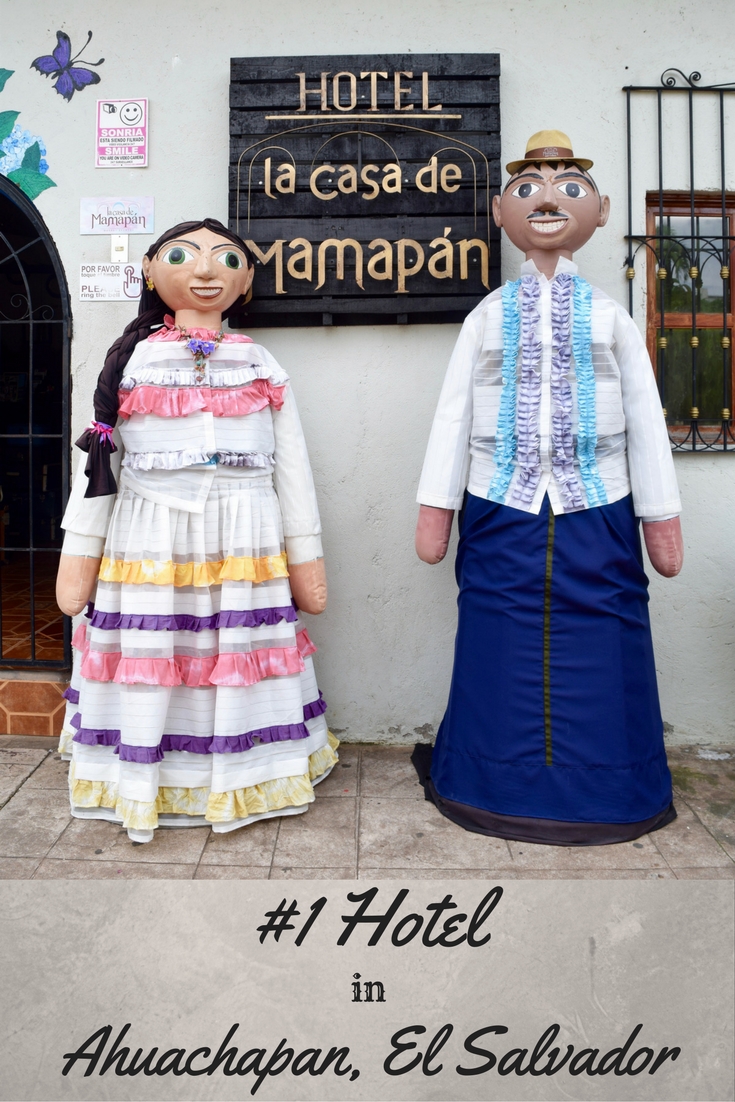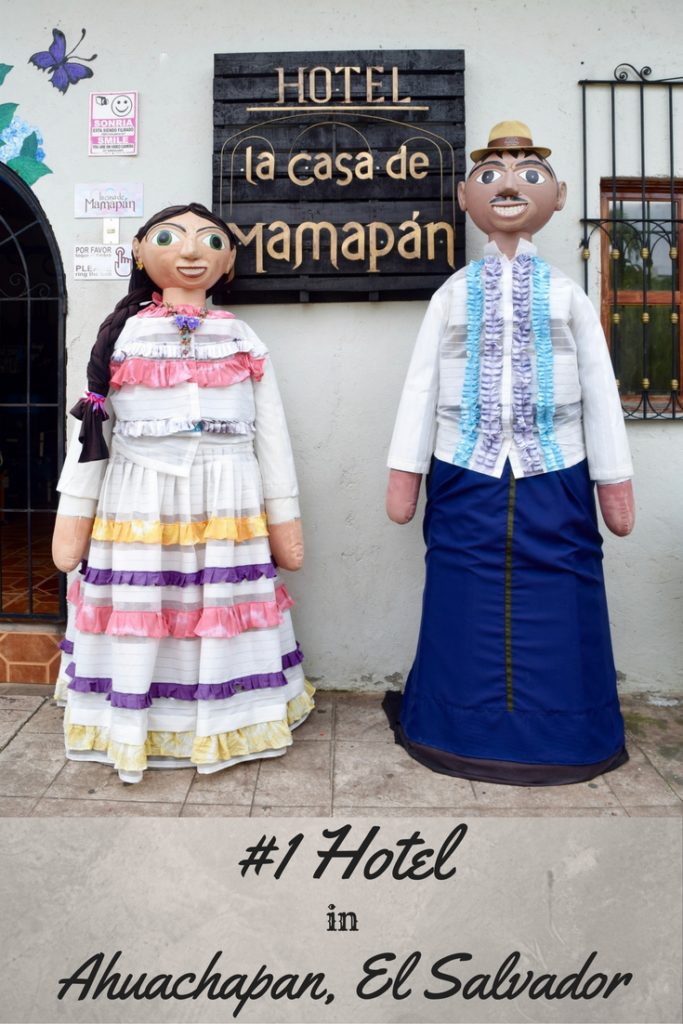 *** The Final Word – Looking for a hotel in Ahuachapan? Look no further than Hotel La Casa de Mamapan! ***
Have you visited Ahuachapan in El Salvador?
[put_wpgm id=178]
* Thank you to Hotel La Casa de Mamapan for hosting us!
* This post contains affiliate links, which means that we receive a small commission if you click on a link & purchase something that we have recommended – at no extra cost to you. This helps us to keep our site running so we can continue to provide free content. Thank you for your support!
Visited in October 2016