Travel is all about stepping out of your comfort zone & there are some things you can only do in Asia – find out the top 5 unique travel experiences in Indonesia for every bucket list!
Top 5 Unique Travel Experiences in Indonesia
#1. Hike-up a Volcano for Sunrise
Indonesia is a land of volcanoes – don't miss the opportunity to climb one of its incredible mountains, especially for sunriset.
And if you're going to make the effort, we here at DIY Travel HQ say: go large or go home!
Each has its own challenges & beauty but they are all very unique travel experiences in Indonesia.
 Our favorite volcano hikes are: 
* Don't forget to purchase travel insurance before any trip to Indonesia. We've been using World Nomads for over 10 years. It's the best-value provider we've found but there are other important things to consider. Check out our post and find out which of our claims were successful or denied.
#2. Explore the Ancient Ruins of Borobudur & Prambanan
Base yourself in Yogyakarta & explore the nearby Unesco World Heritage Sites of Borobudur & Prambanan.
Borobudur is the world's largest Buddhist temple, founded in the 8th century.
It consists of 6 raised platforms & 3 open circular terraces, topped by a central dome. There are thousands of sculptures depicting the life story of the Buddha.
Prambanan is the largest Hindu temple site in Indonesia & one of the biggest in Southeast Asia, also from the 8th century.
The complex features a collection of sculpted, vertical towers, unusual for Java at the time.
Both Borobudur & Prambanan have similar histories but are quite different in architecture & style.
Check out The Crowded Planet for more things to do in Yogyakarta!
Tour Options:
#3. Search for the Rafflesia Flower
Head into the jungles of Sumatra to search for the rare & elusive Rafflesia.
It's the largest flower in the world, found only in Sumatra & Borneo.
The Rafflesia can measure over 100 cm in diameter & also emits an overpowering smell of rotten flesh.
The easier place to find the flower is at the Batang Paluph Nature Reserve, near Bukittinggi.
Visit the Kopi Luwak House & arrange a guide to take you on a hot & sweaty trek through the jungle – good luck!
#4. Come Face-to-Face with Komodo Dragons
Take a boat trip out to Komodo National Park, the only place in the world where you'll find Komodo dragons.
They are the largest lizards in the world, averaging 2.5 meters in length & 90 kg in weight.
The easiest way to visit the park is on a snorkelling or diving tour from Labuan Bajo – Komodo National Park is also a world-class diving destination.
Most tours will take you to Rinca Island; be sure to arrive in the morning, when the Komodo dragons are the most active.
With a bit of luck, you're almost guaranteed to see one!
#5. Try a Cup of Kopi Luwak
Taste the world's most expensive coffee in Indonesia, straight from the poo of the civet cat!
In the Sumatra highlands, civet cats eat and fully digest coffee beans. Villagers & farmers collect its poo, which is then sold to coffee plantations to make Kopi Luwak.
Kopi Luwak can be found in cafes across the country but the best place to try it is at the Rafflesia Coffee House at Batang Palupuh Nature Reserve, near Bukittinggi.
Here, the coffee process is completely organic, local, traditional & sustainable.
The owner will give you a full presentation, after which you can sample a cup or two & also buy a bag to take home as a souvenir.
Check out Lonely Planet
for more travel inspiration in Indonesia!
Honourable Mentions:
Did you enjoy reading our list of Unique Experiences in Indonesia?!
Pin it and help others find it too!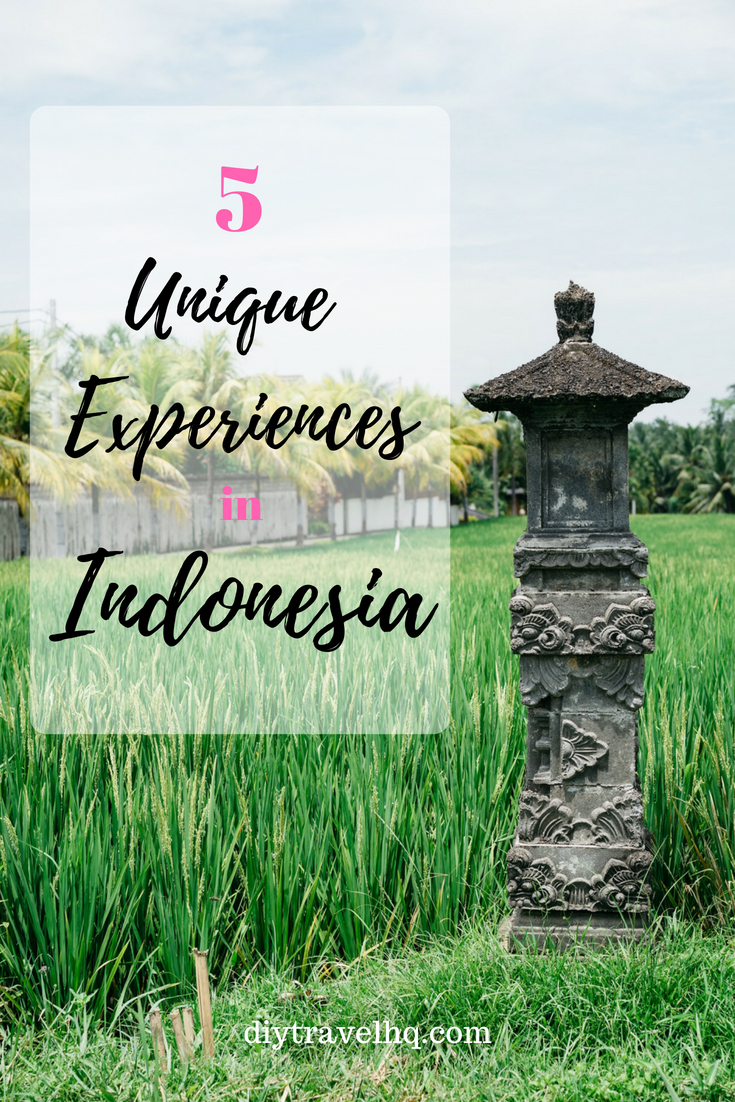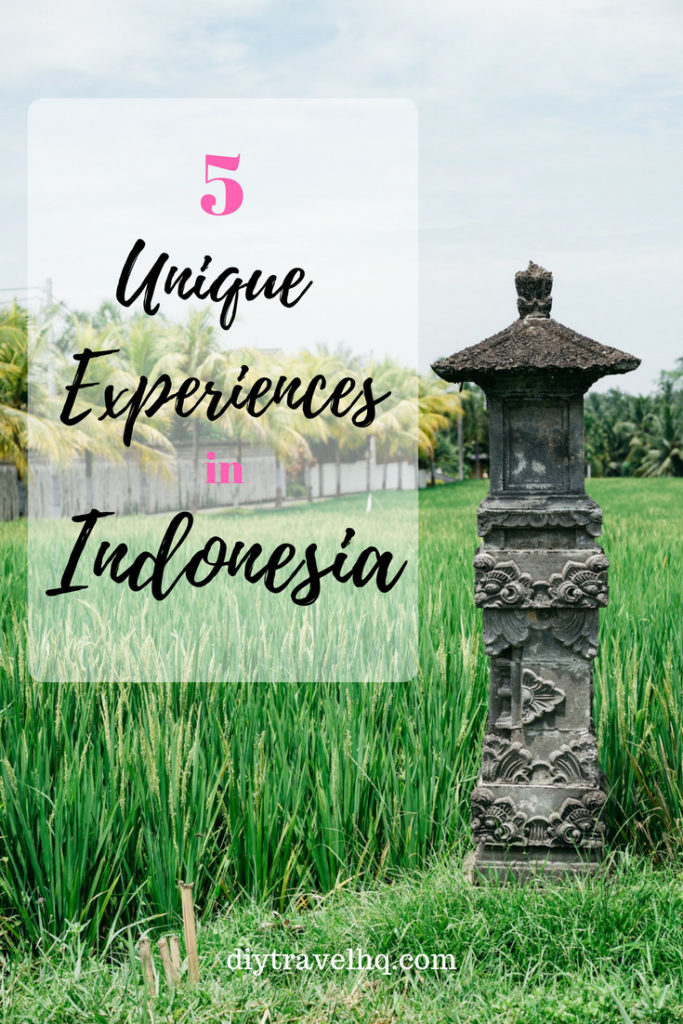 *** The Final Word – These experiences should be on every Indonesian itinerary! ***
What was your favorite travel experience in Indonesia?
Disclaimer: This post contains affiliate links which means that we receive a small commission if you click on a link & purchase something that we've recommended – at no extra cost to you. This helps us to keep our site running so we can continue to provide free content. Thank you for your support!