Indonesia is a land of volcanoes, many of which can be climbed – find out the Top 4 Volcano Hikes in Indonesia without a tour & how to avoid the entrance fees. This is the best of Indonesia hiking!
Best of Indonesia Hiking:
It's easy to hike Mount Bromo without a tour – but you'll have to start in the middle of the night. Aim to leave Cemora Lawang at around 3:00 am, taking the road from Cemara Indah Hotel towards Mount Penanjakan. After about an hour's hike, you'll reach Viewpoint #2, Seruni Point.
Continue walking uphill towards Viewpoint #1 at the top of the mountain. It's often crowded with tour groups that could spoil the views & experience. There's another lookout spot halfway between the two Viewpoints which is also an excellent spot to catch sunrise.
* Don't forget to purchase travel insurance before any trip to Indonesia. We've been using World Nomads for over 10 years. It's the best-value provider we've found but there are other important things to consider. Check out our post and find out which of our claims were successful or denied.

After sunrise, go back down the same way you came. Once you're back in Cemora Lawang, take the left fork on the main road, heading towards Cafe Lava.
You'll reach the main entrance of Mount Bromo National Park, where you'll have to pay the entrance fee of 320,000 IDR / $24.05.
Follow the road down to & then cross the Sea of Sand – you don't need a jeep but you could hire a horse for fun & to save some energy, the last section is a little tough going uphill in the sand.
From the base of Mount Bromo, take the steep set of stairs leading up to the crater. At the top, you'll find a huge open crater, blowing big clouds of white smoke, with 360 degree views of the whole park – that's what makes it one of the top 4 volcano hikes in Indonesia.
We recommend Lonely Planet's Indonesia Travel Guide
to help you plan your trip.
Know Before You Go
Mount Bromo entrance fee: 220,000 IDR / $16.55 on weekdays, 320,000 IDR /$24.05 on weekends & holidays
Start time: 3:00 am
Finish time: 8:30 – 9:00 am
Level of difficulty: Easy – Intermediate
How to Avoid the Entrance Fee
To avoid the entrance fee, you can argue with the guards at the entrance, that you already paid for it at the start of the Mount Penanjakan trail – that's what we did here at DIY Travel HQ. There is also a route at the back of the Cemara Indah Hotel, which locals use to enter Mount Bromo for free.
Mount Ijen can be climbed without a tour but getting there independently is very difficult, so you will need to organise private transport.
If you're staying in Banyuwangi, you'll need to leave between 12:00-1:00 am. The road to the base of the mountain is now quite well paved, most or all of the way.
Buy your entrance ticket for 150,000 IDR / $11.30 & wait for the gates to open, usually around 2:30 am. The trail is dusty & steep the whole way up, you should reach the top of Mount Ijen in around 75 minutes.
Check our our outdoor packing list to find out what you should bring on your Indonesia volcano hike.
Then you'll need to go down into the crater, which is another steep & rocky climb. Be careful in the dark, as there are many other tourists & miners going in both directions, in a tight, dangerous space.
Hiking Mount Ijen is definitely one of the most unique experiences in Indonesia…
Top 5 Unique Experiences in Indonesia
Travel is all about stepping out of your comfort zone & there are some things you can only do in Asia – find out the top 5 unique travel experiences in Indonesia for every bucket list!
Read more
Once you're near the floor of the crater, you'll see the famous blue flames – they're the result of volcanic gasses escaping from ceramic pipes.
It's one of the many unforgettable moments on the Mount Ijen that makes it on of the ultimate highlights of hiking in Indonesia.
The volcano hike is challenging & emotional – the sulphuric gas in the crater is suffocating & seeing the miners carrying 70-90 kg of rock up & down the mountain is heart-breaking.
Know Before You Go
Mount Ijen entrance fee: 150,000 IDR / $11.30
Transport from Banyuwangi: 150,000 IDR / $11.30 per person, private car. 1 hour & 15 minutes drive
Start time: 12:00 midnight
Finish time: 9:00 am
Level of difficulty: Intermediate
Tour option: Mount Ijen Overnight Trip from Bali 
How to Avoid the Entrance Fee
There is no easy way to avoid the entrance fee at Mount Ijen if you want to be at the top for sunrise.
Hiking Mount Rinjani without a tour is tough but possible & entirely legal, even if there are signs up saying that you need a guide. The downside is that you'll need to carry all your own equipment, clothing, food & water for the overnight climb.
Start at the headquarters to the Mount Rinjani National Park, where you'll be required to sign in & pay the entrance fee of 150,000 IDR / $11.30. Then, you're officially ready to begin the 2000 meter climb!
The path is well-marked but it's uphill all the way, without really levelling off at any time. Along the way, you'll pass several rest shelters where you can take a break, at approximately 1, 2, 4, and 6 hours into the hike.
Close to the very end, you'll reach the tree line where the mountain becomes a roaming grassland. Scramble uphill for about 30 minutes, until you reach a stretch of boulders & finally, the crater rim of Mount Rinjani.
It's a long & difficult hike but try to arrive as early as possible, because the limited camping space at the top fills up fast with tents from tour groups.
The next morning, open up your tent to an incredible sunrise over Mount Rinjani's crater – one of the reasons why it's one of the top 4 Indonesia volcano hikes.
Know Before You Go
Mount Rinjani entrance fee: 150,000 IDR / $11.30
Time: 2 day return trip; 7-8hrs to the crater rim
Level of difficulty: Intermediate
How to Avoid the Entrance Fee
The Mount Rinjani National Park headquarters does not seem to be staffed in the afternoon – you could start the trail later in the day & avoid paying the entrance fee. Camp at the base for 1 night (there are a few spots past the entrance), before hiking up the next morning.
#4. Mount Kelimutu
It's easy to hike Mount Kelimutu without a tour – you just need to find a way to get to the base.
Most guesthouses can organise a private car with a driver but you can also get there by jumping on shared truck, hiring an ojek (motorbike taxi), renting your own motorbike or walking the 10 km from Moni.
Buy an entrance ticket for 150,000 IDR / $11.30 at the parking lot – the path to the summit starts from here. Mount Kelimutu is indeed one of the best places to visit in Indonesia.
There are stairs for most of the way, leading up to a viewpoint where you can see all three coloured-crater lakes of Mount Kelimutu. Depending on when you visit, the lakes can range from blue to green, brown, red, black or white.
Look out for foraging wild monkeys, as you wait for the sun to clear for the best views & photos – you won't want to miss capturing the best of Indonesia hiking.
Know Before You Go
Mount Kelimutu entrance fee: 150,000 IDR / $11.30 on Monday to Saturday, 225,000 IDR / $16.90 on Sunday
Time: 2-3 hours
Level of difficulty: Easy
How to Avoid the Entrance Fee
You can avoid the entrance fee by arriving at Mount Kelimutu before it opens at 4am. It's best to do this without anyone knowing, so you shouldn't organise any transport but instead walk – however, it's 10 km from Moni in the middle of the night, through forests & rural villages.
Did you enjoy reading our list of the Top 4 Volcano Hikes in Indonesia?!
Pin it and help others find it too!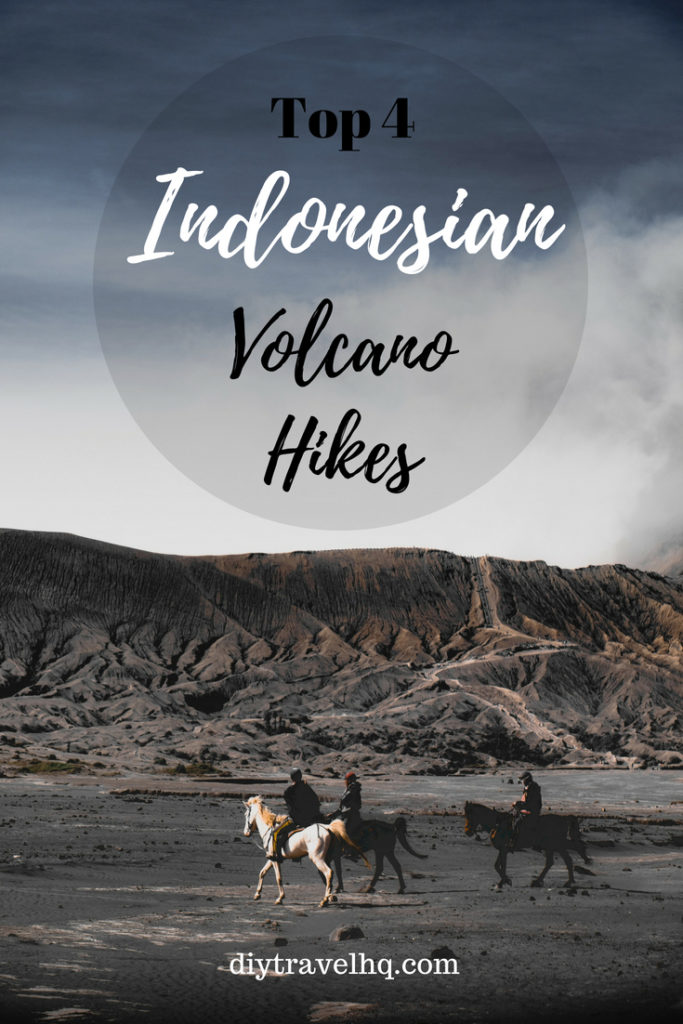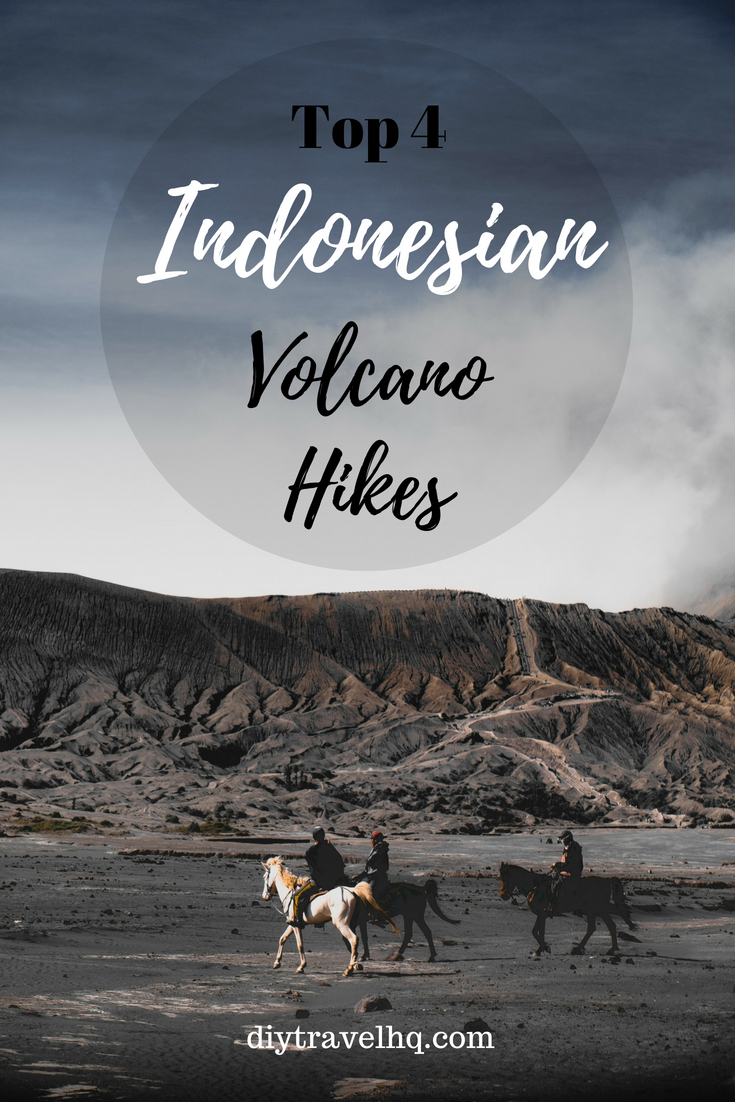 [put_wpgm id=18]
*** The Final Word: Ticking off the top 4 Indonesia volcano hikes without a tour should be at the top of every bucket list! ***  
Which volcanoes did you hike in Indonesia?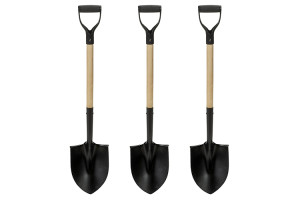 Accessible DIY travel to more distant locations via multiple connections or longer forms of public transport
Hiked in September-October 2015
Disclaimer: This post contains affiliate links which means that we receive a small commission if you click on a link & purchase something that we've recommended – at no extra cost to you. This helps us to keep our site running so we can continue to provide free content. Thank you for your support!