The cliffside, beach setting of Tulum is so spectacular that even the crowds can't ruin in – find out what not to miss and how to get to Tulum ruins.
History
Tulum ruins are located atop 12m high cliffs, along the Caribbean Sea – its name means "wall" in the Yucatan Mayan dialect.
This strategic position made Tulum an important port town during the height of the Post-Classic period between 1200-1521 AD.
Tulum was one of the last cities built by the Maya & one of the last to be abandoned, 75 years after the Spanish conquest.
* Don't forget to purchase travel insurance before any trip to Mexico. We've been using World Nomads for over 10 years. It's the best-value provider we've found but there are other important things to consider. Check out our post and find out which of our claims were successful or denied.
Tulum Ruins Guide
House of the Cenote (Case del Cenote)
This is the first structure you'll come across at Tulum ruins.
This building was a house that was built on limestone. It was extended with a room placed directly over a cenote.
Bones here found here too, so it may also have been used as a crypt.
Temple of the Wind God (Templo del Dios del Viento)
This temple stands on top of a waterfront bluff.
Temple of the Paintings (Temple de las Pinturas)
This 2-storey temple has the most decorative elements of any in Tulum.
It's covered with murals & relief masks, not all of the details can be seen.
This is the biggest building on the site and our favourite here at DIY Travel HQ.
It was the most important temple at the height of Tulum, when it was also brightly painted & decorated with sculptures.
On both sides of the stairs there are two small temples with inner altars for offerings. Major religious ceremonies were held in the upper temple.
The most important people in Tulum lived in this building.
It consists of several large rooms with benches along the walls. In the back there is a sanctuary where religious ceremonies were also performed.
Temple of the Descending God
This temple takes its name from a sculpture of a winged figure falling from the sky.
500 years ago, it was decorated inside & out with numerous representations of Gods in mural painting.
Tulum Beach
After exploring visiting Tulum ruins, head down to stunning beach below.
It's very hot in Tulum so cool down in the turquoise-green Caribbean sea & soak in the views around you & of the ruins above.
There are no toilets or change rooms on the beach or nearby, so wear your swimsuits under your clothes.
Overtourism
Tulum Ruins is extremely popular with tourists – it's the 3rd most visited archaeological site in the whole of Mexico, after Teotichuacan & Chitzen Itza.
Naturally it's also one of the best places to visit in the Yucatan.
There's no escaping the crowds, whether you're on land or down on the beach.
It doesn't help that Tulum is quite a small site, making it feel even more cramped – but you can't miss visiting Tulum ruins.
The approach to the ruins is lined with vendors & hawkers selling souvenirs, food & drinks.
Despite the crowds, Tulum is still worth a visit – there's a reason for its popularity & that is the spectacular setting.
The ruins are nice but not as impressive as many others in Mexico, such as Monte Alban and El Tajin.
Plan to arrive as early as possible, before the tour buses descend. An afternoon visit may also be a good idea.
Tulum tour options:
How to Get to Tulum Ruins
Tulum ruins are located 4km from Tulum Village.
It can be reached by foot, taking around 1 hour. You'll be walking along the highway the whole way, without any shade & Tulum is very hot & humid.
A taxi from Tulum Village to Tulum ruins costs around M$50 pesos / $2.80.
There are no local buses & colectivos will charge almost the same price as a taxi. You could also try hitchhiking.
For more information check out Lonely Planet's Mexico Travel Guide
to help you plan your trip or read our next post…
Tulum on a Budget
Check out our Tulum Budget Travel Guide featuring information & prices on accommodation & transport in Tulum Village
Read more
Know Before You Go
Tulum Ruins Entrance Fee: MN$65 pesos / $3.60
Toy Train: MN$20 pesos / $1.10 return to ride the toy train from the entrance to the site (or it's an easy walk)
Opening hours: 8:00 am to 5:00 pm every day
Did you enjoy reading our guide to the Tulum Ruins?!
Pin it and help others find it too!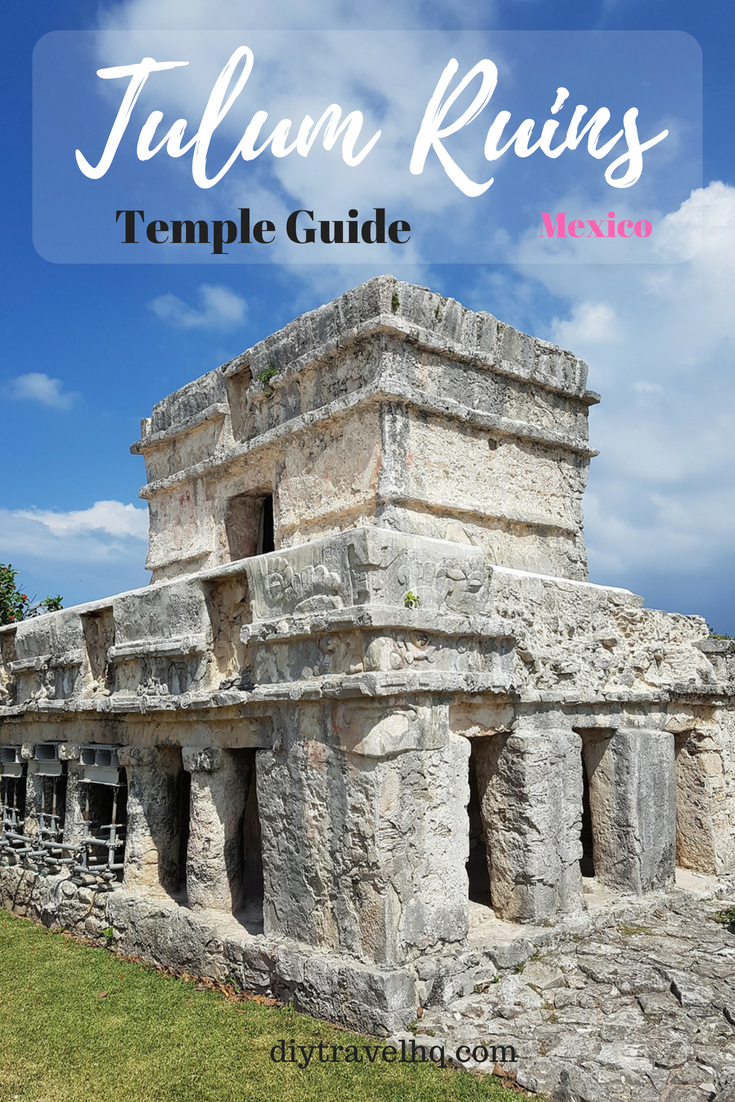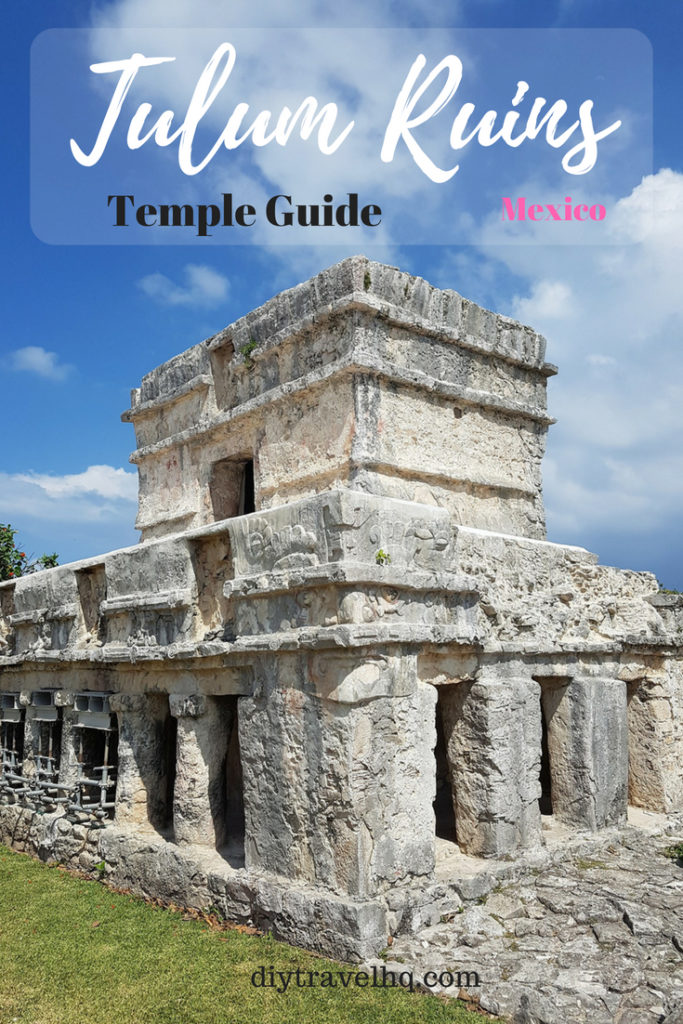 [put_wpgm id=155]
*** The Final Word – Brave the crowds & the heat for the most scenic Maya ruin you will ever see! *** 
How do you rate Tulum, compared to other ruins in Mexico?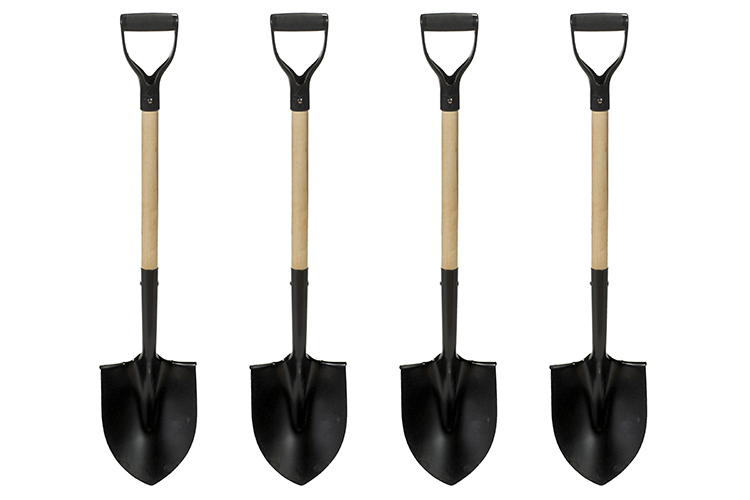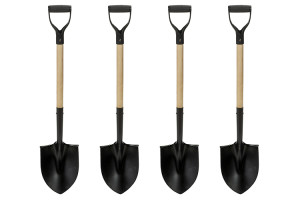 Easy DIY travel outside city centres
* This post contains affiliate links, which means that we receive a small commission if you click on a link & purchase something that we have recommended – at no extra cost to you. This helps us to keep our site running so we can continue to provide free content. Thank you for your support!
Visited in June 2016