Travelers can be hard to shop for when space and weight are at a premium. Check out our ultra-practical list of Christmas gifts for Backpackers under $40!
Christmas Gifts for Backpackers
#1 LifeStraw Go
At the very top of our gift list is the LifeStraw Go Water Filter Bottle
.
This water filtration bottle removes 99.9999% of waterborne bacteria. Drink virtually any water around the world, and feel secure doing so.
Applications include tap water in developing nations and freshwater sources when hiking. Why wait 40 minutes for water disinfection tablets to work when you can drink straight away?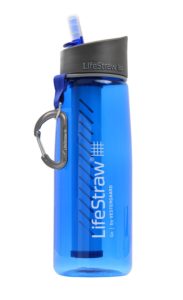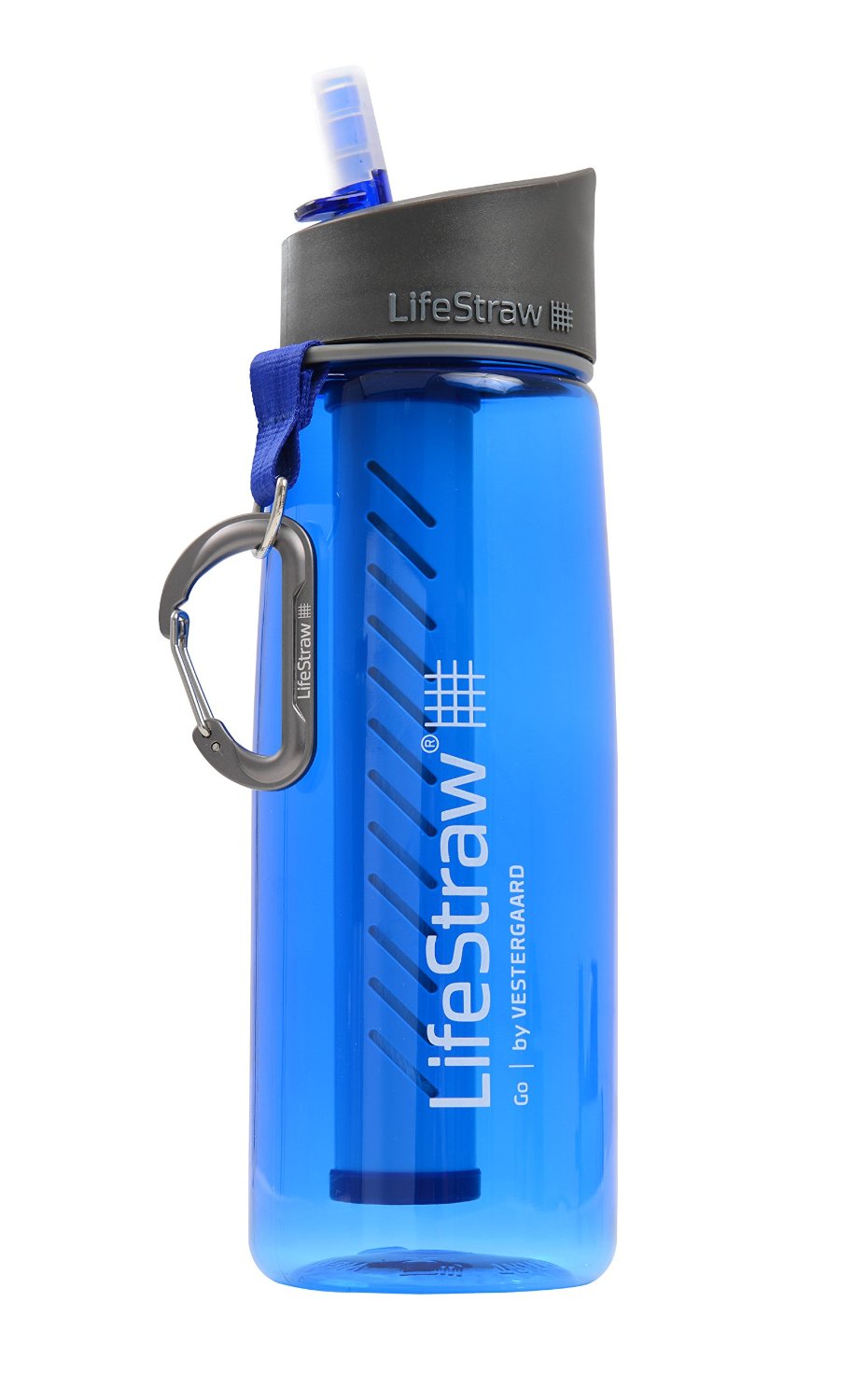 LifeStraw Go can filter 264 gallons (1,000 liters), which saves you money, the environment with reduced plastic bottles, and weight when hiking as you no longer need to carry all the water you plan to drink.
What makes LifeStraw Go better than previous products we have tried is the easy flow of water.
Other water bottles with filters required a lot of effort to suck the water out. That is not the case with LifeStraw Go.
Throw in a convenient carabiner clip
for securing to a backpack, and drinkable water is only an arm's reach away.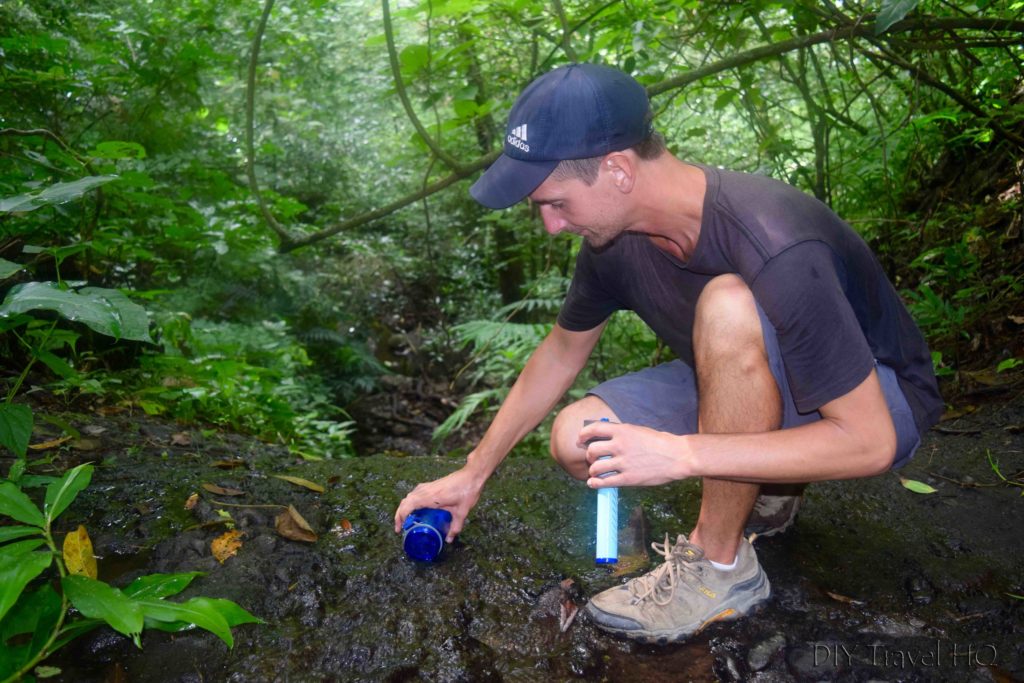 #2 Shacke Pak 5 Set Packing Cubes
When is more actually less? When you use the Shacke Pak 5 Set Packing Cubes
!
By adding an extra element to your backpack you are actually able to store more things in a smaller space. Depending on your priorities, you can pack more clothes, or better yet…reduce the size of your bag!
On my first month-long backpacking trip to Europe I used large compression bags to hold my clothes. Huge mistake! Not only was it still a pain to find the piece of clothing I wanted, but the crinkling noise would wake everyone up in the dorm.
Now everything is nicely organized in packing cubes.
* Don't forget to purchase travel insurance before any trip. We've been using World Nomads for over 10 years – it's the best-value provider we've found & we've also never had any issues on the few occasions we've had to make a claim.
Thankfully before I started my next long trip I bought Rick Steeves packing cubes. They are high quality, but mesh all around and have no structure.
That is why I now prefer & recommend Shacke Pak as one of the best Christmas gifts for backpackers.
& You get 4 medium packing cubes (3.75" x 9.75") and 1 small packing cube (11″ x 6.75″). Both are 4" deep so you can fit everything you need inside. I currently travel with only 2 medium packing cubes, but the others are great for gifts if not needed.
You can depend on the quality as the X pattern on top helps reinforce the packing cube. Shacke Pak also uses YKK zippers so you won't run into any issues there.
The last important feature is the mesh on top that allows your clothes to breathe should they be damp.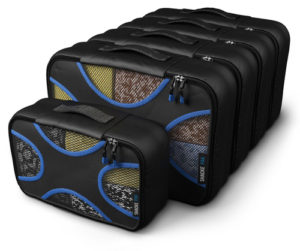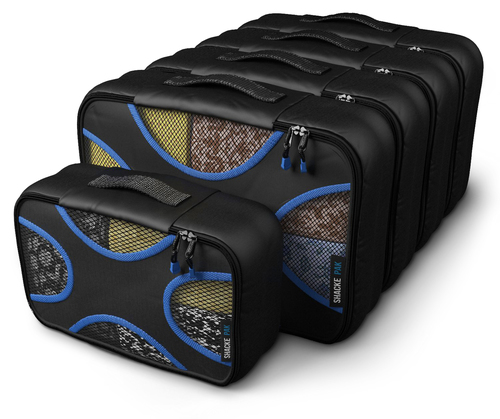 #3 ECOdept Microfiber Travel Towel
One of the first things backpackers will buy before starting their trip is a microfiber towel as it saves much needed space, weight, and dries 2x as fast.
We like the ECOdept Microfiber Travel Towel
 due to putting together all the features we like.
This microfiber travel towel has a nice texture, and at 52" x 32" you can wrap it around your entire body as you run to the shared showers in hostels.
We also like that it has a loop for hanging & drying.
In case you need to move locations shortly after a shower, it has a breathable bag to allow some drying and to keep it clean in your backpack.
The antibacterial microfiber also helps keep it smelling fresh between washing.
It also has a corner zipper to keep room keys in during your shower, or valuables if using it as a beach towel.Most importantly, it only weighs 8 oz.
For a limited time, it also comes with a bonus 24" x 15" hand towel.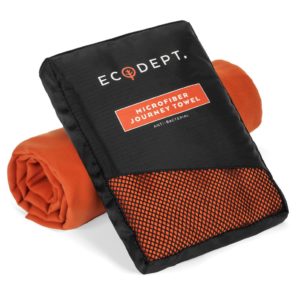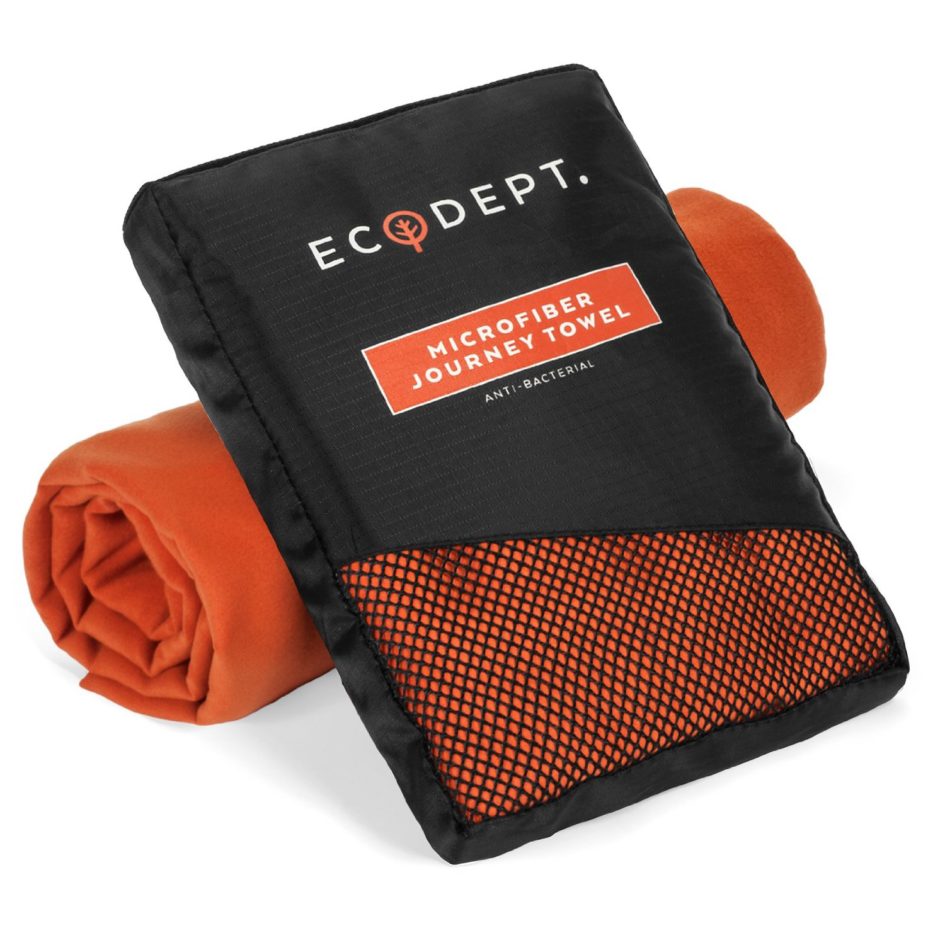 #4 JOBY GorillaPod Tripod
Some of us have gotten pretty good at taking selfies by extending our arm, or using selfie-sticks.
However, you are usually limited to a certain number of poses since a quarter of your body has to control the camera/phone.
If you want more freedom with your selfies, then a JOBY GorillaPod Tripod is the answer.
Instead of trying to balance your point-and-shoot camera using sticks and rocks, or other natural objects, you can adjust the GorillaPod tripod legs to fit your surroundings.
Another option is to wrap the flexible tripod legs around a branch or pole for interesting new photos.
The most important thing when selecting a GorillaPod is choosing the correct one for the weight of your camera.
This model covers point-and-shoot cameras up to 11.5 oz, but may work best with 9.5 oz or less based on reviews.
You can also purchase adapters for use with action cameras and smartphones such as this GoPro Tripod Mount
.
We also recommend the Vastar Universal Smartphone Tripod Adapter
since it can rotate both horizontally and vertically.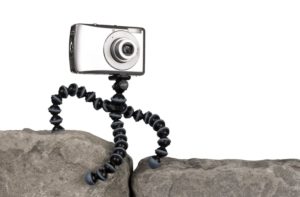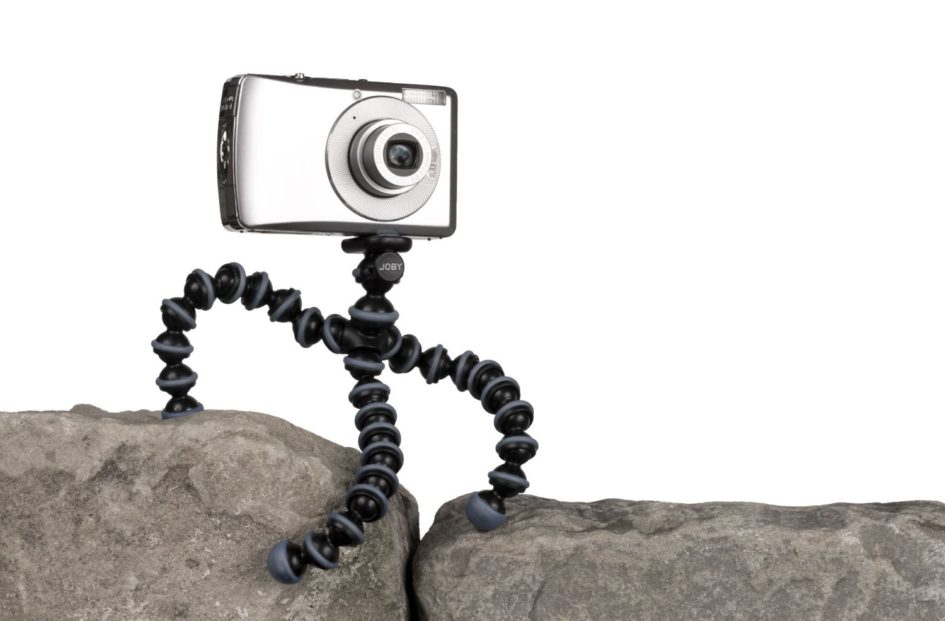 #5 New Outlander Lightweight Daypack
When traveling it is always nice to have a reliable daypack to keep a guidebook, LifeStraw Go, snacks, and hide your camera between attractions.
We have been traveling with the New Outlander Lightweight Daypack
for roughly a year, and have been happy with it so far.
20L is the perfect size for taking just the necessities you need each day, and it has ample compartments to separate items.
The large interior fits most items, while the larger front pocket can hold a guide book, and small one can keep loose items.
There are also two mesh side pockets that are perfect for LifeStraw Go, tissue packets, or anything else.
Inside is the pocket that the daypack can fold into, but also serves as a secure location for small valuables.
The dual zippers are reliable, and can be locked together when stored in dorms or on busy streets.
Most importantly, the cushioned mesh straps keep the daypack comfortable all day and wicks moisture away.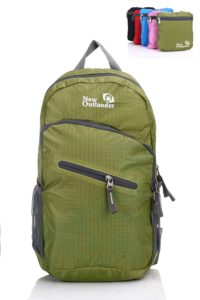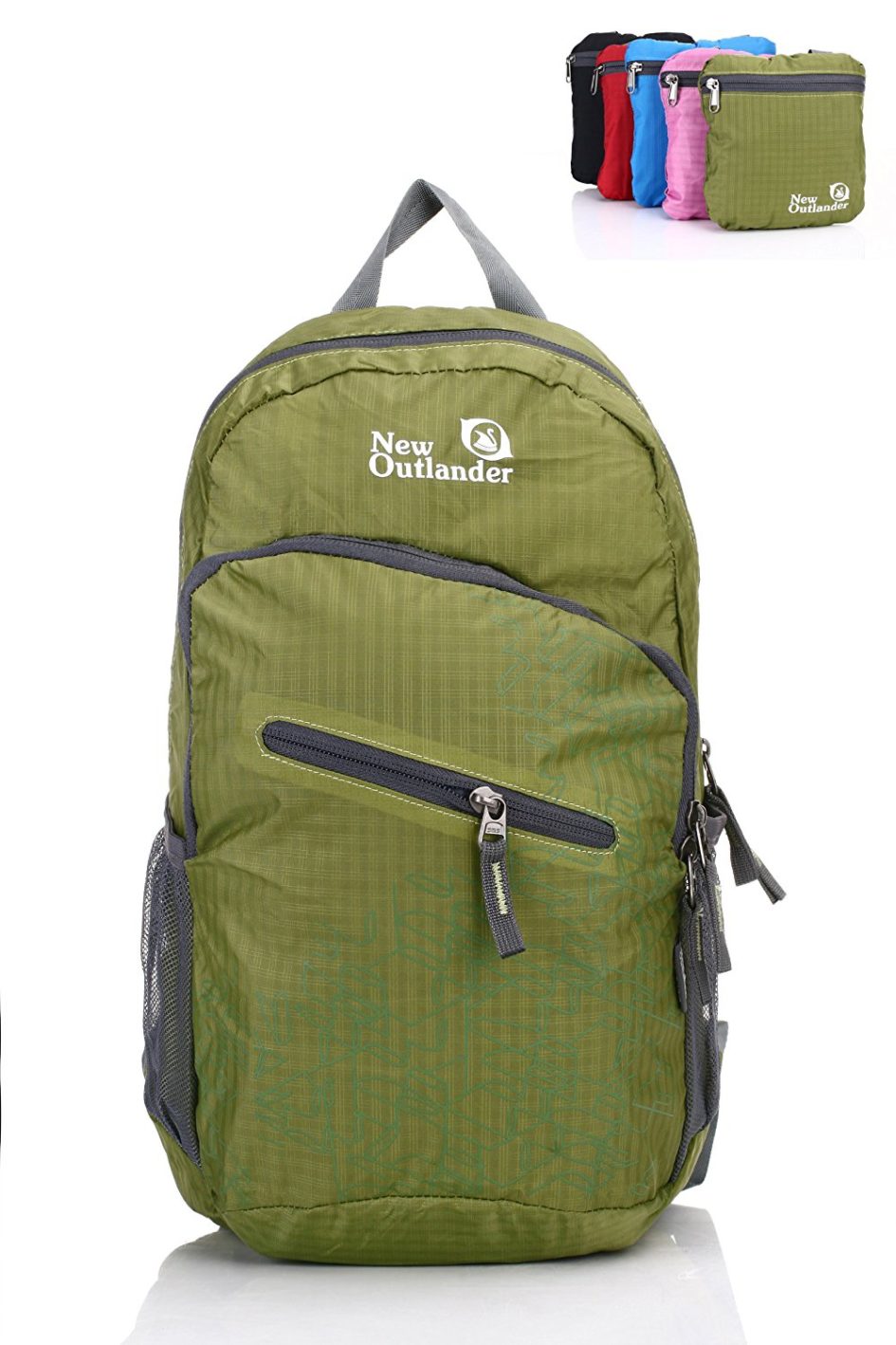 #6 Cressi Snorkel Set with Mask & Tube
One of the activities we enjoy most while backpacking is snorkeling and diving, which is why we travel with our own sets.
It also allows you to save $3-10 for rental each day, and you know the quality as well.
The Cressi Snorkel Set with Mask & Tube has all the features we need in a mask and snorkel. These include:
Silicone Mask Skirt for increased fit
Shatter Resistant Tempered Glass
Anti-fog Lens for better visability
Dry Top Snorkel that prevents water from entering the snorkel

No-frame design that reduces weight and provides one of the largest fields-of-view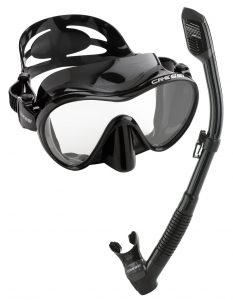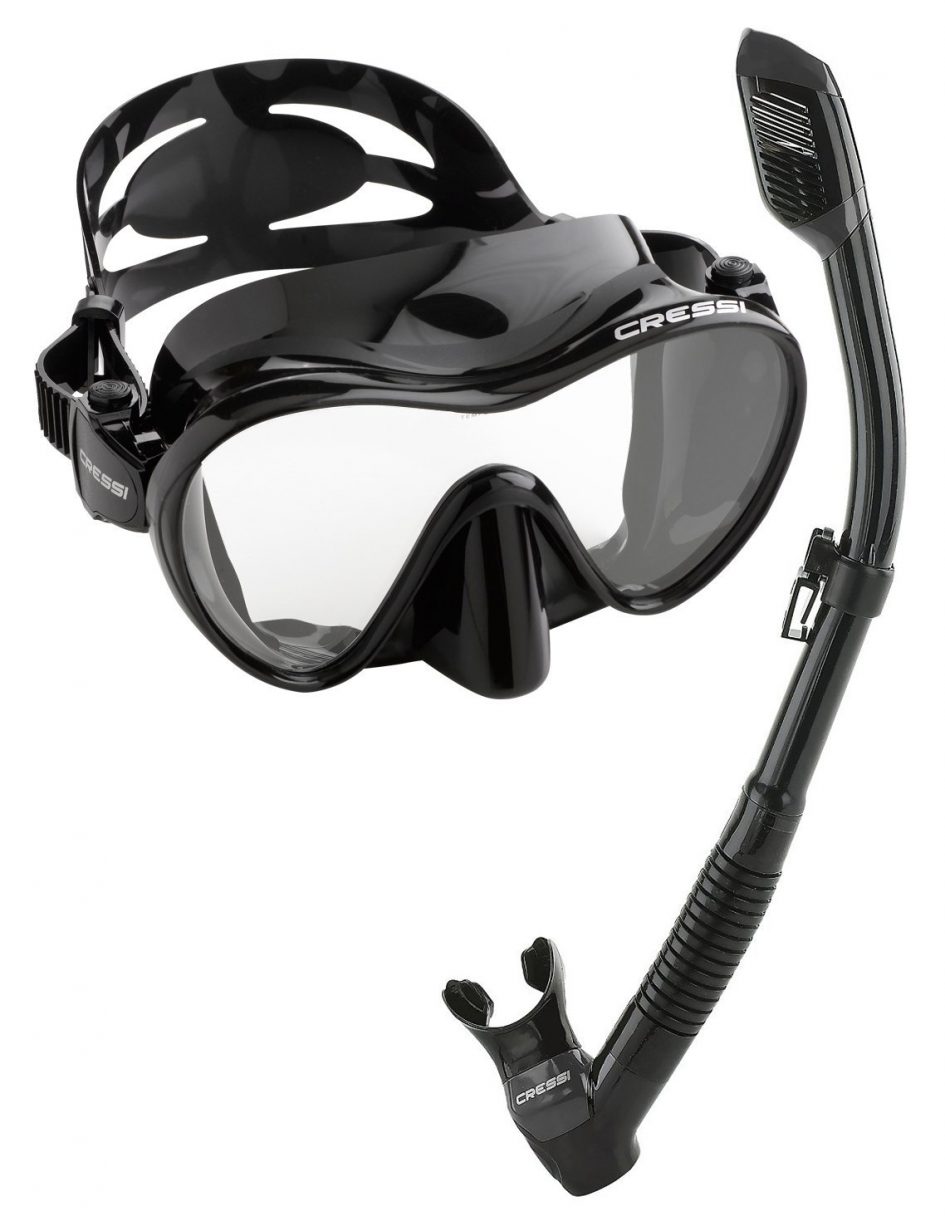 #7 Sea to Summit Ultra-Sil Nano Dry Sack
If you are a water rat or just want lightweight protection from rain, then this Sea To Su
mmit Ultra-Sil Nano Dry Sack is perfect for you.
We use ours when we visit the beach, go diving or any boat trip, see waterfalls, go hiking, and even for storing laundry.
No matter what you want to keep dry, this lightweight bag will do it as long as you don't submerge it.
Simply roll the bag down and clip the buckle to create a watertight seal.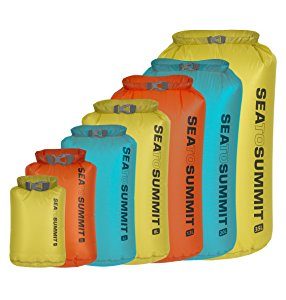 #8 JOTO Universal Waterproof Smartphone Case
If you don't quite need a dry bag but still want protection for your smartphone, then consider buying a JOTO Universal Waterproof Case
.
It not only keeps water out, but also sand and dirt while still being able to use the touchscreen and take pictures.
Make sure you do a test using paper to verify you know how to properly seal the soft case before venturing out with your new snorkel set.
A smartphone case makes our list of Christmas gifts for travelers as well as an affordable stocking stuffer!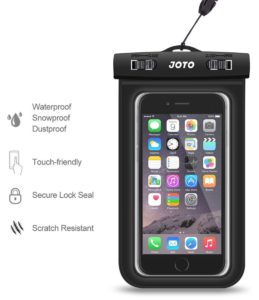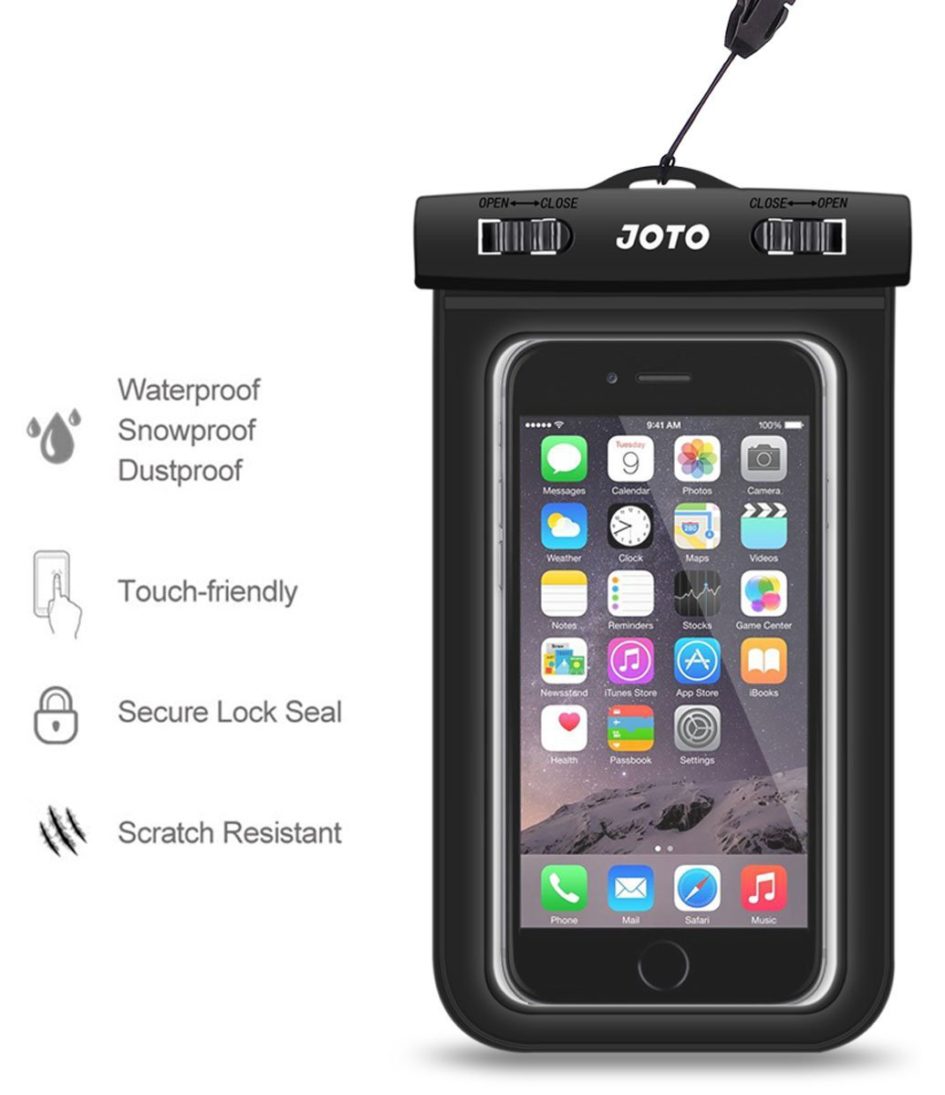 #9 SEA-Band Anti-Nausea Wristbands
Despite my best efforts, I get motion sick with choppy waves and some amusement park rides.
The Sea-Band Anti-Nausea Wristbands
apply pressure to acupuncture points that help alleviate sea sickness.
I haven't tested these thoroughly, but they have worked a handful of times so far.
They beat taking pills that make you tired straight away.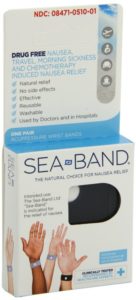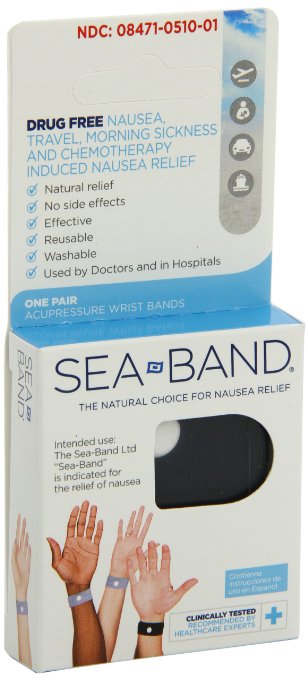 #10 MPowered Inflatable Solar Light
If you like to camp a lot, then the MPowerd Inflatable Solar Light
 is a great portable light.
Simply leave it in sunlight for 7 hours, and you can get 12 hours of light from the LEDs.
When not in use, it folds down to a compact size and weighs only 4.4 oz.
We think that solar lights make surprising & fun Christmas gifts for travelers!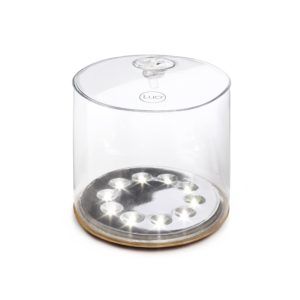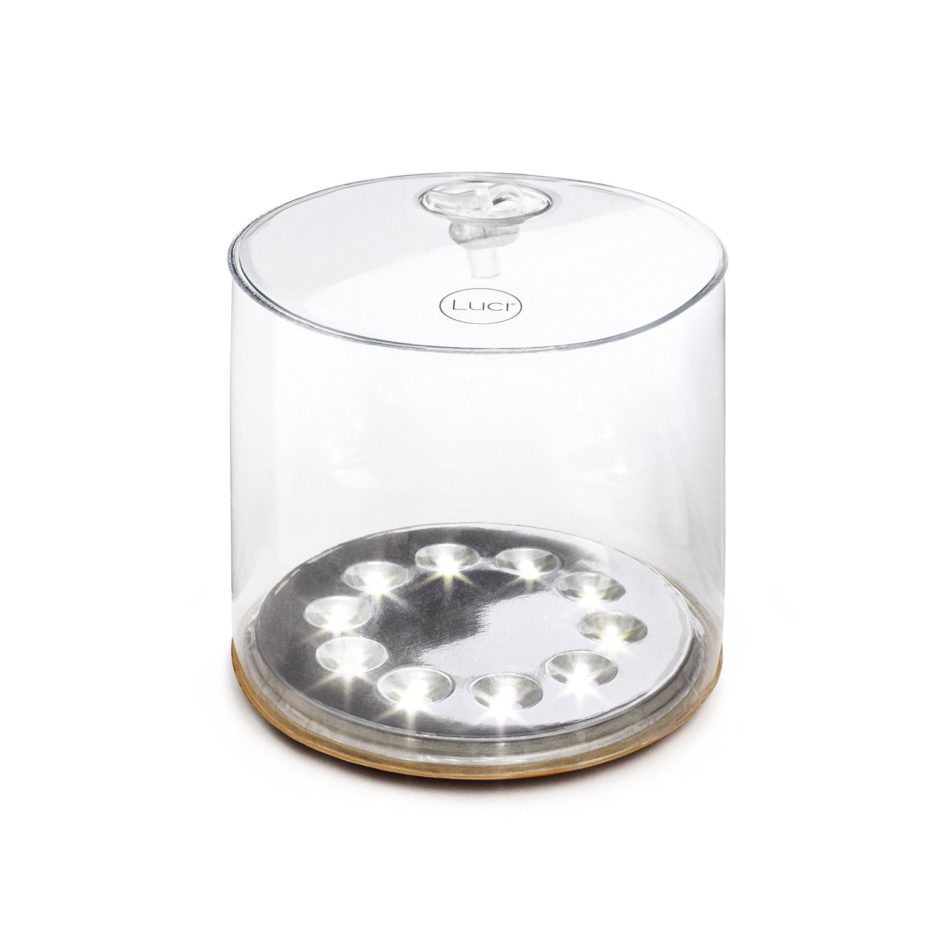 #11 Anker Compact Power Bank
With almost all devices now being powered by usb cables, an Anker Compact Power Bank
is a great way to charge your electronics on the go.
Sometimes our days put more strain on the batteries, and you need a boost to finish exploring a city.
Other times you may be hiking for multiple days, but still need GPS.
You can also charge this inexpensive device in a hostel dorm instead of leaving your smartphone behind.
#12 International AC Plug Adapter Set
Yes, I know that an International AC Plug Adapter Set
might be lame, but they make practical gifts.
There are many all-in-one plug adapters, and most even include dual usb ports too.
However, I find the all-in-one plug adapters bulky and unreliable.
Who wants to pay more for usb ports that won't work for long?
We also find that they prevent other plugs from being used due to sheer size, and often fall out of sockets from weight balance issues.
For that reason, I like streamlined AC plug adapters that I can also leave some behind if I won't need them for a particular trip.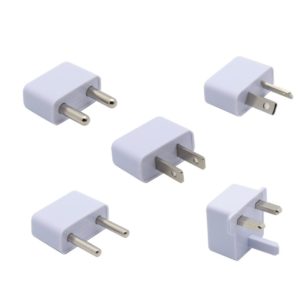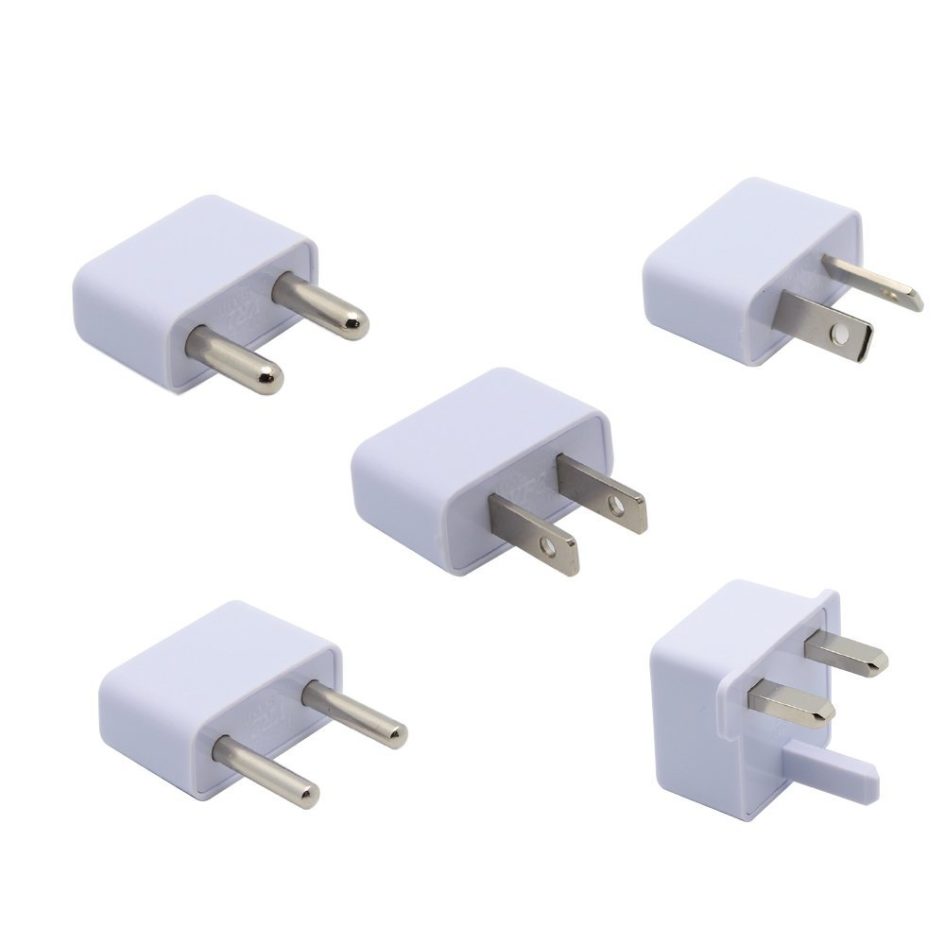 #13 Anker USB Wall Charger
As I mentioned earlier, almost everything today is powered by USB.
Instead of carrying multiple AC plug adapters, consider having just an Anker USB Wall Charger
. This version is traveler friendly with international voltage compatibility.
Not only does it have a compact design, but it is intelligent enough to charge different devices at their optimal level.
That means you spend less time charging, and more time enjoying your devices and seeing the world.
In order to minimize your charging time, we recommend the Anker 3ft Micro USB Cable
, 6 ft Micro USB Cable, or Anker 6ft Type C USB Cable
.
These cables have durable, gold plated connectors that speed up charging and allow data transfer at 5Gbps.
The tangle free nylon cord is also nice so you can take it out of your backpack and start using it right away.
Consider getting the Anker 6ft Micro USB Cable
 or Anker 6ft Type C USB Cable
 so you can use your device comfortably while charging.
#14 PEAK Money Belt with RFID Blocking
Crooks no longer need to physically rob you in order to leave your pockets empty.
They can now steal your credit card and passport information just by being in close proximity to you.
That is why it is more important to protect your digital data than ever.
Wearing a money belt with RFID blockers built in helps reduce your chances of being targeted, while also protecting the physical assets.
The PEAK Money Belt with RFID Blocking
is comfortable, has a double-release safety buckle, wicks moisture away from your body, and has YKK zippers for durability.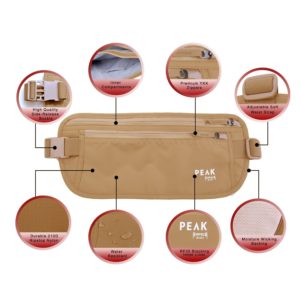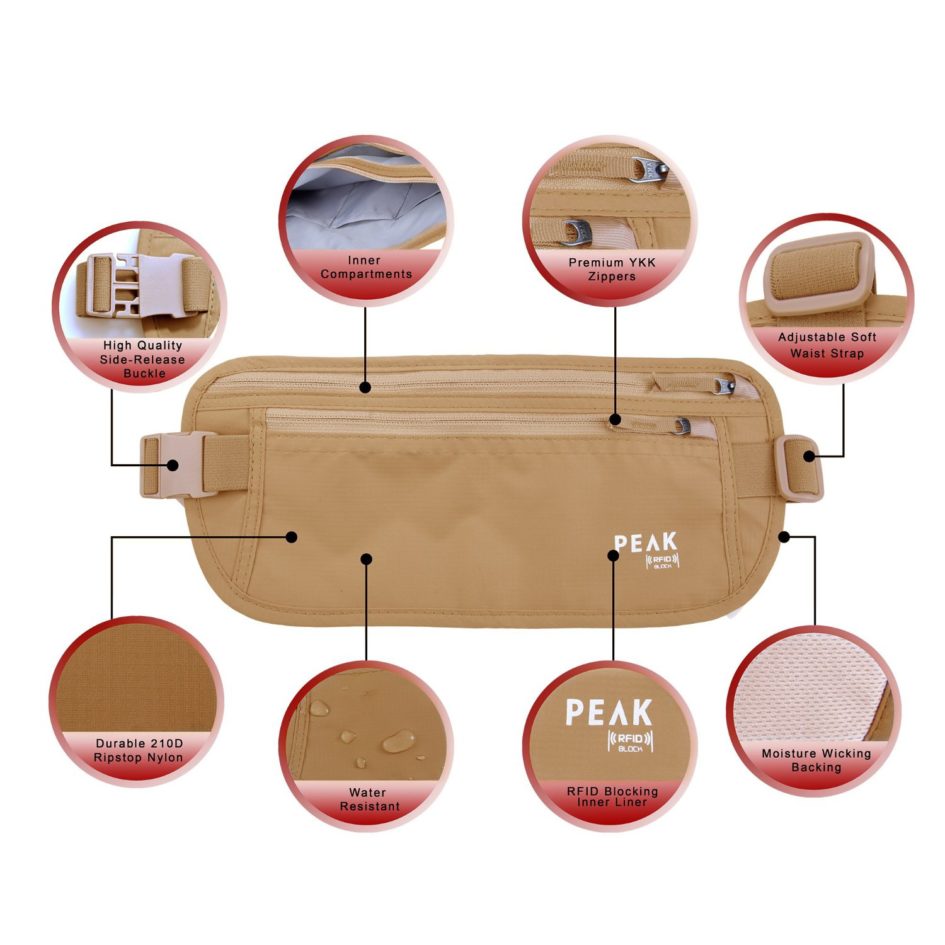 #15 TSA 4 Digit Luggage Locks (2 Pack)
You should upgrade to the TSA 4 Digit Luggage Locks
 even if you already have the 3 digit version.
It only takes a person 10 minutes to go through the 1,000 possible options with 3 digits, and 100 minutes with 4 digits.
That makes your luggage less likely to be a target for a casual thief.
These locks are also TSA approved so airline workers won't have the chance to quickly grab something from your bag during handling, but security officials can still open them if needed.
Choose your own combinations for each lock, and use the different colors to tell each apart.
Thanks brings us to the end of our list! We hope we have given you some shopping inspiration and all the best for the holiday season!
You can also click here for more gift ideas for snorkelers and divers 🙂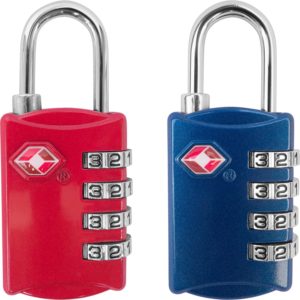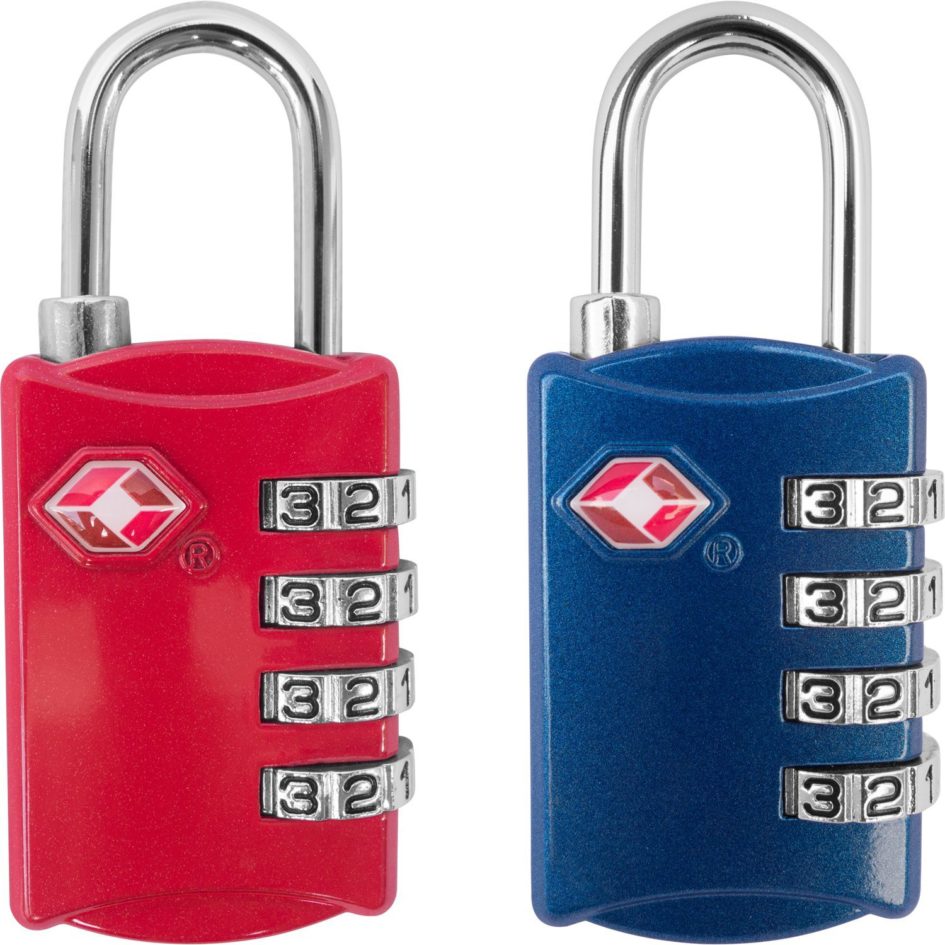 Did you enjoy reading 15 Christmas Gift Ideas for Backpackers Under $40?
Pin it and help others find it too!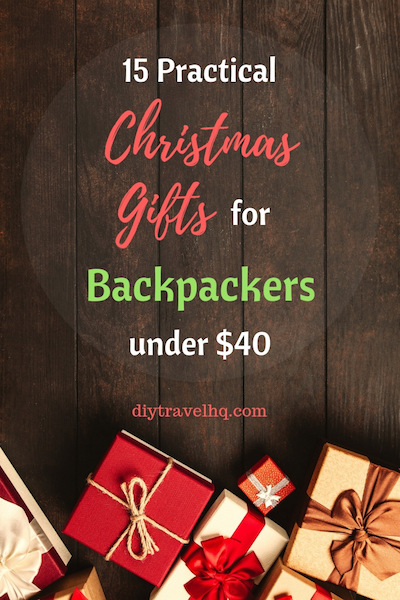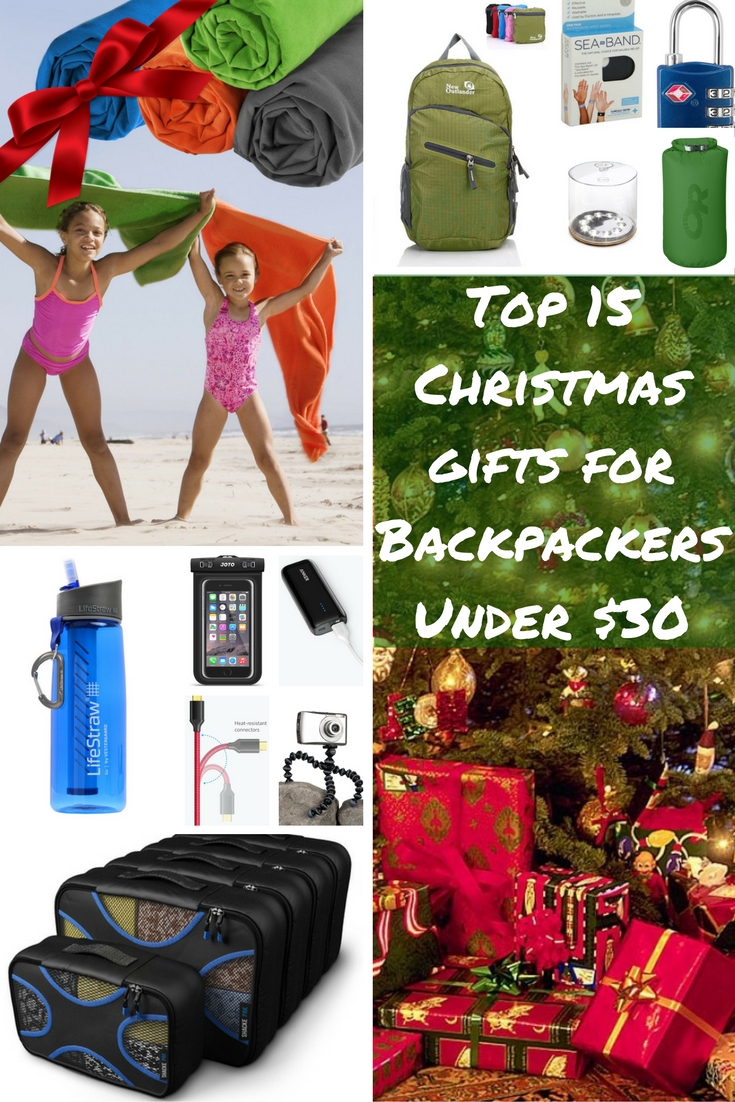 *This post contains affiliate links, which means that we receive a small commission if you click on a link & purchase something that we have recommended – at no extra cost to you. We have chosen the best value products for each item we own, or plan to own in the future. We hope you find our list helpful, and we appreciate your continued interest in our blog!