Whether it's swimming or relaxing on the beach, most travelers love being in or near the ocean – check out our suggestions of practical gifts for subs divers, snorkelers & all-round water babies!
Gifts for Scuba Divers & Snorkelers
We here at DIY Travel HQ always travel with our own snorkel set.
An ill-fitting mask can really ruin a snorkel trip. This is especially true if you have traveled a far distance, or paid good money for a trip; not to mention not being able to enjoy the underwater world to the max!
Snorkeling tours usually include the use of a snorkel, but keep in mind that they have probably been used over & over again and you never know what shape they may be in – literally!
Many shops near beach towns also rent snorkel masks but you may face the same issue. If a mask has lost its suction it won't fit tightly around your face & water can enter.
We travel with the Cressi Snorkel Set with Mask & Tube
 and it's one of the best gifts for snorkelers you can find.
You may also want to go all out with the full Cressi Snorkel Set with Mask, Fins & Gear Bag
.
Either way, the unique feature of the Cressi snorkel mask is the no-frame design. This gives you a wider field of view, which is what you want when you're snorkeling among schools of fish & colorful coral.
It's a dry snorkel which means it has a special valve on the top that seals out water. This means you won't have to clear your snorkel if it accidentally gets submerged, or a big wave hits you at the surface.
Best of all the Cressi snorkel set is lightweight & packs flat so it's perfect for travelling!
The best underwater camera for travel is the GoPro HERO6
.
We've been using our GoPro3 & we're thinking this is definitely the right time to upgrade.
The best new feature for us is the 2-inch Touch Display where you can play around with the different functions, just like on a normal camera. The Touch Zoom is an added bonus.
The video stabilization is also a big plus as we ended up with many shaky videos from our current GoPro.
The image quality looks excellent with 4K video & 12MP HDR photos.
It's waterproof to 33 feet (10m) so if you're going to be diving, you'll need to use it in a GoPro Hero6 Waterproof Housing Case
.
You need to purchase additional accessories to use the GoPro to its full potential, but it's still a tiny little camera that packs a mighty punch – it's one of our top suggestions for gifts for scuba divers & snorkelers!
Best GoPro Accessories
With so many GoPro accessories, it is difficult to know which products you need and what brand to buy – find out the 23 best GoPro travel accessories on the market
Read more
#3 Suunto Zoop Novo Dive Computer
We're keen divers with around 70 dives under our belts between us. I would consider myself an intermediate diver,  but I still don't feel completely comfortable underwater.
I think that has a lot to do with not feeling in control of my surroundings & being completely reliant on the dive master. On a dive in Cozumel, Mexico, we were completely deserted by our dive master who ran our of air – another dive master came down, but that was a scary few minutes.
That's why I'm planning on purchasing a dive computer before our next big trip. If you're a diver & sometimes feel a little bit out of your depth, you'll feel more comfortable the sooner you take the leap.
We did some research & most reviews online rate the Suunto Zoop Novo Dive Computer
to be the best for beginners.
It's easy to use with a super-bright phosphorescent LCD display. The monitor has big numbers & it's easy to read.
One of the best features of the Suunto Zoop Novo Dive Computer is the automatic safety stop count. When you ascend & reach a depth of 15 ft (5m), it will automatically start a count down.
There are also audible alarms if you ascend too rapidly, along with when you reach maximum depth & dive time.
The Suunto Zoop Dive Computer comes with a built-in dive planner & it's also fun to be able to log your dives & view all the data.
The more advanced features will be useful as you progress in your diving journey.
Best Travel Electronics
There's nothing like unwrapping a shiny new toy! With a mix of high-end, mid-range & inexpensive items, our list of the best travel electronics has something to suit every budget
Read more
Travelling with a dry bag is a small, lightweight investment that delivers big rewards.
Ever since we went canyoning in Nicaragua without a camera, we regretted not having one with us. Somoto Canyon was one of our best travel experiences ever, but we didn't have any good photos to show for it – the GoPro just didn't cut it that time.
If we had a dry bag with us, we could've gone canyoning with our camera & not have worried about getting it wet.
Dry bags are waterproof & watertight sacks that keep your gear dry when you're doing outdoor water sports such as kayaking & white water rafting.
In fact, they're handy for any time you're outdoors & have the potential for rain or getting wet such as camping, fishing or boating.
Another great feature is keeping your food safe from animals and insects while hiking! They can't crave what they can't smell.
Dry bags are not just for storing & protecting your smartphones, cameras & other electronics. When you're out & about you'll probably have your everyday essentials like keys, wallets & sunglasses with you too –  things that you wouldn't want to lose.
Just put everything inside the dry bag, roll it down & you're all set to go.
We recommend the Earth Pak Dry Bag
as it comes in different sizes, from 10L to 40L. It's equipped with a shoulder strap & D-Rings if you need to clip the bag in place to the side of a boat, backpack, etc.
It's one of the best gifts for water lovers as things can be kept safe & dry in the bag on the boat while you're in the water.
If you don't plan on needing a heavy duty dry bag like the Earth Pak Dry Bag, then consider the ultra lightweight Sea To Summit Ultra-Sil Nano Dry Sack
. This version is perfect for daily use and keeping your items dry from rain or splashes.
The Sea To Summit Dry Sack takes up virtually no space, weighs just 1.6 oz, and can double as a laundry bag! We bought the 13L version, but the ideal size is probably 8L for normal use.
Water shoes weren't on my radar, but I received a pair as a Christmas gift a couple of years back & I'm a convert!
I've worn them in the water, and on rocky beaches so they're one of our recommended gifts.
Water shoes are also handy for walking on hot sand, kayaking, white-water rafting, hiking along or across streams, at waterfalls, gentle spelunking, or simply for getting around in a hostel or hotel.
I like the WateLves Water Shoes
as they have a wide variety of colours & patterns, from the plain to the wacky. They have anti-slip rubber soles with drainage holes so your feet stay cooler & the shoes dry faster.
The WateLves Water Shoes are super light weight & comfortable, it feels like you're almost barefoot. That's why they're so handy to have when you just want a little protection.
Being foldable, they're perfect for traveling but other popular uses of water shoes are for yoga & fitness classes, water parks & cruises.
Did you enjoy reading our list of Divers and Snorkelers Gift Guide?!
Pin it and help others find it too!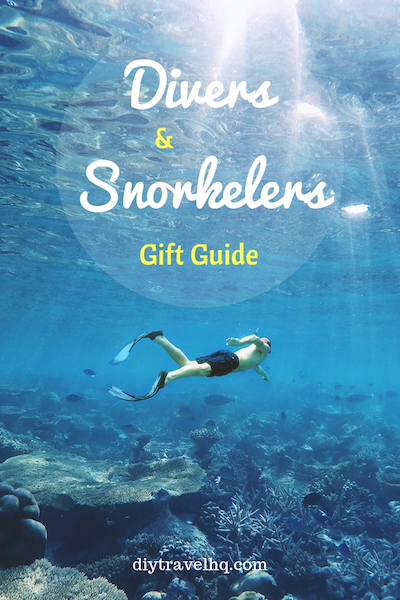 * This post contains affiliate links, which means that we receive a small commission if you click on a link & purchase something that we have recommended – at no extra cost to you. This helps us to keep our site running so we can continue to provide free content. Thank you for your support!
November 2017