It's easy to visit the Tikal ruins without a tour – from prices & transport to a complete temple guide, find out everything you need to know on our self-guided tour of Tikal, Guatemala.

Find more inspiration in one of the England guide books below!
Tikal Ruins Facts & History
The Tikal mayan ruins are one of the top destinations in Guatemala – let's take a look at the history behind these magnificent ruins.
Tikal was first settled around 700 BC by the Maya civilisation and used an abundance of flint to grow their city-state. The flint was used to create tools and weapons that could also be traded for other goods.
Although Tikal became a regional center for religion, culture, and trade around 250 AD, it wasn't until another 100 years passed that they started dominating the Peten region in Guatemala – which also includes the impressive Yaxha ruins.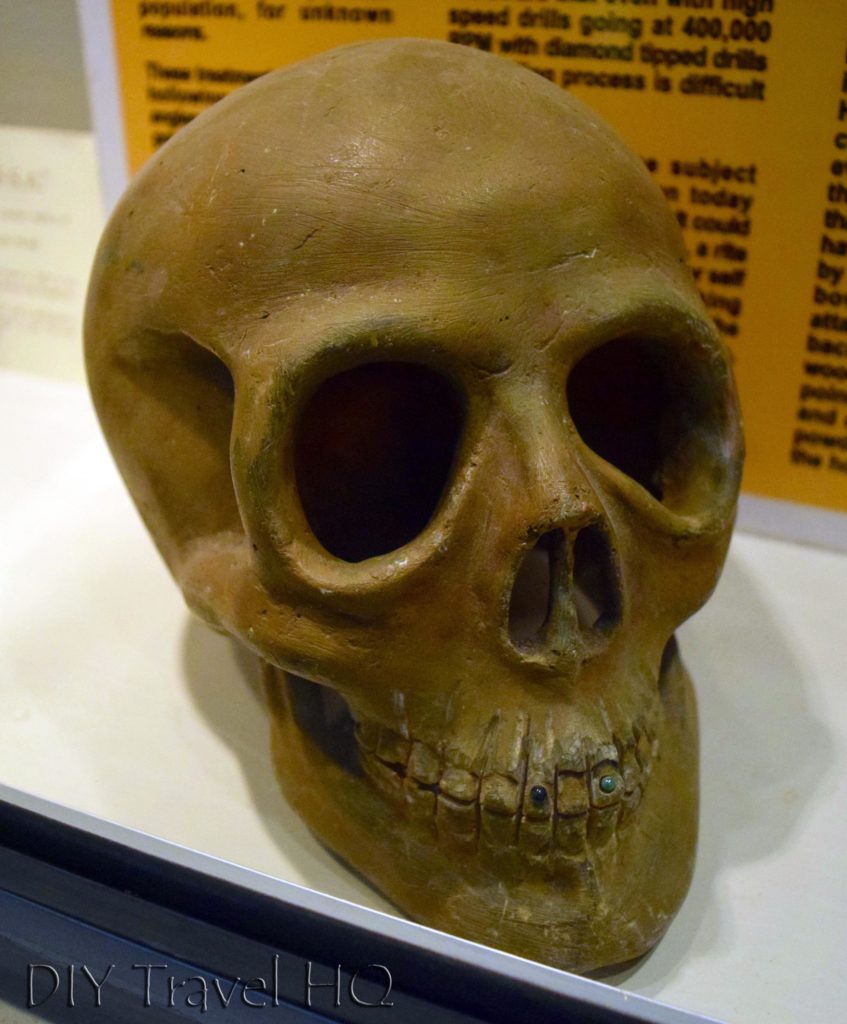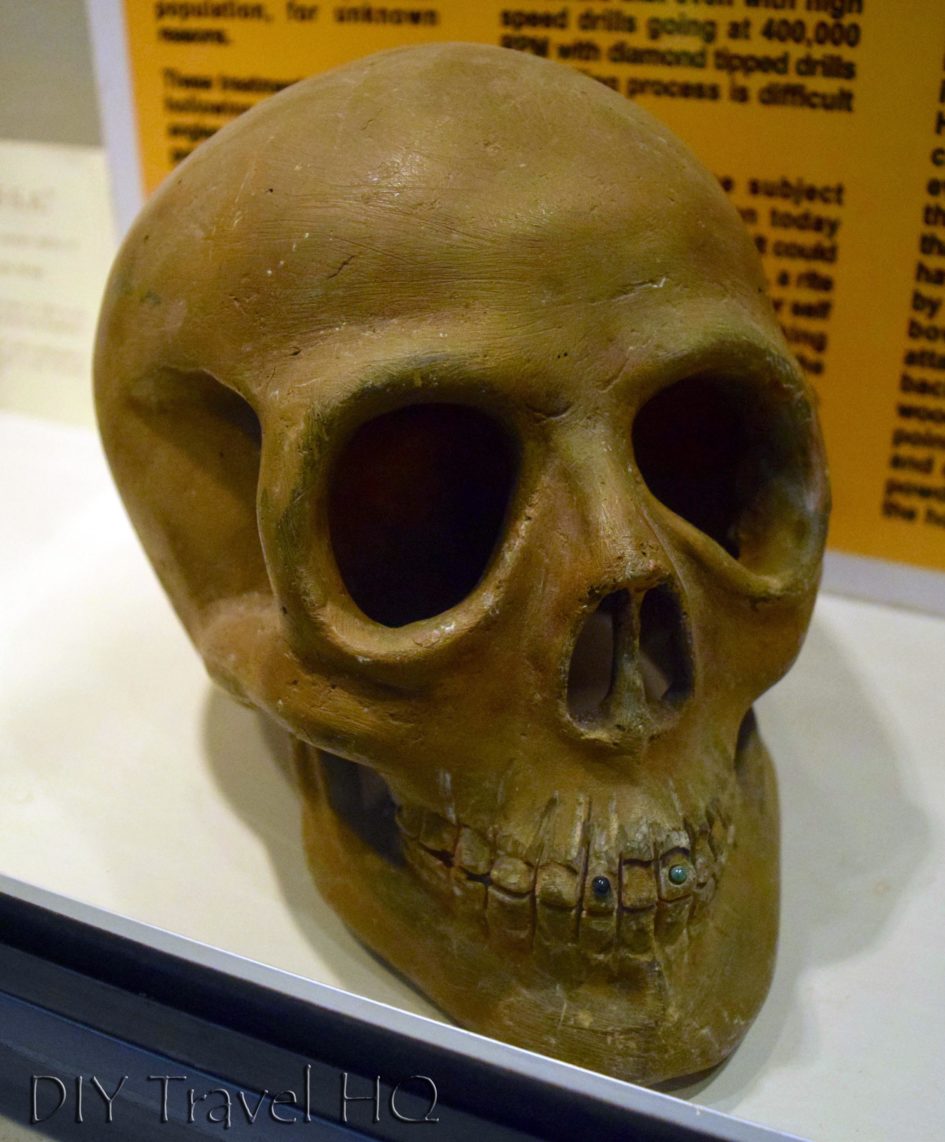 Borrowing warfare methods from Teotihuacan, they quickly defeated nearby cities. Instead of traditional hand-to-hand combat, the Maya of Tikal would encircle their foes and throw spears. This method proved very effective.
Tikal's reign only came to an end when Caracol used the same techniques to defeat them in the mid-6th century.
The 8th and 9th centuries saw a resurgence of Tikal power, which was when many of the remaining buildings were constructed. Like many Maya cities in the lowlands, the Tikal mayan ruins were mysteriously abandoned around 900 AD.
Our ATM caves tour guide in nearby Belize speculated that this was due to a prolonged drought brought on by deforestation.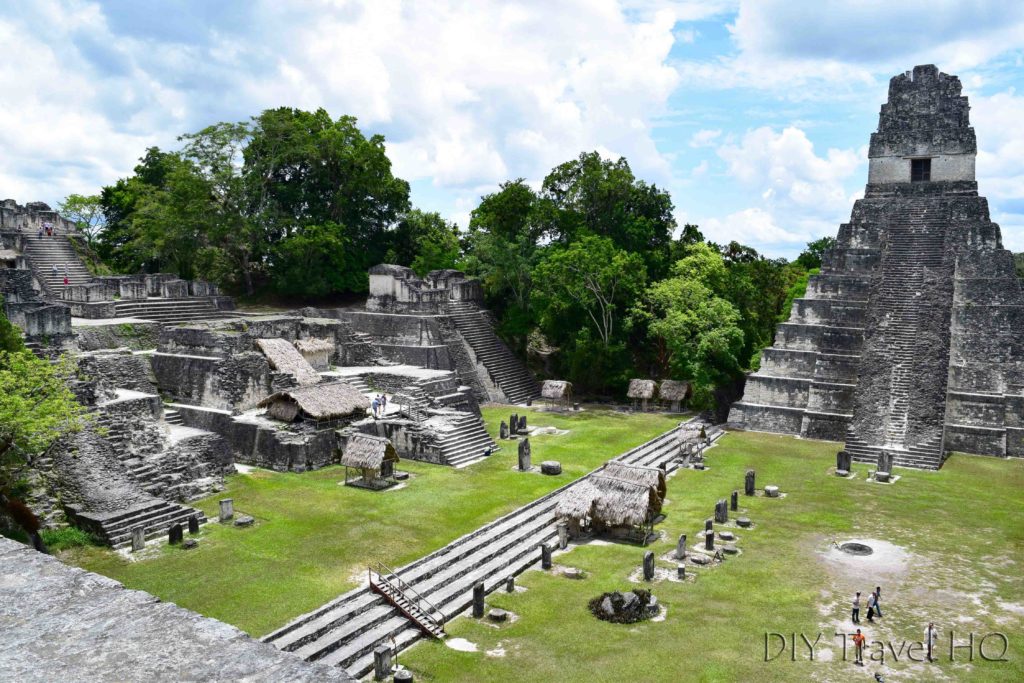 Tikal Tours
Advantages
We usually opt not to take tours due to cost, and we like having the freedom to go at our own pace. However, we actually recommend joining a group to learn interesting stories and facts about Tikal National Park.
Transportation is Q70 / $9.60 and a full tour is Q110 / $15.10 at Hostel Los Amigos so it only costs a fraction more. You can also book a more in-depth 8 hour tour with lunch here.
Decide in advance as the guide charges more when at the Tikal Guatemala ruins.
Not only will you learn more about 'the rocks' you are seeing, but they are good at spotting monkeys in the trees, and show you the highlights. You can then explore the remainder by yourselves, and revisit places to take better pictures.
Disadvantages
The downside, is that you will be jockeying for position with 30 other tourists.
Don't plan on taking any selfies with just you and the Tikal temples, or seeing an abundance of wildlife. The group simply makes too much noise, and doesn't venture into the jungle much.
Whether you choose to do a tour or go it alone we recommend purchasing travel insurance before any trip to Guatemala. We've been using World Nomads for over 10 years and it's the best-value provider we've found
For more details check out our World Nomads review here.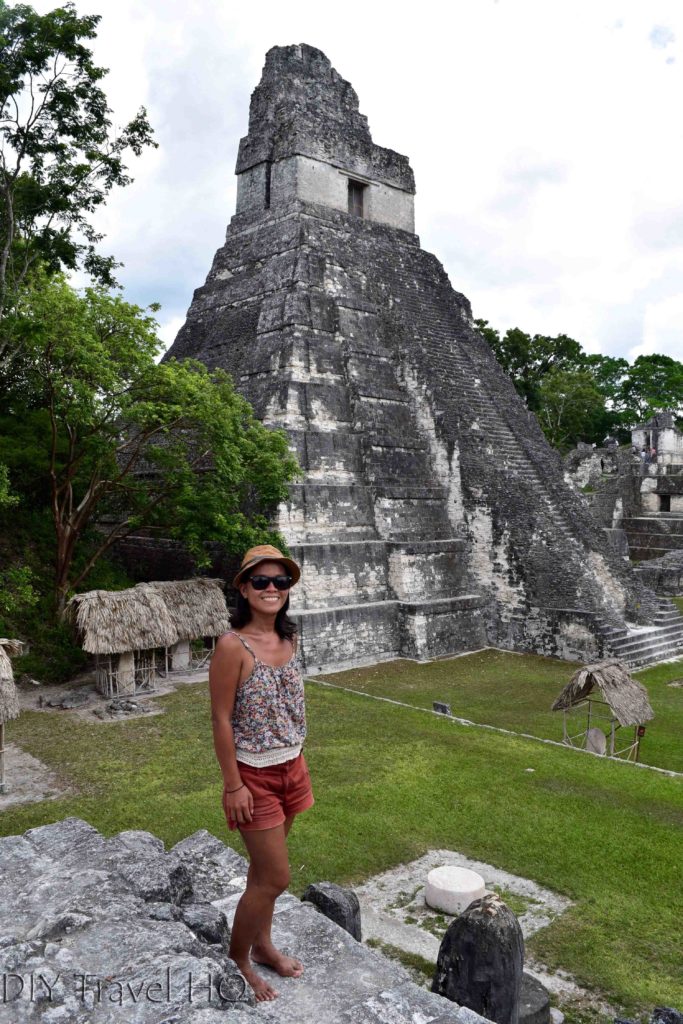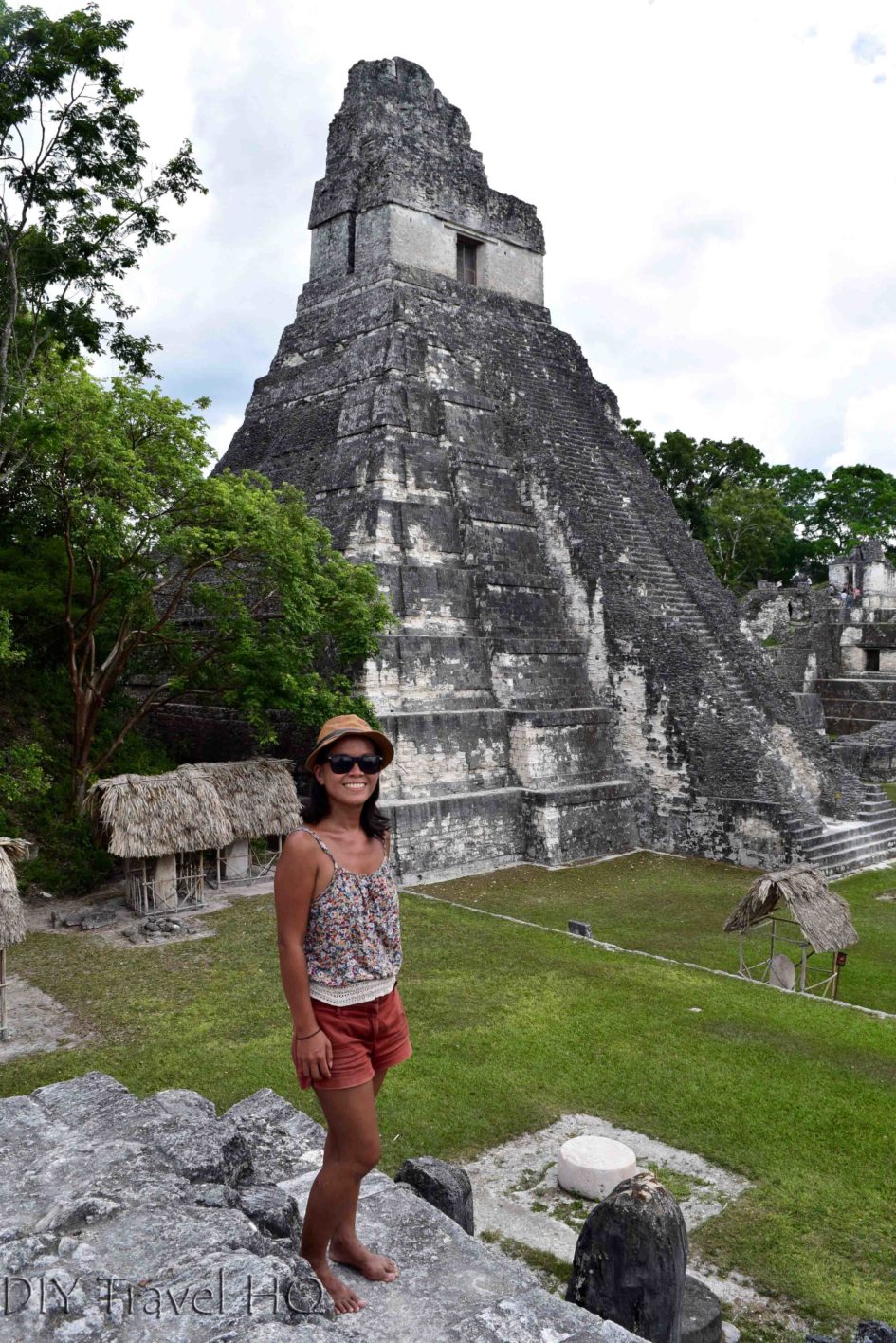 Tikal Entrance Fee
The base fare for visiting Tikal is Q150 / $20.60 and is not included in most tours.
Sunrise and sunset cost an additional Q100 / $13.75 respectively. However, sunrise is often hazy and it rains in the afternoon during the wet season so neither is good value.
Visiting two on-site museums costs Q30 / $4.10 extra.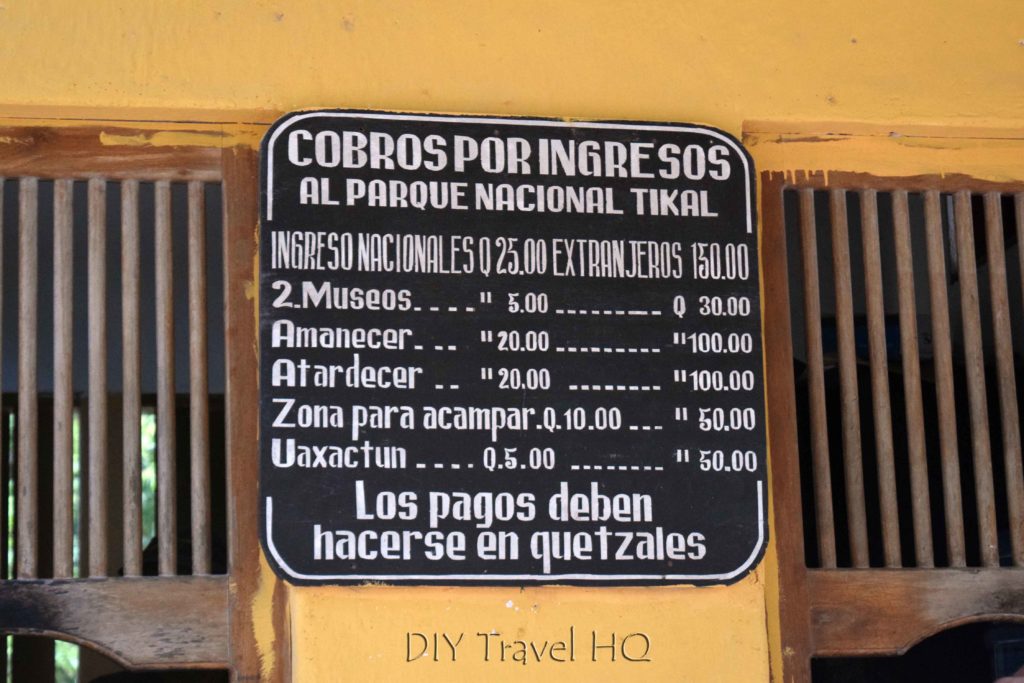 Self-Guided Tour
Twin Pyramid Complexes
After paying your Q150 / $20.60 entrance fee, start down the path to the ruins on your left. Complex Q, built in 771 AD, is the first set of temples you'll reach.
It is also the best example of a twin-pyramid complex at Tikal, which the Maya built every 20 years to mark time and record important events.
They built matching pyramids on the east and west of the complex. The north side contained a stela and altar, while the south side contained a building with nine entrances.
If you're interested in stelae, check out the UNESCO World Heritage Site of Quirigua.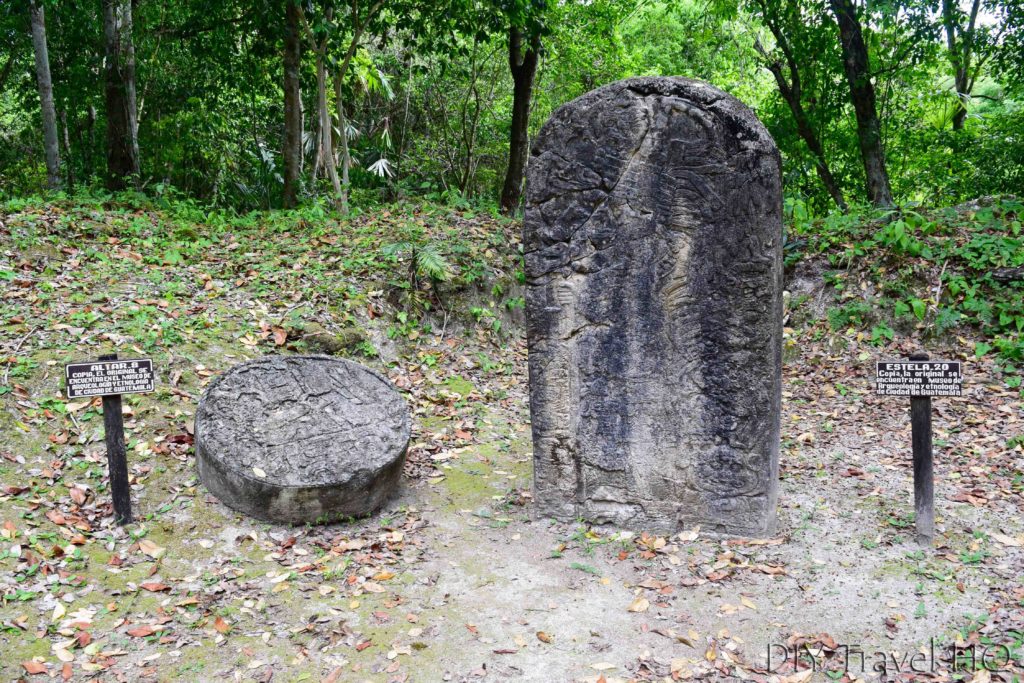 From the top of the east pyramid, you can see Temple IV jutting above the jungle canopy. The front of the base has nine plain stelae and altars.
A more impressive combination is Stela 22 and Altar 10 enclosed in a small building on the north side.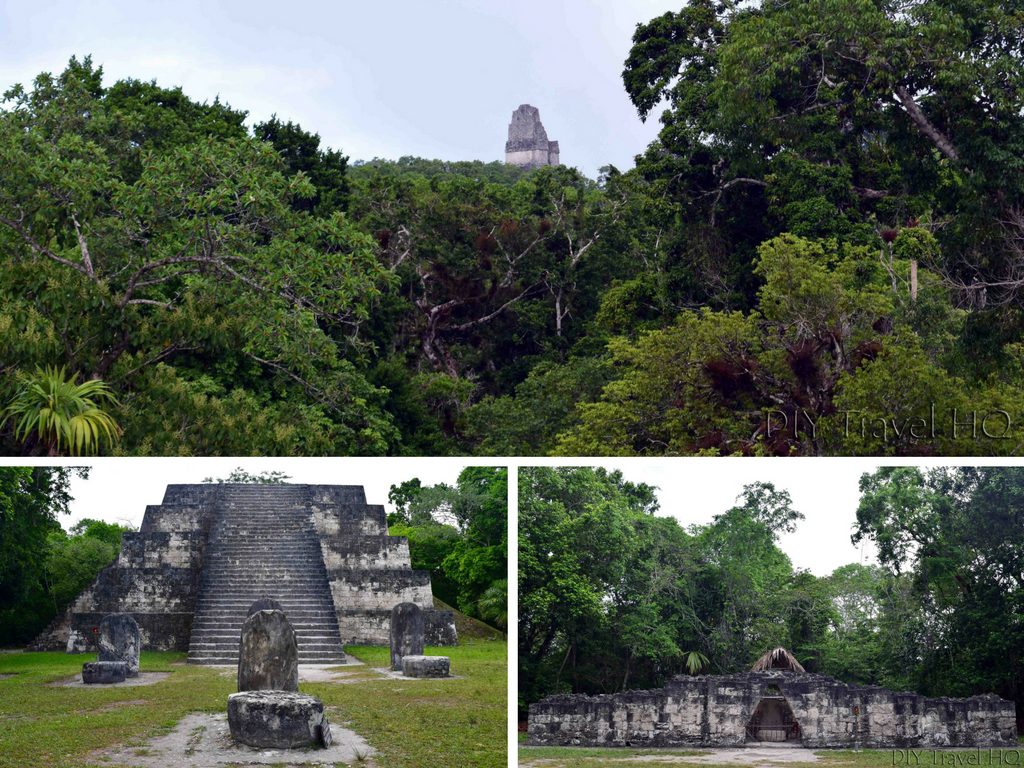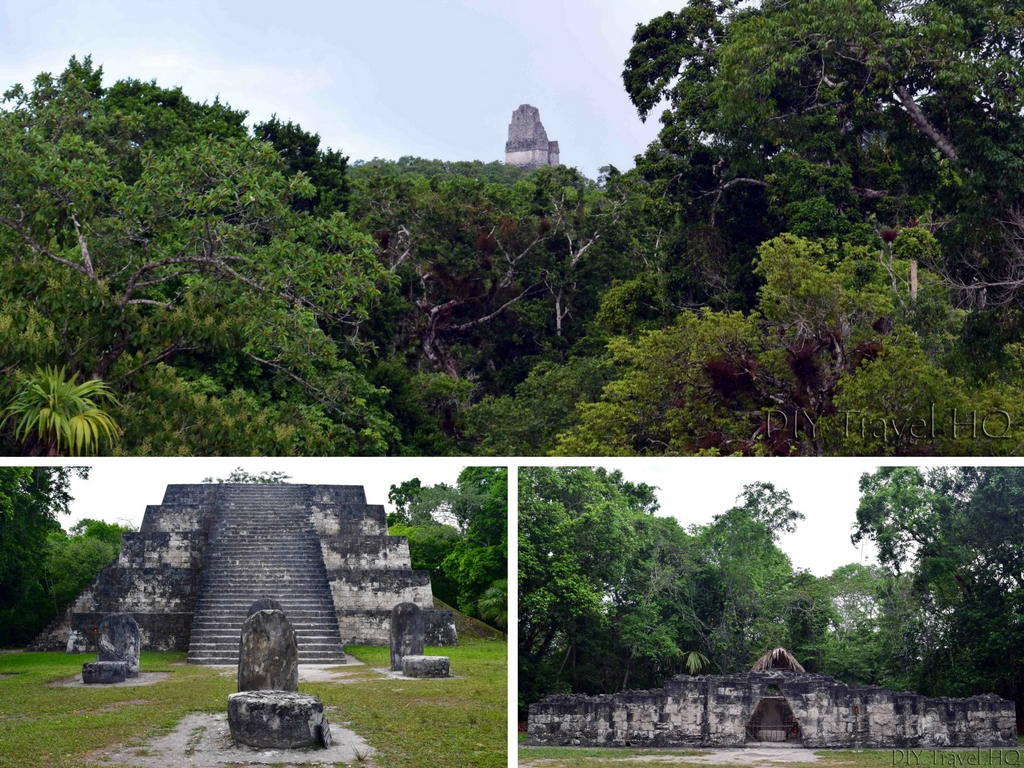 A short walk to the west leads you to Complex R.
This twin pyramid complex gives you a glimpse of what the twin temples looked like before being excavated.
Scattered around are twin-pyramid complexes O nearby, P in the North Zone, and N by Temple IV.
None of the pyramids are particularly striking, but the replicated stelae are worth a look if you're exploring Tikal without a tour.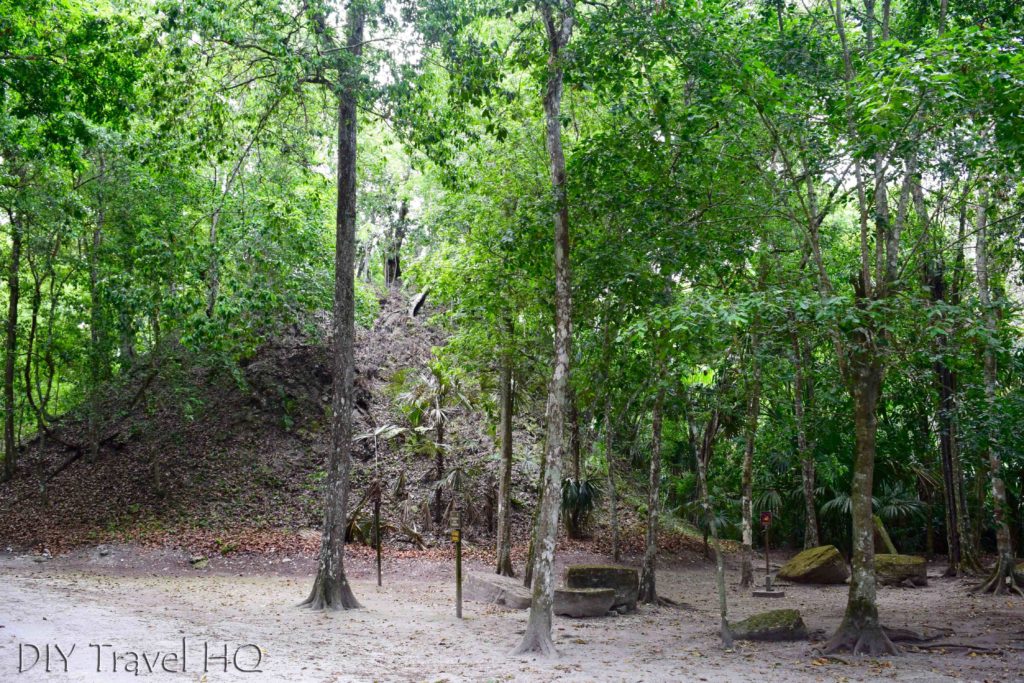 North Zone
In order to avoid the tour on our heels and attempt to see wildlife while it was still early, we decided to visit the Grand Plaza later.
Follow the Maler Roadway to the North Zone. Along the way, you will see an engraved rock marking the capture of an enemy.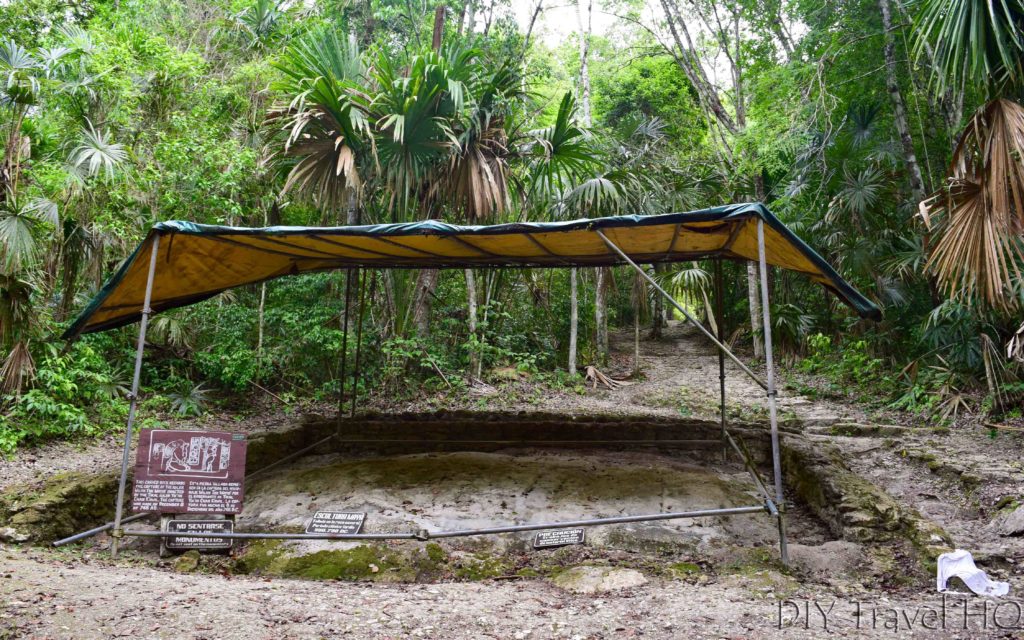 The North Zone must have been significant as the roadways lead to both the Grand Plaza and Temple IV.
Similar structures 3D-40 and 3D-43 are the most substantial buildings besides Twin Pyramid Complex P.
A second temascal (bathhouse) was discovered on this platform, but subsequently buried under further construction.
The other significant finding was the discovery of The Man of Tikal that is now in a museum.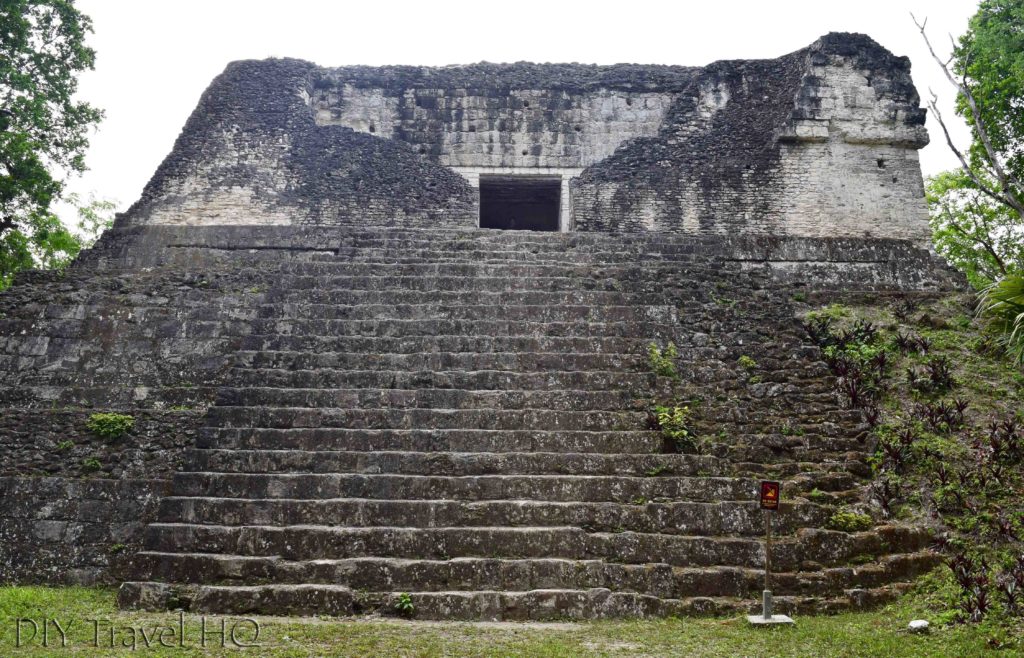 Temple IV (740 AD)
Follow the Maudslay Roadway to Temple IV. The front was being restored upon our visit, but you can still climb to the top.
Since Temple IV still has a lot of restoration to go, Tikal management has built a wooden staircase to the top.
We recommend visiting in the morning, but the lighting on the other pyramids would be best in the afternoon.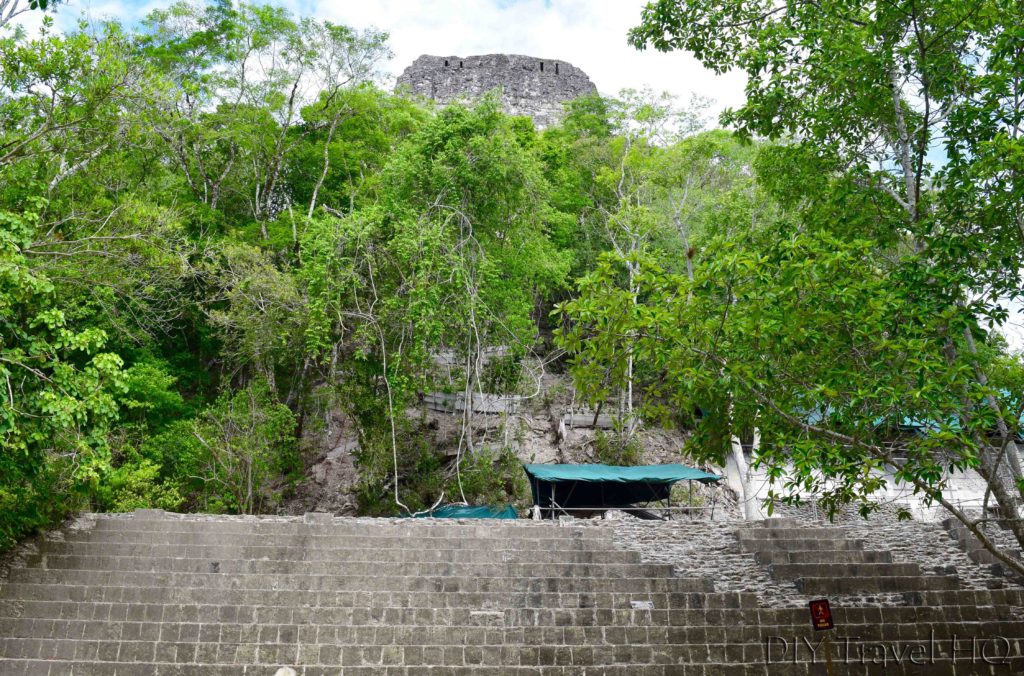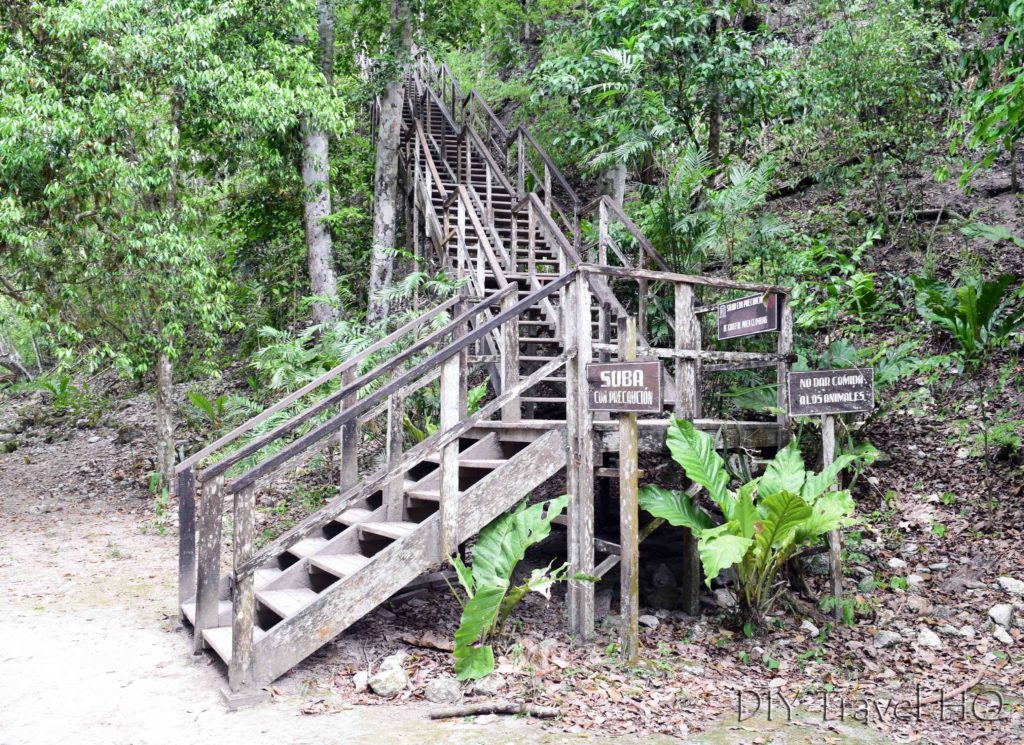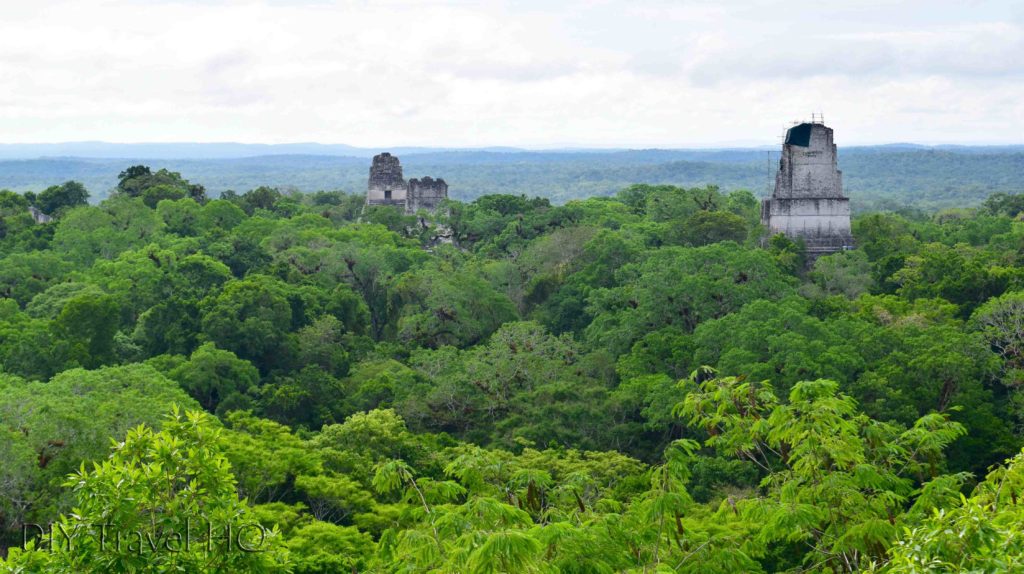 Palace of the Windows (Bat Palace)
Heading east from Temple IV on Tozzer Roadway, you will pass Twin Pyramid Complex N before reaching Palace of the Windows.
Take a look at Stela 16 displaying the king in 711 AD, and Altar V.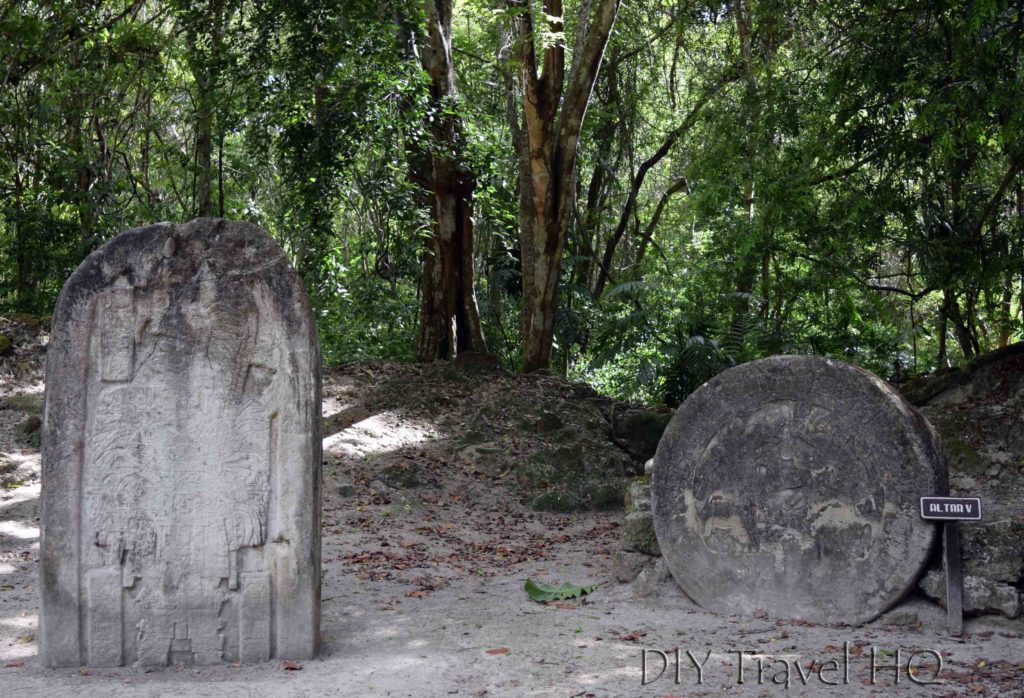 The Palace of the Windows gets its name from being a structure built on a hill that has windows facing west. There is a path that takes you to the partially restored building.
Inside the interconnected rooms you can see how Palace of the Windows got its other name, Bat Palace.
There are tiny bats that hang from the ceiling, and occasionally fly around. Don't expect to see anything from the windows, but there are great views on top.
You can see Temple III between the moss-laden trees.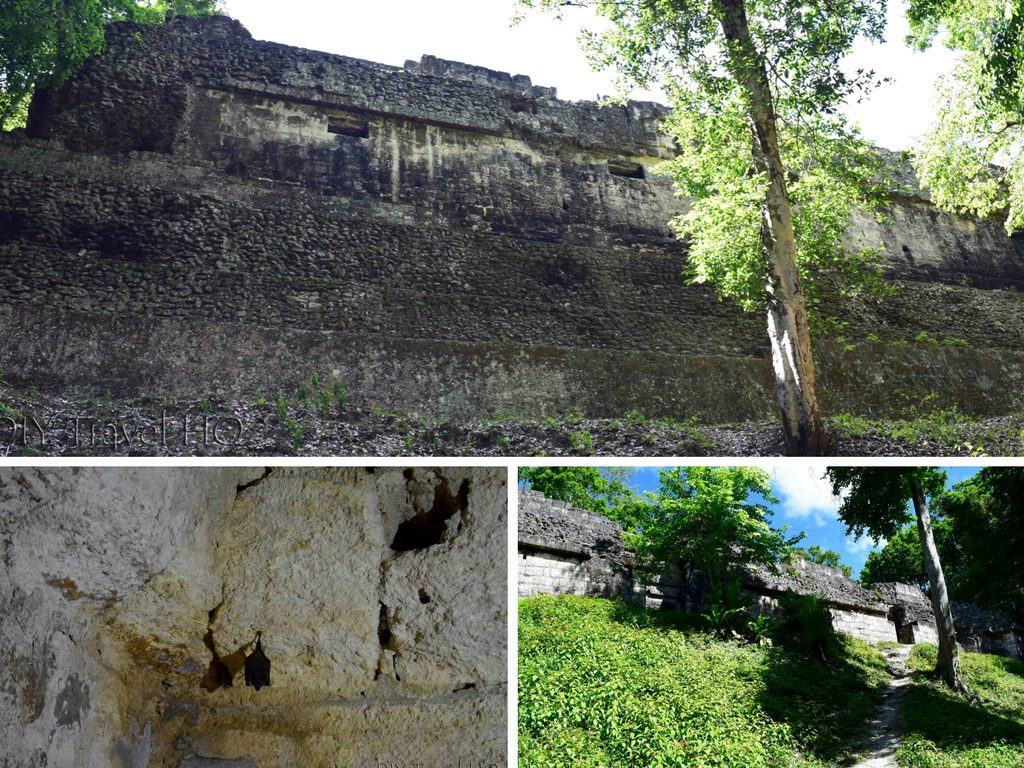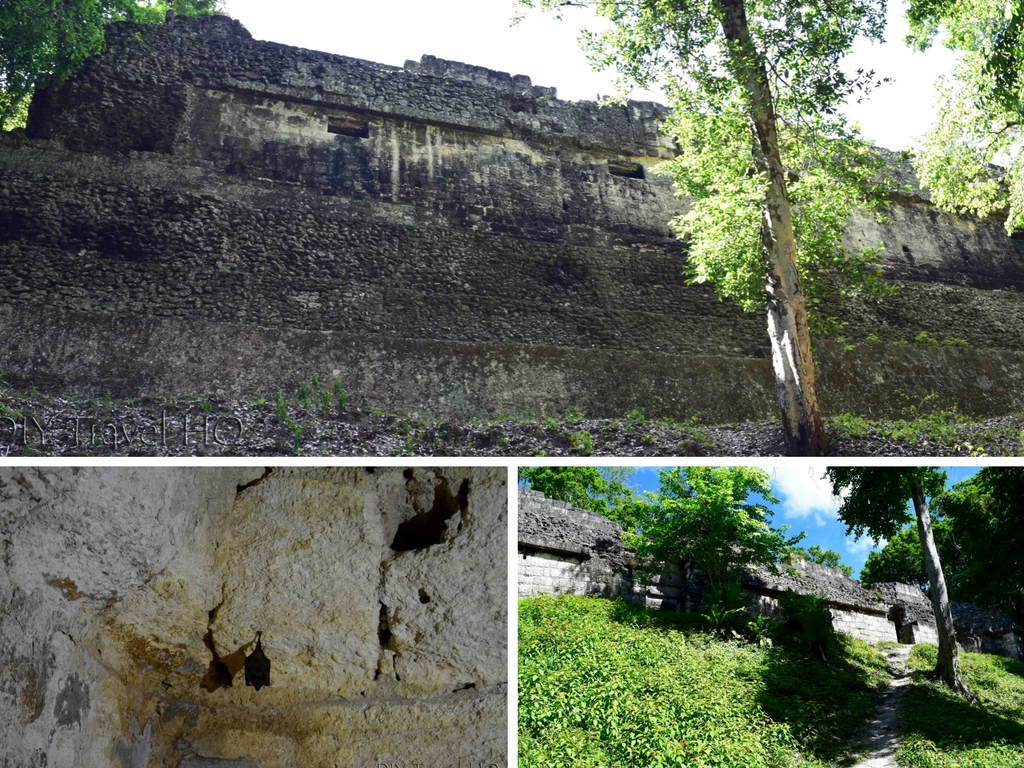 Temple III (Temple of the Great Priest) – 810 AD
Temple III (60 m) is to the northeast of the Palace of the Windows, but is not restored and you cannot climb it.
It is even difficult to see it through all the vegetation. Of more interest are Stela 24 and Altar 7 located in front of it.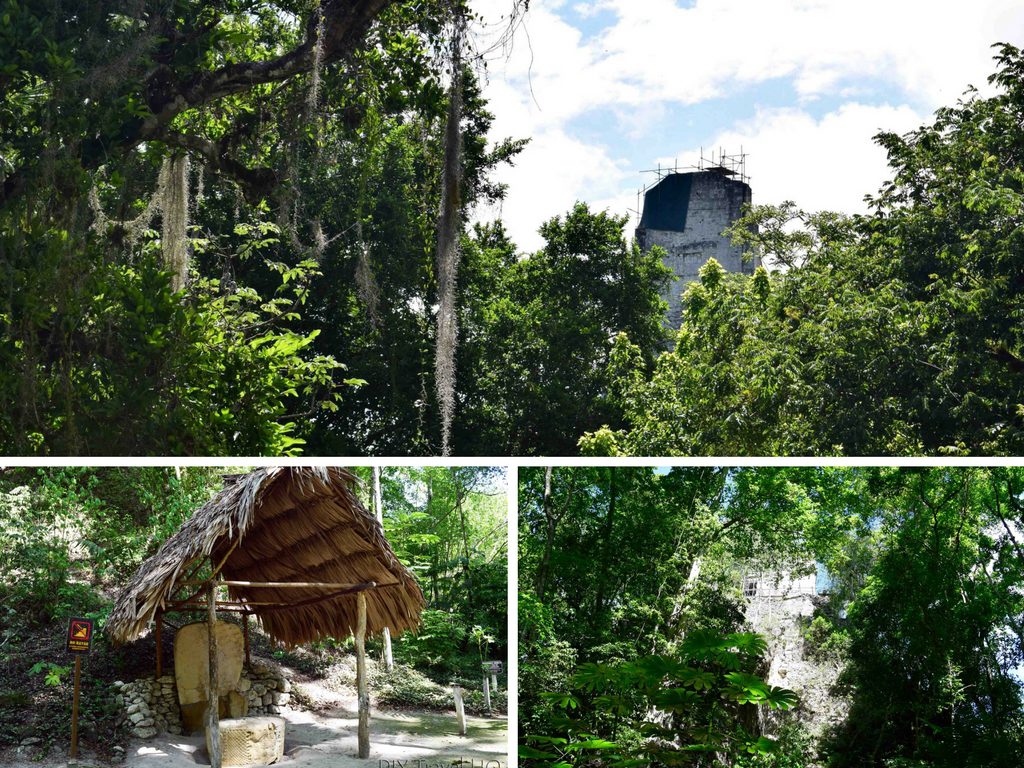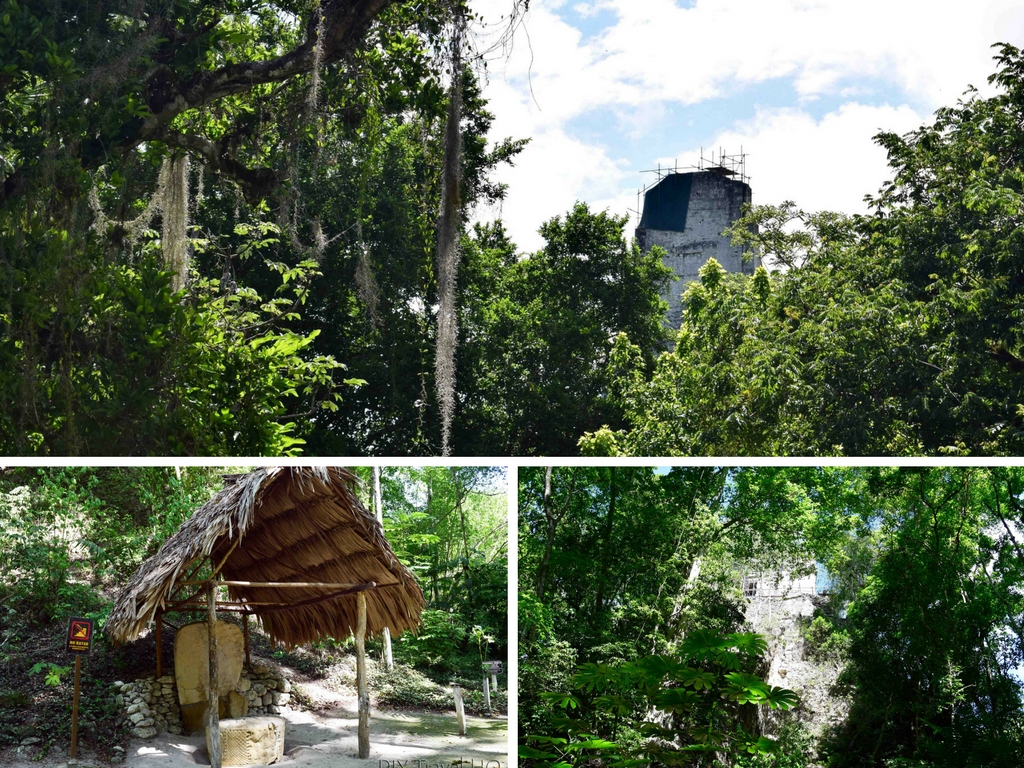 The Lost World
The Lost World (El Mundo Perdido) is significant, because it showcases structures built throughout Tikal's evolution.
Other plazas feature temples and pyramids that built on top of existing buildings, leaving only one visible architectural style.
The Grand Pyramid and Temple of the Three Rooms (Templo del Talud-Tablero) are the two significant pyramids in the Lost World.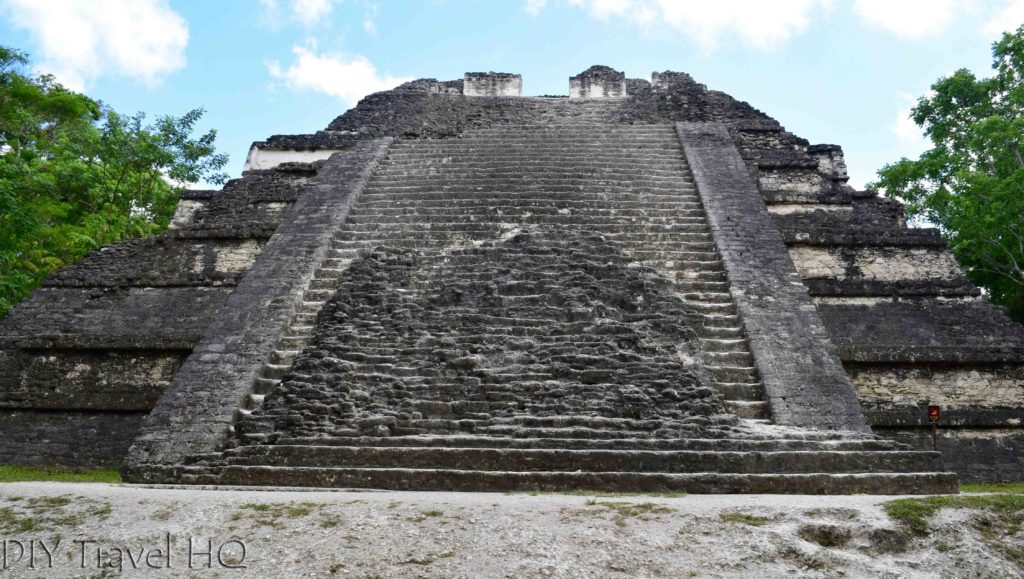 Standing 32 m high, the Grand Pyramid has 80 m long sides at the base. Each side has a staircase leading to the top, which surprisingly features no temple.
The main purpose was to act as an astronomical observation point – there is also an observatory at the Monte Alban ruins in Mexico.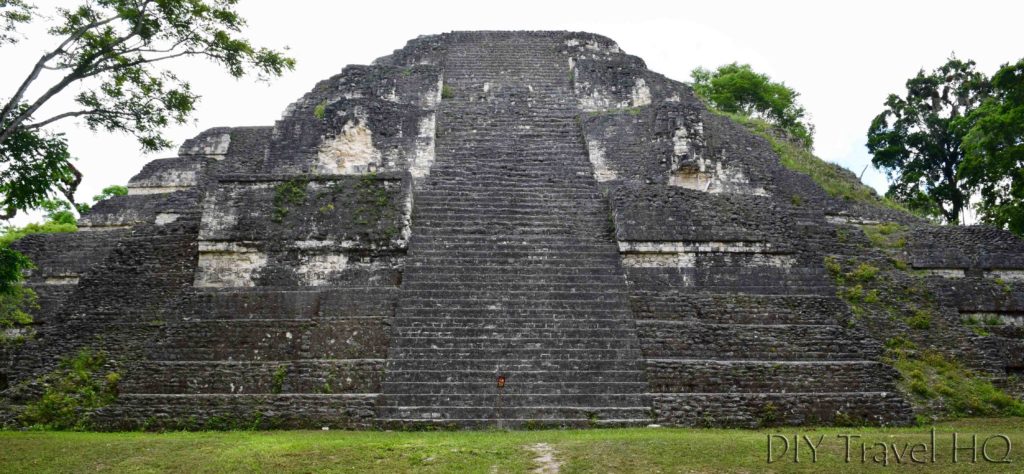 The other main building, Temple of the Three Rooms, is actually the first pyramid that catches your attention in the Lost World.
The top consists of three rooms, and provides nice views of the plaza since you cannot climb the Grand Pyramid.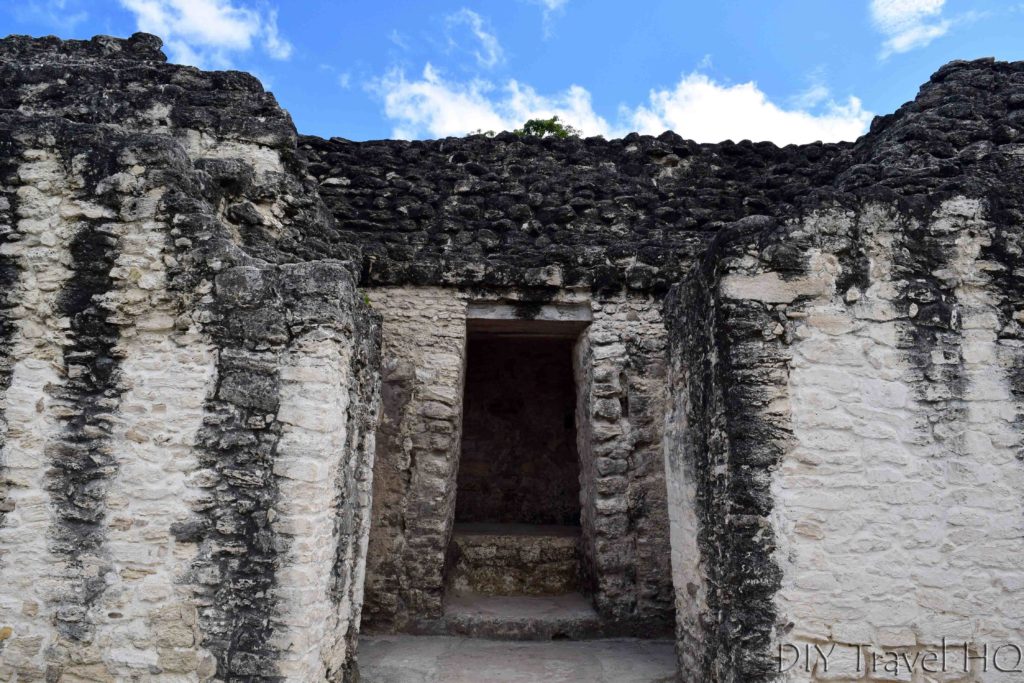 Plaza of the 7 Temples
Plaza of the 7 Temples is a large rectangular plaza that abuts The Lost World.
The west border is comprised of these structures. The north side consists of three adjacent ball courts that have yet to be excavated.
This must have been like the PIP (picture-in-picture) of the Maya World, being able to watch three games being played at the same time.
The south side is a ceremonial building.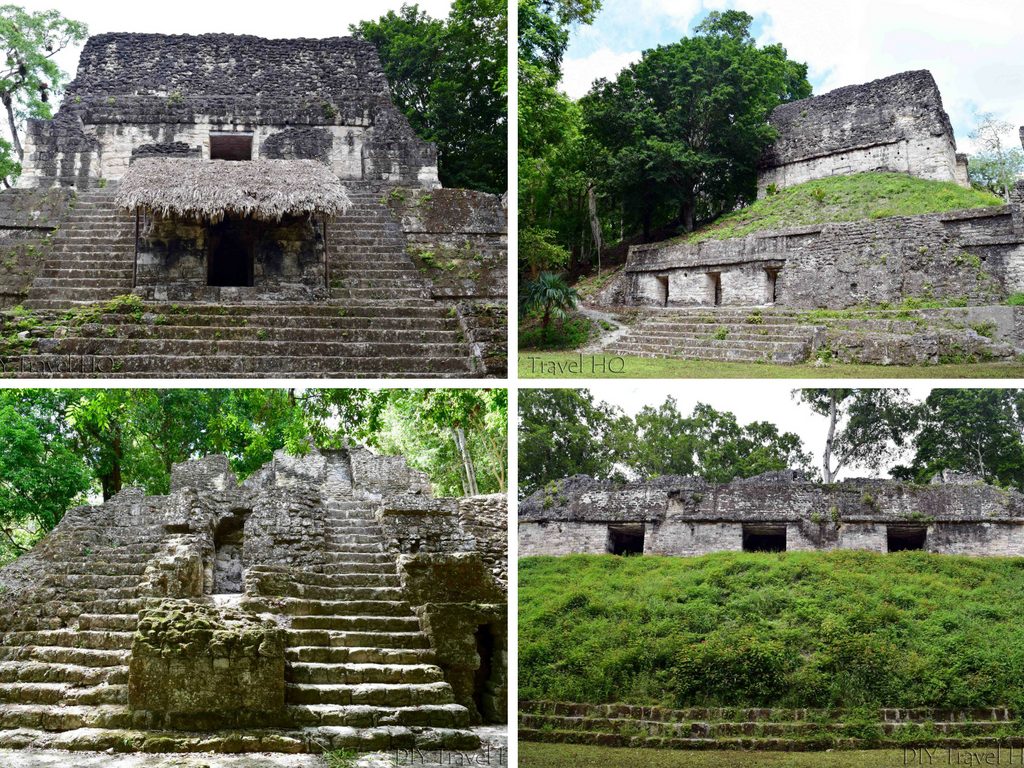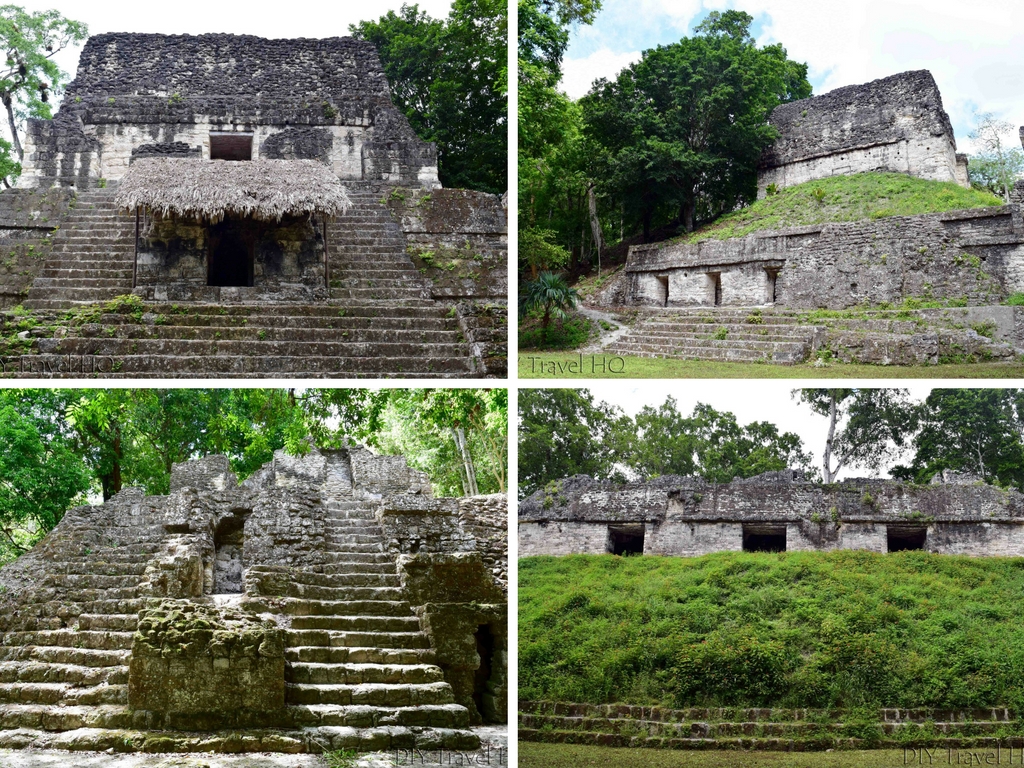 More important are the 7 temples in a row on the east side. The center temple is larger, has a preserved roof comb, and a stela and altar in front.
The large hill behind the 7 temples is actually the unexcavated South Acropolis.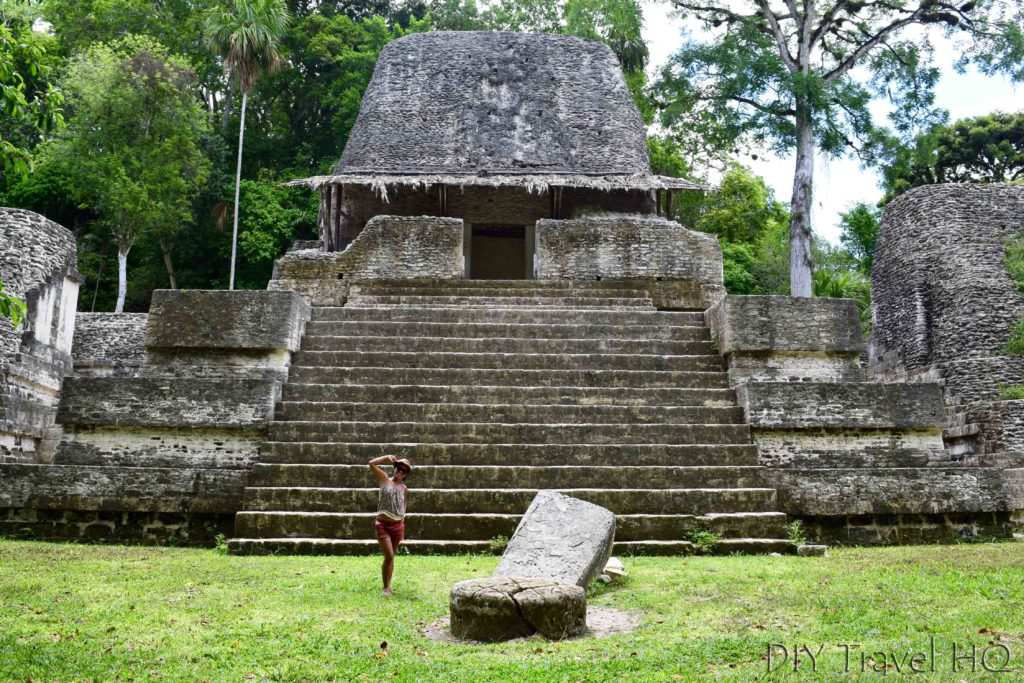 Temple V – 650 AD
Temple V is unusual so be sure not to miss it.
Measuring 57 meters high and having rounded corners, it was also built entirely during one period of construction.
Only half of Temple V is restored, but it is our personal favorite.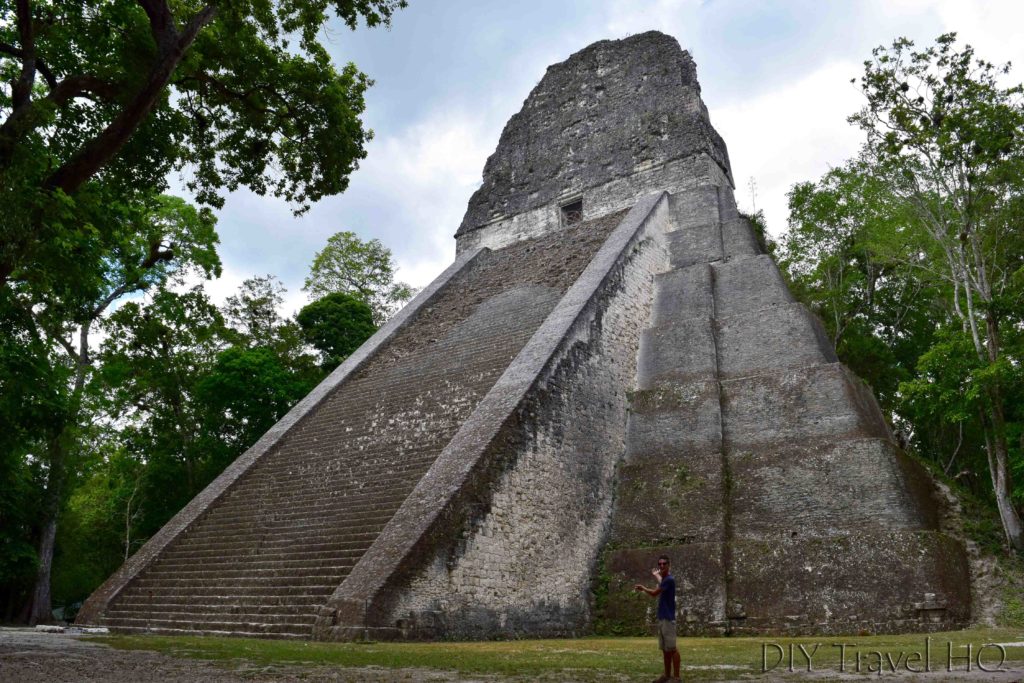 Grand Plaza
The Grand Plaza features Temples I and II, and both the Central and North Acropolises.
This is the best restored section of Tikal.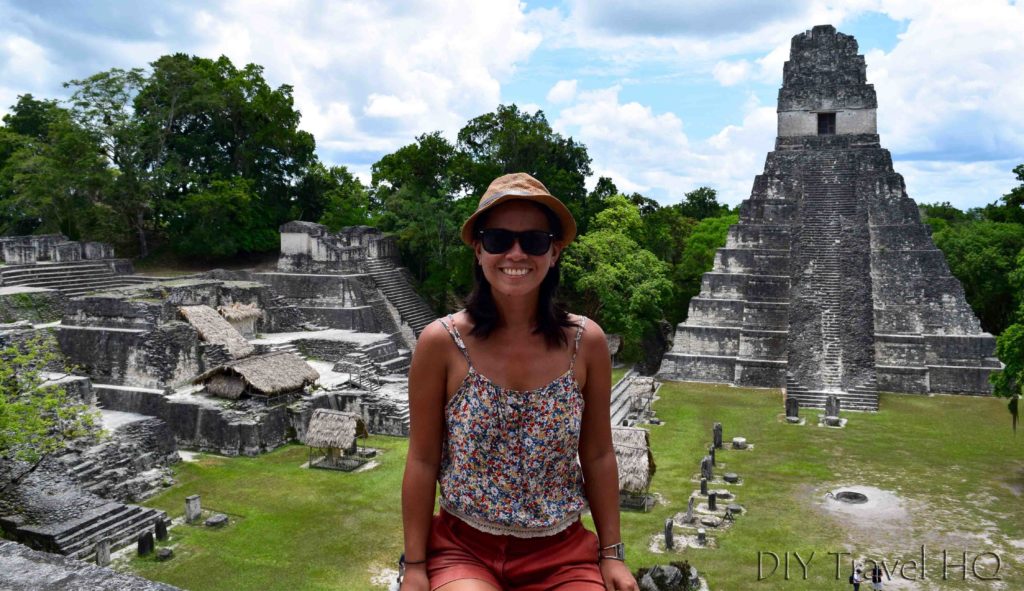 1. Temple I – 700 AD
Coming from Temple V, you will come across Temple I (Temple of the Grand Jaguar) first.
This was designed by King Moon Double Comb, but was actually built on his grave by his son.
You are no longer able to climb this pyramid after two tourists fell to their death from the 45 m top.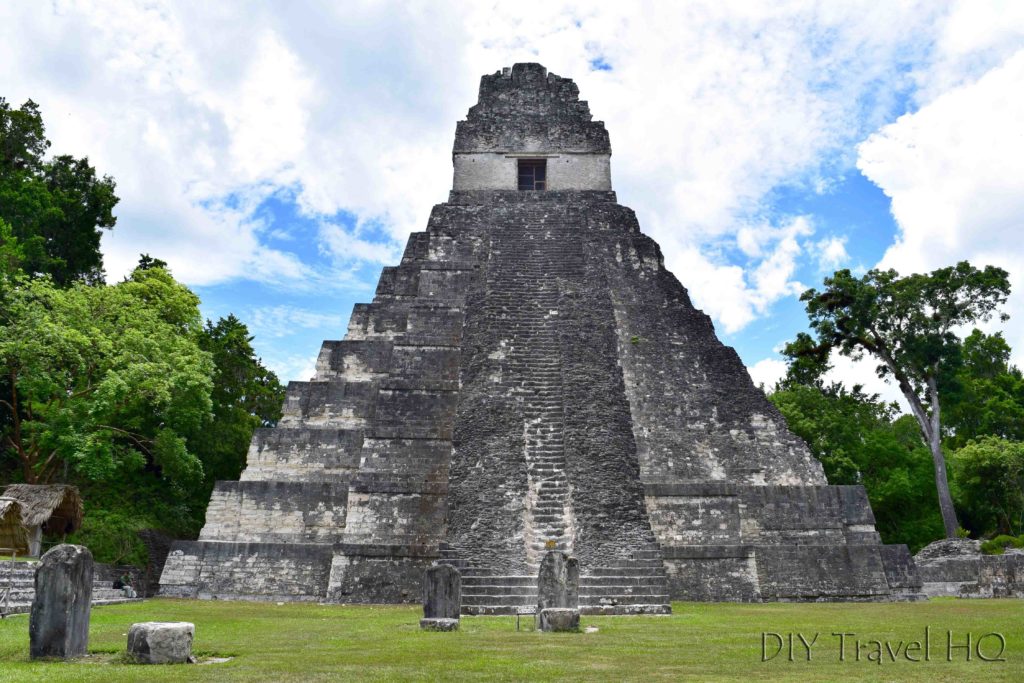 2. Temple II – 700 AD
You can, however, still climb the 38 m Temple II (Temple of the Masks) via a wooden staircase in the rear.
From here, you can see Temple I, and both the Central and Northern Acropolises.
Don't forget to turn around to see the masks lining the top of the temple.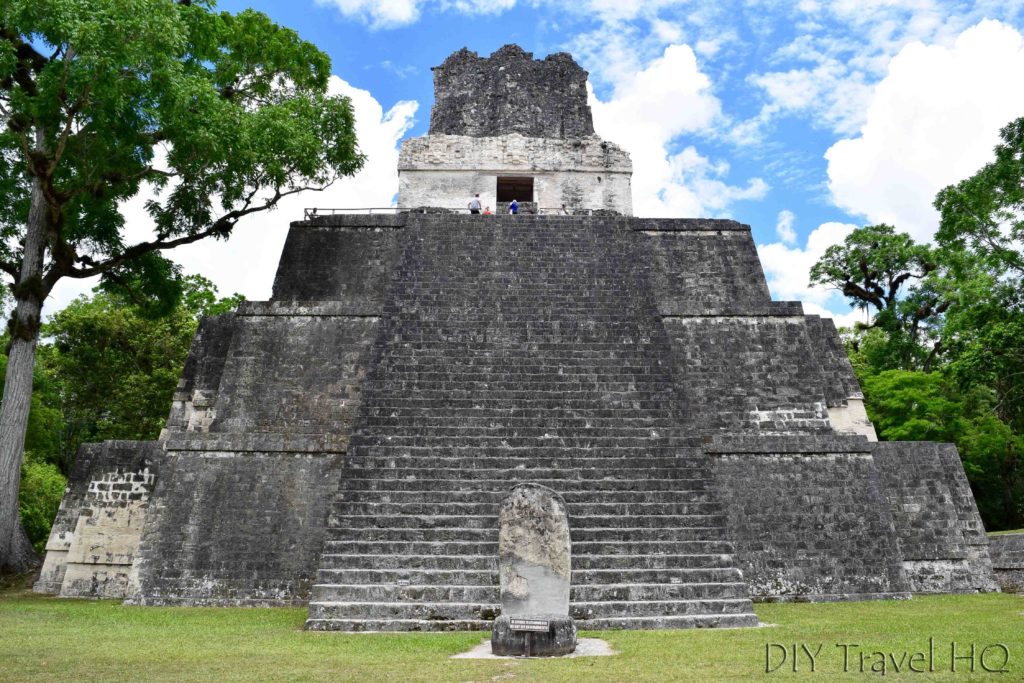 North Acropolis
The North Acropolis is a tiered platform on the north side that served as a mausoleum for the rulers
Two rows of stelae and altars line the front. They depict the dynastic sequence, and record major events.
The most detailed section is in the center, and has stone carvings unearthed from previous construction.
It is also possible to do a loop by climbing up either side, and returning down the other. There are great views of the Grand Plaza from the top.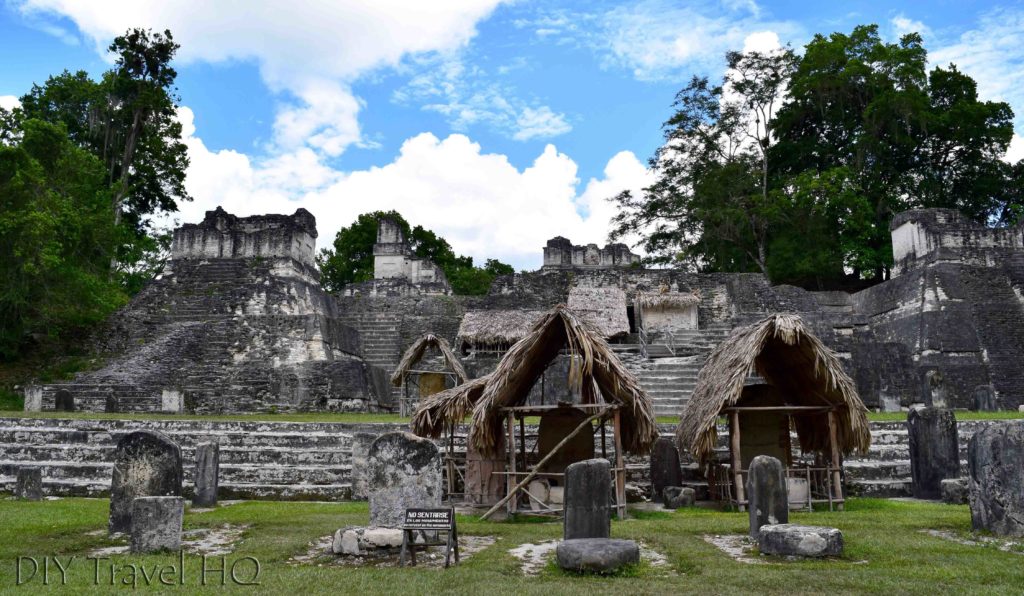 Central Acropolis
The Central Acropolis on the south side functioned as residential and administrative quarters.
The palace consisted of mini plazas and small rooms that housed nobility.
Evidence of changing configurations suggests meeting the demands of various family sizes throughout the years.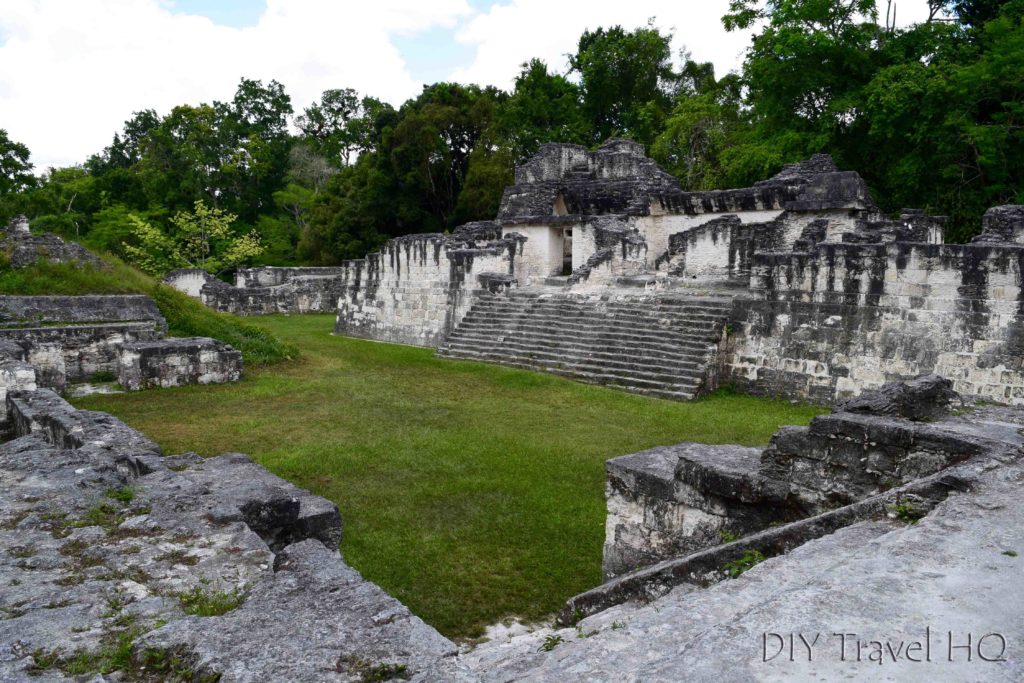 1. Ball Court
There is a small ball court next to Temple I in the Grand Plaza.
You may also be interested in checking out the ball courts at the El Tajin ruins in Mexico.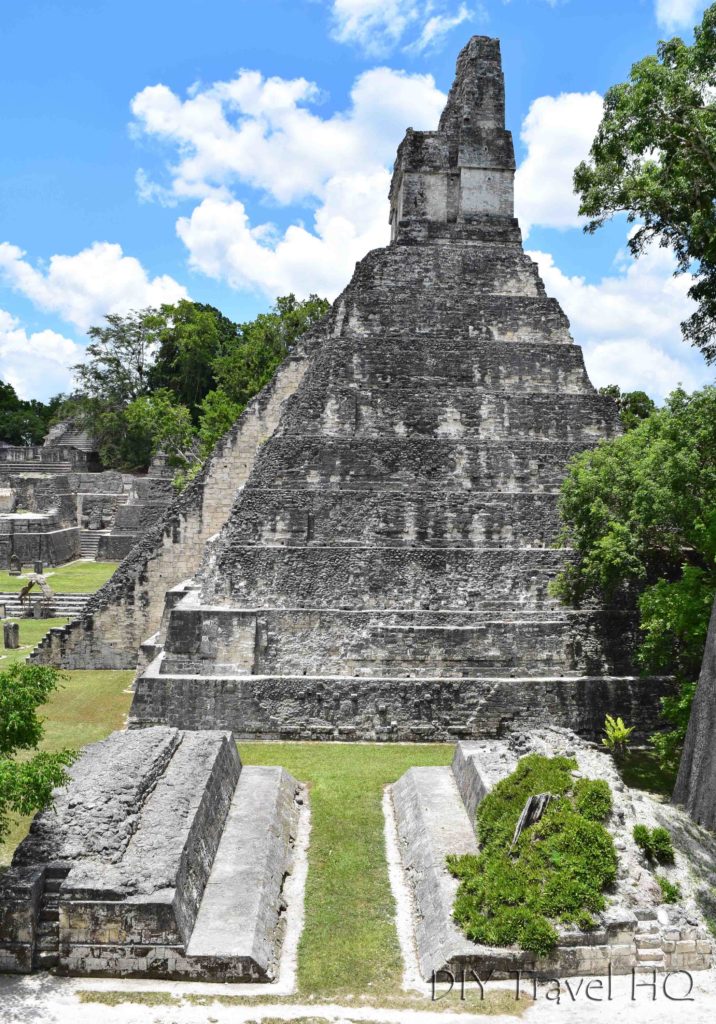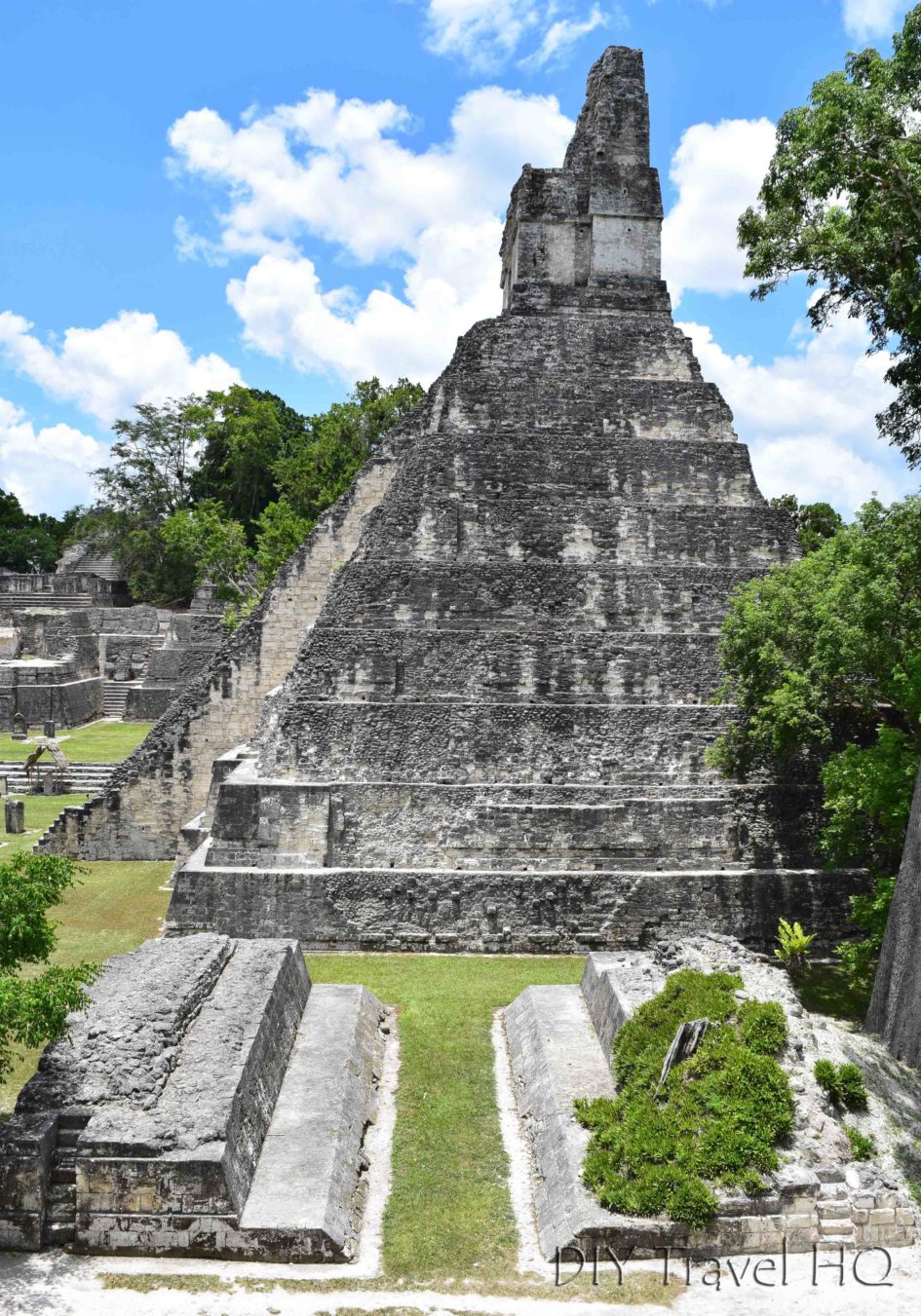 Temple 38
Temple 38 stands at a crossroads linking the Grand Plaza with Group F, and the South Acropolis with the East Square.
The front façade is completely covered with earth and appears small, but the excavated rear tells a different story.
Don't bother visiting the East Square since it has yet to be excavated, and Group F has little to see.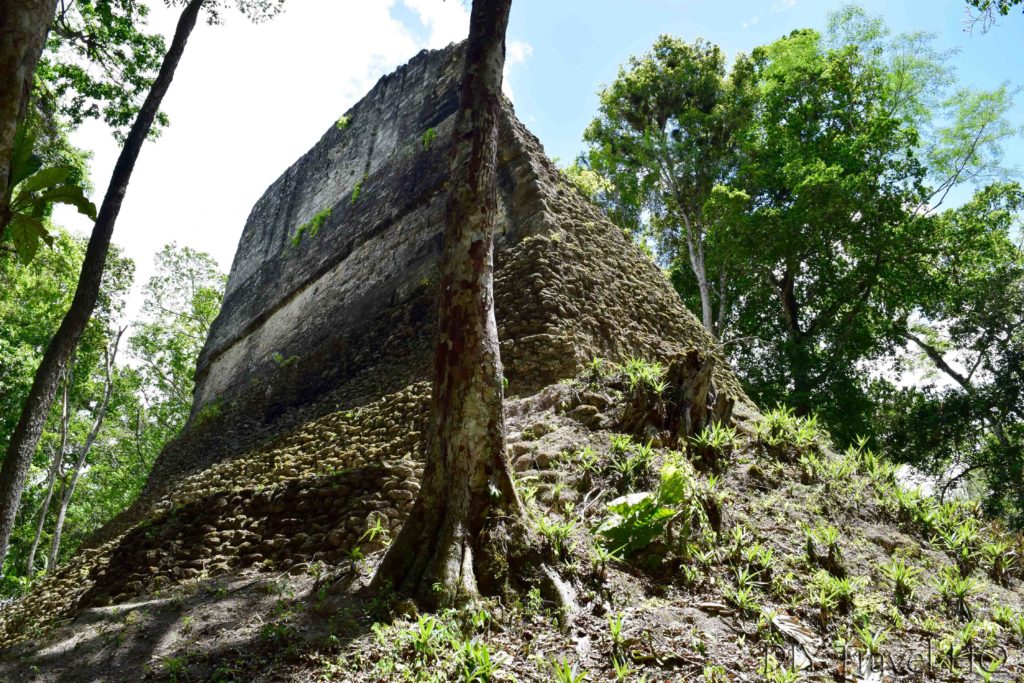 Group G (Acanaladuras Palace)
The Acanaladuras Palace was our personal favorite complex since it was completely different, and free of other tourists.
You enter the courtyard through a tunnel, and the walls on the other side are comprised of columns that don't quite fit.
It really feels like another set of ruins than Tikal.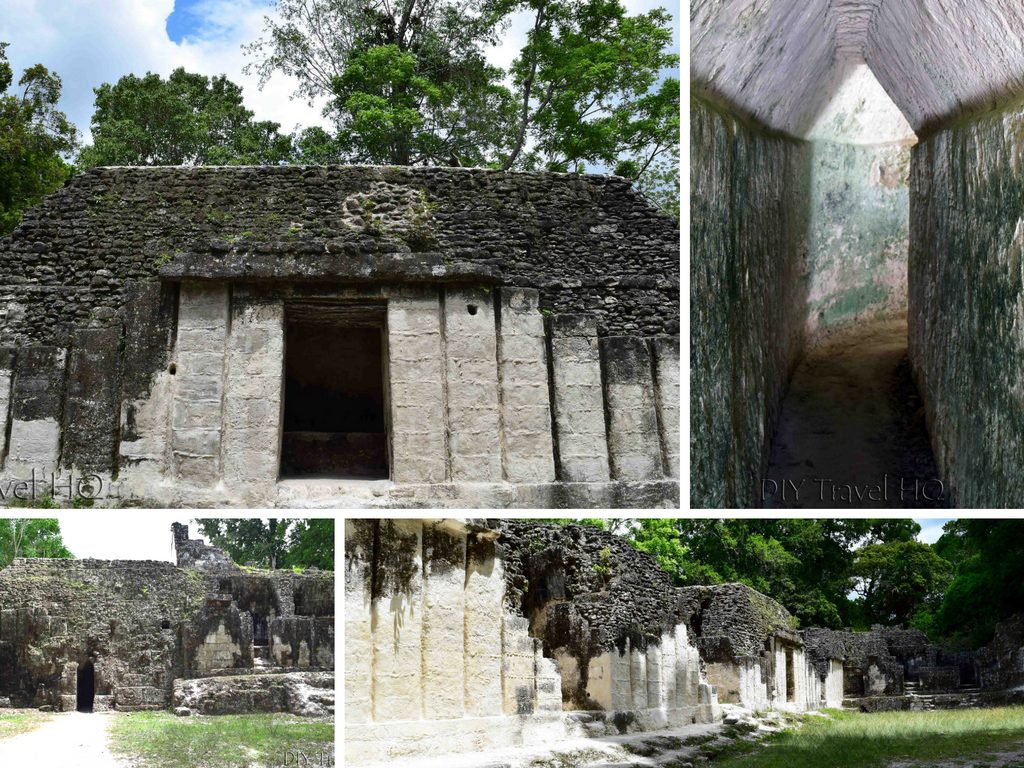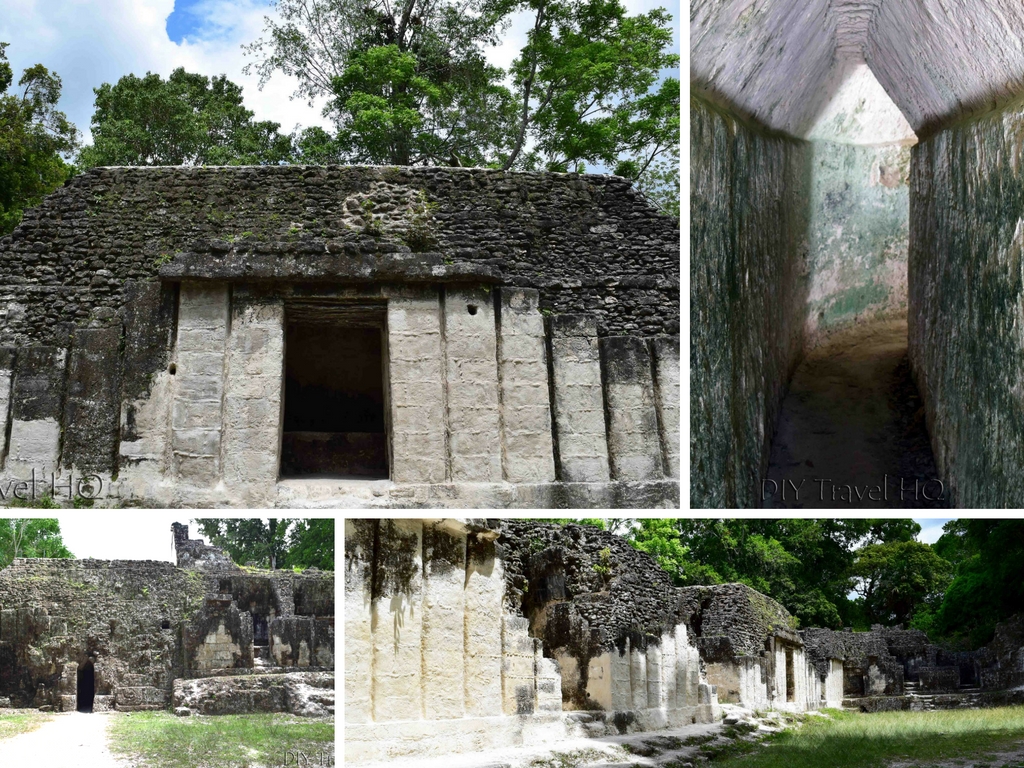 Temple VI – 766 AD
Temple VI, or Temple of the Inscriptions, is the last point of interest before returning to the entrance. The temple is out of the way, but worth it.
Temple VI has the longest hieroglyphic text in Tikal, located on its rear. Stela 21 and Altar 9 are also worth a look in the front.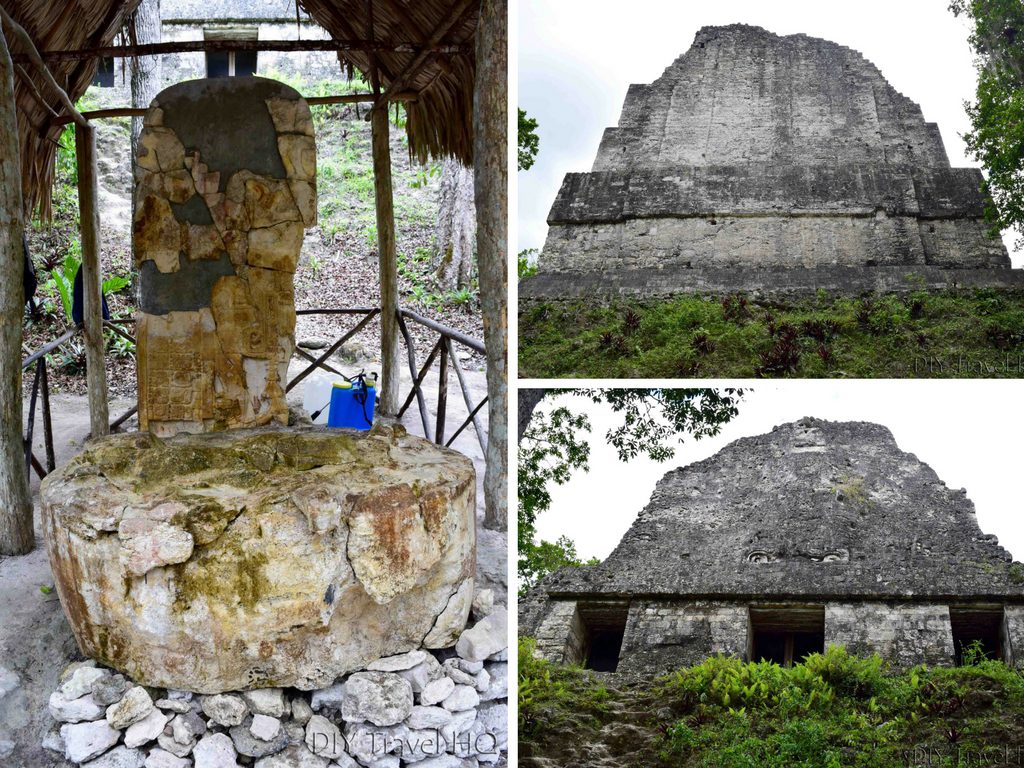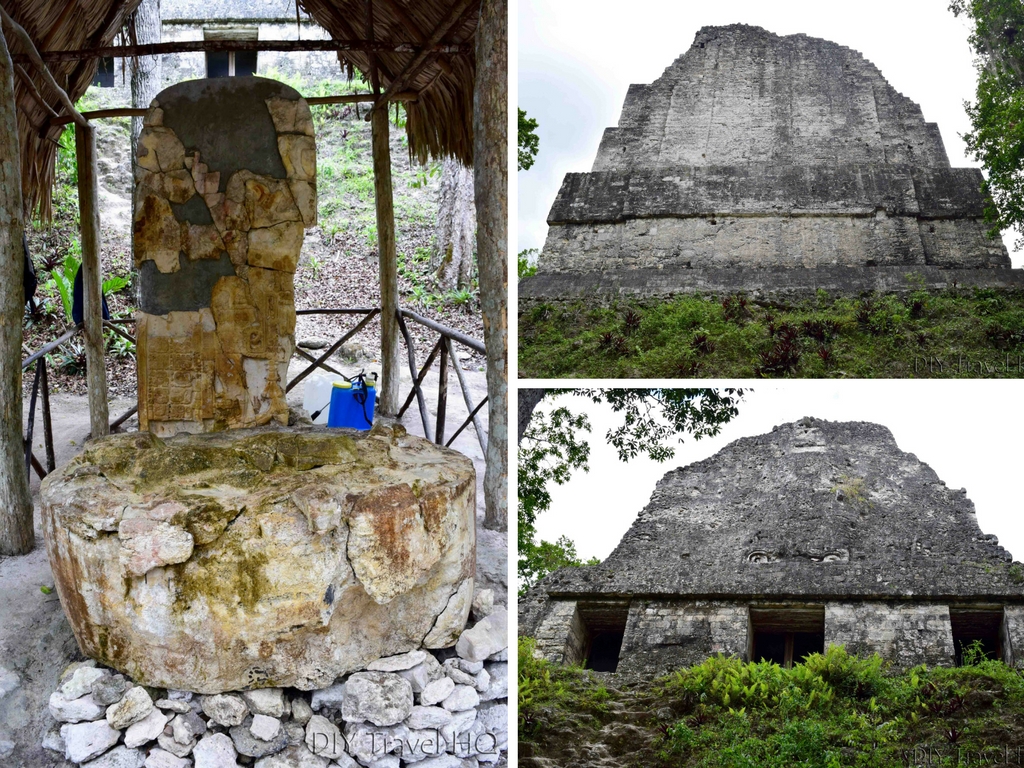 Tikal Wildlife
What separates Tikal from other Maya ruins is the combination of partially restored pyramids, and a healthy amount of wildlife in the jungle.
Expect to find spider and howler monkeys, coatis, peccaries, woodpeckers, toucans, hawks, bats, and turkeys – you have the time to spot wildlife when visiting Tikal without a guide.
We let you know where we saw them just in case they frequent certain locations.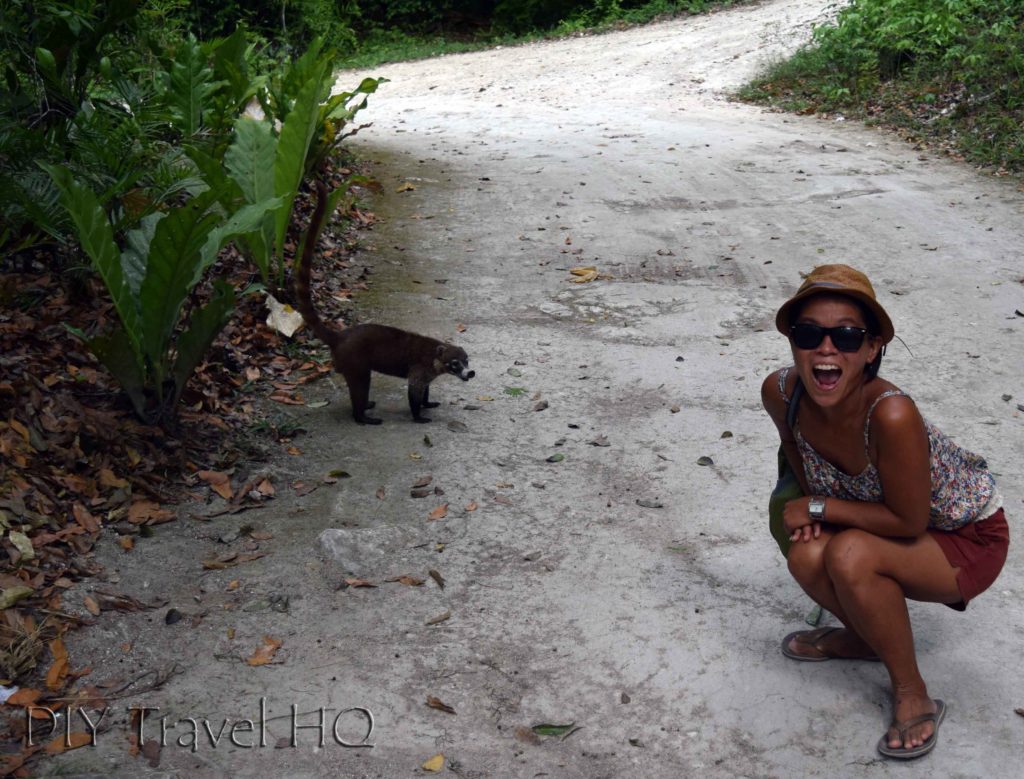 1. Spider Monkey
Spider monkeys tend to be the monkey that will catch your attention as they swing from branch to branch.
We saw several spider monkeys by the ceiba tree near the entrance, another group of spider monkeys around Temple 38, and also in the large tree in the center of the 7 Temples Plaza.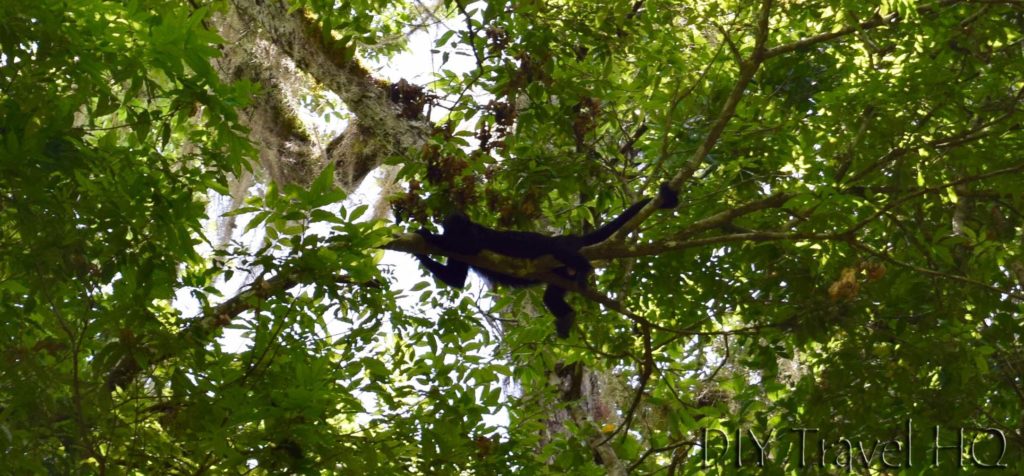 2. Howler Monkey
Howler monkeys are more likely to be heard than seen since they don't tend to move much. We heard and spotted them on the trail before arriving at Complex Q.
Spider monkeys are also usually spotted at the Community Baboon Sanctuary in Belize.
3. Peccary
We saw a peccary on the far side of Complex R, and on the Complex O platform.
Depending on their range, you might see them in the early morning as well in this area. They seem to resemble an oversized rat that hops like a rabbit.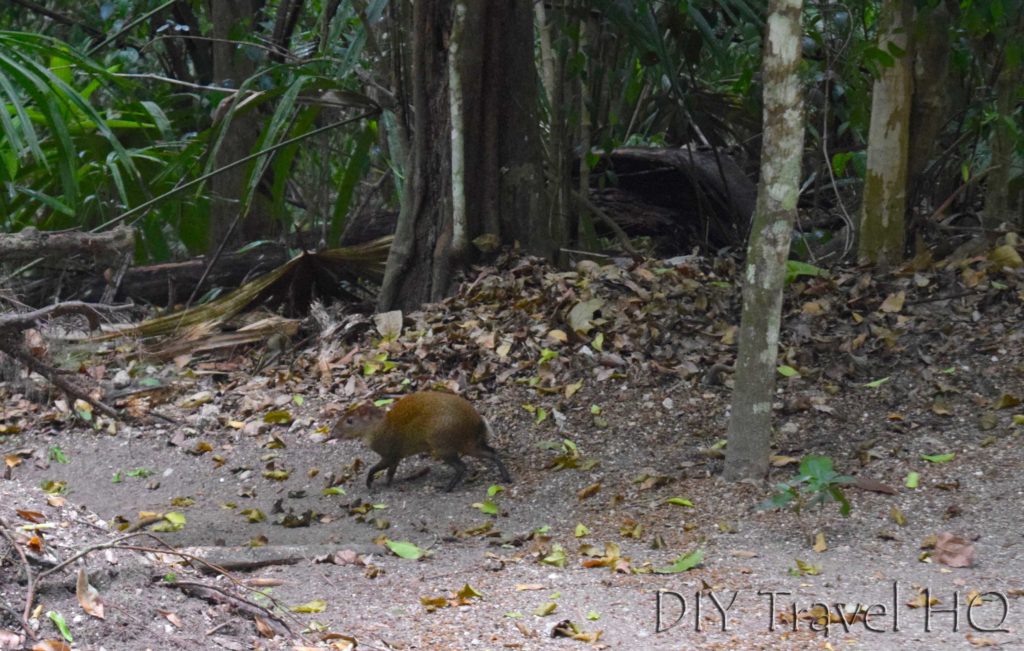 4. Coatis
Coatis are common sights around Temple IV – you're highly likely too see them even without a tour or guide.
They are scavengers that resemble a raccoon with a long nose. They are probably attracted to the bathroom, and snack stand located nearby.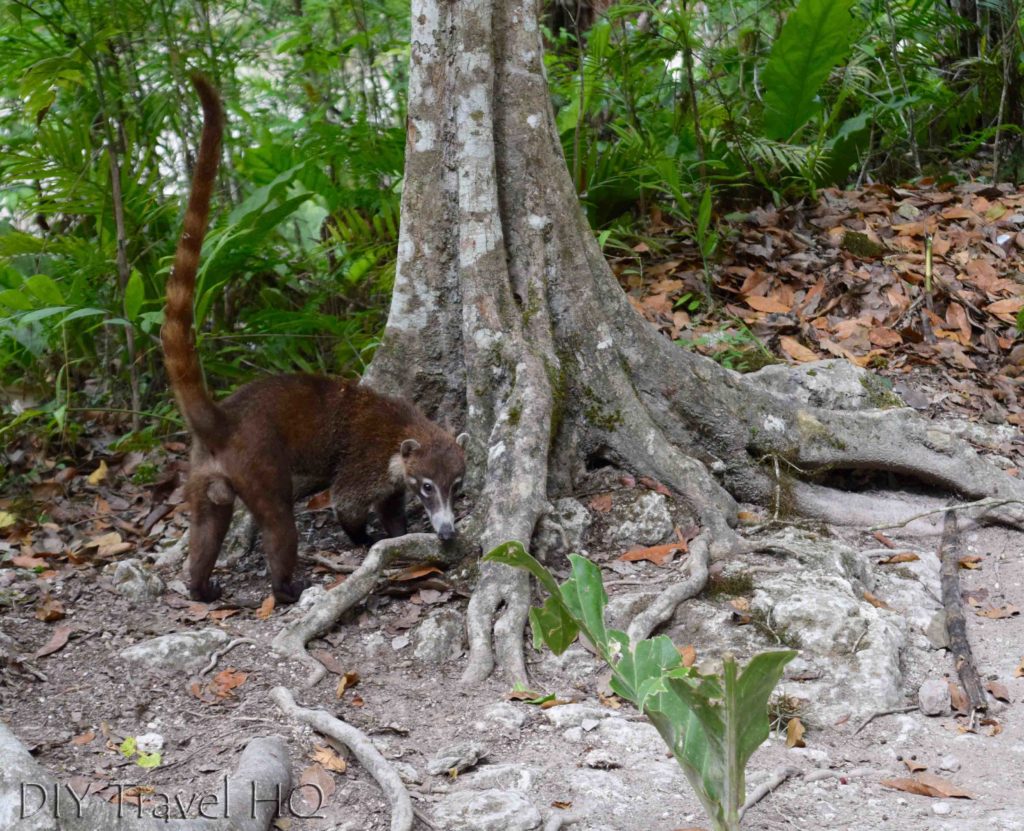 5. Woodpecker
We also saw several woodpeckers that were spot-on for Woody Woodpecker clones pecking away at the trees near Temple V.
6. Ocellated Turkey
The ocellated turkery at Tikal is an oddity as it has feathers similar to a peacock.
Watch it strut around like it owns the place. We saw ocellated turkeys behind the 7 Temples, and near the museums.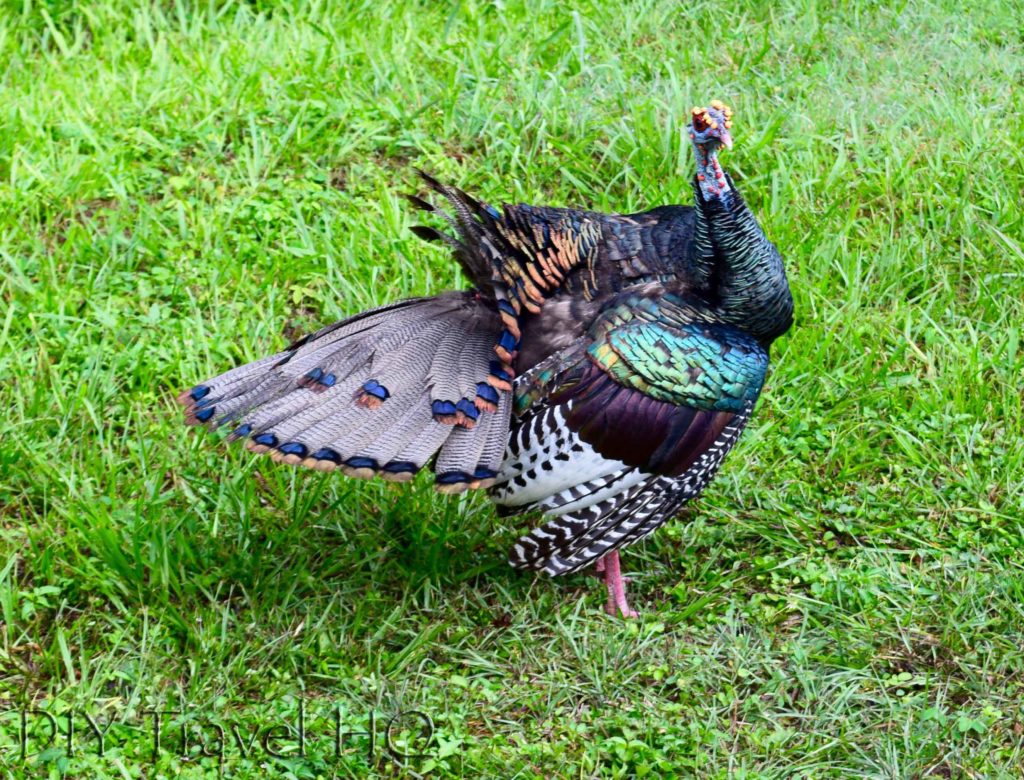 7. Hawk
Perched on a tree in front of Temple IV we spotted a hawk waiting for prey.
There were also toucans nearby, but quickly flew away.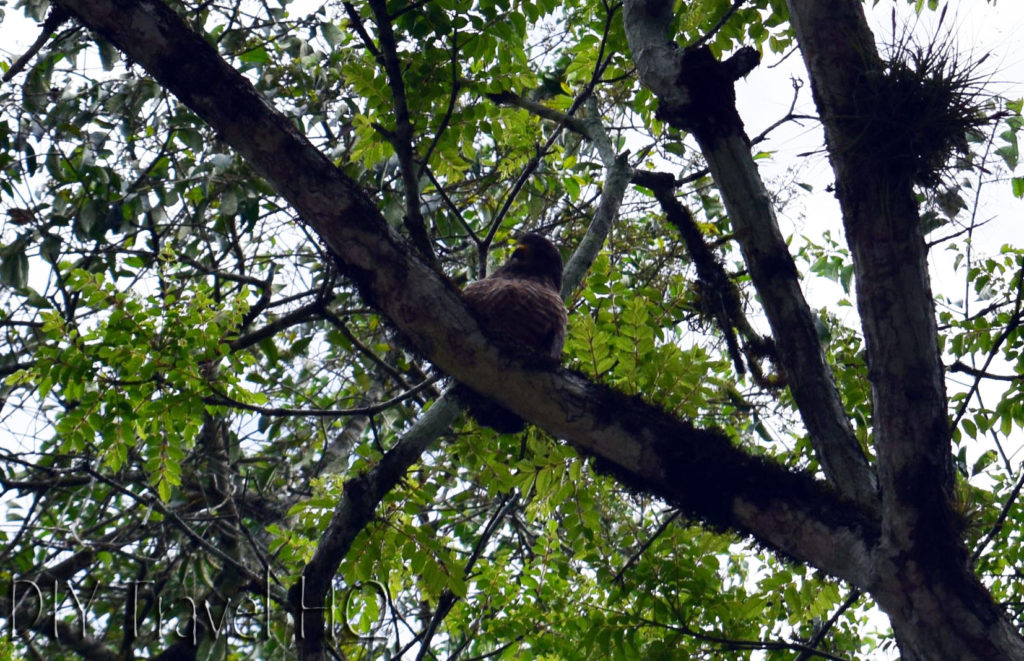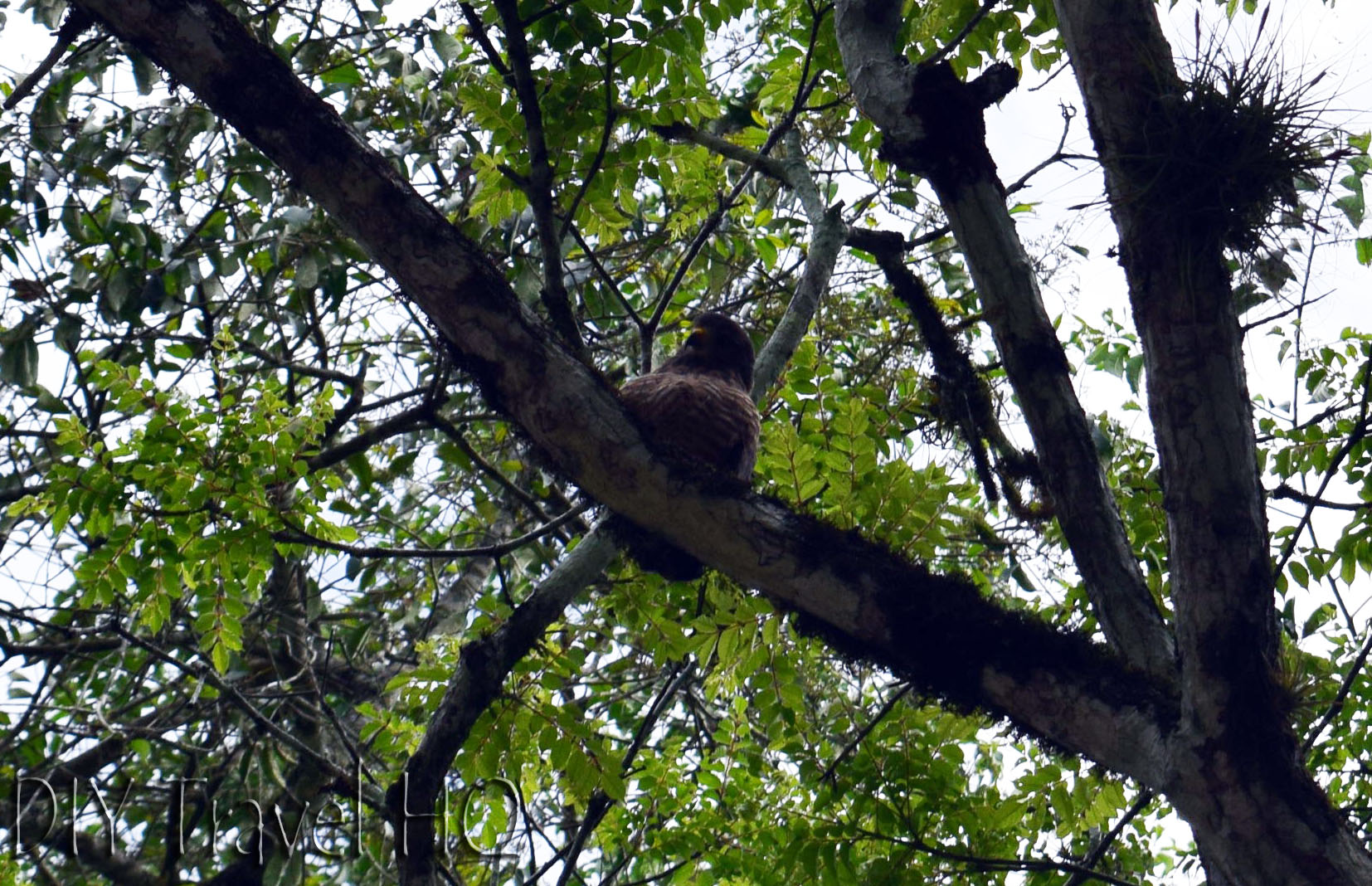 Tikal Nature
Tikal is flush with wildlife for a touristy area, but there are a few unique plants to look out for too.
These include the ceiba tree, strangler fig, and escobo palm.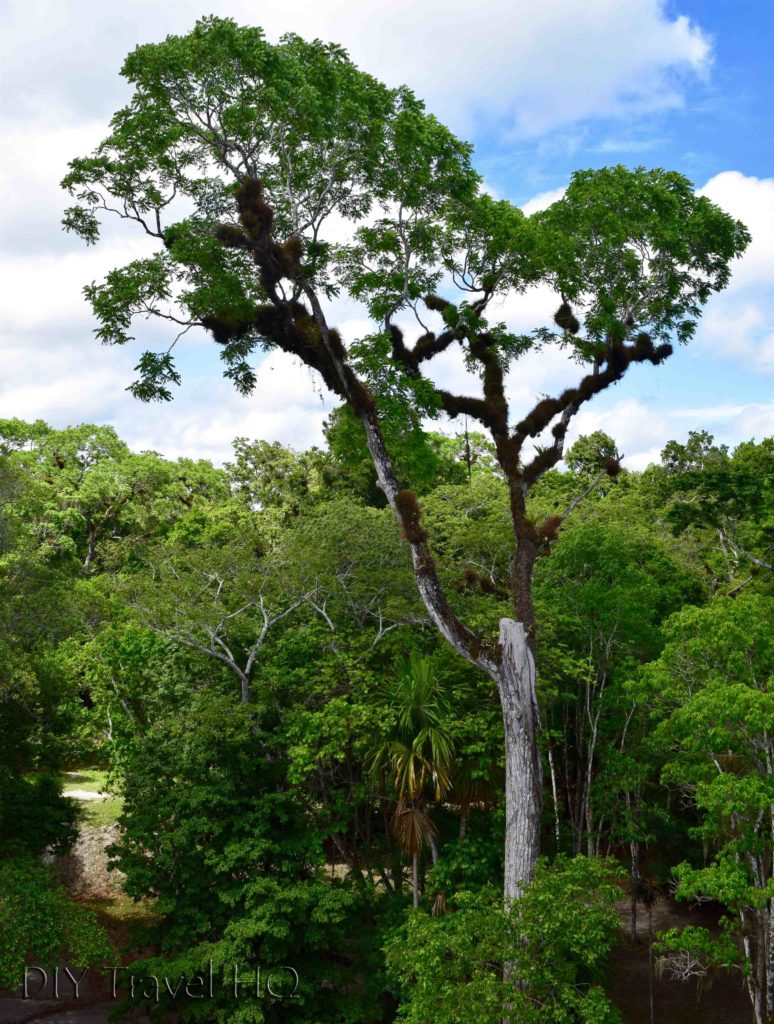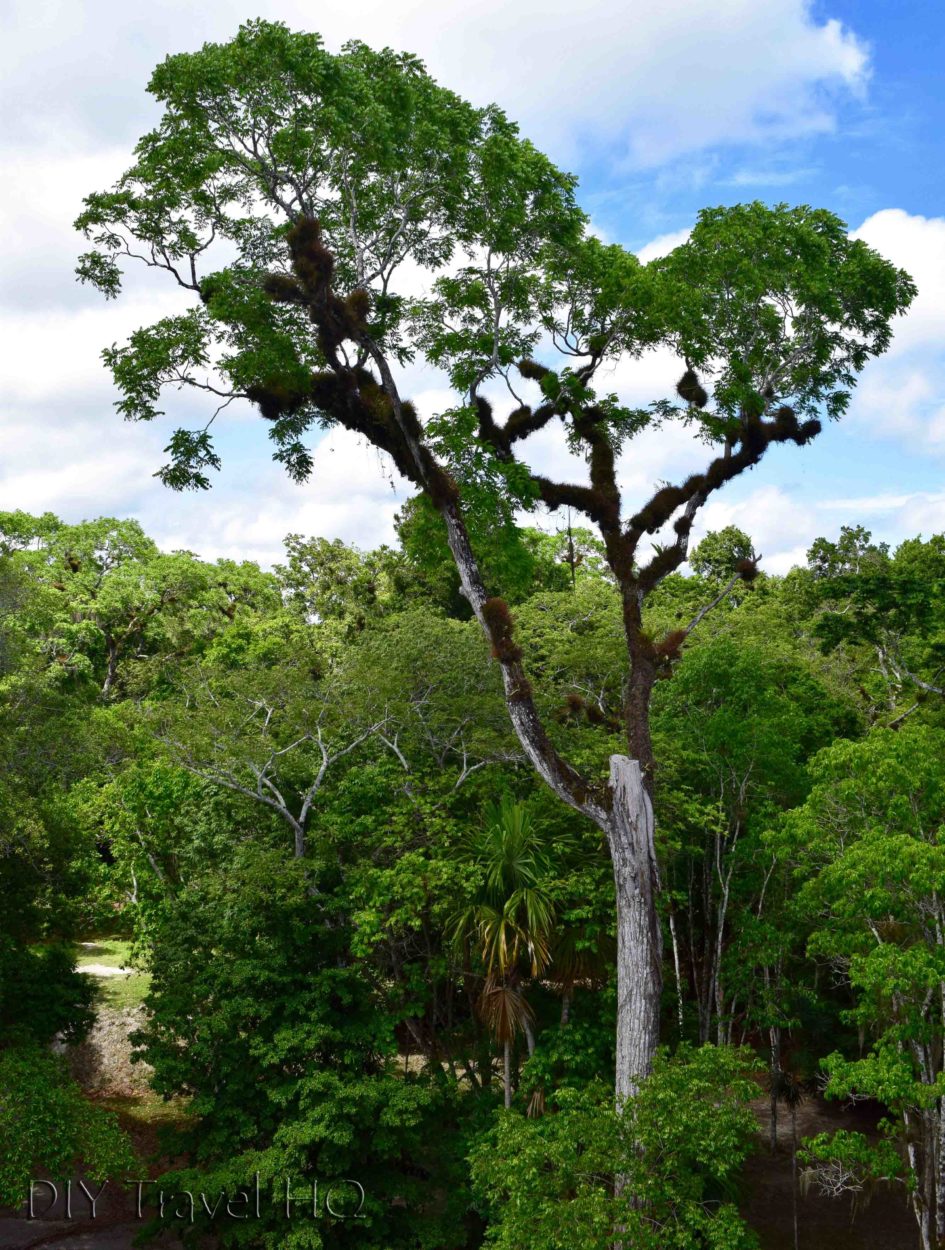 1. Ceiba Tree
Immediately upon entering Tikal is the giant ceiba tree on the right side of the path.
Ceiba trees are easily recognizable by their height, and thick branches at the top.
2. Strangler Fig
The strangler fig is always fun to see it wrap itself around a tree for support, only to smother it later.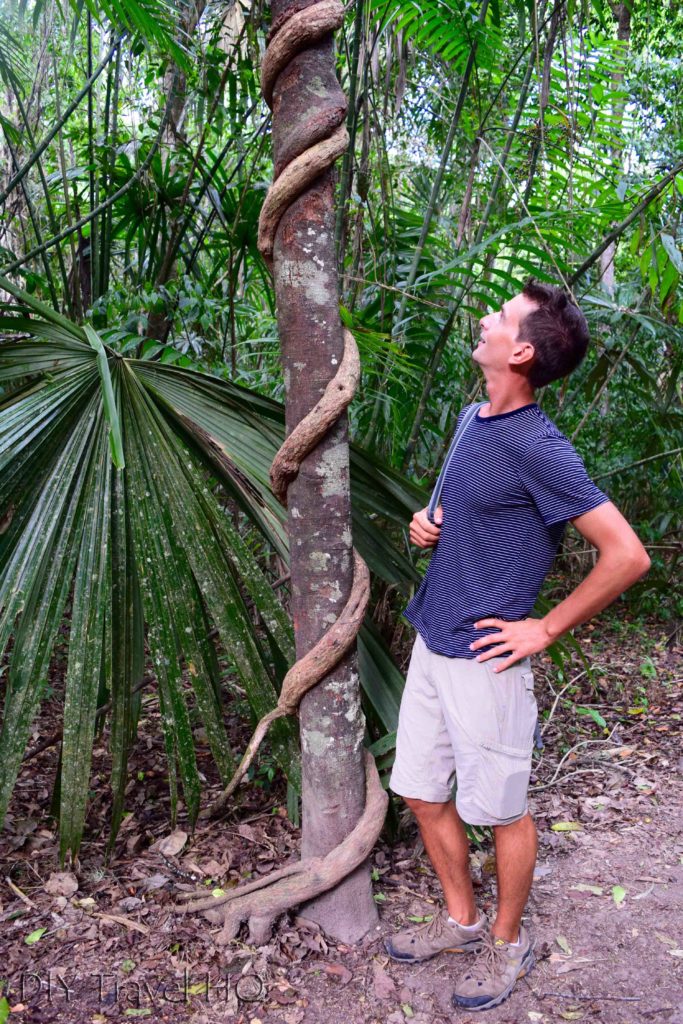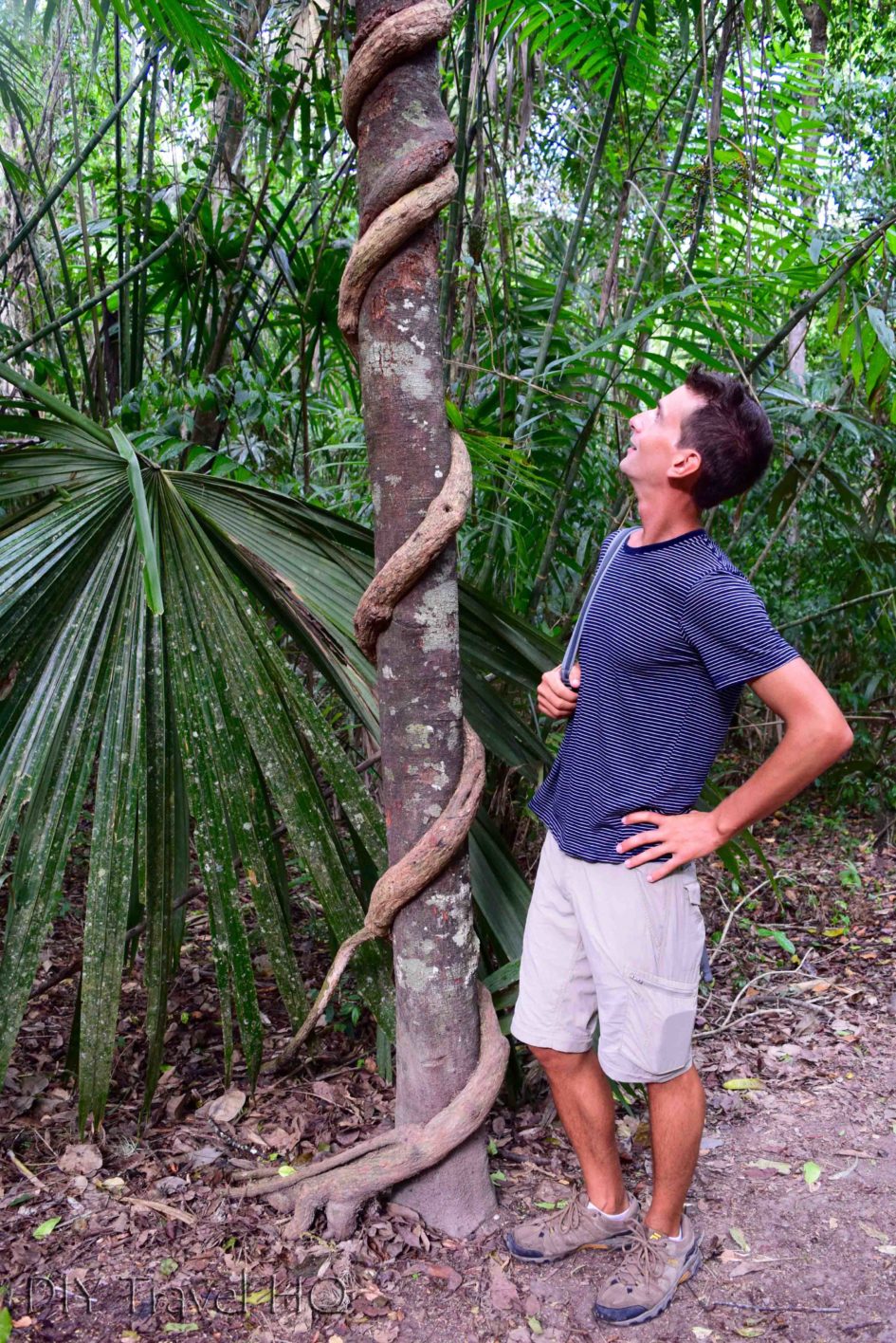 3. Escobo Palm
The escobo palm is also interesting since the Mayas used the thorns to catch fish.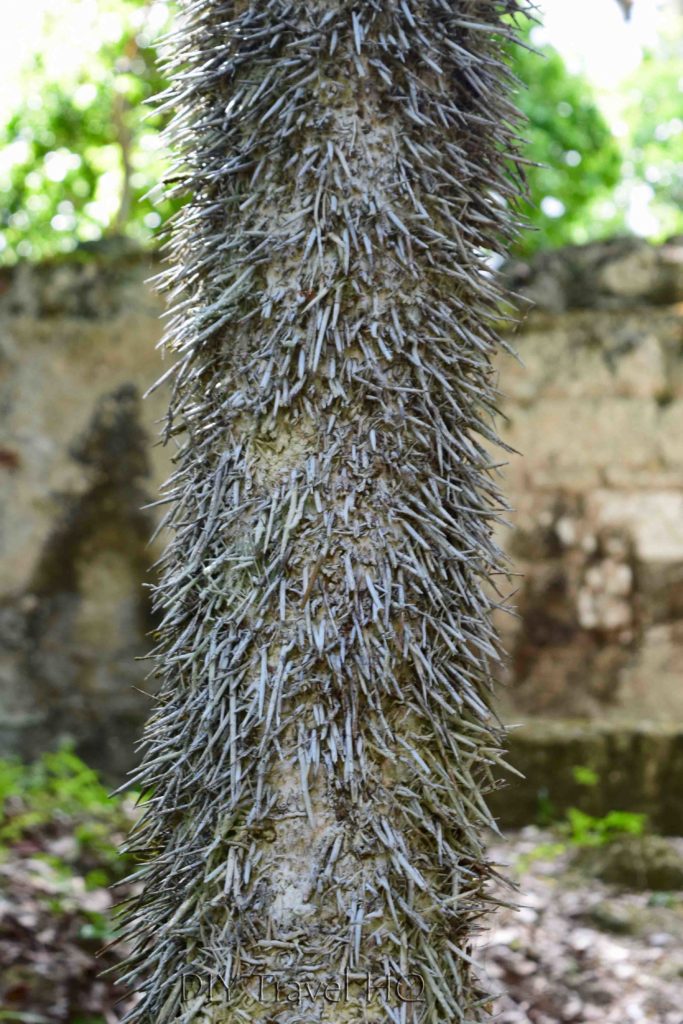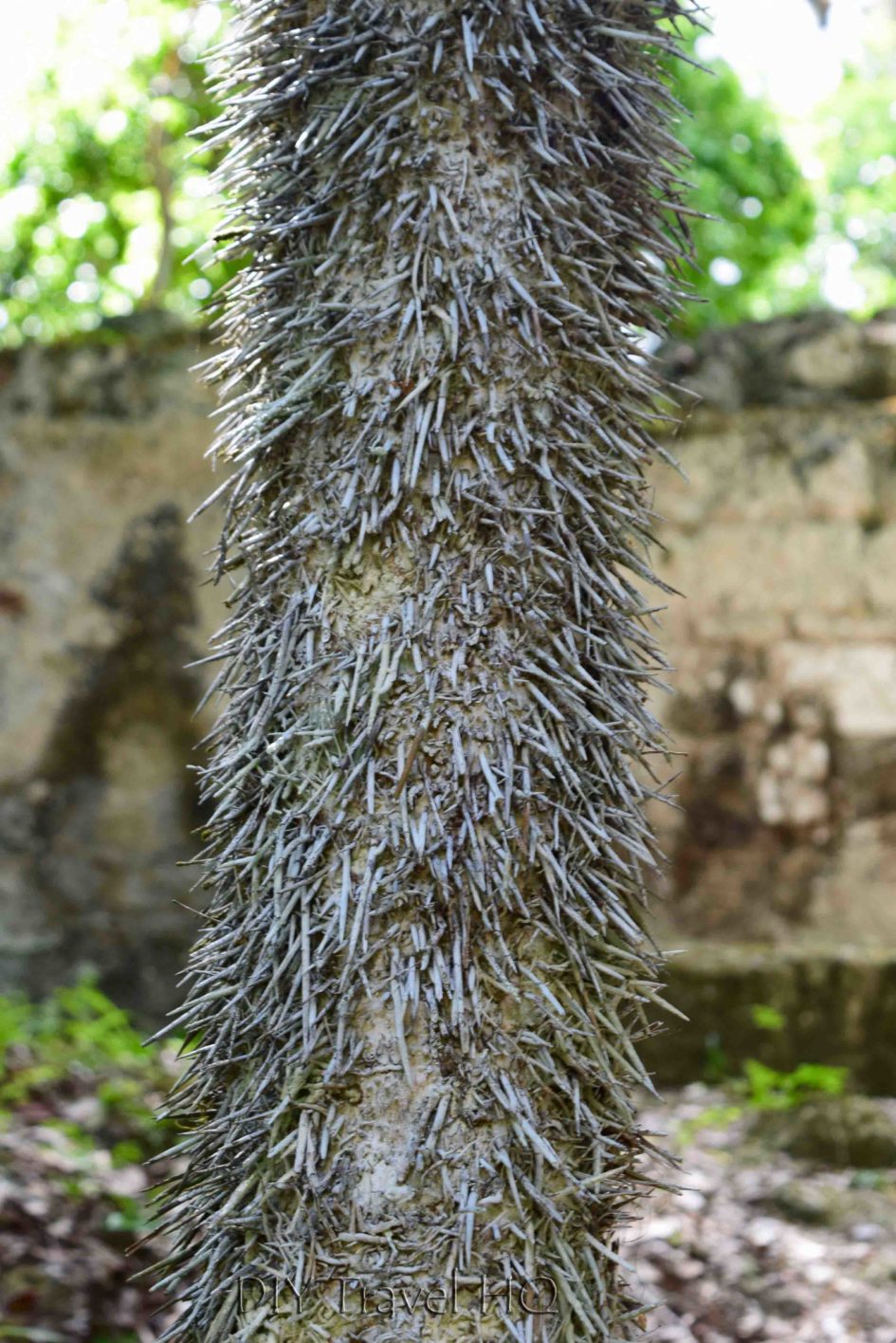 Tikal Insects
Surprisingly, Tikal did not have many mosquitos despite being rainy season.
However, they did have huge beetles, and termites on the path back to the entrance.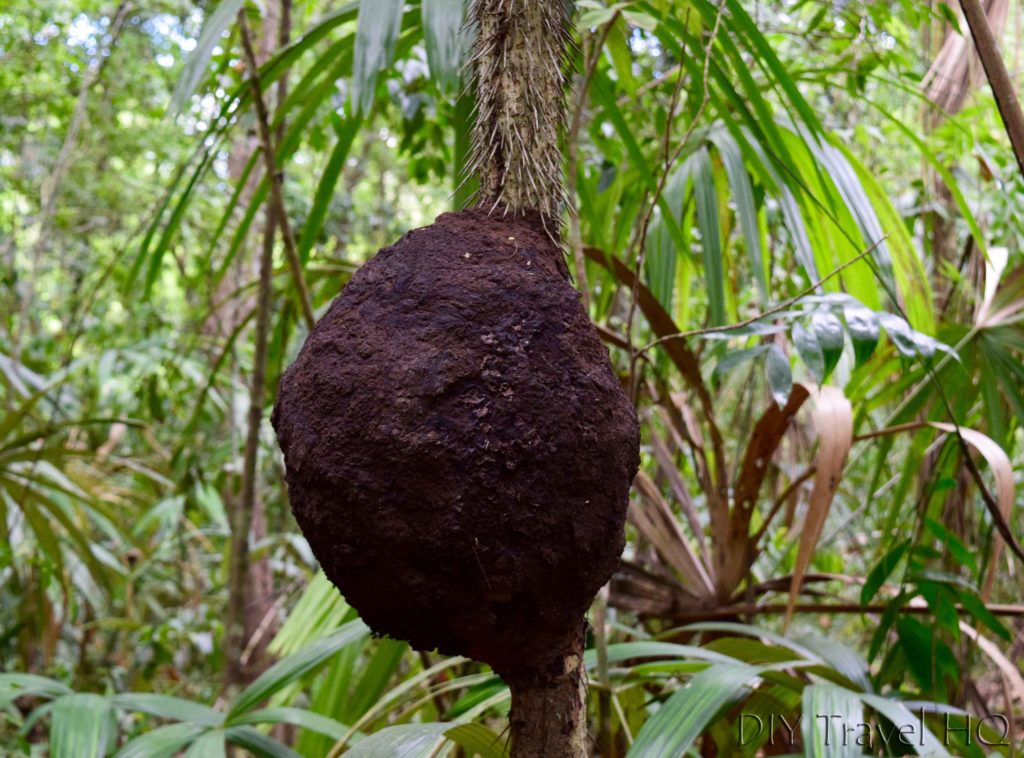 How to Get to Tikal
The easiest way to get to Tikal is by the shuttles that tour companies, hotels & hostels all operate from Flores, the base town for visiting Tikal.
Take the 4:30 am shuttle to arrive by 6 am, and start exploring Tikal by 7 am. This gives you the best chance to see wildlife, avoid rain, and keep cool.
Return times are at 11 am, 12:30 pm, and 3 pm. Aim for the 12:30 pm shuttle, which should give you ample time.
Tikal Hotels & Camping
There are 3 places to stay within the Tikal National Park but outside the actual ruins. They are all around 1 mile from the entrance.
Jungle Lodge Hotel is the nicest option and the closest to the entrance. They also have a pool restaurant bar and free wifi. There are 5 types of rooms ranging from standard to suites. You can get rooms for as low as $45 up to $180. It's also listed online as Hostal Jungle Lodge Tikal but they're the same place.
Tikal Inn is the furthest away from the entrance but still within walking distance. There's an outdoor pool restaurant bar and free wifi in public areas. There are 4 types of rooms ranging from 'Ranchon Rooms' to Junior Suites from around $40-100.
Hotel Jaguar Inn has a restaurant cafe bar and free wifi in public areas. Accommodation is in bungalows for up to 4 people starting from $70. You can also rent a tent with mattresses pillows sheets and towels or bring your own and camp on the grounds for $4.
Camping is also available at the Tikal National Park Campground. According to a recent Tripadvisor review it's Q50 / $6.55 to camp with your own tent or Q70 / $9.15 to hire a tent. Hammocks are Q50 / $6.15. You can't make a reservation in advance so get to the park early to secure a spot.
Flores Hostels
Most people choose to stay in Flores which is just over 1 hour from Tikal. Here there are many more accommodation and food choices along with things to do.
There are over 10 budget guesthouses and hostels in Flores with dorm rooms starting from Q50 / $6.60 and private rooms from Q115 / $15.
We stayed at Hotel Mirador del Lago which was pretty good.
The most popular hostel is los Amigos for good reason. We popped in to check out their tours and it's a really cool place with a large tropical common area. This is the best choice if you want to socialise party or meet other people.
Hostel Yaxha is more low-key but also highly rated. All hostels and hotels run tours everyday to Tikal and around.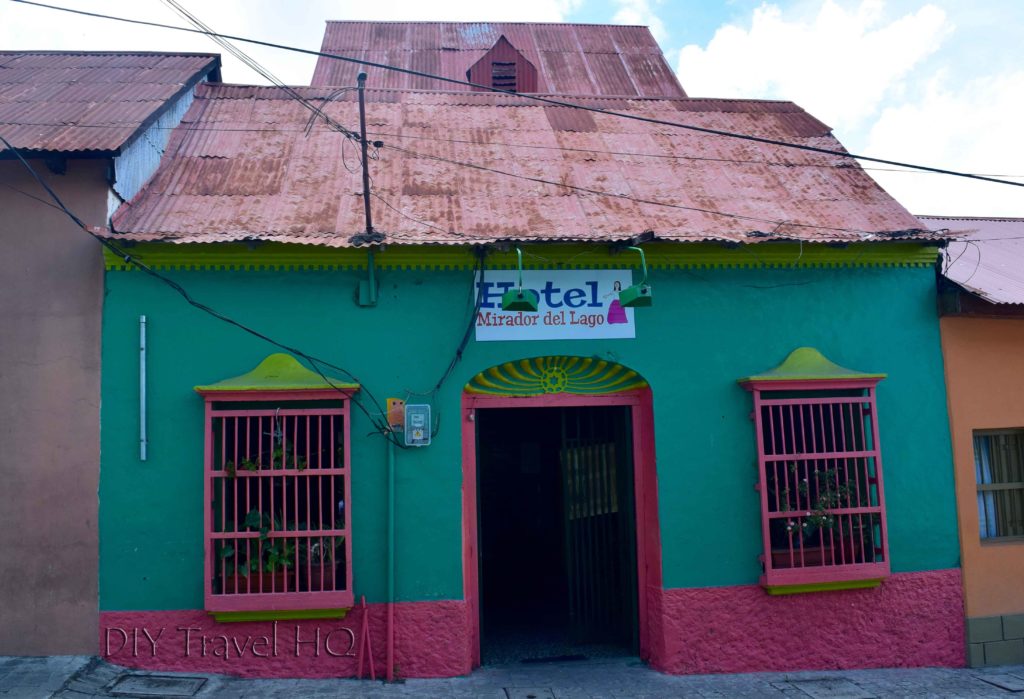 Where to Next?
Top 15 Places to Visit in Guatemala
Ruins, volcanoes, lakes, villages & markets… Guatemala is a country of adventure & culture, with Maya traditions alive & well – in our ultimate itinerary, find out the top 15 Guatemala destinations
Read more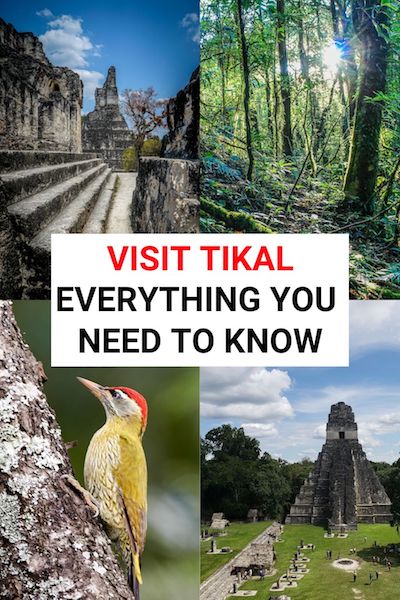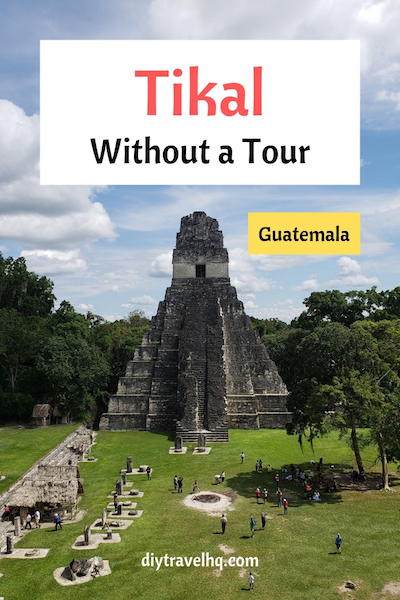 *** The Final Word – It's easy to visit Tikal without a guide or tour. The temples may not be as restored as Mexico, but the jungle setting makes up for it ***
What did you think of Tikal and how does it compare to other ruins you've visited?
Disclaimer: This post contains affiliate links which means that we receive a small commission if you click on a link & purchase something that we've recommended, at no extra cost to you.
Visited in July 2016
Updated in February 2020