The Limestone Coast in South Australia is full of natural attractions and volcanic landscapes – find out the top 6 free things to do in Mount Gambier, home of the famous Blue Lake.

Mount Gambier is best explored on a road trip from Adelaide to Melbourne or if visiting the nearby Coonawarra wine region – check out Lonely Planet's South Australia travel guide
for more inspiration.
Adelaide tour options:
Thankfully, the top Mount Gambier attractions can be visited in a day.
Top 6 Free Things to do in Mount Gambier
#6. The Valley Lake
The Valley Lake comes in at #6 on our list. Honestly, you can skip it and not feel that you missed out on anything.
We made the long drive to Mount Gambier after visiting Adelaide for a few days where we cuddled a koala and drank lots of wine.
The only reason the average looking lake made the cut is because we needed to freshen up and thought it would be a good idea to take a swim in the lake.
Once we drove from the lookout down to the park at water level, we realized this too was a bad choice. The whole shoreline was comprised of deep mud. Not only was each step disgusting, but it prevented getting clean as well.
The solution was taking an elephant shower where you throw water all over your body in the hopes that all the dirt washes off. A fellow car mate didn't have so much luck getting out of Valley Lake as she did getting in.
#5. Centenary Tower
We here at DIY Travel HQ didn't visit Centenary Tower as we were satisfied with the viewpoints from the Valley Lake and Blue Lake lookouts. The view covers just Valley Lake, and you already know how I feel about that attraction.
Technically it is free to walk to the base, but AUD$2 to climb Centenary Tower. If you do decide to visit, you can tell in advance if the tower is open by a flying flag.
For a more adventurous climb don't miss the Adelaide Oval Roof Climb while you're in the capital.
#6. Riddoch Art Gallery
Riddoch Art Gallery is located adjacent to the Cave Gardens, which makes it a convenient place to make a quick visit. The exhibits change, but I didn't find anything striking at the time. That being said, you never know if you never go…
But before going anywhere overseas, don't forget to purchase travel insurance. We've been using World Nomads for over 10 years – it's the best-value provider we've found but there are important things to consider. Check out our post & find out which of our claims were successful or denied.
#3. Cave Gardens
Cave Gardens is located next to the Riddoch Art Gallery in the center of Mount Gambier. There is a lookout at street level, or you can wander down stairs to another viewpoint inside the sinkhole.
Personally, I would be a little worried with so many sinkholes scattered around town. Where's the next going to form?
Inside Cave Gardens is vegetation clinging to the sheer walls with water cascading down. At the very bottom was, and maybe still is, an abandoned shopping cart.
At night time, the city shows a poorly made Aboriginal dreaming movie on the walls of the Riddoch Art Gallery combined with a light show. Don't stay to watch it like we did.
#2. Blue Lake
Finally, Mount Gambier had an interesting attraction surrounded with a ring road and several lookouts. The Blue Lake's name doesn't lie. It is a vibrant blue with a shallower turquoise edge.
For me, the interesting aspect was learning about the creation of the Blue Lake and the geological history in Mount Gambier. Believe it or not, the Blue Lake was caused by a volcanic eruption. Who would have thought there were volcanoes in South Australia?
The land used to be underneath water until lava flowed through the limestone to form a new layer. Water then trickled through the passages until the pressure from cold water meeting hot lava was too much and exploded.
The end result was a thick layer of ash forming the Blue Lake's rim, and the water level refilling the newly formed crater cavity.
#1. Umpherston Sinkhole
Umpherston Sinkhole is a beautifully landscaped sinkhole on the outskirts of the city.
Not only is the vegetation lush, but the sculptures and resting areas can help recharge your energy levels before heading off to your next destination. Take time to let the atmosphere sink in.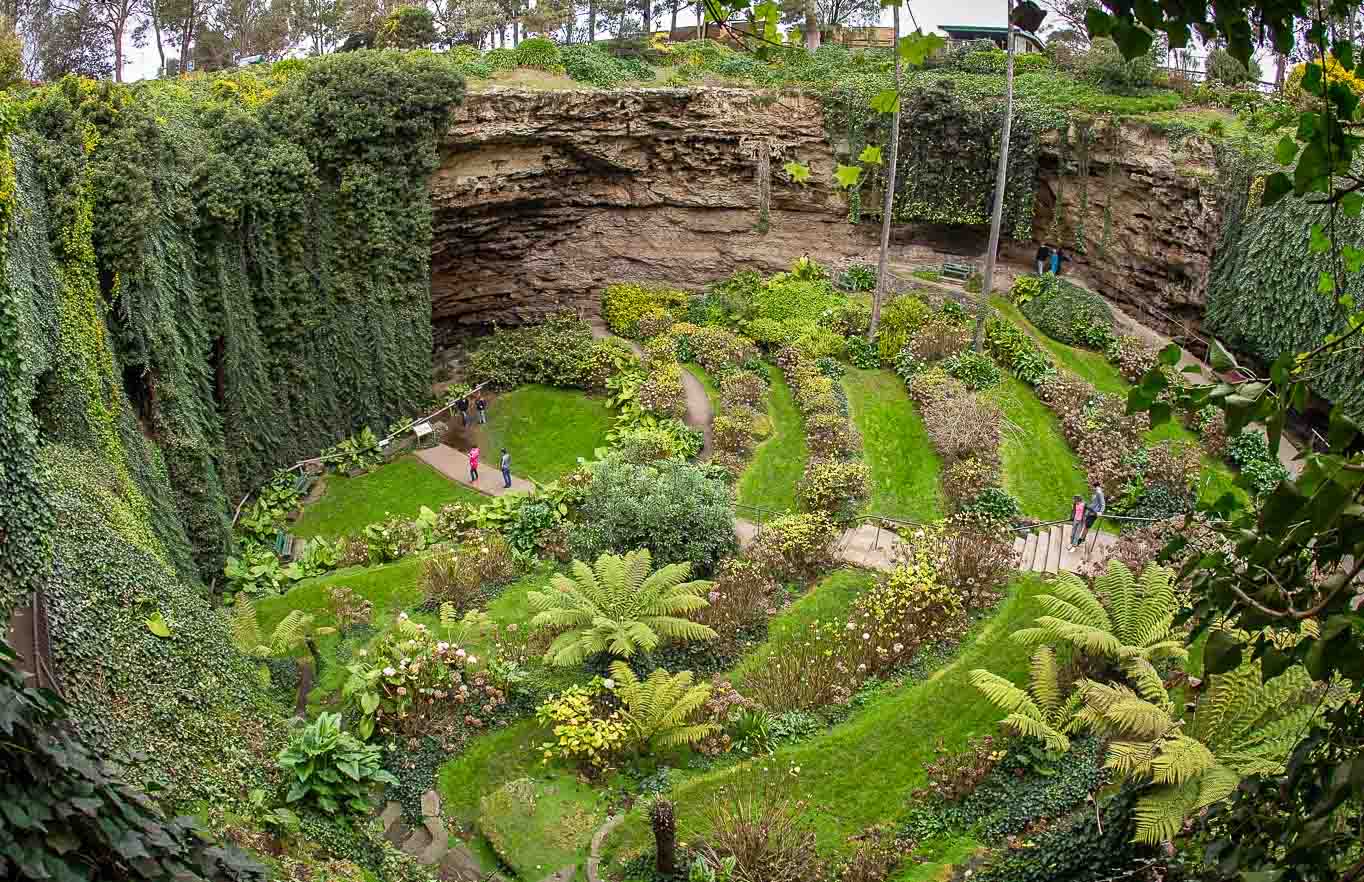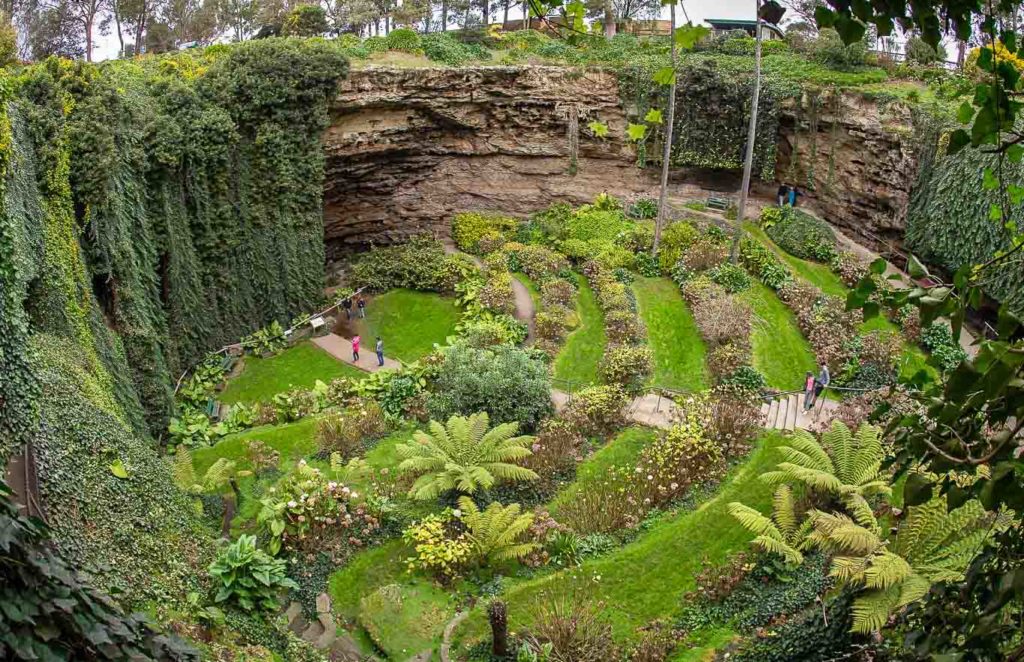 Mount Gambier Food and Accommodation
Mount Gambier has both Coles and Woolworths for self-catering.
After we finished visiting the top 6 free things to do in Mount Gambier we went to our free camp site a short drive away that we found on Wikicamps. "Dry Creek" allows tents and has a bathroom with a few river houses on the water.
One of our top reasons for choosing the free camp site was the fact that it straddles South Australia and Victoria. We happened to be there on New Year's Eve so we celebrated ringing in the New Year twice with the different time zones.
If camping is not your style, AirBnb offers great value for money – click here for $40 off your first Airbnb stay.
Know Before You Go
Location: Southeast South Australia
Top Attractions: Umpherston Sinkhole, Blue Lake, Cave Gardens, Riddoch Art Gallery
Duration: 1 Day
Food: Self-catering
Accomodation: Free camp sites within 25 km
Did you enjoy reading our list of Free Things to do in Mount Gambier?!
Pin it and help others find it too!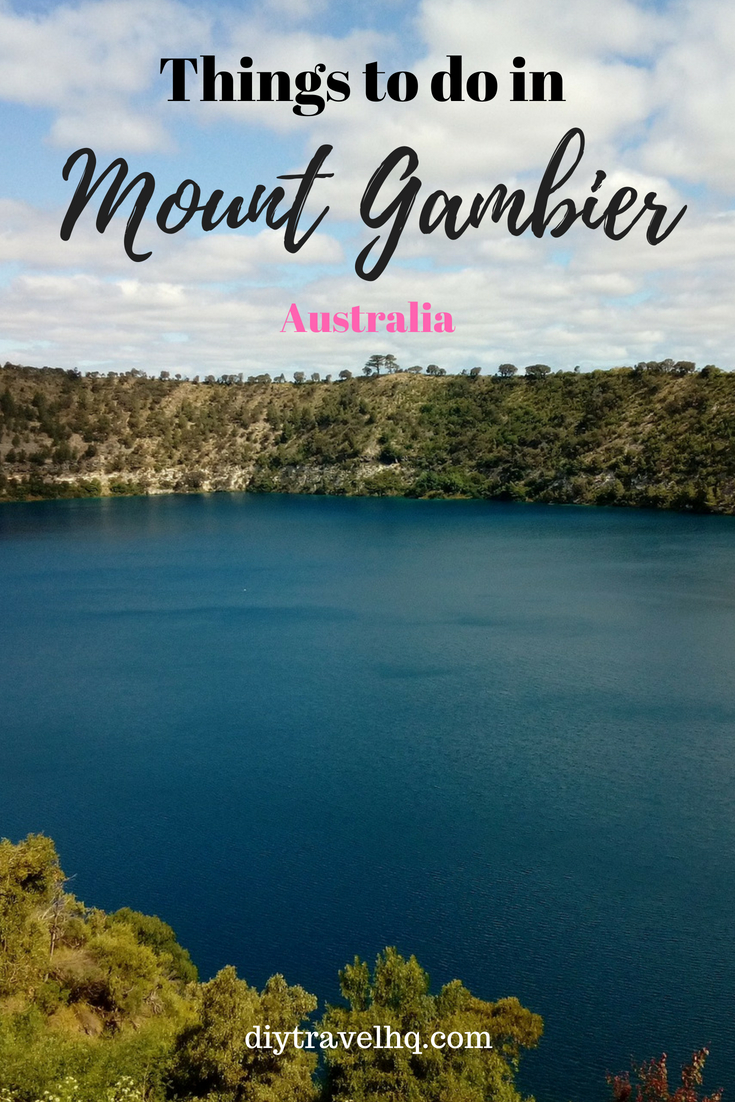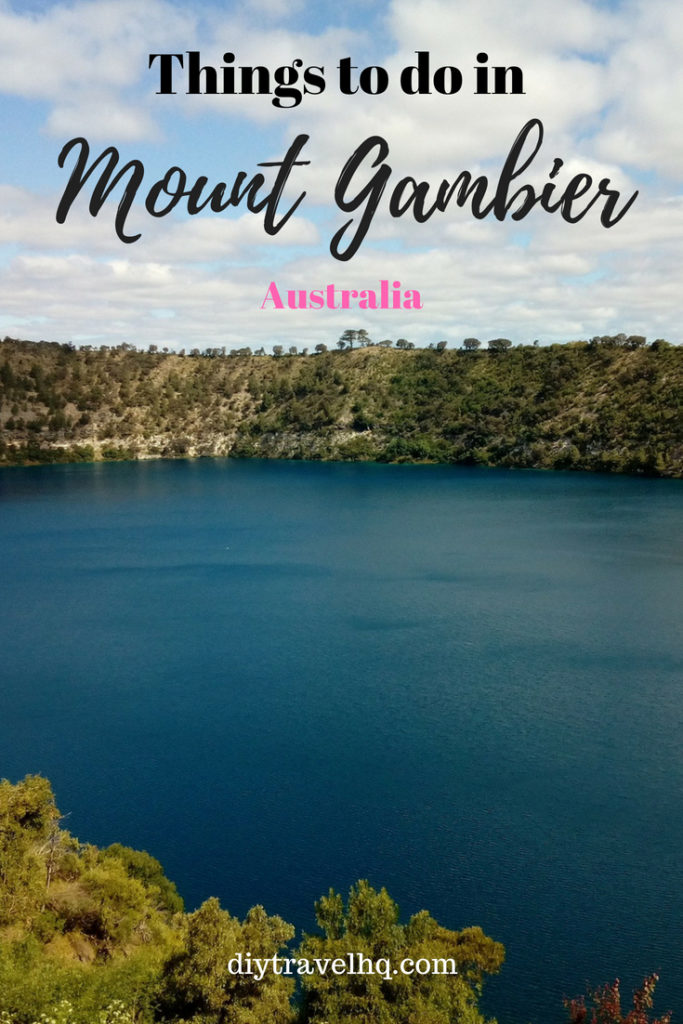 [put_wpgm id=287]
***The Final Word: Mount Gambier is only worth visiting if you are passing through the area, and not an outright destination.***
Did you know that South Australia had volcanoes?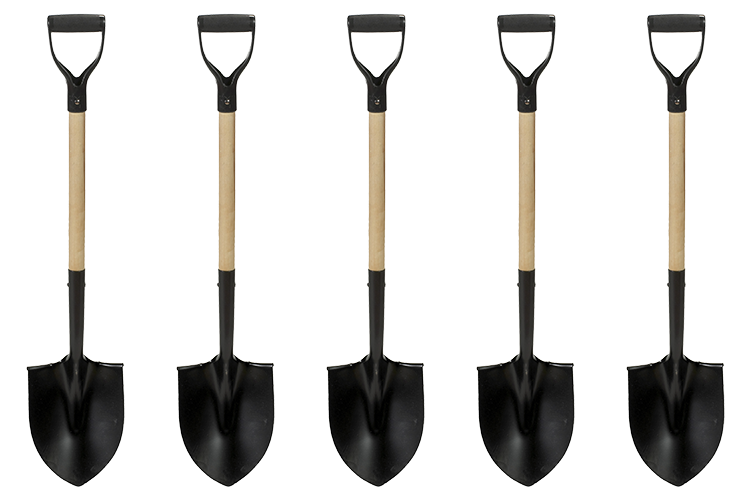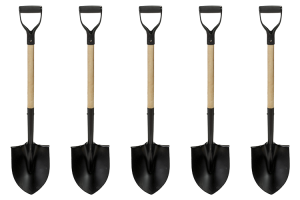 Super easy DIY travel around city centers
Disclaimer: This post contains affiliate links which means that we may receive a small commission if you click on a link & purchase something that we've recommended – at no extra cost to you. This helps us to keep our site running so we can continue to provide free content. Thank you for your support!