Many of the things to do in Lexington, VA are derived from the existence of Washington and Lee University, and Virginia Military Institute. Find out how these two schools shaped the town!
Things to Do in Lexington, Virginia
Lexington, Virginia is blessed with two prestigious academic institutes that honors both staff and student achievements. Most of the top things to do in Lexington, VA are derived from their storied history.
Other top Lexington, VA attractions take you further from the town and into nature. The biggest draws are the Blue Ridge Parkway and Natural Bridge State Park, but there are some smaller points of interest worth visiting.
Find more inspiration in one of the Virginia guide books below!
1. Virginia Military Institute (VMI) Campus
The Virginia Military Institute is the premier military college in the US that does not require active military duty upon graduation. Many students attend with the aim of a military commission, but all qualified students may attend if they want more structure to their secondary education.
Part of the fun to visiting Virginia Military Institute is seeing the cadets wander around the campus that resembles a castle. Try to attend a lively college football game in the fall to witness school pride at its best.
In addition to taking in the atmosphere of what appears to be a fortified campus and students in uniform, there are several things to do in Lexington, VA on the VMI campus. Take time to explore the VMI Museum, George C. Marshall Museum, and Parade Grounds as well.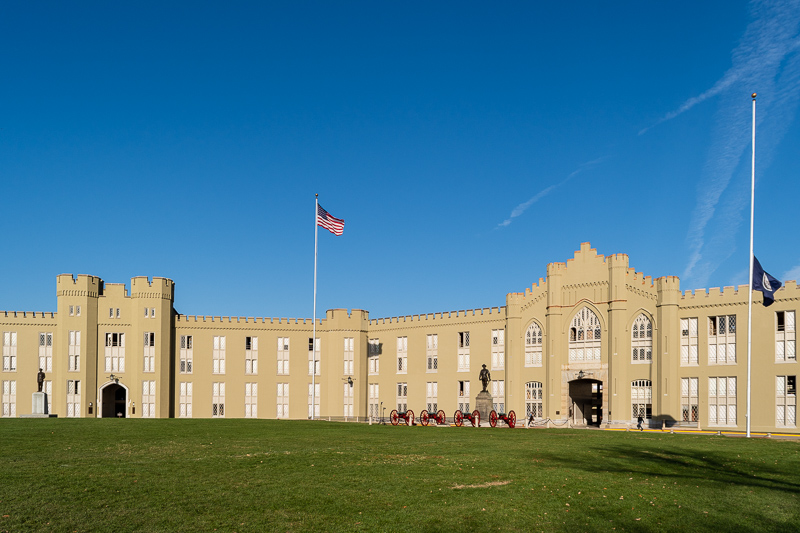 2. Parade Grounds
One of the highlights to visiting Virginia Military Institute are the 45 minute cadet parades on the parade grounds most Friday afternoons at 4:35 pm and some Saturday mornings at 10:30 am. Cadets conduct rifle drills and march past the reviewing officer.
3. VMI Museum
Gun buffs will love the VMI Museum with a large collection downstairs that showcases the evolution of the revolver amidst the collection. The highlight upstairs is seeing Stonewall Jackson's horse Little Sorrel's preserved hide on display. There is also Little Sorrel's grave stone on the VMI Parade Grounds.
Cadet Led Tours: 12 pm daily
4. George C. Marshall Museum
The George C. Marshall Museum honors one of Virginia Military Institute's most famous graduates with his life story. Marshall not only had a storied military career becoming only the 2nd 5-star general, but was a great statesman as well.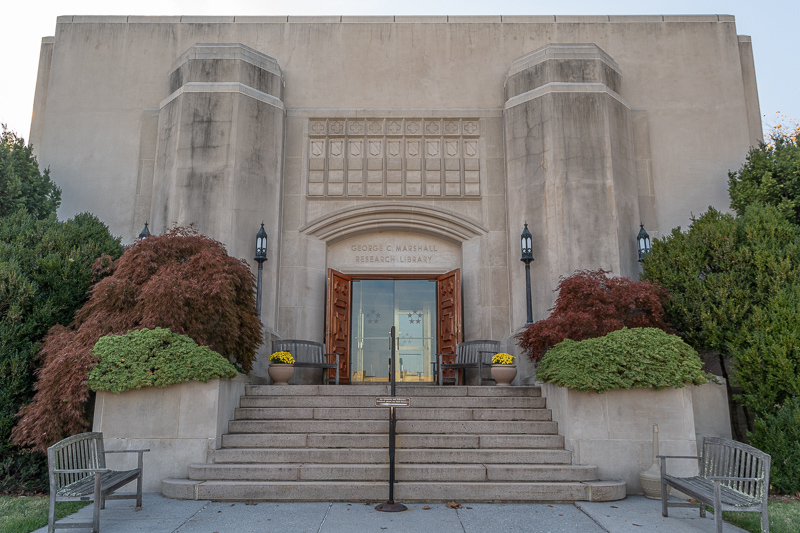 People are most familiar with his Marshall Plan that created US funding to quickly rebuild Western Europe. George C. Marshall received the Nobel Peace Prize in 1953 for his work. Stop by to learn even more fascinating info about his accomplishments.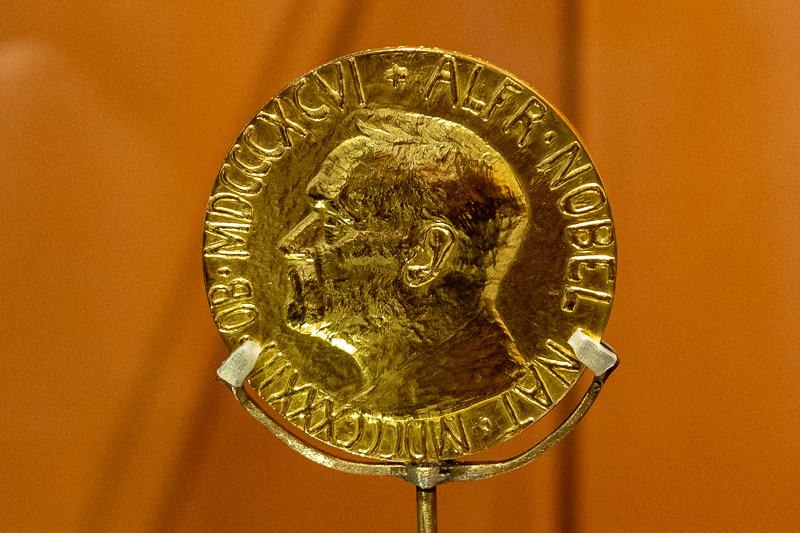 5. Washington and Lee University Campus
Washington and Lee is a small liberal arts university in Lexington, Virginia that is named after two prominent men that shaped the school's history. George Washington endowed $20,000 to help Liberty Hall Academy survive, and the school was promptly renamed Washington Academy before becoming Washington College.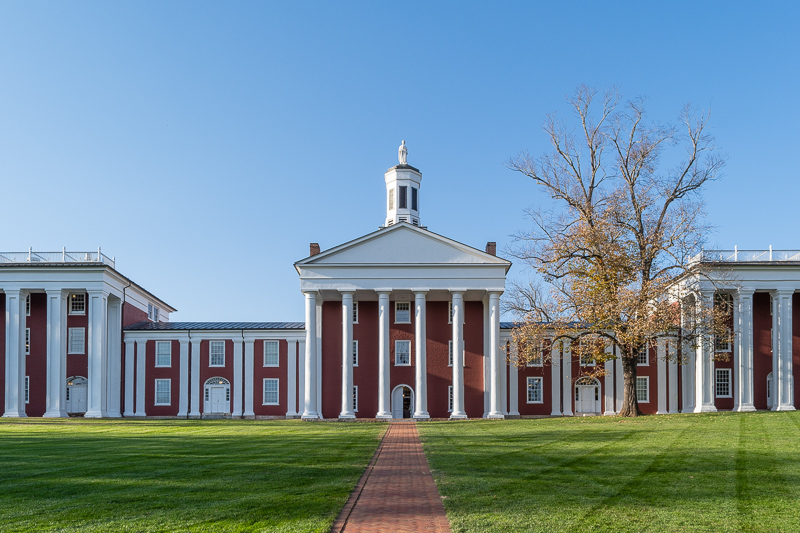 Robert E. Lee served as the president of Washington College for five years before his death, and drastically improved the educational quality and student experience. Besides his name being added to the school's name, he is also entombed in the Lee Chapel and Museum located on the grounds.
Washington and Lee University is a pleasant campus to walk around, and conveniently located adjacent to VMI. The difference between the two is noticeably different as students are more likely to be lounging on the grass or playing Frisbee.
6. Lee Chapel and Museum
Lee Chapel and Museum is one of the top things to do in Lexington, VA. The late Victorian chapel has a quaint exterior, and there is a plaque commemorating where Robert E. Lee sat during service while presiding as the school's president.
The lower level is a museum showcasing Washington and Lee University history and achievements, along with the final resting place of Robert Edward Lee. He is entombed in a gated section of the chapel that is visible to all. His faithful horse Traveller is buried nearby and has a commemorative plaque just outside the Lee Chapel and Museum.
Although the U.S. is a relatively safe country for travel, medical costs are high so if you're an international visitor we recommend purchasing travel insurance before any trip. We've been using World Nomads through 80+ countries over the past 12 years and have been really happy with their coverage and services.
7. Stonewall Jackson House
Before Thomas Jackson ever became Confederate General Stonewall Jackson, he lived a traditional life in Lexington, Virginia. Stonewall Jackson's house has been restored to the pre-civil war era, and is owned and operated by the Virginia Military Academy.
The museum focuses on his civilian life as a professor at VMI, businessman, church leader, and husband. You can visit the garden for free, but the Stonewall Jackson House is by paid tour only.
Entrance Fee: $10
Hours: 9 am – 5 pm daily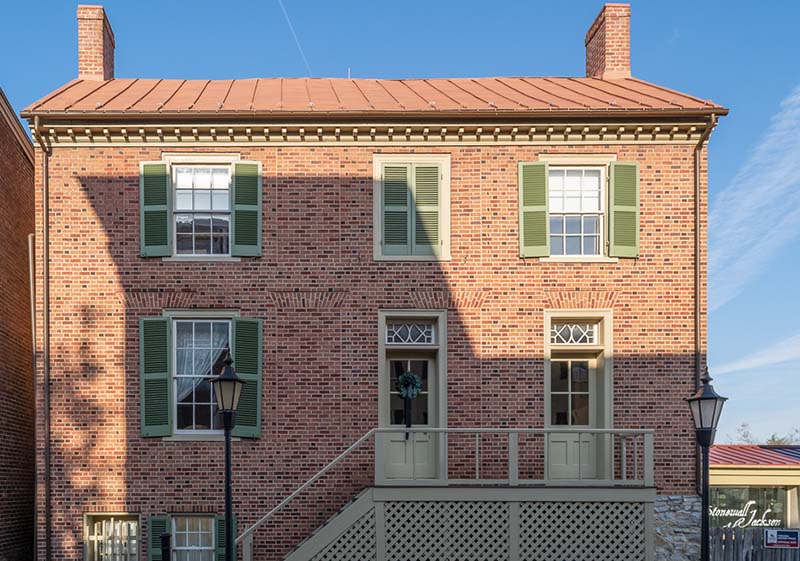 8. Stonewall Jackson Grave
The Grave of Stonewall Jackson is located in Lexington, Virginia and is prominently marked by his statue. You can pay your respects to the Confederate general here and in Locust Grove, Virginia where his left arm is buried. The hide of Thomas Stonewall Jackson's horse can also be seen at the VMI museum.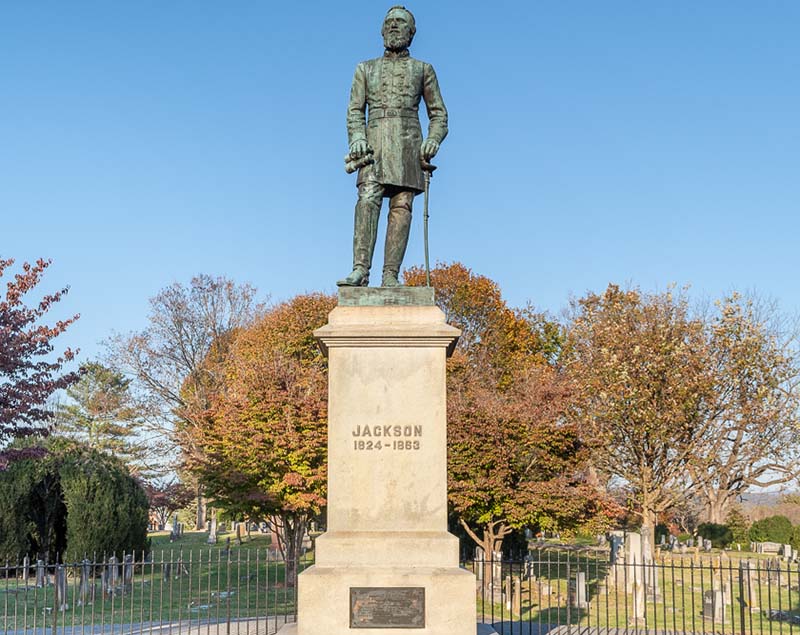 9. Devil's Backbone Outpost Brewery
Devil's Backbone Outpost Brewery is located a few miles outside downtown Lexington, VA. There are over a dozen beers on tap, and it is possible to get a flight of six 4-ounce samples for $8. You won't have a hard time finding at least six beers you want to try, but make sure Vienna Lager is one of them.
During warmer months you can sit outside, but the views of Blue Ridge Mountains is nice from inside as well. Tours run on Saturdays at 2, 3, 4, and 5 pm if you want to learn more about how their craft beer is made.
10. Cyrus McCormick Museum
Cyrus McCormick is famous for modernizing and mechanizing farming with the invention of the reaper in 1831 that harvested grains. The basic principles are still used in today's modern machinery.
The Cyrus McCormick Museum grounds include a grist mill and blacksmith shop that can be explored on a self-guided tour. There is also a reaper on display to better understand how it works.
11. Virginia Horse Center
Equestrians are blessed by the facilities at the 600 acre Virginia Horse Center. There are countless stables, multiple show rings, a cross country course, and an indoor arena. The most common events are horse shows, but there are also rodeos and even BMX racing.
Competitors make up the majority of the audience, but spectators are welcome as well. Keep the Virginia Horse Center in mind for things to do in Lexington, VA so you don't miss the next big event.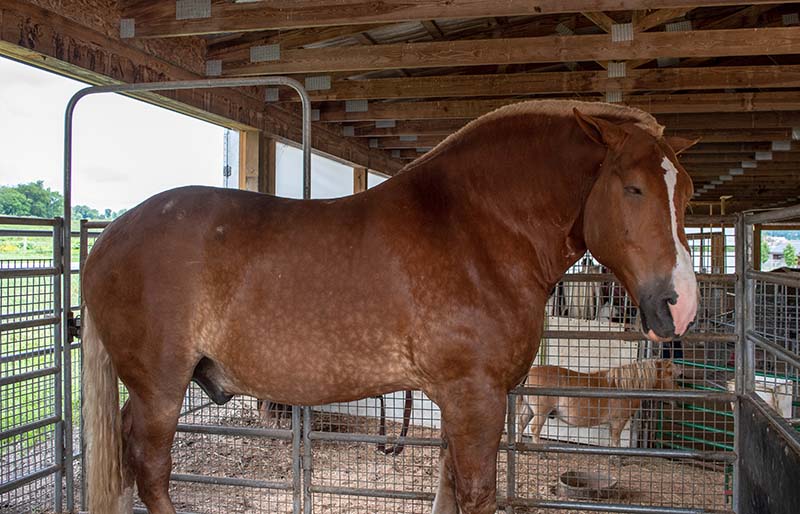 12. Boxerwood Nature Center and Woodland Garden
One of the top things to do in Lexington, VA with kids is to visit Boxerwood Nature Center and Woodland Center. The park has several trails to explore and wetlands filled with croaking frogs. You can usually spot some turtles sunbathing as well.
The kids can enjoy several activities from a mud kitchen to an archaeology dig. You will have to pull them away when it is time to leave.
Parking Fee: $5 (Honor System)
13. Natural Bridge State Park
The Natural Bridge stands 215 feet above the surrounding gorge carved out by Cedar Creek, and was once owned by Thomas Jefferson. Today, it is listed on the National Register of Historic Places.
Although you can explore Natural Bridge State Park more thoroughly, it takes five minutes to see the main attraction. It is also possible to visit the living history Native American Monacan Village and 30 foot Lace Falls on the Cedar Creek Trail.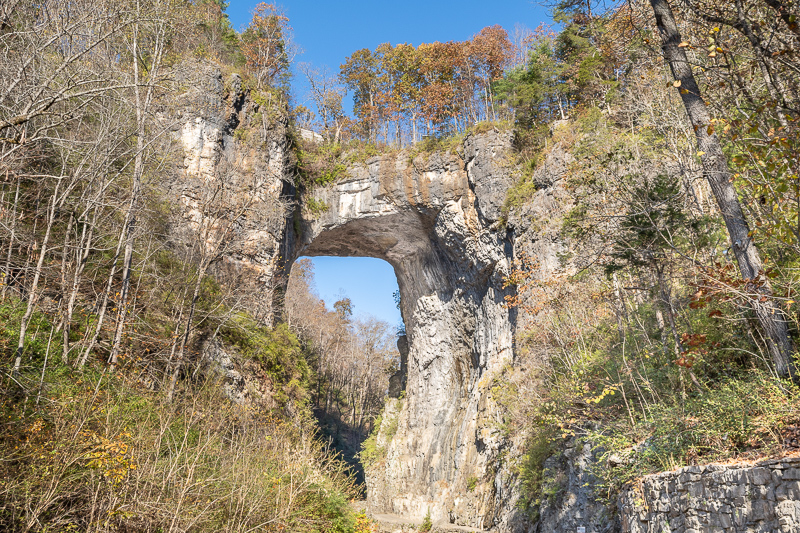 The Natural Bridge is accessed from either a flight of stairs or a shuttle bus at the visitor center. Don't miss the small museum on the lower level to learn more about the local history. There is also a light show sporadically throughout the year.
Entrance Fee: $8
Hours: 9 am – 5 pm
Top 10 Things to Do in Natural Bridge, Virginia
Get ready to spend a weekend enjoying all the fun things to do in Natural Bridge, VA with kids. Discover all the unique and family friendly attractions waiting for you!
Read more
14. Blue Ridge Parkway
The Blue Ridge Parkway traverses the Blue Ridge Mountains in both Virginia and North Carolina. Most of the highlights are in the North Carolina section, but we discovered several things to do in Lexington, VA on the Blue Ridge Parkway.
The beauty of all the attractions are that they are either quick lookouts, or short trails just off the road. Our favorite attraction was Yankee Horse Ridge.
Yankee Horse Ridge
If you are continuing down Skyline Drive in Shenandoah National Park where it transitions to the Blue Ridge Parkway, then there is one point of interest on the way before Lexington, VA.
Make sure you stop at Yankee Horse Ridge for a scenic railroad that crosses over a stream flowing from Wigwam Falls.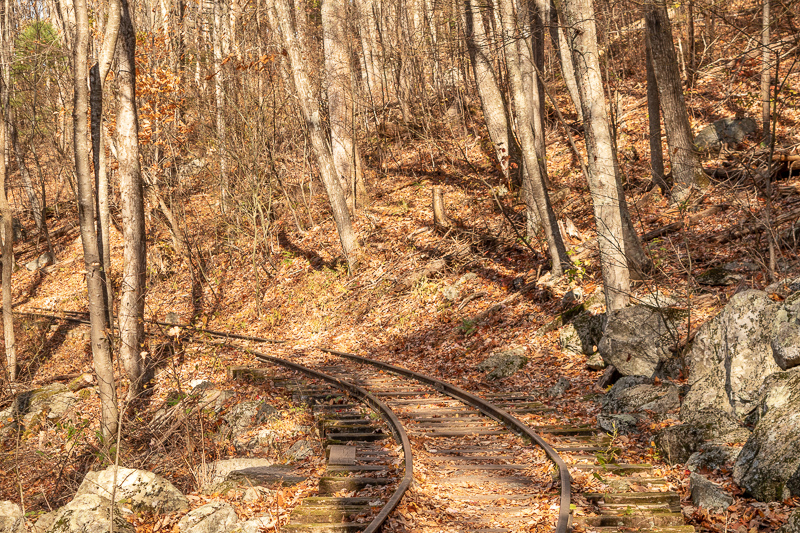 15. Non Historical Marker
Hidden among the streets of Lexington, VA is a non historical marker commemorating absolutely nothing happening on 2/29/1776. Oddly enough, I sit here writing this on leap day 2020.
Although this attraction can easily be removed from your list of things to do in Lexington, VA, sometimes we all need to partake in a scavenger hunt. Happy hunting!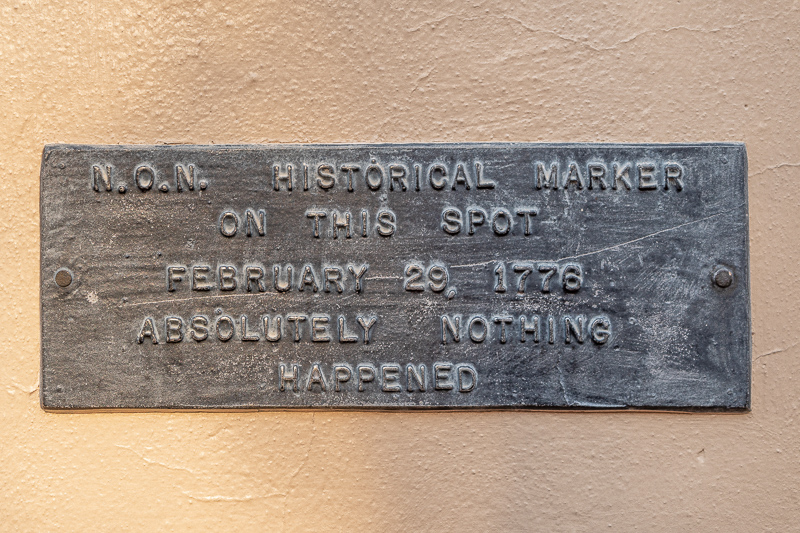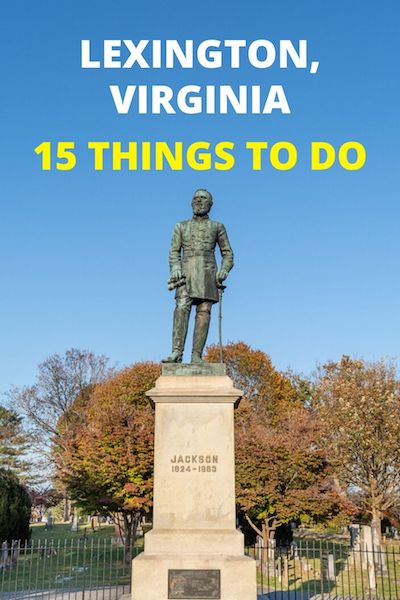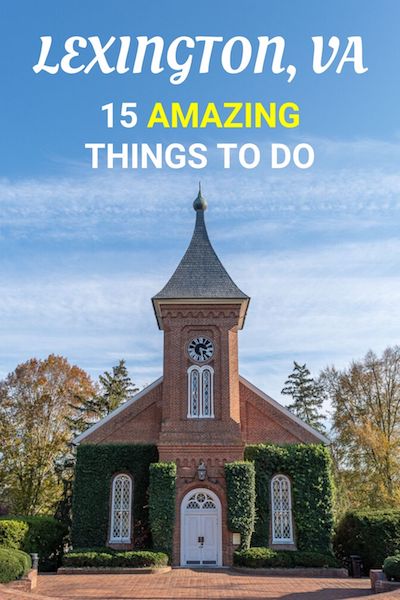 Disclaimer: This post contains affiliate links which means that we receive a small commission if you click on a link and purchase something that we've recommended, at no extra cost to you.

Updated March 2020