New York's first capital is home to some of the most interesting art and historical attractions in the state from museums to murals. Find out the top 20 things to do in Kingston, NY!
Things to do in Kingston, NY
Kingston is the perfect base in the Catskills for a weekend getaway from New York City. There are many interesting places to visit in the city itself, and within a 30 minute drive.
We have broken it down into three districts for easy planning:
Kingston Stockade District
Rondout Historic Waterfront District
Nearby Kingston, NY
On a recent road trip in Upstate New York we explored the 20 best Kingston, NY attractions. Here are the top 5 things to do in Kingston, NY to get you started!
Trolley Museum – Jump aboard a restored street car and ride along the Kingston waterfront in style! Combine it with a visit to the Trolley Museum for just $7.00.
Senate House – Take a guided tour of the 1676-built Senate House where the elected representatives of New York met for the very 1st time.
O+ Murals – Pick up an O+ mural map from the Visitor Center and go on a self-guided tour of the 20+ murals across Kingston.
Maritime Museum – View all sorts of model boats and learn about the industrial and maritime history of the Hudson River.
Rondout Lighthouse – Hop aboard the pontoon boat for the lovely ride out to the Rondout Lighthouse and imagine life as a lighthouse keeper as you tour the rooms.
You can explore on your own, or consider taking a walking tour with Friends of Historic Kingston for $10. They offer options for both the Stockade and Waterfront Districts.
Read on for more information about each attraction in Kingston, NY. After that we've got a list of things to do near Kingston, NY as well as where to stay and eat. It was action-packed but we managed to do everything in a weekend trip from New York City.
Although the U.S. is a relatively safe country for travel, medical costs are high so if you're an international visitor, we recommend purchasing travel insurance before any trip. We've been using World Nomads through 80+ countries over the past 12 years and have been really happy with their coverage and services.
For more details check out our World Nomads review here.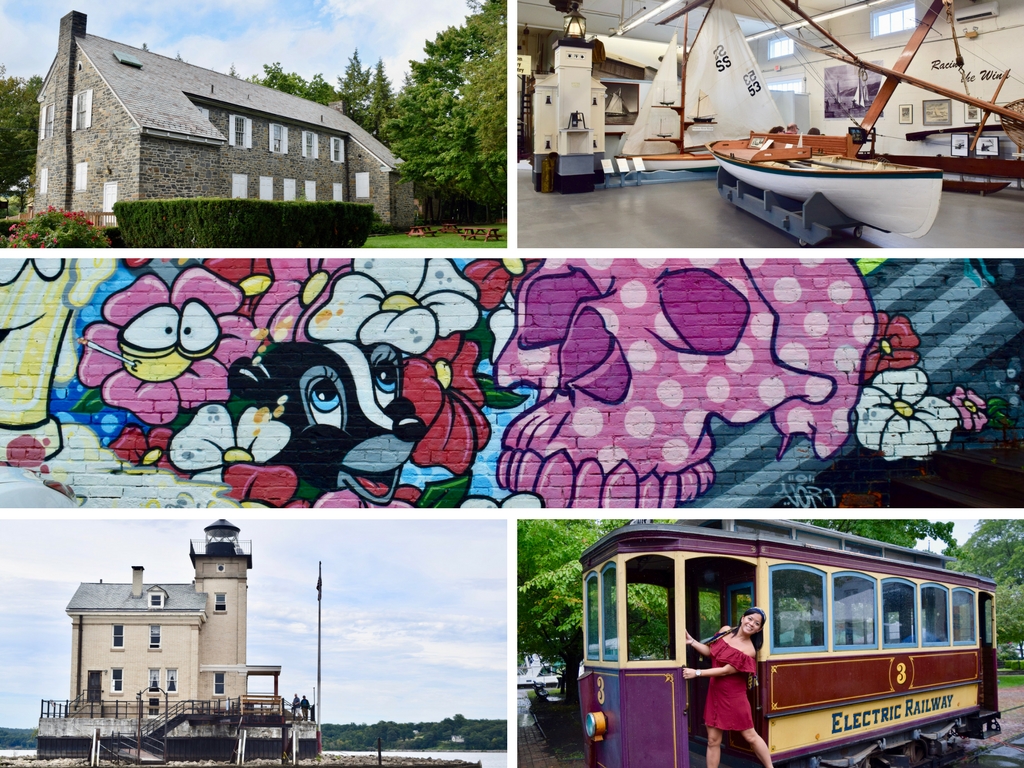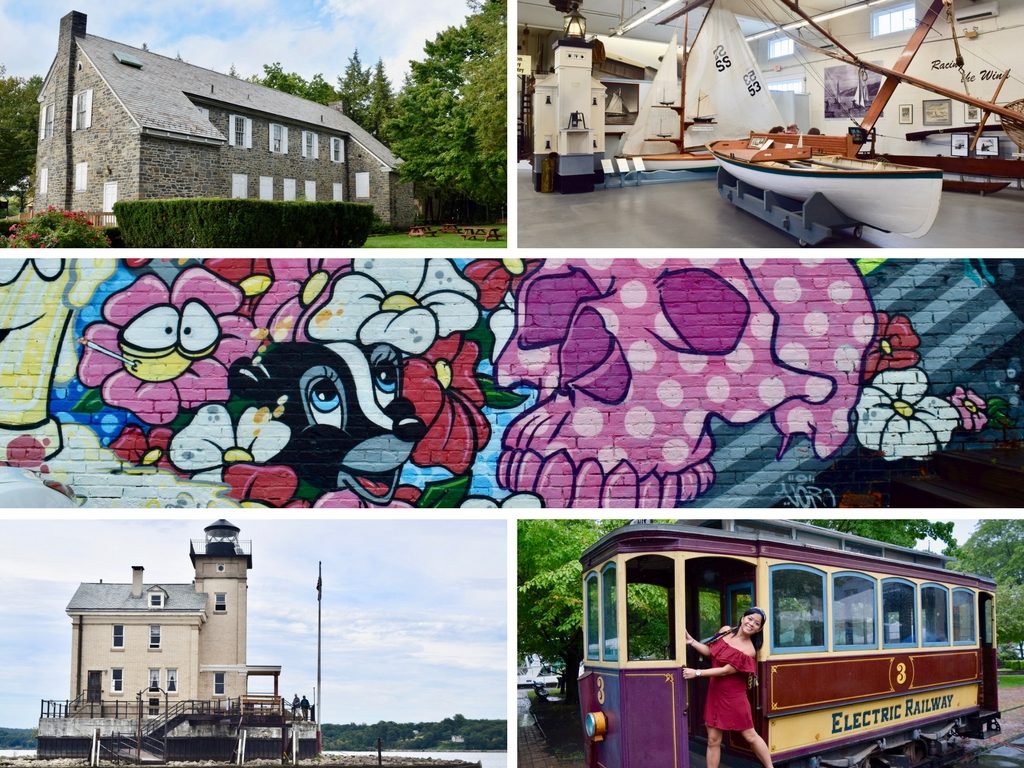 Kingston Stockade District Attractions
There are plenty of things to do in the Stockade District of Kingston, NY. This is where you will find the majority of the historic attractions in New York's first capital.
1. Senate House
Kingston was the 1st capital of New York and played an important role in the Revolutionary War (1775-1783).
One year after Thomas Jefferson's Declaration of Independence, the elected representatives of the state met for the first time in this limestone building in 1777.
Later in the year, the British attacked and set fire to Kingston, forcing the government and residents to flee. The Burning of Kingston is commemorated every year in the city with festivities and historical reenactments.
The 1676-built Senate House survived and it's now open to the public. We took a guided tour of the 4-room building that was furnished as it would've been in the 18th and 19th centuries.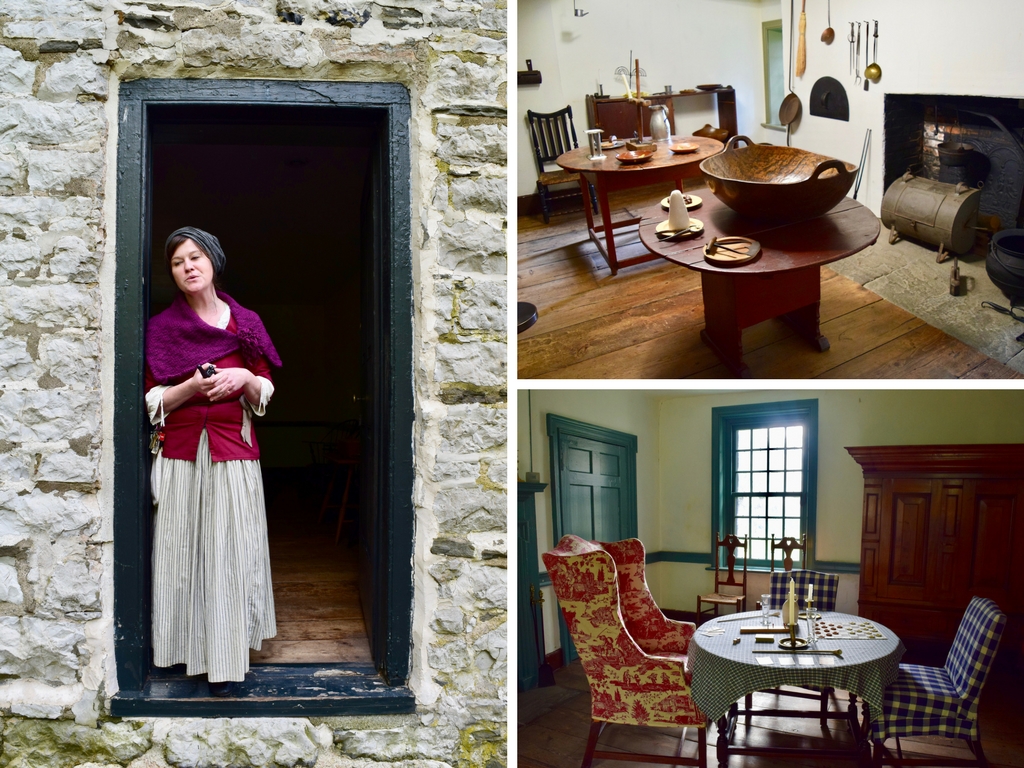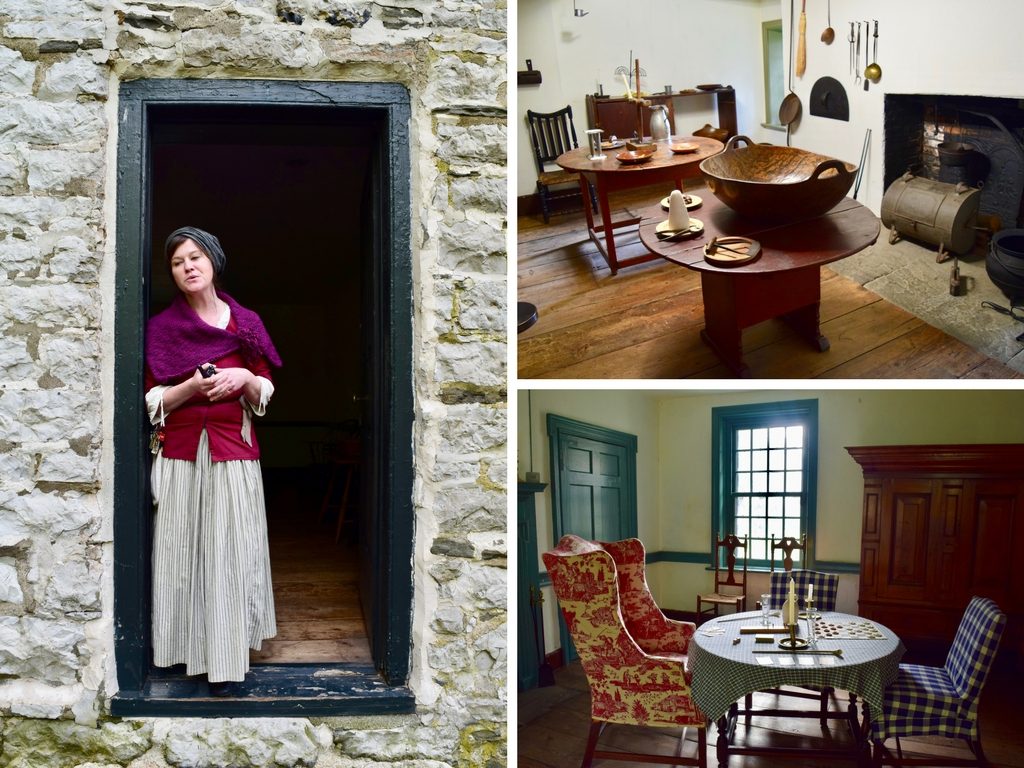 The kitchen and living room offered a glimpse of yesteryear and our costumed guide Erin added to the atmosphere. She was also really knowledgeable and passionate about the era.
We also visited the very room where the New York Senate first met. It's always special being in the same spot where momentous occasions took place.
The Senate House State Historic Site also includes the Senate House Museum and The Loughran House. The Senate House Museum tells the story of Kingston alongside the largest collection of renowned local painter John Vanderlyn. The Loughran House hosts exhibits and is a popular reception venue for weddings.
The Senate House State Historic Site is a wonderful place to visit in the heart of Kingston's beautiful Stockade district.
Senate House Museum and Tour: $7.00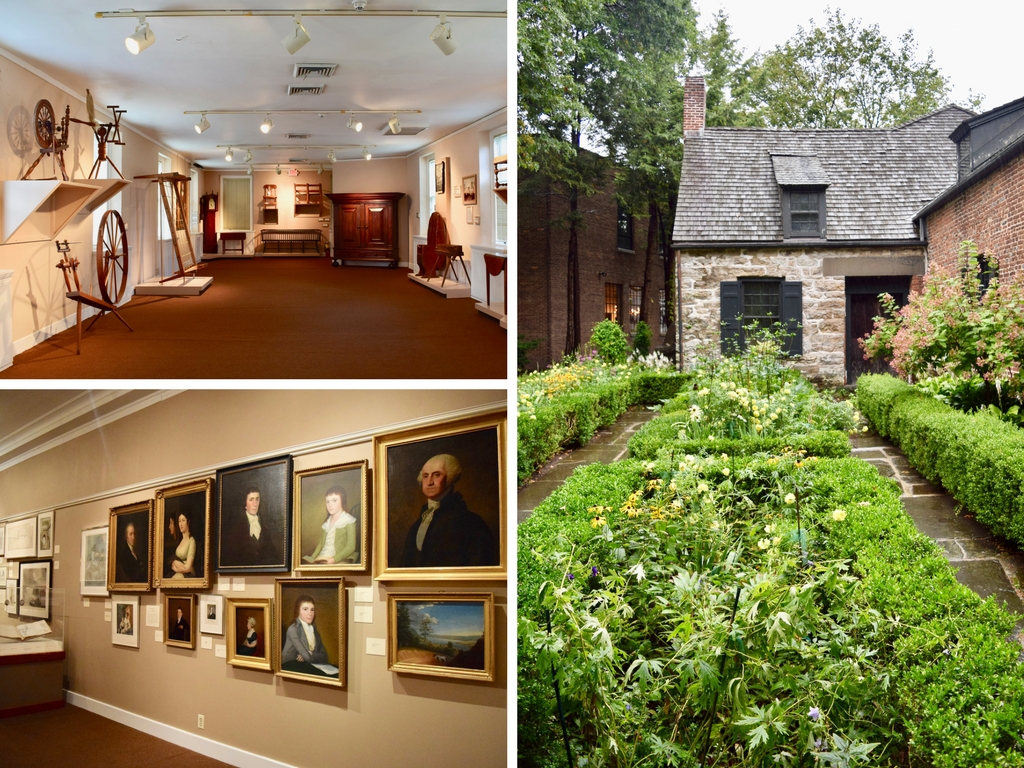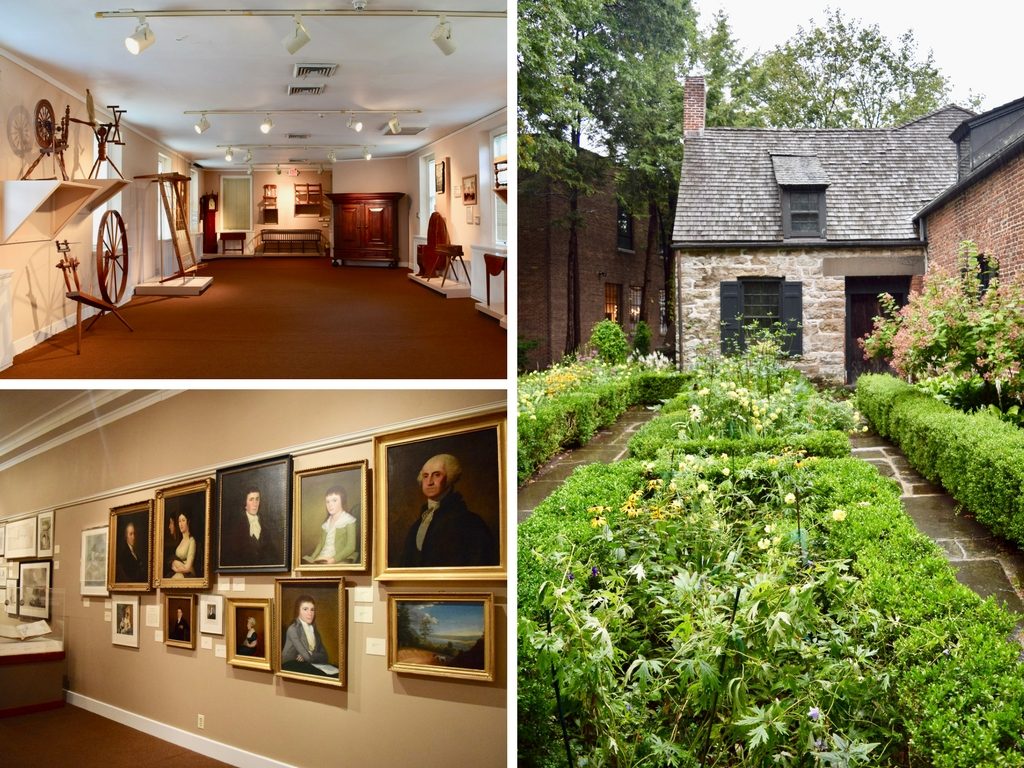 2. 0+ Murals
Every October Kingston hosts the unique O+ Festival where artists are invited to create large-scale murals across Kingston in exchange for complimentary health care. How cool is that?!
Besides watching artists at work on their murals, the 3 day event also features all sorts of music, art, and wellness festivities in different venues around the city. It's an awesome time to visit Kingston, but because the murals are permanent you can view them year-round.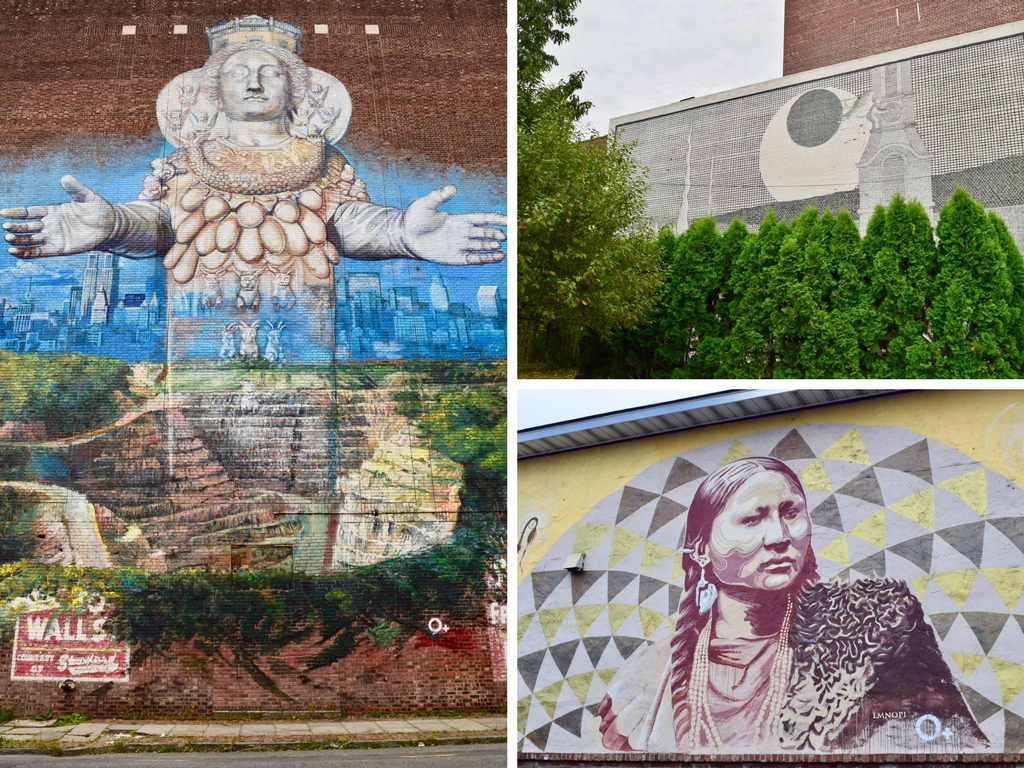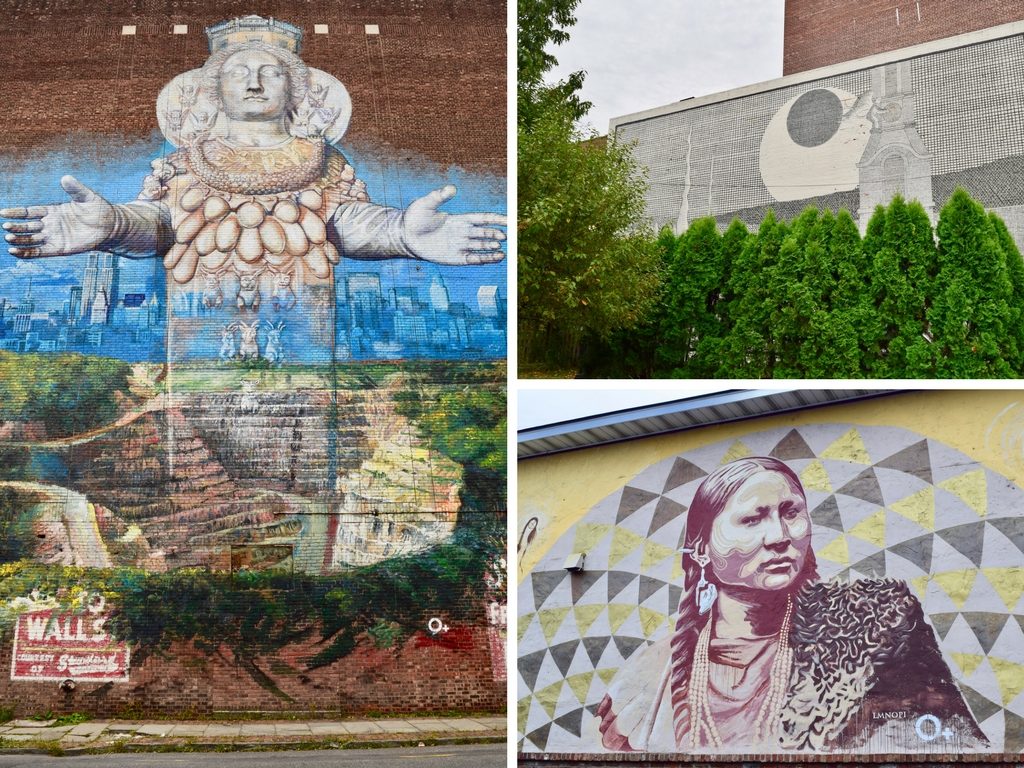 Armed with an O+ mural map from our accommodation at Best Western Plus Kingston, we did a self-guided walking tour in the Stockade District.
The historical area was the least likely place we would expect to find so much street art, but the project really seemed to be embraced by local residents and businesses. We loved everything about the art and community empowerment of the 0+ murals.
O+ Kingston Festival Ticket: From $50.00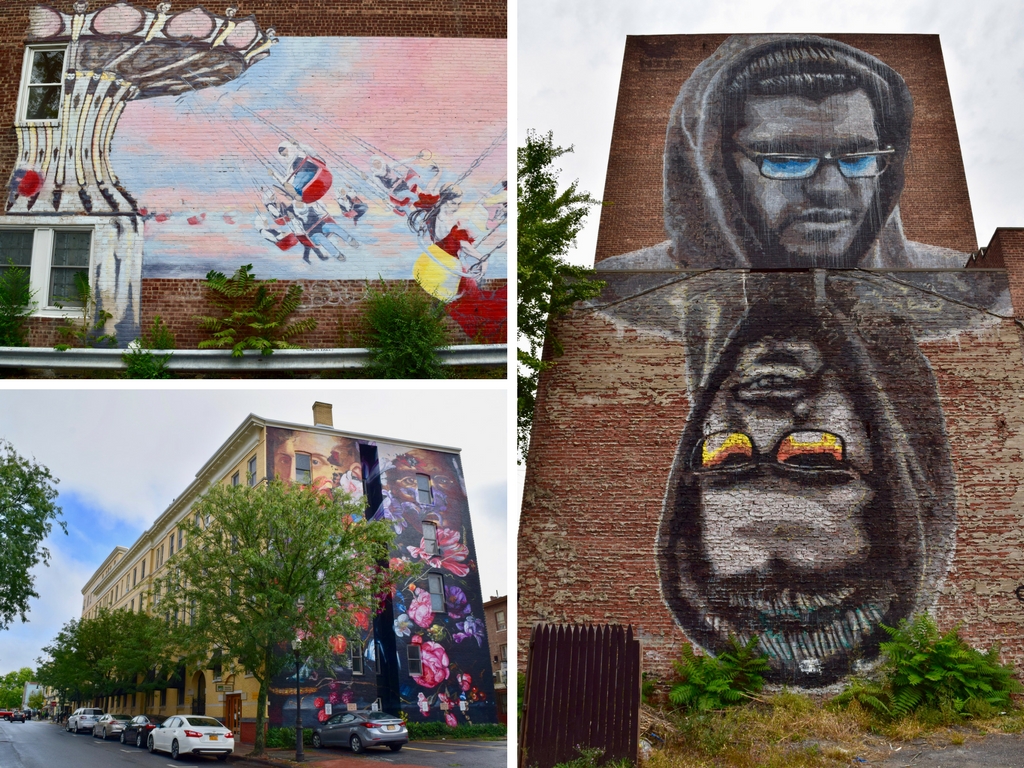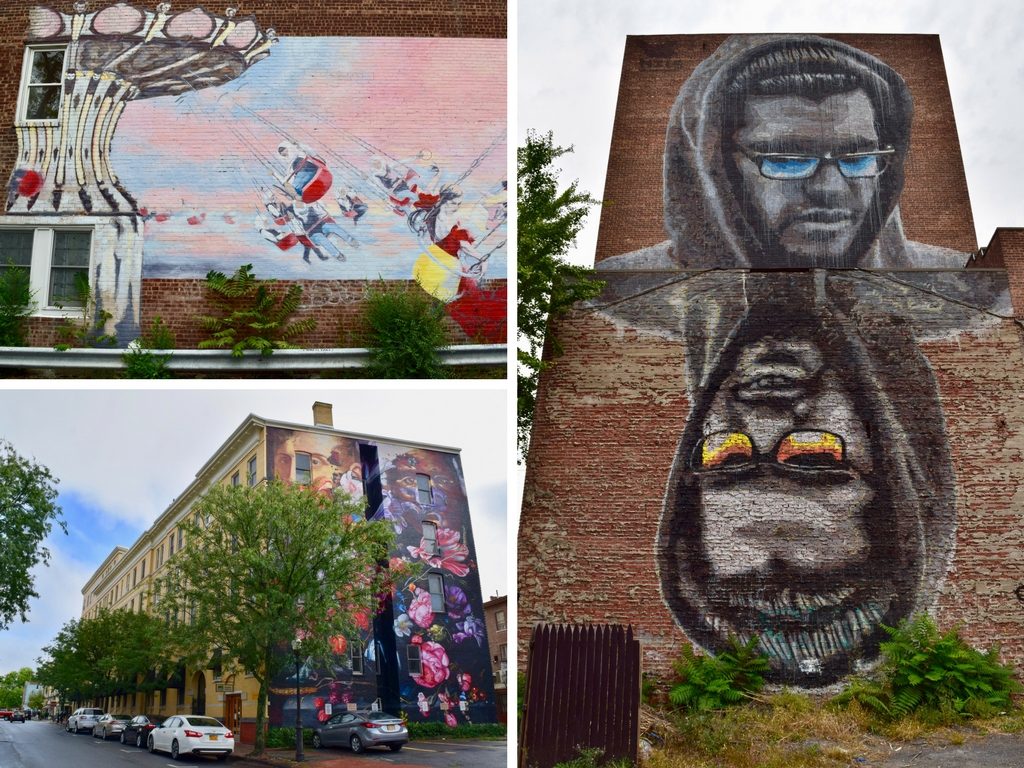 3. Volunteer Firemen's Museum
The Volunteer Firemen's Museum is located in the Kingston, NY Stockade District, and is worth a visit. The original fire station was converted into a museum by volunteer firemen and started welcoming guests in 1982.
Inside you will find a combination of well maintained antique fire trucks, equipment, and memorabilia lining the walls. The museum does an excellent job educating visitors of the local history, and what it was like to be a volunteer fireman when the station was active.
The museum even has the traditional firemen's pole still. Upstairs you will find a meeting hall and sleeping quarters. If you have time, listen to some of the interesting stories from the staff.
Volunteer Firemen's Museum Entrance Fee: Free
Hours: Varies
4. Old Dutch Church
There is a lot of history at the Old Dutch Church in Kingston, NY. The congregation formed and built the first iteration in 1661, with the structure you see today erected in 1852.
The most dramatic historical event that transpired was the church's burning in 1777 by the British during the Revolutionary War. George Washington paid a visit a few years later in 1782, and his letter to the congregation is still proudly on display inside.
There are several notable people buried on the adjacent graveyard, but the most famous is George Clinton who was the first governor of New York and Vice President of the US.
The Old Dutch Church is modest in appearance, but still worth a quick look for the historical significance. It is an easy stop on a self-guided walking tour of the Stockade District in Kingston.
Old Dutch Church Entrance Fee: Free
5. Matthewis Persen House Museum and Cultural Heritage Center
Although not as famous as the Four Corners states, the cross section of Crown and John Streets has pre-revolutionary stone houses on all four corners. The oldest is the Persen House, which was first built in 1661.
The Matthewis Persen House Museum and Cultural Heritage Center takes you on a self-guided tour through the five phases of construction and showcases what life was like as a Dutch colony. Besides the artifacts on display, there are also stories of Native American raids and the British burning Kingston.
Matthewis Persen House Museum Admission: Free
6. Fred J. Johnston Museum
Some may know Fred J. Johnston as one of the furnishing consultants for Henry du Pont's Winterthur outside Wilmington, Delaware. What you probably didn't know is he bought and restored a house in Kingston, NY to showcase and sell antiques in 1937.
The house doubled as a home and showroom. His goal was to demystify antiques and demonstrate that beautiful vintage pieces can be combined seamlessly with ordinary objects in the same room. Clients were able to walk around his house and purchase items on display.
Upon his death, the house was donated to the Friends of Historic Kingston in 1993. They now run guided tours of the Fred J. Johnston Museum, which also has the FHK Gallery featuring rotating exhibits.
Fred J. Johnston Museum Admission: $10
Hours: 11 am – 4 pm May thru October
7. Forsyth Park and Nature Center
If you haven't found enough things to do in Kingston, NY with kids, then head over to Forsyth Park for a budget friendly afternoon. There is the wonderful Kinderland playground and the Forsyth Nature Center petting zoo filled with farm animals. Don't forget to bring some veggies to feed the animals!
Forsyth Park Admission: Free
8. Green Kill Art Center
The Green Kill Art Center is like a box of chocolates; you never know what you are going to get. They have a mix of art exhibits, musical performances, theater, films, and more.
Make sure you check their upcoming events to find out what is on offer during your visit. Events range in price from $3-$10 and are BYOB so what are you waiting for?
Green Kill Art Center Event Prices: $3-$10
Kingston Rondout Historic Waterfront District Attractions
9. Trolley Museum of New York
Not sure what to do in Kingston, NY?
The Trolley Museum of New York has been a local institution and travelers' favorite since opening in 1983. The small museum has exhibits on the history of rail transportation, particularly in the Hudson Valley.
There are old photographs, videos, and running train sets that the kids are bound to love.
You can look through the large windows to the restoration shed below, and also wander down to have a closer look at some of the trolleys being worked on by volunteers.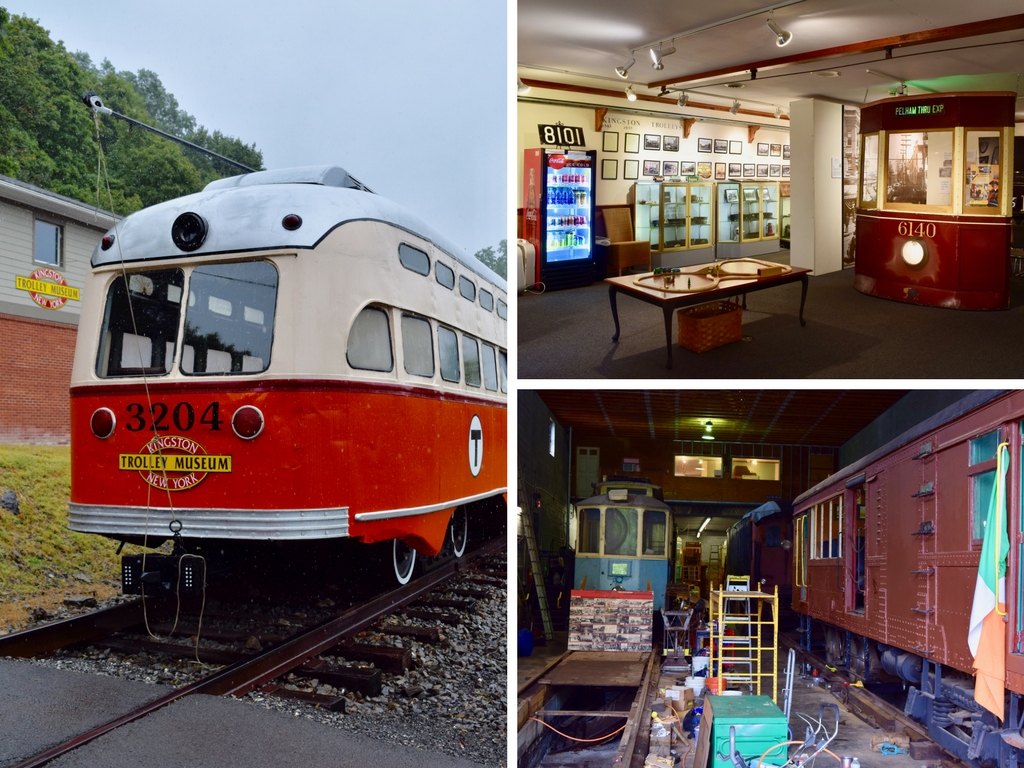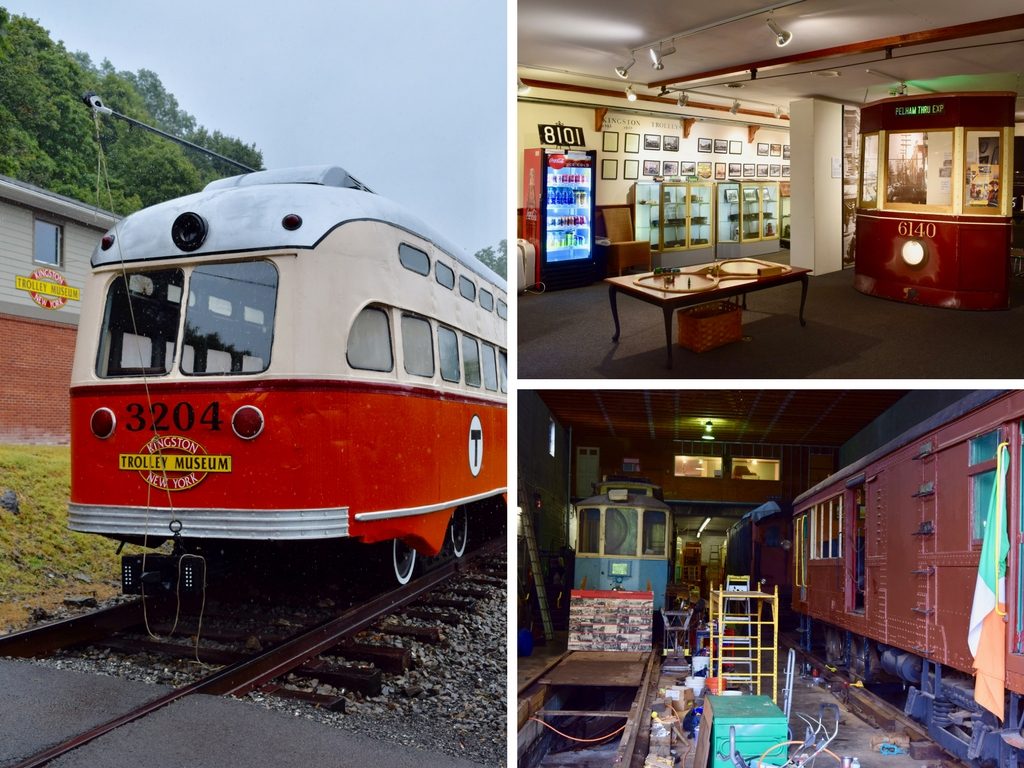 The highlight of the Trolley Museum of New York is taking a ride on of the restored street cars. It makes it #1 on our list of places to visit in Kingston, NY.
The trolleys depart from the museum and also just up the road at the T.R. Gallo Memorial Park. It's a slow and scenic 1.5 mile journey along the Hudson River to Kingston Point. Look out for the Rondout Lighthouse standing alone on the water.
It was rainy and misty when we visited, though that just added to the atmosphere of days gone by. It would have been great if there was commentary along the way, however the conductor did give us a brief speech when we reached the end of the line.
We were given 5 minutes to disembark and walk around before returning. During that time we crossed the bridge into Kingston Point Park where there were lots of picnic tables. Although there are excellent restaurants in Kingston this would also be a great spot for lunch. You could then take a leisurely stroll and return on a later trolley.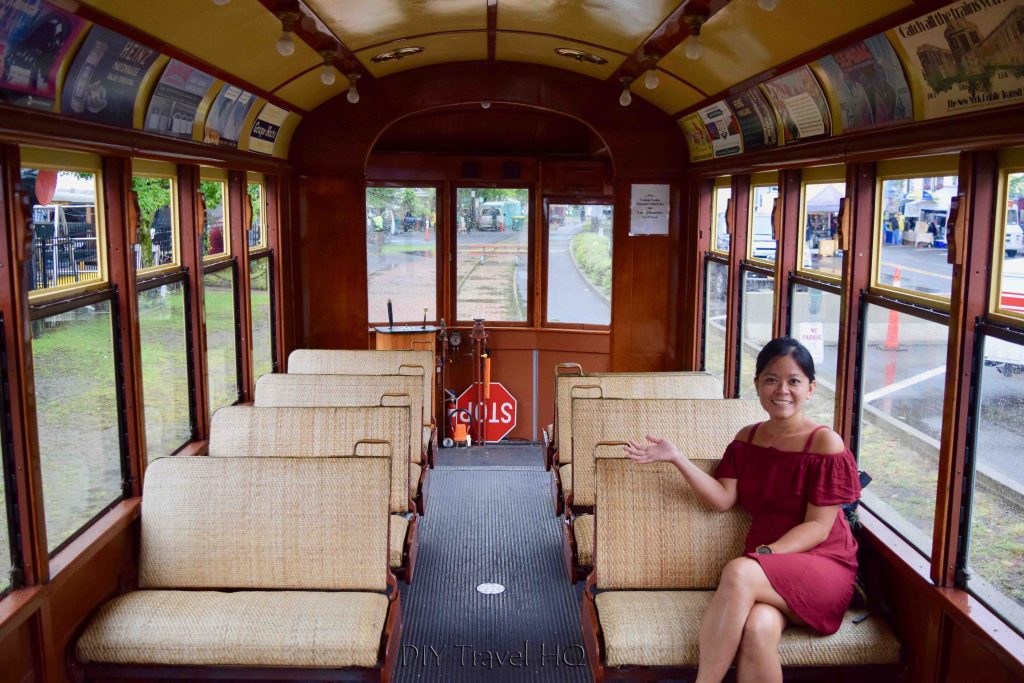 Back at the Trolley Museum, we explored the grounds further. We wandered through a couple of the trains on display, including PATH car 143 that was saved from the ruins of the World Trade Center terror attack.
There's also a police car and wreckage that are going to be part of a new 9/11 exhibition. Don't miss a ride on the trolley as it was one of our favorite experiences on our Kingston weekend getaway from NYC.
Trolley Museum admission and trolley fare: $7.00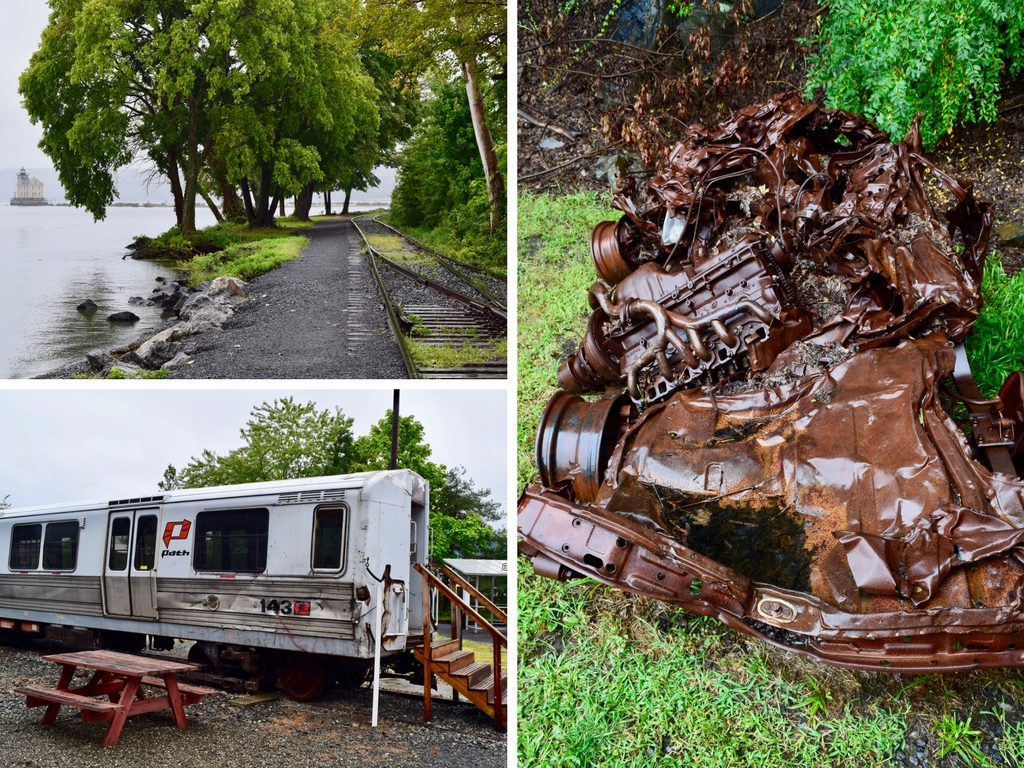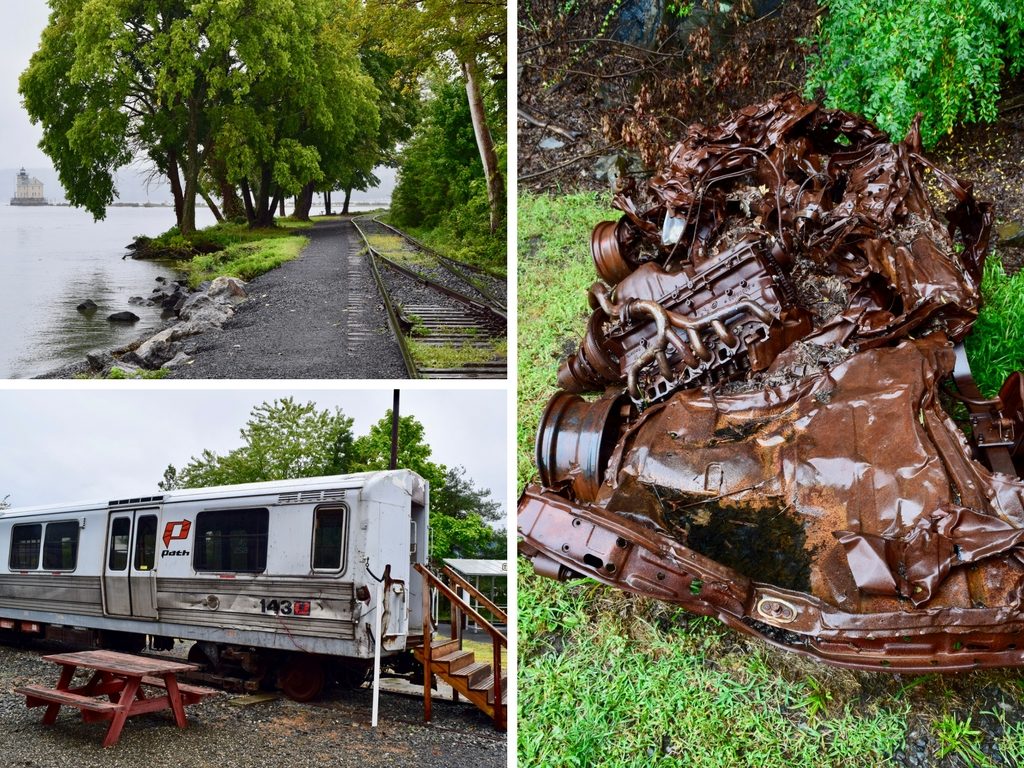 10. Hudson River Maritime Museum
The Hudson River Maritime Museum is located in the Rondout area of Kingston. It was the most important port between New York and Albany in the 19th century when coal was transported from Pennsylvania over the D&H Canal.
You can visit a few of the old locks at the D&H Canal Museum, which is one of several attractions in Ulster County that are within a 30 minute drive from Kingston.
Prosperity in Rondout has ebbed and flowed over the years though the historic waterfront district is currently in a phase of revitalization with the Hudson River Maritime Museum leading the way.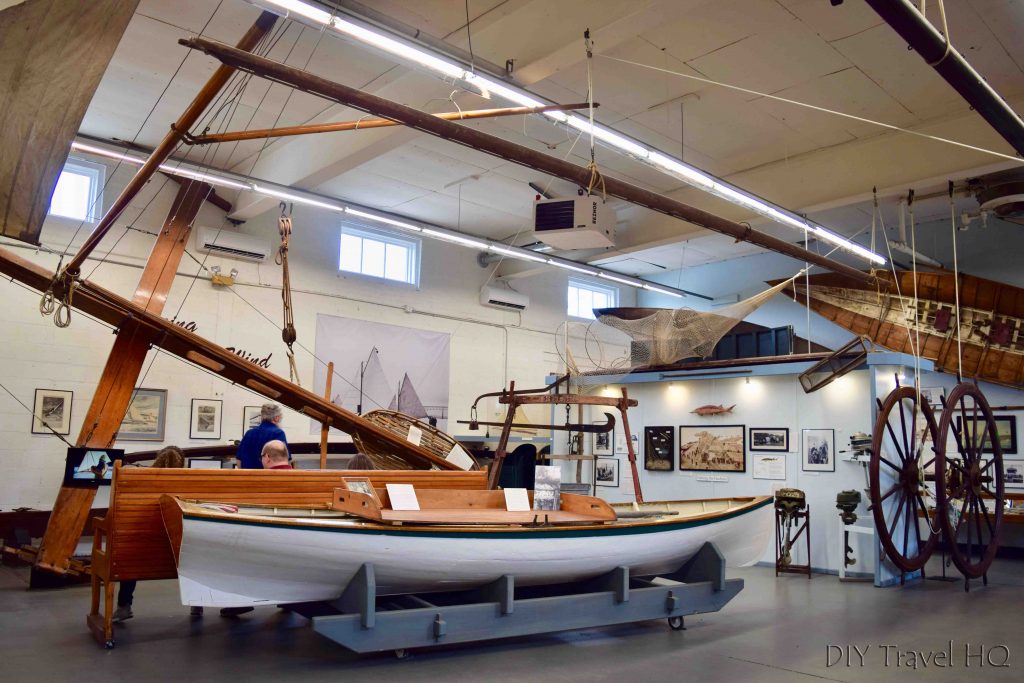 We were pleasantly surprised by the size and depth of the museum, especially as we're no naval buffs. There were exhibits of boat models of all shapes and sizes including steamboats, iceboats, and tugboats. We enjoyed learning about the industrial and maritime history along the Hudson River.
The "Lighthouses of the Hudson River" exhibit was particularly interesting as we are slowly checking them off our list. So far we've visited the Little Red Lighthouse, Hudson-Athens Lighthouse and coming up next is the Rondout Lighthouse.
Hudson River Martime Museum Entrance Fee: $7.00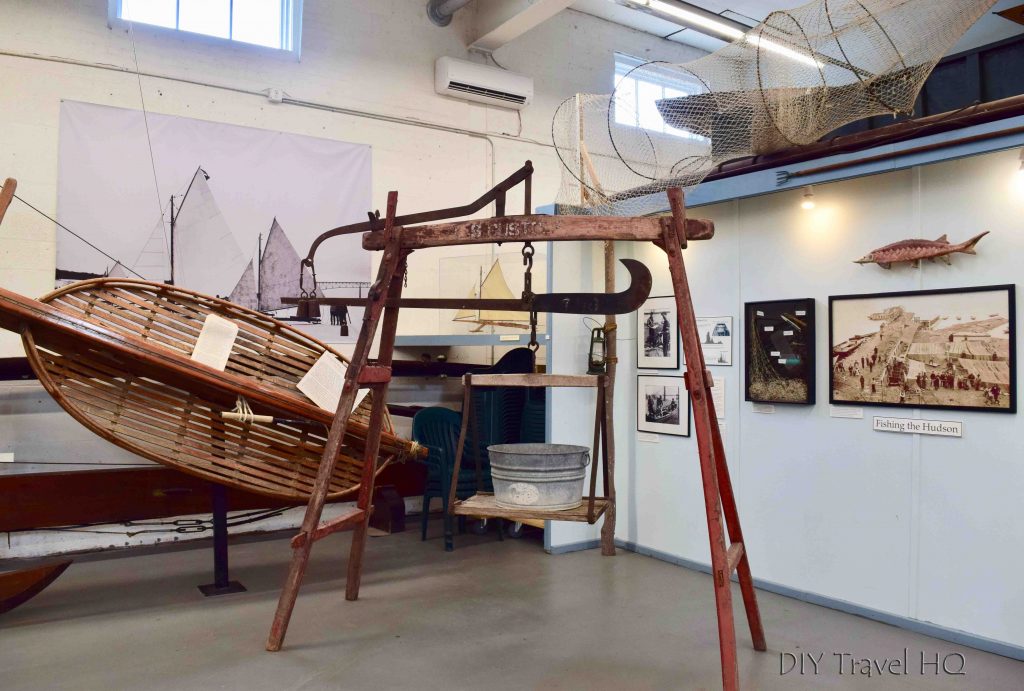 11. Rondout Lighthouse
The Rondout Lighthouse that stands today is actually the 3rd version to have been built on the site.
The first one was constructed in 1837 and made of wood. It was damaged in a storm and replaced with a sturdier stone structure in 1867. Sailors complained that the new lighthouse didn't give off enough light to mark the entrance to Rondout Creek so a new brick lighthouse was built in 1913.
100 years on, it remains standing and it still functions as a navigational light on the Hudson River. Weekend tours to Rondout Lighthouse run all through the summer. We loved the little pontoon boat ride out to the lighthouse that departed from the Hudson River Maritime Museum dock.
There were old barges and tugboats along the narrow creek, birds tweeting in the trees, and private sails enjoying the good life. It's always so relaxing to be on the water!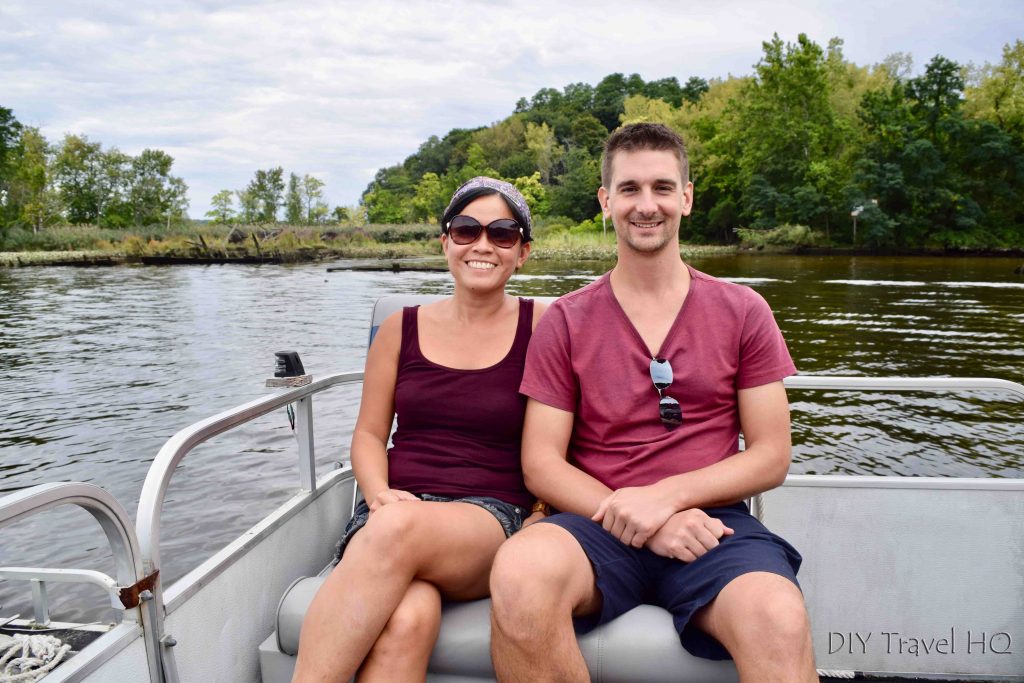 We were met by a volunteer at the Rondout Lighthouse who showed us through the three floors of the tower. Our guide was informative and entertaining as he talked about the various lighthouse keepers over the years, including the stoic Catherine Murdock who served for 40 years.
She took over the lighthouse after her husband died by drowning. Her next two husbands also drowned…our guide had some suspicions about that!
The 3rd level was a modern-style attic space that we didn't expect to find in a lighthouse. Squeezing up to the top, we reached the light beacon and observation deck where we enjoyed 360 degree views of the Hudson River.
While the interior of the Rondout Lighthouse was decorated with antique furnishings, it felt a little rundown and in need of some TLC. If you don't manage to join a tour, you can see the lighthouse on the fantastic Kingston trolley ride.
Rondout Lighthouse Tour: $20.00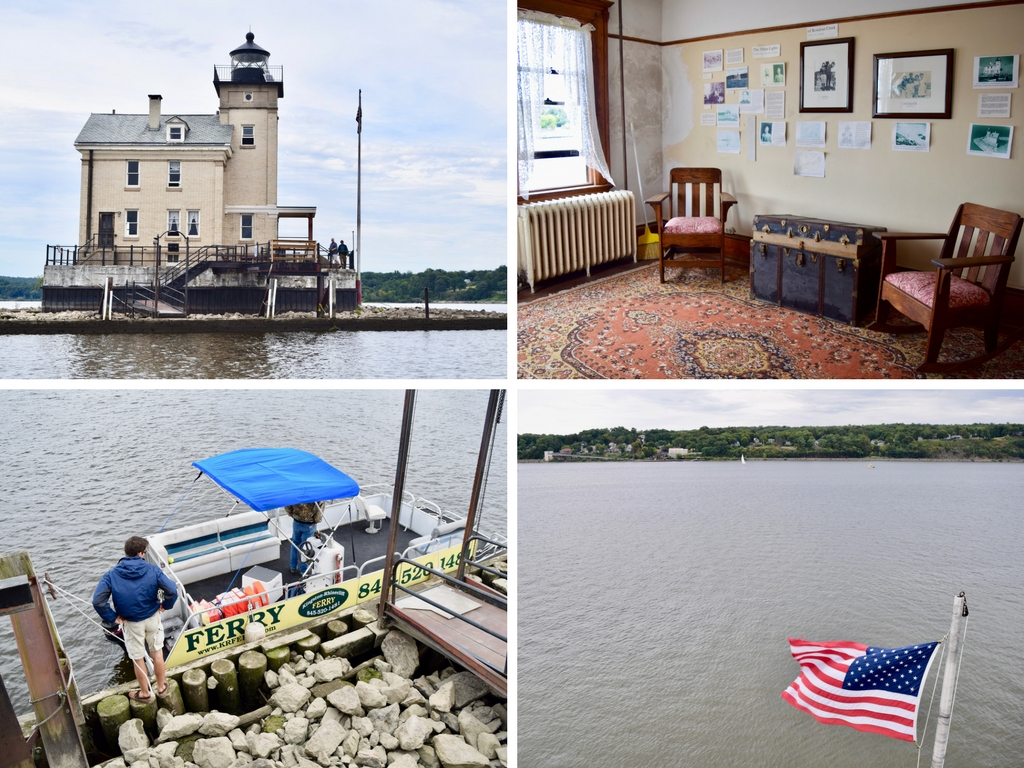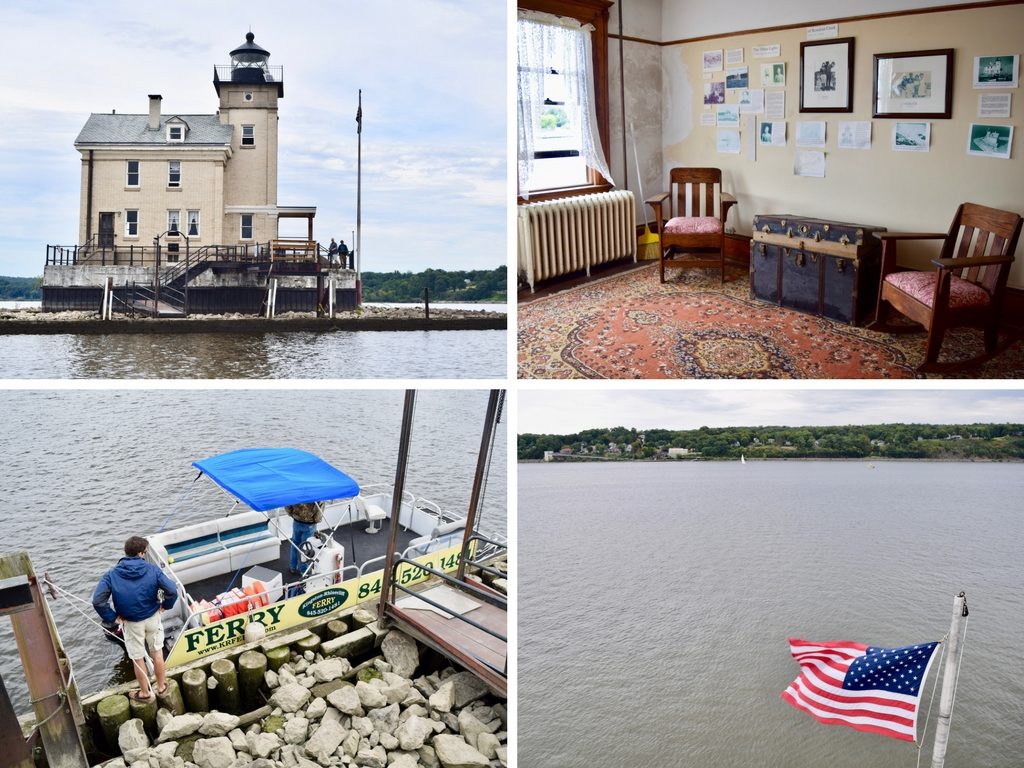 12. TR Gallo Waterfront Park
TR Gallo Park is a great place to spend some time while exploring the Kingston, NY attractions. The waterfront abuts the Rondout Creek just before it merges with the Hudson River.
Nearby there are plenty of stores for shopping, restaurants for eating and drinking, and things to do in Kingston, NY that are listed above and below. TR Gallo Park itself offers great views of the Wurts Street Bridge, a chance to people watch, enjoy a picnic, or just relax.
13. On the Hill Antiques
Although you can no longer buy antiques at the Fred J. Johnston Museum, On the Hill Antiques has a wide assortment to browse. You never know what you will find on display.
14. Reher Center for Immigrant Culture and History
The Reher Center for Immigrant Culture and History wouldn't be on my list of things to do in Kingston, NY, but it may be of interest to locals that want to learn more about their shared history.
The Reher Bakery was a Kingston institution and welcomed customers up until the 1980's when the shop closed, remaining unchanged until being restored in the 21st century.
You can still see the original 1916 oven and antique dough mixer on a guided tour taking you through the oven room and retail shop. Along the way you learn the role each family member played in the success of Reher's Bakery.
Historic Bakery Tour Price: $10
Reher Center Gallery: $5 Suggested Donation
Hours: 12 pm – 5 pm Saturday and Sunday during the summer
Things to do near Kingston, NY
Now that you know what to do in Kingston, NY let's look at the attractions within a 30 minute drive!
Mohonk Mountain House – Treat yourself to a day or weekend at this historic castle resort. From hiking and canoeing to spa treatments and fine dining, you can do it all in style!
Walkway Over the Hudson – Admire the views of the Hudson River and explore Poughkeepsie after crossing the world's longest elevated pedestrian bridge.
Mohonk Preserve – Hike the easy trail or rock scramble over the Gunks to get to the summit of Bonticou Crag and Table Rock for stunning views of the Hudson Valley.
Woodstock Farm Sanctuary – Meet, feed, and play with your favorite farm animals while learning more about animal rights and the vegan cause.
D&H Canal Museum – Find out how and why a canal was built between New York and Pennsylvania in the 19th century.
Keep reading for more information about each place. In this post we've also recommended where to stay and our favorite restaurants. Check out Lonely Planet for more inspiration of things to do in Kingston and New York State.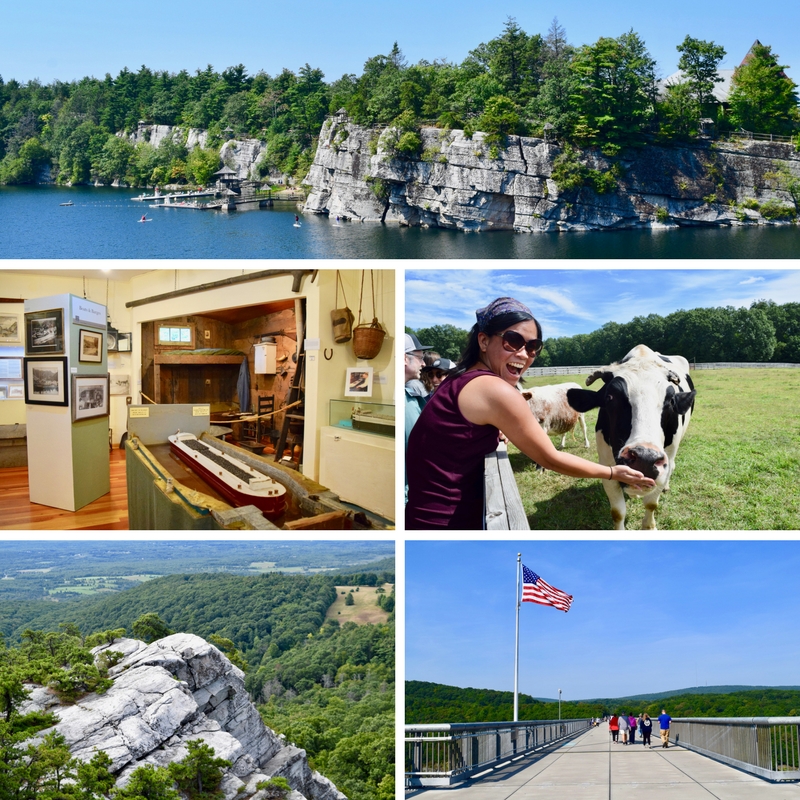 15. Mohonk Mountain House
A day at the Mohonk Mountain House will have you feeling whisked away to the Swiss Alps, and within a two hour drive of New York City. That makes it the perfect destination for a weekend road trip from New York City!
The 148 year old Victorian castle is nestled in the Hudson Valley, surrounded by the Catskill mountains and its very own lake. It's such a picturesque place with old-world style and sophistication, which is why it's at the top of the list of things to do in Ulster County!
We stayed at the Best Western Plus Kingston and visited the Mohonk Mountain House on a day pass. Our visit started with the daily House History Tour at 11:15 am. Our guide took us back in time to the days when the upper and middle class would go on vacation for months at a time.
Guests would check-in to the Mohonk Mountain House for the whole summer and have everything at their doorstep: food, leisure, and recreation. There's rowing on the lake, a pool and spa, golf, gardens, tennis, archery, hiking, rock climbing, and more!
You can also simply relax in the rocking chairs on the outdoor decks or sip cocktails in the lounge. Mohonk Mountain House is the kind of place where you can do as little or as much as you like. And that's really what vacations should be all about.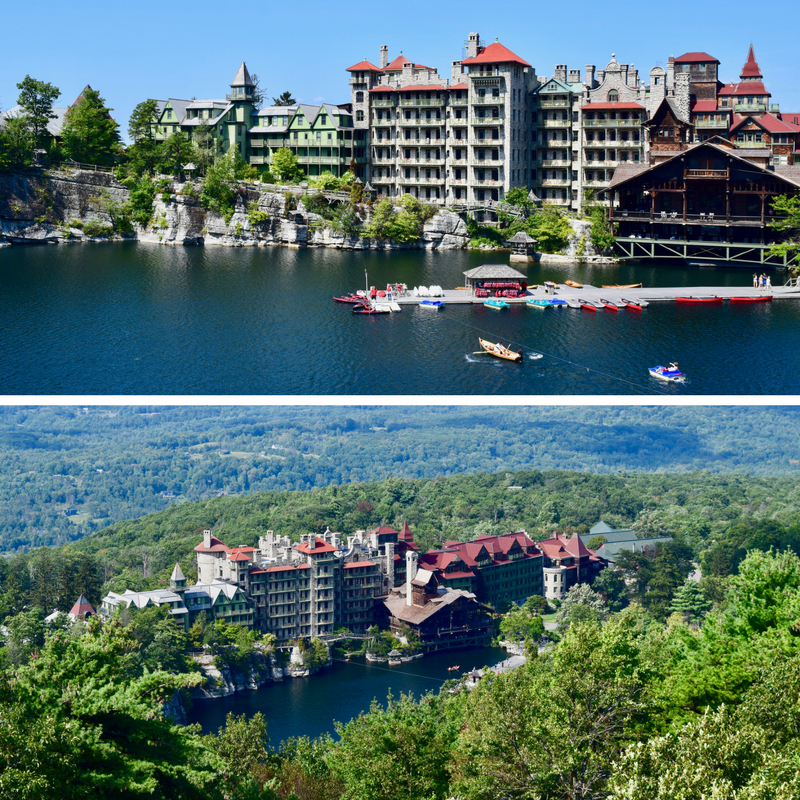 Hiking
Our Mohonk Mountain House day pass didn't give us access to all the amenities, but we were able to explore 85 miles of hiking trails, which was one of our main reasons for our road trip from New York City.
We tackled The Labyrinth Trail to the Sky Tower and it was an adventure and a half! We climbed ladders and scrambled over different rock formations before squeezing through a narrow crack between the rock fissures to reach the summit. I guess that's why it's called The Lemon Squeeze! The views at the top were unreal with an endless stretch of green trees in front of mountain silhouettes.
Pulling ourselves away from our cameras, we continued up to the Sky Tower, aka Albert K. Smiley Memorial. He was the man who founded Mohonk Mountain House and continues to be a family business six generations on. We climbed to the top of the tower where we had an even greater overview of the property to take in the expansive 40,000 acres!
The Labyrinth Trail is not for the faint-hearted, but those less fit or adventurous can still reach the Sky Tower via a less strenuous route. We definitely recommend it for picture perfect views of the castle in front of the lake surrounded by mountains. It's one of the best things to do in Ulster County and you'll get those Swiss Alps feelings we were talking about!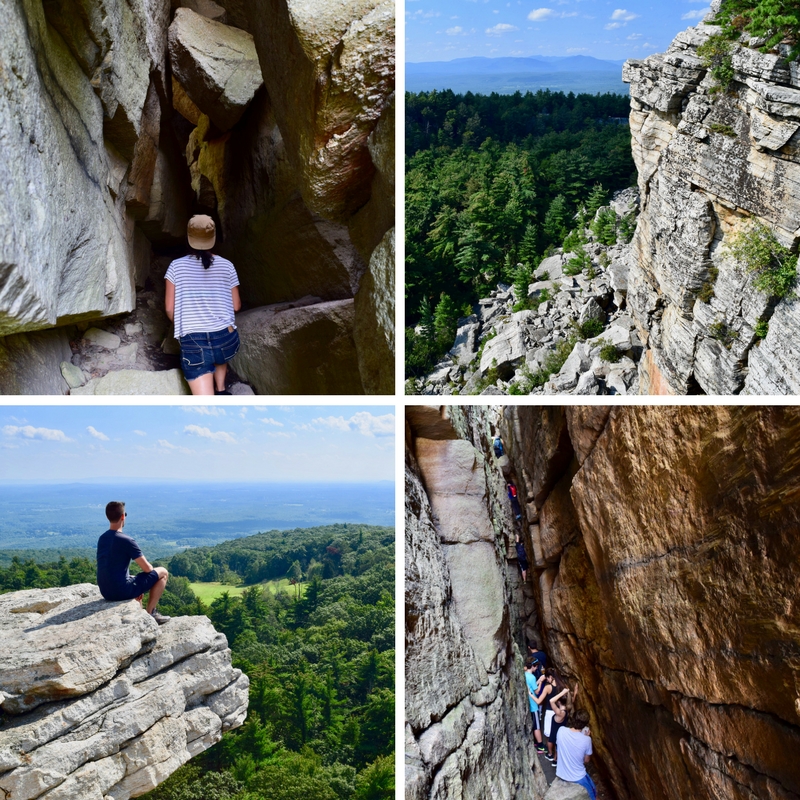 Buffet Lunch
One final highlight of the Mohonk Mountain House we want to mention is the delicious lunch buffet. It's held in the Main Dining Room with high ceilings and beautiful wooden fixtures and carvings.
Like many of the top restaurants in Kingston, the food here is high-quality, locally-sourced Hudson Valley cuisine.
Some of our favorites were:
Roasted Monkfish with Avocado Cream and Grape Fruit Relish
Local Apple Cider Braised Pork
Grilled Chicken Breast with Citrus Jus
Wild Rice Pilaf with Local Apples and Pecans
There's also a carving station and Asian noodle bar, along with other Asian dishes. Vegetarians are also catered for with several entrée options and an extensive salad bar. And of course there's dessert with some eight different, beautifully presented bite-sized cakes and sweets. So now you know why there are 85 miles of trails to explore 🙂
With the history, activities, nature, and food a day or overnight visit to Mohonk Mountain House is an experience to remember.
Mohonk Mountain House Lunch Package: from $72.00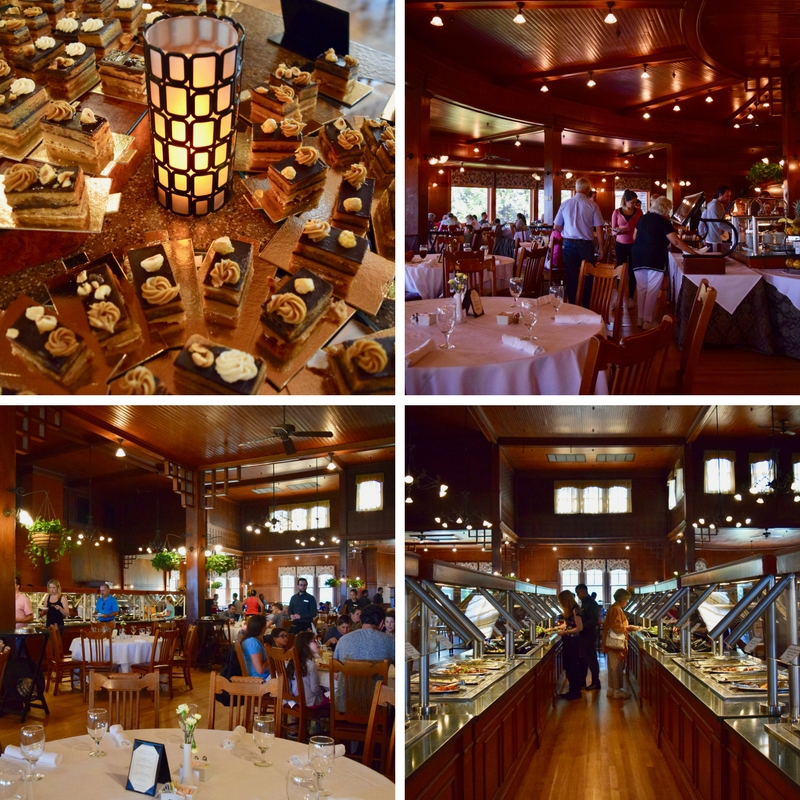 16. Walkway Over the Hudson
Take a walk on the wild side on the Walkway Over the Hudson, the longest elevated pedestrian bridge in the world. It spans 1.28 miles long with gorgeous views of Poughkeepsie town and the lush green mountains along the Hudson River.
The Walkway Over the Hudson was originally the Poughkeepsie-Highland Railroad Bridge built in 1889. The trains ran until 1974 when a fire destroyed the tracks and the service was discontinued.

It reopened as a pedestrian walkway in 2009 as part of the new Walkway Over the Hudson State Historic Park. Besides crossing the bridge and enjoying the views, visitors can continue on and explore the surrounding parks and historic districts.
Just as there are many things to do in Kingston, NY downtown Poughkeepsie also seemed to have quite a few interesting shops, restaurants, and cafes to enjoy. We wish we had more time to check it out.
Don't miss this outstanding attraction on any road trip from New York City. It combines the best in man-made engineering, natural views, and value for money!
Walkway Over the Hudson admission: Free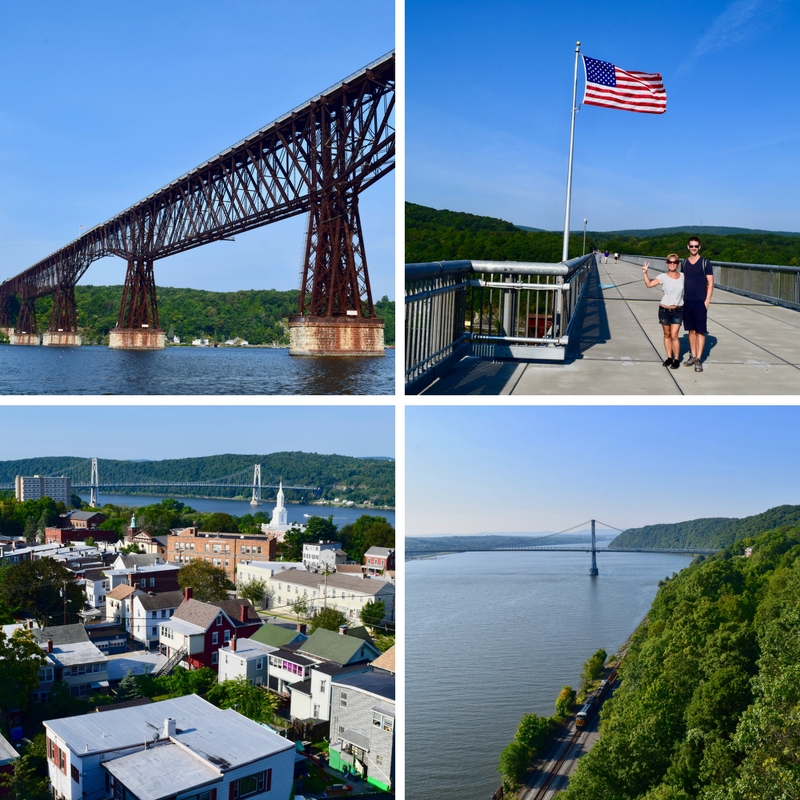 17. Mohonk Preserve
Mohonk Preserve has some of the best hiking in all of New York State. We took on the Spring Farm trailhead along one of the 19th century carriage roads. The beginning was a flat and easy walk through the forest before a gradual climb to the top of Bonticou Crag and Table Rock.
The views of the Hudson Valley were spectacular! Some of the leaves had started to change so we can imagine how stunning the mountains are in the fall.
Looking down on the cliffs, we could see people scrambling over the rocks on the alternate route to the summit. It looked fun but on the other hand we were pretty happy to have already made it, bones intact! The huge rocks at the top are mostly flat but there are a few that jut out, making for awesome photos if you dare to get close to the edge.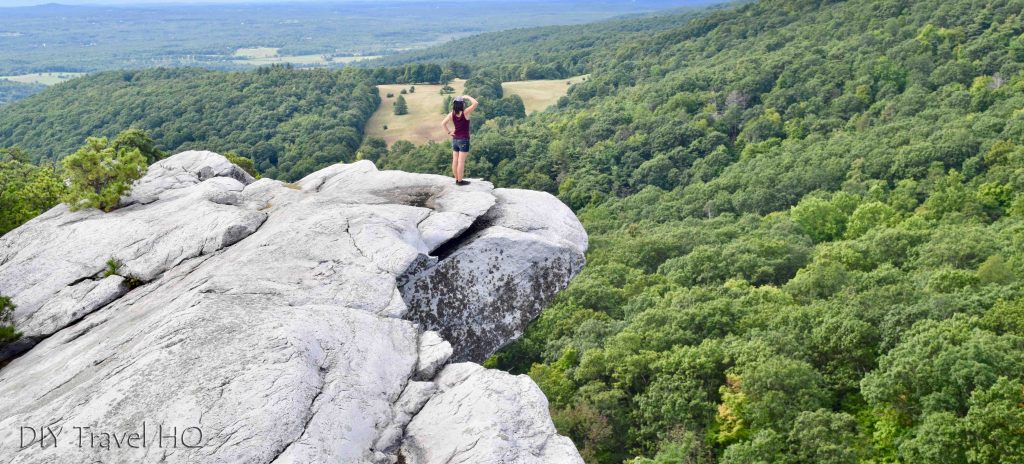 It only took us 1.5 hours to get up and down, but we were with a local who knew the trail like the back of her hand. It's well-marked, but there are a few confusing spots so allow extra time for wrong turns and perhaps a picnic at the top.
From Mohonk Preserve, you can also hike into the grounds of Mohonk Mountain House and Minnewaska State Park Preserve for no extra fee.
The views at the top of Bonticou Crag are similar to those from The Lemon Squeeze at Mohonk Mountain House so if you're already planning to do that one, you may want to choose a different hike at Mohonk Preserve.
Rock climbing on the Gunks cliffs is also very popular along with horseback riding along the forested trails.
Mohonk Preserve Day Fee: $15.00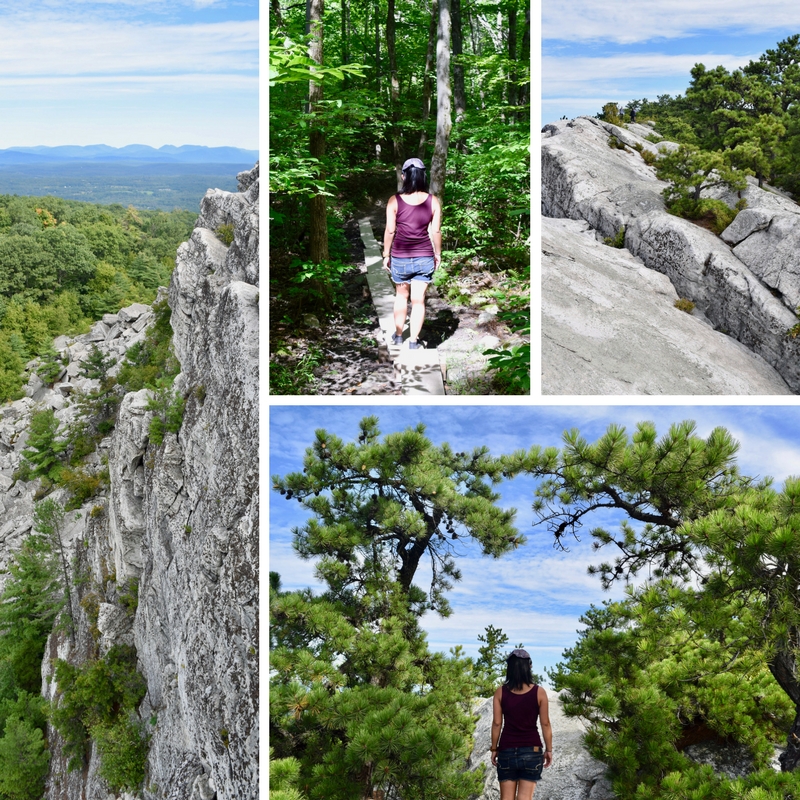 18. Woodstock Farm Sanctuary
Meet, feed, and pet your favorite animals at the Woodstock Farm Sanctuary!
The not-for-profit organization rescues and rehabilitates rescued farm animals from all across the US. Most were exploited and abused before escaping and making their way to the sanctuary.
Woodstock Farm Santuary currently houses over 340 animals. Don't expect to see any crazy wild animals as it's not a zoo after all. Think more along the lines of chickens, ducks, goats, rabbits and sheep.
Woodstock Farm Sanctuary is open to the public on weekends from April to October. Time your visit on a road trip from New York City with a guided tour as you're not allowed to enter the animal pens otherwise.
We started the tour at the Visitor Center where our guide gave us an introduction to the goals and values of the farm, which is to advocate for animal rights and promote veganism.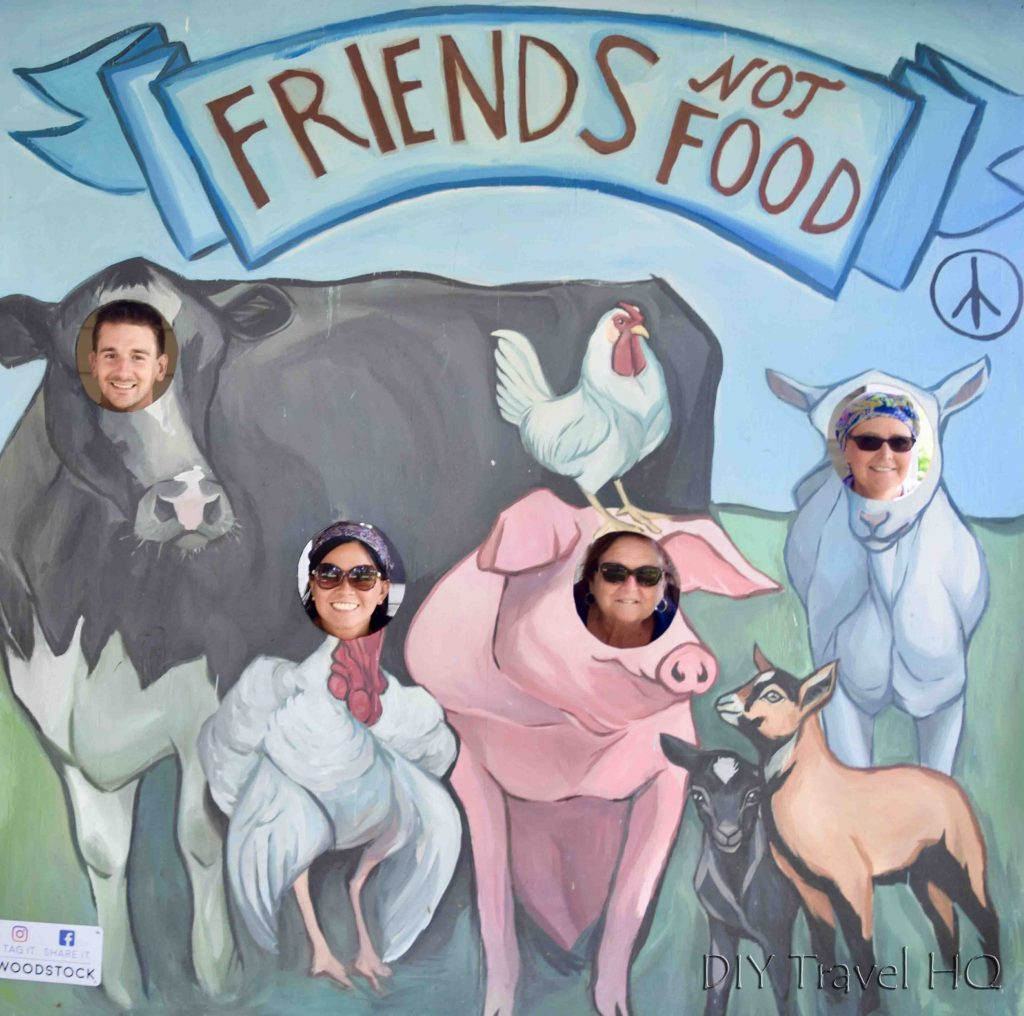 Then we met the turkeys and got to play with them inside their pens. They like to be pet under their wings, but some of them also don't stay still! Our next stop was feeding the cows, which was a whole lot of fun. We had them eating alfalfa cubes from the palms of our hands!
Cows have no front teeth so they don't bite, but they sure have a lot of slobber! This experience was one of our favorite things to do in Ulster County. After wiping our hands on the grass, we moved on to the pig pastures. There were only a few pigs trotting around, but they seemed happy to see us and were treated to many belly rubs!
The tour was 75 minutes long, but we had to leave early so we missed out on meeting the goats and sheep. In between the play and feeding times, there was also down time where the guide spoke a lot about the trials and tribulations of farmed animals.
Some of the talks were a little heavy and preachy, however it was definitely food for thought to learn more about the vegan cause.
Woodstock Farm Sanctuary Admission: $10.00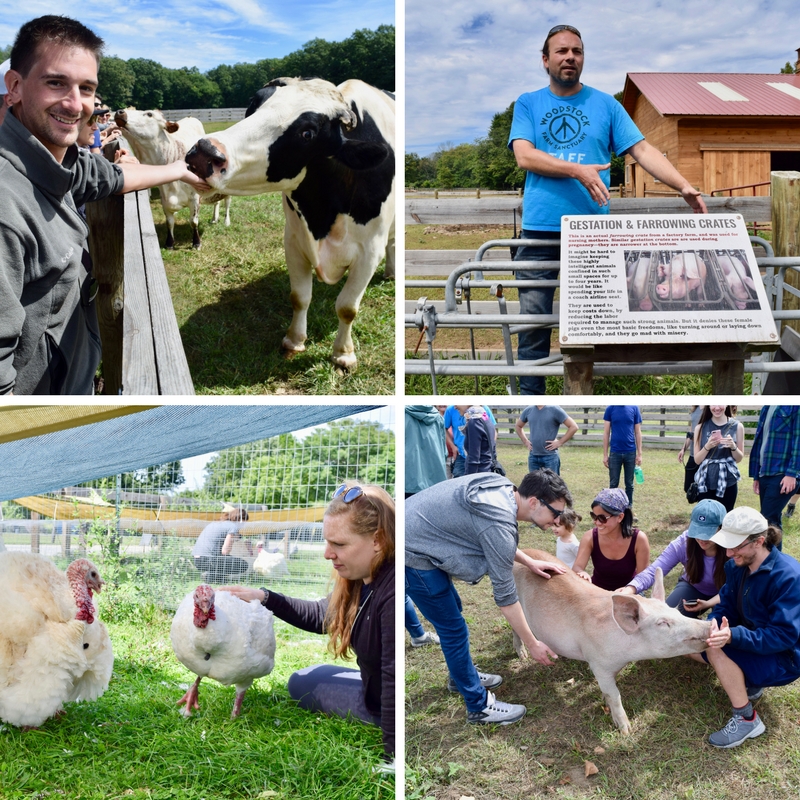 19. D&H Canal Museum
The Delaware and Hudson Canal, aka D&H Canal, was opened in 1828 in order to transport coal from Pennsylvania to New York City.
It measured 108 miles in length from Honesdale, PA to Kingston, NY with a total of 108 locks. The canal ceased operations in 1902 so most of the locks have long been drained and filled.
However, several of them remain on the D&H Canal property and can be seen on the 1.5 mile 5 Locks Walk. We didn't do the trail on our road trip from New York City though we did pay a visit to the D&H Canal Museum.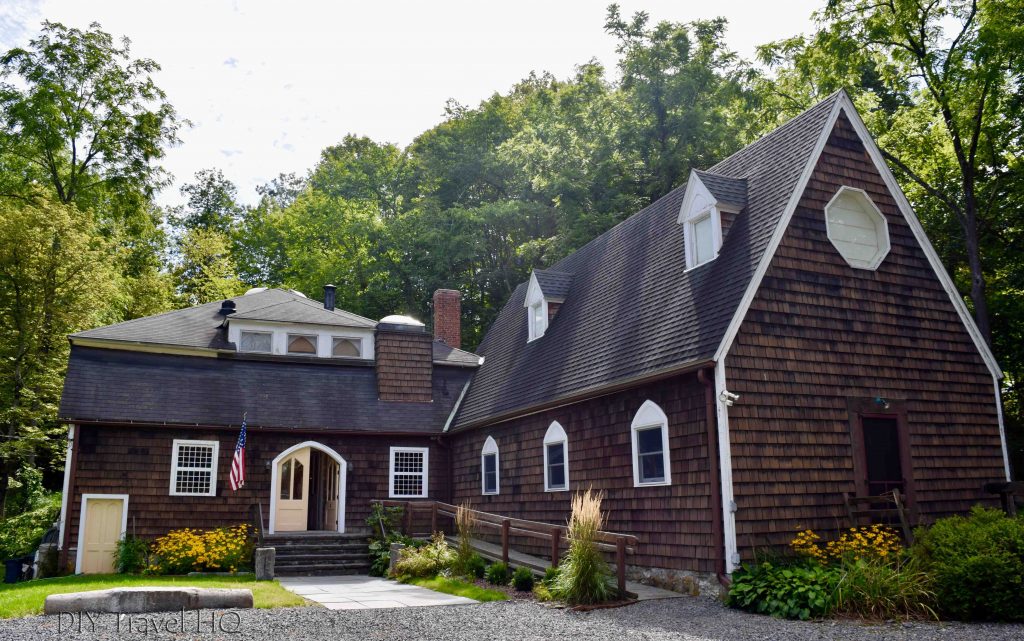 Here we learned more about the canal's history through the documents, photographs, dioramas, tools, and artifacts on display. There was also a full-size recreation of a canal boat cabin and a working model of a lock that filled and drained water.
The D&H Canal is not a must-do, but it's worth a quick stop if you're in the Kingston area, history buff or not.
D&H Canal Museum Entrance Fee: $5.00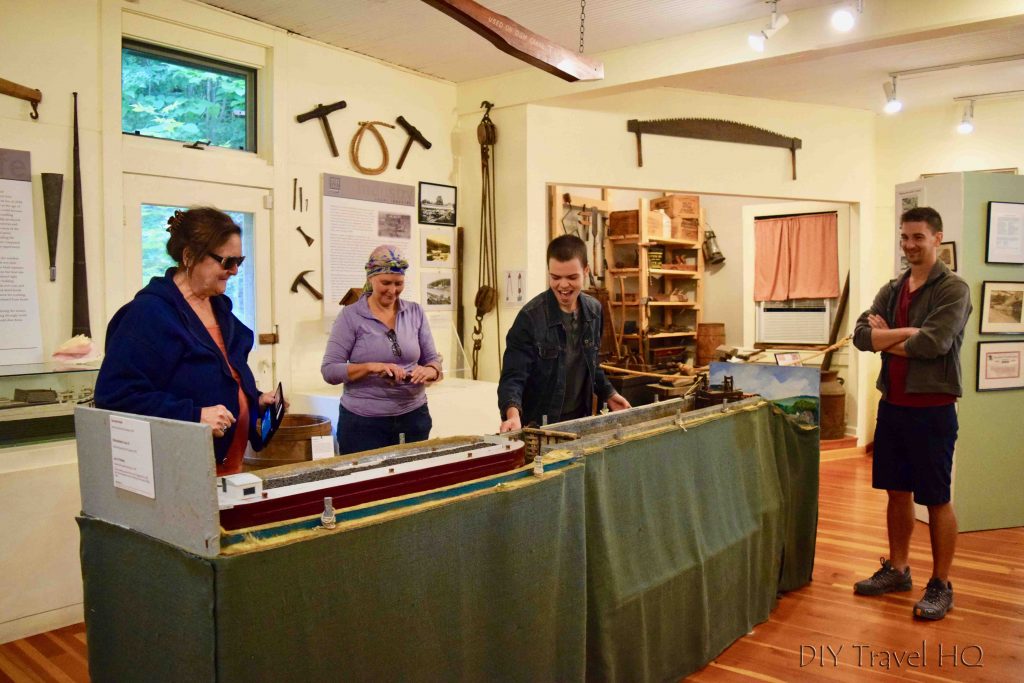 20. The Den of Marbletown
If you are feeling nostalgic while visiting Kingston, NY, then head to The Den of Marbletown where you can see an excellent collection of childhood stuffed animals and dolls.
The highlight are the 5,000+ Steiff animals with the 1904 Steiff Rod Bear stealing the show. There is also a large collection of both Madame Alexander dolls and Barbies besides other classics.
Although The Den of Marbletown may be on your list of things to do in Kingston, NY with kids, the majority of toys are display only so kids may quickly loose interest. They may enjoy a picnic on the grounds that is available for purchase more.
The Den of Marbletown Entrance Fee: $2
Hours: 11 am – 5 pm Wednesday thru Sunday
Where to Stay in Kingston, NY
Best Western Plus Kingston
We stayed at Best Western Plus Kingston and we highly recommend it, especially for groups and families. This long-running chain has certainly come a long way.
Our room was modern and spacious with 2 queen beds, cable tv, fridge, microwave, coffee machine, and a spotless en-suite bathroom. Buffet breakfast is served every morning at the onsite restaurant.
Other hotel facilities include:
Indoor heated swimming pool
Fitness Center
Business Center
Games Room
With all the amenities and recent renovation, we rate Best Western Plus as a 4 star hotel and excellent value for money.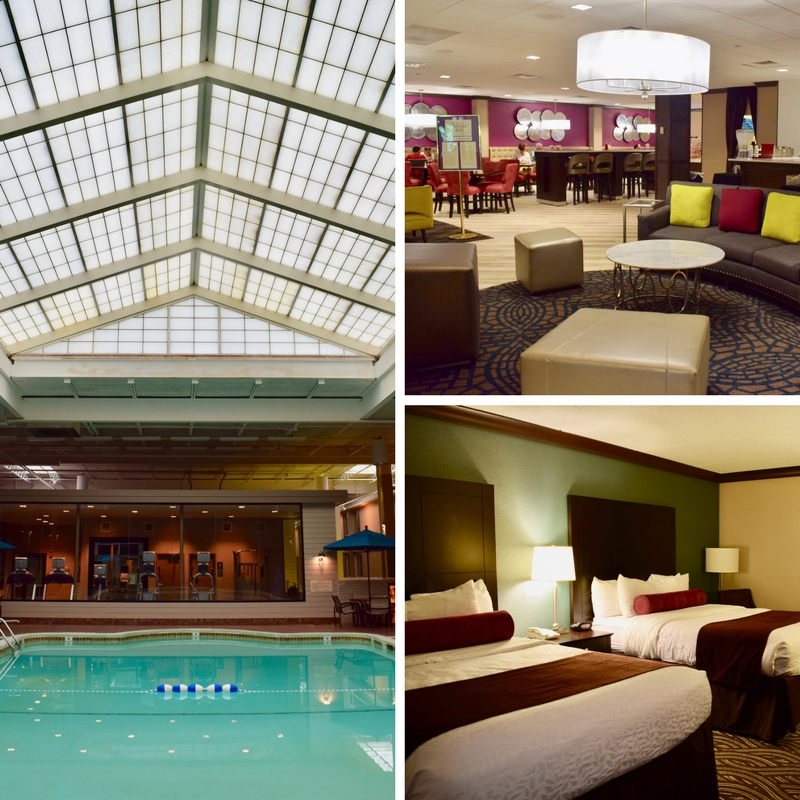 Kingston, NY Restaurants
Keegan Ales – Order the flight and taste 6 of the best craft beers in New York! Wash down the great food before taking a tour of the onsite brewery.
Elephant – Enjoy beautifully presented European-style tapas with a glass or two of wine in a casual, elegant environment.
Santa Fe – Head out to Woodstock for some awesome contemporary Mexican food, and the largest selection of tequila in the Hudson Valley.
Savona's – Make a date for the best lunch deal in town with three courses, garlic bread, soft drink and coffee/tea for just $12.95.
DMZ Kingston – Taste the world on a plate and sip on signature cocktails at this local's favorite.
Mohonk Mountain House – Dine on an upscale lunch buffet of locally-sourced Hudson Valley cuisine with a dessert bar to die for.
Stockade Tavern – Did somebody say speakeasy? Step back into the Prohibition era with handcrafted cocktails for a night to remember.
For more information on each restaurant/bar check out our next post…
Best Restaurants in Kingston, NY
From tapas to buffets and cocktails to craft beer, there's something for all tastebuds on our list of top restaurants Kingston, NY and around. Get ready to feed your hunger and quench your thirst… let's go!
Read more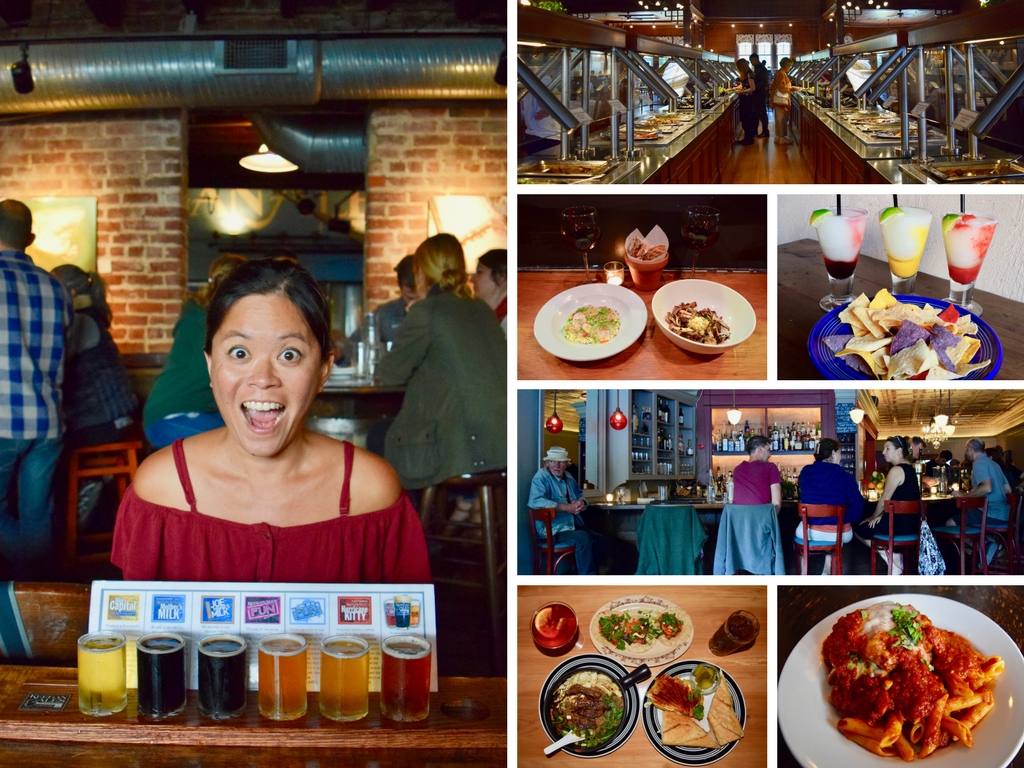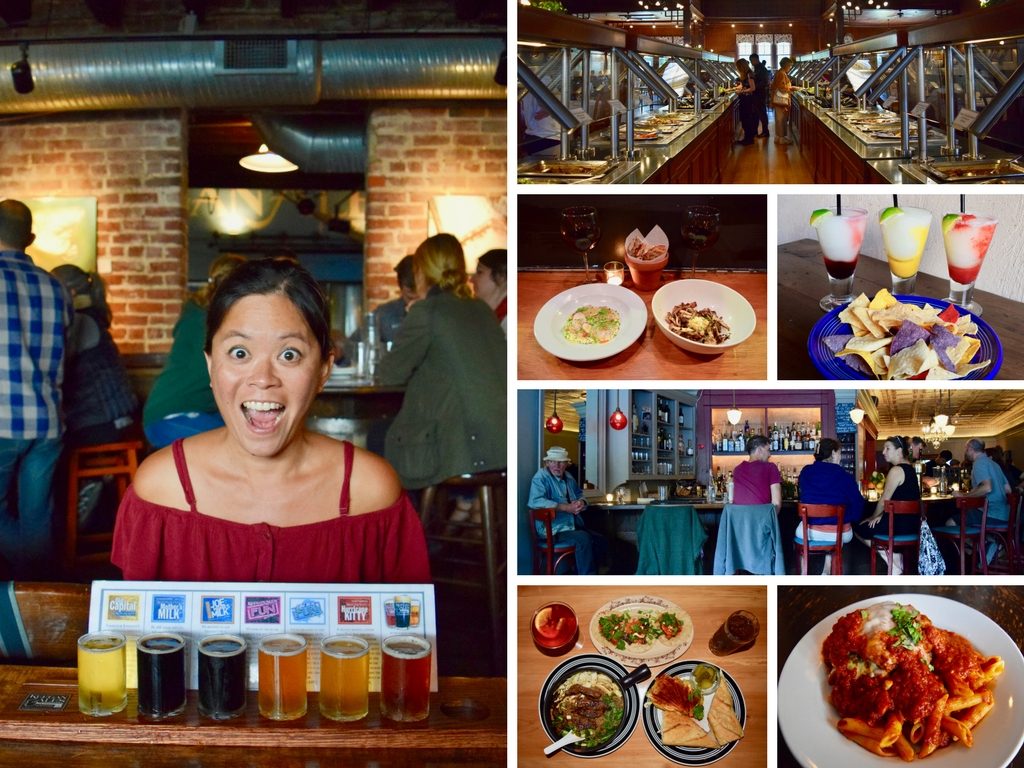 Festivals in Kingston and Ulster County
January – Hudson Valley Rail Trail WinterFest
May – Woodstock-New Paltz Art and Crafts Fair
June – Maritime Cup Regatta
July – Hurley Stone House Day
August – Phoenicia International Festival of the Voice
September – Hooley on the Hudson Irish Festival
September to November – Headless Horseman Haunted Houses
October – Burning of Kingston
November – Wreath Fineries at the Wineries
December – The Wawarsing Wassail
* For more information on what's happening and when check out the Ulster County Calendar.
Where to Next?
Things to do in the Catskills
From nature and hiking to art and history, find out the top 6 things to do in the Catskills and how to do it all in our full weekend itinerary from NYC!
Read More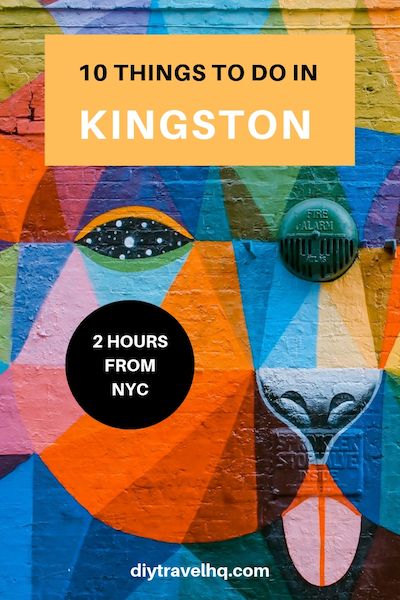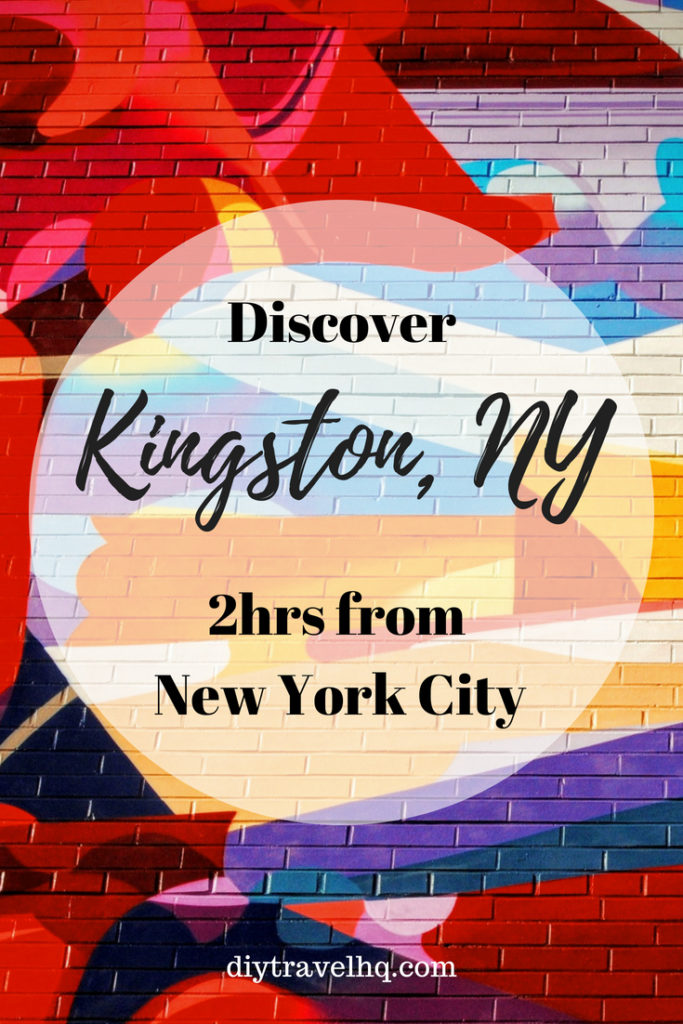 We visited Kingston as guests of Ulster County Tourism.
Disclaimer: This post contains affiliate links which means that we receive a small commission if you click on a link and purchase something that we've recommended, at no extra cost to you.

Visited in September 2017
Updated in April 2020