With so many places to visit it can be hard to decide where to go backpacking in Ireland – follow our 2 Week Ireland Itinerary & you'll discover the top 10 destinations. Start planning your trip now!
2 Week Backpacking Ireland Itinerary
Here at DIY Travel HQ I spent 2 weeks backpacking in Ireland in June 2017.
I based myself in 5 cities, making day trips to other places I was interested in – I took a combination of tours & public transport but the best way to travel around Ireland is by car. Feel free to adapt this to a self drive Ireland itinerary.
You can actually visit most of the Emerald Isle on day trips from Dublin but I'd recommend staying in different cities to get a better sense of the country.
We recommend Booking.com for the best rates & selection of accommodation on the Gili & Nusa Islands. Make a booking with our link & receive $20 back on your card after your stay.
* And don't forget to purchase travel insurance before any trip to Ireland. We've been using World Nomadsfor over 10 years. It's the best-value provider we've found but there are other important things to consider. Check out our post and find out which of our claims were successful or denied.
Dublin is the natural starting point for any Ireland trip.
From the Guinness Storehouse to Trinity College, there are many things to do in Dublin.
The entry fees can all add up but many of the churches & museums are free.
We recommend spending 2-3 days in the capital to visit its attractions & soak up its lively atmosphere & an extra 2 days for day trips to Bru Na Boinne & Glendalough.
For more information check out Lonely Planet's Ireland Travel Guide for 2018
.
Top 13 Things to do in Dublin
There are lots of things to do in Dublin but few attractions offer good value for money. Find out which ones are worth it along with which attractions are free!
Read more
Dublin Attractions:
Bru Na Boinne is an ancient archaeological site dating back 3200 years, making it older than Stonehenge & the Pyramids.
It features 3 prehistoric tombs: Newgrange, Knowth & Dowth.
Newgrange & Knowth can be visited on guided tours, which cannot be booked in advance. Admission is on a 1st come 1st served basis & it's a popular place so you may have to wait hours for a tour.
You can visit Bru Na Boinne by bus from Dublin but the bus schedule is very limited:
Dublin – Drogheda: Bus #100X at 10:00am (arrives at 11:00am)
Drogheda – Bru Na Boinne Visitor Centre: Bus #163 at 11:15am (arrives at 11:40)
When I arrived at the Bru Na Boinne visitor centre, the next available tour to Newgrange was not until 1:15pm.
There's only 1 return bus to Drogheda at 3:00pm so I didn't have enough time to visit Knowth too, which I was really disappointed about. From Drogheda, there are many buses back to Dublin or you can travel onwards to Navan Fort and/or Belfast -– though from personal experience, I would not recommend Navan Fort.
Nevertheless, I really loved Newgrange. It's a passage tomb that we were able to go inside. During the winter solstice the sunlight shines all the way through.
Getting to Bru Na Boinne by car is the only way you'll have time to visit both Newgrange & Knowth.
The day tours from Dublin only include entry to Newgrange. They are roughly the same price as going by public transport but visit other attractions along the way.
Glendalough is a historic monastery & village in a beautiful countryside landscape.
It's only 1.5 hours from Dublin but you can't get there by public transport.
Besides joining a tour, the only way to get to Glendalough is by St Kevin's Bus Service. The bus leaves Dublin at 11:30am and returns at 4:30pm.
This gives you 3.5 hours there, which is enough time to enjoy the nature & take 1-2 hikes.
Don't miss the old monastic site with a round tower, cathedral, cemetery & other ruins. From there, a walk around the Lower Lake leads to the larger Upper Lake.
There are many different hikes you can take in Glendalough. I had my large backpack
with me, so I chose the 40 minute path around the Upper Lake to the Old Miner's Village.
Glendalough is a beautiful place. I was happy with the day trip from Dublin but scheduling 1-2 nights here on a 2 weeks Ireland itinerary is also a great idea.
Tour option: Glendalough & Wild Wicklow
Every Ireland trip should include a visit to Northern Ireland & its capital, Belfast.
Belfast has a proud shipyard heritage and it was where the RMS Titanic was built. Discover the full story & more at the massive Titanic Belfast museum – buy tickets here.
Belfast was also shaped by The Troubles conflict between its Catholic & Protestant populations.
The Peace Walls outside of the city centre are worth a visit by foot or taxi. There are many political murals here that used to separate the Catholic & Protestant neighbourhoods.
Other attractions in Belfast include:
City Hall
Queens University
Ulster Museum
Grand Opera House
St Peter's Church
Beacon of Hope sculpture
Belfast Attractions:
The Giant's Causeway is one of the most popular tourist attractions in Ireland and a UNESCO World Heritage Site.
It's made up of some 40,000 perfect hexagonal columns formed by an ancient volcanic eruption or feuding giants, depending on your preference for science or mythology!
I took a Paddywagon Tour to the Giant's Causeway – not only was it cheaper than going by public transport but it also included stops to the Carrick-a-Rede rope bridge & the Dark Hedges. Check them out if you're backpacking in Ireland as they offer other affordable tours around the country.
Also known as the Kings Road in GoT, the Dark Hedges is one of many Game of Thrones filming locations in Northern Ireland.
Tour options:
As the gateway to the Cliffs of Moher & Western Ireland, many tourists find themselves in Galway.
There aren't many attractions in the city but it has a quaint & bustling atmosphere with lots of typical Irish pubs & restaurants.
I took the long coastal walk to the Salthill Promenade but I didn't think it wasn't anything special – besides, the buses to the Cliffs of Moher & Aran Islands also went along the same road so I didn't need to make the walk!
Tour Options:
Backpackers in Ireland should keep in mind that it's often cheaper & more convenient to take a tour to famous tourist attractions than to visit by public transport.
That's certainly true for getting to the Cliffs of Moher from Galway.
I booked a tour with Wild Atlantic Way but the bus left without me, even though I arrived on time. One of their staff members then walked me to the bus station to book a tour with another company, which left 2 hours later.
I was really shocked by this whole experience & I would not recommend taking any tours with Wild Atlantic Way.
Beside, as I found out, all the tours to the Cliffs of Moher follow the same schedule anyway.
A more important factor to consider before visiting is the weather.
It was raining & cloudy all day when I visited, which not only obscured the view of the cliffs but made it pretty miserable being outside at all – including at the other tour stops along the way.
Tour Option: Cliffs of Moher & Burren Tour
I confused the Aran Islands in West Ireland with the Arran Islands in Scotland so I had no idea what to expect.
I didn't need to worry as the landscape was beautifully green & rocky, with spectacular cliffs.
I spent 2 nights on Inishmore – it's the largest of the 3 islands that make up the Aran Islands but you can still walk around it in 1 day.
Other options for touring around are by bicycle or hop-on hop-off bus.
The Aran Islands can be visited on a day trip or tour from Galway but for those seeking a peaceful retreat, I recommend a longer stay.
Tour option: Aran Islands Tour from Galway
There's not much to see & do in Cork but most travellers visit for the Blarney Stone.
If you have any germ phobias, put it out of your mind for a few seconds while you lean back on the top of Blarney Castle & pucker up for the age-old gift of eloquence.
Get your camera
ready too so you don't miss the shot like my friend did of me! It's a long line to rejoin for another chance!
Besides kissing the Blarney Stone, Blarney Castle is set on beautiful grounds with gardens to explore.
Tour options:
#10. Carrauntoohil in the Ring of Kerry
Carrauntoohil may only be 1038m high but Ireland's highest mountain is no walk in the park, especially in the rain – the views were stunning though while I could see them 🙂
With rolling green hills & white sheep, I never felt more at home in Ireland than hiking here in the Ring of Kerry.
I was lucky to have camped & hiked here with my friend from Cork.
Hiking tours can also take you to the summit of Carrauntoohil or you can hop aboard one of the many sightseeing tours of the Ring of Kerry.
Tour option: Ring of Kerry Tour
Did you enjoy reading our list of Places to Visit in Ireland?!
Pin it and help others find it too!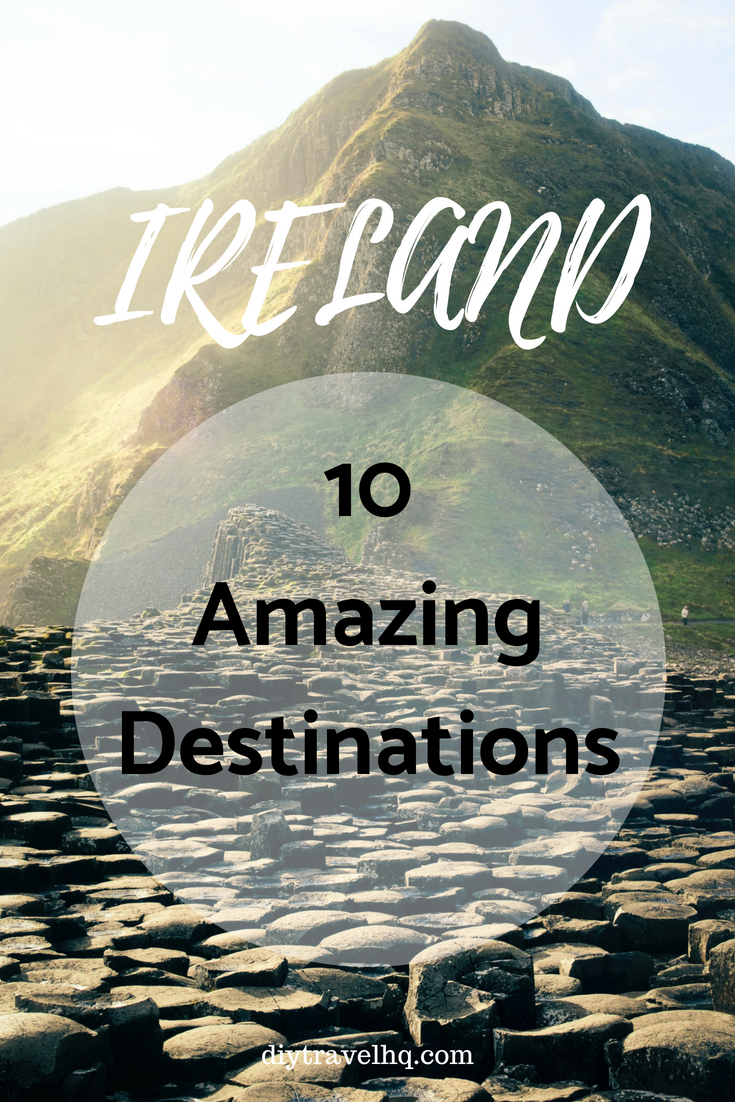 *** The Final Word: Follow our 2 Week Ireland Itinerary & discover the best of the Emerald Isle! *** 
How long did you spend in Ireland?
Disclaimer: This post contains affiliate links which means that we receive a small commission if you click on a link & purchase something that we've recommended – at no extra cost to you. This helps us to keep our site running so we can continue to provide free content. Thank you for your support!
Visited in June 2017