Hiking Everest Base Camp is one of life's great adventures. Sure it can be difficult – trust me, I developed HAPE – but it's definitely doable. From accommodation & food to medication & tipping, find out everything you need to know on the road to the Roof of the World.
TIPS ON PLANNING YOUR EVEREST BASE CAMP HIKE
#1. Fitness & Training
Just how difficult is the hike to Everest Base Camp (EBC)? You'll read time & time again that anyone of reasonable fitness can do it and I'm happy to report that this is true. However bear in mind that your body may not be used to a prolonged amount of physical exertion – and this is what can take a toll.
The best advice I received in how to train for the trek came from a retail assistant at an outdoor store who had reached EBC the year before. He said that it's not about speed but about endurance. He advised me to build stamina by taking long walks or hikes so that's exactly what I did.
I power walked for around 1 hour after work every day and longer 2-3 walks on the weekend. This was on flat ground and I only did 1 hike. It was a spontaneous decision to do the trek so my "training schedule" only started a few weeks before it was time to fly out to Kathmandu. Find out more about what to do in Kathmandu…
Things to do in Kathmandu
Backpacking Kathmandu is a rite of passage – from food & attractions to money & day trips, find out everything you need to know about visiting Nepal's biggest city
Read more
Prior to this short spurt of exercise I didn't work out at all. I work in offices and I'm a blogger so I spend a lot of time sitting and not moving. It's sad but it's true though I'm really hoping to change this kind of lifestyle moving forward.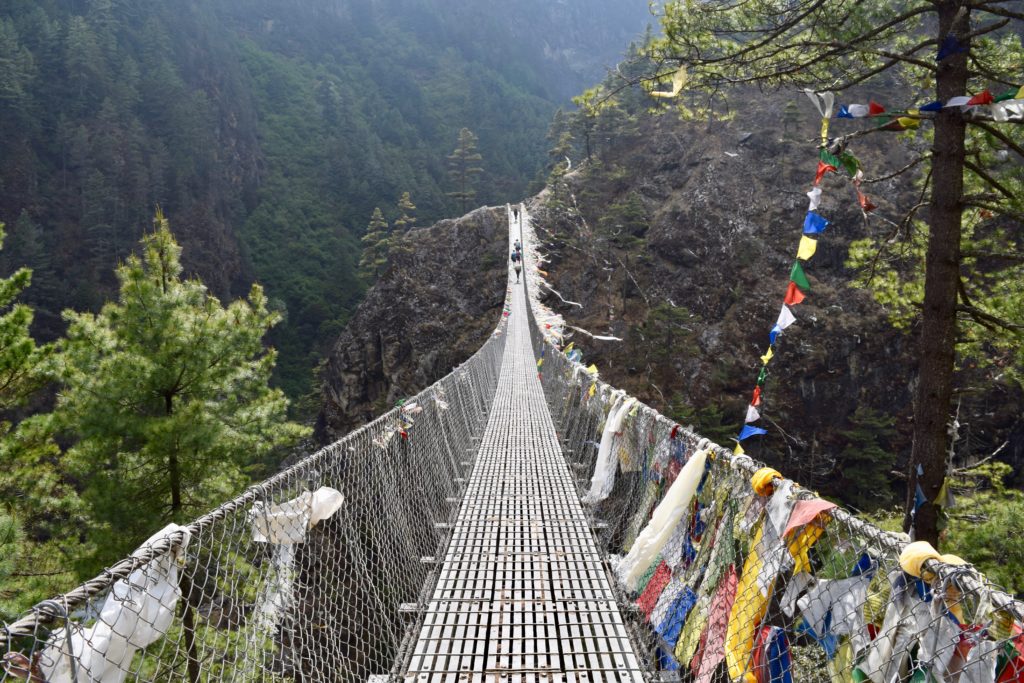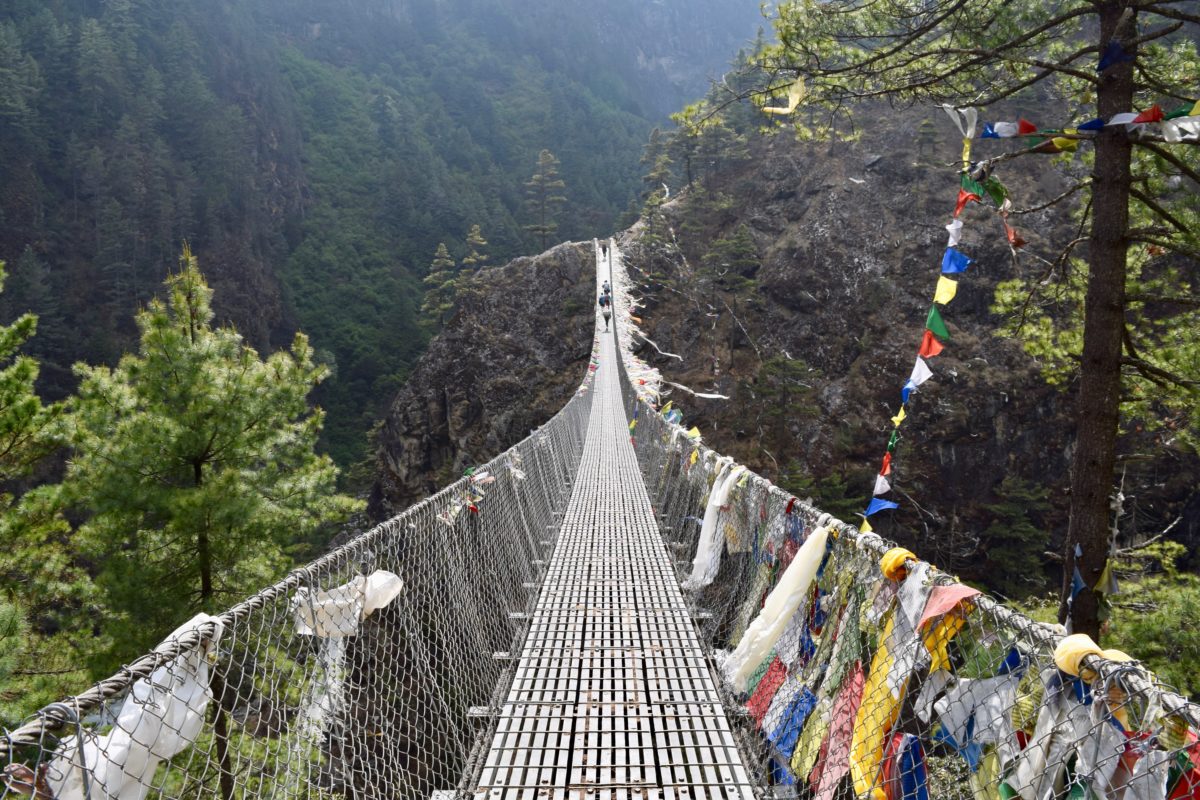 I finished the hike doing very little exercise beforehand so if you are reasonably fit and healthy you don't need to train at all. But obviously you should! The longer you train and prepare for the trek the easier and more enjoyable it will be.
If you're like me you may also suffer from altitude sickness which I will cover in a separate section. Just know that altitude sickness doesn't discriminate & it can affect anyone from the fit & healthy to the weak & lazy. It will obviously impact on how you feel on the trail.
Everest Base Camp Trek Diary: Epic 12 Day Review
Follow my detailed day-by-day guide on what to expect along the Everest Base Camp trek - do you have what it takes?
Read more
Hiking to Everest Base Camp is also a great test of character and mental strength. There were times when I felt like giving up, taking a horse or helicopter. But I kept going (apart from a short stint on a horse when I developed High Altitude Pulmonary Edema) and that's what it's all about – the hike is not difficult, it's just about putting one foot in front of the other. The challenge is as much mental as it is physical, if not more so.
The bottom line is that if you're even thinking of hiking to Everest Base Camp, chances are you are probably both physically and mentally fit enough to do it. Don't stress and just go for it!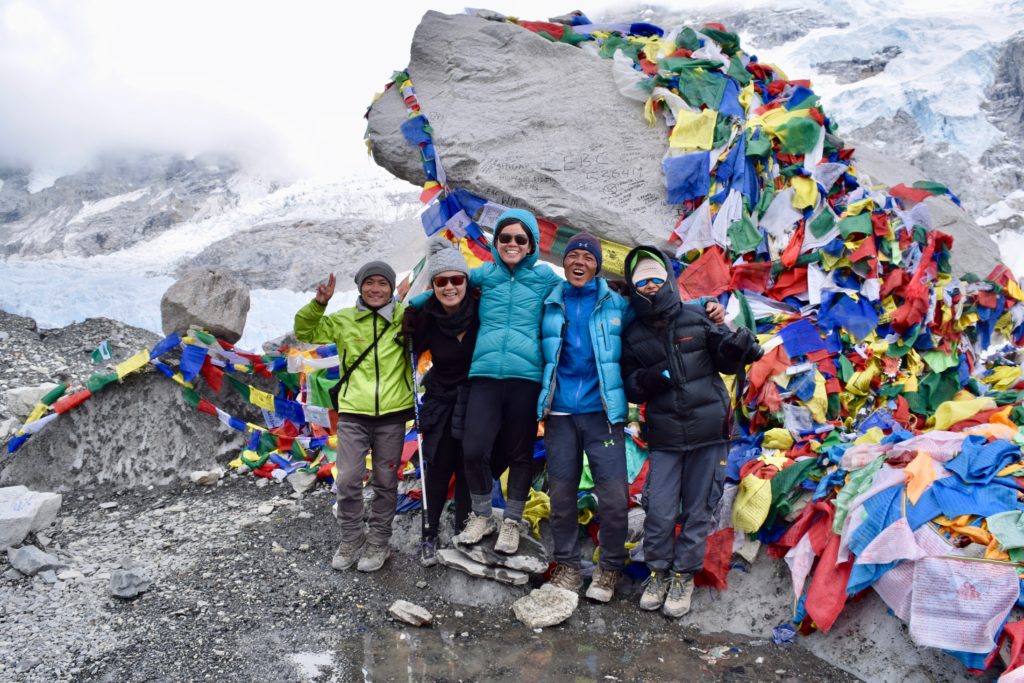 #2. Travel Insurance
I always recommend World Nomads but I do so even more so the Everest Base Camp hi as they will cover a helicopter evacuation if needed. I developed High Altitude Pulmonary Edema (HAPE) on the trail – it can be life threatening and while I didn't need a helicopter, I did have to hire a horse to help me descend. Not sure if horse evacuations are covered though, I should look into it!
The standard cover with World Nomads only covers keking up to 2000 metres so you will need to add "Trekking – up to 6000 metres" as a Sports & Activities Premium. This will double the cost of your coverage but it is worth it to have the peace of mind.
Lukla is notorious for bad weather, flight delays and cancellations. In these cases, you may need to charter a helicopter. This was covered by my tour company Green Valley Nepal Treks but I came across other people who had to pay between $20-500 extra – GAP Adventures is one operator that specifies this in their fine print.
I was grateful to have gone with a local company that didn't take advantage of the situation however if you're not so lucky, you may be able to claim the cost of the helicopter premium.
Leave your insurance details with your tour company in Kathmandu (they may ask you for it anyway). If anything serious happens they can get in touch with your insurance company on your behalf.
For more on travel insurance check out my World Nomads review.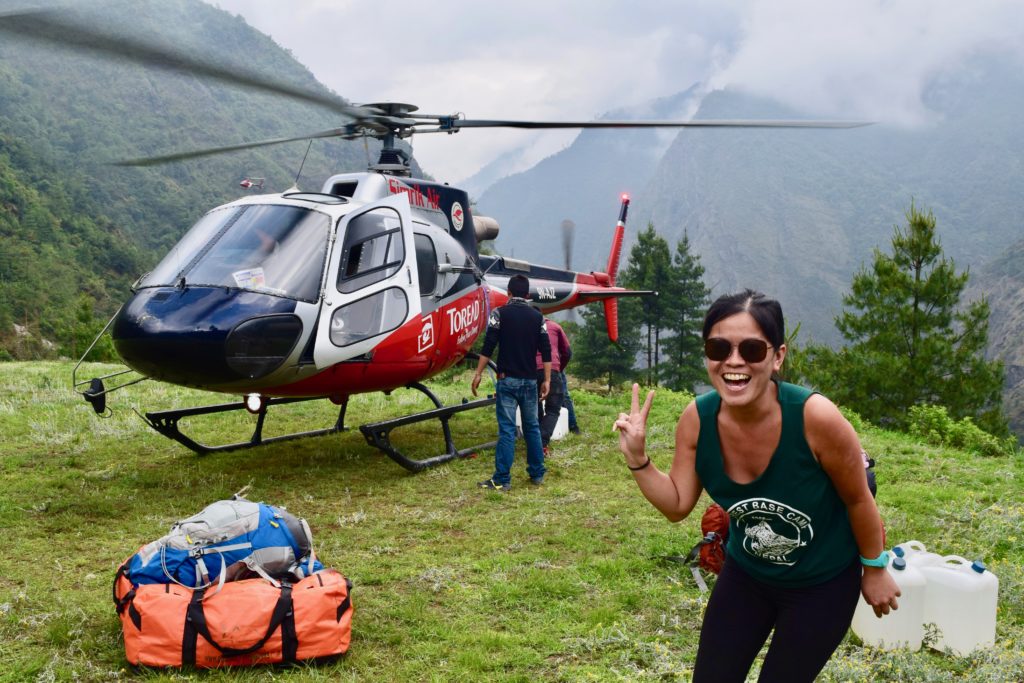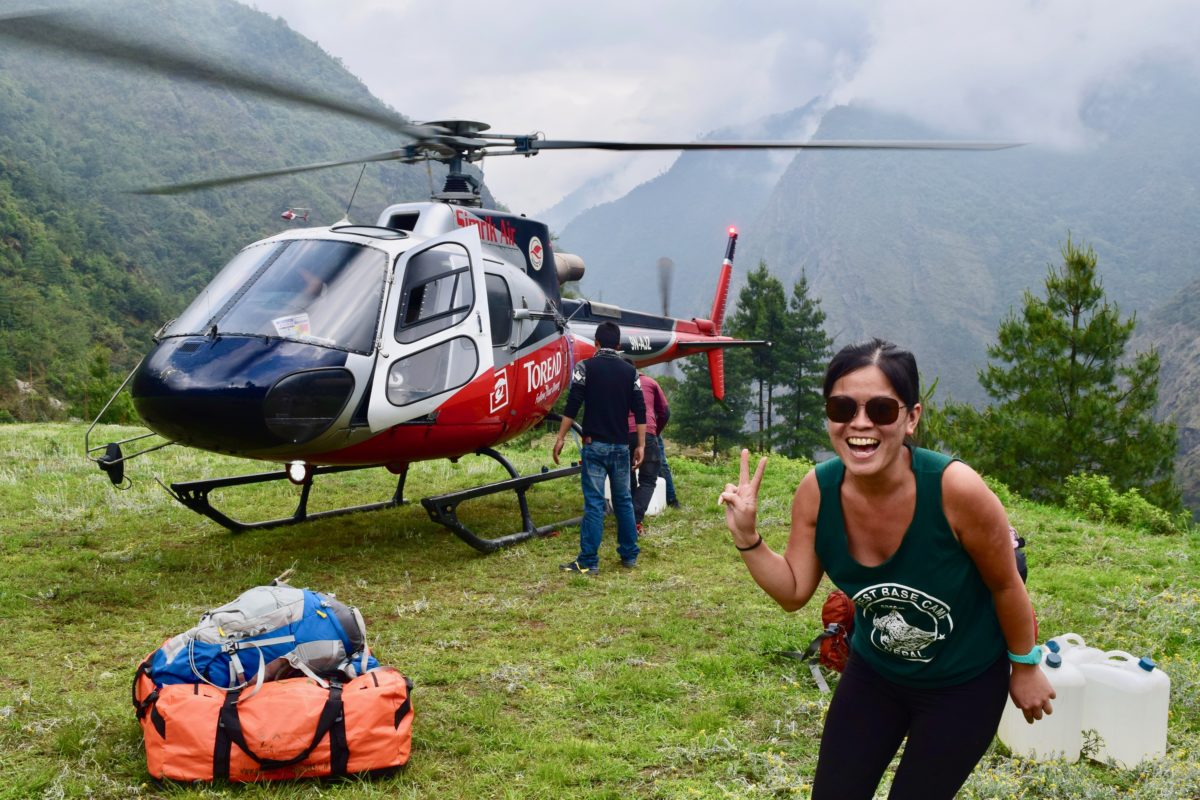 #3. DIY vs Tour
I'm all about DIY travel but I didn't have the time or motivation to plan my EBC trek. I was also traveling with my friend Tracy who preferred to go on an organised tour.
I did look into the logistics of hiking to Everest Base Camp without a tour and it seemed quite easy to organise yourself:
Kathmandu to Lukla return flights with Tara Air or Summit Air – $368
Local Entry Permit – Rs. 2000 / $20 (issued in Lukla)
Sagarmatha National Park Entry Permit (issued in Kathmandu or at the park entrance in Monjo) – Rs. 3390 / $34
Guide – $300 (or $25 a day). Can be shared by 2 people or a group
Porter – $150. Can be shared by 2 people; max weight 30 kilos (please aim for 20kg max)
Accommodation & Food (3 meals w/ drinks a day) – approx. $300
* Approximate cost of DIY EBC trek: $950-$1175 for 1-2 persons
Note that guides and porters are not compulsory. The TIMS card is also no longer required & has been replaced by the local entry permit. Independent can save more money by taking a jeep from Kathmandu to Salleri. It costs $20 & also adds an extra 3 days of trekking to Lukla.
If people are interested, I can write a separate post on how to hike to EBC without a tour. The Lonely Planet guide to hiking in the Himalayas also seems informative.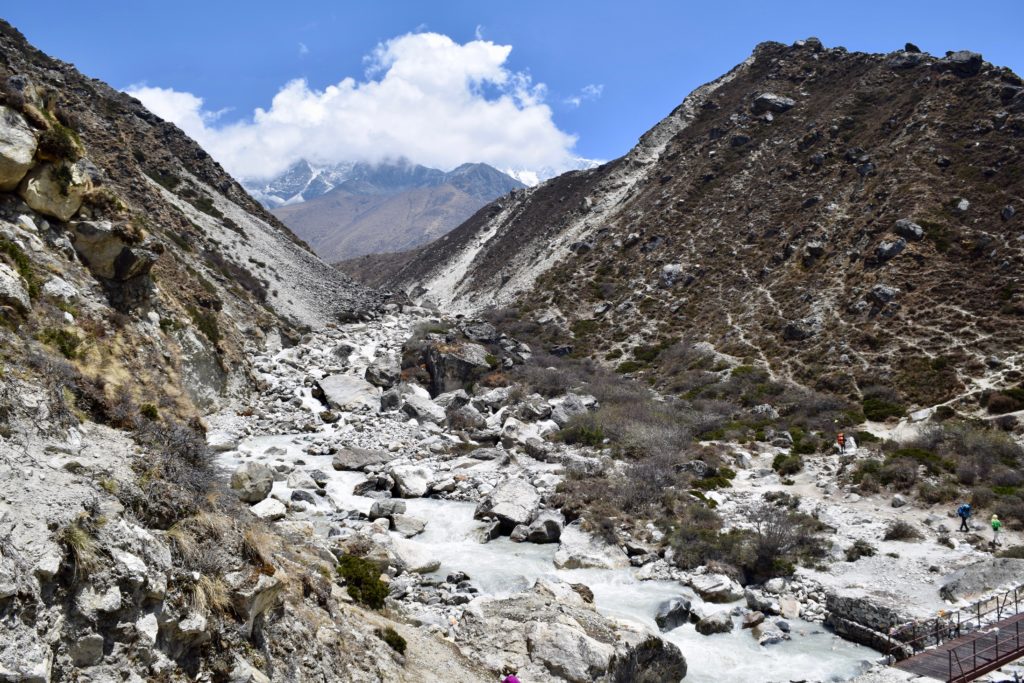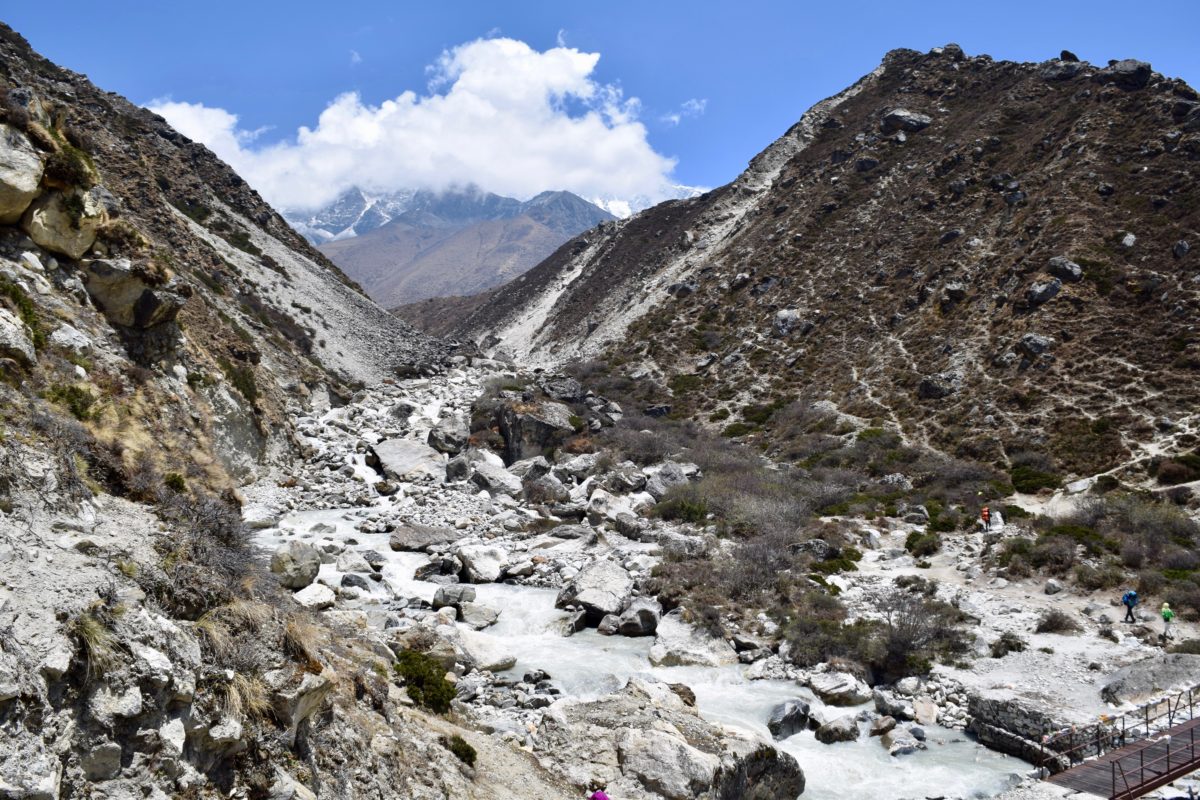 When you factor in the costs of flights, permits, accommodation, food, guides and porters you don't save much money from hiking Mount Everest on your own – if at all. You do, however, save a whole lot of hassle and time by going on an organised tour.
So how did I choose an Everest Base Camp tour company?
I started my research on Tripadvisor, searching under Hiking & Camping Tours and Outdoor Activities. I went through the top 10 reading reviews checking out the company websites & comparing prices itineraries & inclusions.
The stand out operator to me was Green Valley Nepal Treks & Research. They were the only non-foreign owned & operated company in the top 10 and I always try to support local people & businesses wherever I travel.
Green Valley Nepal Treks also came out on top in pricing. They offered a 14 day EBC trek for $1050 which was at least a couple of hundred dollars cheaper than most of the other tour companies I came across. A porter was an extra $150 which could be shared between 2 people.
I contacted them by email & Arjun, the tour director, was very quick to respond. In the followng weeks he was always really responsive to my queries over WhatsApp. They ticked all the right boxes & I just had a good gut feeling.
So I knew which tour company I wanted to go with… the hard part was deciding if I wanted to do it at all!
Along with more than 390 5 star reviewers on Tripadvisor I thoroughly recommend Green Valley Nepal Treks. But do some research, find the company that fits your needs best & go with your instincts.
* Green Valley Nepal Treks and Research EBC Trek: $1050 + $150 porter (split between 2 people). Please note the current price from August 2018 is $1195.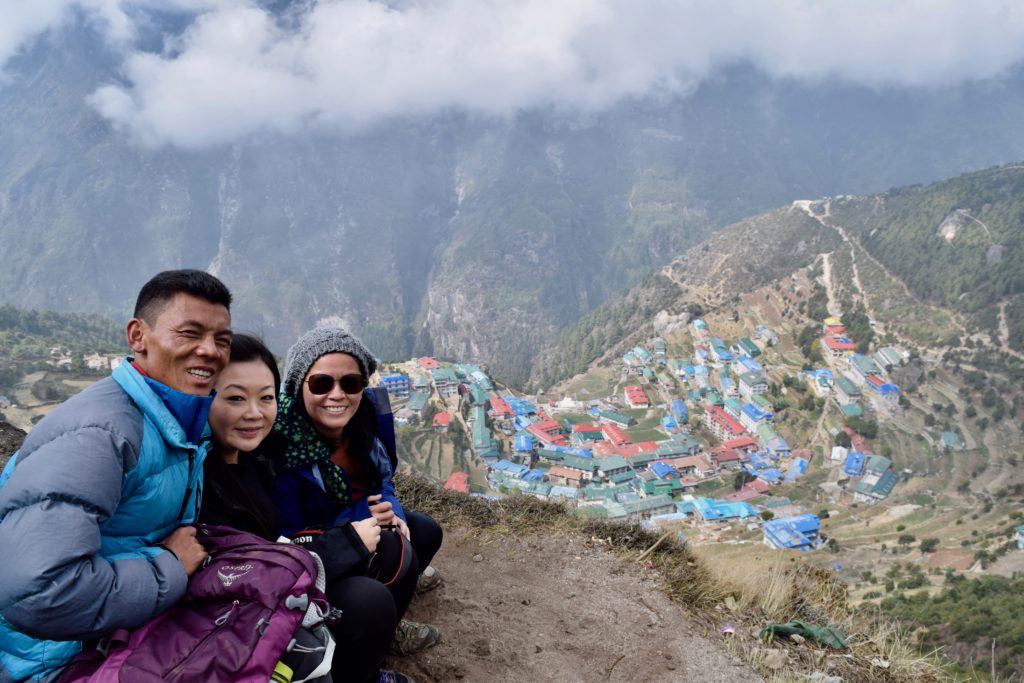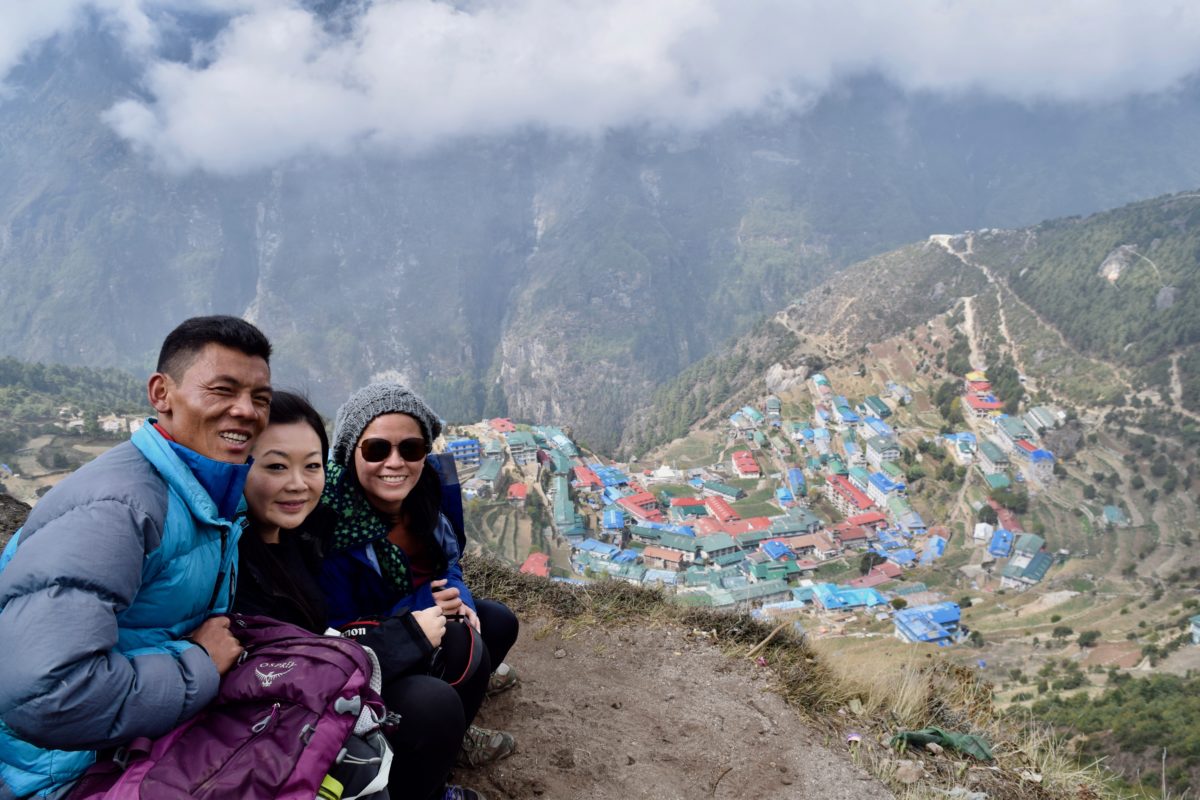 #4. Packing List
I packed way too much. This was partly due to the fact that I had a porter – but that's utterly the wrong way to think and pack.
On the first day I had to carry my own bag for 15 minutes and it was so heavy, I almost had a breakdown. My porter was going to be carrying double the weight. I felt so terrible and that night I repacked, getting rid of as much unnecessary weight as possible. Still I had things with me that I didn't use.
It's easy to get carried away especially as conditions and the weather on the trek seem unpredictable. However I can't stress enough to try to pack as minimally as possible. Assume that you don't have a porter and pack as if you were carrying your own bag.
Note that if you are on a tour and hiring a porter, you will be given a duffel bag to place your items in (which is why I've recommended packing cubes). I will be writing a detailed Everest Base Camp Packing List in the near future but for now, here is what I recommend to pack: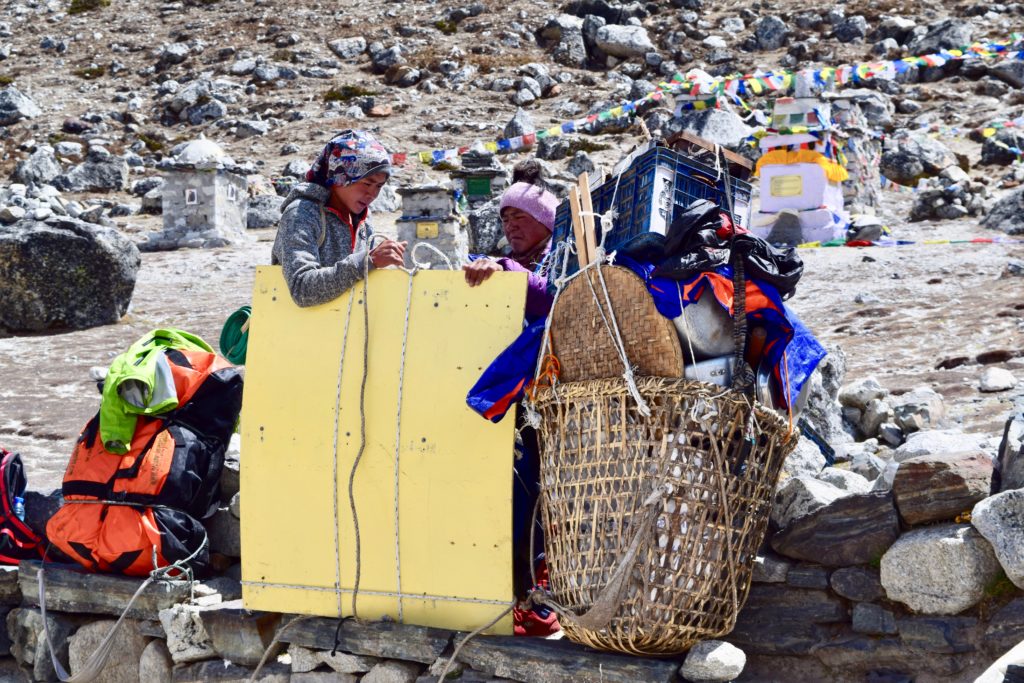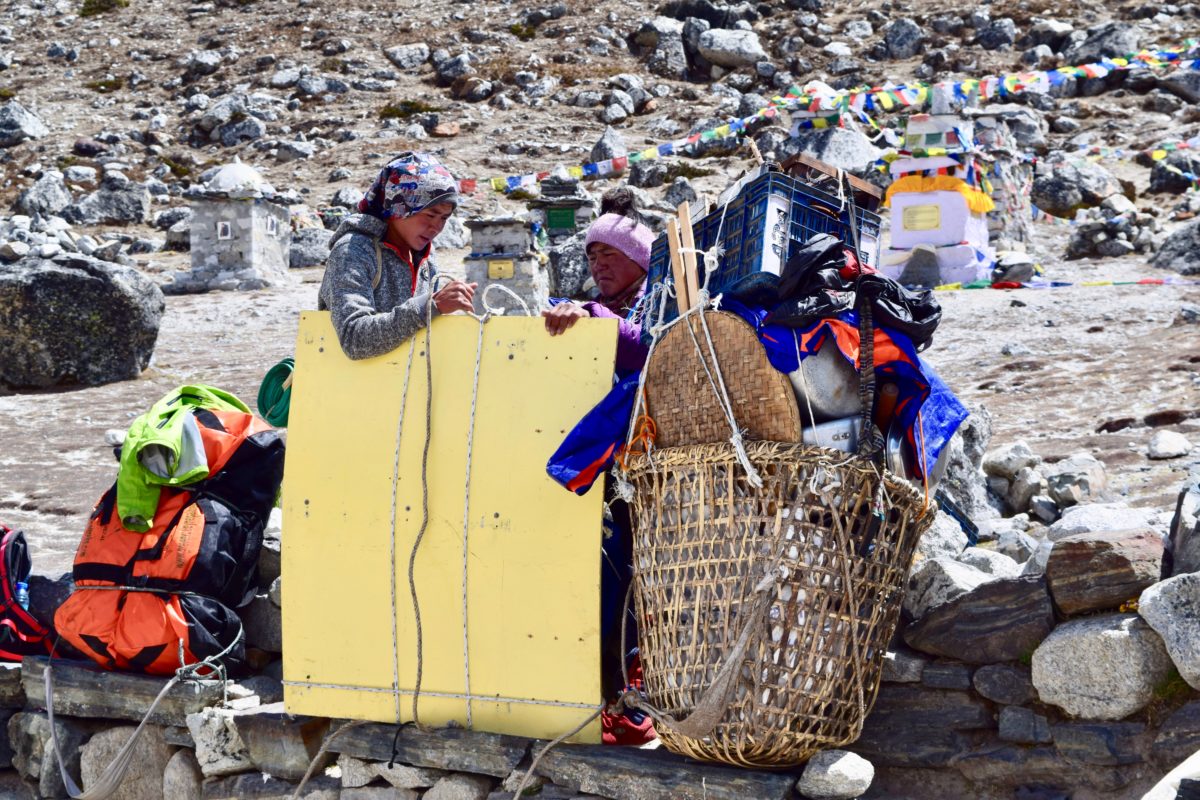 Clothing
Leggings
Long sleeve thermal top
Sleepwear
Down Jacket
Interchange Jacket
Singlets / Tshirts
Underwear
Bras
Footwear & Accessories
Personal Care
Sunscreen
Lip balm
Moisturiser
Hand sanitiser
Baby wipes
Deodorant
Toilet paper
Shampoo & body wash sachets
Band-aids
Medication
Diamox (buy in Kathmandu)
Panadol
Ibuprofen
Immodium
Bags
Sleeping bag
Day pack

Pillow case
Packing cubes
Electronics
Camera
Phone
Batteries
Chargers
Adaptor
Miscellaneous
Optional
Head torch
Goretex rain jacket
Rain poncho
Playing cards
Notebook & pen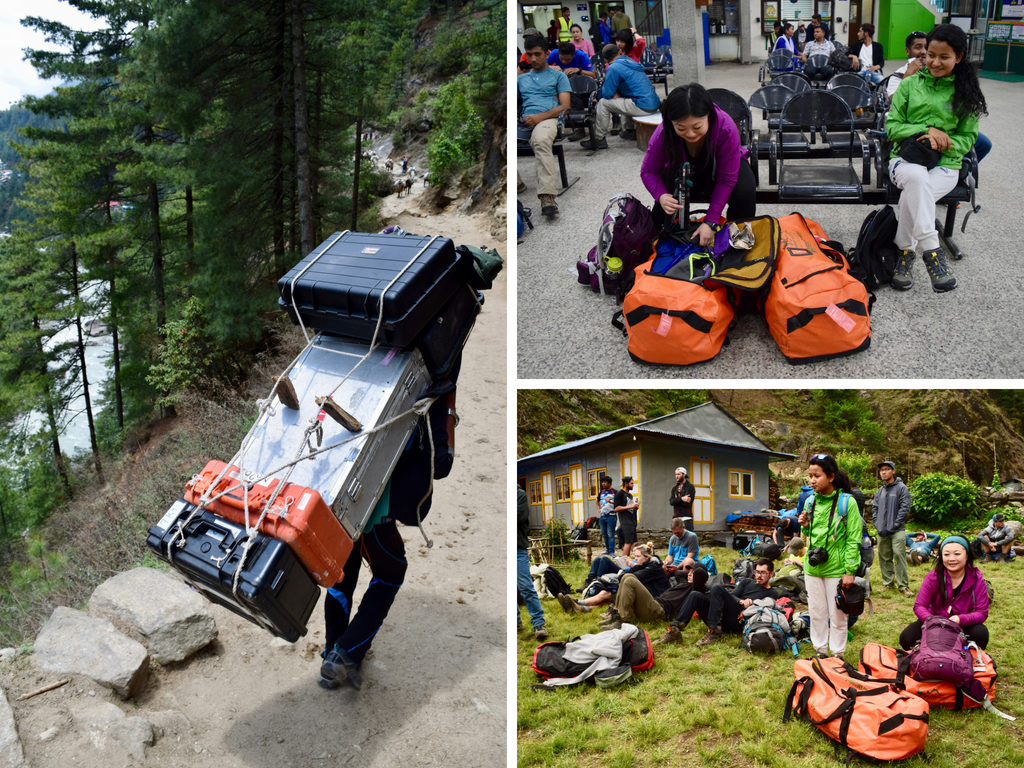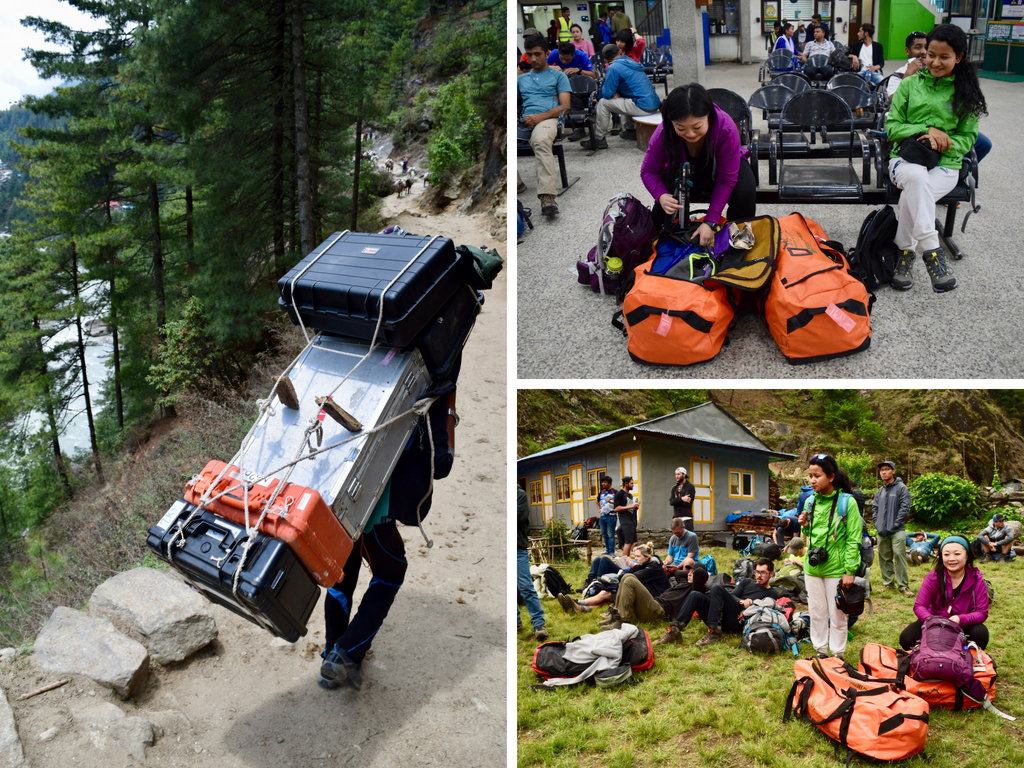 #5. When to Trek to EBC
There are 2 main seasons to hike to Everest Base Camp: Spring and Fall.
February to May is the driest period, offering ideal trekking conditions in the Spring. This also makes it the most popular time so the trail and guesthouses can be very crowded.
September to November offers colder weather in the Fall but clearer skies that often result in stunning vistas of the Himalayas.
Everest National Park is open year round but trekking outside these periods is not recommended. The Monsoon Season is in full swing in June & July resulting in rain, rain and more rain. December to January is very cold with short daylight hours & a lot of snow on the trail.
I hiked in late May which was towards the end of the Spring. I enjoyed this as there were fewer people on the trail and the guesthouses were very pleasant. In the busier periods I can imagine that toilets would be dirtier and the places would be louder with many groups coming & going at all times of day & night, making it difficult to rest (especially at nigh)t.
The only thing I regretted was missing out on seeing Tent City. This is the mini-settlement of around 15,000 people that base themselves at the foot of the Khumbu Glacier in order to acclimatise and prepare to summit Mount Everest. The season is over around mid-May so when I arrived at Everest Base Camp on May 30, all of Tent City had been packed down.
Top 14 Destinations in Nepal
Don't forget to enter in your text.
Enter Your Text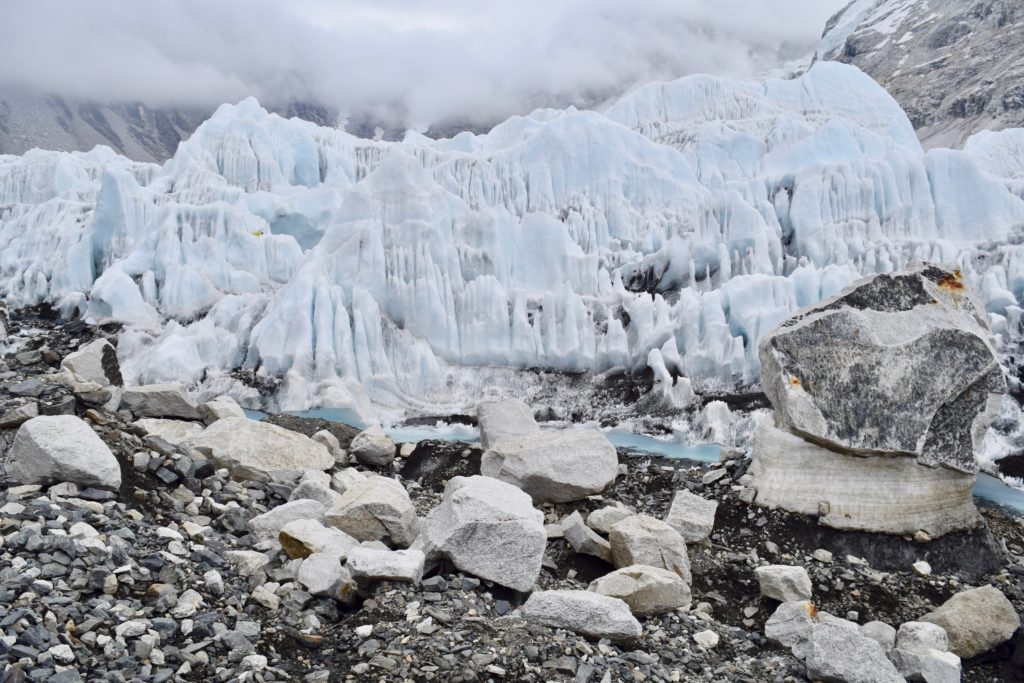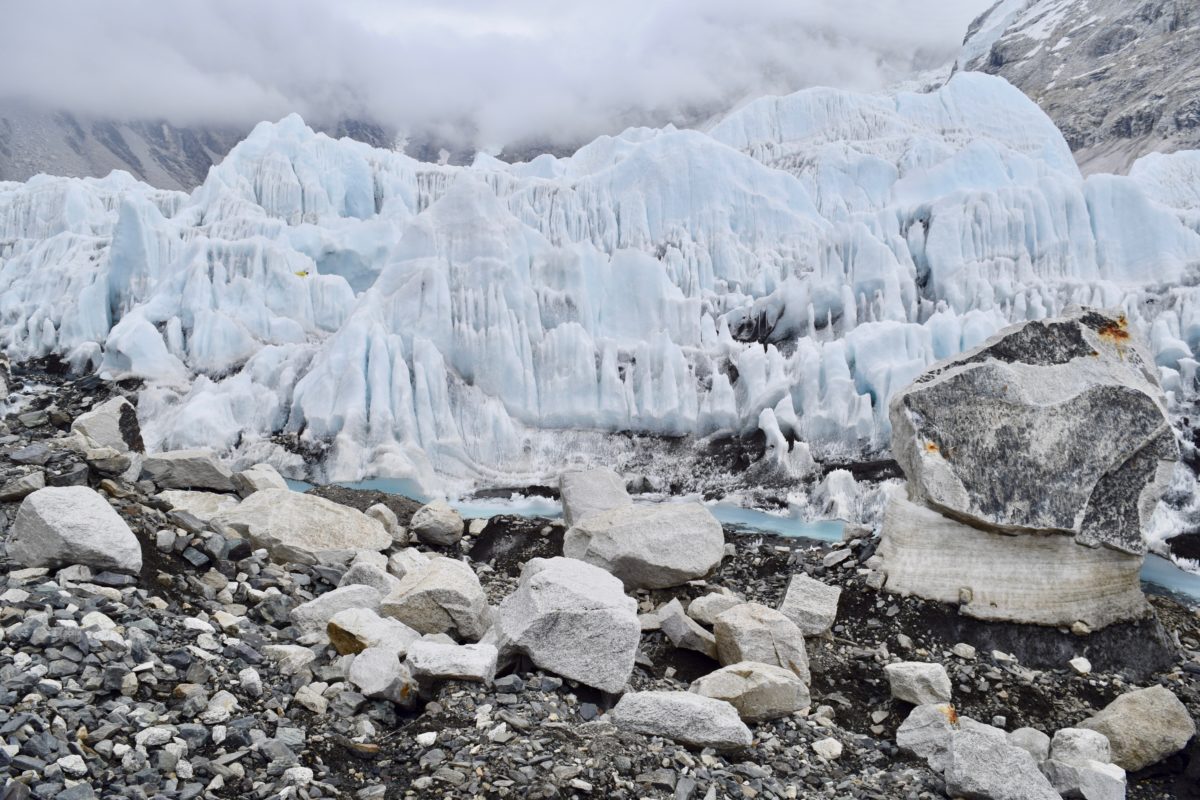 TIPS ON THE EVEREST BASE CAMP HIKE
#1. Trekking
While it's true that anyone of reasonable fitness can hike to Mount Everest,it shouldn't be underestimated. In fact I found many parts of the trek very difficult. The trail itself isn't particularly challenging or steep. What I struggled with was the day after day of trekking, some days of which were 11+ hours long.
I had done plenty of hiking previously but they were mainly day hikes. 5 days was the longest I had ever hiked for – those were the Salkantay Trail to Macchu Pichu (Peru), Santa Cruz trek in Huaraz (Peru) & to Ciudad Perdida (Columbia).
Hiking to Everest Base Camp takes 11 days (+ 1 day flying out). Here's a rundown of hours spent trekking each day:
Day 1: Shirke to Cheplung – 3 hrs
Day 2: Cheplung to Namche Bazaar – 11.5 hrs (inc. lunch), elevation +740 m
Day 3: Namche Bazaar – 3hrs
Day 4: Namche Bazaar to Pangboche – 10.5 hrs (inc. lunch), elevation +445 m
Day 5: Pangboche to Dingboche – 4 hrs, elevation +425 m
Day 6: Dingboche to Dugla – 3 hrs, elevation +250 m
Day 7: Dugla to Lobuche – 3 hrs, elevation +320 m
Day 8: Louche to Gorak Shep to Base Camp to Gorak Shep – 11 hrs (inc. lunch & time at base camp), elevation +440 m
Day 9: Gorak Shep to Periche – 8 hrs (inc. lunch but not the optional trip to Kala Patthar), elevation -793 m
Day 10: Periche to Namche Bazaar- 11.5 hrs, elevation -930 m
Day 11: Namche Bazaar to Lukla – 12 hrs, elevation -580 m
My actual route differed slightly from the Green Valley Nepal Treks itinerary. My pace was very slow especially on the last 3 days when I suffered from High Altitude Pulmonary Edema (HAPE).
As you can see some days were very long however other days were very short. This was due to acclimatization at higher elevations as ascending too fast can lead to altitude sickness.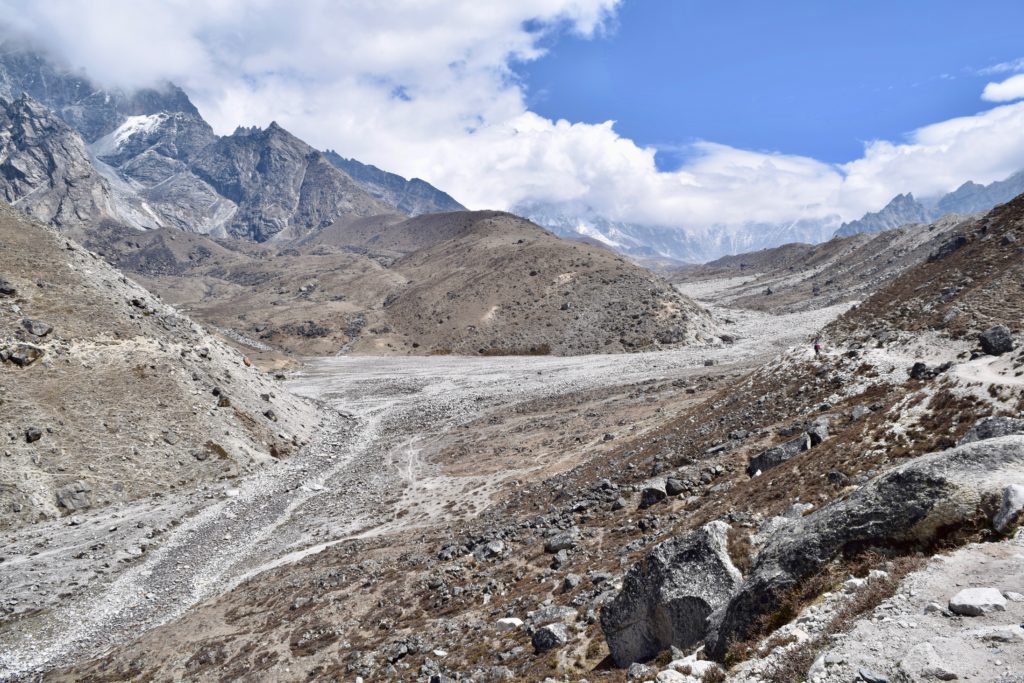 #2. Accommodation
The "teahouses" along the hike were better than expected. I feel like guesthouse is a better word to use as they are all large places with solid infrastructure and not as dainty and simple as "teahouse" suggests but I will go with it …
Anyway the teahouses are professionally run, well-oiled machines that know how to cater to the foreign tourist. The centre of every teahouse is the large dining hall where you have all your meals and hang out with other guests. They all have a long running booth against the wall with rugs laid over them – comfy to lay down on after a long day hikeking! A fireplace fueled by yak dung is in the centre of the room. A few teahouses also have a bakery or café on their property.
Teahouses can arrange everything for you such as horses, flights, phone calls, etc. From snacks to toiletries, they also act as mini convenience stores.
Most rooms are twin rooms and include single beds along the sides – and that's basically all that's in the room. All teahouses will have squat toilets and most will have a hot shower available at extra cost. I didn't see a cold shower anywhere. There are exceptions as I came across single rooms and western toilets but they are not the norm. Some rooms have an ensuite bathroom but expect to pay an extra $20 for this – I was lucky to receive a free upgrade in Dingboche!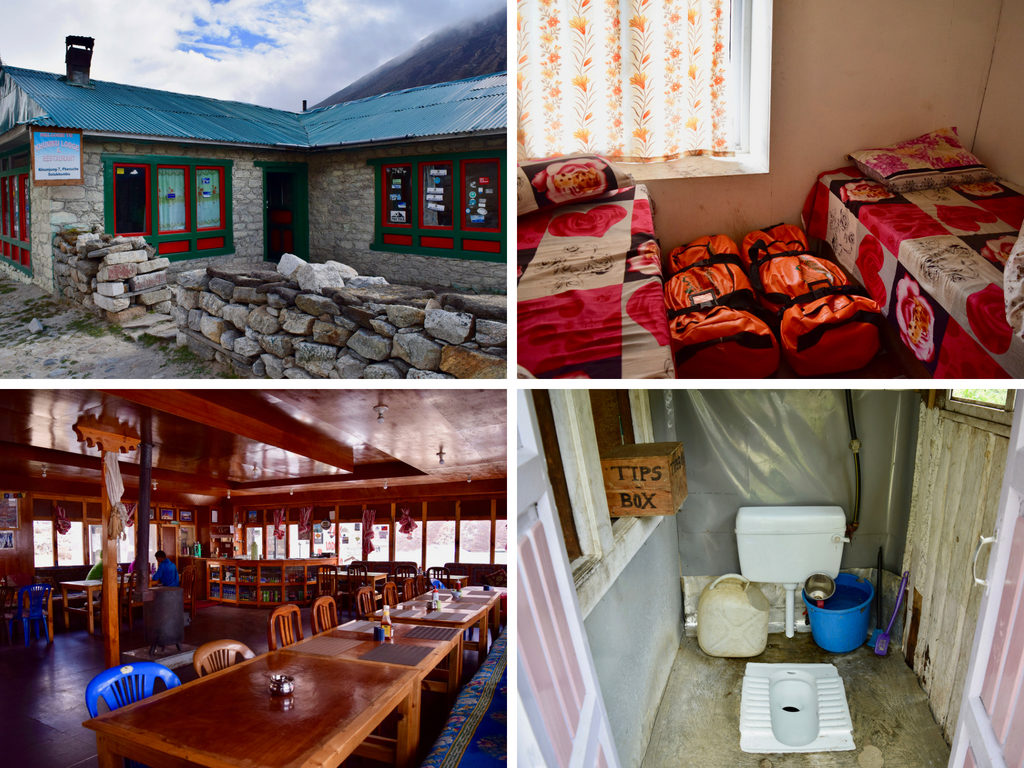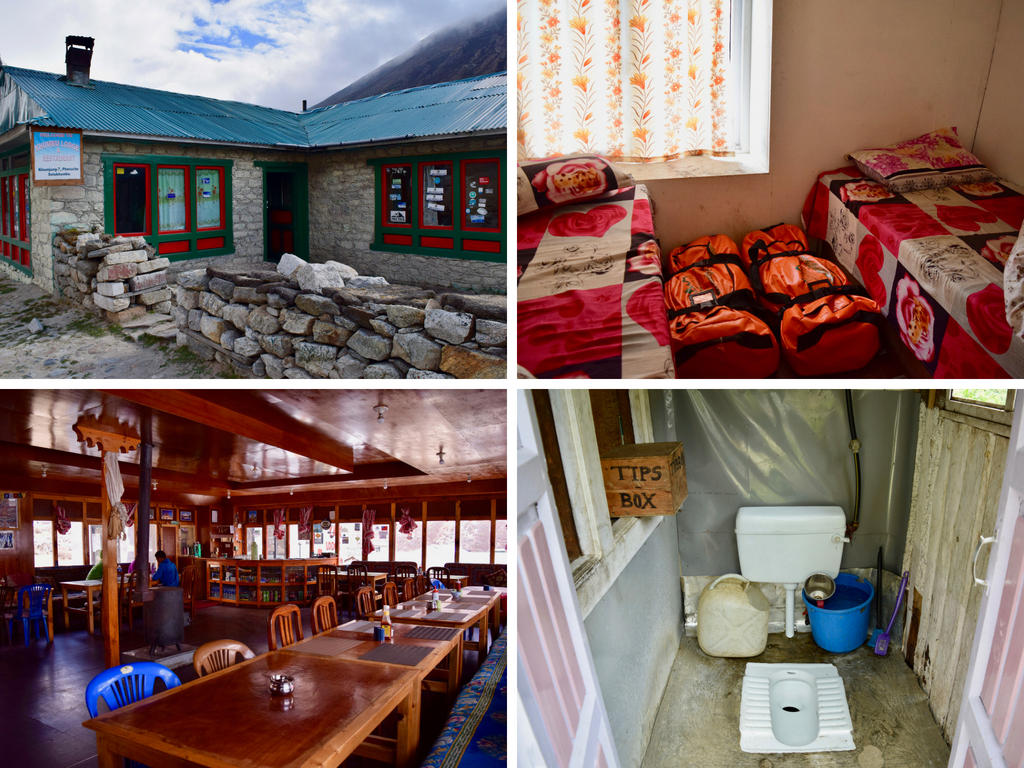 Independent travellers can score very cheap accommodation (Rs. 100-300 / $1-3) if you have at least 1 meal at the teahouse. You may be expected to order breakfast too but this can be avoided/negotiated if you want to make an early start.
Most teahouses are owned by former Sherpas and judging from the standards of accommodation, they have obviously done exceedingly for themselves and that's really positive to see.
I can recommend each teahouse I stayed at:
Day 1: Cheplung – Khumbia Guesthouse
Day 2: Namche Bazaar – Himalayan Lodge
Day 3: Namche Bazaar – Himalayan Lodge
Day 4: Pangboche – Eco-Holiday
Day 5: Dingboche – Yak Lodge
Day 6: Dugla – Yak Lodge
Day 7: Lobuche – Hotel Mother Earth
Day 8: Gorak Shep – Yeti Lodge
Day 9: Periche – Khumbu Lodge
Day 10: Namche Bazaar – Himalayan Lodge
Day 11: Lukla – Mount Kailash Lodge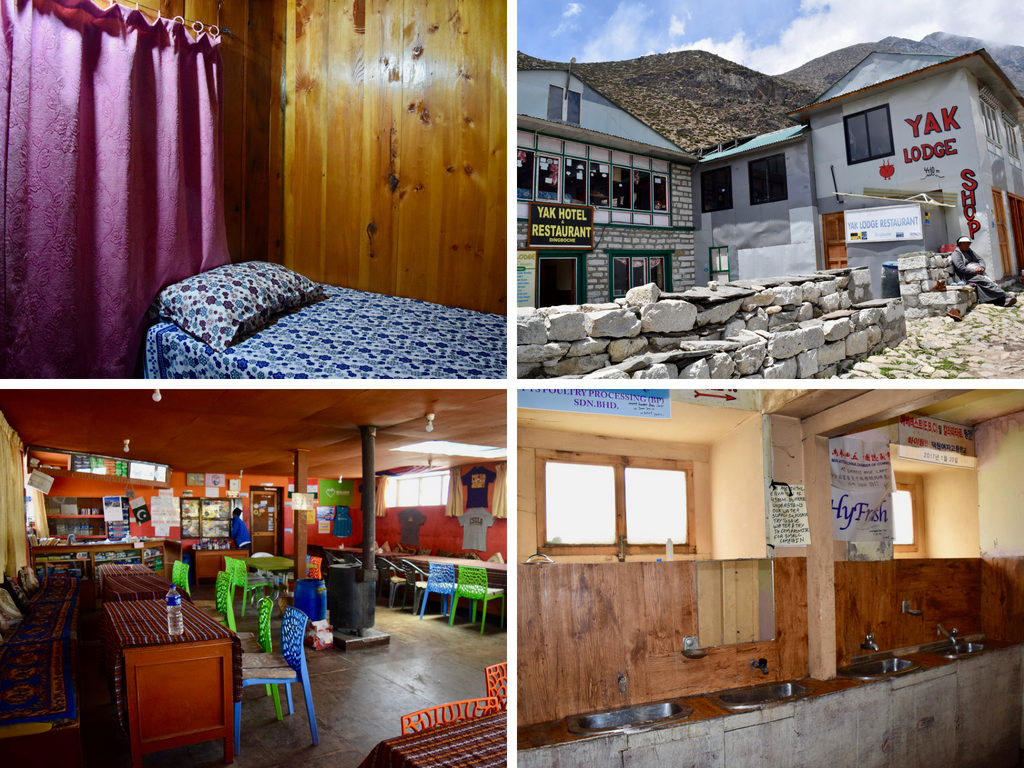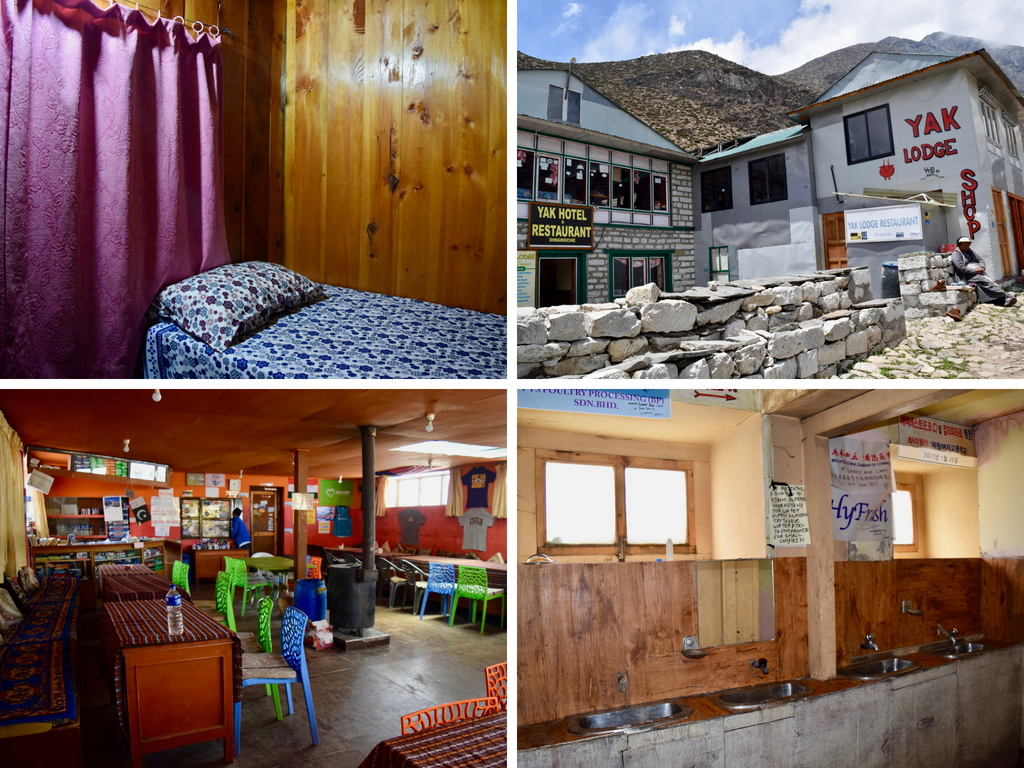 #3. Toilets & Showers
The living conditions can make the Everest Base Camp hike difficult for Westerners but the toilets at the teahouses and along the trail were also much better & cleaner than I expected. I think this was largely due to travelling at the end of May, which is at the end of the season so there were less tourists.
Almost all guesthouses and restaurants had squat toilets although I found the occasional Western toilet. Pit toilets were the norm along the trail. No toilet paper is ever supplied so don't forget to bring your own, as well as hand sanitizer. There were hot showers available at most guesthouses. Prices ranged from Rs. 400-650 / $4-$6. There were no cold showers available at any of the places we stayed at.
I only had 1 hot shower at Dingboche on Day 5. It cost Rs. 500 / $5 & it was totally worth it. It was a gas heater. The hot water didn't run out though I had to reignite it a few times. It was hard to maintain a stable temperature which climbed up to 52 degrees.
Bring baby wipes with you for non-shower days to maintain some level of hygiene!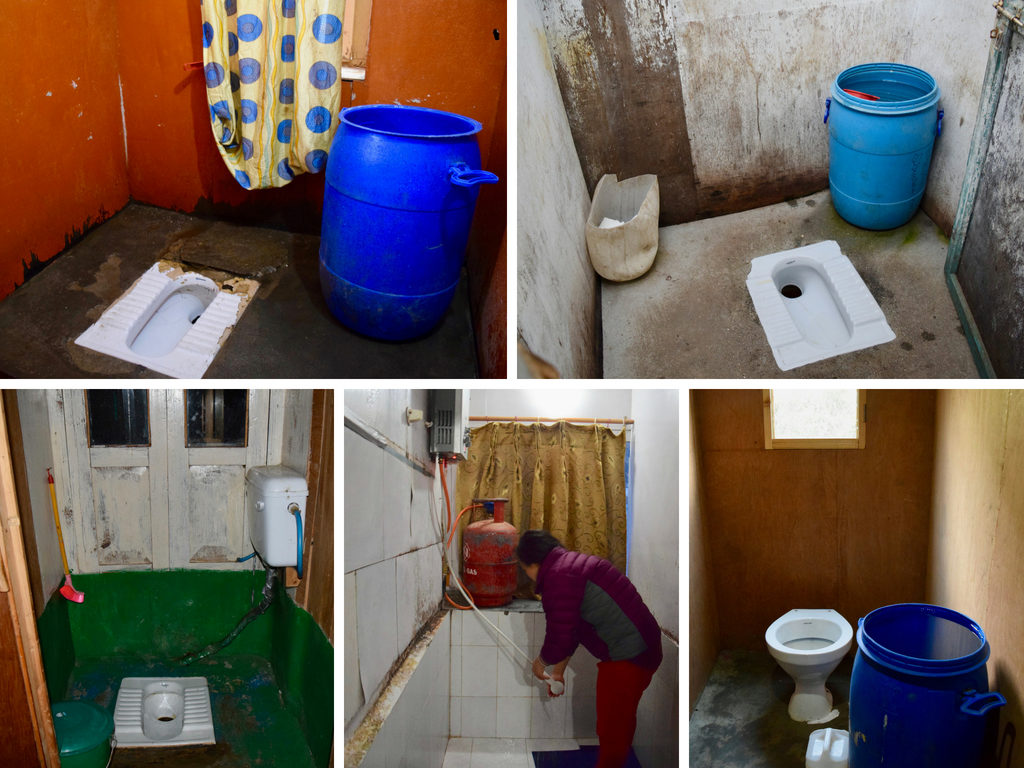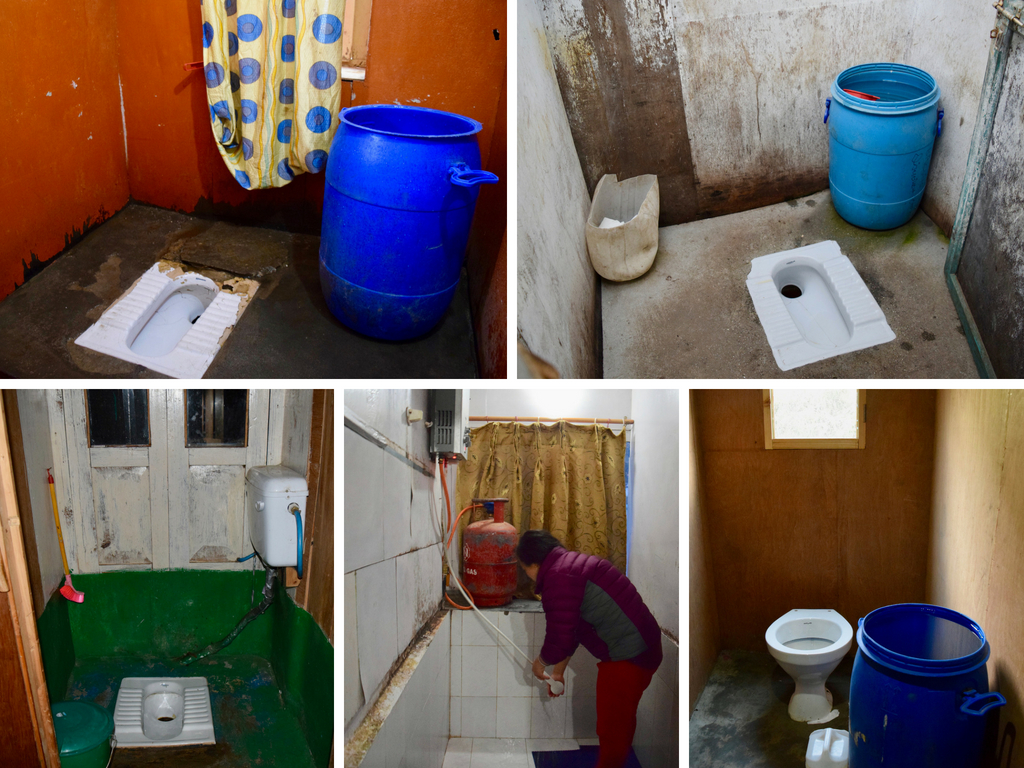 #4. Food & Drink
You won't go hungry on the hike. In fact you'll eat really well – the food is good & the portions are huge. Here are the common Nepalese and Western options you'll find on every menu:
Breakfast
Tibetan bread with jam or honey
Chapatti with egg
Toast with jam or honey
Toast with baked beans
French toast
Pancakes
Porridge with milk
Omelette
Boiled or fried egg
Lunch and Dinner
Dal bhat
Fried rice
Fried noodles
Thukpa (noodle soup)
Momos (dumplings)
Sherpa stew
Soup
Macaroni
Spaghetti
Fried potato
Pizza
Sandwiches
Yak steak
Rice with curry
Burger with chips
Korean noodles
Drinks
Tea
Coffee
Hot chocolate
Juices
Soft drinks
Beer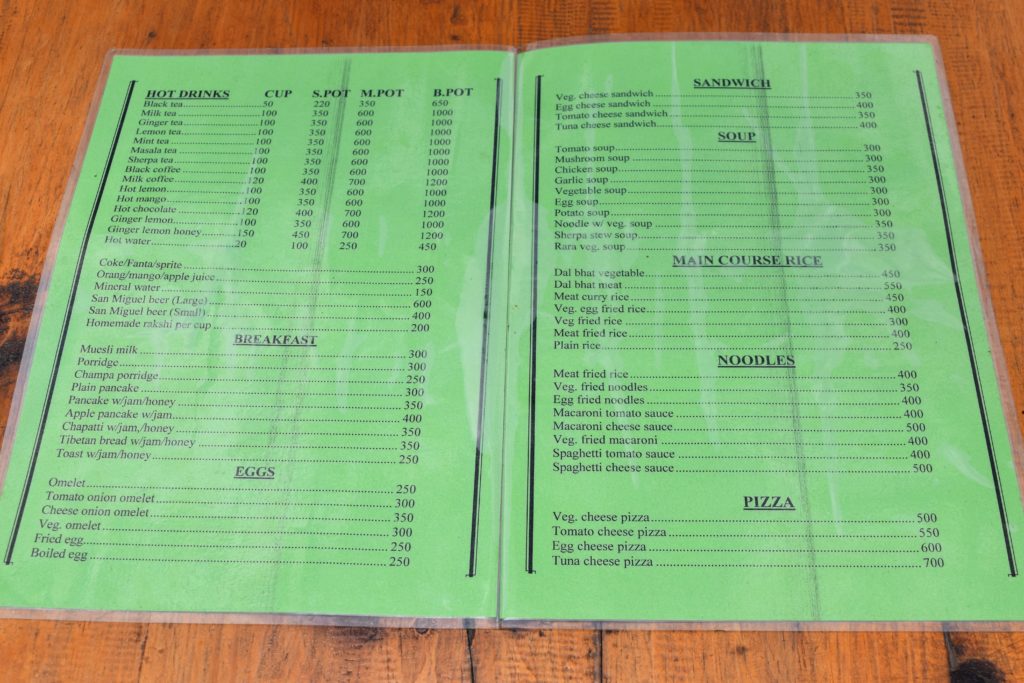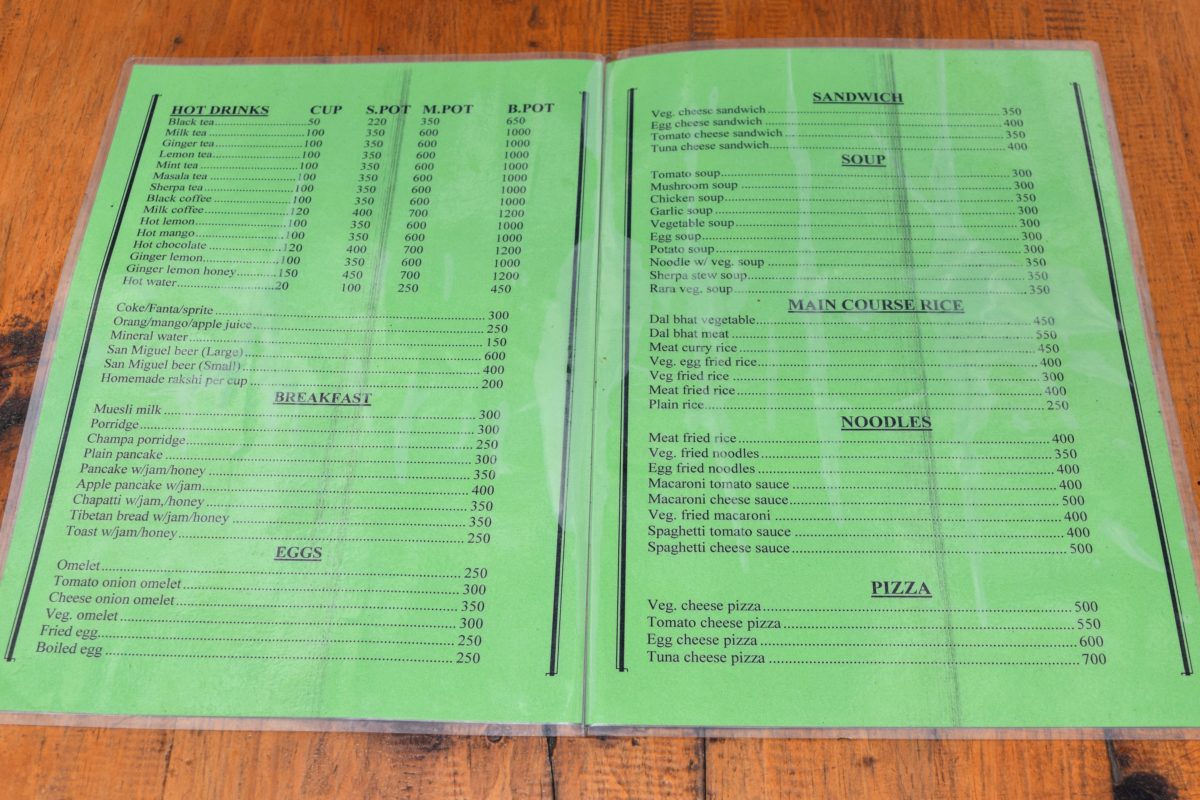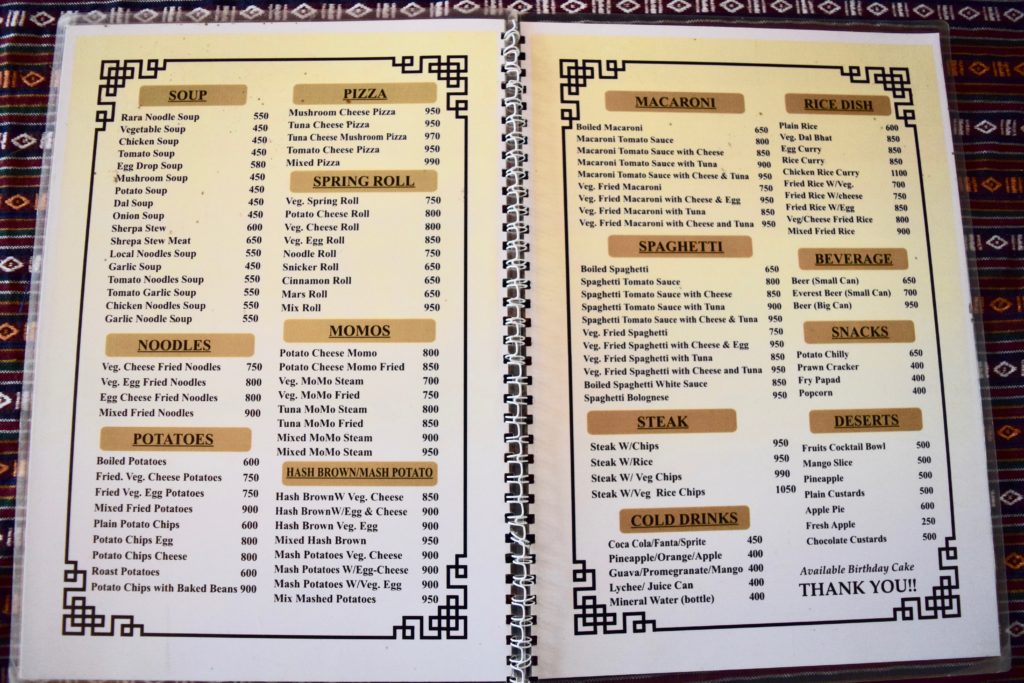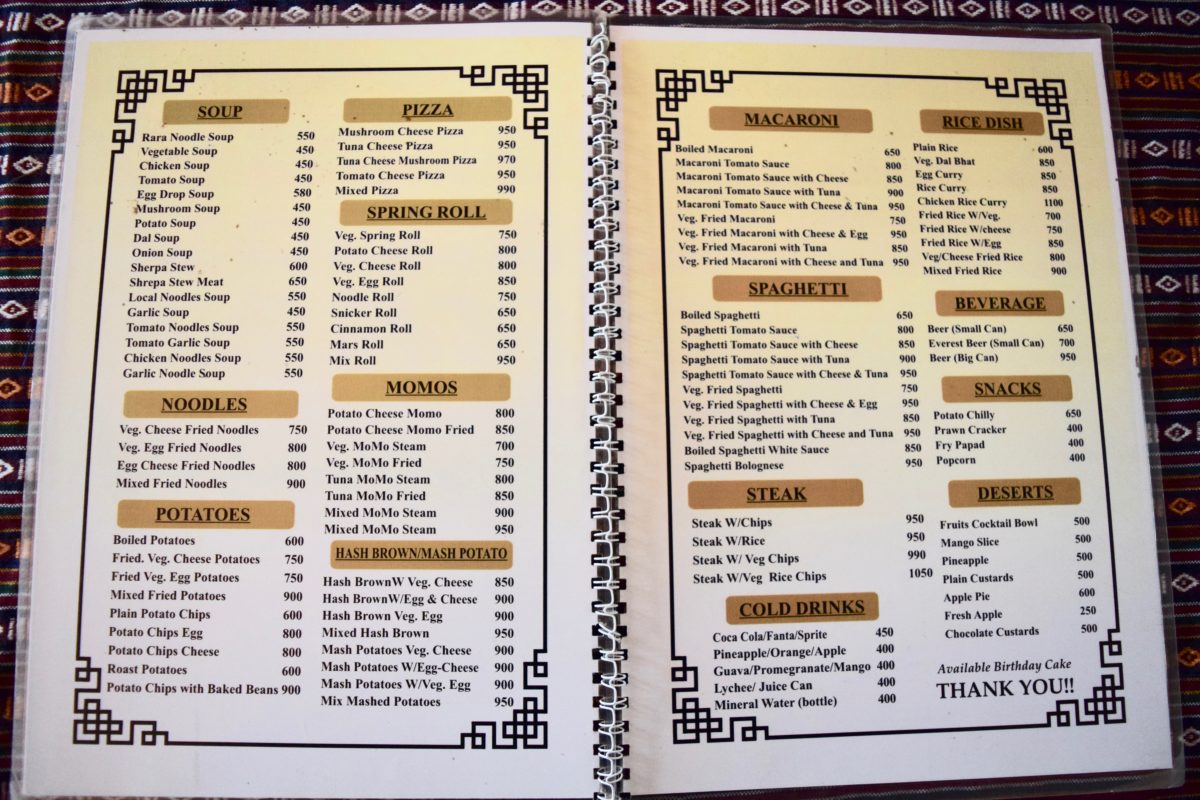 I was recommended not to eat any eggs, milk, cheese, dairy or meat by Arjun from Green Valley Nepal Treks and my guide Keshar. Seeing (and smelling) porters carrying up dead carcasses put me off meat real fast.
I did ocassionally have eggs, milk and cheese in the beginning (sometimes by accident) but none after we left Namche Bazaar on Day 4. You can relax those rules a little while coming down from Base Camp if you like. This limited meal choices a little but while there's still plenty of choose from you'll have your staples.
My go-to meal was Korean ramen noodles with ginger lemon honey tea – I had this combo about 6 times on the trek.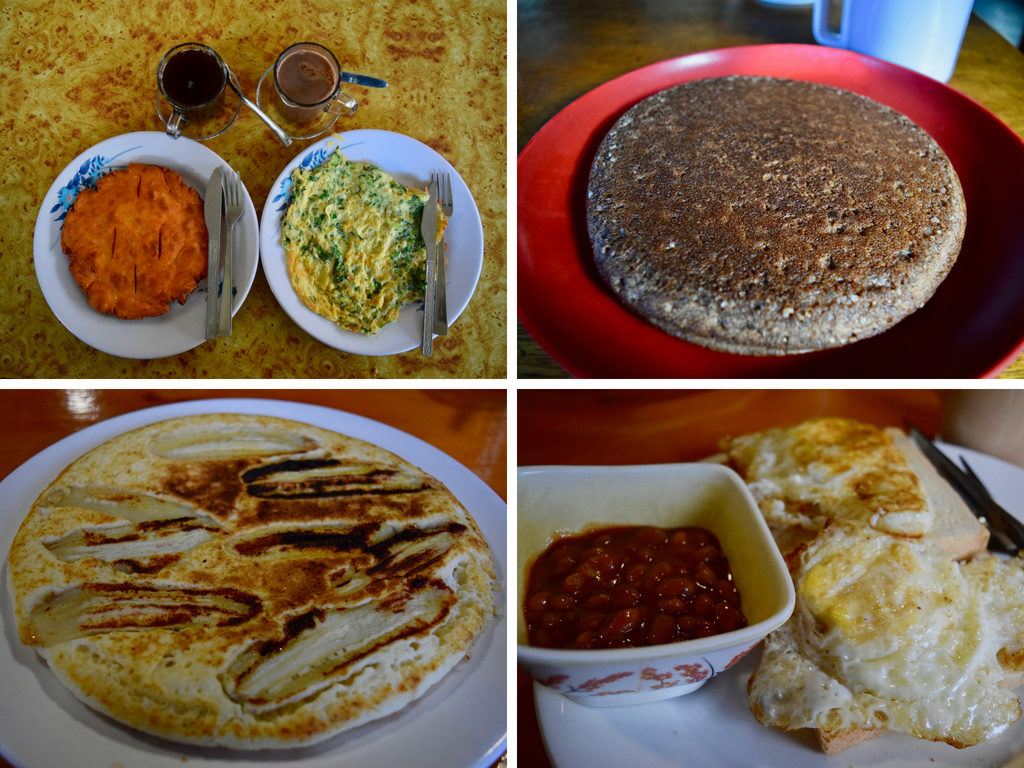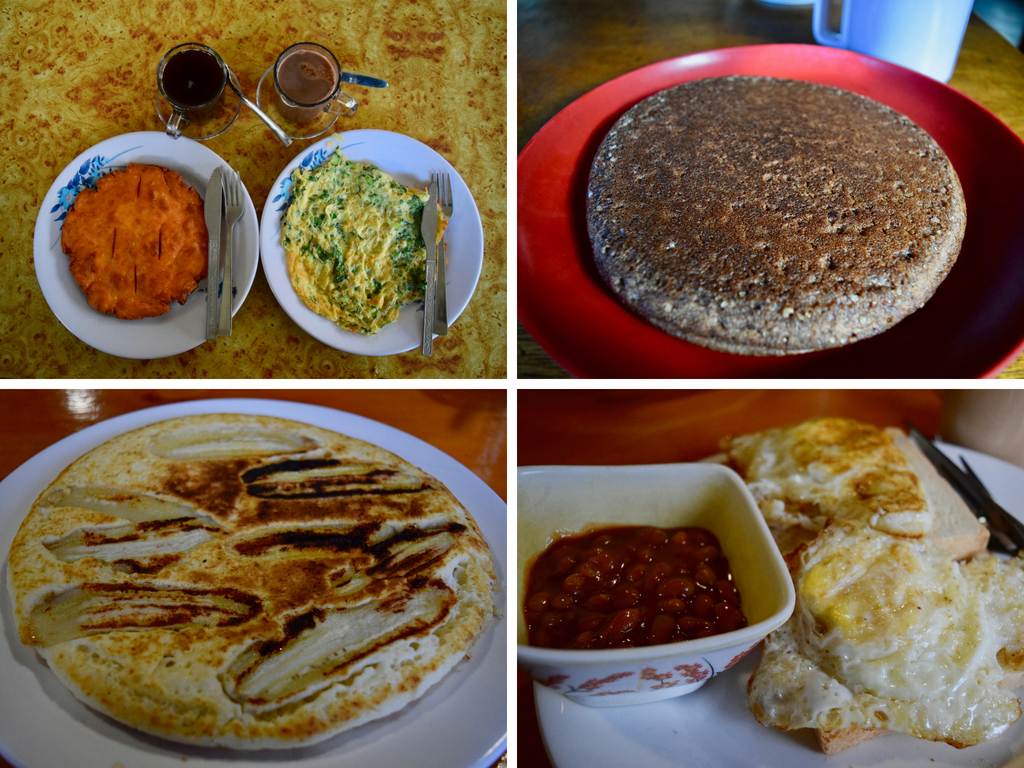 3 meals a day with drinks was included in my BC tour. After dinner we always had a plate of sliced-up apples and pomegranate which my guide Keshar carried with him from Lukla. I was really touched by that. It would have been a lot of extra weight but at least his load got lighter everyday…
Some tours don't include food and you pay for it separately as you go. Budget around $300 for this. You can save money by sharing 1 dish between 2 people as the portions are huge but it's also important to ear well. Anyway if you are travelling independently each person will be required to order a dish in exchange for cheap accommodation.
The advantage of my Green Valley Nepal Treks tour is that I didn't have to worry about the prices of food. I could actually just order what I felt like eating not what was the best value which was so liberating. And I could have a drink with every meal too!
Before the hike I wasn't expecting much of the food but I was okay with that. I figured that unappetizing food combined with intense trekking would lead to losing weight but unfortunately my "Everest Diet" didn't pan out. I lost 1 kilo & I attribute that only to being severely ill & developing HAPE on the way down! Otherwise I definitely would have put on weight. The food was too good & there was always too much of it!
My friend Tracy however lost 8 kilos – we shared all our meals and she finished the trek in perfect health so go figure!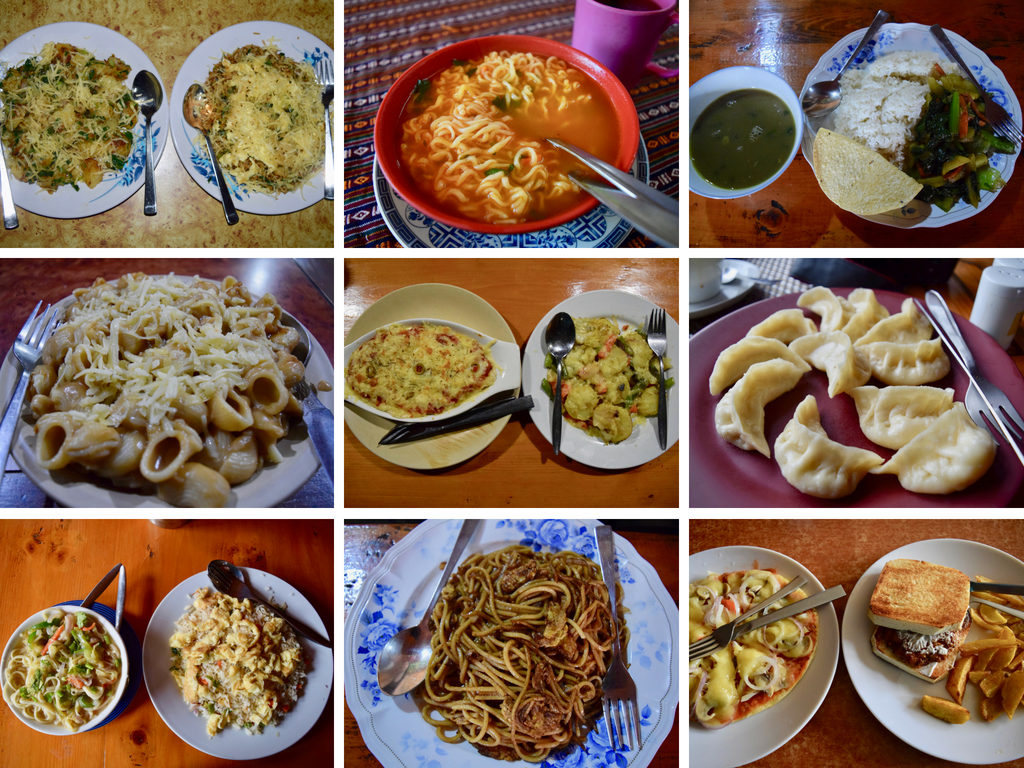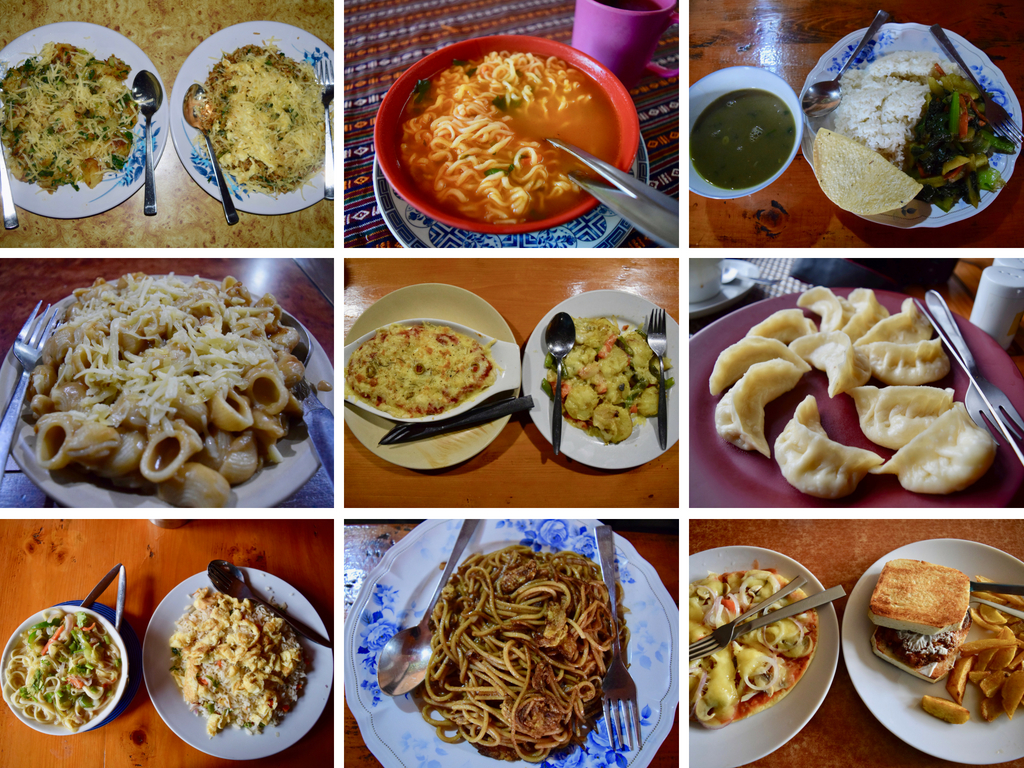 #5. Snacks
The meals were so filling that I didn't snack often. The snacks I brought with me were:
16 x muesli bars
12 x mini snickers bar
Pack of barley sugar sweets
I didn't have many snacks but they were heavy and I didn't even end up finishing them! In fact I had another pack of butterscotch sweets that I left behind on the 1stday to trim my weight down for my porter Dinesh.
I would recommend keeping your snacks to a minimum. From chips to chocolates you can buy it all along the way at reasonable prices.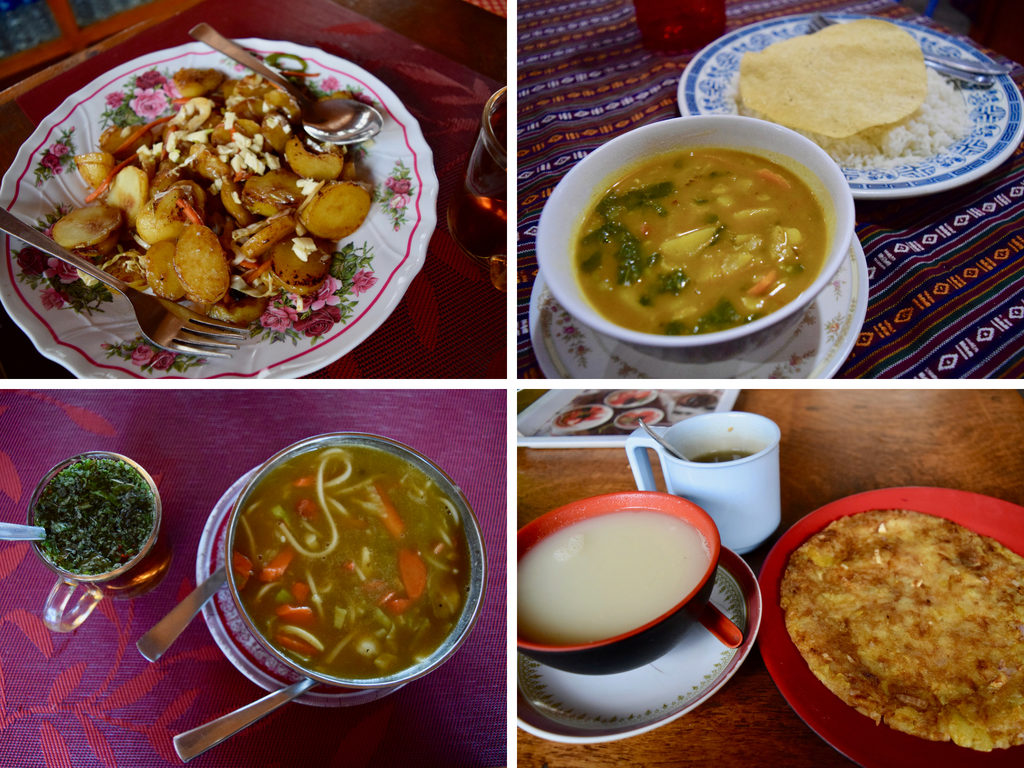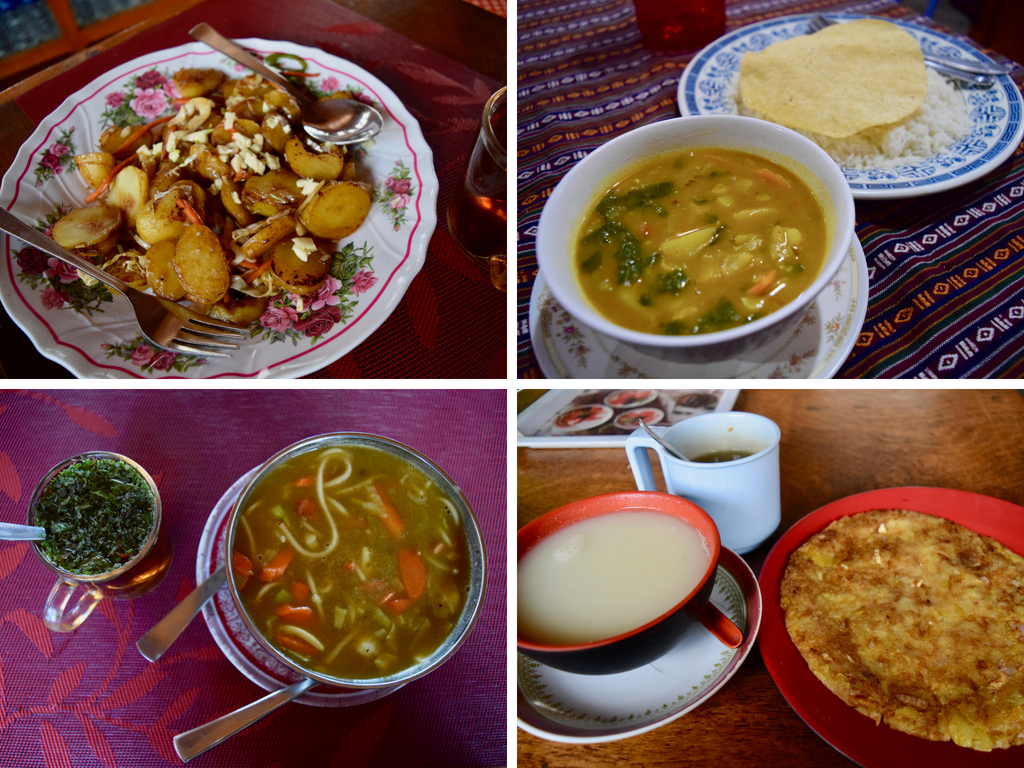 #6. Water
I recommend bringing along 2 water bottles: Lifestraw & Nalgene.
LifeStraw is a water bottle with a filter that makes any kind of water source safe to drink. I've used it in Asia Europe North America & for 1 year across 13 countries in Central America. I never got sick. Every morning I would give my bottle to my guide to fill up. At lunch time he would fill it up again and then throughout the day/night at the guesthouse.
I never bought bottled water, saving money & the environment. Every trekker should use Lifestraw on the hike to Everest Base Camp. Bottled water just seems so wasteful. Porters should be carrying more valuable things.
Nalgene is a durable water bottle that is BPA free & can handle hot water. Every night before bed I gave my bottle to my guide to fill with hot water. I used it as a hot water bottle to keep me warm in bed; it was my little luxury and I loved it. Then in the morning I would drink the boiled water at breakfast & pack it away in my duffle bag.
Other alternatives to buying bottled water are:
Water purification tablets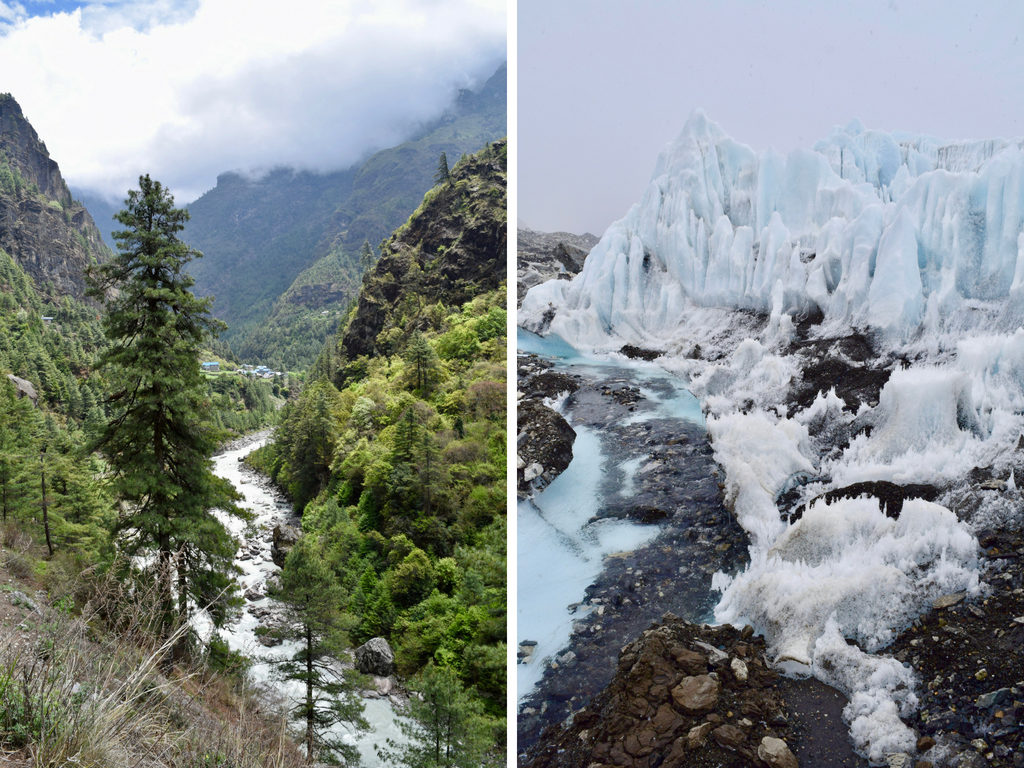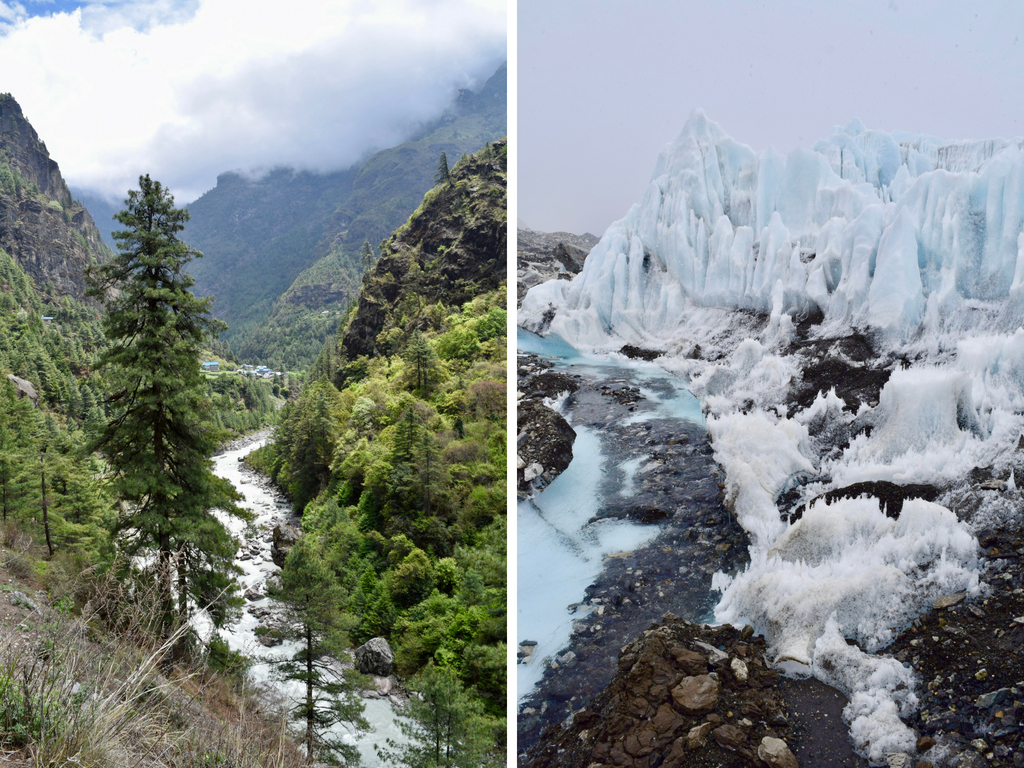 #7. Medication
I brought along with me 4 types of medication:
Diamox / Acetazolamide – used to treat altitude sickness. It speeds up the acclimatision process but unfortunately it doesn't prevent altitude sickness which I found out the hard way. Symptoms I experienced included tingling and numbness of fingers (and other parts of the body), vomiting and diarrhoea. I purchased Diamox from Trekker's Pharmachy in Thamel near Hotel Florid – a pack of 8 pills for Rs. 160 / $1.60 (I bought 2 packs). I started taking Diamox from day 4 in Namche Bazaar. I took 1 tablet in the morning and 1 tablet at night until day 11.
Paracetamol – used to treat mild to moderate pain relief. I used it when I experienced headaches and period pain on the trek.
Ibufrofen – used to treat pain fever and inflammation. I had Advil Rapid Release but I didn't have to use it as I didn't suffer from any severed pain – apart from my HAPE!
Immodium / Loperamide – used to decrease the frequency of diarrhea, which I suffered from regularly.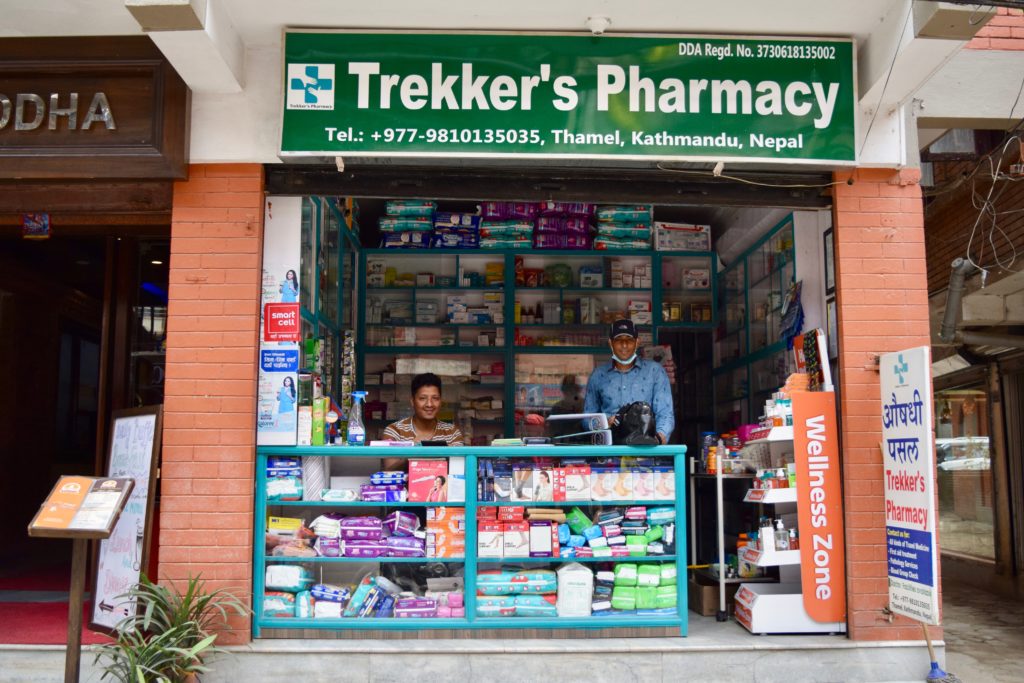 #8. ATM's & MONEY
There are only 2 places where you will find ATM's on the Everest Base Camp hike:
Lukla – days 1, 11 and 12
Namche Bazaar – days 2, 3, and 9
My friend Tracy had difficulty finding a working ATM in Namche Bazaar but she was able to withdraw money eventually. The maximum she could withdraw was Rs. 10000/ $100. The ATM fee was Rs. 400 / $4. In Kathmandu the maximum withdrawal amount is Rs. 35,000 / 3250 with a withdrawal fee of Rs. 500 / $5.
I would recommend bringing along a bank card even if you think you may have enough cash with you. Unexpected expenses along the way can include helicopter flights, horse rides, snacks, drinks, souvenirs, hot showers and tips. I didn't bring any bank cards with me. I was lucky that my friend Tracy was able to withdraw money to pay the Rs. 15,000 / $150 for my unexpected horse ride when I developed High Altitude Pulmonary Edema (HAPE).
I would've also liked to have tipped my guide & porter more but I didn't have enough money.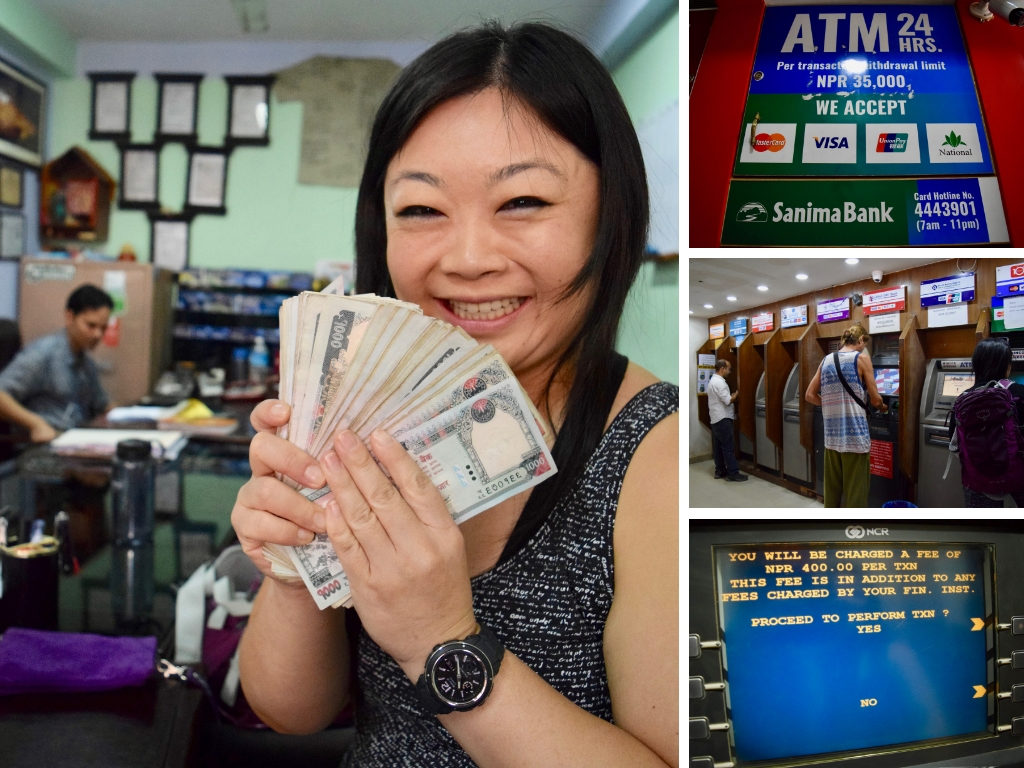 #9. Charging
You'll be able to charge your devices & get wifi at all guesthouses for a fee. Charging costs range from Rs. 200 / $2 per device to Rs. 300 / $3 per hour.
I always gave my phone & camera battery to my guide for charging & I was grateful that I never had to pay. I'm not sure if this was an unspoken rule; my guide paid for me or if guesthouses thought they were his own devices. Between the 3 of us in my group sometimes my guide had a lot of devices going at the same time!
Keep an eye out for outlets at guesthouses or restaurants. I found a couple of outlets where I was able to plug in & charge without asking on the 1st 2 days.
Don't pay for charging at your guesthouse in Namche Bazaar as the many cafés and bakeries in the town all offer free charging and wifi. Of course you should buy a drink or a cake but at least you're getting something more!
To minimize charging I recommend bringing along extra batteries – which I didn't do but I also tried to use my devices efficiently so as to not charge them too often. I brought along a power bank but they're heavy so keep that in mind.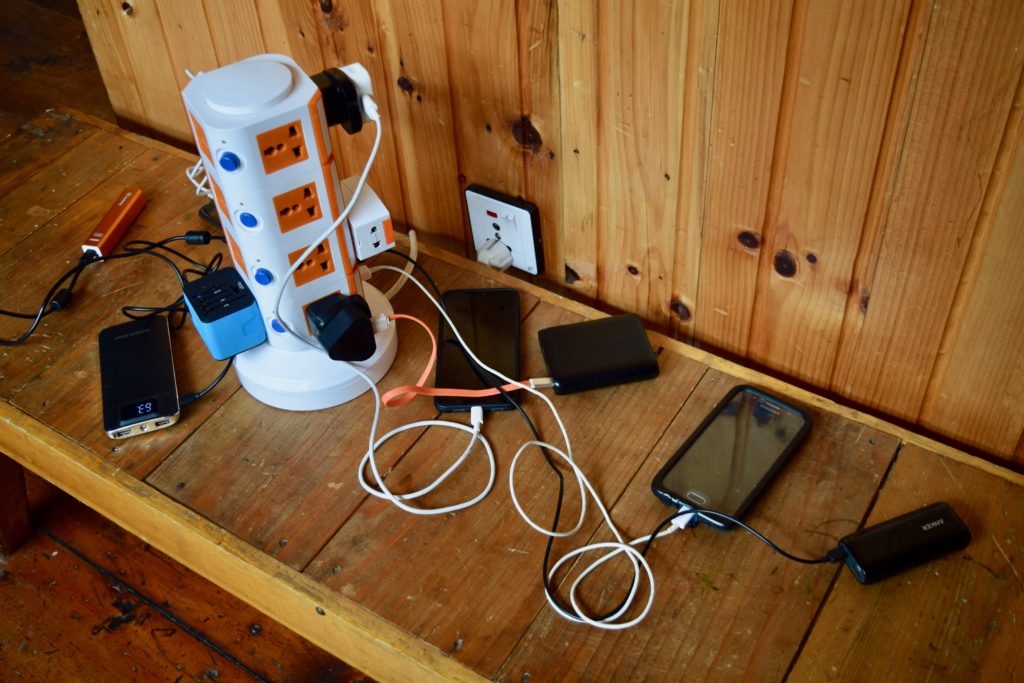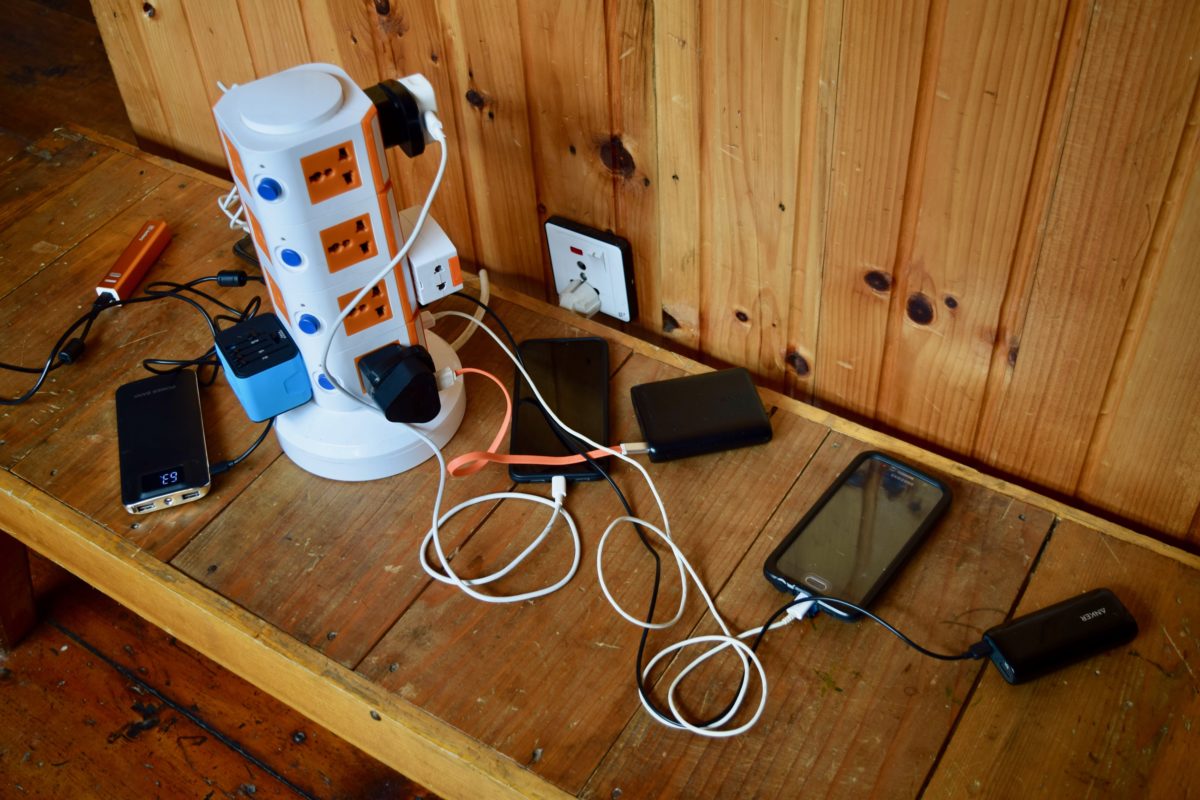 #10. Wifi
It's not difficult to find wifi on the hike. Wifi is available at most teahouses but I didn't pay attention to the charges. It varies depending on location, per hour/unlimited and number of MB. In Namche Bazaar you will also find free wifi in all the cafes, bakeries and bars.
In the 12 days on the trek I didn't use wifi at all so I can't speak about the connection speed & reliability but I don't imagine it being great, especially the higher up you go.
It was refreshing to disconnect! I used my phone only for an alarm, to take trekking notes, to snap the ocassional photo while my camera was charging & to watch Netflix. Spotify would've also been nice to have!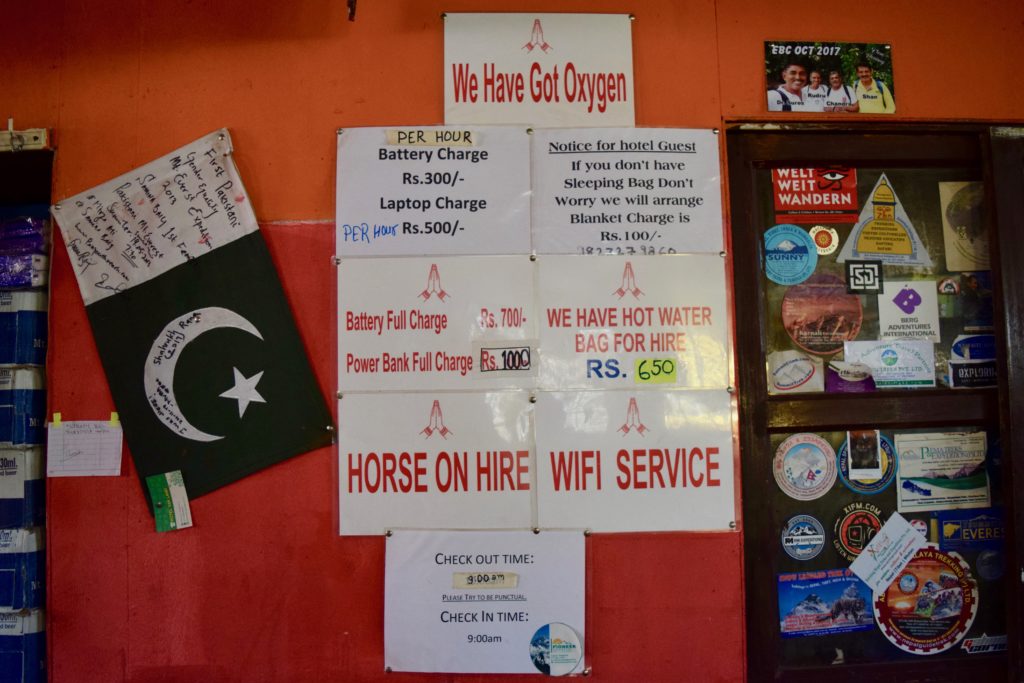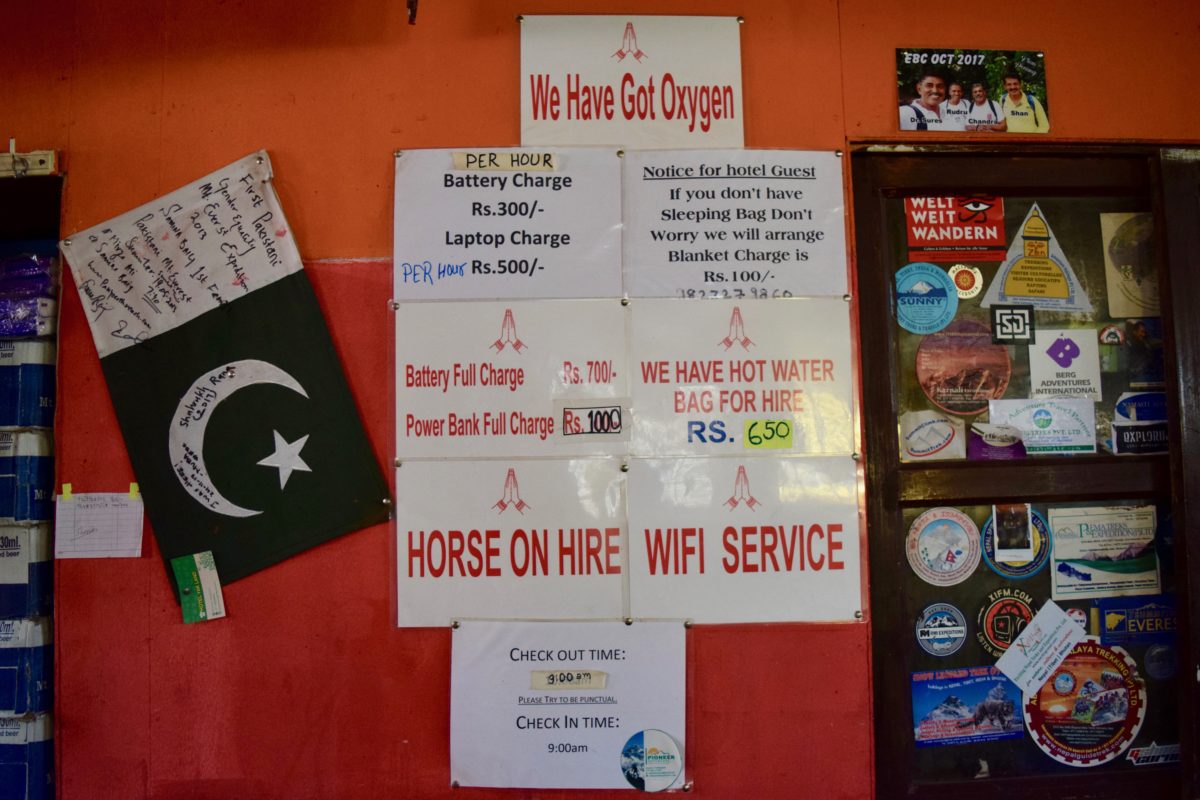 #11. Shopping
Don't over pack & don't worry if you forget anything as you can get everything you need in Kathmandu or Namche Bazaar.
By everything I mean the run of the gauntlet from medication & toiletries to clothing & snacks.
Then there's also plenty of souvenirs but much of it is the same as what you can find in Thamel Kathmandu. Poor porters that have to bring things up here from Lukla (that have probably been brought in from Kathmandu or elsewhere) for tourists to buy & give to their porters to carry back down…
Feel free to bargain hard in Namche Bazaar. Nepalese people pay 50% of the marked price for foreigners. I know this because I went shopping with Isha, a Nepalese girl that was on my tour. She negotiated the price of a head buff for me but when I went to pay for it, the shopkeeper was furious with us both.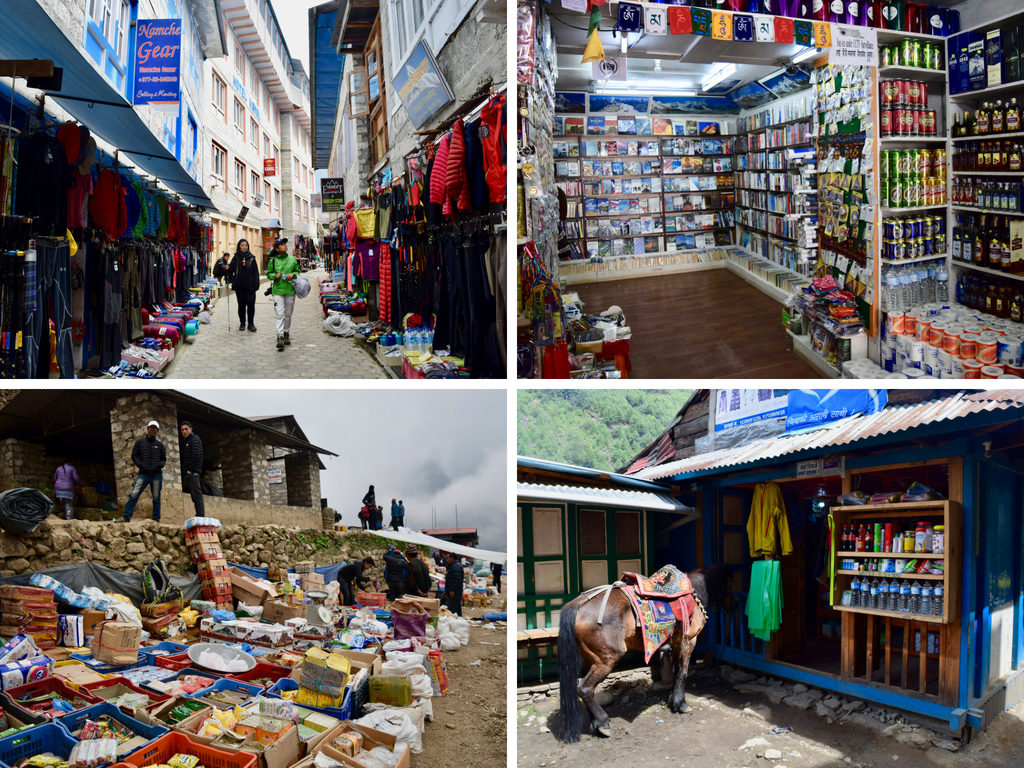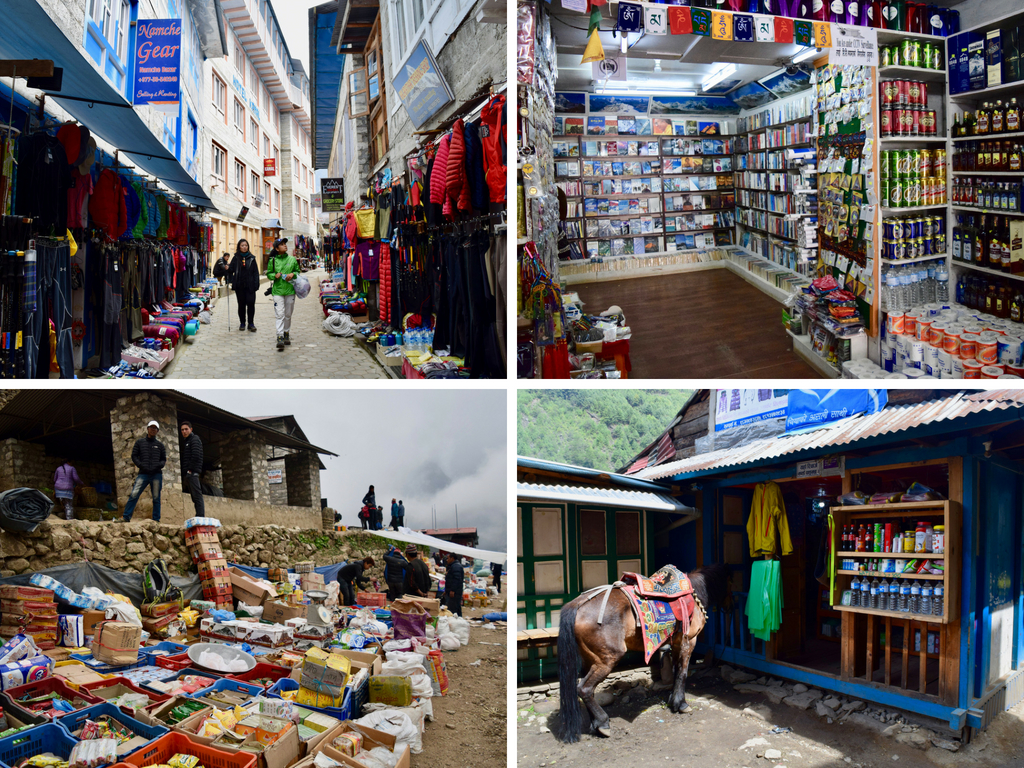 #12. Downtime
We had a lot of downtime of the hike. Some days we trekked for 11 hours but others were only 3-4 hours long.
I brought along a book and Monopoly cards but I ended up getting rid of them to minimize the weight of my duffel bag for my porter. I wish I had kept the playing cards. Thank god I had downloaded shows to watch on Netflix – this was my guilty pleasure even though it used up battery on my phone.
Books are available for sale at local stores & there are also some to pick-up & read at most guesthouses. I read "Into Thin Air" in 1 afternoon/evening. You could consider bringing along a Kindle if you're an avid enough reader to justify the weight.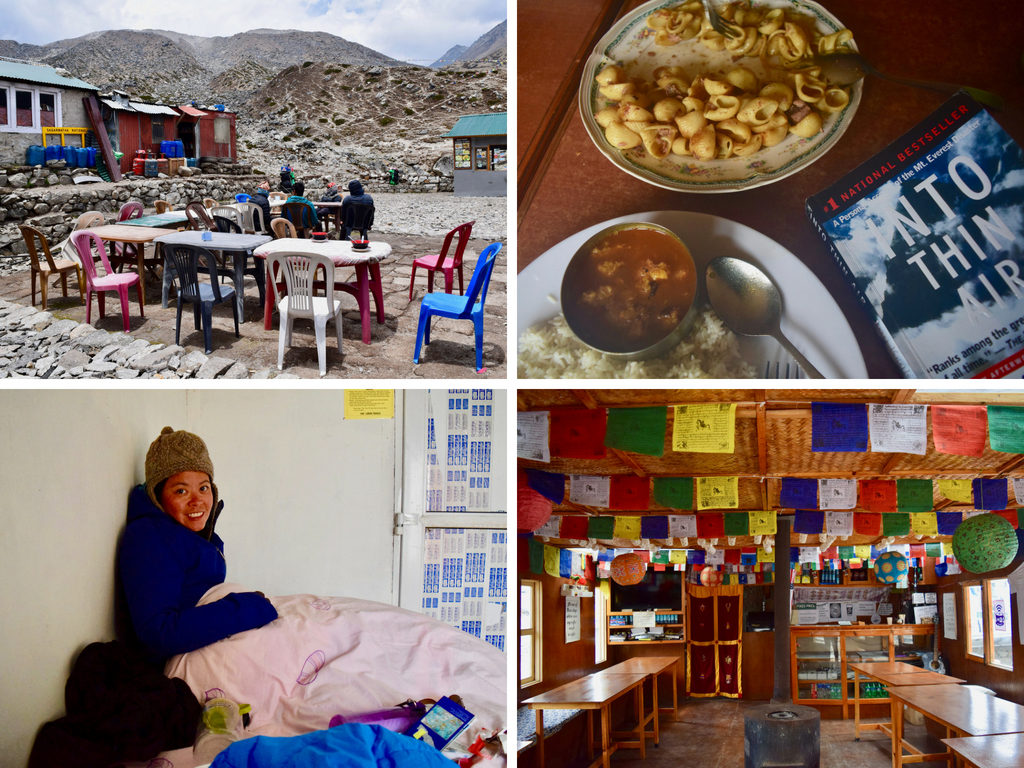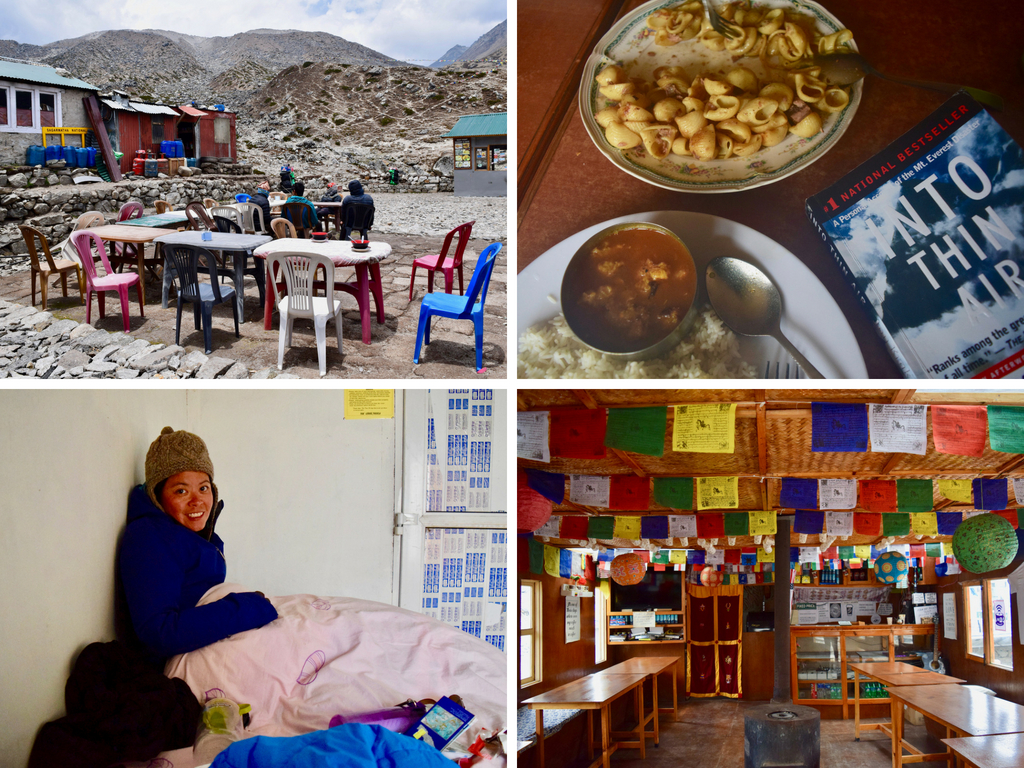 #13. Tipping
I'm not sure what tips are expected but I did read somewhere that $5 a day each to your guide & porter is recommended so that's what I based my tips on.
I would've liked to have tipped more however I didn't have enough money with me nor an ATM card. The other girls on the tour with me tipped around $10 a day which was definitely well-deserved by our guide and porter.
You may also consider tipping 10% of your tour price and splitting it between your guide and porter. Or 10% per day of the cost of your guide and porter.
I dare say that any amount you can give would be well-earnt as the support I received from my guide and porter was invaluable. For me they made the hike much less difficult and so much more enjoyable than if I was doing it on my own.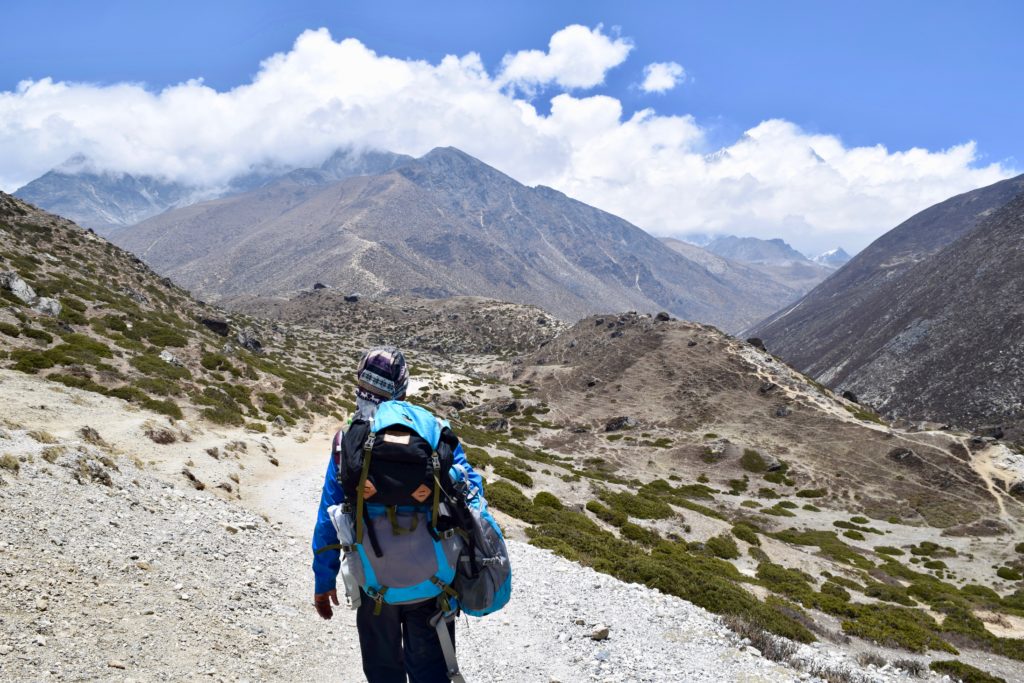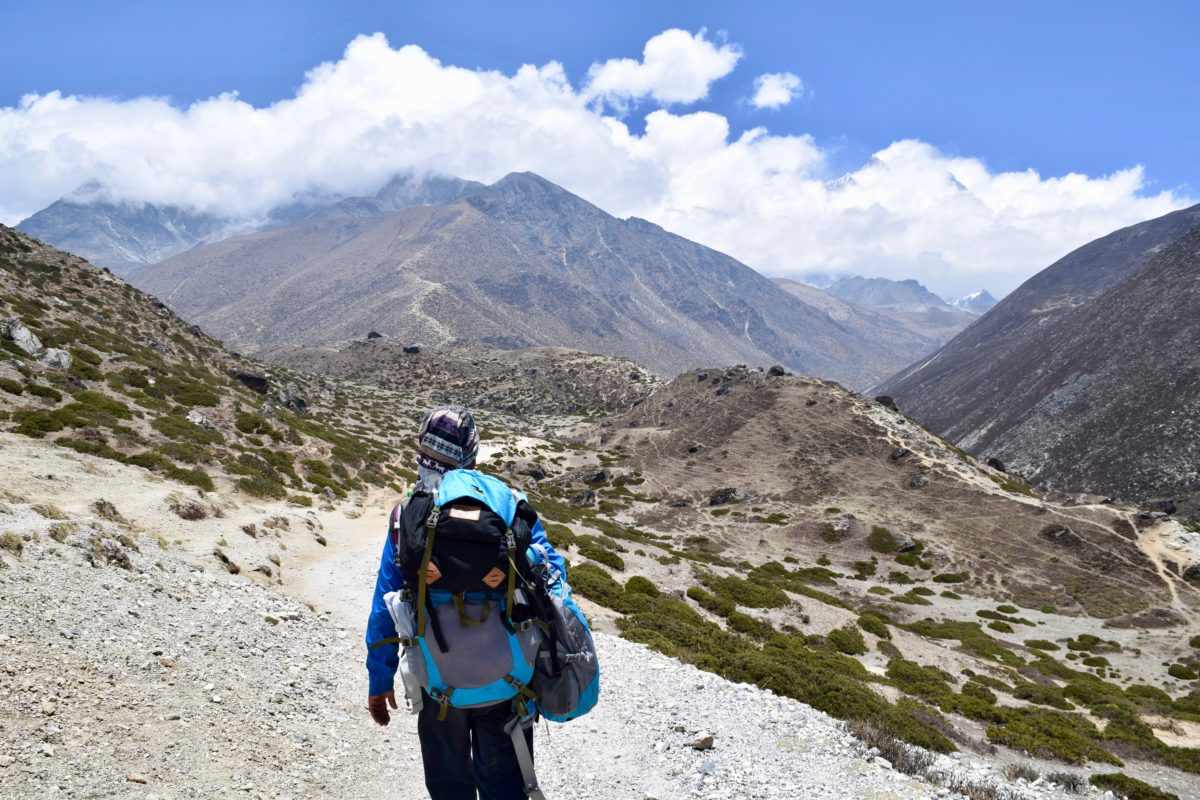 KNOW BEFORE YOU GO
Trek: Everest Base Camp
Duration: 14 Days
Tour Company: Green Valley Nepal Treks
Current Price: $1195
Contact Information: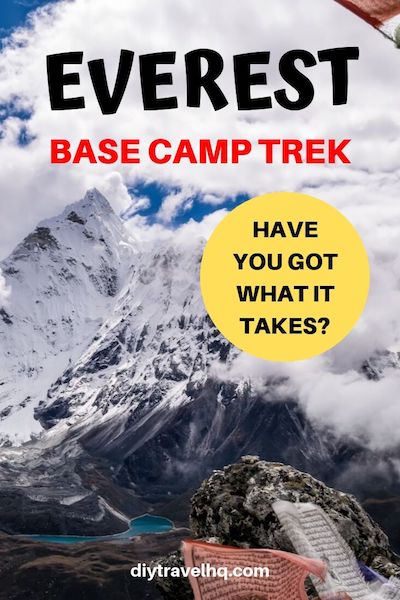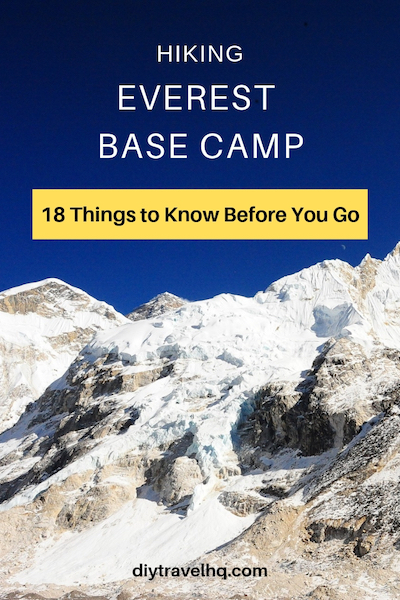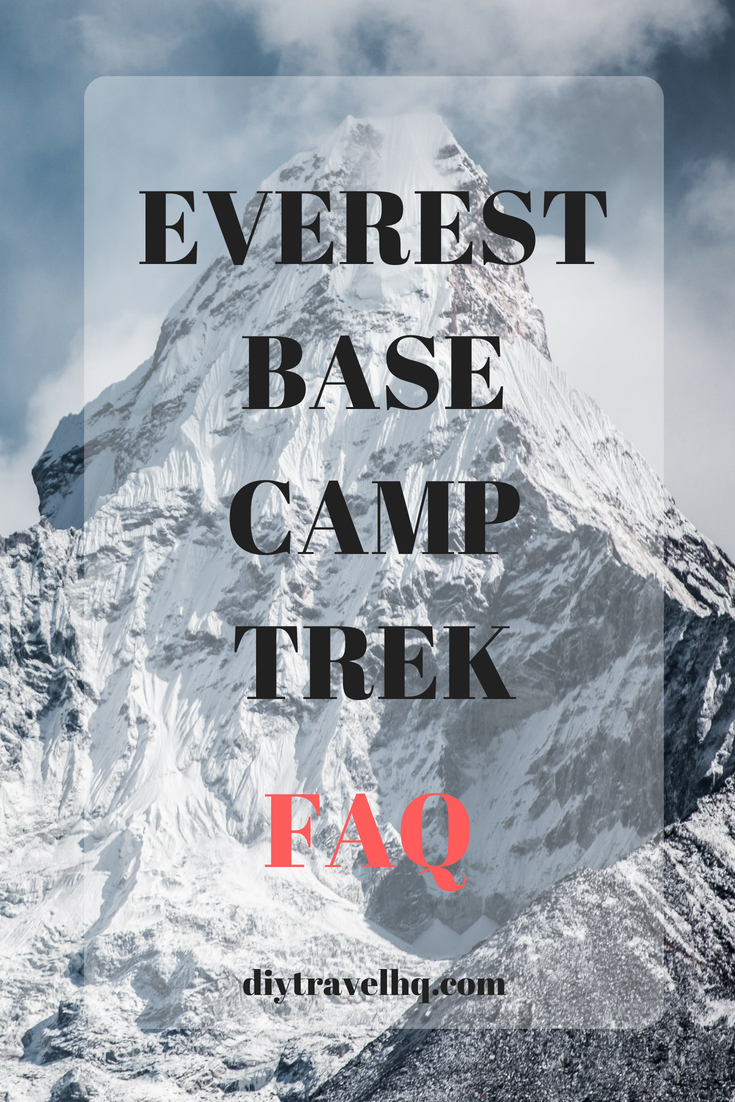 Disclaimer: I received a discount with Green Valley Nepal Treks to facilitate this post, thank you to Arjun for the collaboration. We only recommend interesting, value for money activities & experiences that we believe our readers would enjoy. As always, all opinions & photographs are our own.
This post may contain affiliate links which means that we receive a small commission if you click on a link & purchase something that we've recommended, at no extra cost to you.
Visited in May 2018
Updated in May 2019