Whether you're an armchair traveller or planning your own Himalayan adventure, follow my detailed day-by-day Everest Base Camp trek review for what to expect. Do you have what it takes?
Why I Decided to Trek to Everest Base Camp
I'd been home in Australia for 6 months waiting for my US visa to be approved – Erik lives in New York and I spent 6 months there last year before deciding on making a permanent move. I'd been working temp jobs the whole time, going from 1 assignment to the next & sometimes multiple jobs at the same time.
I'm lucky to be from Australia where I have never had problems finding work. They are not always glamorous jobs but they pay pretty well compared to other countries. It's one of the main reasons I've been able to travel consistently over the past 10 years.
However my last job ended & I didn't have anything lined up. When I'm not working I always feel like I should be traveling. I'm not the type of person to stay at home while I have time off but that has been more appealing to me the older I get 🙂
I came across an Everest Base Camp trek review on a blog & that planted a seed in my head… I thought it was something I would physically be capable of & it's always been on my adventure bucket list. But when would I be able to do it? After my US visa is approved Erik & I plan to get married. If we started a family I knew I would never want to take 2 weeks off to go trekking in the Himalayas.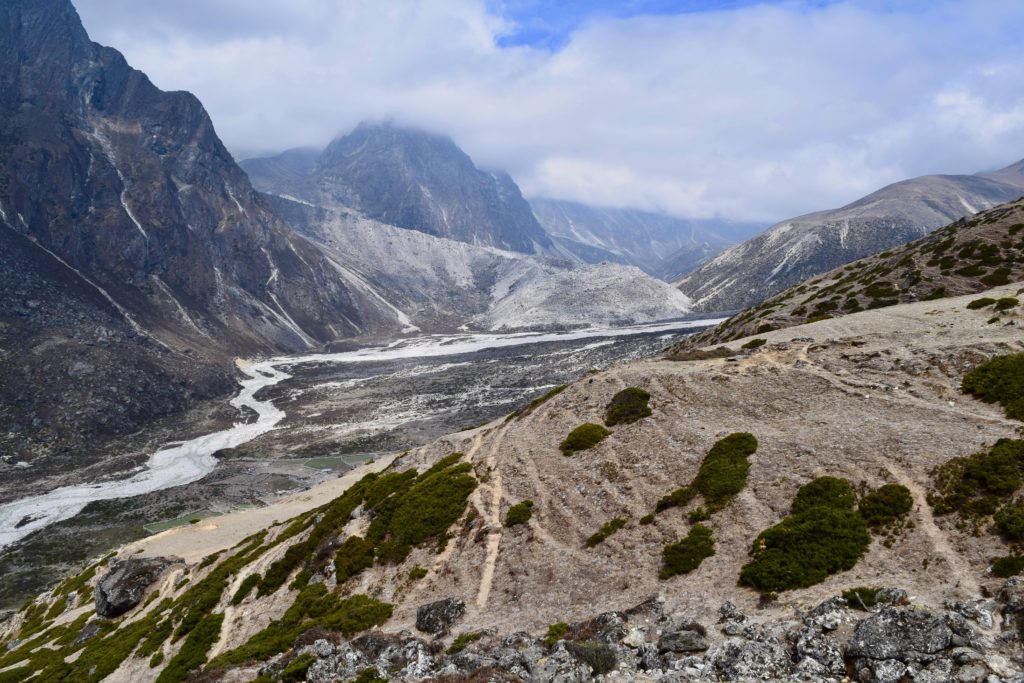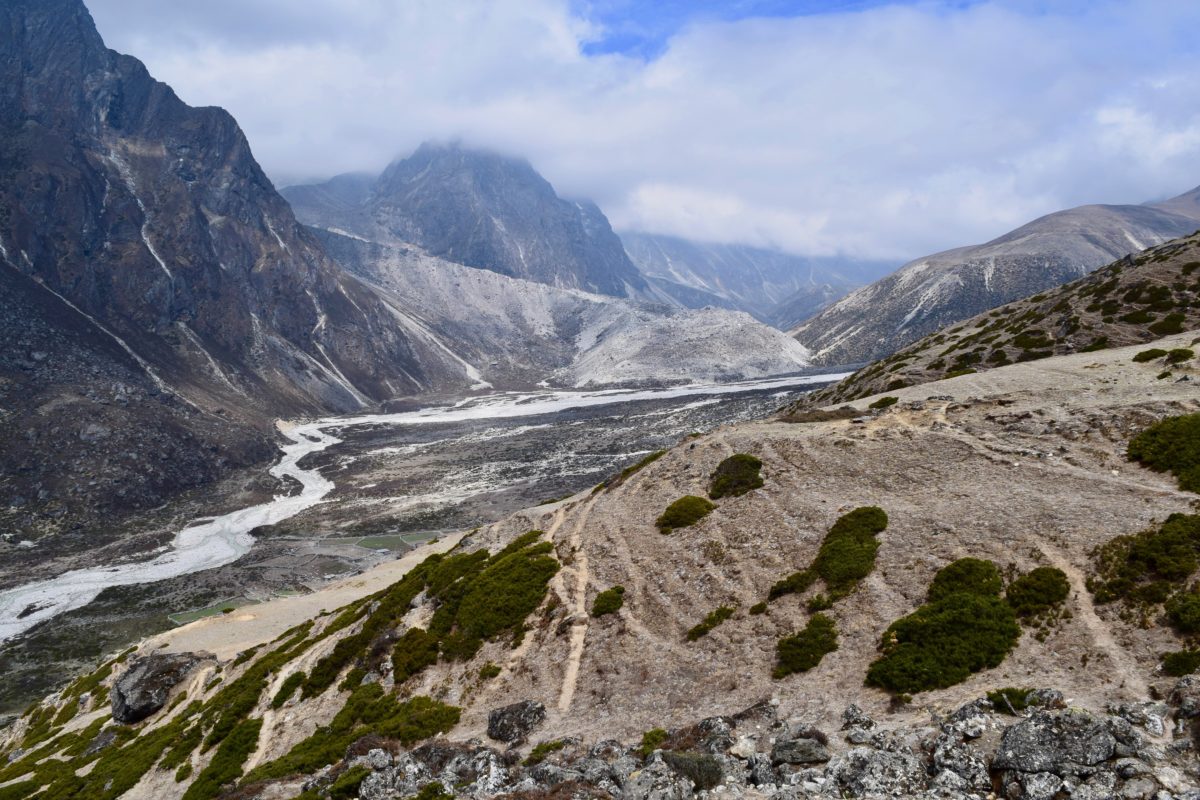 So it was really now or never… and since I didn't have any work lined up now was a good a time as any! I brought it up with my friend Tracy who was really keen. In the next few days I ended up getting a job so the other side of me started to think that I should keep working instead & save money before my move to the US (where I wouldn't be able to work for at least a few months). I asked my family & friends what they thought & everyone encouraged me to do the EBChike, especially Erik.
I still wasn't convinced & wrestled with both sides of myself: the eternal wanderluster vs responsible adult. Guess which one came out on top? 🙂
I should say that this all happened in a short space of time. I first thought of hiking Everest Camp 6 weeks before my flight & I booked the tickets 4 weeks out. I had been in touch with Green Valley Nepal Treks & Research (my preferred tour company) most of that time but only confirmed a tour with them 2 weeks out.
I started training 2 weeks out – by that I mean I would power walk for 1 hour everyday after work. That's it. Believe it or not the trek can be tackled by anyone of a reasonable fitness level but obviously the more preparation you do the better you will feel on the trek. You should also check out our next post…
The Complete Guide to Hiking Everest Base Camp 2018
Find out everything you need to know before trekking to Everest Base Camp
Read more
Anyway I guess I just wanted to say that when you have an opportunity, seize it. I'm so glad took the plunge & deep down I knew I would be. I would never have remembered my extra weeks at work but I'll never forget trekking to Everest Base Camp.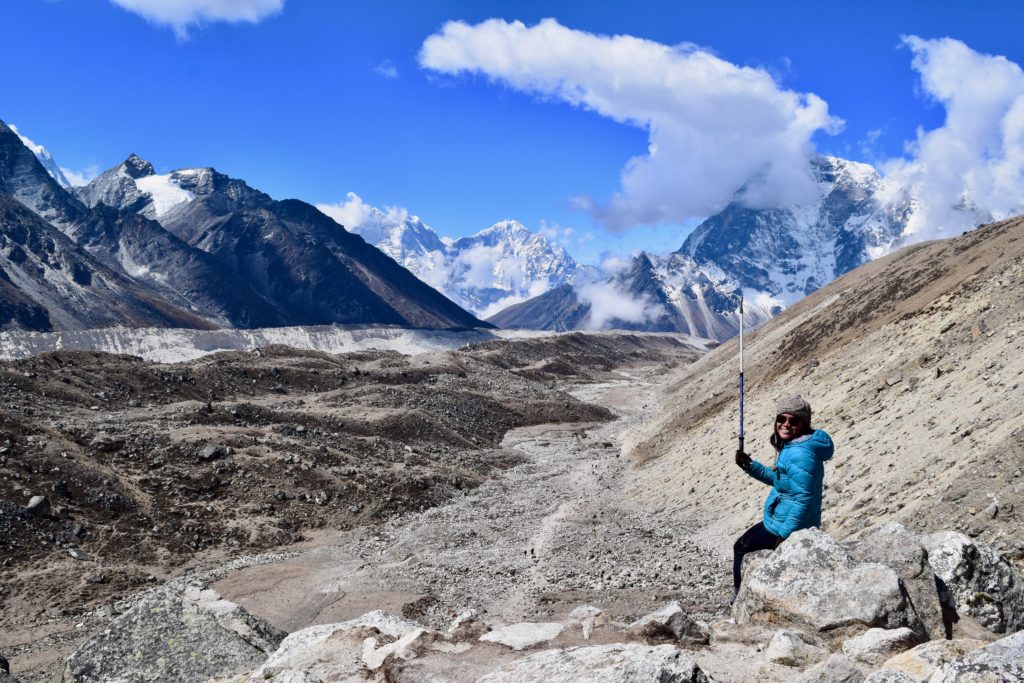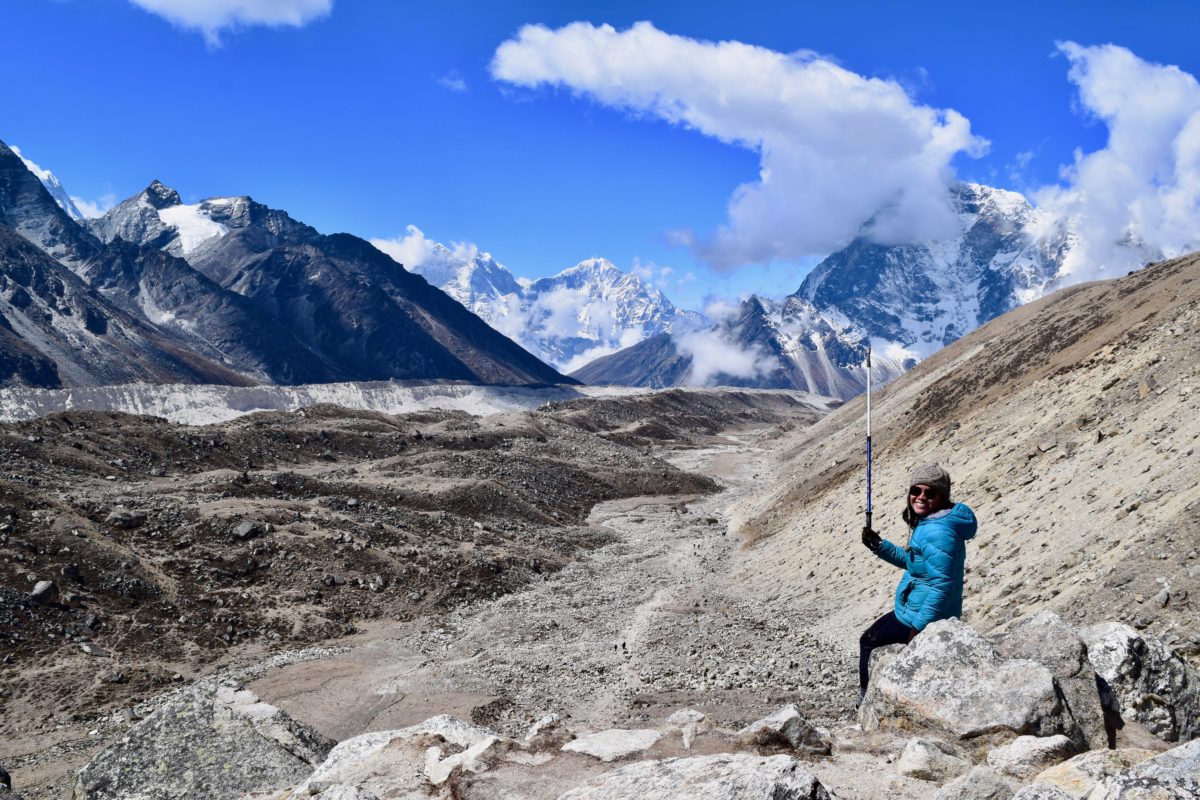 Why I Chose Green Valley Nepal Treks
While we are all about DIY Travel the EBC trek was something I didn't want to plan myself. I was also traveling with my friend Tracy & I was mindful of the fact that she preferred an organized tour. It's fine when it's just Erik & I but I didn't want the responsibility of another person's life.
I couldn't help looking into the logistics of doing EBC DIY & it's actually quite easy to plan yourself. However when you factor in all the costs of flights, permits, accommodation, food, guide and porter you don't save much more money from going your own way. In fact, if you're a solo traveler an EBC tour will probably be cheaper.
So how did I find the best Everest Base Camp tour company?
I turned to Tripadvisor, searching under Hiking & Camping Tours and Outdoor Activities. I went through the top 10 reading reviews, checking out company websites and comparing price, itineraries and inclusions. The reviews were all overwhelmingly positive. This led me to assume that no matter which company you went with, you would receive a similar experience. All tour companies use Nepalese guides and porters and they have the same selection of teahouses on the trek. Food is eaten at your accommodation and at restaurants along the way while trekking.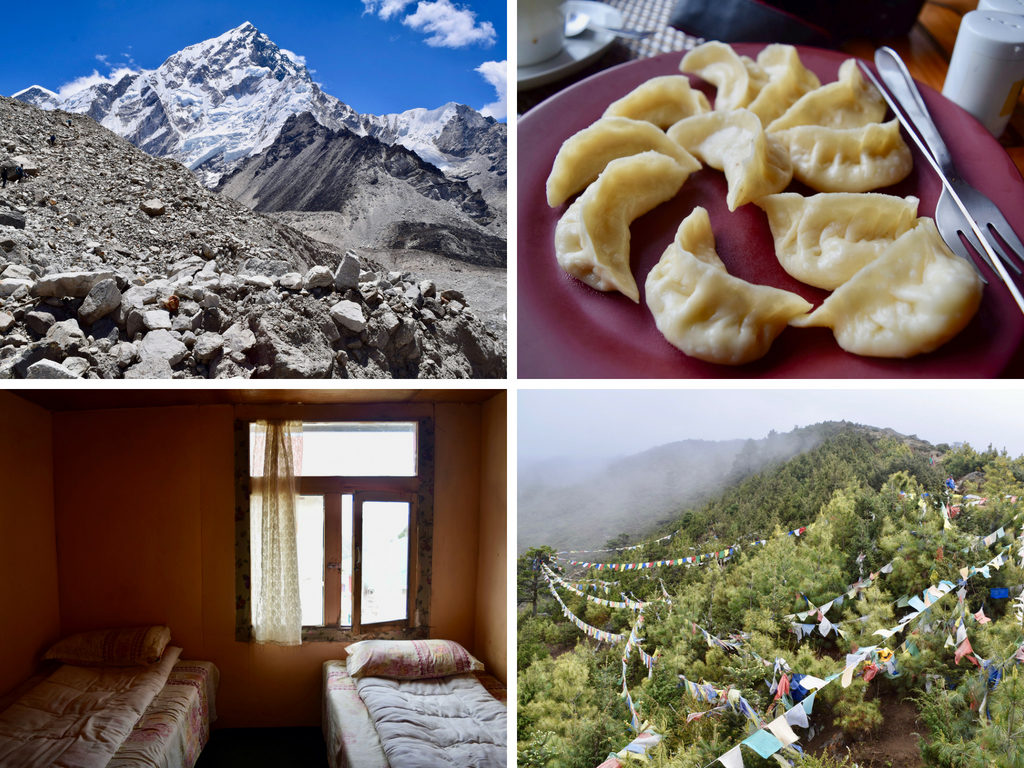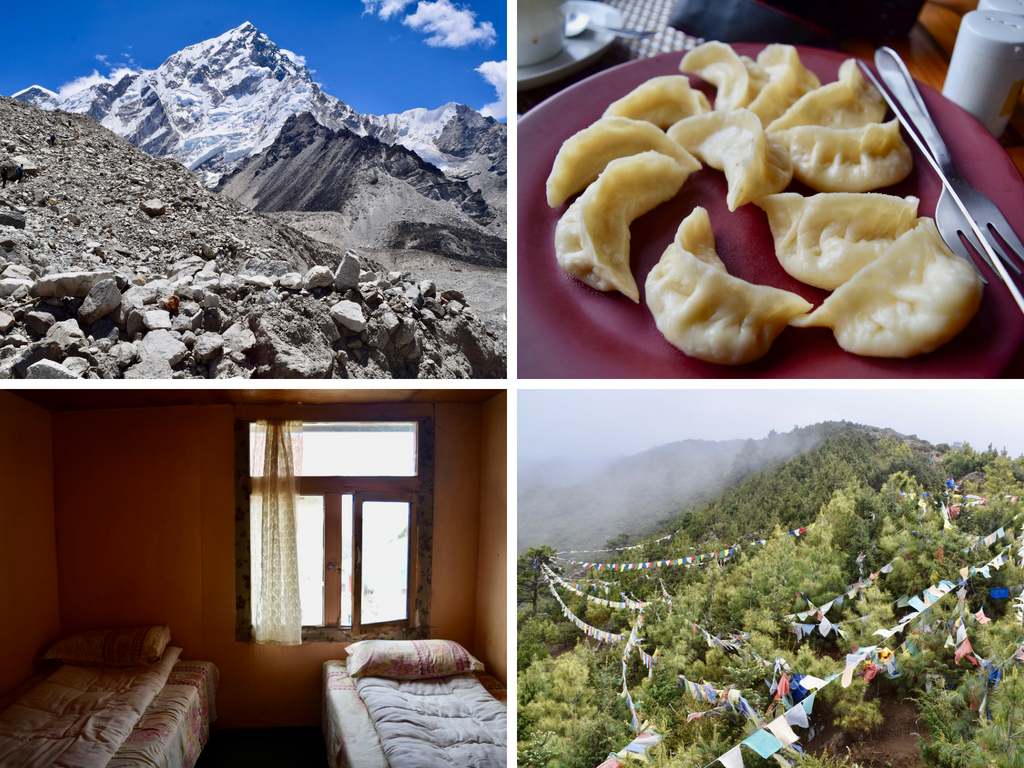 So when it came down to the cost of an EBC trek, Green Valley Nepal Treks came out on top. They offered a 14 day EBC tour for $1050. This was a good couple of hundred dollars cheaper than many of the other tour companies I came across. I didn't feel the need to negotiate as it was already a fair price.
Later I would discover that what makes a difference is your guide – Nepalese culture is all about connections and having a respected guide can lead to favours and preferences at teahouses.
My guide Keshar had 18 years experience as a porter and guide so he knew which guesthouses and restaurants were the best to stay and eat at, along with everyone on the trail. Whether it was friendly greetings or conversations it was obvious that Keshar was well-liked & respected on the mountain.
Keshar only works for Green Valley Nepal Treks as he has more than enough work with them. This is something to keep in mind if you are looking to do the hike independently – the best guides will be affiliated with tour companies and booked out. Freelance guides may be subpar but they should all be accredited with the Nepal Tourism Board though it's not compulsory to hire one.
But what I liked most about Green Valley Nepal Treks was that they were the only local company one in the top 10 on Tripadvisor. The difference in price seemed to come down to many Everest Base Camp tour companies being foreign owned and operated. There's nothing wrong with that but it doesn't sit right with me. I always prefer my money & business to stay in-country, helping the local people and economy.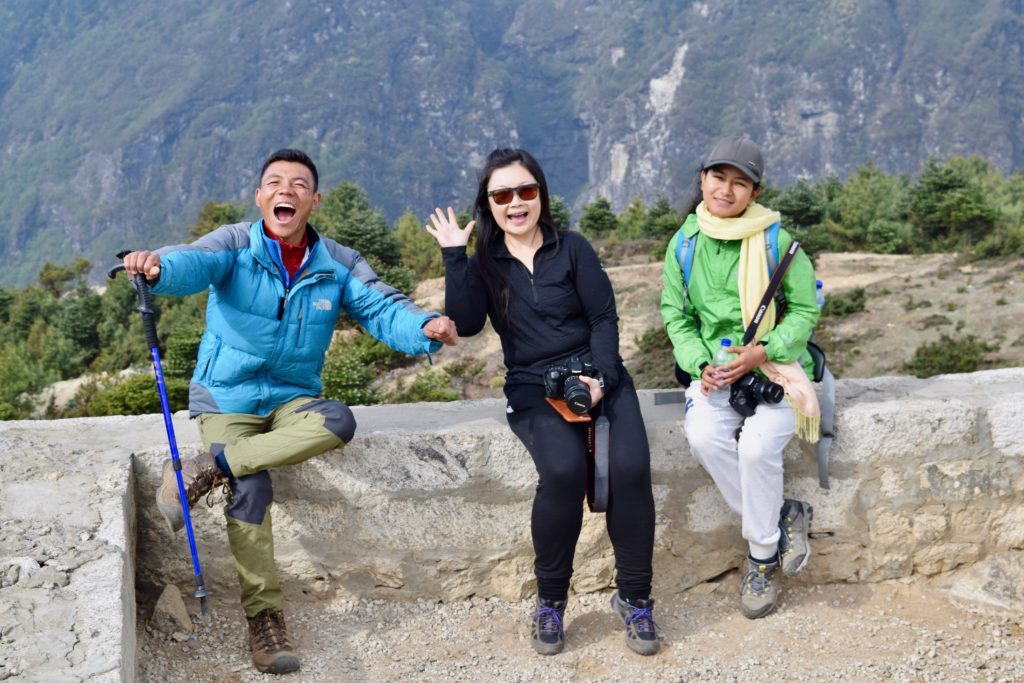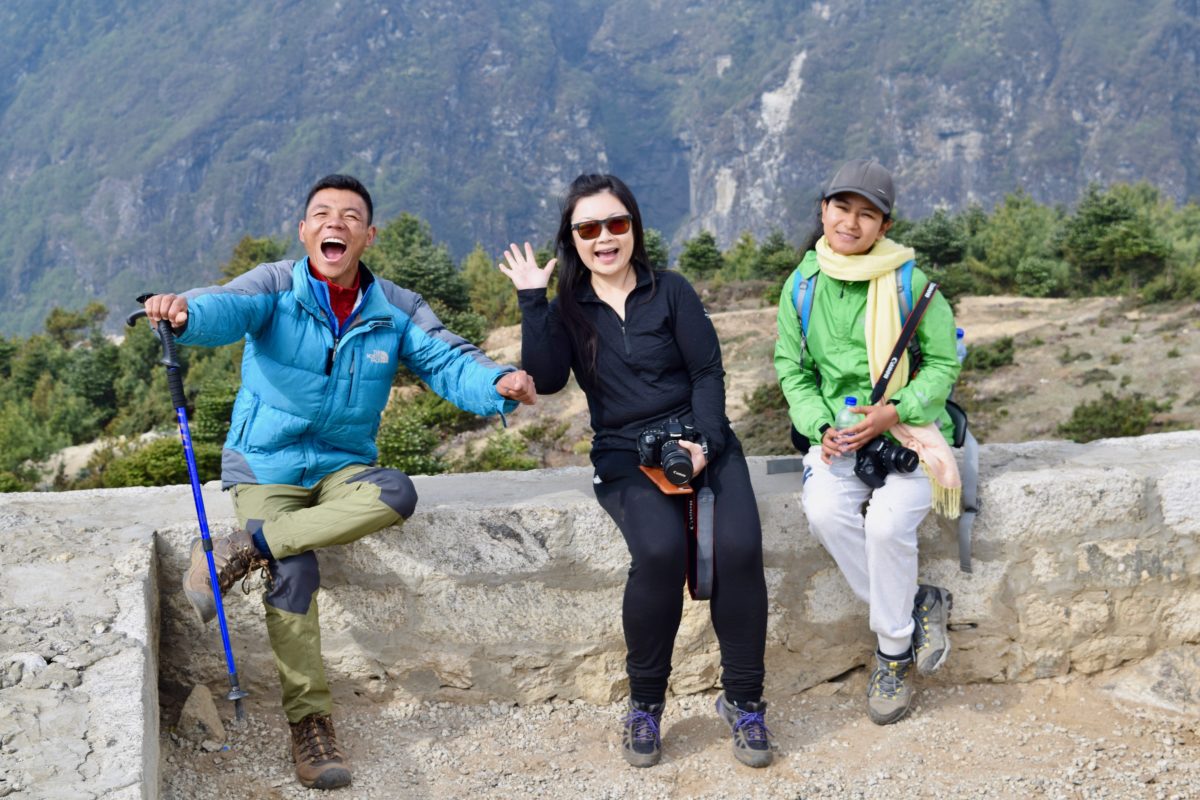 From my initial contact 6 weeks prior to my flight, I was in regular contact with Arjun from Green Valley Nepal Treks by email and WhatsApp. He was very responsive and patient with all my queries & questions and he never pressured me when I was taking a long time to commit.
I tend to over-research when I'm travel planning but once I came across Green Valley I knew they were the company I wanted to go with. They ticked all the right boxes & I just had a good gut feeling. The hardest part was deciding if I wanted to go at all!
Along with 395 5 star reviewers on Tripadvisor I thoroughly recommend Green Valley Nepal Treks. But do your own research, find the company that best fits your needs and go with your instincts.
12 Day Everest Base Camp Trek Review
Day 1. Thurs May 24 – Lukla to Shirke to Chheplung, 2700 m
Hours trekking: 2 hours
Temperature: 20°c /4°c – 68°f /39°f
Accommodation: Khumbia Guest House
Highlights:
9 hour delay at airport
Helicopter ride
The moment of truth had arrived! My Eerest Base Camp tour with Green Valley Nepal Treks included accommodation at Hotel Florid in Kathmandu and an airport transfer for the flight to Lukla, the starting point for the hike.
Things to do in Kathmandu
Don't forget to enter in your text.
Enter Your Text
4:45 am – Depart Hotel Florid
5:05 am – Arrive at Tribhuvan International Airport
Here I met up with Isha, a 17 year old Nepalese girl who would be joining my friend Tracy and I on the trek. It was also the start of a 9 hour delay at the airport….
The weather at Lukla is notoriously bad & mountain flights are often cancelled as they had been for the past few days. The best chance to get on a plane is in the early morning so our flight was bumped up to 6:00 am. That didn't end up making a difference.
It shouldn't have been a surprise but after all the anticipation, I was still pretty disappointed when the flight was delayed. Over the next few hours they'd be more delays until finally at 1pm an announcement was made that all flights were cancelled. Could've told us this 7 hours ago!
I was so hungry the whole time as I didn't have breakfast or lunch, just a few snacks. The airport has limited food so I'd recommend bringing some with you especially if it's likely that you'll have a long wait ahead.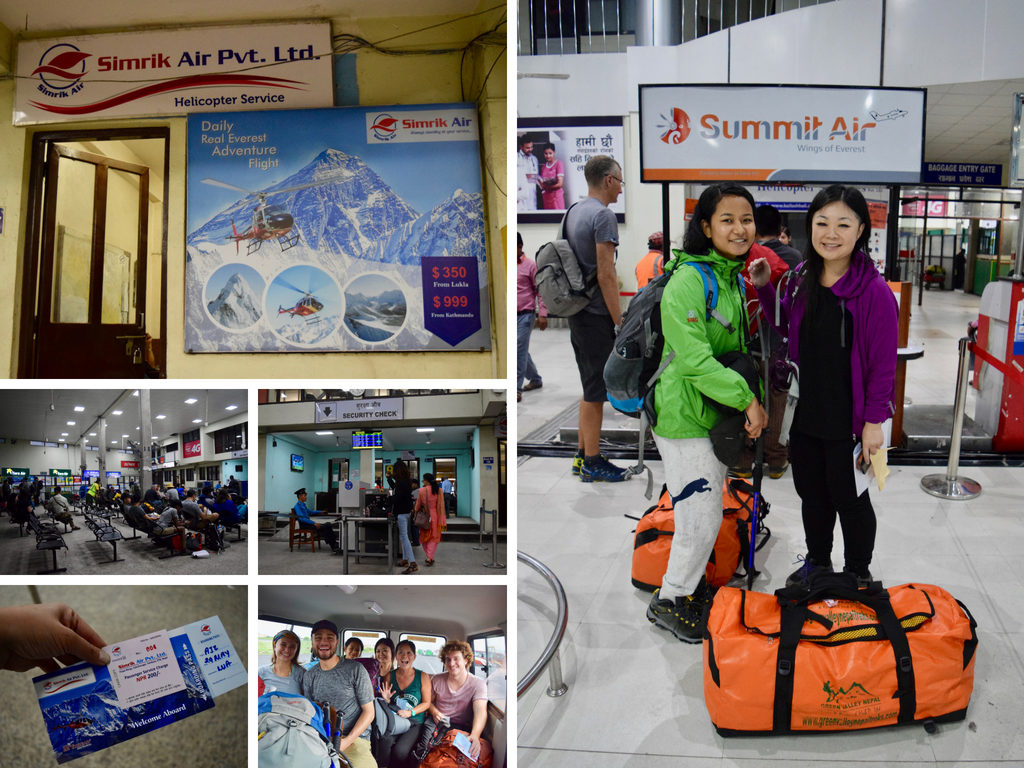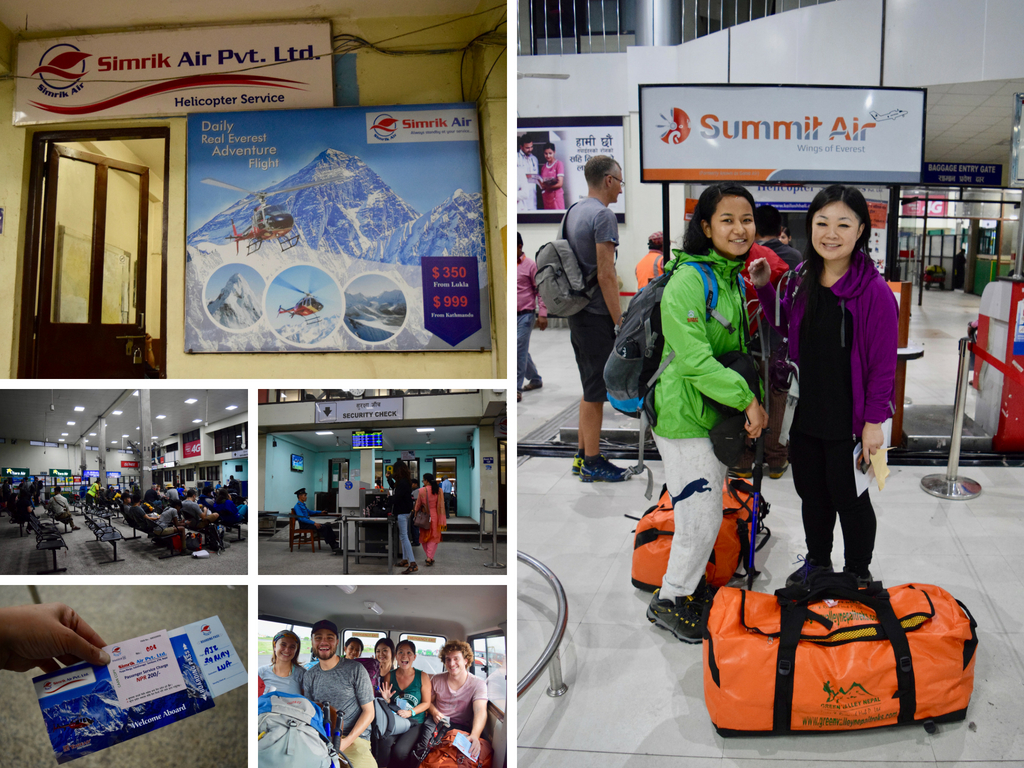 We were lucky to have Isha with us as she was able to speak to the airport staff and keep us informed of what was happening. Arjun from Green Valley Nepal Treks was also in touch with us throughout & arranged for us to go by helicopter at no extra charge. If you don't have a Nepalese speaker in your group or a cell phone, there are free pay phones in the waiting room. There is also free wifi toilets & drinking water – however I recommend using a LifeStraw water bottle.
There was a poster advertising Everest Helicopter flights for $1000. The 1 way plane ticket was around $180 so between 6 of us in the helicopter (grouped with others) it made sense that our refunds would've covered the charter. All we had to pay was the Rs. 200 / $2 passenger service levy. Still, later on the trek we came across other people that had to pay an extra $20-$500 to take a helicopter – for example, read the policy with GAP Adventures here.
I felt grateful to have gone with a local company like Green Valley Nepal Treks that didn't take advantage of the situation however if you're not so lucky, you may be able to claim the cost of the helicopter premium. I recommend World Nomads travel insurance as they will cover the cost of a helicopter evacuation too if needed.
Anyway we signed up for the helicopter but that wasn't the end of the waiting game… finally an hour later we were bundled in a van & driven across the runway to the helicopter pad. Everyone was super excited! Apart from Isha, no-one had been on a helicopter before. It was definitely worth the 9 hour wait at the airport to be able to check this off my bucket list at no extra cost! 🙂
Are these Nepal destinations on your bucket list…?
Top 14 Destinations in Nepal
Don't forget to enter in your text.
Enter Your Text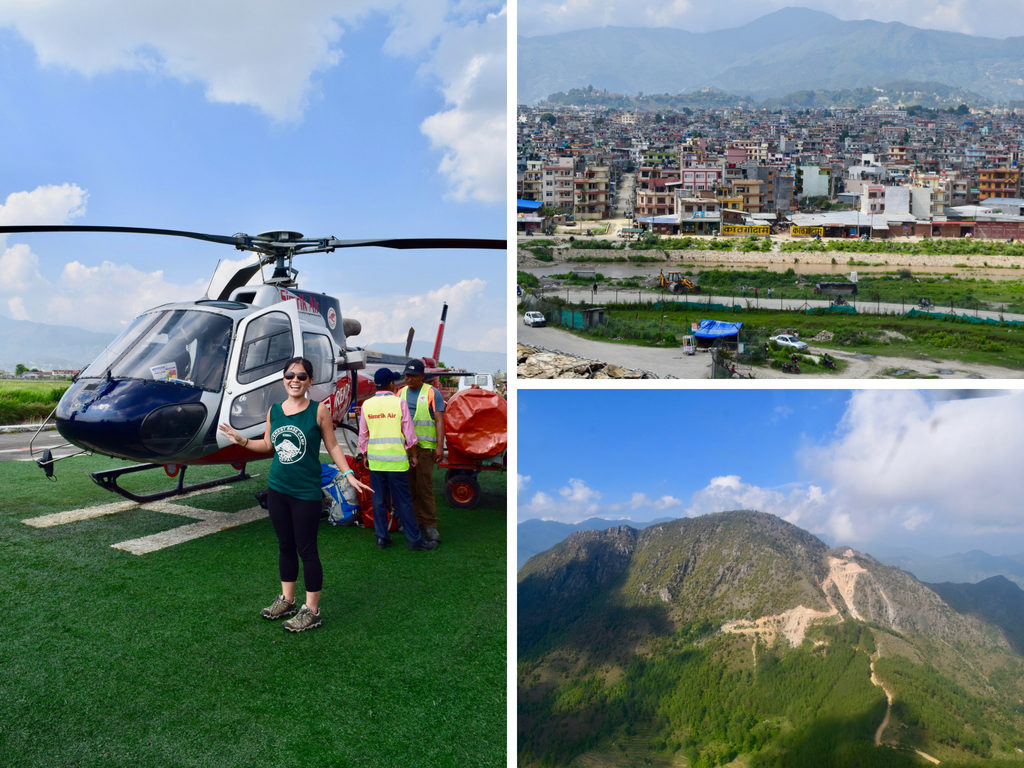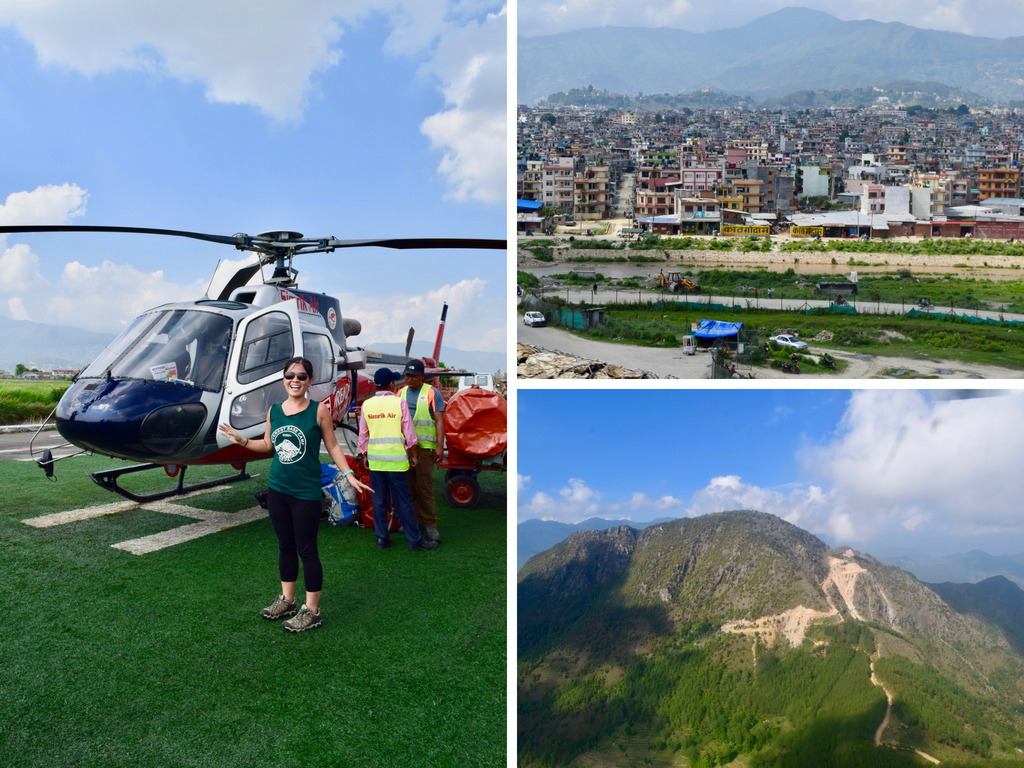 Take off was really exciting with lots of screams and cheers. Everyone's selfie game was on point. It was a tight squeeze with 4 of us in the back amd 2 in the front with the pilot but nobody minded at all. After all the photos & videos, I sat back and took in all my surroundings inside & outside the helicopter.
The views were actually not as scenic as I imagined as we didn't pass any snow-capped mountains. It was mainly high, green, rolling mountains – what was staggering was that many of them were populated with villages. No matter how high or remote, you can find people living almost anywhere in Nepal.
After 50 minutes we suddenly landed literally in the middle of nowhere. We had a crowd waiting though as the field was the helipad & many groups were sprawled on the grass waiting to fly out to Kathmandu. I also saw 1 Everest evacuation team in snow suits carrying oxygen tanks.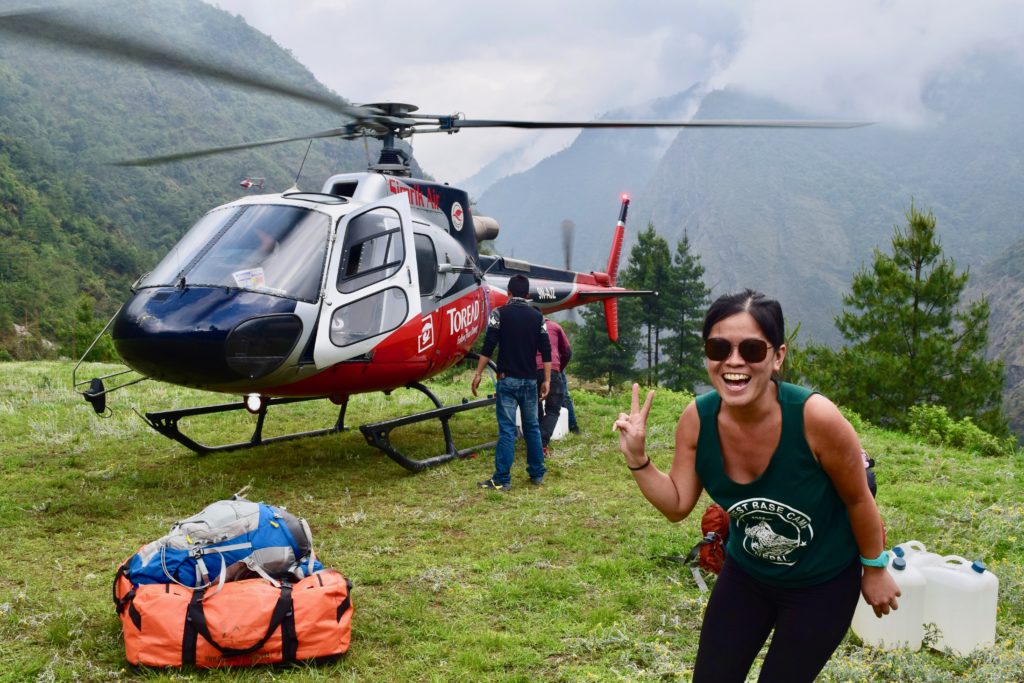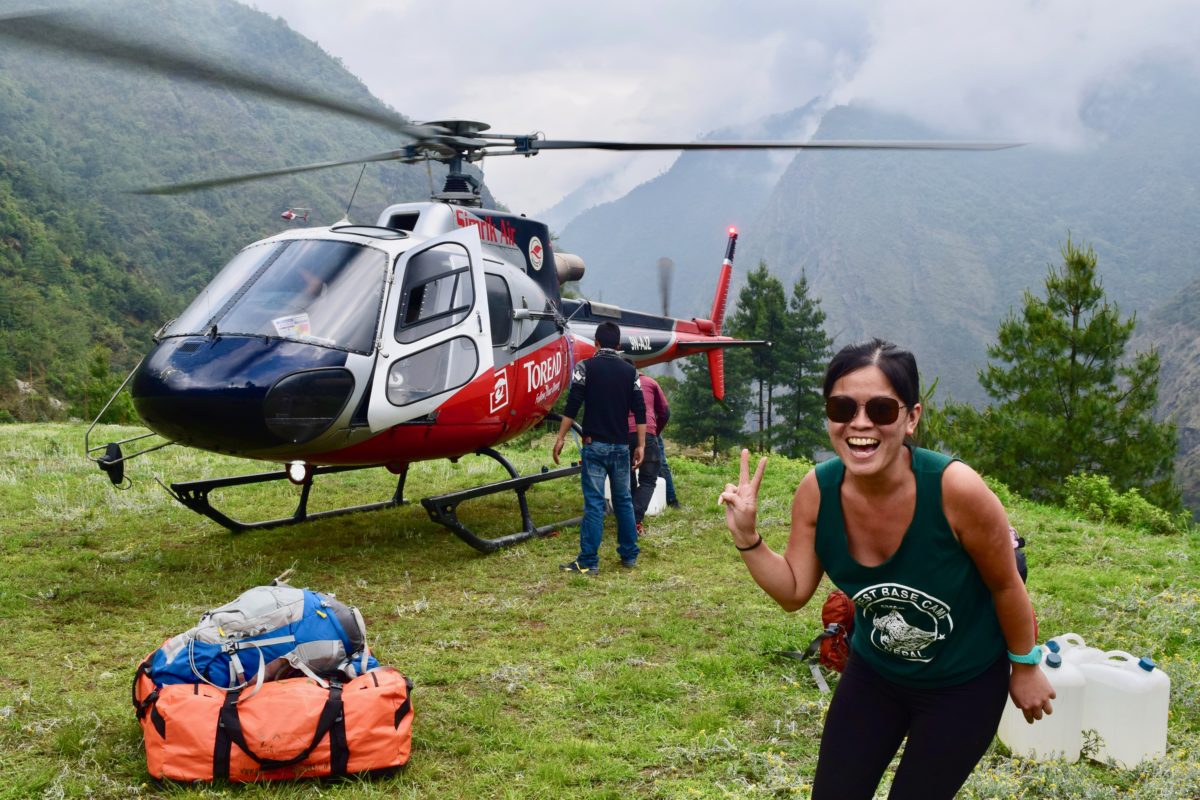 The helipad was in the village of Shirke 2 hours away from Lukla airport so our guide & porter were nowhere to be seen. Isha spoke to Arjun from Green Valley Nepal Trek who asked us to start trekking & they would meet us along the way. This was devastating news to Tracy & I as without our porter, it meant that we'd have to carry our huge duffel bags. We walked through farms & up a steep hill – every step was a painful struggle. My bag was so heavy I almost had a breakdown.
Thankfully 15 mins later our guide Keshar & porter Dinesh found us slumped on the path with our bags. I was so happy to see them and not to have to carry my wretched bag any further – just that tiny taste gave me so much appreciation for porters. That night I threw out as much unnecessary stuff as I could to lighten the load.
* Check out my hiker's packing list to get started on what to pack for Everest Base Camp. I will create a dedicated EBC packing list in the near future.
After this grateful meeting our party of 5 was together at last & we set officially set off . Keshar was apologetic that we had missed breakfast and lunch – I was absolutely starving and feeling quite weak. Unfortunately there were no restaurants around and we also needed to make up some time.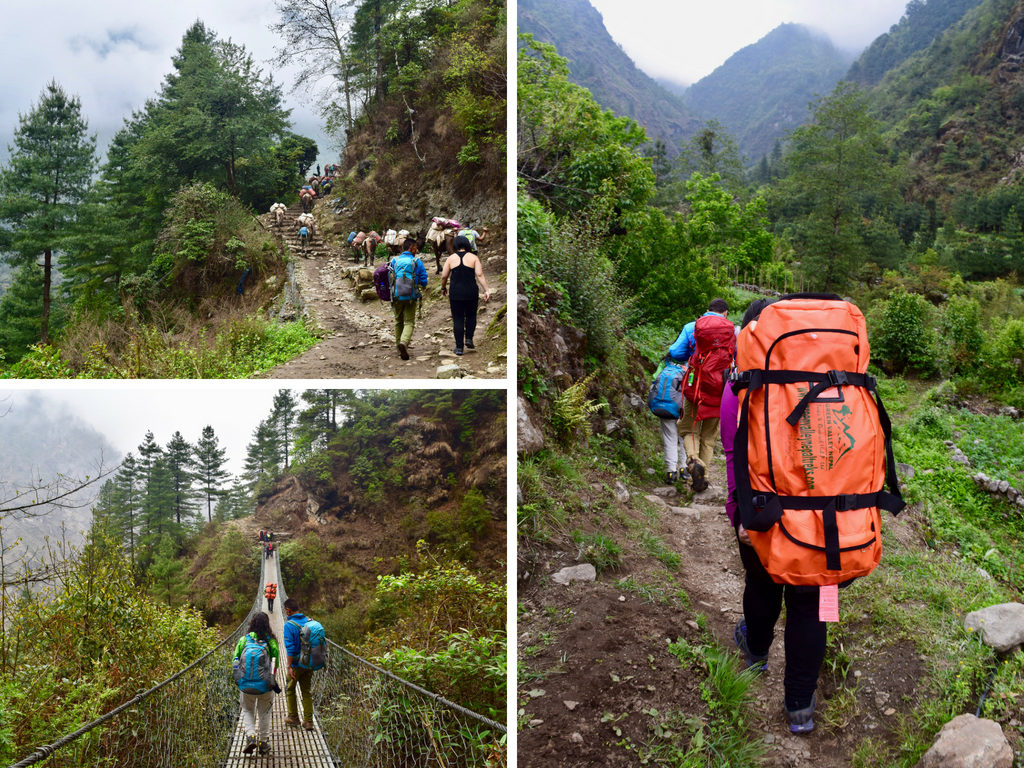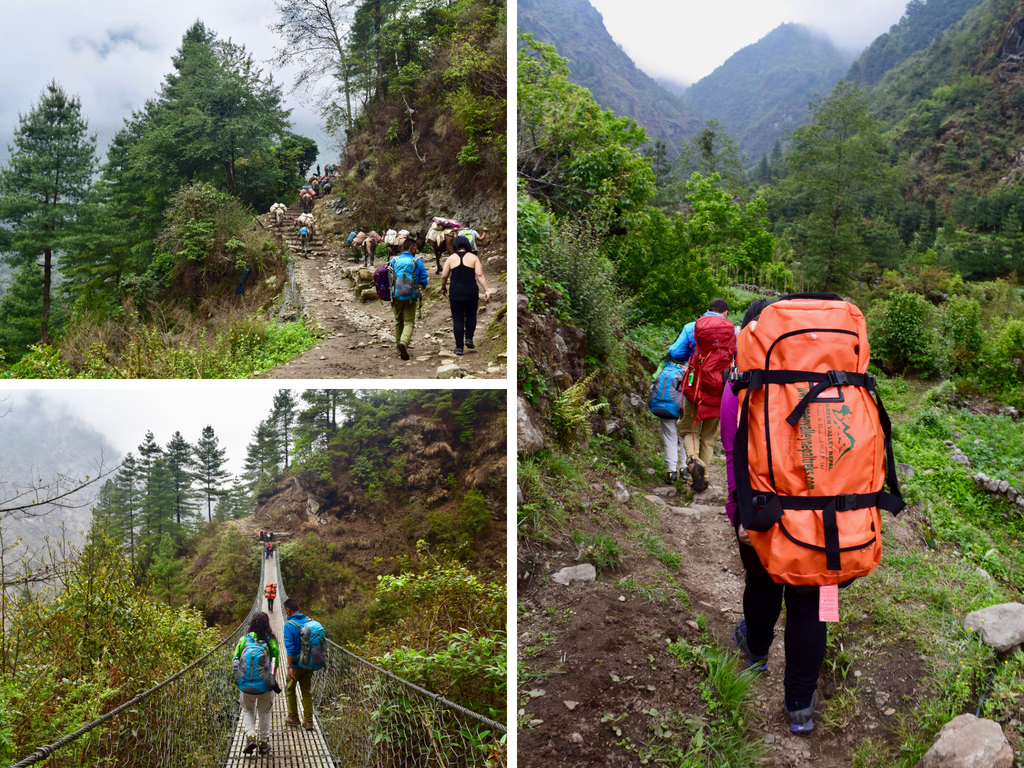 We walked for around 1 hr 20 mins along a gentle path. At around 6:15 pm we stopped by a nice looking house and Keshar called out to see if anyone was home. There was some yelling back and forth and then we were invited inside for dinner. I wondered if this was how all our meals & accommodation was going to be arranged on the trek!
The house was very spacious neat & tidy. We played with the little boy of the house and cooed over his adorable baby brother while waiting for dinner. We were served Thukpa noodles, it was simple and delicious.
At 7pm we continued on our merry way. It was a little dark but 45 minutes later we stopped at Khumbia Guest House in the village of Chheplung, elevation 2700 meters. This was to be our home for the night and although we hadn't made much progress, we were all happy to call it a day.
The guest house was really large & consisted of 2 buildings – the kitchen & dining room in 1 & the bedrooms in the other building across from it. We also surprisingly got to order a 2nd dinner! I was still hungry so I was stoked. The meals were huge, a good indication of the portions for the rest of the trek.
From the food to rooms & toilet, everything was much cleaner & nicer than I expected.
So day 1 was both a boring & eventful day. Nothing happened for the 1st9 hours & then suddenly we were hit with so many new sensations.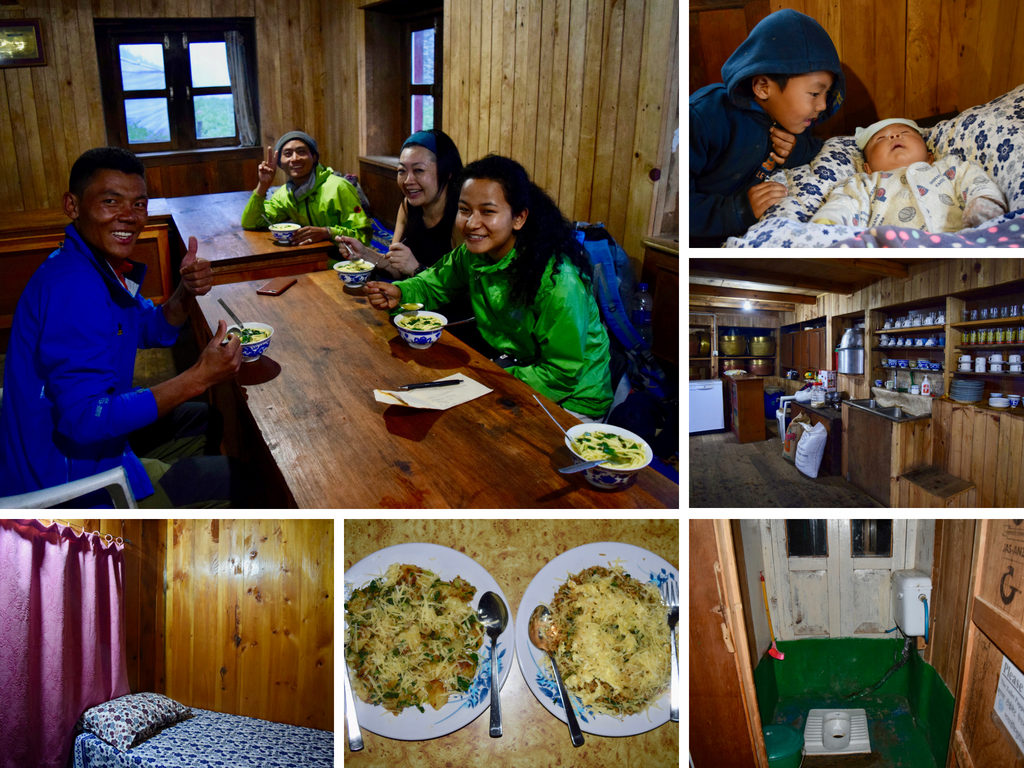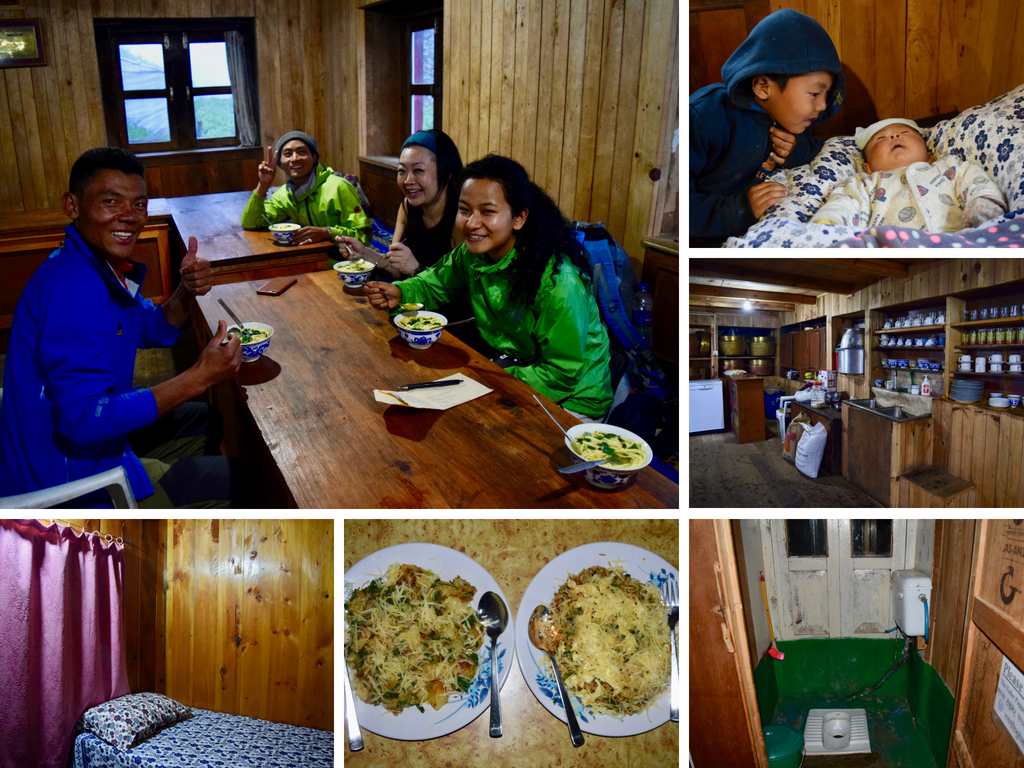 Day 2. Fri May 25 – Chheplung to Namche Bazaar, 3440 m
Hours trekking: 11.5 hours (incl. 1.5 hour lunch)
Elevation gain: + 740 metres
Temperature: 21°c /2°c – 70°f /35°f
Accommodation: Himalayan Lodge
Highlights:
Waking up to mountains
Landscape like the Canadian Rockies
Entering Sagarmatha National Park
Meeting Everest Summiters
I woke up before 6am for breakfast and looking outside the window the scenery was so different to when we arrived last night in the dark. I saw snow capped mountains, one of which was particularly lofty that I will always remember as my first glimpse of Everest (it was not Everest). The landscape was beautiful & it made our trek to Everest Base Camp seem ever more real. The chanting music playing at the breakfast table also made it hit home.
We started trekking at 7:10 am. It was a beautiful sunny day with fall colours on the leaves along a gentle path to Phakding, which we reached in 2 hours. This was meant to be our rest stop last night so we made up time pretty quickly.
Phakding was a large tourist village. There were guesthouses one after the other and shops selling everything you needed or forgot for the EBC trek. We continued on, spinning prayer wheels, touching huge decorated rocks & admiring stupas along the way. The water gushed loudly in the Dudh Koshi river below us and the landscape was stunning. With the high mountains and lush green pine trees, I felt like I was back in the Rocky Mountains of Canada.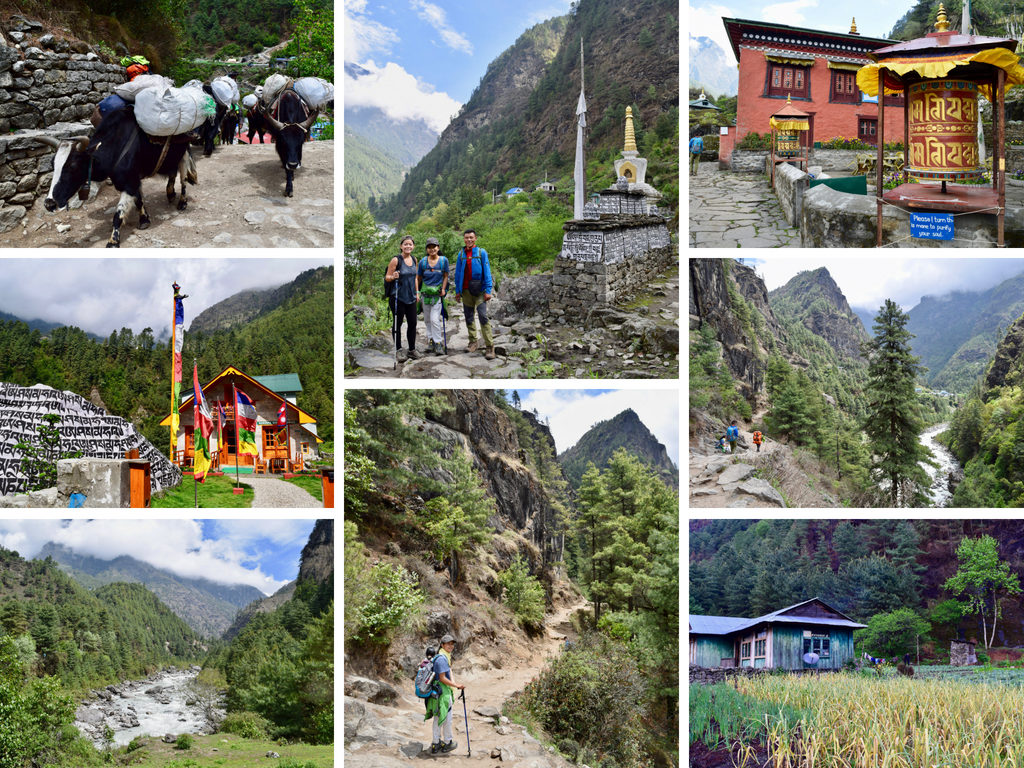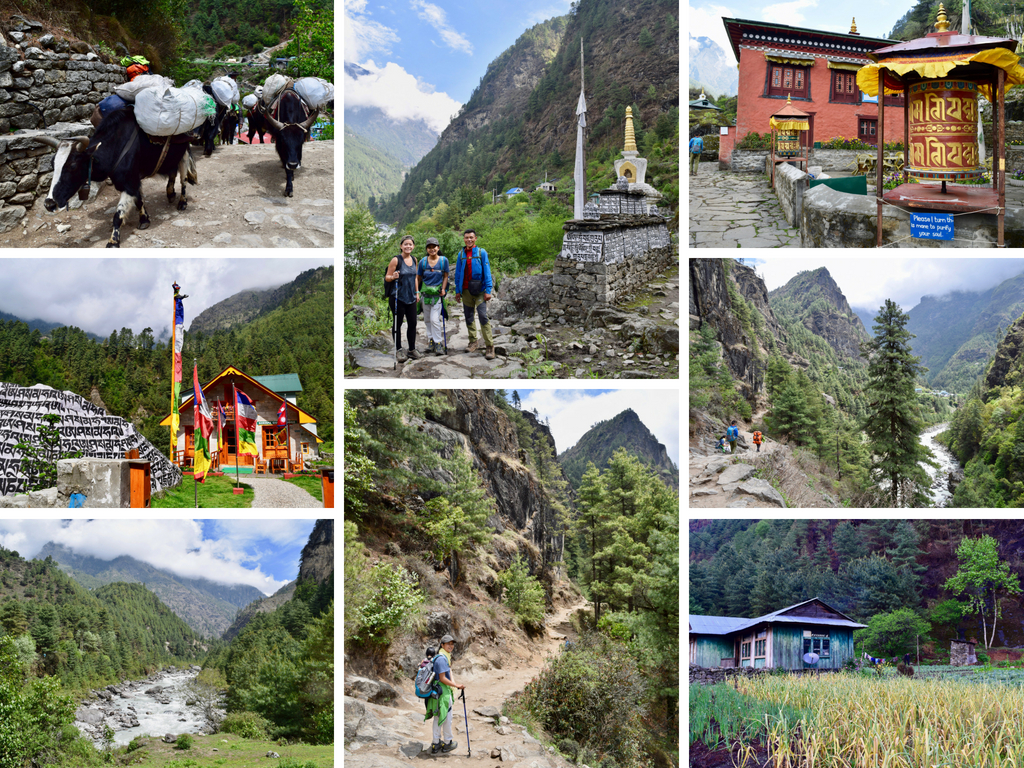 At 11:20 am we stopped for lunch at Everest Mini Guest House in Benkar, elevation 2730 m. How had we only climbed 30 m in 4 hours?! This would come to be the curse of the Everest Base Camp hike as it's very much an up & down trail. The teahouse/restaurant was situated at a very scenic spot and we enjoyed lunch with a view. At 12:40 pm we set off again towards Namche Bazaar.
We reached the entrance to Sagamartha (Everest in Nepalese) National Park at around 2 pm. Here we took photos and had a short break while our guide Keshar took care of paperwork & fees. The trail goes downhill after the entrance gate.
We met a couple of Nepalese guys who had reached the summit of Mount Everest, whom Isha & Keshar spotted from afar from their darkened & worn faces! It was truly an honour to meet them, shake their hands and view their photos and videos from the summit.
After the long downhill section, the path is flat as we walked right along the river. There's another checkpoint before a long uphill trek to the 2 suspension bridges high above. I should note that the weather was quite warm up to this point & I wished I had worn shorts rather than leggings. As we started to climb up at this point, it got cooler and I put on a fleece jacket.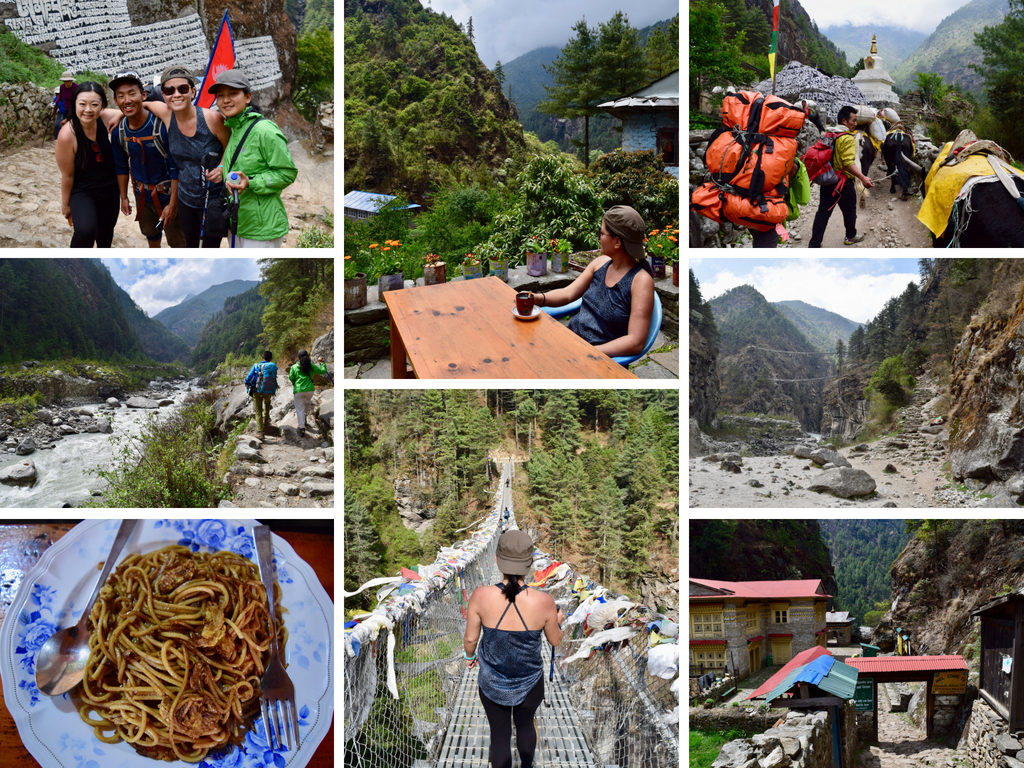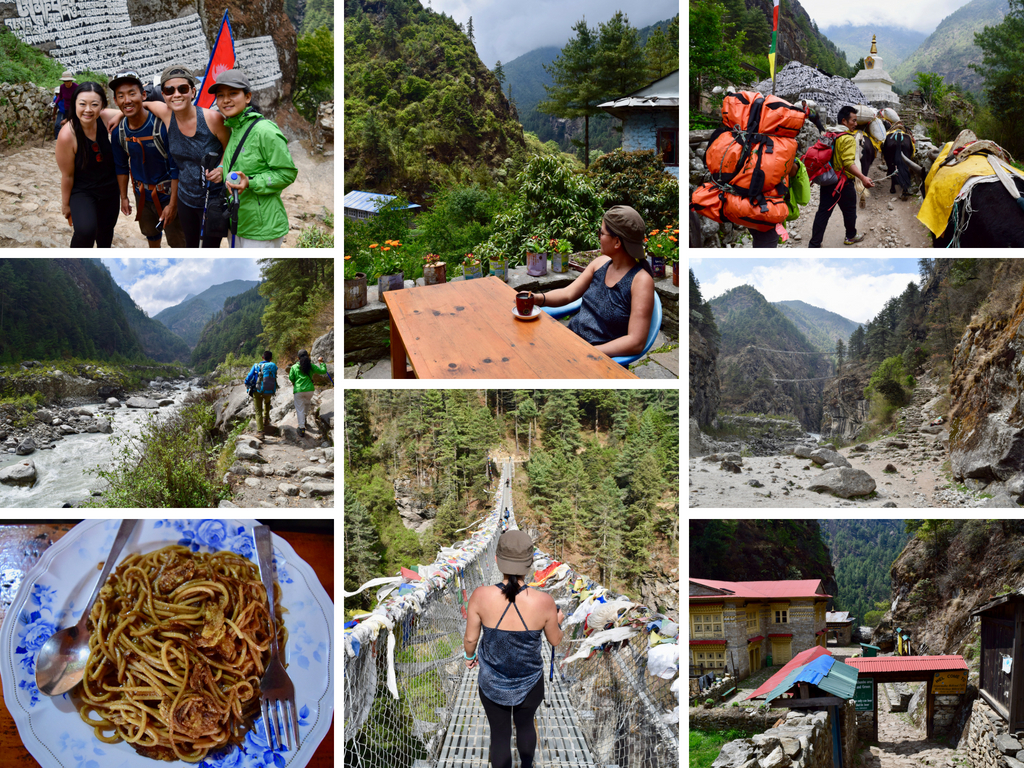 We hiked uphill for a solid 3 hours or more. It wasn't that steep but it was unrelenting and after 9 hours of hiking already at this point, it was really tough. My legs felt so heavy and I couldn't move faster than a snail's pace.
Eventually at 5:45 pm we reached the Namche Bazaar checkpoint. Another 20 minute climb took us to the town itself where the local market was just wrapping up. What a massive 11.5 hour day!
I was absolutely exhausted and thankful that tomorrow was a rest day. I was so looking forward to a sleep-in only to be told by our guide Keshar that we would be getting up at 6 am to go on a hike! He promised it would be a much shorter one & that it would help with acclimatization.
Himalayan Lodge was the best acoomodation on our trek. We stayed here for 2 nights on the way up and 1 night coming down the mountain. My favourite part was that there was a real bathroom on the 2nd floor with a sit-down toilet. We did not find that in any other place. There was also a hot shower available for Rs. 450 / $4.50 which Tracy said was very good.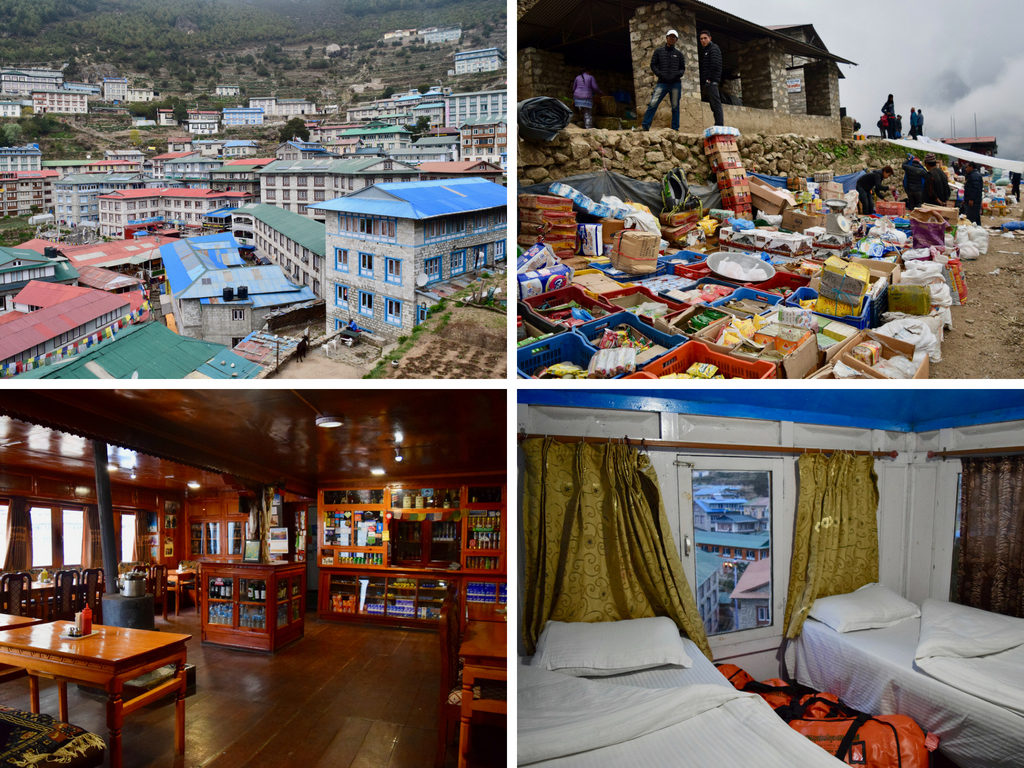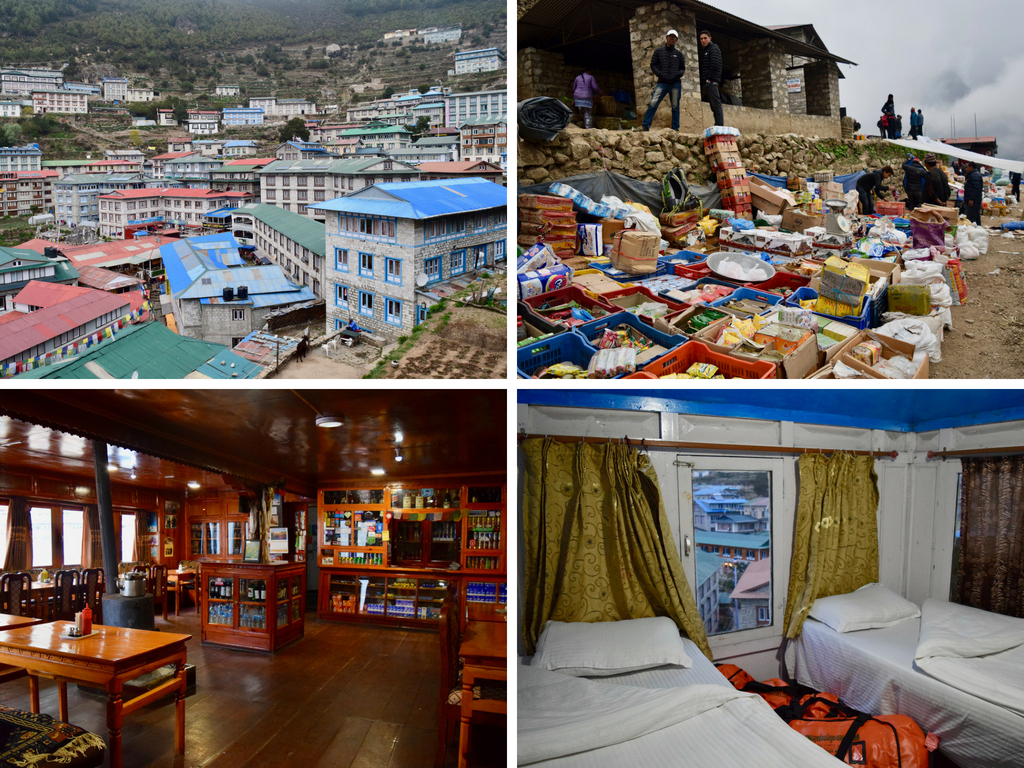 Day 3. Sat 26 May: Namche Bazaar, 3440 m
Hours trekking: 3 hours
Temperature: 20°c /2°c – 68°f /35°f
Accommodation: Himalayan Lodge
Highlights:
Tenzing Sherpa memorial and viewpoint
Sagamartha National Park Visitor Center
Namche Bazaar lookout
Our rest day began at 7:20 am with a 20 minute hike to a nearby viewpoint. Here there was a memorial to Sherpa Tenzing Norgay, who was the 1st person to reach the summit of Everest in 1953 together with Edmund Hilary. I loved the towering red statue with his smiling face, that would come to characterise the Sherpa people.
All around me were the Himalayan ranges, including Everest behind the clouds. We walked over to the lookout spot and waited a few moments for it to clear before seeing the a glimpse of the distinctive black face of the world's highest mountain. I was a little underwhelmed to be honest!
We then visited the Sagamartha National Park Visitor Center which featured displays on Everest climbers, Sherpa culture and the flora and fauna of the region. There was also another smaller Sherpa museum nearby.
Next we headed up another trail that led to the Everest View Hotel, from where there are iconic mountain views. After yesterday's long hike, my legs were feeling pretty sore and it was a hard slog up. 25 minutes later we reached a viewpoint overlooking the whole of Namche Bazaar. It was really foggy but I managed to sneak in a few great photos.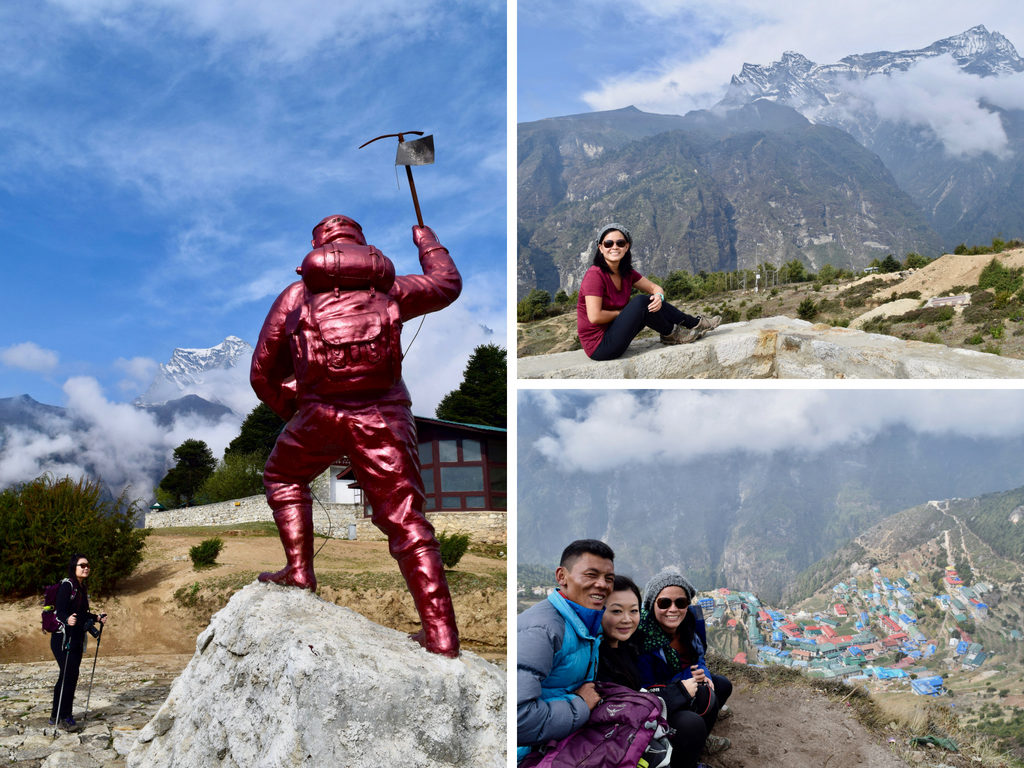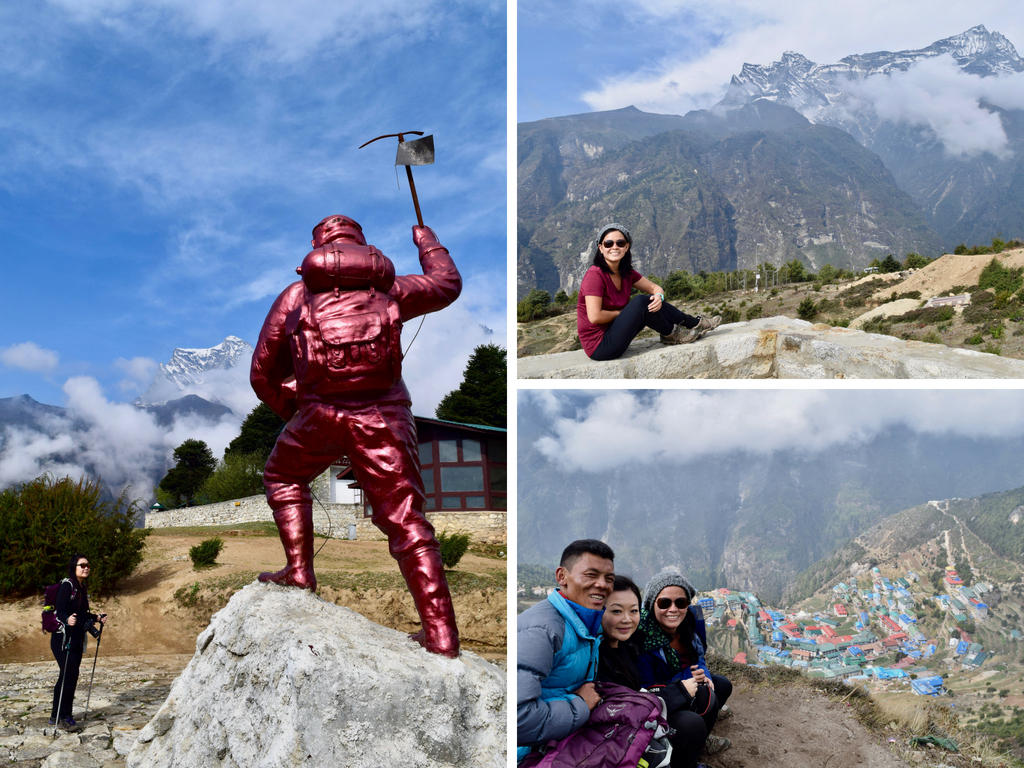 As the weather was pretty poor we decided not to continue on to the Hotel, saving a good 2 hours. Yay! Back in Namche Bazaar we stopped at a volleyball tournament where teams across the Khumbu Valley travelled to compete for $7000 in prize money. It was a pretty huge deal.
Then we went back to our guesthouse to rest & have lunch. After our meals we hit the streets of Namche Bazaar. As the biggest settlement in the region, it's a major tourist hub of grocery stores, souvenir shops, trekking gear outlets, hotels, cafes and tons of bakeries (which offer free wifi and charging). There are also a number of bars with happy hour & Everest film screenings.
It was interesting to go shopping with Isha. As a Nepalese, she paid 50% less than what foreigners would be charged for souvenirs. I asked her to negotiate the price of a head buff for me. When I went to pay, the vendor was furious at Isha for negotiating the price on my behalf!
Tracy wasn't feeling well so we went back to the guesthouse and had a quiet evening. We both started taking Diamox at this point – though there are other altitude sickness medications you can take.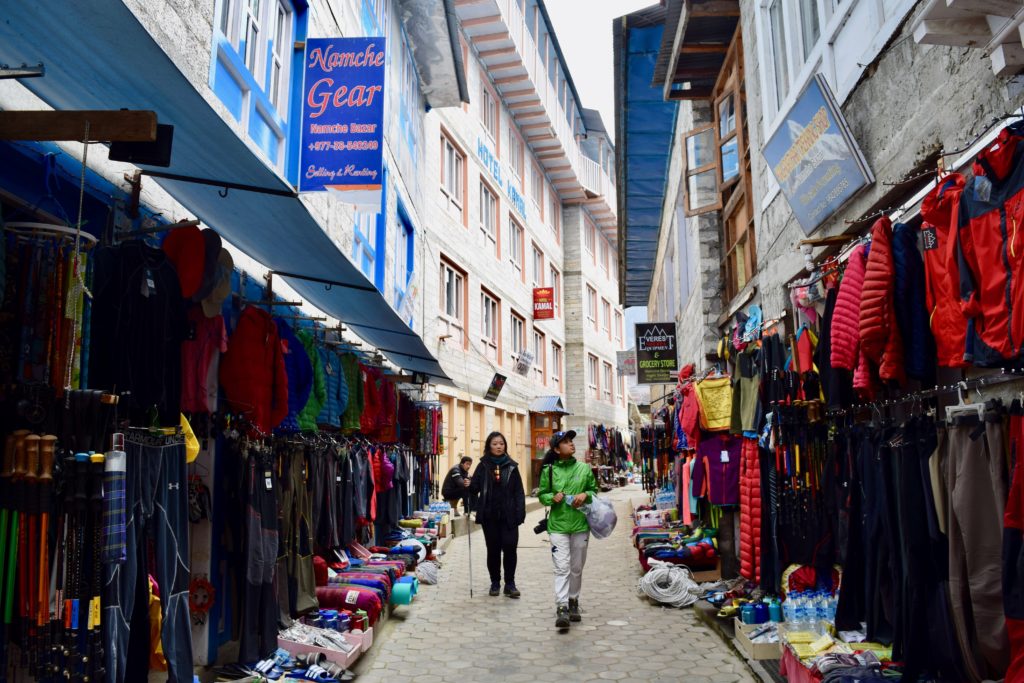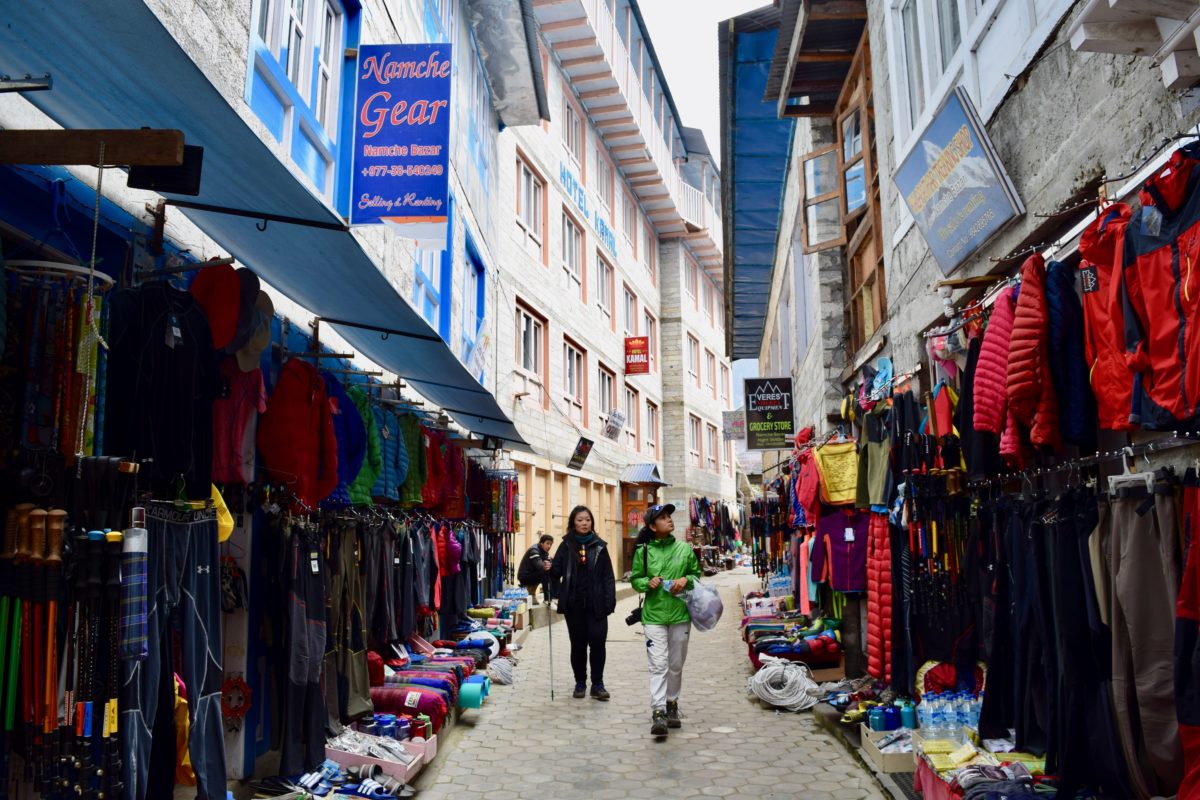 Day 4. Sun May 27 – Namche Bazaar to Pangboche, 3985 m
Hours trekking: 10.5 hours ( incl. 1.5 hour lunch & 35 mins at Tengboche Monastery)
Elevation gain: + 445 meters
Temperature: 21°c/2°c – 70°f /35°f
Accommodation: Eco-Holiday
Highlights:
Tengboche Monastary
Rhododendron valley
Vomitting
For the 3rd night in a row, I woke up remembering vivid dreams of things such as glistening bathrooms, hot showers & garlic soup. I never recall any of my dreams so I was loving this side effect of sleeping at altitude! Tracy was still not feeling well from yesterday & we were both had numb, tingly fingers from the effects of Diamox.
We started trekking at 7:40 am on a gentle uphill climb before a long descent – this filled me with dread as it meant we'd have a tough climb on the way down the mountain. The path was along a winding road along the cliff face. It was very dramatic but I was disappointed that we weren't yet surrounded by snow capped mountains. We did however come across our first yaks on the Everest Base Camp trek!
We hit a road block in the form of an old man surrounded by large signs. Apparently he has been maintaining the trail for 20-30 years and was seeking donations. Our money was in our backpacks being carried by our guide so he gave a little money & we carried on.
We stopped for lunch at 11:10 am. The restaurant had outdoor seating and great food. I had a little diarrhea in the morning and it came back with a vengeance after lunch. My stomach also started churning and feeling queasy.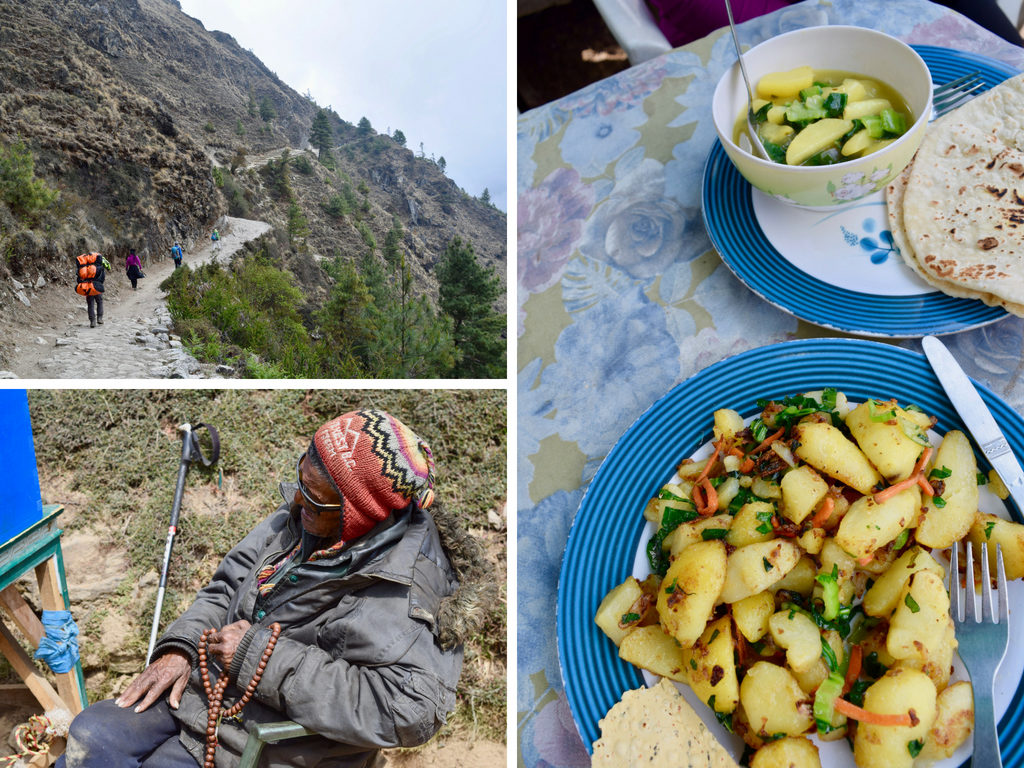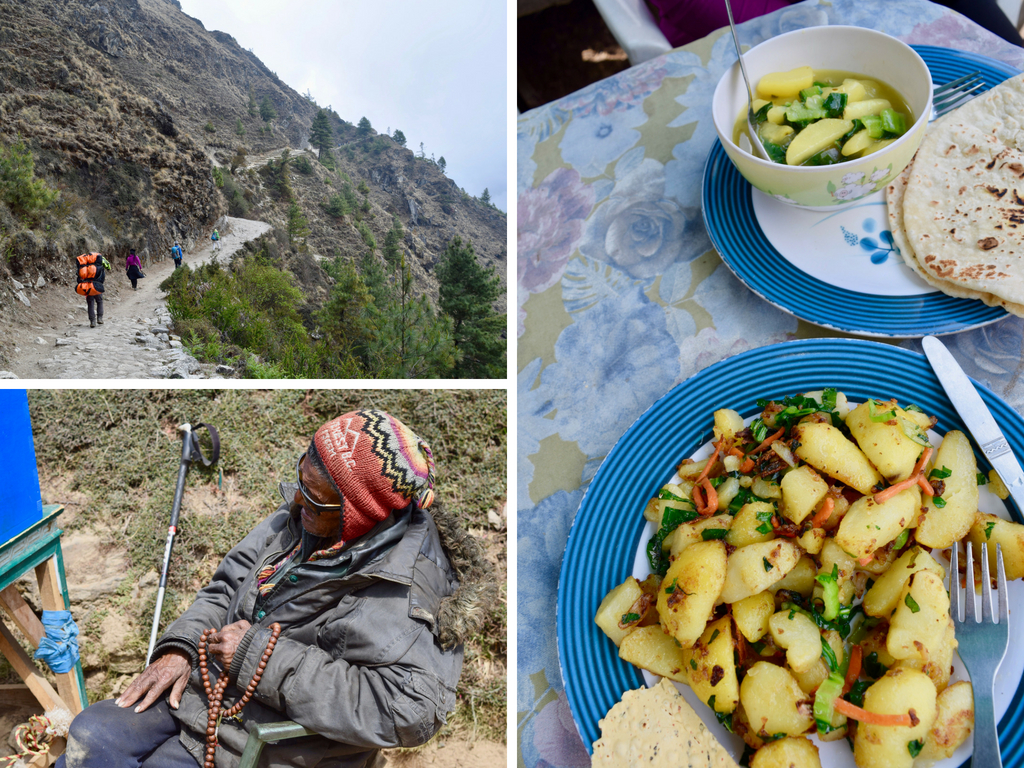 At 12:35 we started hiking again on a rocky uphill climb all the way up to Tengboche Monastary. We reached it at 2:50 pm and I was exhausted. We explored the monastery for 35 minutes. I enjoyed taking photos of it outside but the inside wasn't too interesting for me.
We went down a very pretty rhododendron valley with yellow & white flowers blooming. It felt like Japan in cherry blossom season.
We reached the tiny village of Phorse which was to be our stop for the night but our guide recommended us to continue further to Pangboche. I was really tired and feeling a little unwell but once I start I like to keep going, knowing that it would also mean a shorter day tomorrow. So on we went & the next section along the gorge river was very scenic.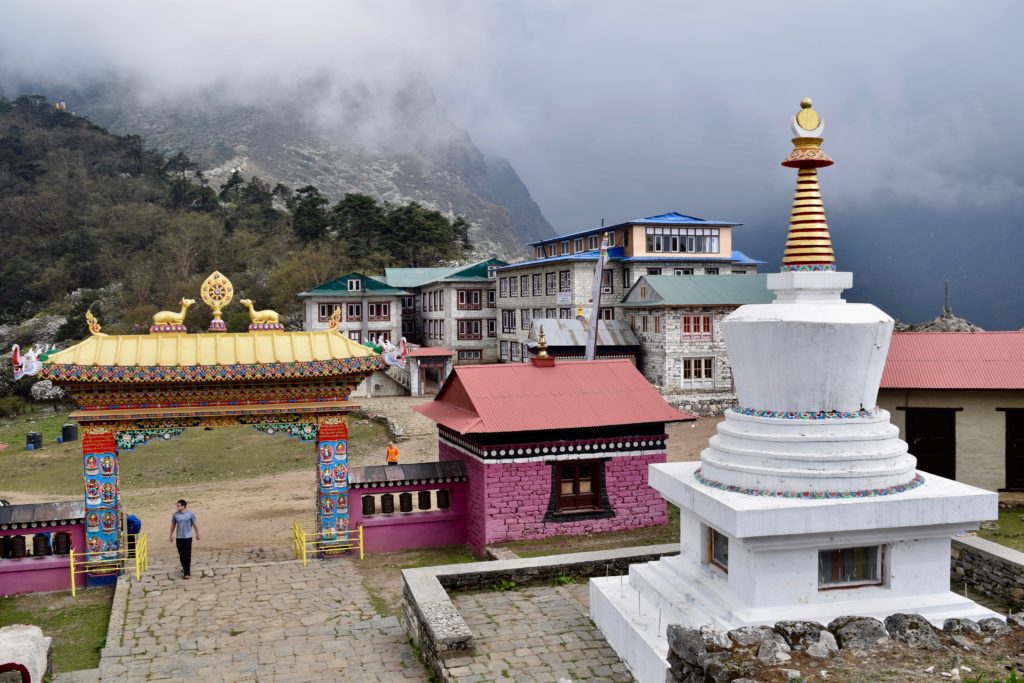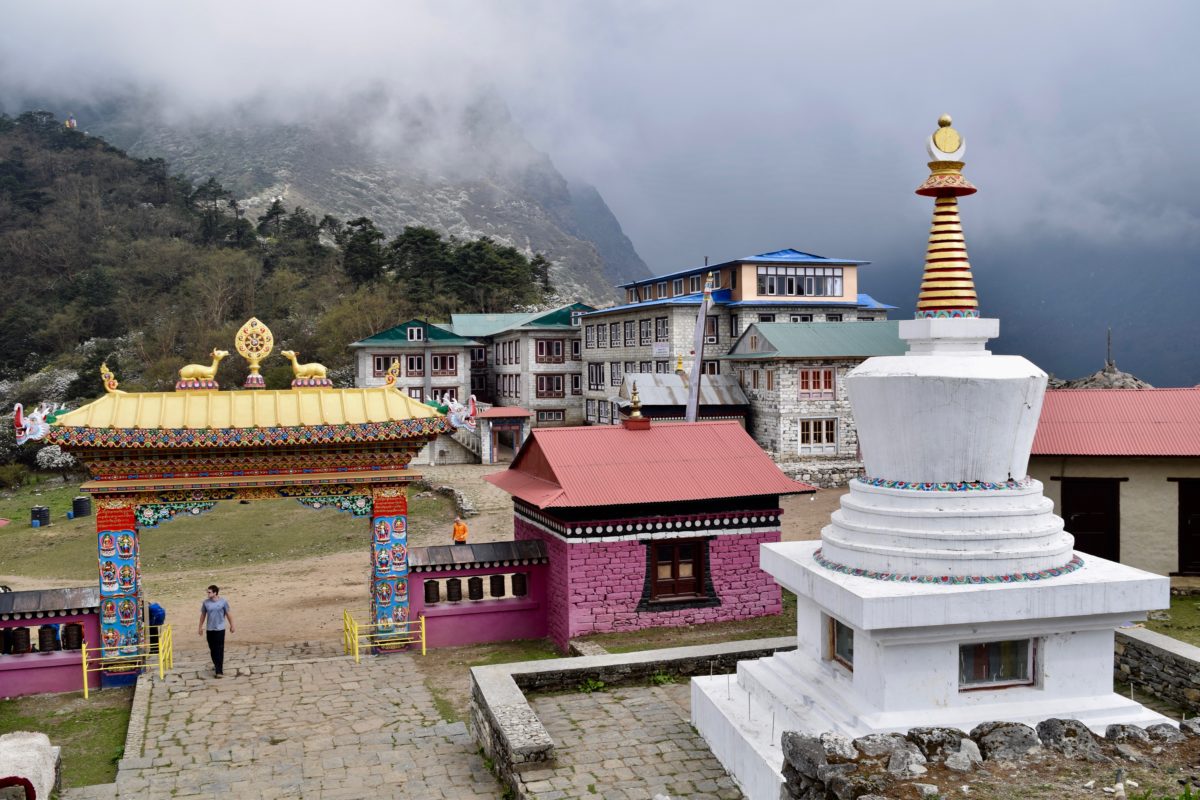 Finally we arrived in Pangboche at 6 pm and we had ticked off another 10.5 hour day. At least it was shorter than day 2 though it felt harder on my body.
At the guesthouse dining hall for dinner I felt like throwing up. I asked my guide Keshar for a bag but he just asked me to drink garlic soup – I think my request was lost in translation. Sure enough a few moments later I bolted down the stairs, threw open the front door, pushed aside the washing on the line and vomited on the grass.
I felt much better after that! I gulped down my garlic soup and then lay in bed watching Netflix until going to bed at 9:30 pm.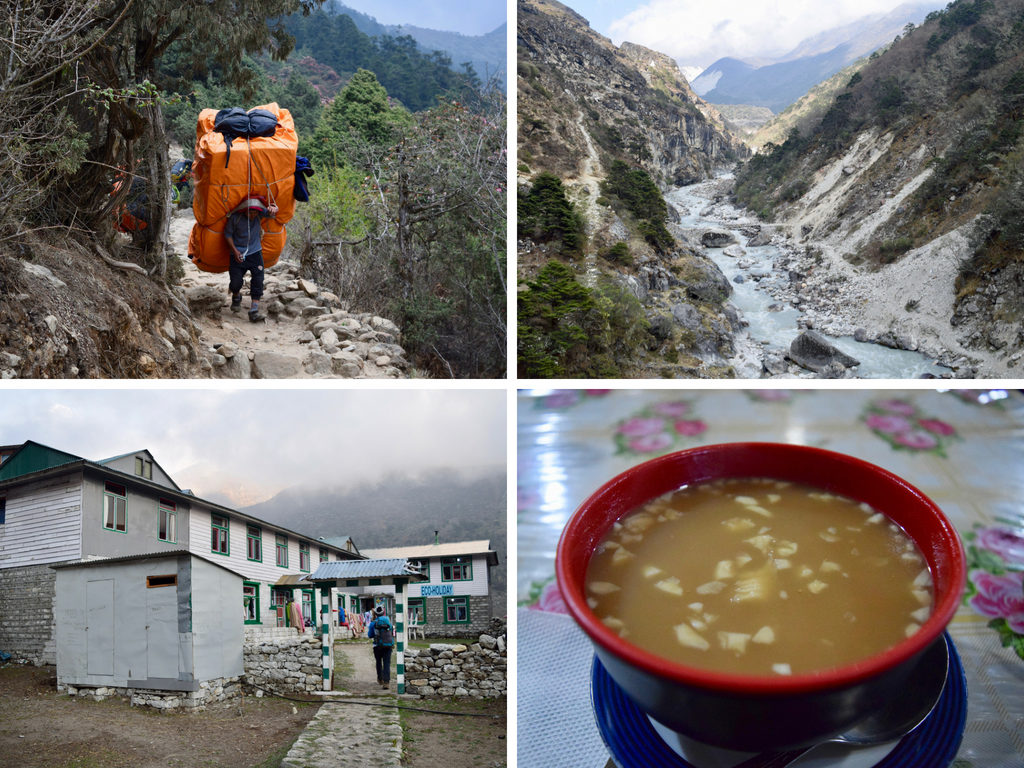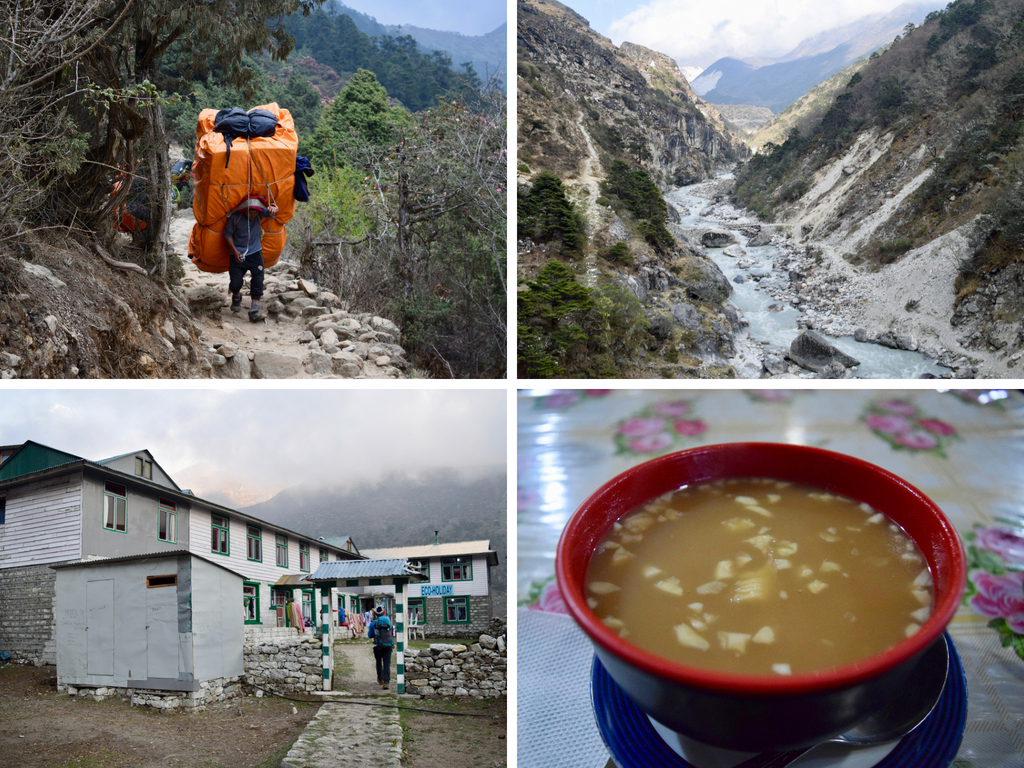 Day 5. Mon May 28 – Pangboche to Dingboche, 4410 m
Hours trekking: 4 hours
Elevation gain: + 425 meters
Temperature: 18°c / 1°c – 64°f /33°f
Accommodation: Yak Lodge
Highlights:
Hot shower
Netflix, snacks, ramen
Today we had a "late" 8:35 am start but it was to be a short day. Pangboche is home to the biggest Buddhist Monastery in the region but we didn't visit. I didn't mind missing out, I just wanted to keep trekking. It was a flat and then gentle uphill hike along the river. It was an easy trail but it still felt hard.
Dingboche is a cute little village with several small shops. We browsed around for snacks & souvenirs.
The highlight was having my 1st hot shower in 5 days! It was an outside shower & there was a light dusting of snow as I headed out. The shower felt sooooo good and the gas heater was excellent. The temperature went up to 52 degrees celscius but the risk of scalding was totally worth the hot water!
After my shower I curled up in bed in my sleeping bag and watched Netflix on my phone, eating snickers bars and peanuts. I was in heaven.
I had diarrhea 5 times today, thankfully all before my shower. At the shops I saw Korean spicy ramen & started to crave it badly, especially with my queasy stomach. I went out to buy a packet & the kitchen cooked it up for me. It hit the spot and would become my go to comfort food on the Everest Base Camp trek.
With a hot shower, Netflix, snacks and ramen, I felt well and truly spoiled!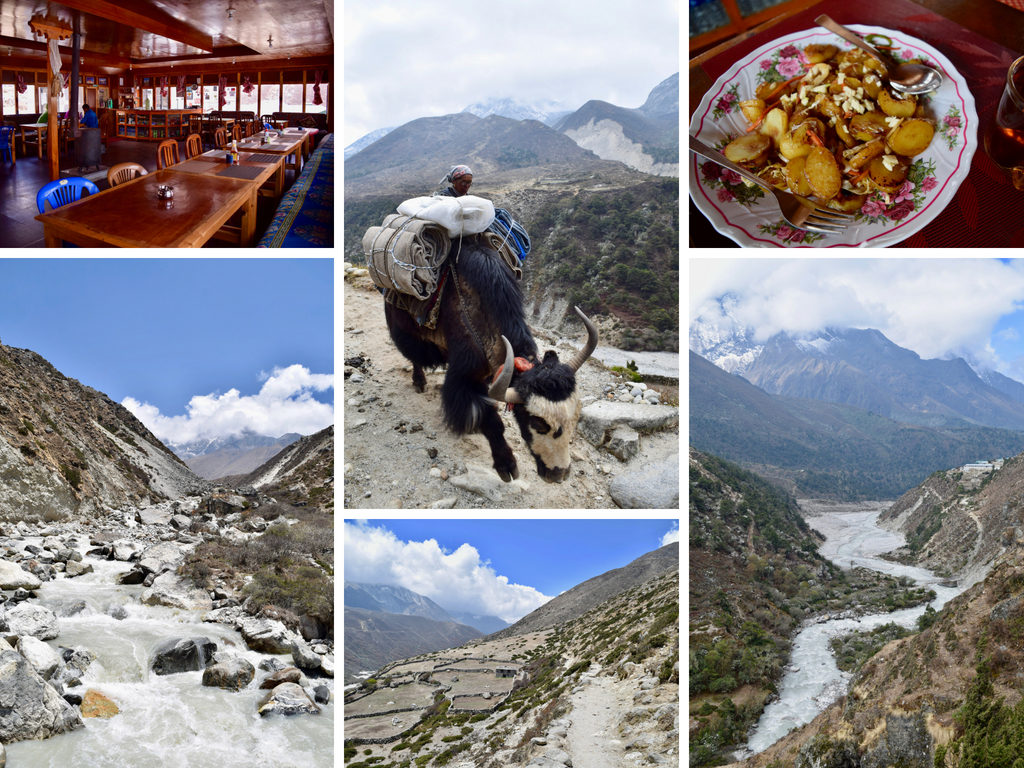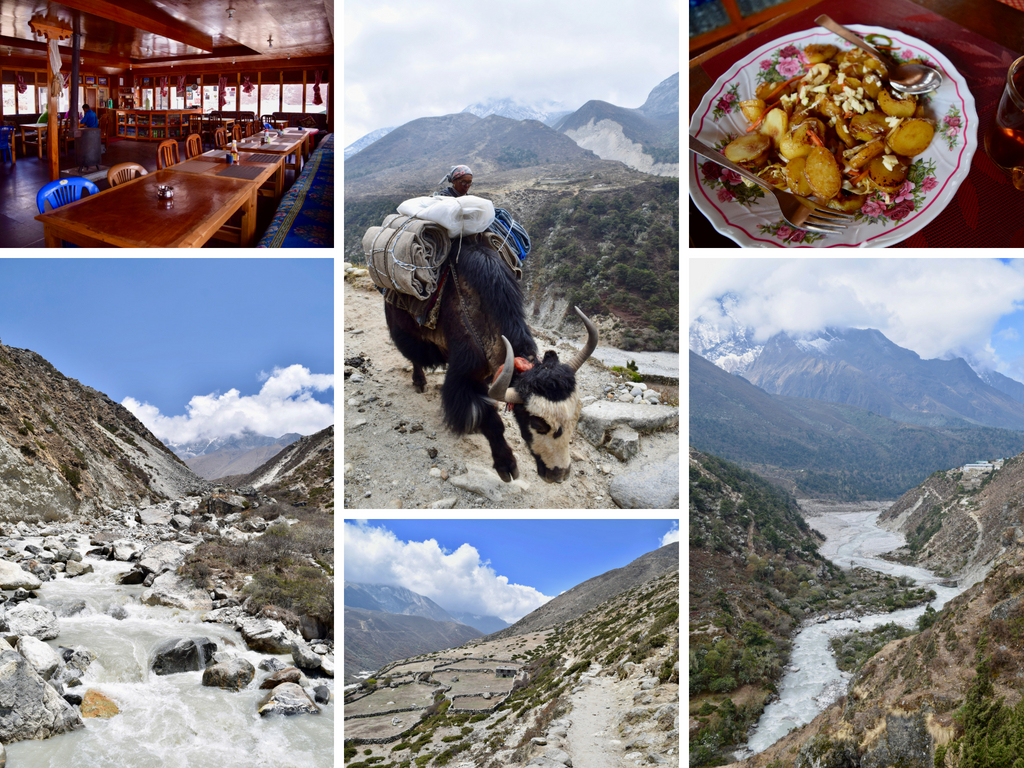 Day 6. Tues May 29 – Dingboche to Dugla, 4620 m
Hours trekking: 3 hours
Elevation gain: + 250 meters
Temperature: 16°c / 4°c – 60°f /39°f
Accommodation: Yak Lodge
Highlights:
Everest Marathon
Stunning Himalayan landscape
Today was a really fun day on the trek as the Everest Marathon was being run from Base Camp to Namche Bazaar. 13 runners completed it between 7-15 hours while it would take us 2 days going down the same route a few days later.
We passed many more runners than that though, around 60. I'd ask them where they were from to & the responses included Mexico, Australia, New Zealand, England, Korea, Holland, Vietnam, Thailand, Lithuania, USA, Germany, Swiss and Nepal.
I cheered each & every one of them on – hard! Having run a couple of half marathons, I know that running can be boring and supporters can really give you a boost. I ended up loosing my breath & my voice, cheering is exhausting! But it was lots of fun and totally worth it. The marathon was another unexpected surprise on the EBC trek!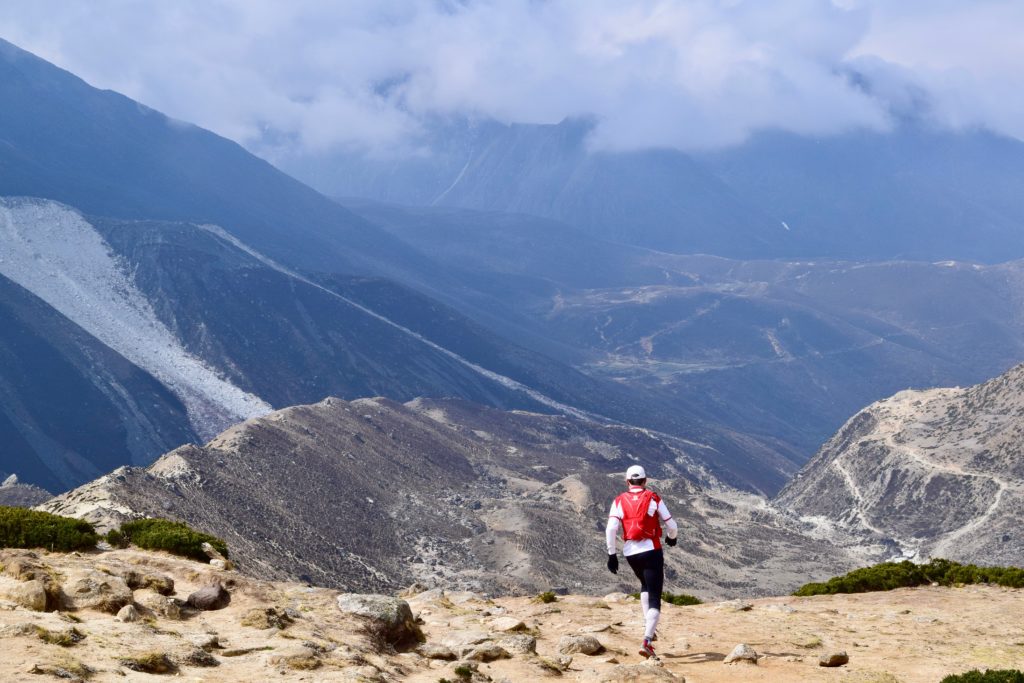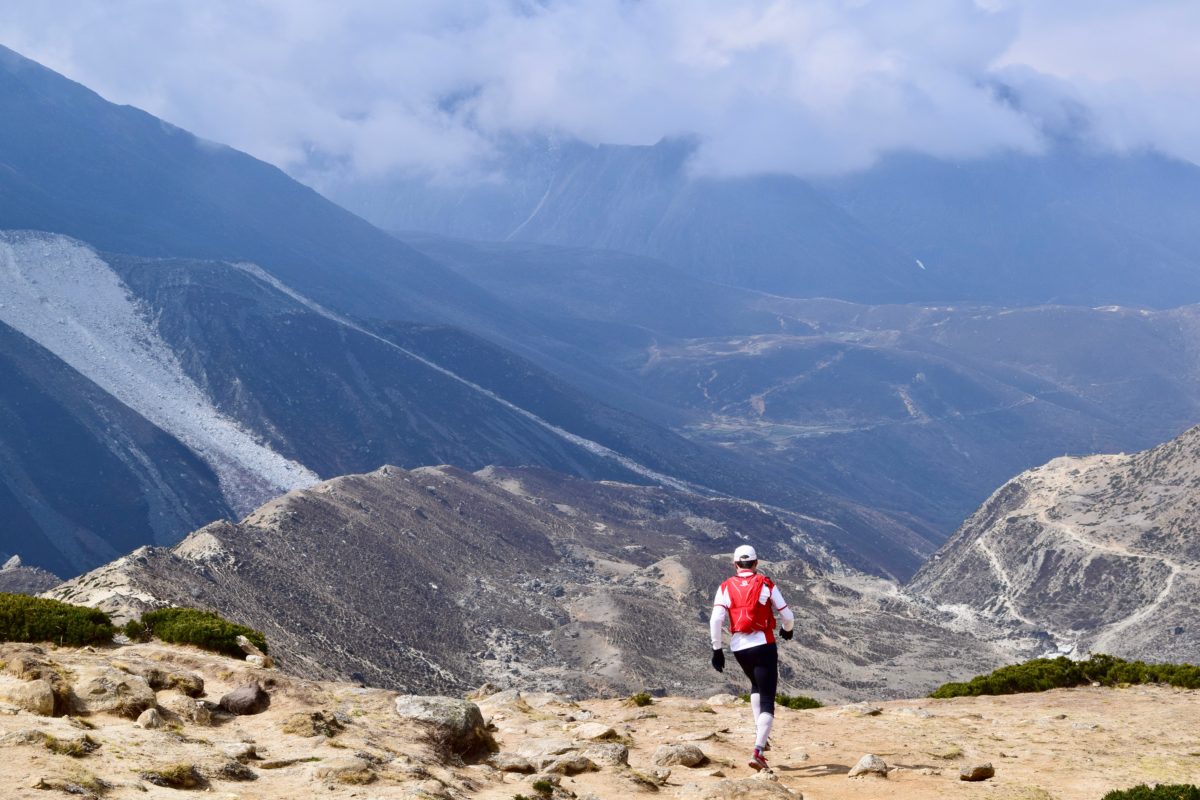 Today the landscape also really turned it on as the the temperature felt like it dipped sharply. It was very cold but it was the 1st time on the trail that I was really impressed by the scenery. The Khumbu Khola valley was absolutely stunning with huge mountain ranges all around us.
We reached our teahouse in Dugla in 3 hours. Our days were getting shorter as we were climbing higher, in order to acclimatize properly. Ascending too fast can bring about altitude sickness.
After lunch I had a nap in the sunroom where it was really warm. My guide Keshar kept waking me up & making sure I didn't fall asleep so I would still be able to sleep at night. Then Tracy & I spent several hours chatting in our room before dinner and an early night.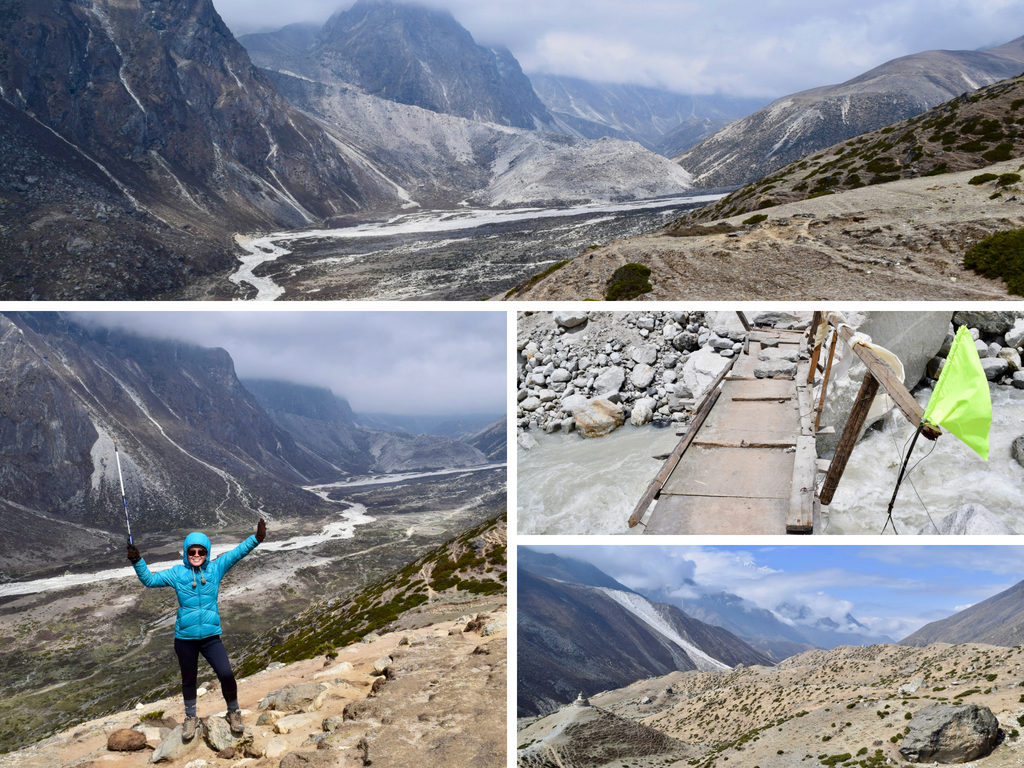 Day 7. Wed May 30 – Dugla to Lobuche, 4940 m
Hours trekking: 3 hours
Elevation gain: + 320 meters
Temperature: -4°c / -7°c – 25°f /19°f
Accommodation: Hotel Mother Earth
Highlights:
I had a sleepless night which is a common symptom of Diamox and being at high altitude. Fortunately I didn't feel tired but I was happy that today would be a short day.
Today's trek started at 8:40 am with a steep climb up a rocky mountain. On the other side was a memorial to some of the many climbers who have lost heir lives on Everest. The cemetery-like place was very colourful with prayer flags blowing in the wind and stone memorials of all shapes & sizes.
The most famous one was that of Scott Fisher, leader of the Mountain Madness expedition. He was 1 of 8 people who were caught in a blizzard and died while descending from the summit in 1996. The disaster was made into the Hollywood movie "Everest" and earlier it was written about in "Into Thin Air" by Jon Krakauer, one of the survivors. The story has struck a chord with me since I first read the book it in 2016 and it was often in the back of my mind while I was hiking.
The memorial was a vivid reminder of the dangers of Everest even though we were very safe on the Base Camp trail to 5380 meters. The summit is at an altitude of 8848 meters, well within the so-called Death Zone.
The Nepalese are very superstitious and Isha didn't want to go near the memorials. After some time paying our respects, we continued on the trek to Lobuche.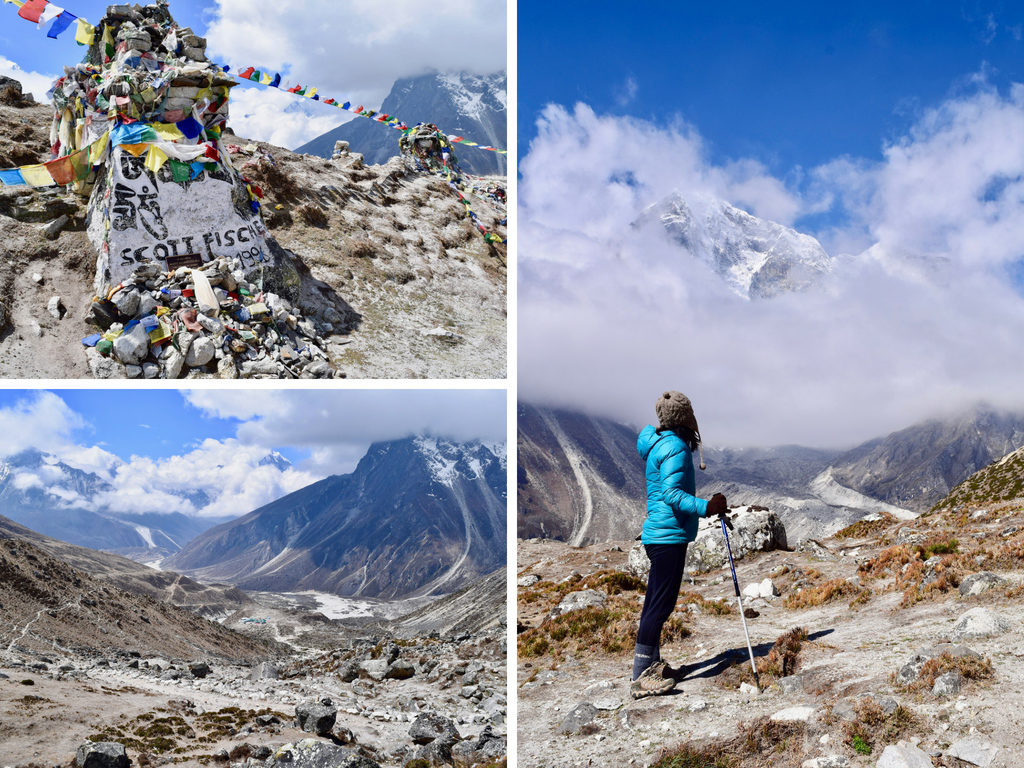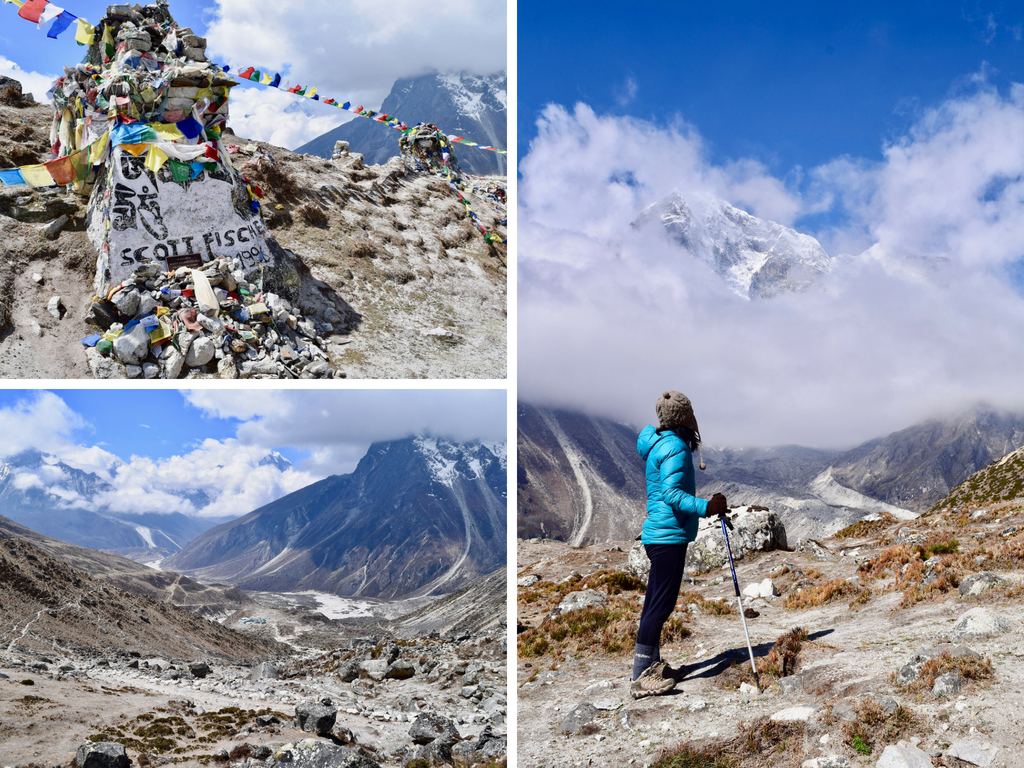 After lunch at the teahouse, we had the whole day free. There were many horses grazing nearby and my friend Tracy was interested in hiring a horse to ride. We enquired about the price – $100 an hour. Ouch! The high rate was due to demand as people with altitude sickness hire them to reach Base Camp. Funnily enough I didn't see anyone on a horse during the whole trek besides myself on day 10 after I developed High Altitude Pulmonary Edema (HAPE)! More on that later…
Hotel Mother Earth was very nice & it had a separate café on the property. There I found a copy of "Into Thin Air" so I spent the whole day reading it. It wasn't as good the 2nd time round but it felt a little more relatable!
Tomorrow – we reach Everest Base Camp!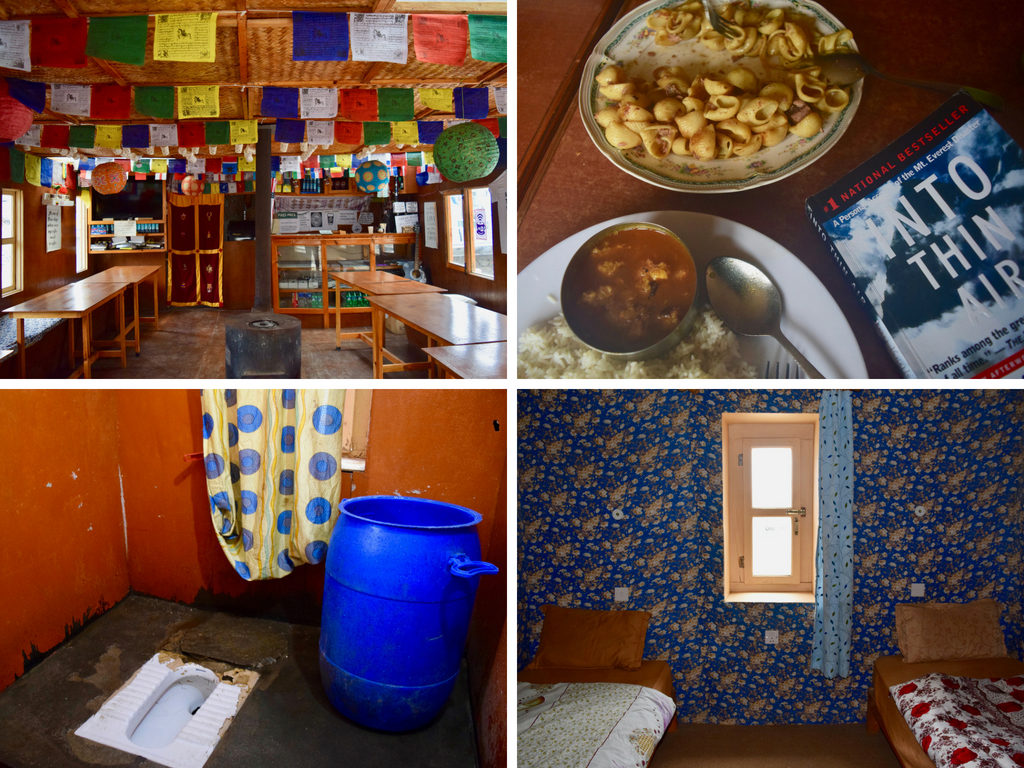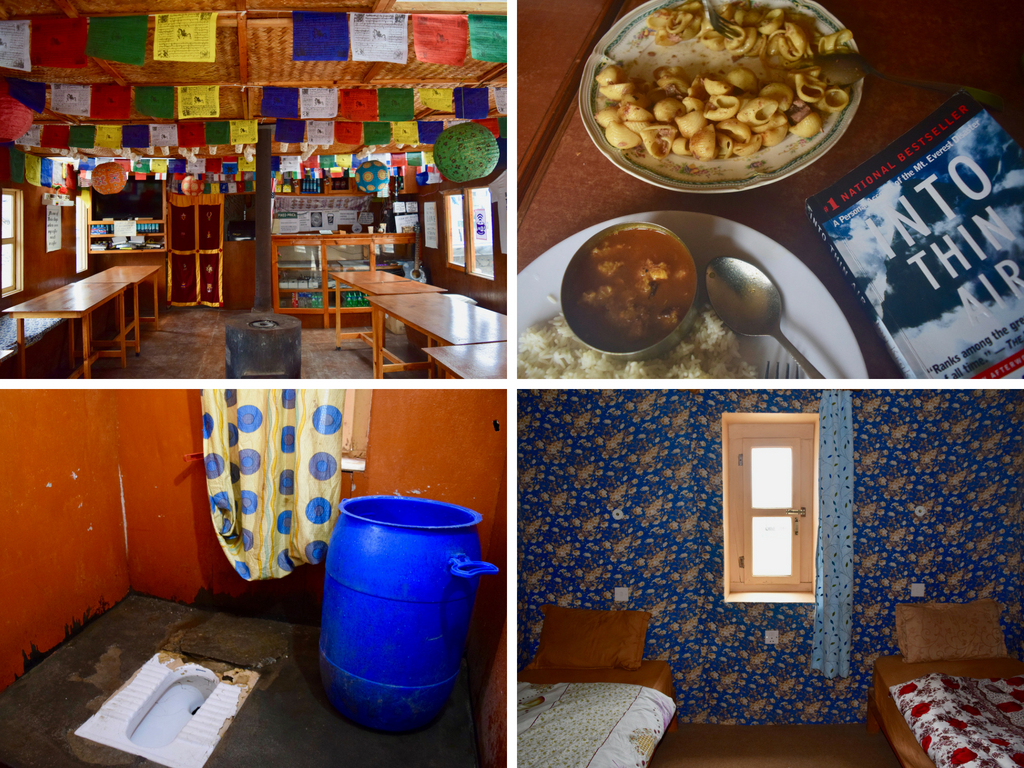 Day 8. Thurs May 31 – Lobuche to Gorak Shep to Base Camp (5380 m) to Gorak Shep, 5164 m
Hours trekking: 11 hours (inc. 1 hr lunch and time at Base Camp)
Elevation gain: + 440 meters
Temperature: -5°c / -9°c – 23°f /16°f
Accommodation: Yeti Lodge
Highlights:
Reaching Everest Base Camp
Khumbu Glacier
D-Day. The countdown is set to 0 and today we make tracks all the way to EBC!
We left Lobuche at 7:10 am and it was the most picturesque farewell. The water had looked swampy yesterday but this morning it offered a stunning reflection of the surrounding mountains.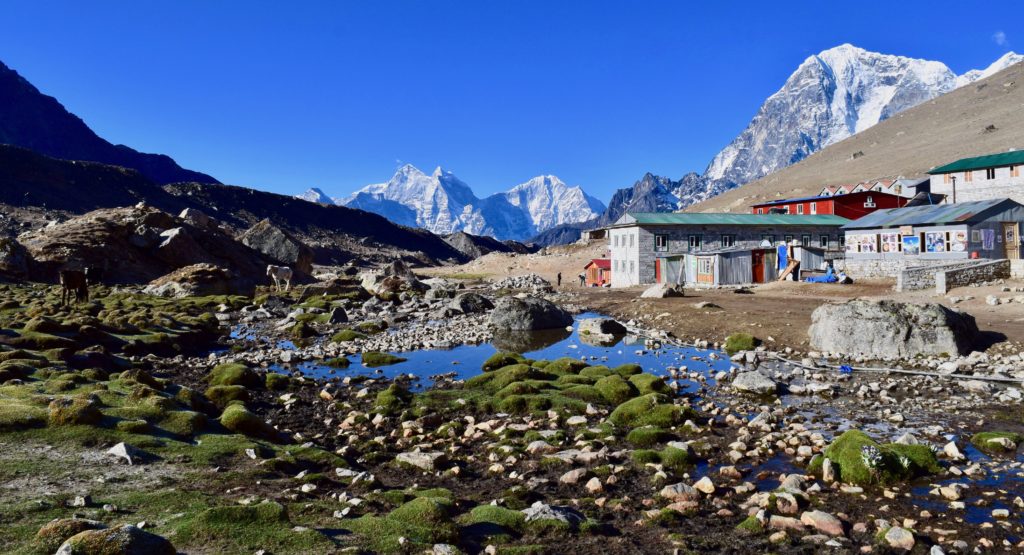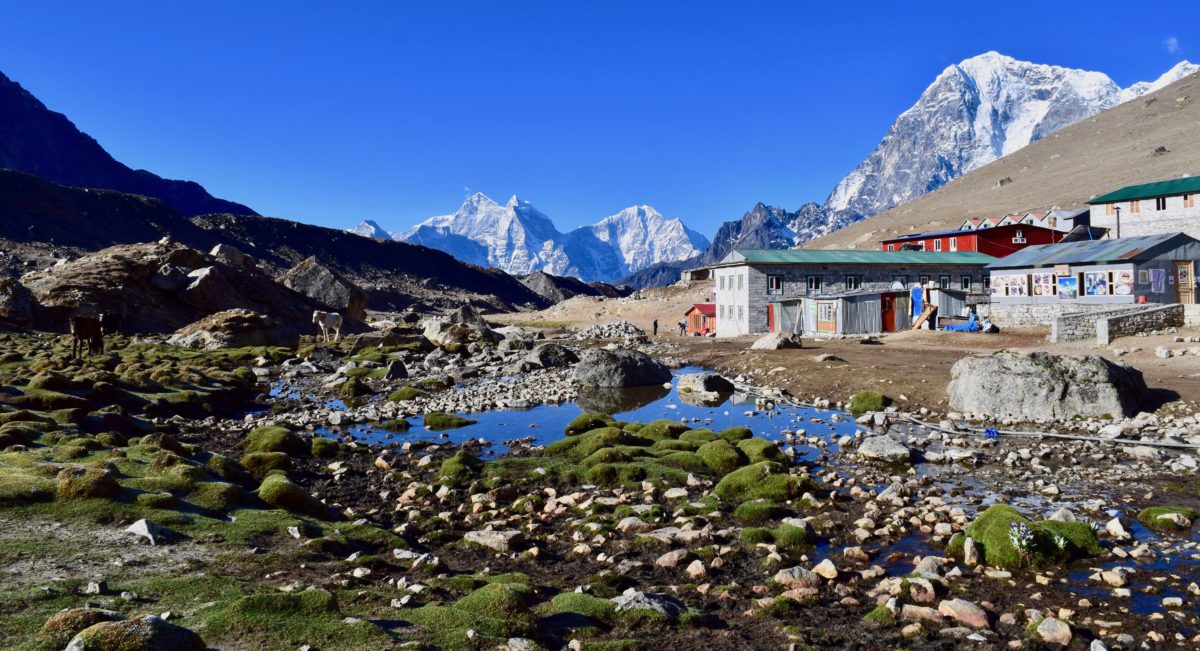 The first challenge of the day was climbing up the huge rocky mountain ahead of us. Our pace was very slow & steady. We reached Thangma Riju where we had a 360 degree panorama of the snow-capped mountains. Our guide Keshar also pointed out a glimpse of Everest along the way.
We hiked for 4 hours and I was uncomfortable the whole time. I still had diarrhea and I badly needed to go to the toilet but there were none along the way. I couldn't bring myself to poop on Everest! Did I mention I had my period too? Ladies, I would advise planning your dates around it if possible.
I was also feeling hot & overdressed – it was the warmest -5 degrees I've been in. I only had 2 layers for bottoms and 3 layers on top but I felt seriously overheated. I would recommend buying Merino wool clothing as it is meant to breathe very well.
We were trekking high across a ridge and from some distance we started to see the tiny settlement of Gorak Shep and Everest Base Camp. We also overlooked little pools of coloured water on the rocky Khumbu Glacier.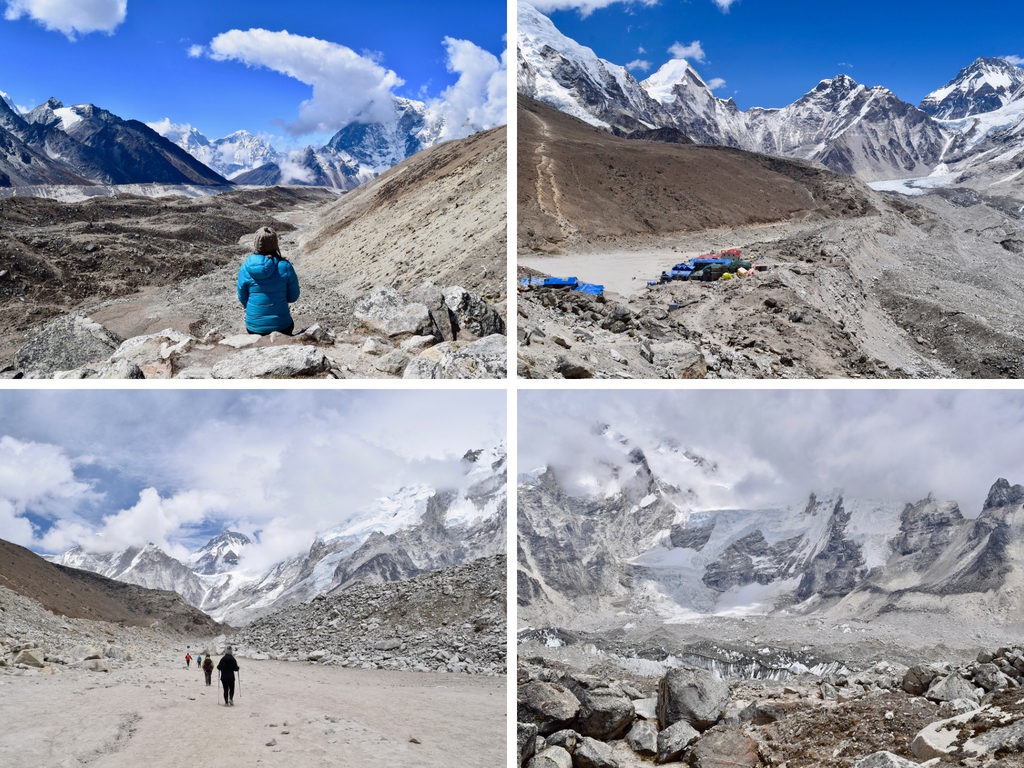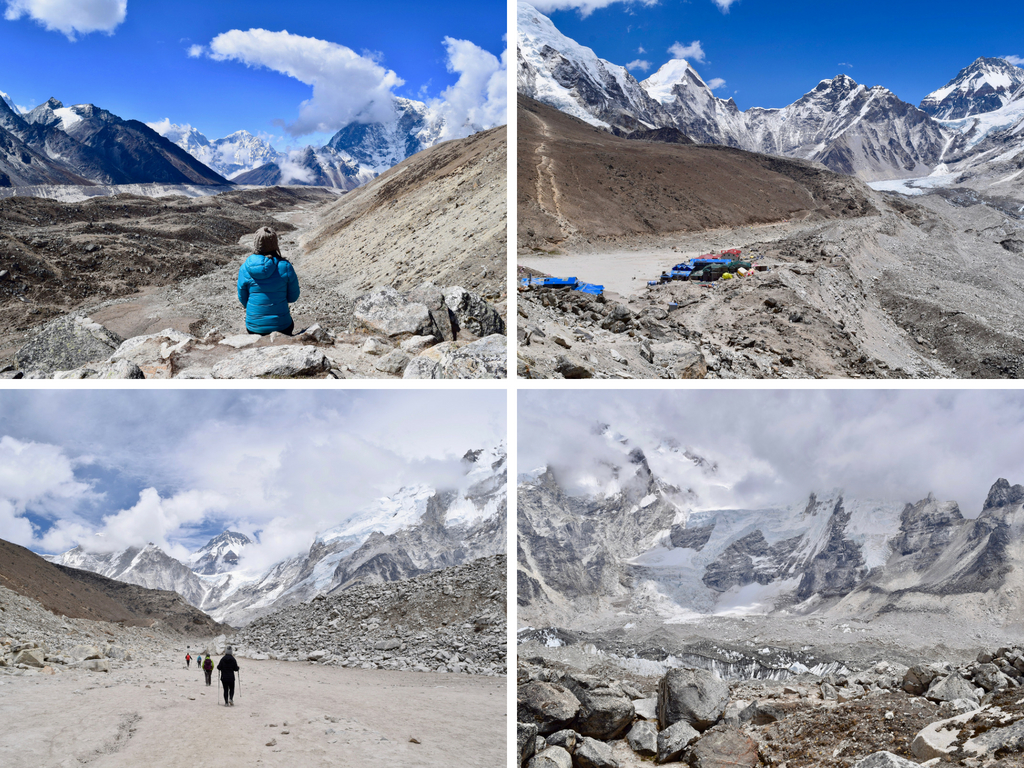 We arrived at Gorak Shep at 11:45 am, just in time for lunch. Unlike the previous days we still had half a day of trekking to go. We began the final dusty, rocky stretch to EBC at around 12:55 pm. We seemed to be the last to arrive for the day at around 3:20 pm. Was I elated? Yes but more than anything I was just relieved & happy to have made it.
In fact, I was also absolutely shattered, as you can see & hear in my Everest Base Camp victory speech 🙂
After taking our obligatory photos at the EBC marker we descended down to the Khumbu Glacier. This is where the real climbers begin their trek to the summit & we wanted to at least set foot on it. It was absolutely magical, especially when it started snowing. Surrounded by glaciers and icicle, I felt like I was in another world. I cherished every moment.
Along with the snow it was also starting to get late and dark so we decided to head back to Gorak Shep.
It was a long 11 hours but what an unbelievable day & an absolute accomplishment for all of us to reach Everest Base Camp!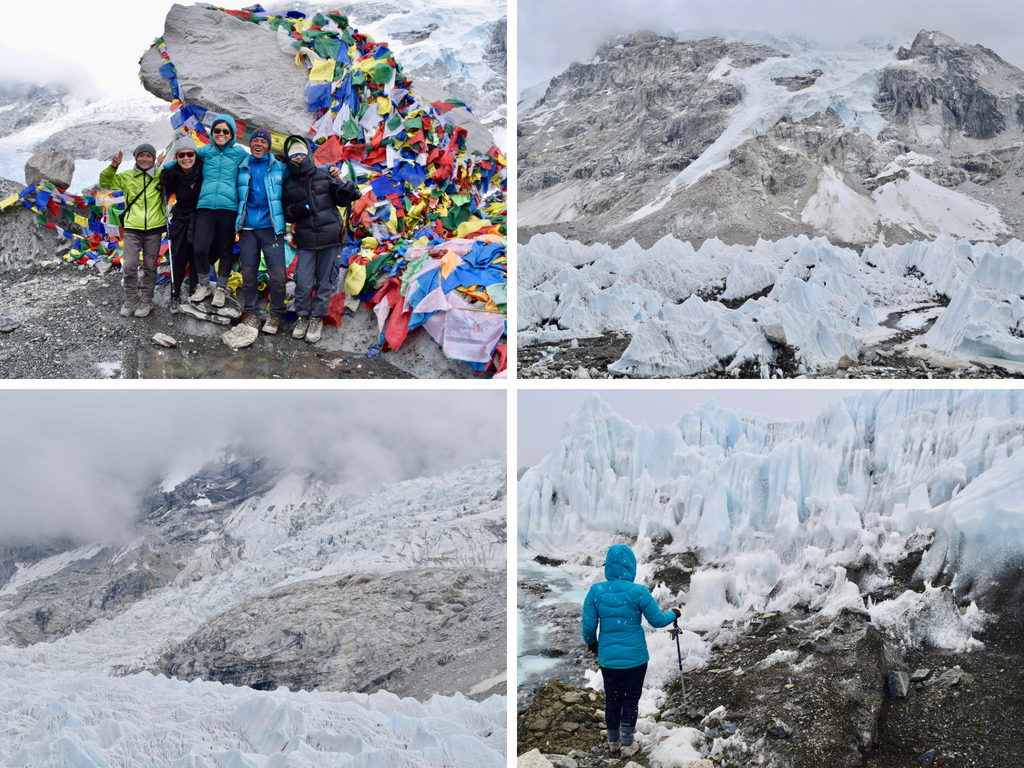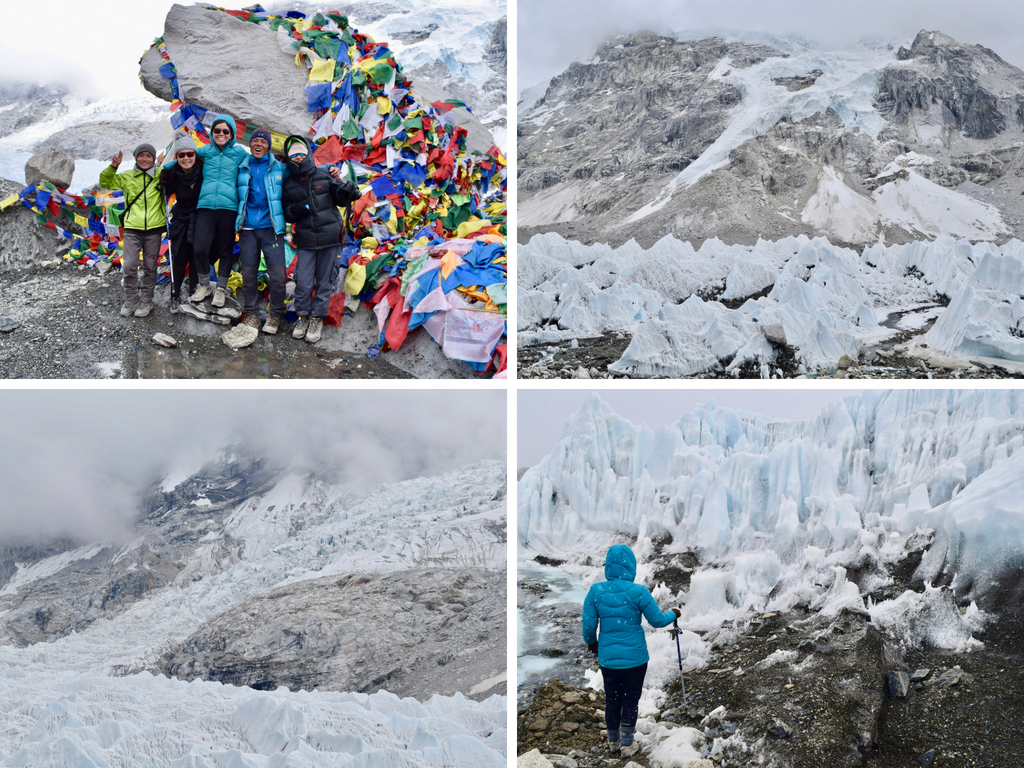 Day 9. Fri Jun 1 – Gorak Shep to Pheriche, 4371 m
Hours trekking: 8 hours (inc. 1 hr lunch but not the optional trek to Kala Patthar)
Elevation gain: – 793 meters
Temperature: 15°c / 2°c – 59°f /36°f
Accommodation: Khumbu Lodge
Highlights:
Developing HAPE
Missing Kala Patthar trek
Pheriche village
I planned to get up at 3:45 am this morning to climb Kala Patthar but that plan went horribly wrong. I had a terrible night's sleep coughing my lungs out. It was -15 degrees but I was so hot. I had trouble breathing lying on my back & I had to constantly sit up to cough.
Kala Patthar offers the most stunning views of the Himalayas, including a close-up view of Everest. I really want to do the hike but I had no sleep & I couldn't get out of bed. Isha & our porter Dinesh also stayed in so it was just Tracy that went out with our guide Keshar. Tracy said that the Kala Patthar was the hardest part of the whole Everest Base Camp trek.
The climb was very steep, it was incredibly foggy and it was freezing in the morning before dawn. Keshar was literally dragging her up the mountain, until the halfway point where they decided to turn back as the visibility was so bad. The clouds did shift for a moment & she caught a fabulous view of Mount Everest: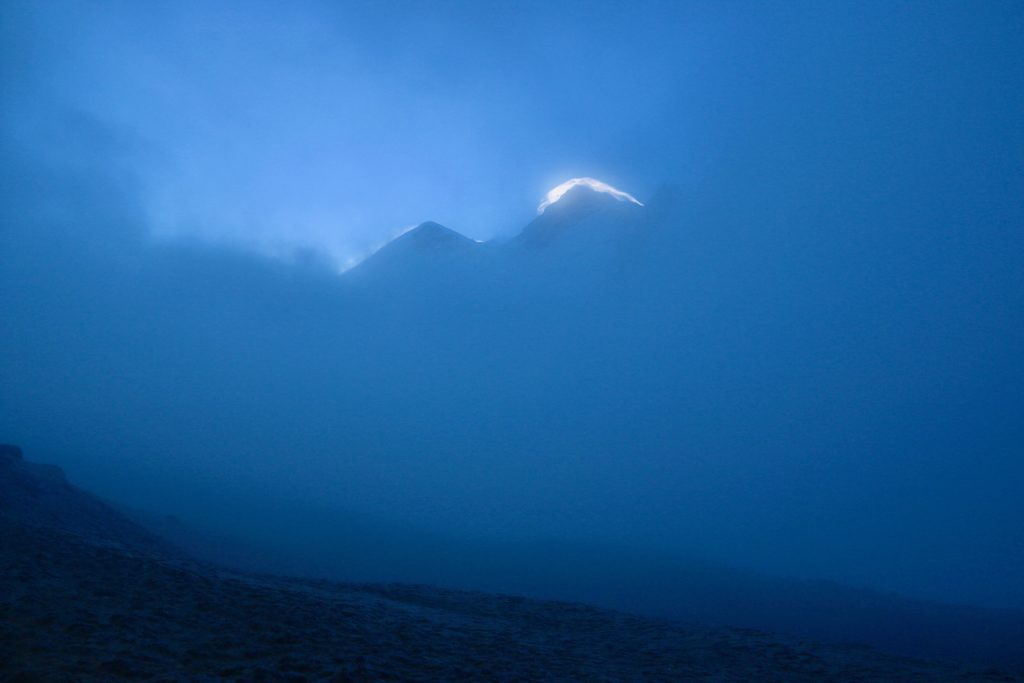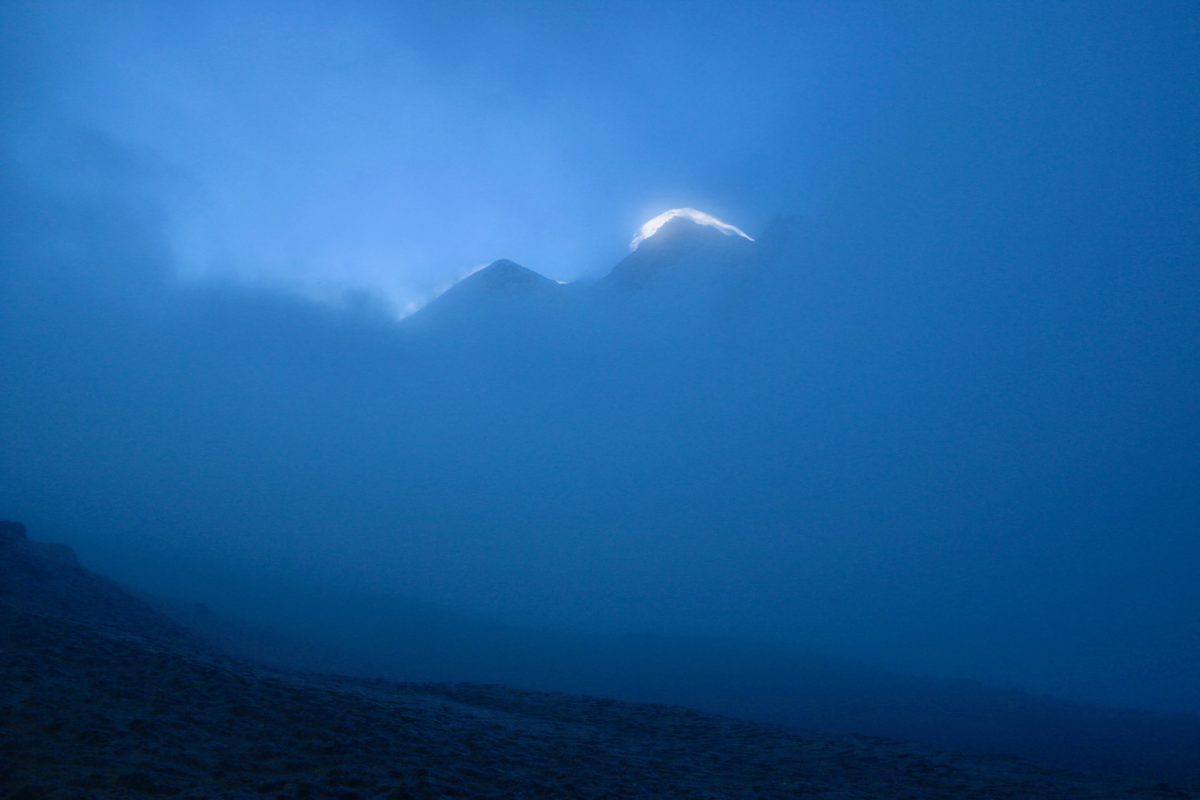 Back at Gorak Shep we all came together for breakfast & then started the long journey back where we came from at around 8 am. I was still feeling really unwell but I had to get moving – it was a serious struggle. When the path was flat I was extremely slow but I could soldier on. Any slight incline though & I grounded to a halt. I couldn't breathe and I couldn't stop coughing.
Keshar & Tracy were really worried about me (Isha & Dinesh were walking ahead). My guide said that my face was changing colours & he didn't think that I should go any further. What could I do? I knew my condition wasn't bad enough for a helicopter evacuation & I didn't want to pay $100 a hour for a horse.
I was also determined to get down the mountain on my own 2 feet, the same way I came up. I knew that as long as the trail was flat, I could do it. It would just be at a snail's pace. I really lent on my trekking poles for support. The uphill sections really scared me though & left me absolutely breathless.
Unfortunately the first section of today's trek was all uphill for about 3 hours until we got to Lobuche for lunch.
At the guesthouse there were signs on altitude sickness & here we realized that I most likely had High Altitude Pulmonary Edema (HAPE). Essentially it's having fluid in the lungs. I had all the symptoms such as shortness of breath, coughing, difficulty walking uphill and fatigue. The suggested remedies were drinking water, taking Diamox and immediate descent, all of which I was doing.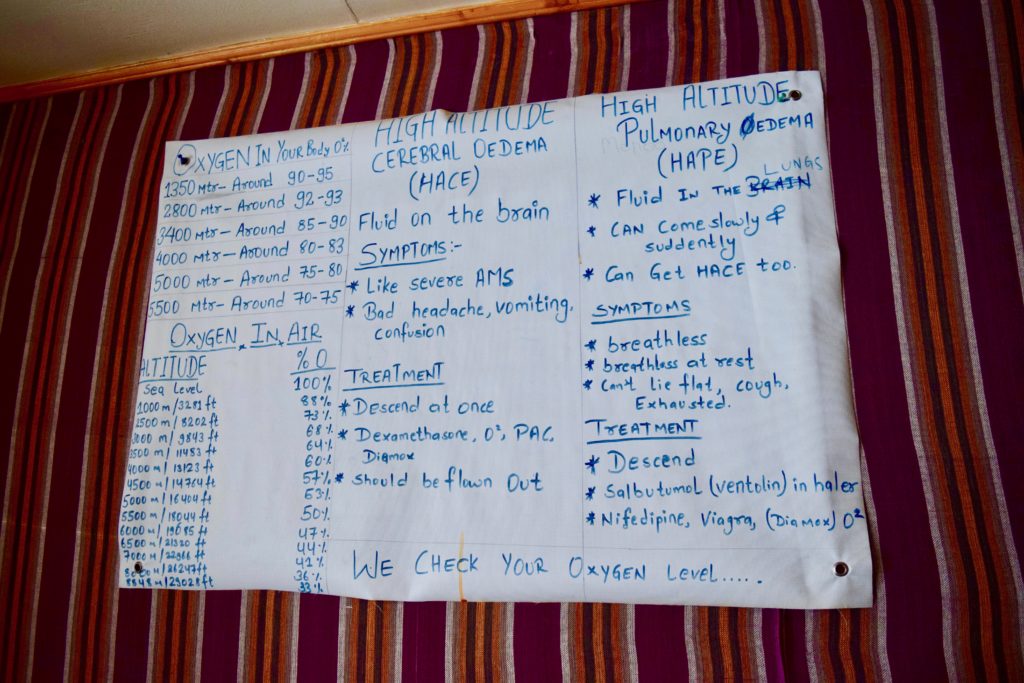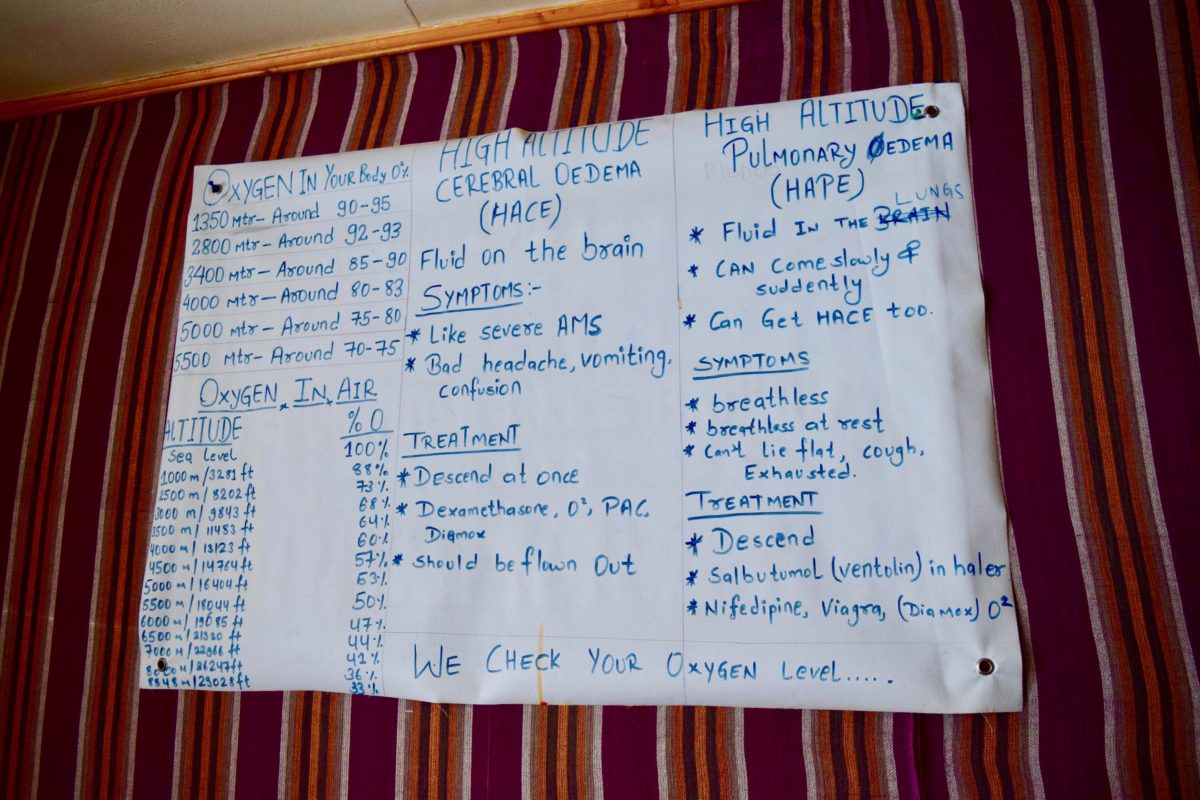 Thankfully the rest of the hiking after lunch was all flat and downhill. That I knew I could do, just at a painfully slow pace. Instead of going back to Dingboche, we went much further down into the bottom of the valley towards the small settlement of Pheriche.
We passed a few people trekking independently heading uphill – I didn't envy them at all. It made me feel grateful going with a tour company and having a guide as I felt confident that they chose the best trail for us. If you are going to trek Everest on your own, ensure you do proper research and don't climb up from Pheriche – you will be in a world of misery!
The scenery however was lovely as we saw true farmland with grazing sheep & yaks. There were also some old ruins. We could see the village from afar but it was like a mirage… it seemed close but it took so long to reach. When we finally arrived in Pheriche, it took another 20 minutes to get to our teahouse – true to form it was the last one in town.
I crashed in my room immediately. I didn't think that it would be possible but my coughing only got worse. I had the same problems sleeping and feeling breathless all night.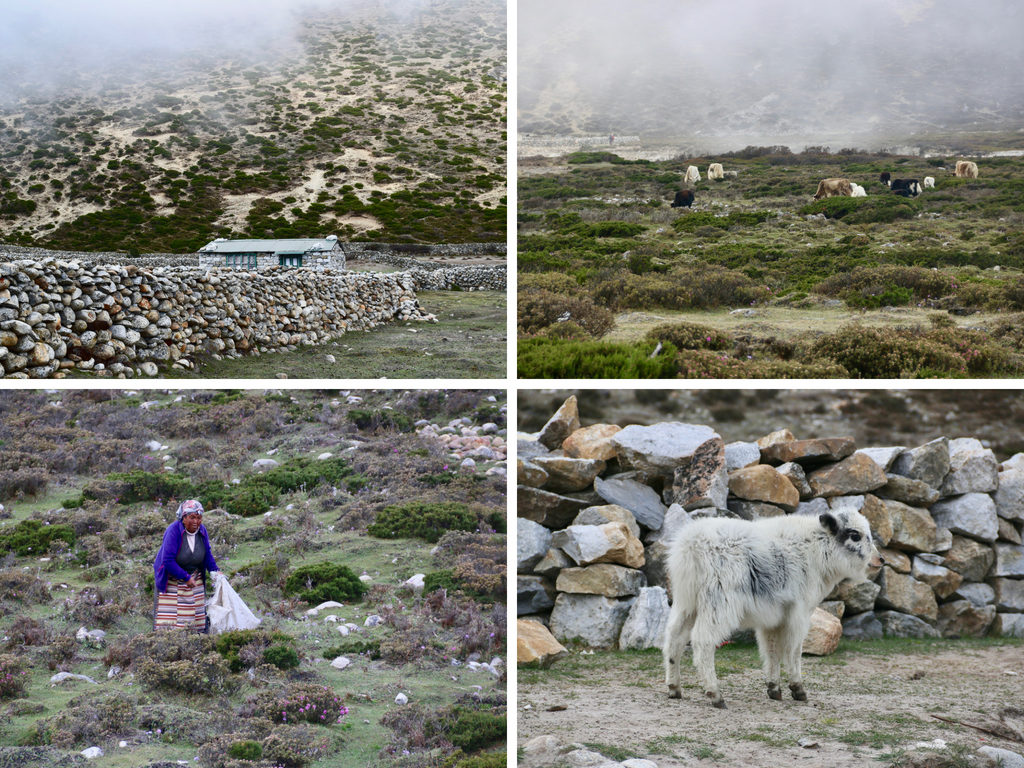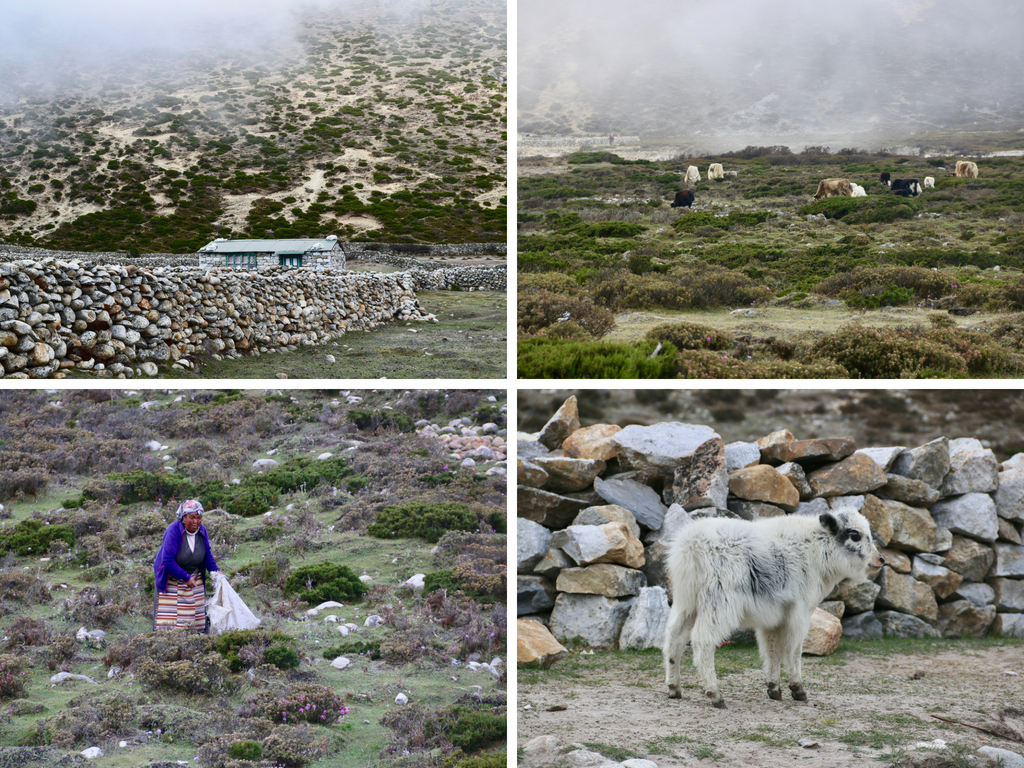 Day 10. Sat Jun 2 – Pheriche to Namche Bazaar, 3440 m
Hours trekking: 11.5 hours (inc. 1 hr lunch and 4.5 hr horseback)
Elevation gain: – 930 meters
Temperature: 17°c / 5°c – 62°f /41°f
Accommodation: Himalayan Lodge
Highlights:
After a sleepless night I didn't wake up feeling any better than the day before. I was still coughing endlessly & feeling breathless.
The morning trek was brutal as the trail was largely uphill. It really frustrated me as we were suppose to be descending the mountain. But I saw it coming with dread as we descended so far down into Pheriche yesterday.
I could walk flat & downhill with reasonable ease (in comparison) but I couldn't handle any sort of incline, let alone many of the steep sections I was faced with. Keshar was encouraging me to hire a horse but I can be extremely stubborn. Also I knew there were still so many hours ahead & a horse would be so expensive.
I was feeling so weak & moving so slowly that I knew I would most likely have to take a horse today but I wanted to put it off for as long as possible. It took 3.5 long painful hours to reach Pangboche where we stopped for lunch. I was so exhausted but it didn't feel like we had made much progress.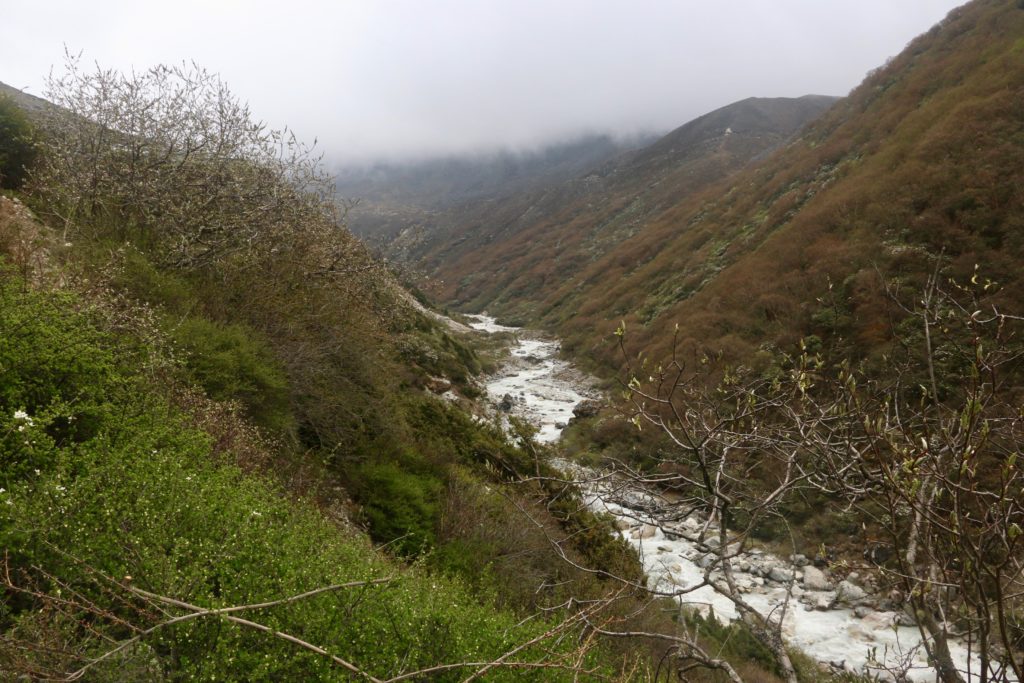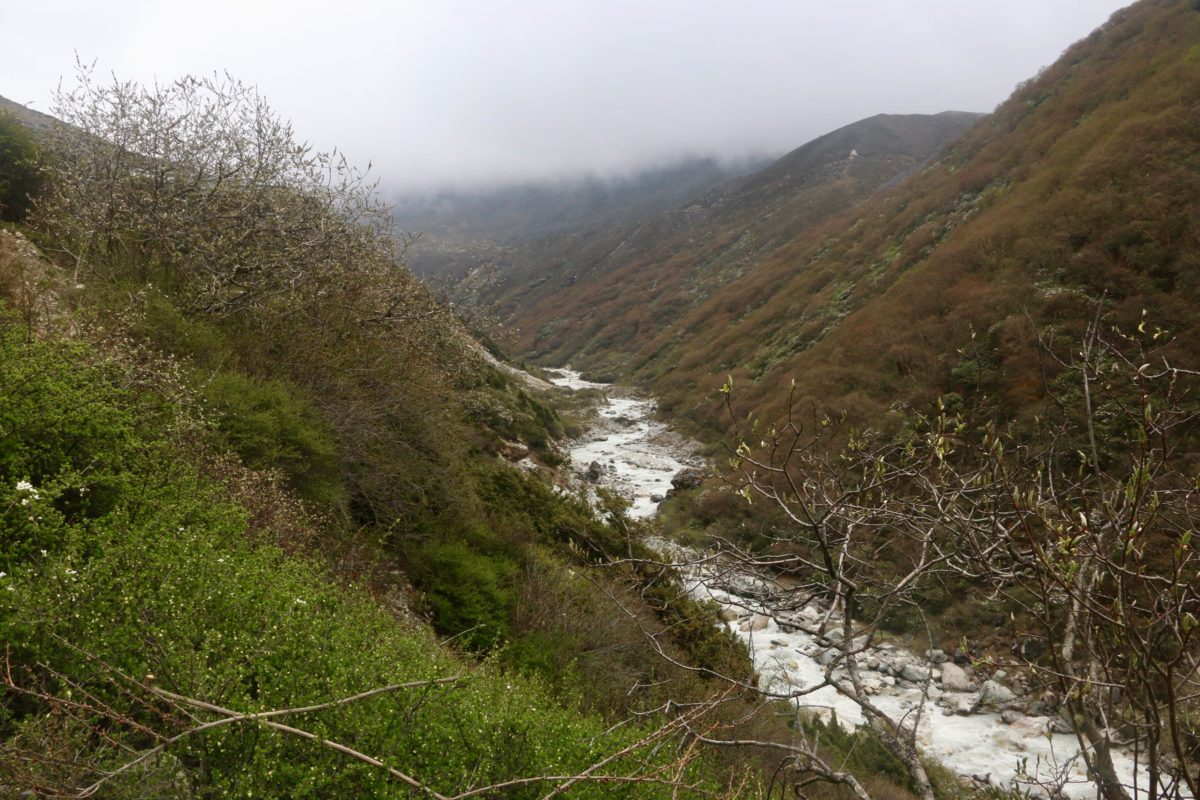 After lunch the trail flattened out a bit. Then we hit the bottom of the rhododendron valley at Dingboche, the start of a long uphill climb to Namche Bazaar. I was ready to pass out just looking at the trail ahead. We passed some horses for hire & Keshar made some enquiries. He negotiated a price of $200 for the 4.5 hour trip to Namche Bazaar. That was still more than I wanted to pay. The horse owner lowered the price to $150 and I relented.
I believe this was more than fair and I felt grateful to both Kesha and the horse owner. They could see that I was in a bad shape and didn't take advantage of my predicament. I could not have made it much further without a horse. I climbed on the saddle of my 2 year old horse Kansa & I was so happy. It was such a relief to no longer have to struggle with every step.
As the horse made a steady climb out of the rhododendron valley I knew I had made the right decision, at the right time. There's no way I would've had the energy to do it on my own.
I am thankful to Keshar for respecting my wishes to walk on my own for the past 1.5 days even though I was really struggling. He let me do it on my own terms. He only stepped in at the last moment when I really couldn't go on any further and conveniently a horse was available.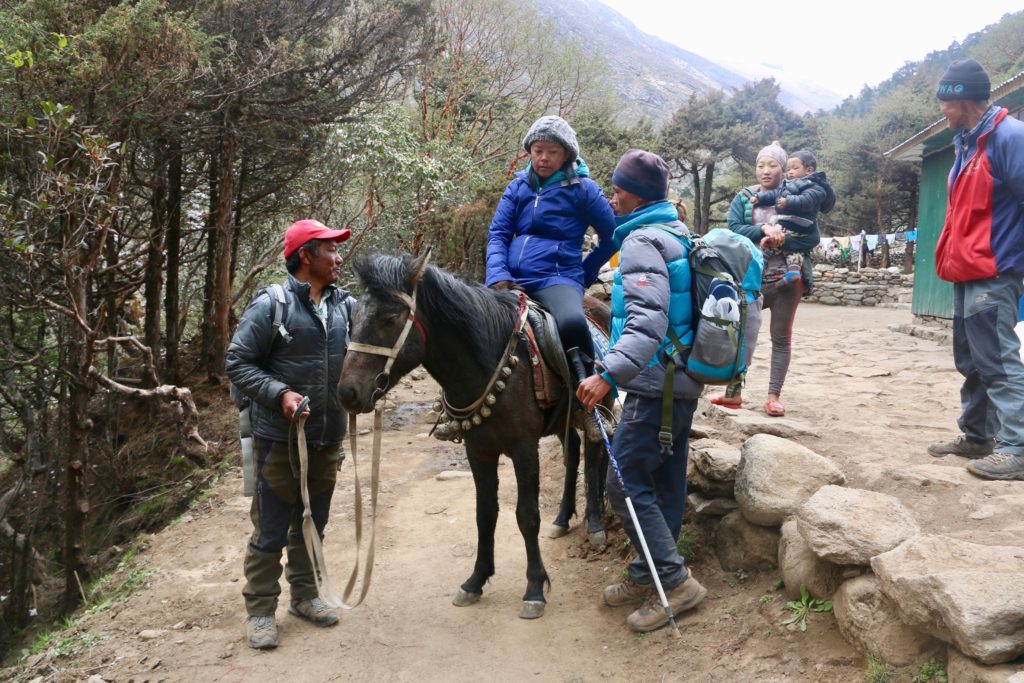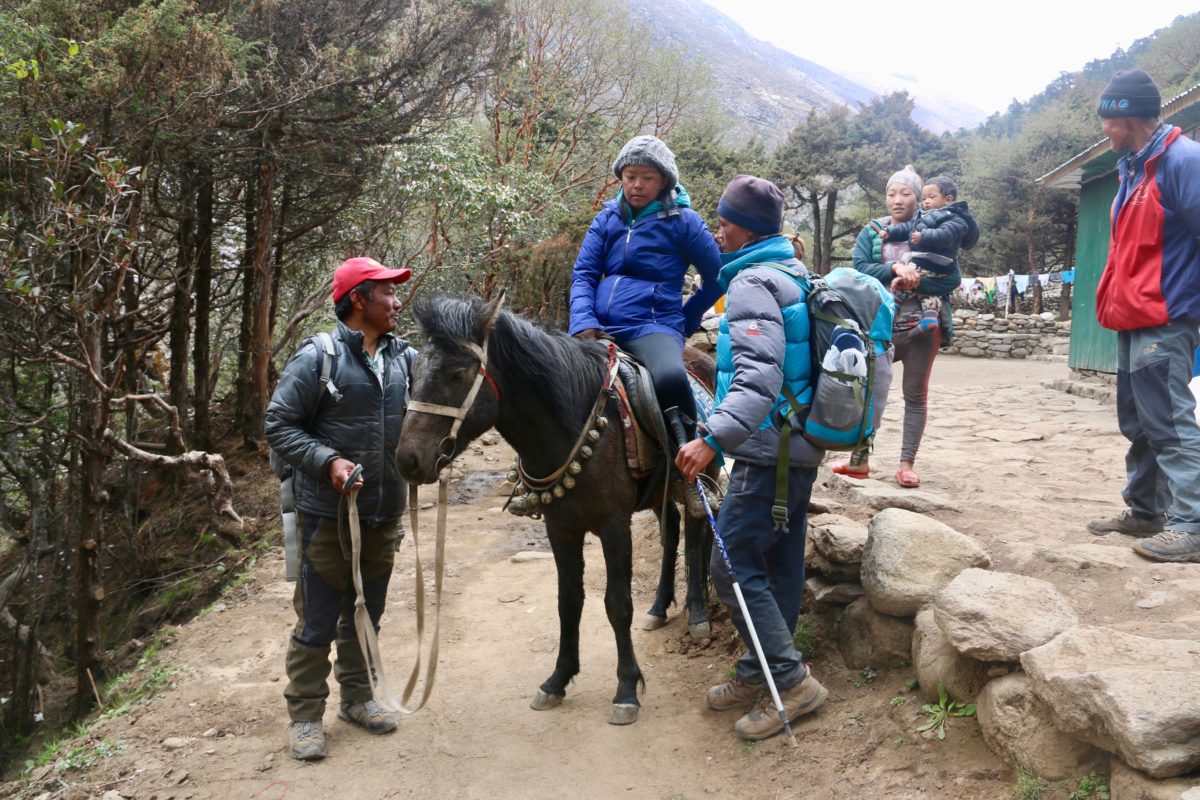 We reached Tengboche Monastery and started to descend. This was quite uncomfortable on the horse. Kansa often hesistated and was unsure of his footing. He needed a lot of encouragement from his owner & Keshar. I got off the horse for one steep section as it was just easier for everyone.
I was back on the horse when the rocky trail started to climb again – and it didn't level off for the next 3 hours until we got to Namche Bazaar. I couldn't believe it. The road seemed never-ending and it was steep. I didn't remember it being like this going the opposite way, but as that would've been downhill I was probably doing it with ease at the time.
Tracy was doing amazingly well, keeping up with me on the horse. She may be slow but she has a fantastic attitude – never giving up or complaining, just soldiering on with a smile. I was really proud of her & so happy to have her with me on the Everest Base Camp trek.
After 4.5 hours we finally reached Namche Bazaar at 6:45pm. I thought I would never get off the horse. It was already dark. Without the horse, I would have spent the night in the open.
Keshar was such an amazing guide. He paid for my horse and then Tracy went to the ATM to withdraw money to pay him back as I didn't have enough with me. I was lucky to have both of them looking out for me.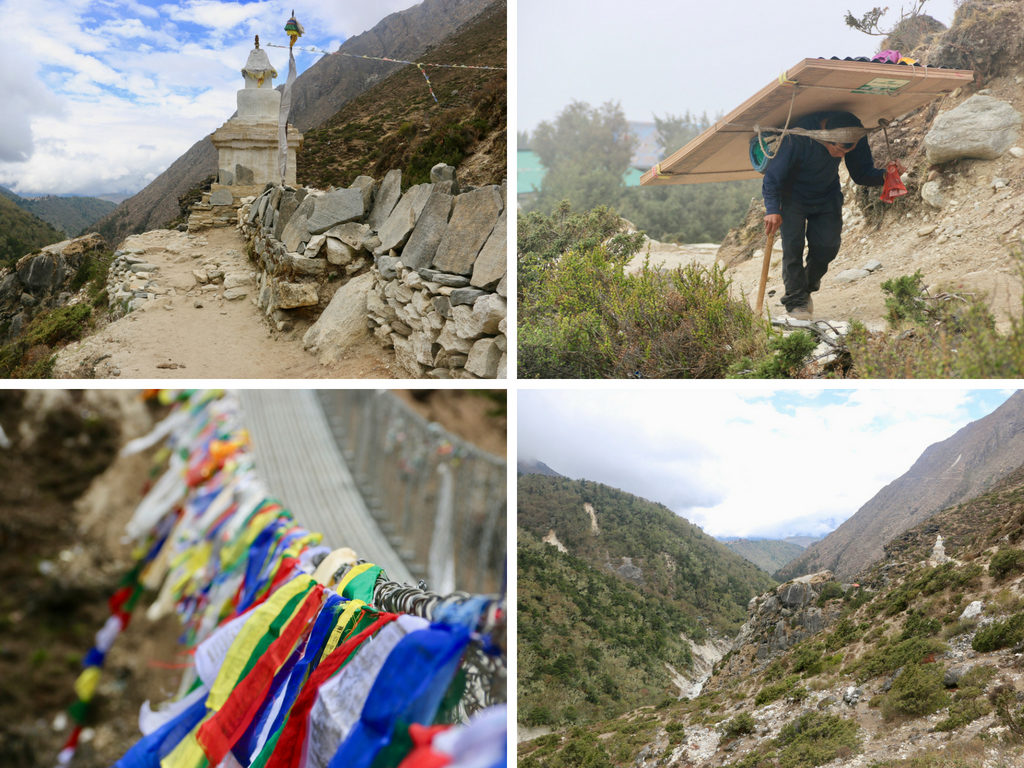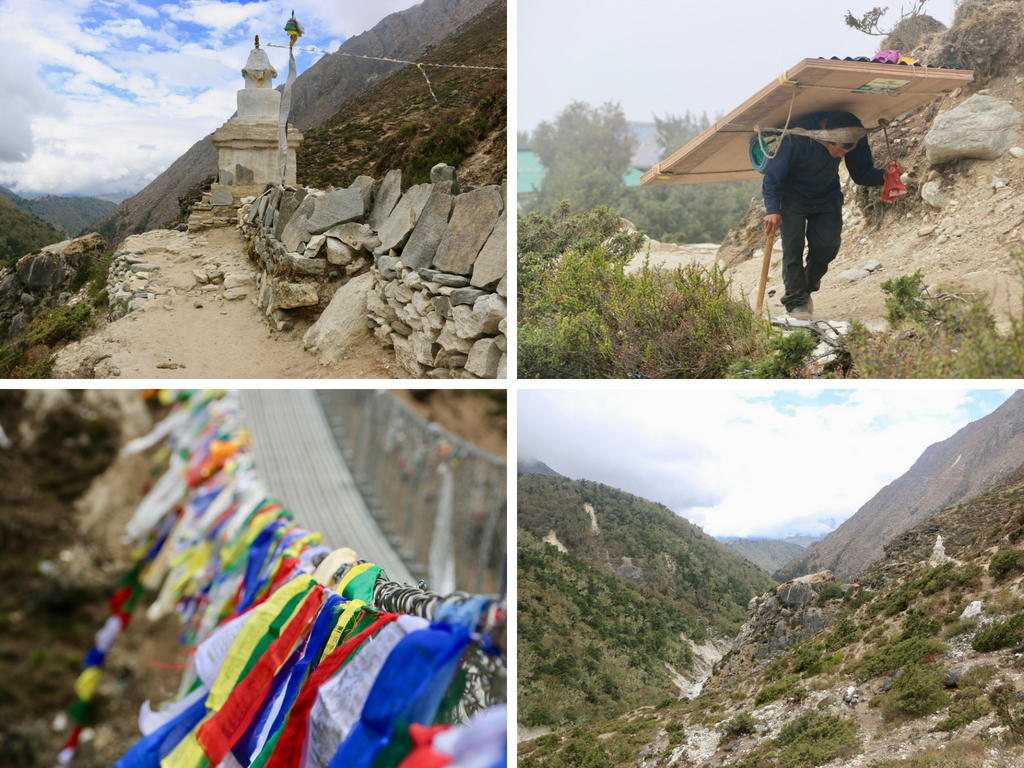 Day 11. Sun Jun 3 – Namche Bazaar to Lukla, 2860 m
Hours trekking: 12 hours (inc. 1.5 hr lunch)
Elevation gain: – 580 meters
Temperature: 14°c / 3°c – 57°f / 37°f
Accommodation: Mount Kailash Lodge
Highlights:
No more HAPE
Cafe in Monjo
Reaching Lukla at long last
Unbelievably I woke up feeling pretty good! I slept well, colour had returned to my face, I could breathe much easier and I was coughing far less. Most of all I was excited to get off the darn mountain & return to civilization!
We started off at 7:35 am and I was so pleased for the gentle downhill path. This I could do! It was sad to leave Namche Bazaar as I can safely say that I will never be back! After developing HAPE and altitude sickness previously in Peru, I don't think the mountains are for me.
Downhill downhill downhill… I was feeling great! The last 2 days were such a struggle and it was a huge a relief to finally be at this point on day 11, the final stretch down Mount Everest.There was an uphill stretch as we headed towards the Sagarmatha National Park entrance gate. I was still moving slowly but I was no longer feeling as breathless as the past 2 days.
Oh I also found myself walking like a horse. I was really watching my footing and taking the easiest routes, just like Kansa did!
At around 11 am we stopped for a leisurely lunch at a lovely café. Tracy & I had a really nice conversation with Kesha, with our 1st decent coffee in 2 weeks. He offered a lot of insights on the life of as a guide and porter and his hopes & plans for his children. We were amazed that his wife had been to Everest Base Camp with him 3 times too!
It felt wonderful to take a long break at the café & I would've loved to have sat and chatted all afternoon. Unfortunately the show must go on so on we went.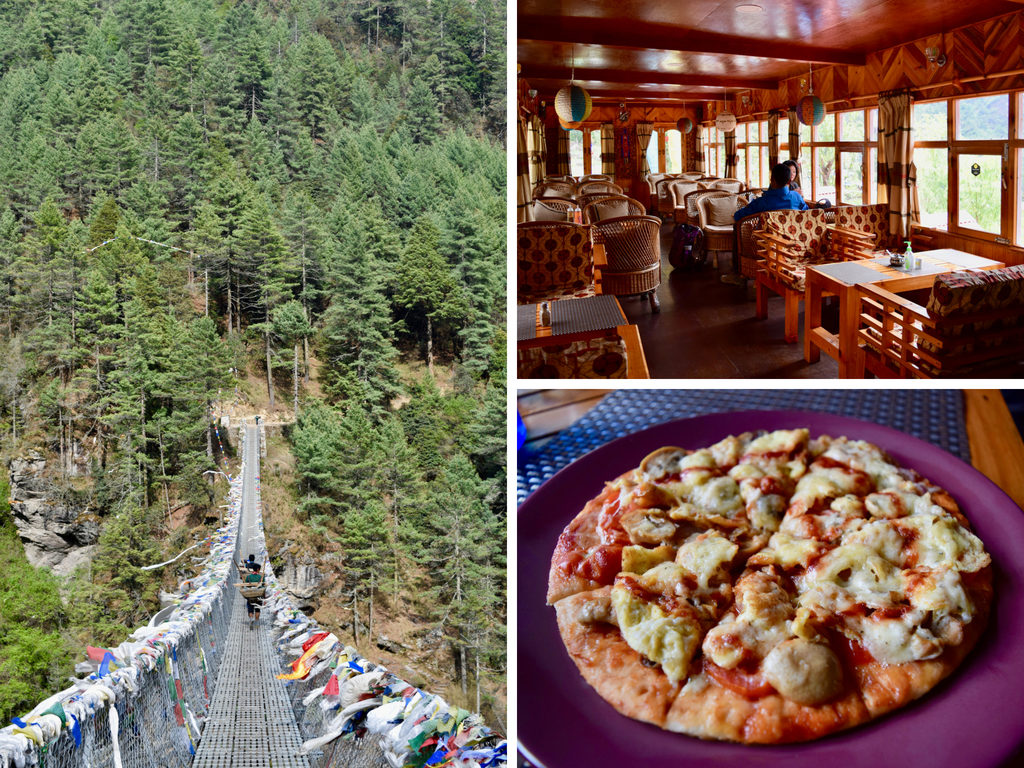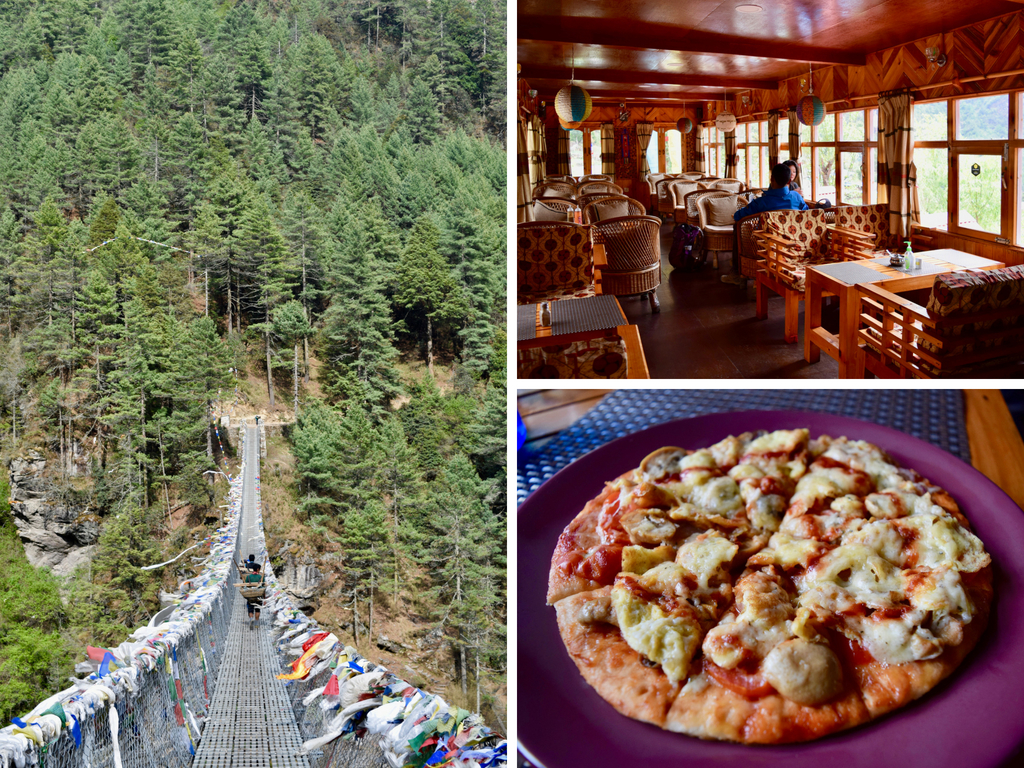 It was nice passing the villages we first hiked through on day 2. I felt like a different person then than now! Back on day 2 I was so naïve, healthy & confident… 9 days & HAPE later I felt defeated!
I was enjoying the views and memories of the downhill trek but after several hours I was beginning to feel very tired. It also started raining and we stopped at a store to purchase ponchos.
We passed many porters trudging along, slow & steady. It seems like they can go on endlessly no matter the conditions or how heavy their load. Seeing as I can't even carry my own day pack I have so much admiration & respect for porters.
We reached Phakding at an elevation of 2,610 m. Lukla, our final destination, sits at 2860 m. So we had an uphill trek ahead and hours longer to go. We were going down from Mount Everest, why were we still ascending?! This drove me crazy! I was very much over it & just wanted to get off the mountain.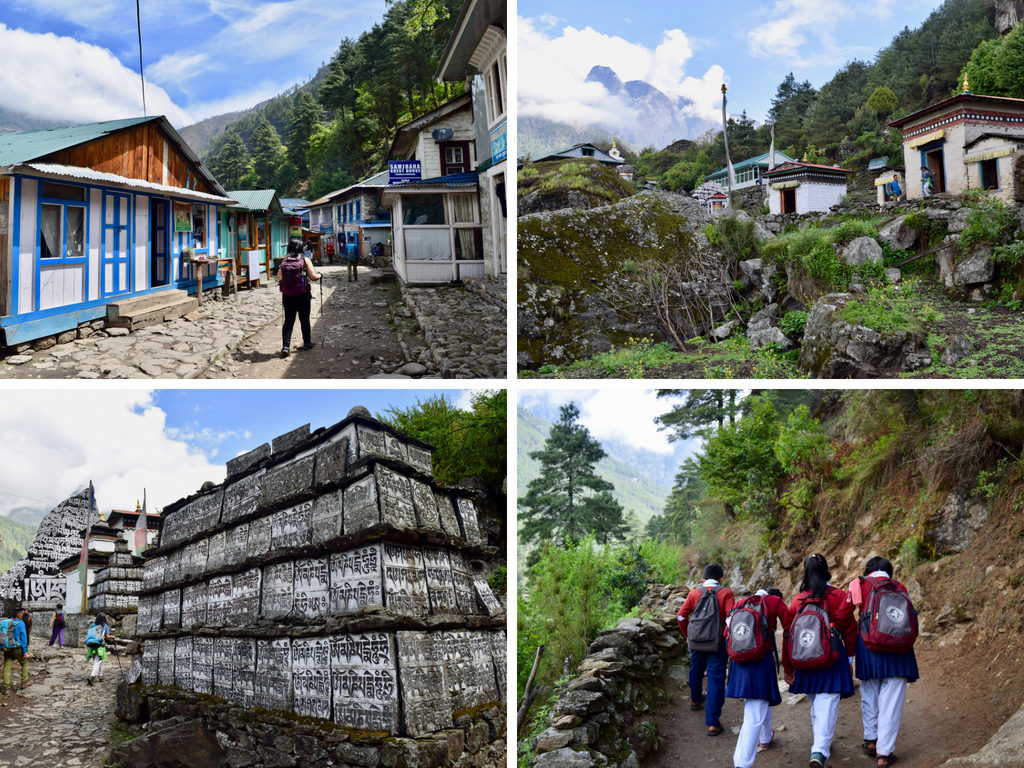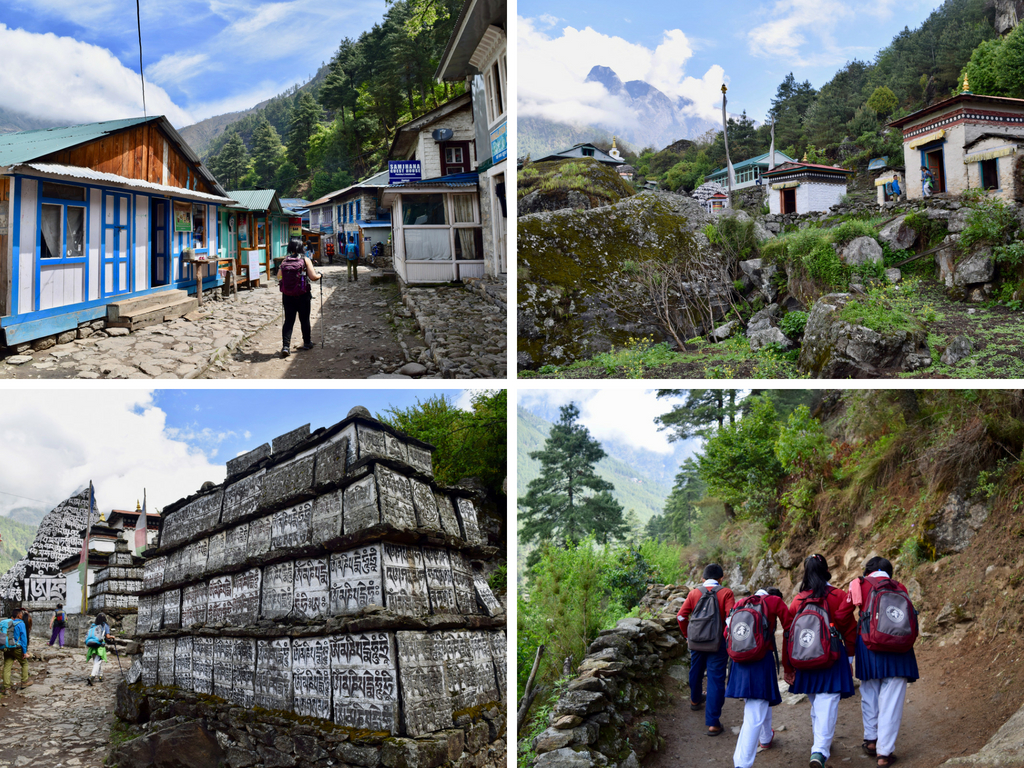 We passed our 1st nights accommodation at Chepplung. From this point on it was new territory for us as we would be heading to Lukla for the 1st time. On the 1st day we landed at the helipad which was in a different direction.
To our surprise Dinesh met us along the way. He had reach Lukla hours ago and after a rest he came back to help Keshar, or to keep him company. Not long after I discovered another motivation as Keshar asked if he could carry me the rest of the way! I was outraged! I thought I was trekking well! A lot better than the previous days anyhow. I think Keshar actually wanted to, so we could go faster. I would've actually loved him to piggy back me, just for the experience! But I just couldn't make my guide carry me!
We kept climbing up and up; it was torture. It was also getting dark. I just wanted it to be over.
Finally we reached the town gate to Lukla. We walked down the whole of the main street which was mostly in darkness with lighting from a few shops. The street kept going & going which annoyed me even more. Where was our guesthouse?! We reached the end of the street & still continued on, around the edges of the airport. This was insane!
Eventually we reached our hotel & I collapsed with relief. 11 days of trekking was over. We had made it to Everest Base Camp & back to Lukla. We had actually done it.
We had a mini-celabratory dinner but I didn't want to get ahead of myself. We still had the flight tomorrow morning back to Kathmandu & I wasn't confident we would depart. After all we had bad weather on the way here & had to wait 9 hours at the airport. I didn't want to have to walk 2 hours to the helicopter pad! Based on my luck the past few days I was feeling quite anxious about how the next day would pan out…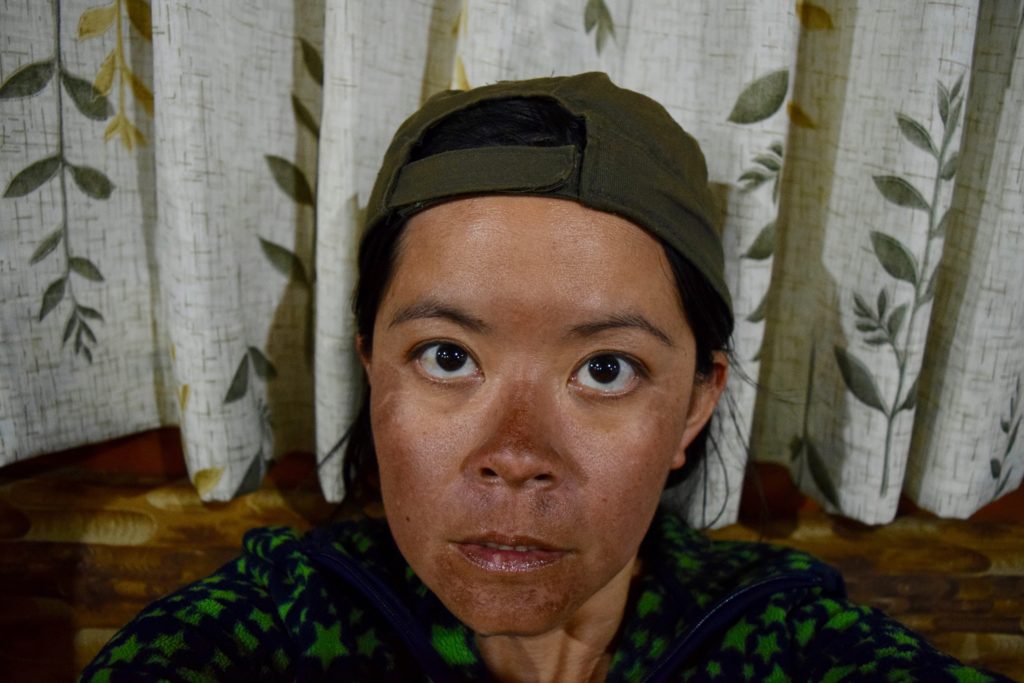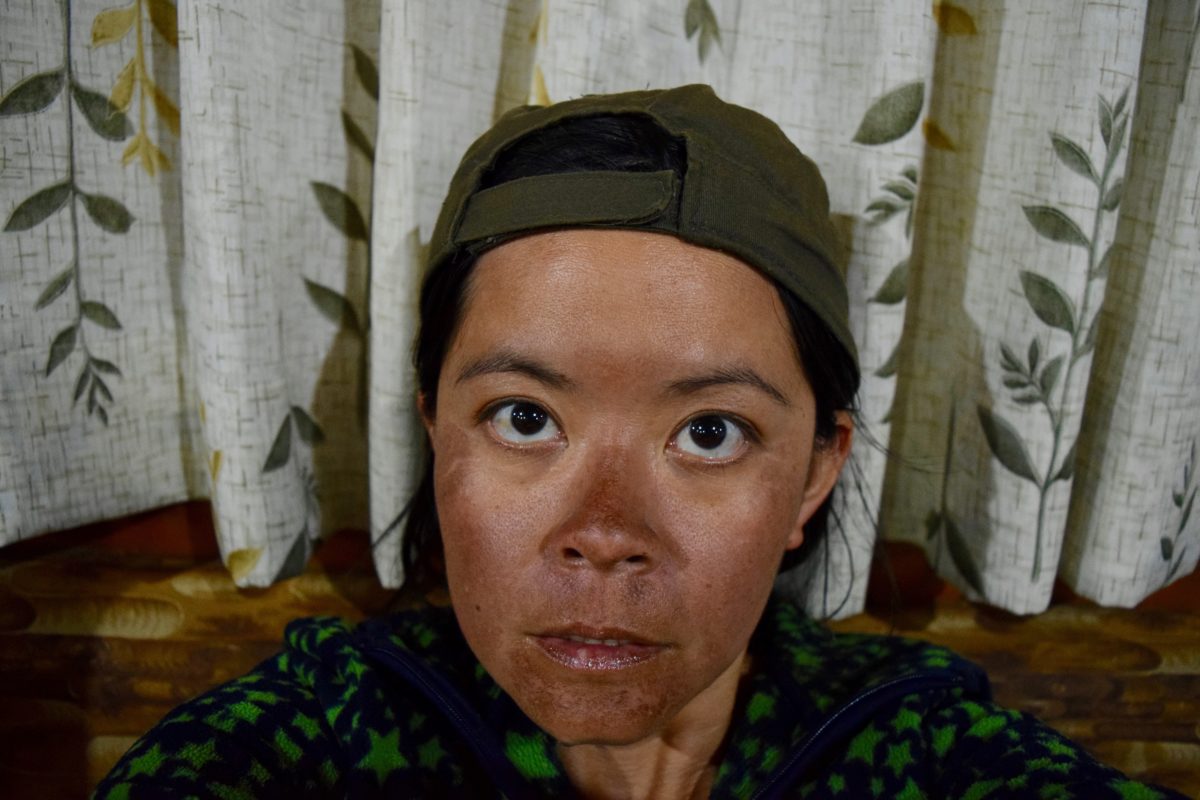 Day 12. Mon 4 Jun – Lukla to Kathmandu, 1400 m
Elevation gain: – 930 meters
Temperature: 30°c / 20°c – 86°f / 68°f
Highlights:
Farewell to guide & porter
Flying back to civilzation
We sat down for breakfast at 4:30 am but it was hard to eat at that time… I was also feeling anxious to leave! Last night's long walk through Lukla meant that our accommodation was just a few minutes walk to the airport.
The terminal was a hot mess with bags piled up everywhere. We checked-in and then said our final goodbyes to our amazing guide Keshar & porter Dinesh from Green Valley Nepal Treks. I found it hard to express how much I appreciated all they had done for me. They both truly went above and beyond and I also cherished their companionship on the trek.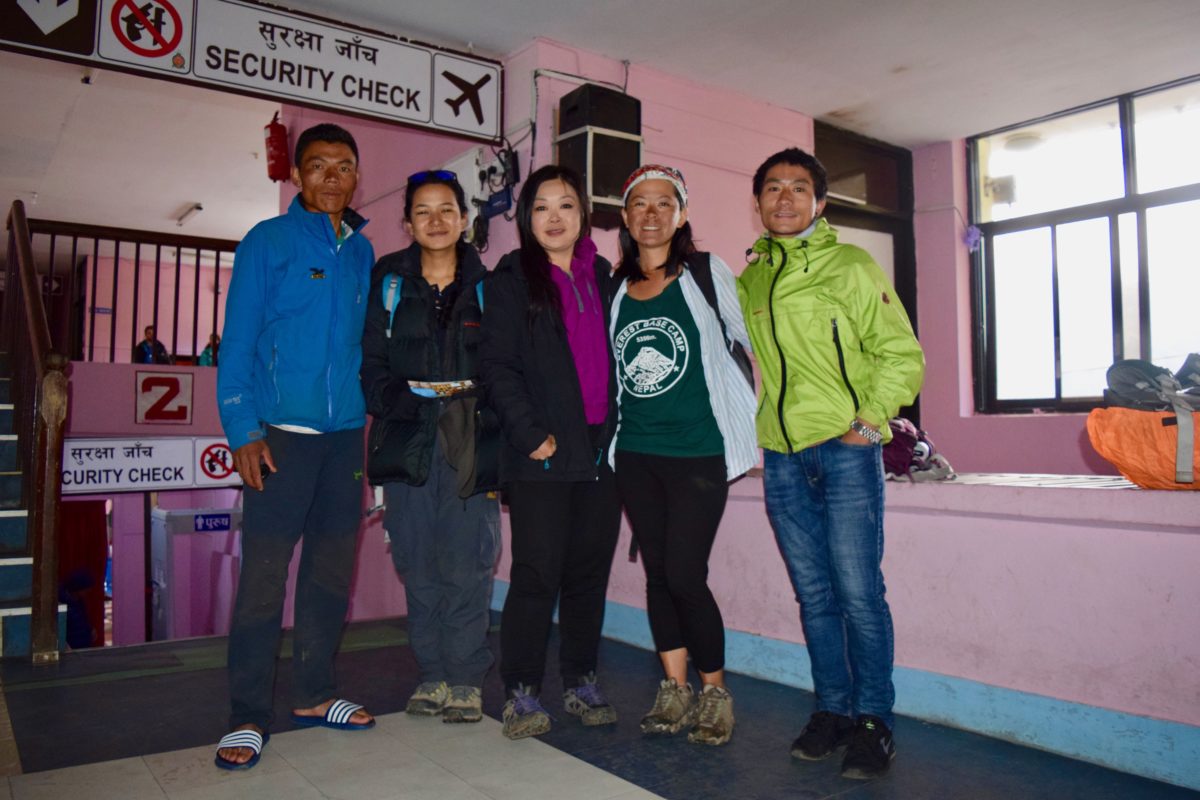 We entered a downstairs waiting area for passengers onIy. I was still nervous about whether we would be able to fly out at all but our plane arrived early.We rushed out, taking photos and getting in line for a window seat.
We saw cargo being unloaded off the plane, most of which was soft drinks. Out of everything, is this what people really want?! It would appear so and vendors can make a high profit from the drinks too.
Lukla is known as the World's Most Dangerous Airport for its very short runway. The landing is dramatic but alas we took the helicopter in so we missed that experience.
The take-off however was smooth & fortunately uneventful! We were given a sweet & cotton balls by the 1 lovely flight attendant. The journey back to Kathmandu was a quiet time to reflect on the past 12 days of the Everest Base Camp trek experience.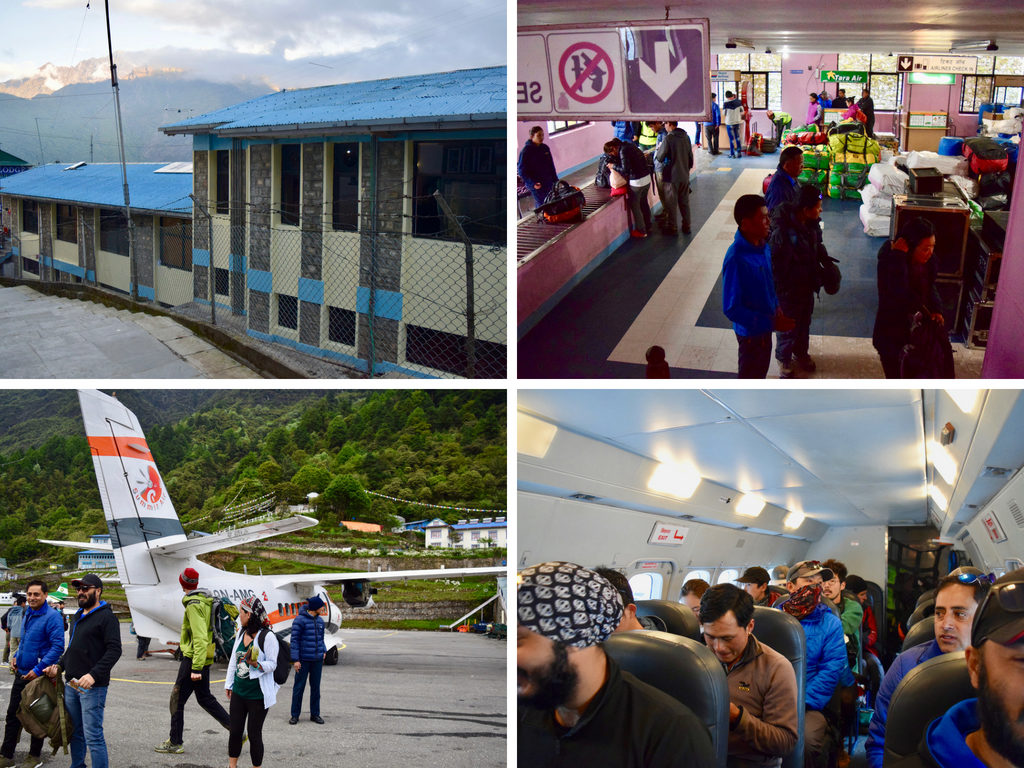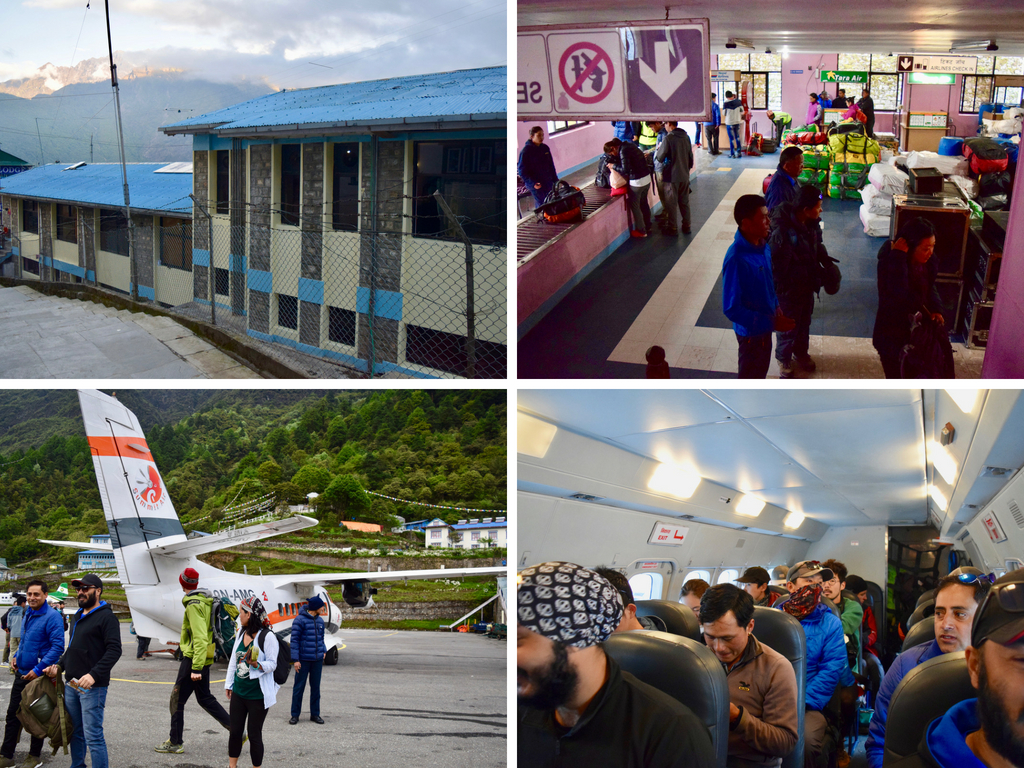 At the time I had so many mixed emotions especially as I was recovering from HAPE. Hiking with altitude sickness was quite traumatic & really threw a spanner in the works.
The trek was physically and mentally challenging but I'm proud to have done it with the friendship and support of my Green Valley team.
My life and world view has been enriched by the experience. I hope my Everest Diaries have provided a good understanding of what to expect on the trek and that it may inspire you to hike in the Himalayas.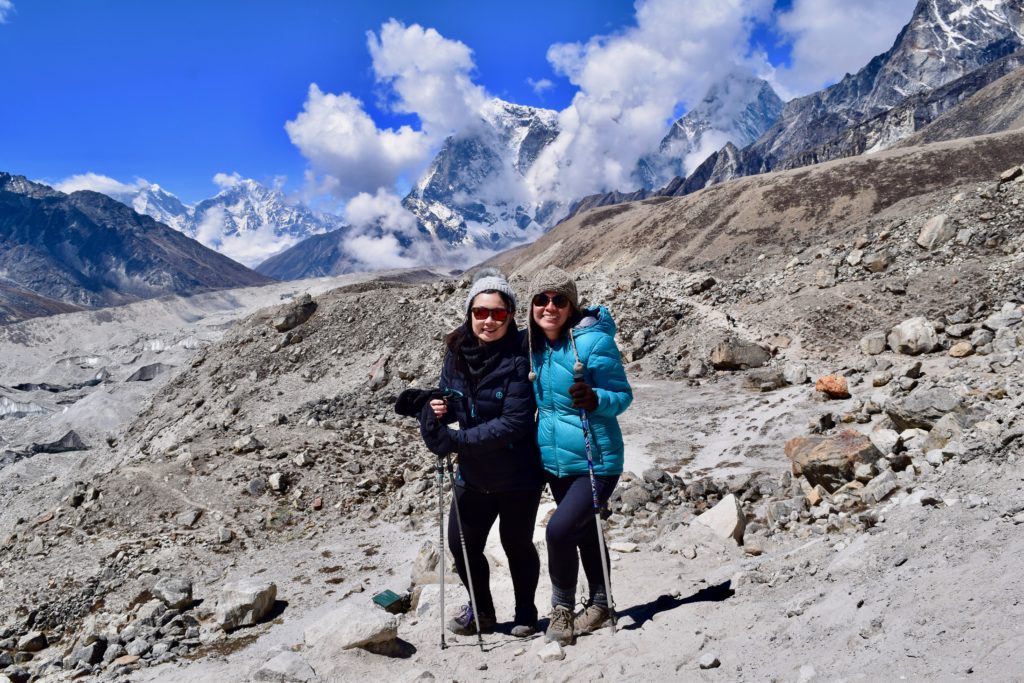 KNOW BEFORE YOU GO
Trek: Everest Base Camp
Duration: 14 Days
Tour Company: Green Valley Nepal Treks
Current Price: $1195
Contact Information:
Did you enjoy reading my Everest Base Camp trek review?!
Pin it & help others find it too!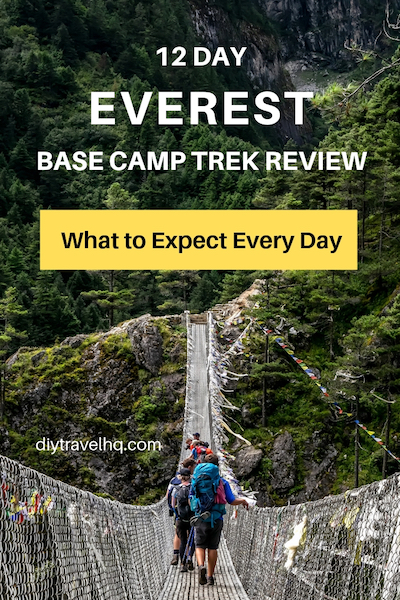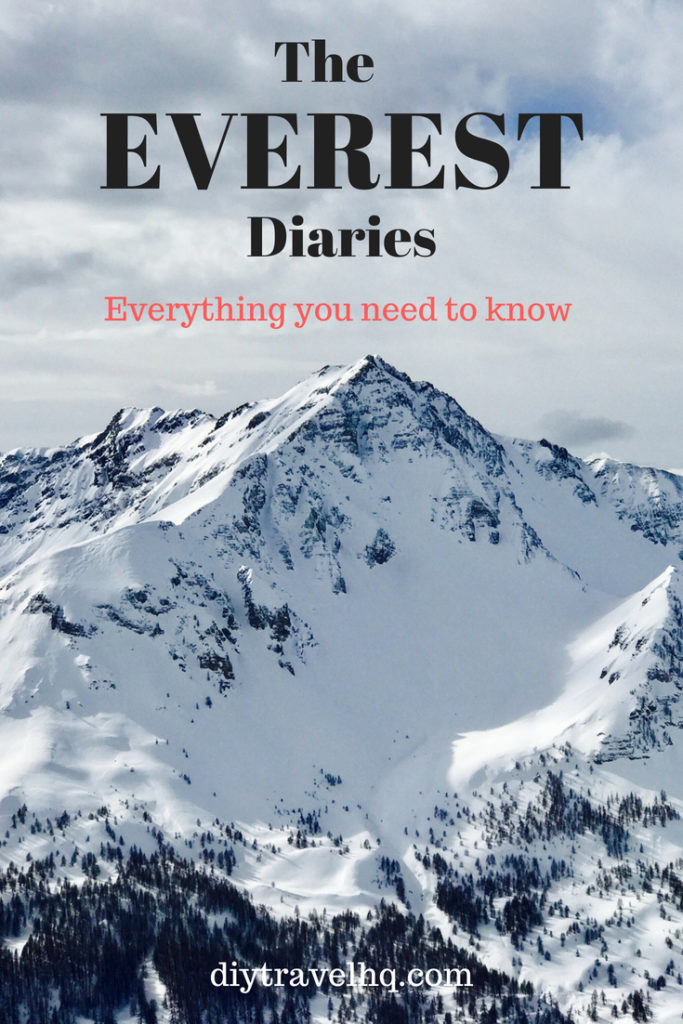 Disclaimer: I received a discount with Green Valley Nepal Treks to facilitate this post, thank you to Arjun for the collaboration. We only recommend interesting, value for money activities & experiences that we believe our readers would enjoy. As always, all opinions & photographs are our own.
This post may contain affiliate links which means that we receive a small commission if you click on a link & purchase something that we've recommended, at no extra cost to you.
Visited in May 2018
Updated in May 2019