Downtown Yangon is a city of hustle & bustle, energy & entrepreneurship –  see why now is the best time to wander these gritty streets of Myanmar before globalization & skyscrapers take over.
Downtown Yangon
With its gritty run-down streets, crumbling apartment blocks, bumper-to-bumper traffic and rubbish strewn sidewalks, Yangon is the typical cavernous, crazy, and chaotic Asian city.
The whole city appears to be on the edge of collapse but somehow buildings remain standing, traffic moves along, roads are repaired and cars squeeze through one-way market lanes.
Here at DIY Travel HQ, this is right up our alley! What's more, checking out Yangon's decaying but fascinating streets are one of the top free things to do in Yangon!
This is authentic Asia for big city lovers, before globalization.
The key players have yet to move in and the omissions are as stark as they are refreshing.
From fast-food franchises to café chains, upscale restaurants to pubs and bars, the institutions that epitomize the capitalist world remain in the Wild West.
Instead, the cityscape is of teashops, street food stalls, drink vendors, lottery ticket sellers, market merchants and fruit dealers.
Looming above it all is the towering Shwedagon Pagoda, the world's most beautiful temple.
Certainly, on the streets of Yangon, anything sought can be bought.
Small stores and pathway peddlers cram side by side to offer anything from keys and locks to shoes and socks… watches, jewelry, crockery, clothing, and everything in between.
It is a micro-economy in which hustle and hustlers are here, tenacity and thieves are there, and energy and entrepreneurship are everywhere.
As the capital of old Burma, the city holds the largest number of colonial buildings in South-East Asia.
Today, these add a kind of panache to the derelict amalgamation of architecture, signs of Rangoon's past glory.
The best examples of this bygone era are the past government and administration ministries mainly clustered around Mahabandoola Garden and Strand Road, long consigned to decay, save the saved and iconic Strand Hotel.
These days, the overwhelming structural characteristic of modern Yangon is the eight-story apartment building.
The colorful and tumultuous washing-strewn balconies, air-conditioning units, overgrown plants and open and shut shutters allude to the chaos and routine of everyday life inside.
These colossal collective complexes, topped with satellite dishes and intertwined between telephone lines, are, at once, fascinating eyesores and eye-openers.
Some parts of the city see a sprinkling of affluence and cosmopolitan culture, particularly around Inya Lake and University Avenue, with leafy avenues and turn-of-the-century architecture, mansions and villas behind barbed wire and high fences, and Western-style cafes and restaurants.
Even downtown, there are noticeable signs of commercial interest and development amid the hotels and high rises, but for the most part, Yangon's infrastructure and growth remains well behind the times, deeply entrenched and struggling to emerge from the constraints of the past.
For Myanmar's largest city, globalization seems both inevitable and a long way away.
Did you enjoy reading Downtown Yangon: Most Authentic City in Asia?
Pin it and help others find it too!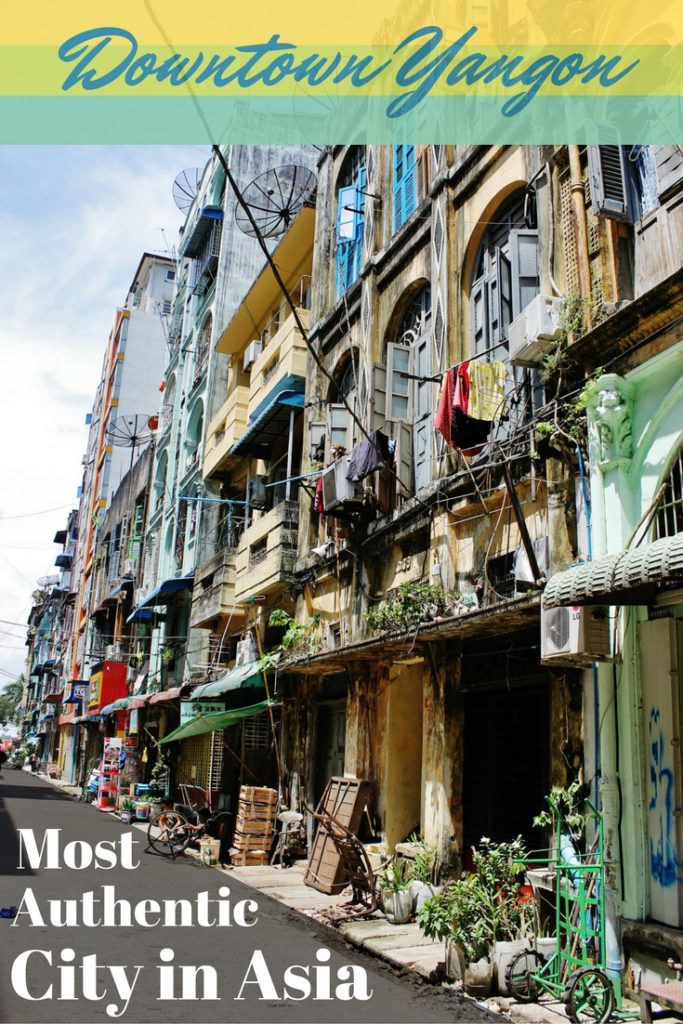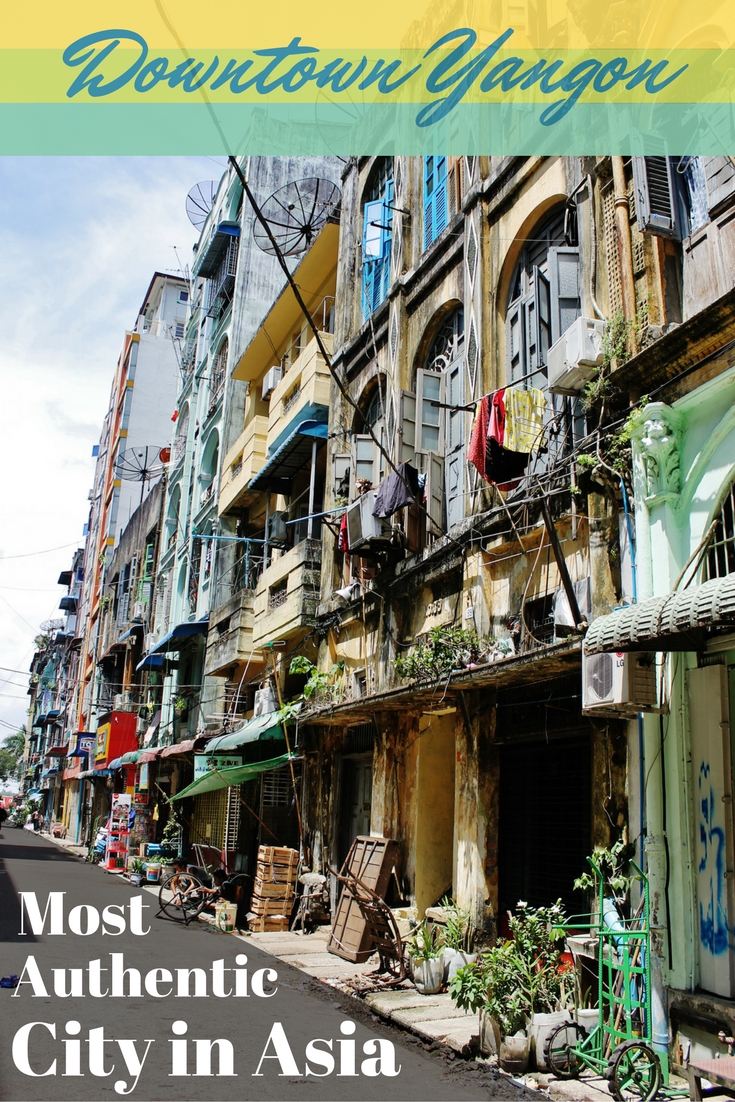 *** The Final Word – Visit Yangon asap before globalisation arrives & it changes forever *** 
What do you think of Yangon – love it or hate it?
Visited in June 2014