There's more to this traditional Maya town than the touristy Chichicastenango market. Find out the top 8 things to do in Chichi!
Things to Do in Chichicastenango
The Chichicastenango market is the biggest attraction in Chichi, but that doesn't mean it's the only thing to do.
Another key component to Chichicastenango, Guatemala is their combination of Christianity and traditional Maya culture. You can experience these beliefs in practice at Pascual Abaj, Santo Tomas Church, and El Calvario Chapel.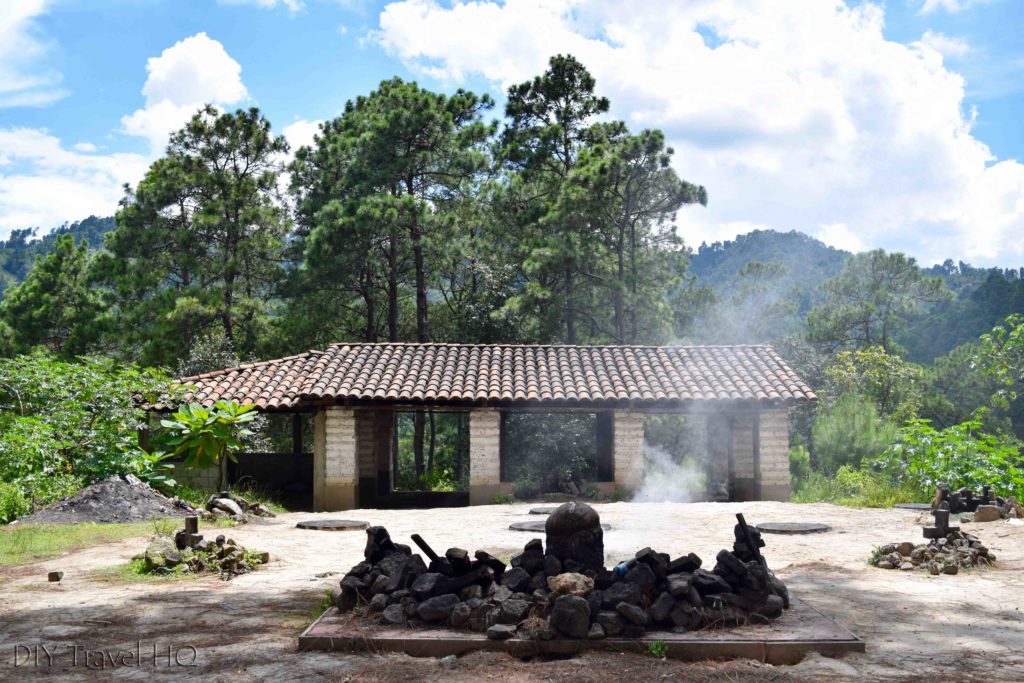 Beside the Chichicastenango market, other points of interest include:
Museo Arqueological Regional
Murals along the perimeter of the Main Plaza
Museo de Mascares Ceremoniales and Mask workshops
ChiChi Cemetery
Find more inspiration in one of the Guatemala guide books below!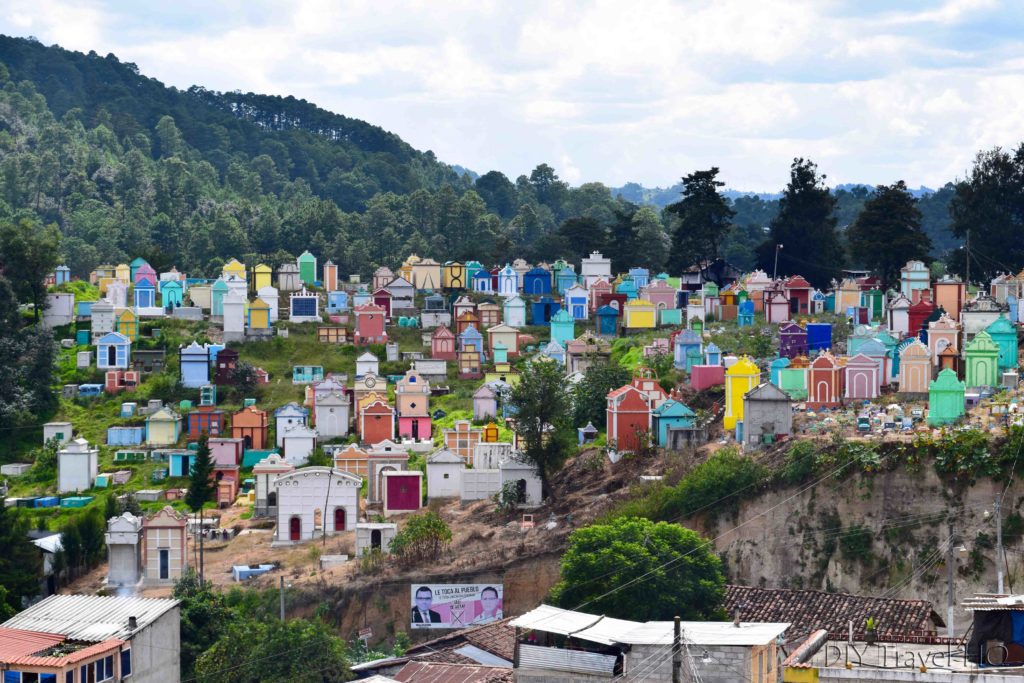 Don't forget to purchase travel insurance before any trip to Guatemala. We've been using World Nomads for over 10 years. It's the best-value provider we've found but there are other important things to consider. Check out our post and find out which of our claims were successful or denied.
1. Chichicastenango Market
The Chichicastenango market days are Sunday and Thursday. Out of all the markets we here at DIY Travel HQ visited in Guatemala, the Chichi market is geared toward tourists the most.
The heart of the Chichicastenango market is located in and around the Main Plaza. Legions of shuttle vans take day trips from Panajachel, Antigua, and Guatemala City on these two market days, and depart just a few hours after arriving.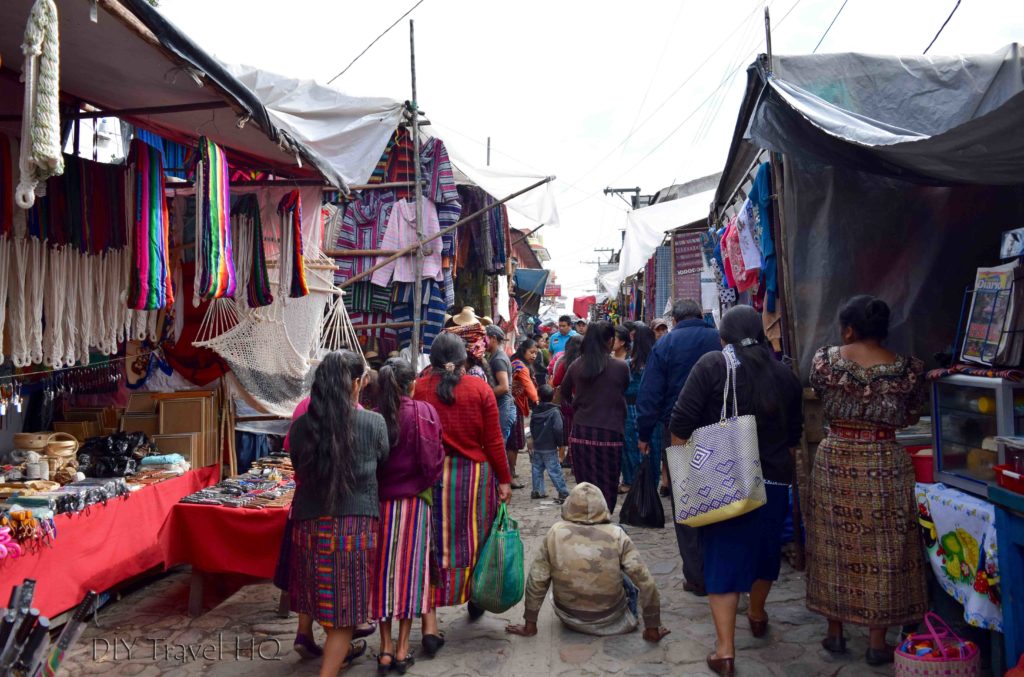 Plan on arriving the day before to get a better feel of Chichicastenango, and visit the less touristy attractions.
The two Chichi market days have become such a huge event that the entire plaza has been permanently covered, with food and produce vendors inside. This makes for a less than appealing town center, but helps reduce the setup and tear-down time.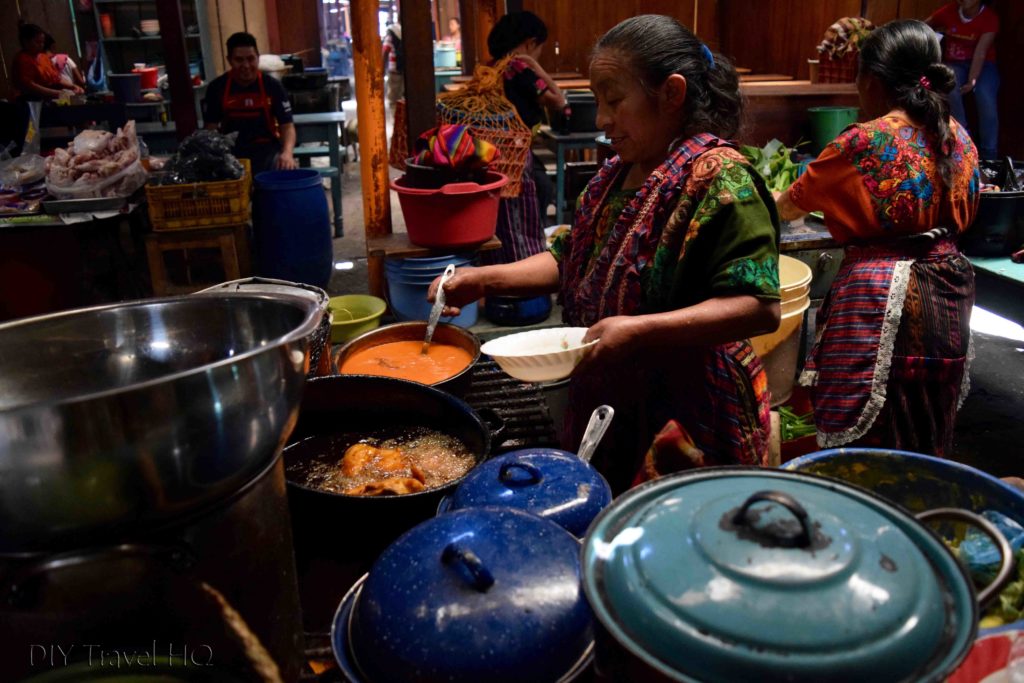 Expect to find all the regional handicrafts from Guatemala located in one place as locals from surrounding villages come to sell their products at market stalls. These include numerous woven clothes, trinkets, wool rugs, hammocks, masks, and other items.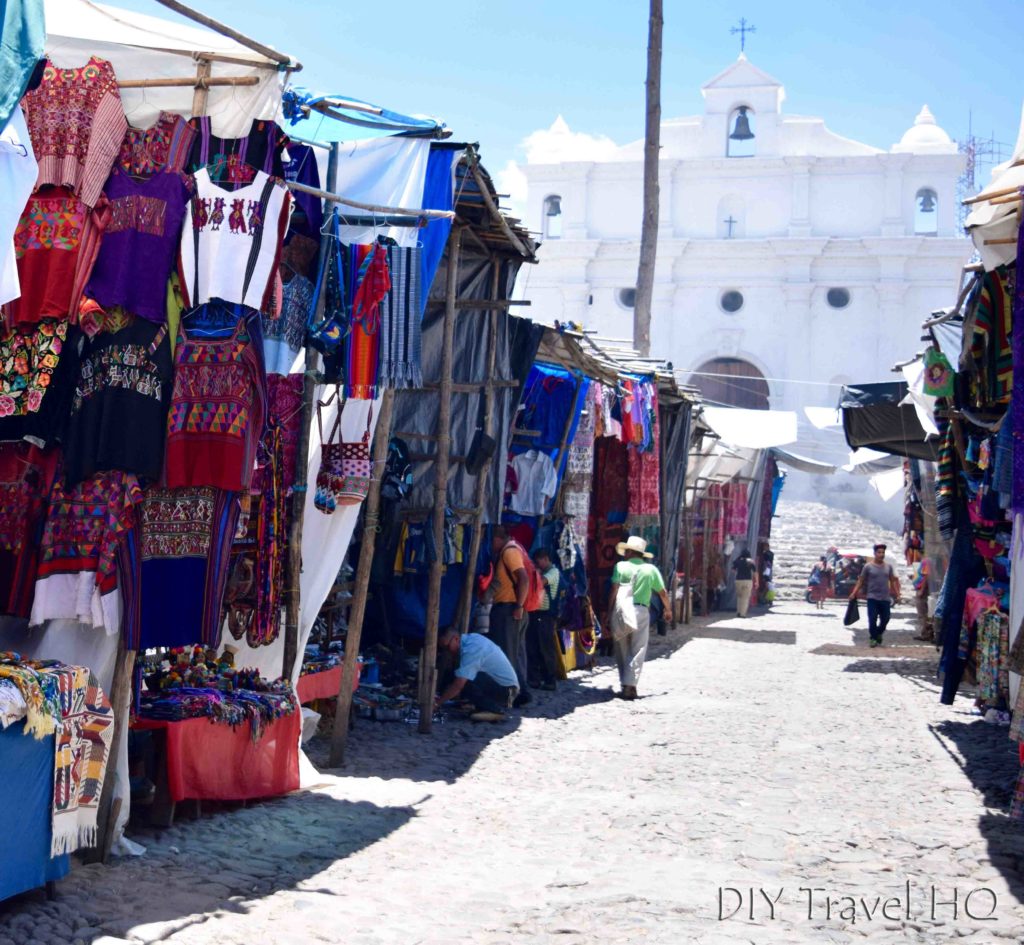 The Chichicastenango market begins to cater to locals the further from the center you get. Expect to find second-hand clothes, fruits, vegetables, livestock, and poultry for sale outside the Main Plaza.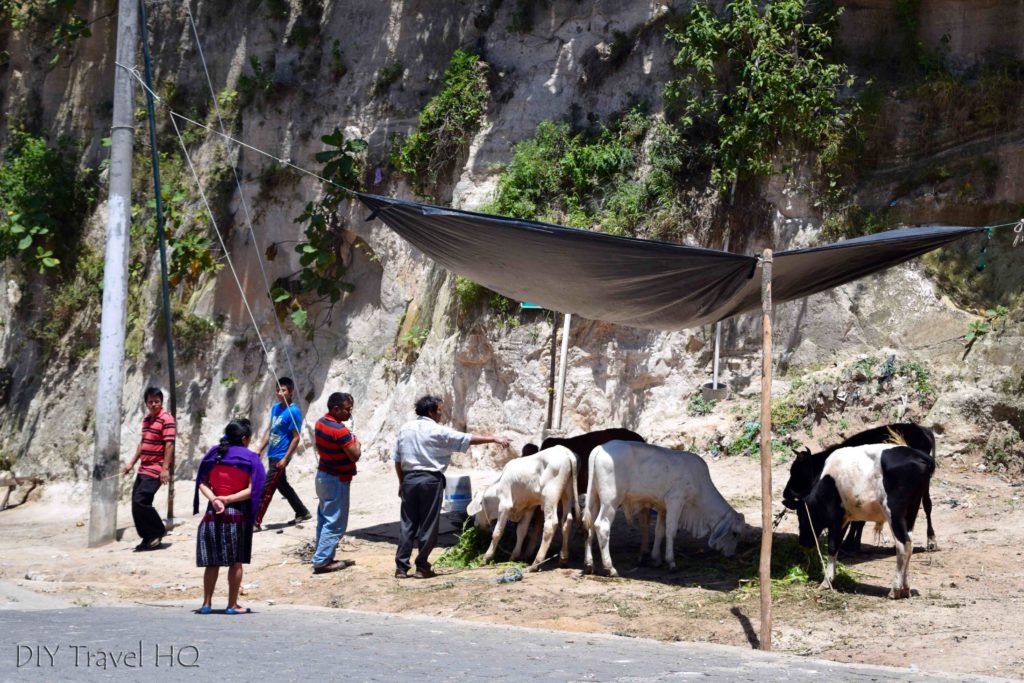 One of the more interesting aspects to the Chichicastenango market is watching the transition from non-market to market day. Vendors arrive the day before in preparation, and can be seen sleeping along the arcades.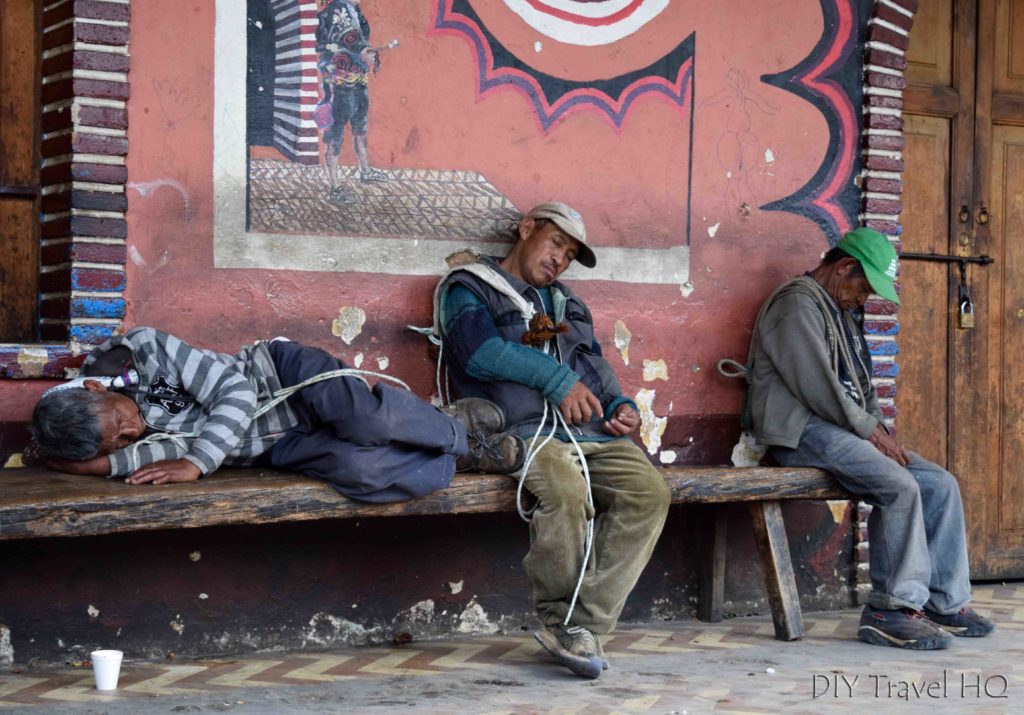 Before sunrise, they are already constructing their booths and hanging their clothes up.
2. Santo Tomas Church
There is a lot going on at the primary church of Chichicastenango, Santo Tomas Church. Lining the steps are a mix of tourists, vendors selling flowers used for offerings, and Maya faithful.
The spiritual include those burning copal incense in an elevated pit, a man swinging balsam incense censers, and a woman praying on pine needles in the shape of a cross.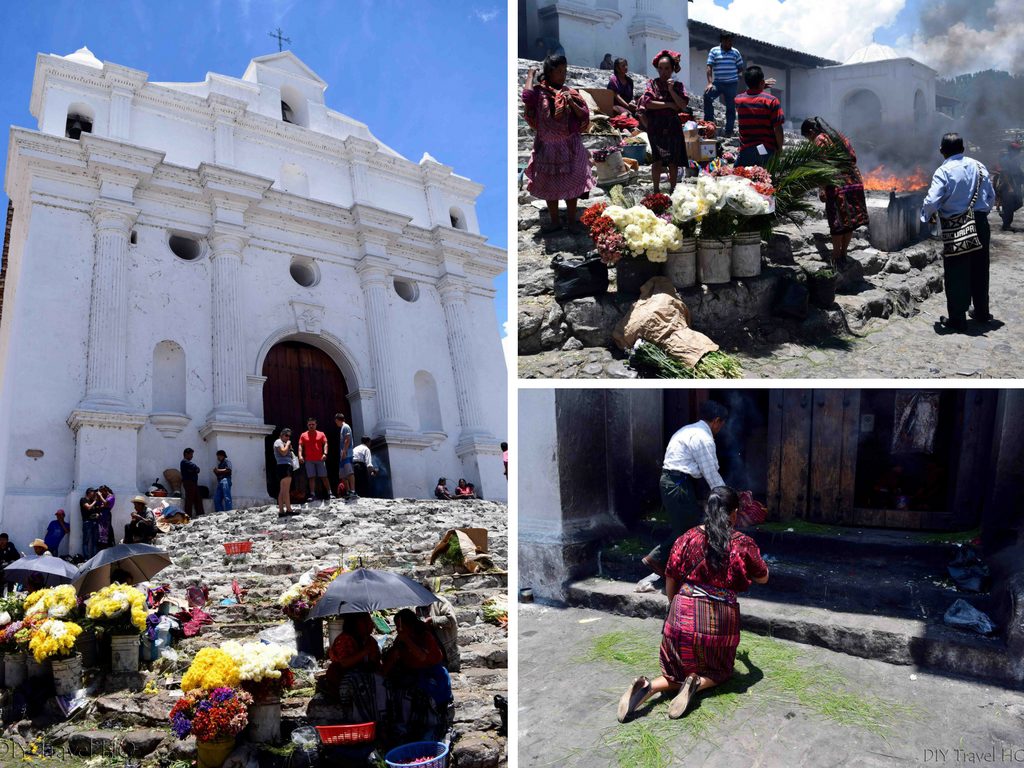 The interior of Santo Tomas Church was relatively empty when we visited, but candles were lit down the aisle and at the altar. Apparently, these are meant to remember the dead who were buried underneath the church.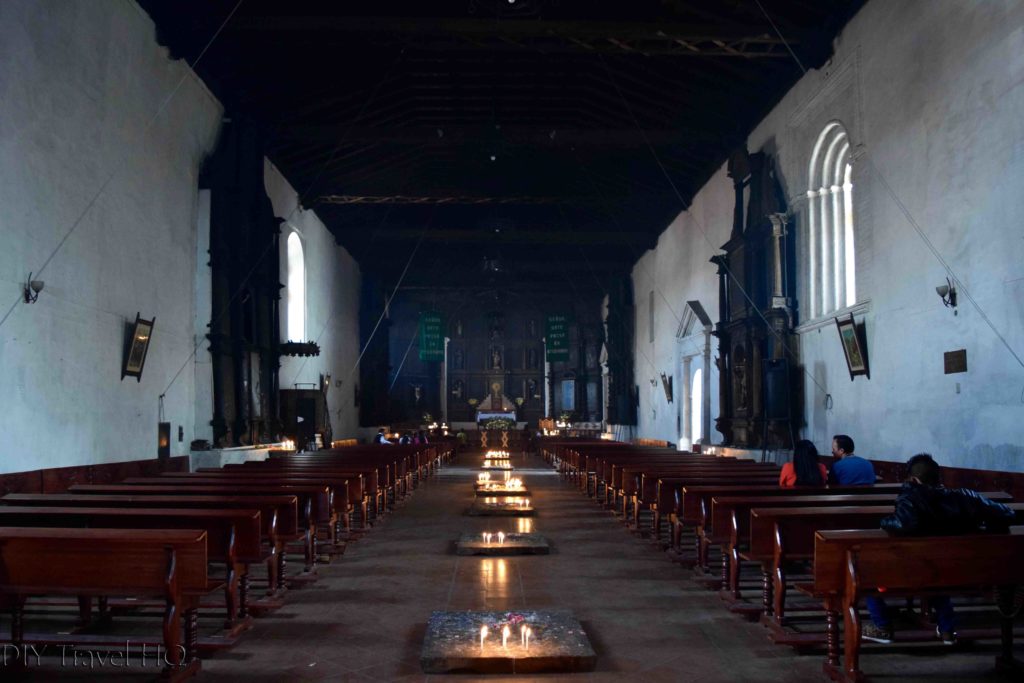 3. El Calvario Chapel
El Calvario Chapel is the smaller of the two churches overlooking the Chichicastenango Main Plaza, but still serves the same function.
Men can be seen outside burning copal incense, swinging balsam incense censers, and families inside light candles and say incantations.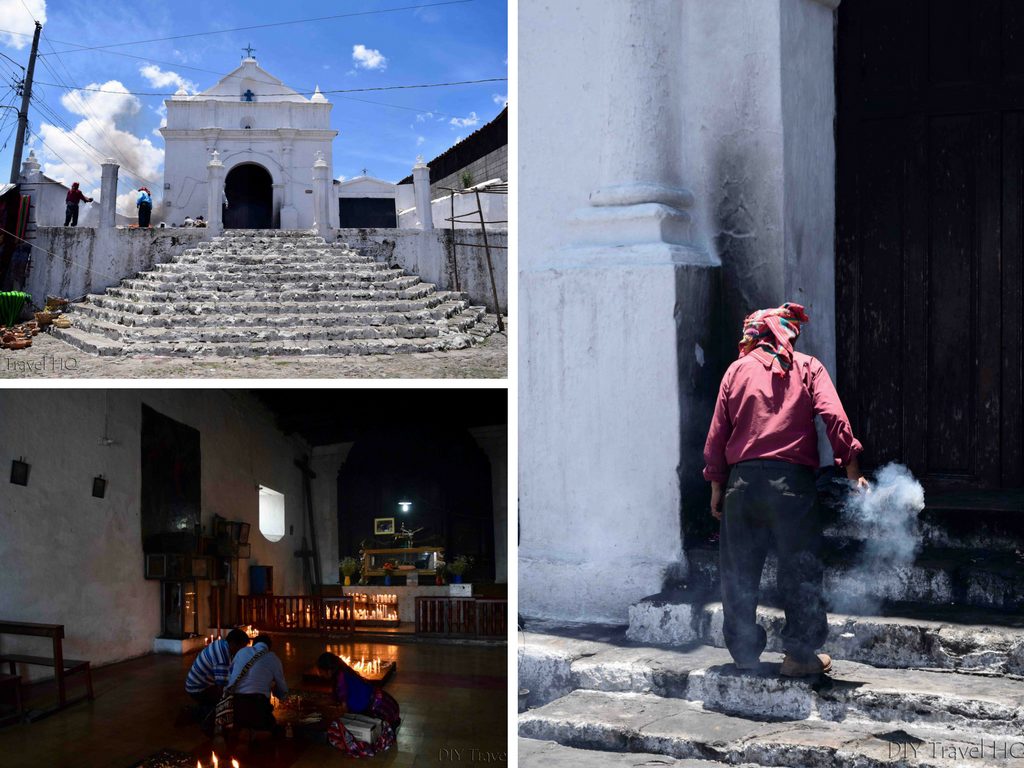 4. Pascual Abaj
Pascual Abaj is located down 9a Calle, with a few mask workshops along the way. Follow the road until you see a sign for Pascual Abaj on the left.
You can choose to pass through either the first or second property on the right. Continue on the switchback path until you reach the top of the hill.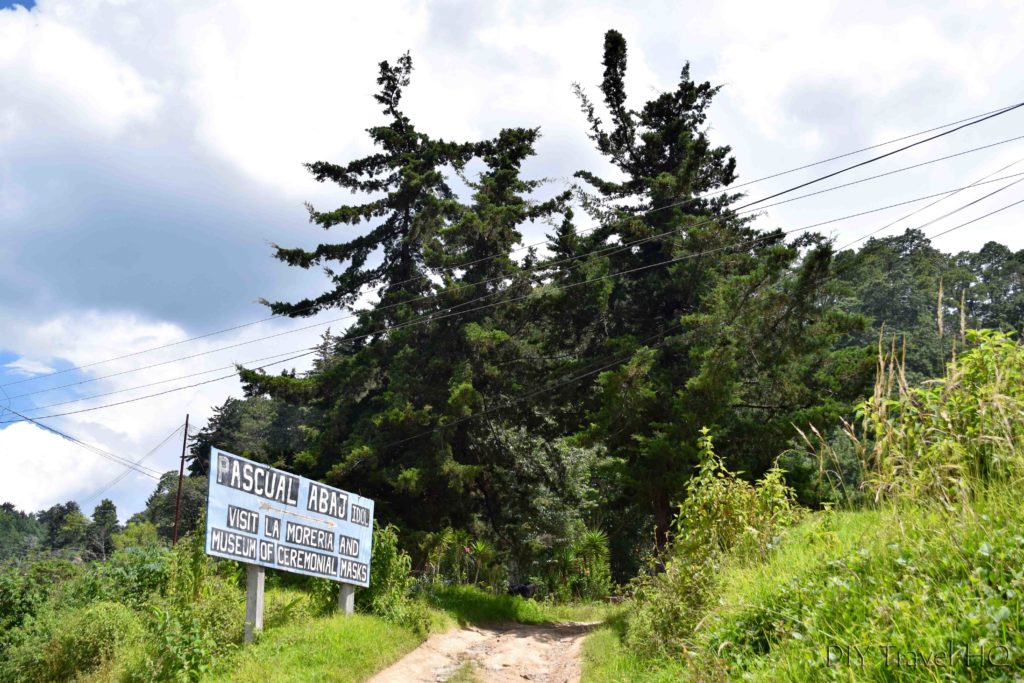 Pascual Abaj translates as Sacrifice Stone, and is a shrine to a Maya earth-god. The focal point is the shrine to Huyup Tak'ah surrounded by stone crosses in a circle.
The flattened hilltop also has a dozen-odd sacrifice altars under a pavilion and in the open. If you are lucky, you will see religious Maya offering a chicken. More common gifts are flowers, alcohol, and incense.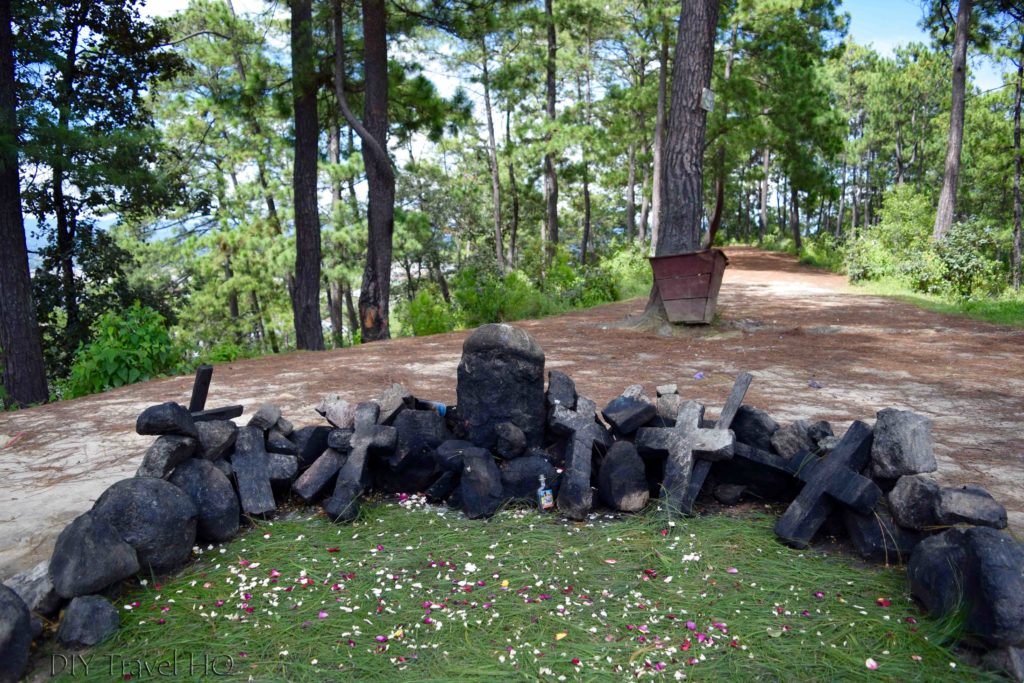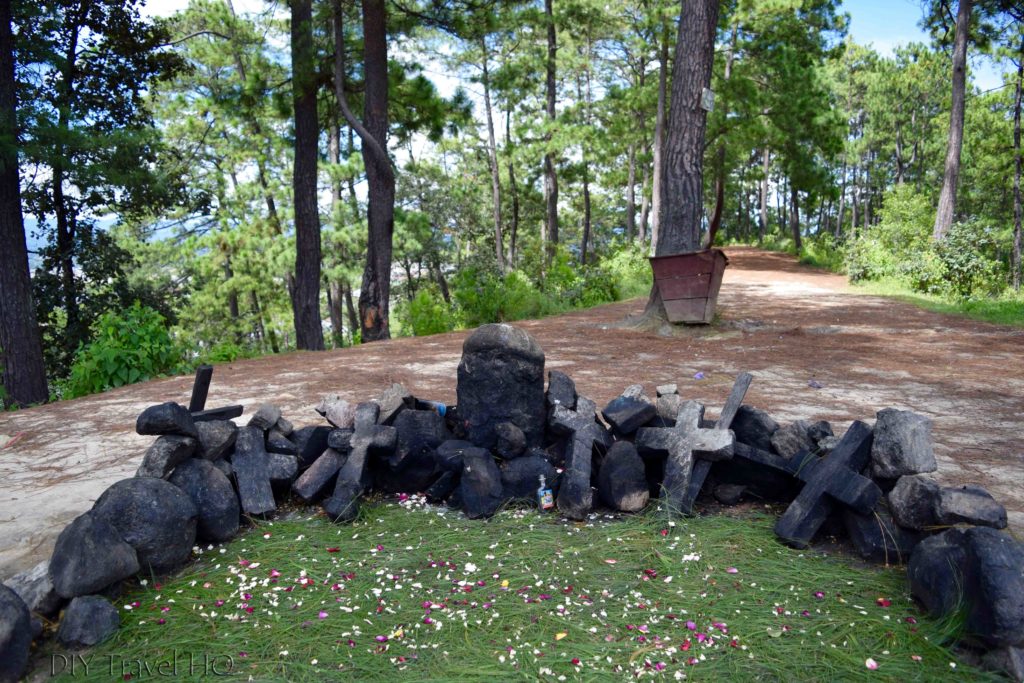 5. Museo Arqueological Regional (Q5)
Chichi's archaeological museum is small and showcases clay and stone tools, weapons, and accessories. You can also see the entire collection by looking through the windows.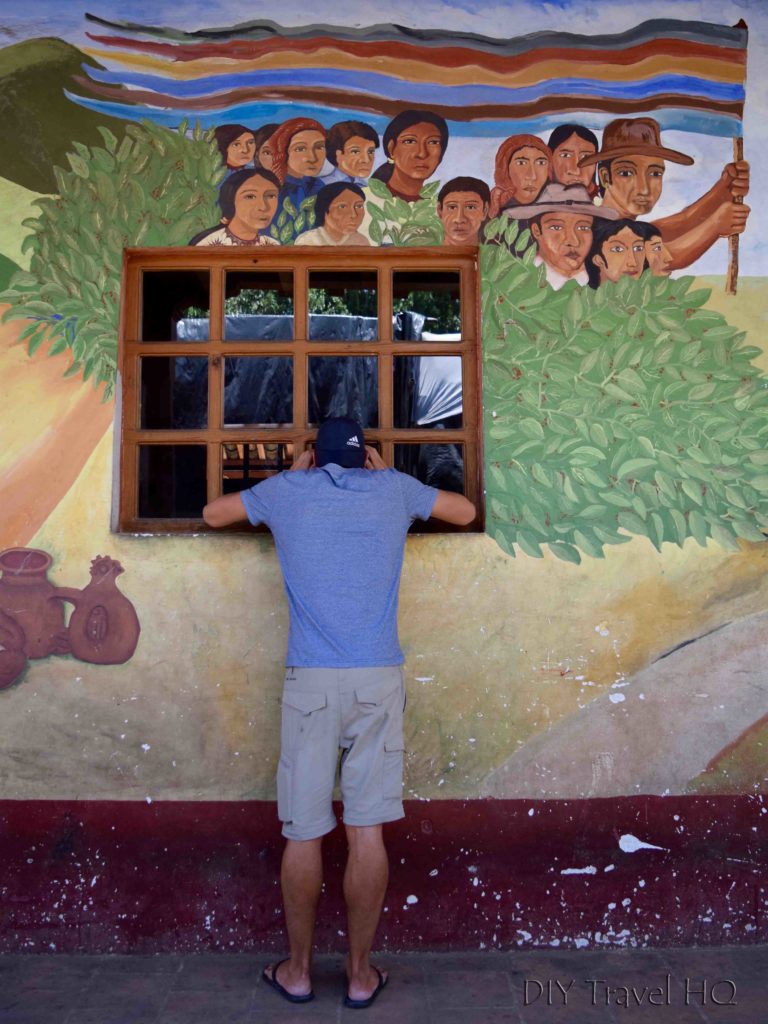 6. Chichicastenango Murals
Surrounding the Main Plaza is the Town Hall, and Museo Arqueological Regional. Both have murals on their exterior walls.
The more significant mural is at the Town Hall, which tells the story of the civil war with Mayan symbology.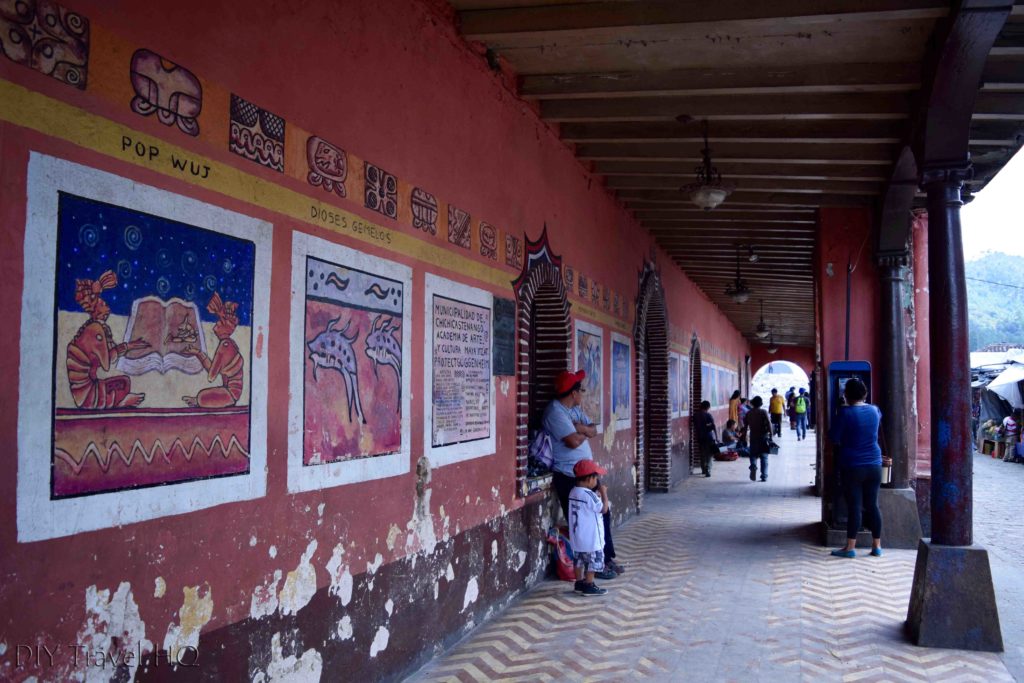 7. Museo de Mascaras Ceremoniales
The Museum of Ceremonial Masks at the base of Pascual Abaj has a small display on Maya masks.
There are also several mask stores on the way to Pascual Abaj, with one offering mask workshops. These tend to be open more than Museo de Mascaras Ceremoniales.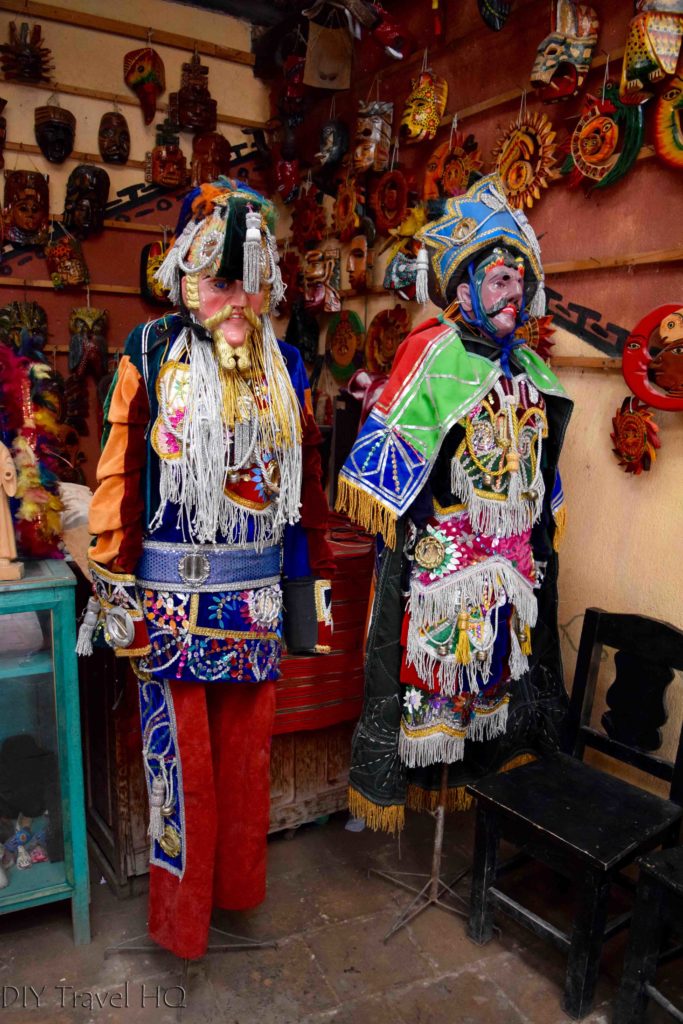 The variety of masks is impressive no matter where you visit, and is one of the better items for sale in and around the Chichicastenango market.
8. ChiChi Cemetery
From Pascual Abaj or Posada el Telfono, you can see just how colorful the Chichi cemetery is. It may look best from afar, but it is still worth a peek as you explore Chichicastenango on foot.
The three distinct grave styles are mausoleums, stacked graves, and concrete caskets.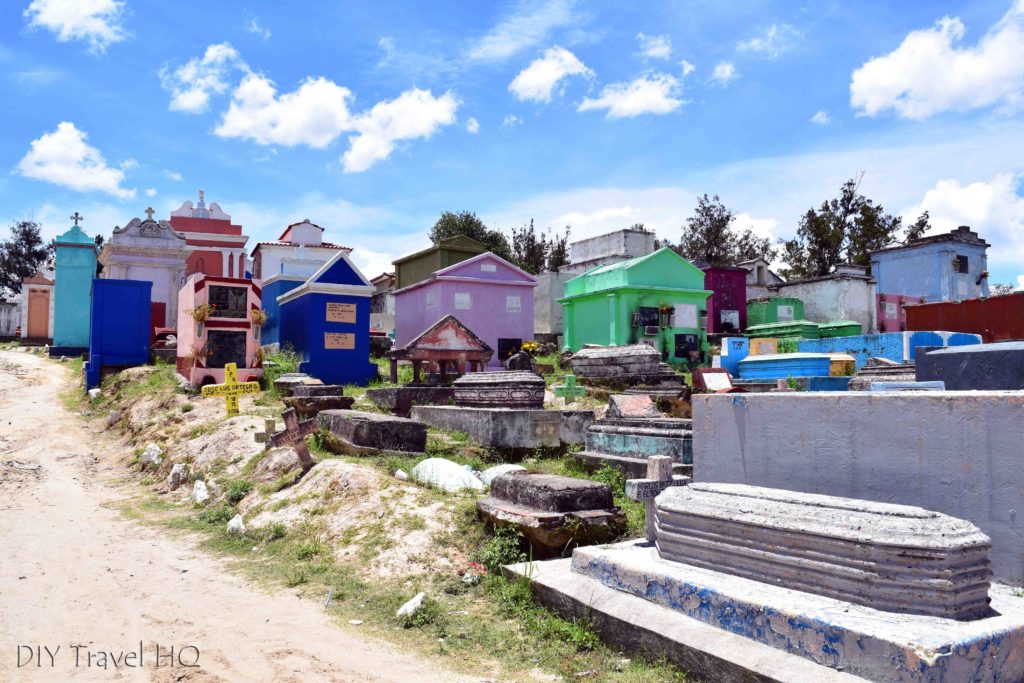 Chichicastenango Hotels
Chichicastenango conveniently has two budget hotels next door to each other on 8a Calle. Compare both Hotel Mashito (Q80 / $10.90) and Posada el Telefono (Q70 / $9.54) before deciding.
We chose Posada el Telefono since we liked the upstairs courtyard, and we were able to pay Q60 / $8.20 as a two night discount.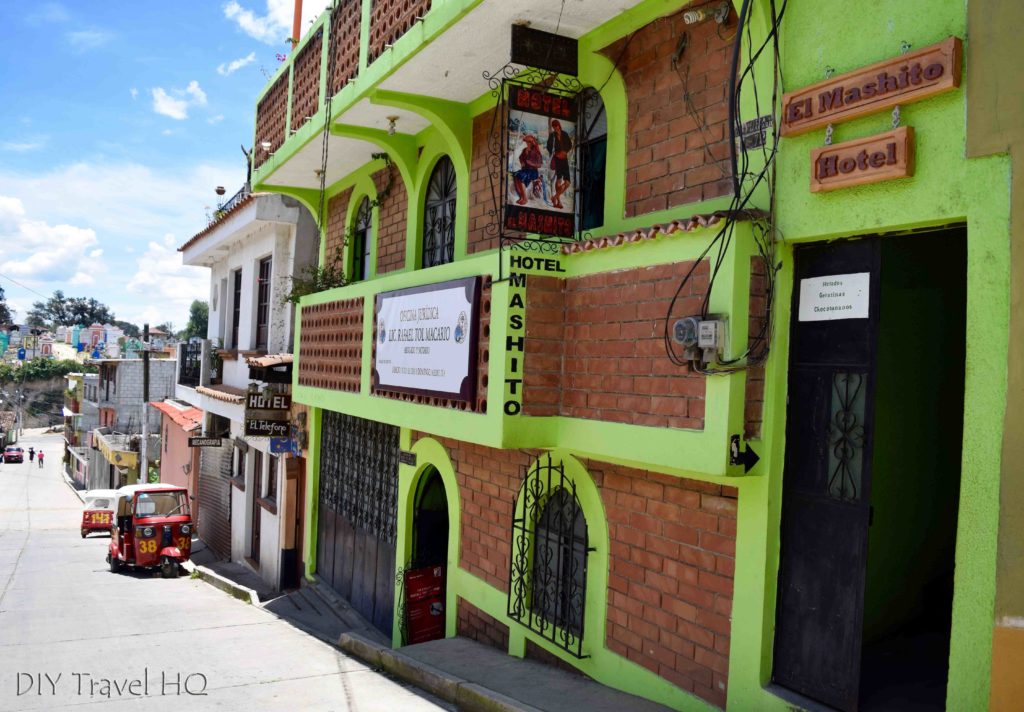 If you want to book ahead, there are a few Chichi hotels on Booking.com that start at $31. Even more options can be found on AirBnB, and first time users can get up to $55 off their first stay!
Chichicastenango Restaurants
Like most Guatemalan towns you can find tacos (3 for Q10 / $1.35) and fried chicken with fries (Q10 / $1.35) in Chichicastenango.
Better value are the set meals in the covered Central Market. Expect to get a plate consisting of meat with sauce, rice, salad, tortillas, and a drink for Q15 / $2.05.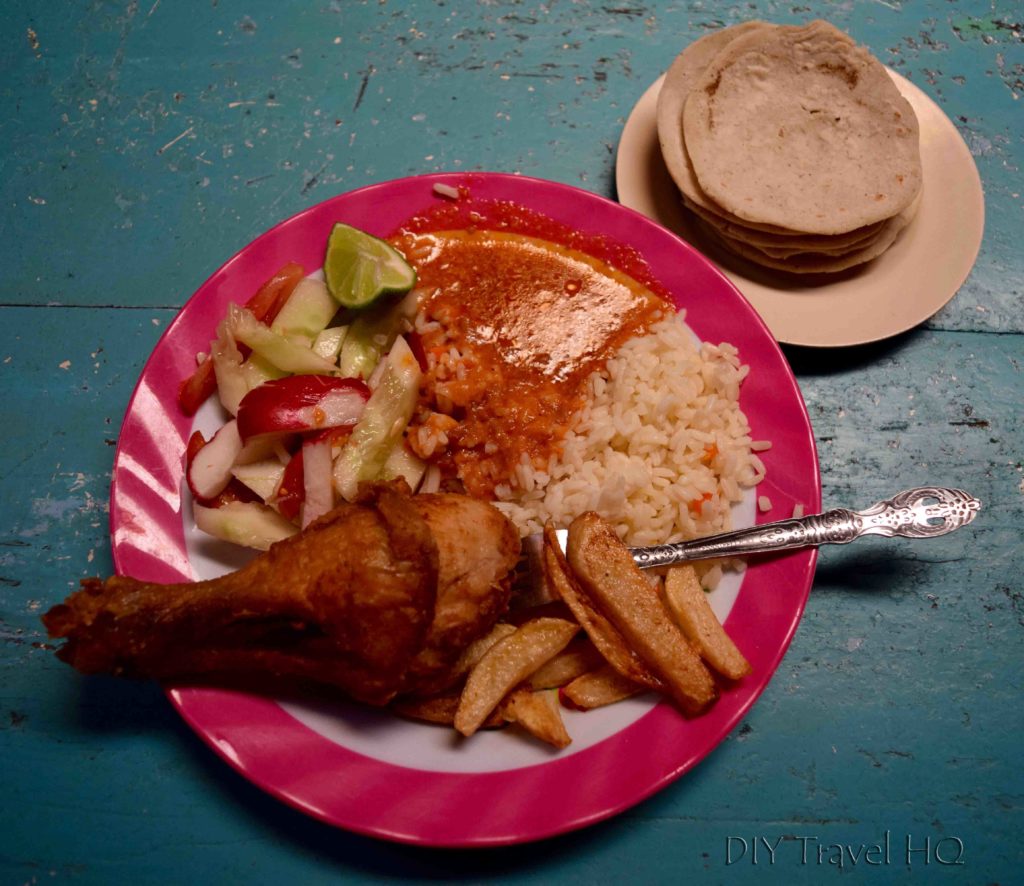 A new dish we discovered at the Chichicastenango market was atol de elote (Q4 / $0.55), which can be described as corn soup. It is bland at first, but you can adjust the flavor to your liking. You add salt, lime, chili, and crackers (Q0.50 / $0.07) for flavoring.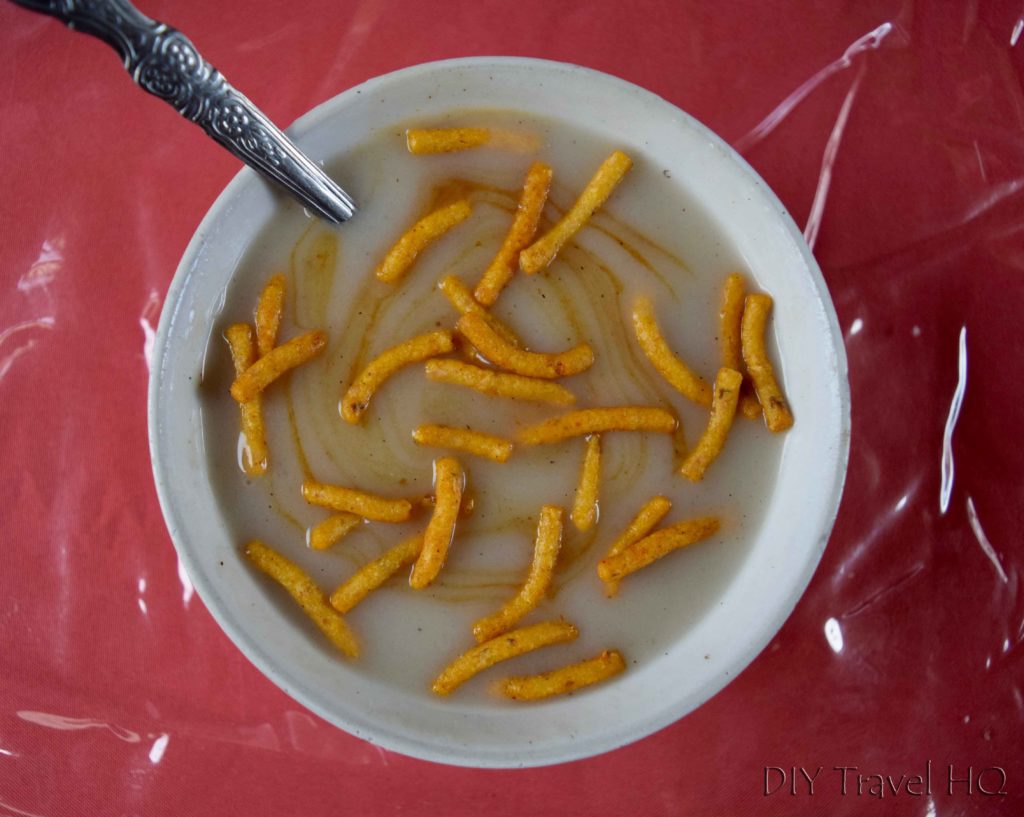 The best place to drink is Cantina Aqui Me Quedo, where they have bulk deals. Come with a group just in case the locals are drunk and annoying.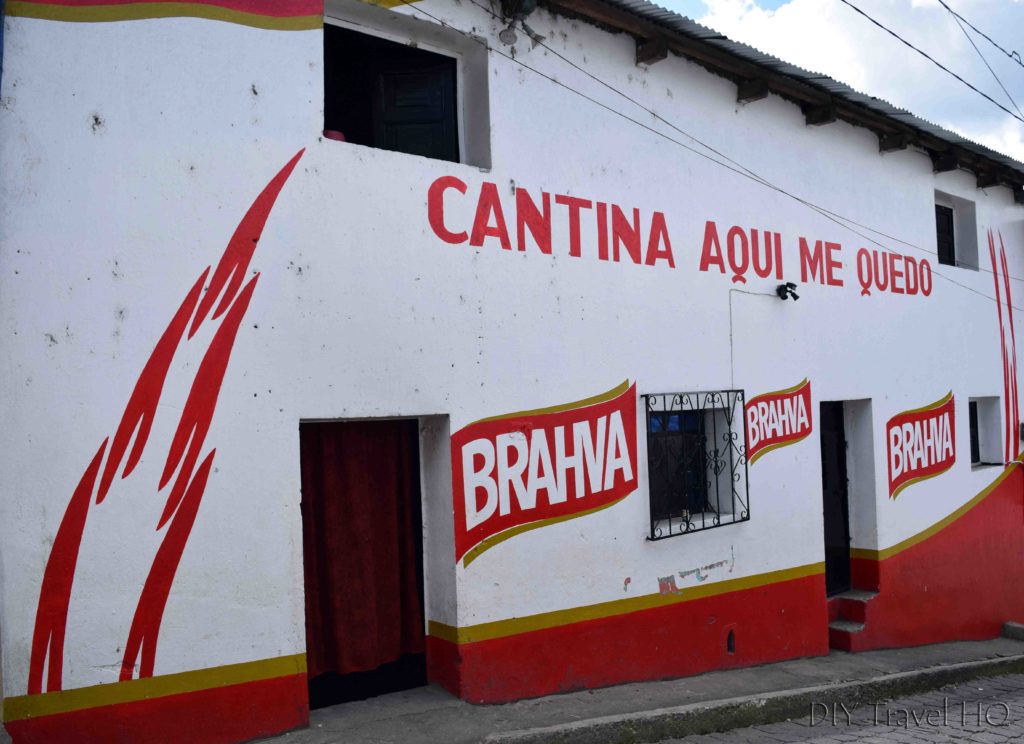 Getting To/From Chichicastenango
We took a chicken bus from Quetzaltenango (Xela) Terminal Minerva (Q20 / $2.75), and got dropped off in Chichicastenango since there is no official station.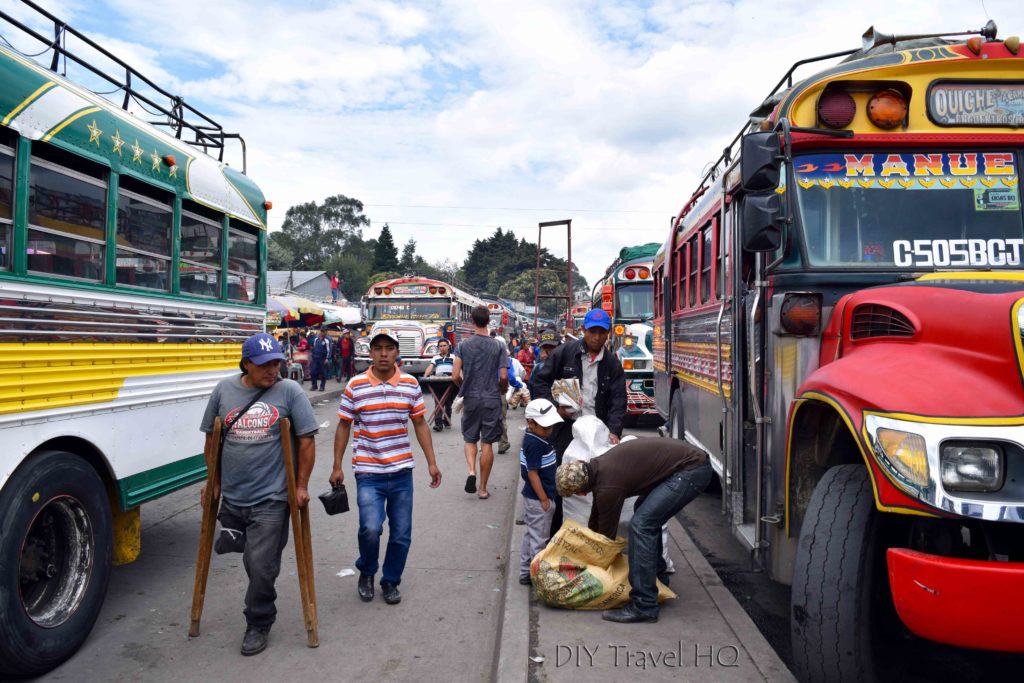 Departing Chichicastenango is a bit more challenging for this same reason. You can try to catch a bus passing through, but the market makes it difficult to know the new route.
Consider taking a shuttle to Los Encuentros (Q6 / $0.80) instead, and transferring to a chicken bus there.
You can head to Panajachel, Guatemala City, Antigua, Quetzaltenango (Xela), or KM 148 (Q5 / $0.70 but charged Q10 / $1.35) for San Pedro La Laguna (Q10 / $1.35 extra).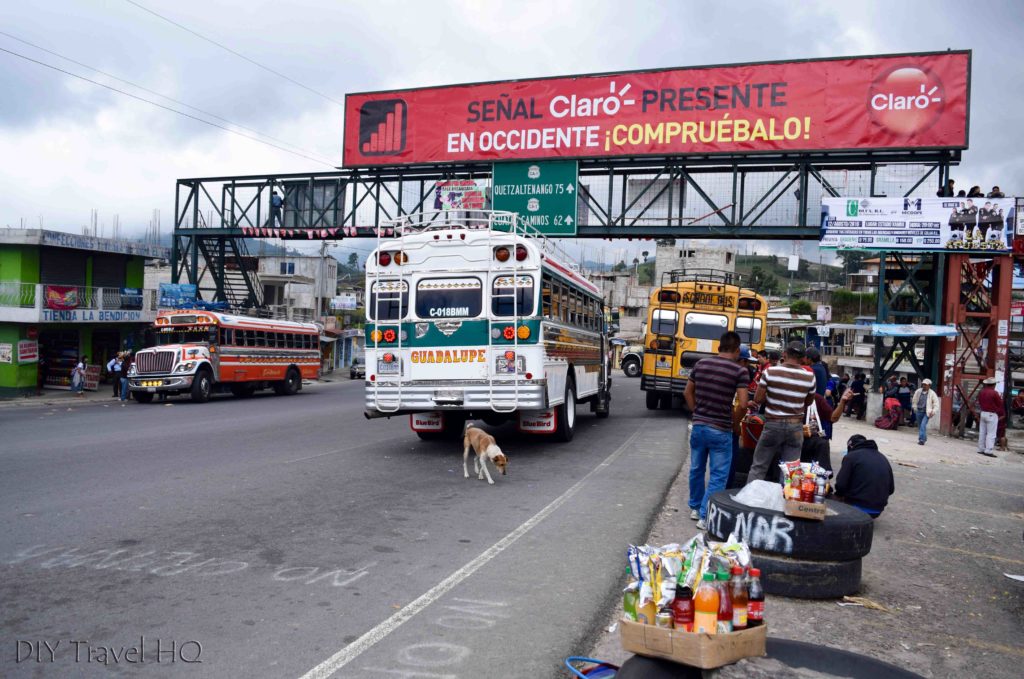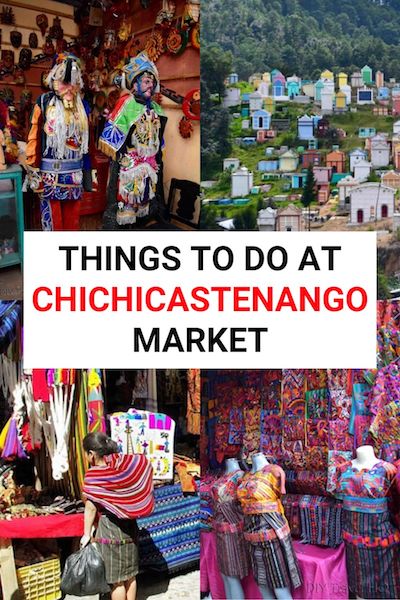 ***The Final Word – Despite Chichicastenango being a very touristy market, there are a few attractions worth exploring the day before when it is quiet.***
Visited in August 2016
Updated January 2020
Disclaimer: This post contains affiliate links which means that we receive a small commission if you click on a link and purchase something that we've recommended, at no extra cost to you.