Releasing sea turtles is a top bucket list item in Central America – you can do it at Barra de Santiago, El Salvador but find out why you might want to wait for a better experience…

El Salvador is an important nesting location for 4 of the world's 7 sea turtle species, all of which are endangered.
One of the most active sites in the country is at Barra de Santiago which we visited here at DIY Travel HQ.
From August to November, giant sea turtles come to shore to lay their eggs.
They scout the beach for the perfect spot, before digging a deep hole in the sand with their back flippers.
Then they drop their eggs – on average, around 110 eggs per nest! Isn't that amazing?!
What's more, sea turtles can lay eggs more than 8 times in a season!
We were lucky enough to witness this whole process while we were camping on the beach at Glovers Atoll Resort in Belize.
That turtle spent over 1.5 hours making her nest & laying her eggs.
It was pretty incredible & left us wanting to experience more – 3 months later, we finally got another chance when travelling around El Salvador.
Turtle Hatchery at Barra de Santiago
We found out about the Turtle Hatchery in Barra de Santiago from our Rough Guides guidebook to Central America.
However, it didn't list a lot of information about it & we couldn't find much online either.
After checking-in to our room at Capricho Beach House, one of their staff members walked with us to the Turtle Hatchery – after about 30 minutes, we came across a fenced area on the beach, with a thatched leaf roof.
Stepping inside, we found rows of square plots with numbered wooden markers.
A man & a little girl were crouched down, digging further into the holes in the sand.
Around them, were tubs of tiny turtles – it was time for them to enter the world & from their rapid-fire scurrying & squirming, it looked like they were ready!
The man explained that every morning, volunteers comb the beach looking for turtle nests.
They collect the newly-dropped eggs & rebury them in the hatchery, to give the little ones a better chance of survival.
The eggs remain in the hatchery for 45 days.
Every evening around 5:30-6:00pm (in season), baby sea turtles are dug up from the sand & released into the sea.
Visitors have the chance to assist in this process – we arrived too late to help with the digging, but I'm sure you'd be able to do that too.
We helped to take 2 tubs of sea turtles the short distance to the shore.
Setting the containers on the sand, we gently collected the turtles into our hands & set them free.
It was a thrilling feeling!
The turtles all rushed instinctively to the sea, to our human eyes they seemed excited & eager.
Of course, it's also bittersweet as out of the couple of hundred sea turtles we just released, only a few of them will live to see the next day.
If they're lucky, perhaps 1 or 2 of them will make it to adulthood.
If it's a female turtle, it will return to this very beach to lay its own eggs some 10-30 years down the track – the amazing cycle of life.
Visiting the Turtle Hatchery: Things to Know
No explanations at the Turtle Hatchery: the man we met there didn't speak English, neither did our chaperone from the hotel. You need to be able to ask questions in Spanish to gain a better understanding.
Short experience: Digging up the eggs & releasing the turtles only took 30 minutes
Will need to spend the night in Barra de Santiago if you're traveling by local bus
Limited accommodation & food options in Barra de Santiago
There are other places you can release sea turtles such as La Tortuga Verde inEl Salvador & the Surfing Turtle Lodge in Nicaragua
Accommodation at Barra de Santiago
We stayed at Capricho Beach House, which we can't recommend.
Our room door didn't lock & there was no light.
A worker put in a new light bulb for us but that only worked for 10 minutes.
There's no door to the shower, which opens onto the restaurant. There's also nowhere to hang anything, we dragged a plastic chair into the room. It's a cold water shower, with slightly salty water.
Did I mention there was no door?
The toilet was fine & the staff were nice but for $10.00 a person, it's not an acceptable place to stay.
You may not have any problems if you book the private room with ensuite for $45.00.
There's very slow wifi on the grounds, expect bugs & mosquitos.
Passing through on the pick-up truck, we noticed a hostel across the road from the Turtle Hatchery & Café Mezcal – this could be worth checking out & certainly couldn't be any worse than Capricho Beach House.
It'll also save you a 1 hour return walk to the Turtle Hatchery.
There are also many numerous other places to stay at Barra de Santiago.
We recommend Booking.com as a trustworthy source of accommodation in Cuba. Make a booking with our link for 10% off your stay.
Barra de Santiago Fishing Village
Barra de Santiago is a remote strip of land with the Pacific Ocean on one side & a protected estuary on the other.
Barra is home to a small fishing village, but the beachfront properties are huge, filled with coconut trees.
However, there's little infrastructure: dirt roads, few accommodation options & places to eat.
Nevertheless, there is a kind of scruffy charm to this place.
The village offers an insight into local life & there are a number of ways to pass the time: go out on boat tour of the mangroves, take surfing lessons, relax in a hammock or walk endlessly on the beach.
Unlike the surf scene at El Sunzal & El Tunco, the beaches here are deserted.
So if you want complete privacy off-the-beaten track in El Salvador, Barra de Santiago is the place to be.
How to Get to & from Barra de Santiago
From Sonsonate, take bus #259 to the Barra de Santiago intersection – the ride costs 65 cents.
Then take a pick-up truck to the village – the ride to the last stop at Capricho Beach House costs $1.00.
Know Before You Go
Place: Turtle Hatchery at Barra de Santiago, El Salvador
Duration: 30 minutes
Price: $5.00 a person
Did you enjoy reading Barra de Santiago: Releasing Sea Turtles on the Beach?
Pin it and help others find it too!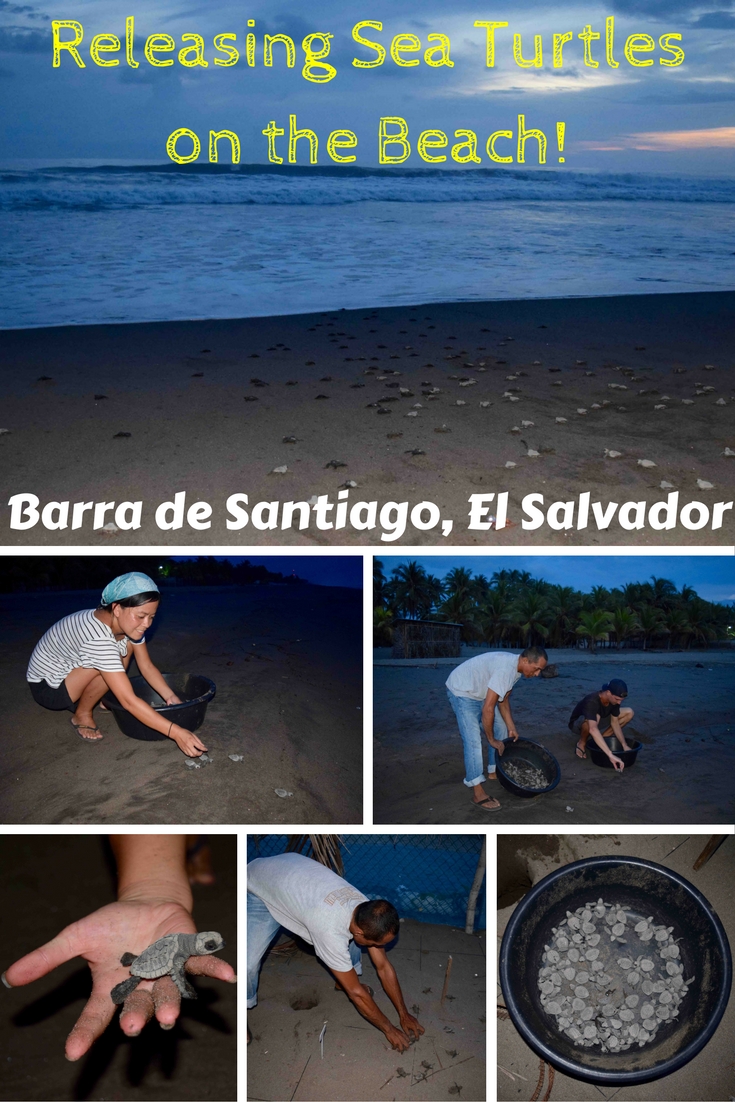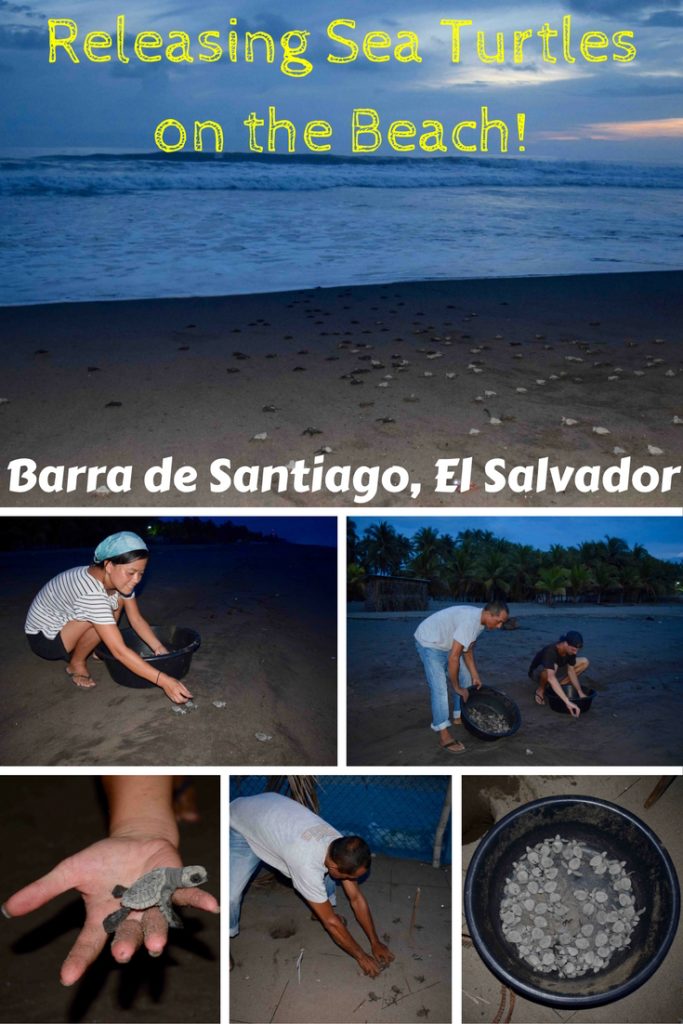 *** The Final Word – For a better experience, find a turtle release program that offers explanations in English or a translator *** 
Have you ever released baby turtles to sea?
 [put_wpgm id=184]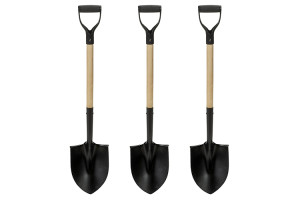 Accessible DIY travel to more distant locations via multiple connections or longer forms of transport
* This post contains affiliate links, which means that we receive a small commission if you click on a link & purchase something that we have recommended – at no extra cost to you. This helps us to keep our site running so we can continue to provide free content. Thank you for your support!
Visited in October 2016