With a little bit of everything, Maui is the perfect island destination in Hawaii – we've combined a list of unique attractions and fantastic restaurants to create the ultimate Maui Itinerary!
Trying to find all Maui's hot spots and fun activities with reputable companies can be overwhelming.
In this guest post, Caresa from This Spontaneous Life puts together the perfect 5 day Maui itinerary.
"Maui is known for it's astounding beaches, amazing weather, scenic sights and adventure activities. Hawaii is by far one of my favorite US states. I've had the pleasure of visiting Maui twice. And needless to say, Maui stole my heart from the moment I stepped foot on this God given island.
I am as city as it gets, I was raised in Las Vegas so getting to experience the famous island life was completely surreal. I'm happy to share the best tips, activities and restaurants to check out during your trip to Maui!"
 Find more inspiration in one of the Maui guide books below!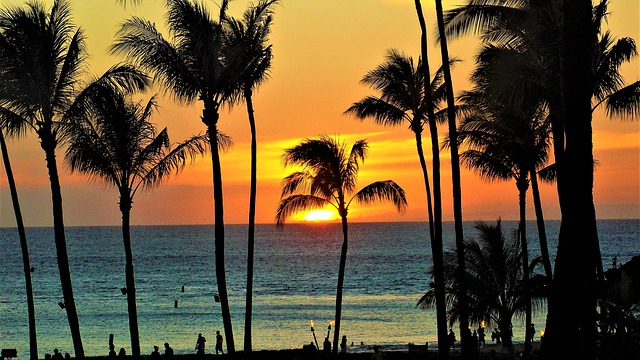 5 DAY MAUI ITINERARY
DAY 1
Snorkle to Molokini Crater
Maui is known for its world famous snorkeling locations. And truth be told, there is no better way to start your day than to bond with the ocean. Molokini Crater is Maui's most popular snorkel and snuba diving destination – no that's not a typo. Snuba diving is the perfect mix between snorkeling and scuba diving.
You will be given the ability to breath underwater through hoses connected to compressed air cylinders who also serve as flotation devices.
Tour option: Molokini and Turtle Town Snorkeling Adventure
* Don't forget to purchase travel insurance before any trip to Hawaii. We've been using World Nomads for over 10 years. It's the best-value provider we've found and we've never had any hassles on the few occasions we've had to make a claim.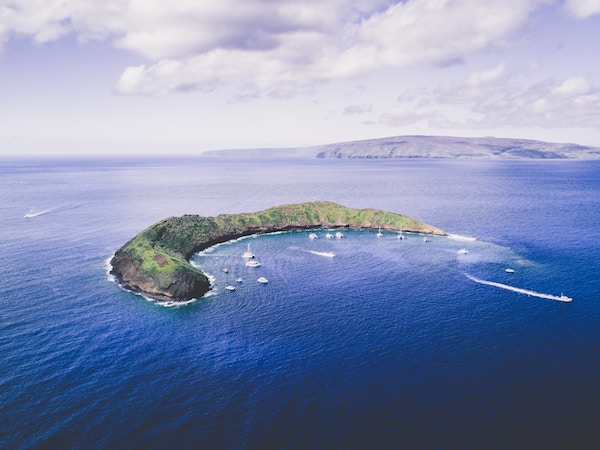 Lunch at Mama's Fish House
The seafood at Mama's Fish House is absolutely to die for. After a long day spent in the water, Mama's Fish House is the perfect place to go for a nice, relaxing lunch. It also has some pretty killer ocean views.
Relax at Ka'anapali Beach
There is no better way to end a busy day than to relax on the beach – it's one of the best free things to do in Maui. Ka'anapali Beach is one of Maui's most beautiful beaches and a perfect spot to watch the ever so breathtaking Maui sunset.
Relax at Ka'anapali Beach
Maui Brewing Co is one of the most popular bars on the island. After an occupied day, there is nothing better than enjoying a few drinks. And there is no better place to enjoy a cold one than Maui Brewing Co.
They not only serve amazing drinks but they also have an ice bar around the bar so your drinks stay cold at all times.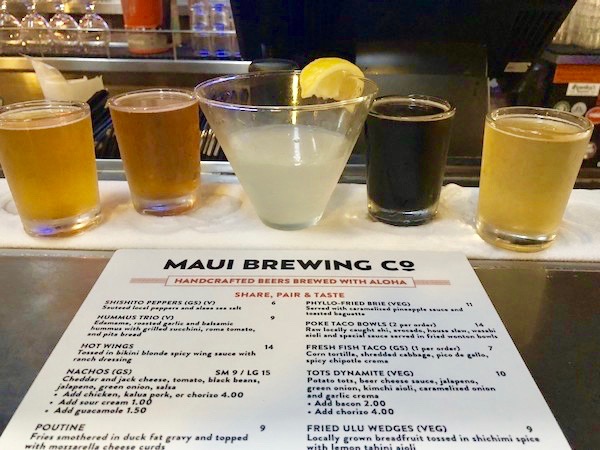 DAY 2
Zip lining in Kula, HI.
At some point throughout your trip, you have to try zip lining and what better place to do it than Maui. As you are flying through the mountains of Maui, you won't believe your eyes as the sights start to present themselves – so record it all with a GoPro!
Are you still feeling hesitant? Then check out these inspiring adventure quotes that will not only help motivate you going zip lining, but your next trip too!
Tour option: 7 Zip Line Adventure
Lunch at Kula Lodge
Kula Lodge is located about three miles from Skyline Eco-Adventures. There are not enough words in the english dictionary to describe how extraordinary this place is. It is right by Haleakala National Park. Also, if you enjoy your lunch with a view, eat on the patio. The views are exceptional.
Check out Ali'i Kula Lavender Farm
On the way back to town from Kula, you will run into Ali'i Kula Lavender Farm. It only costs a few dollars to get in and it's definitely something worth checking out. You will get to witness fields full of Lavender. It also makes for some great photo ops.
Explore Downtown Lahaina
Lahaina is one of Maui's most popular town. Make your way over to the heart of Lahaina it is filled with so many cool restaurants, bars and shops. There is a never-ending list of things to do in downtown Lahaina.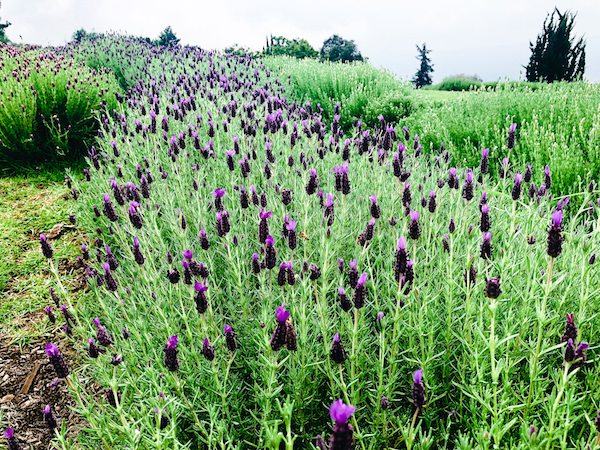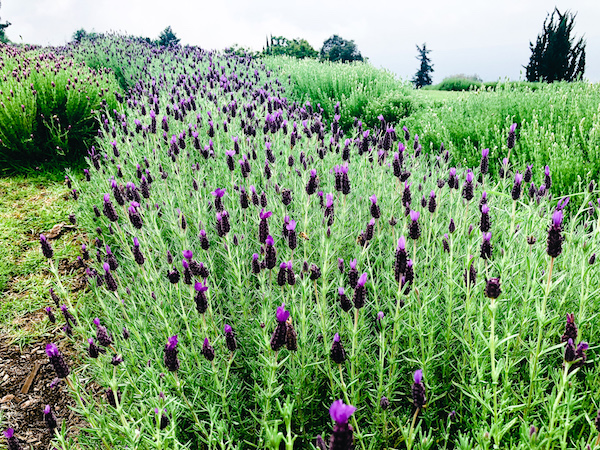 DAY 3
Breakfast at The Gazebo
Start your day off right with some nice breakfast at The Gazebo, located in Lahaina. You want to make sure that your body is nice and fueled before taking on your busy day.
Road to Hana
Equipped with 620 turns and 59 bridges the Road to Hana is world famous. Depending how many stops are taken, the trip can take up 12 hours but its worth every single minute.
Also, always be mindful of other drivers. The road is extremely narrow with some very sharp turns. On the way up, there are some amazing hikes as well, like The Seven Sacred Pools and The Bamboo Forest.
Dinner at Down the Hatch
Inside the heart of Lahaina, you will come across the cutest restaurant with the best atmosphere – Down the Hatch. The food served is nothing short of delectable and the restaurant also offers live music.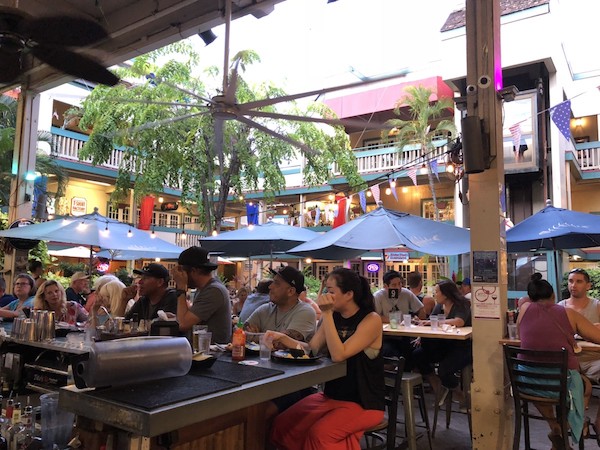 DAY 4
Hike WaiheeRidge Trail
Your Maui itinerary absolutely has to include a hike, any hike. Even if hiking isn't your cup of tea, the beauty of Maui can't go unnoticed. That would be borderline criminal. If you can only do 1 of the many hikes in Maui, the Waihee Ridge Trail near Wailuku is awesome. It is four miles round trip and very low difficulty.
What's more, throughout the hike you get two exceptional views. You look towards one side and you will find a 360° view of the ocean and on the other side a jaw-dropping mountain view.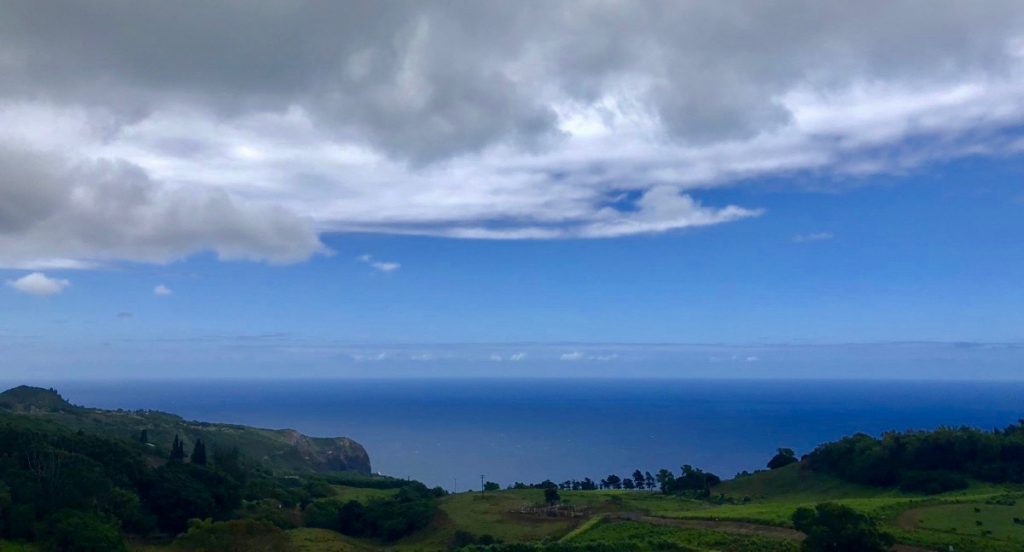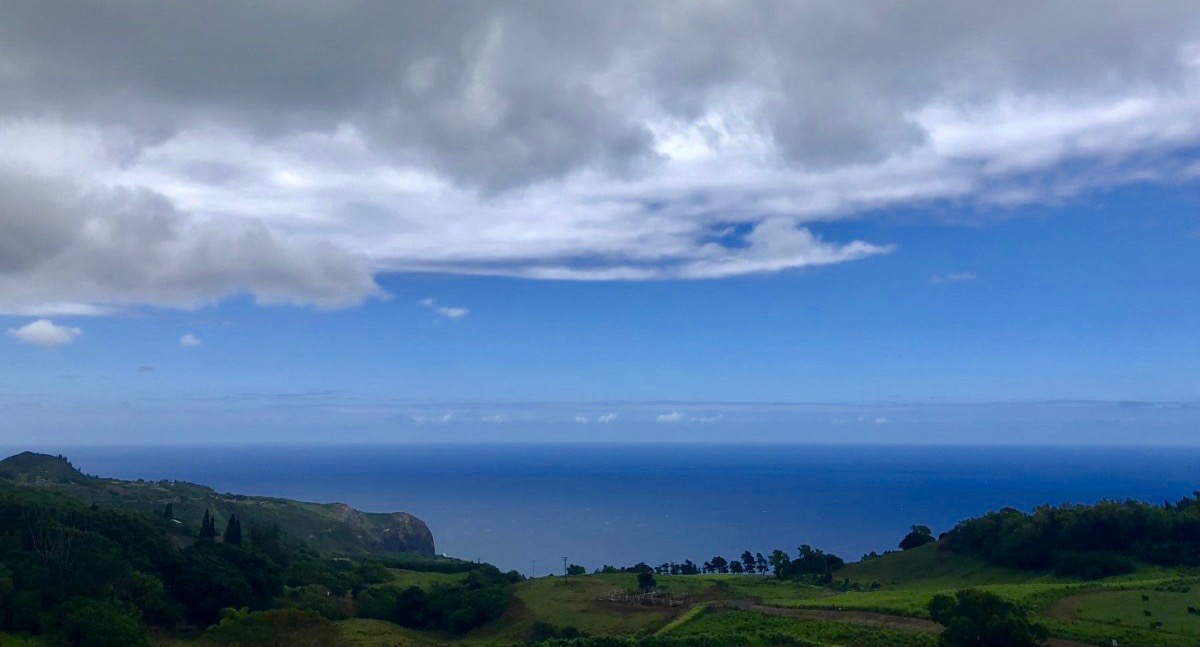 Lunch at Matteo's Osteria
Matteo's Osteria is an Italian joint on the island. It is almost a 5 star restaurant and there is a good reason why – The service and the food was over the top!
Check out Big Beach/Little Beach
A beach that many people aren't familiar with is Big Beach in Kihei. If this beach isn't already on your itinerary, I will give you one great reason as to why it should be added to the list. This beach was named one of the most beautiful beaches in the world! The views of the horizon, the pristine, crystal clear water and the soft, golden sand… you will never wanted to leave.
Big Beach also has a little sister that even less people know about and her name is Little Beach. Little Beach is a short hike away from Big Beach and is a clothing optional beach. If you're trying to get rid of your tan lines, this is the perfect opportunity. Just be sure to bring lots of sunscreen!
Drinks at the Grotto Bar
Located in the Hyatt Regency in Lahaina, the Grotto bar is a gem. It is a bar that's created inside a man-made cave which is surrounded by waterfalls.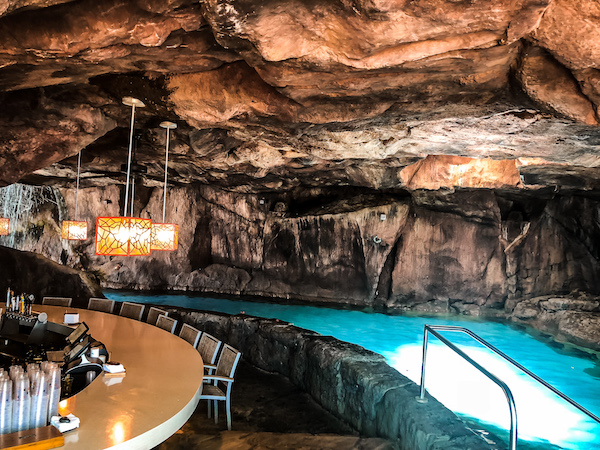 DAY 5
Watch the sunrise at Haleakala
Watching the sunrise at the top of Haleakala volcano is something everyone must do at least once in their lifetime. If you're an early bird, that is perfect for you. You can either take a guided tour to the top of Haleakala or if preferred to tackle on this adventure on your own, that is also an option.
Tour option: Haleakala Sunrise Tour
Stand up paddle boarding
Stand up paddle boarding is one of the top fun things to do in Maui. A famous location for stand up paddle boarders is Makena Landing. If you're a beginner looking to paddle board, consider taking a few lessons before hitting the big waters. The current, the waves and the coral of Maui can get pretty dangerous if you don't know what you're doing.
Lunch at Cafe O'Lei
Lunch at Cafe O'Lei is a must do in Maui. The seafood there is delicious, especially the Maui Mahi.
Sunset Dinner Cruise
The perfect way to end your Hawaii vacation is with a sunset dinner cruise. The dinner cruise has everything from live entertainment, great food and open bar. You will be taken out in the open waters for the ride of a lifetime. You will then get to watch the sun set as the day starts to come to an end.
Tour option: Sunset Dinner Cruise in Ka'anpali
And there you go, the perfect 5 day Maui itinerary to ensure that you will have the best trip. Mahalo!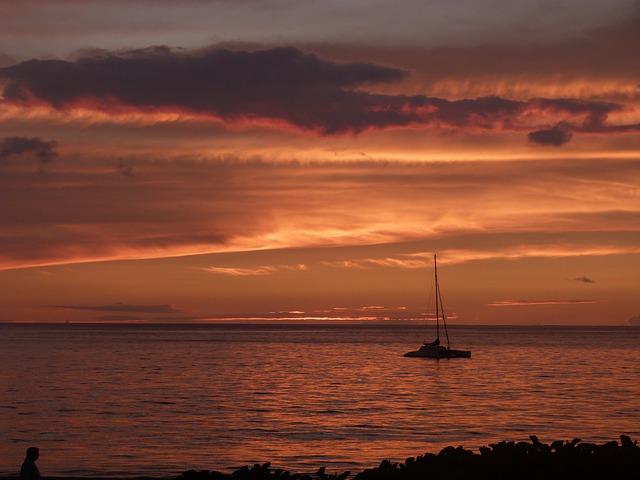 WHERE TO NEXT?
Interested in another island vacation? Check out Turks & Caicos…
Turks & Caicos Attractions
Turks and Caicos is an idyllic vacation spot for travellers of all kinds, including families – find out the top 6 family friendly attractions on this stunning Caribbean island.
Read more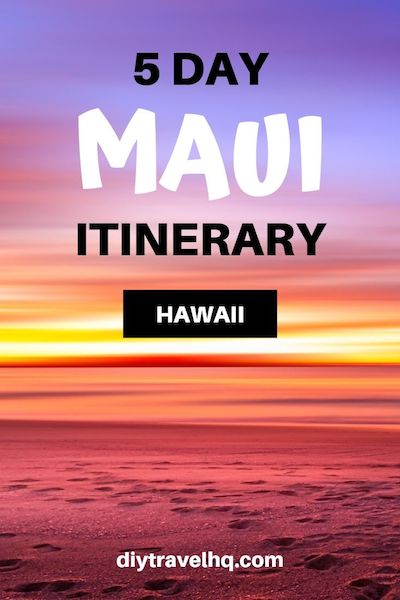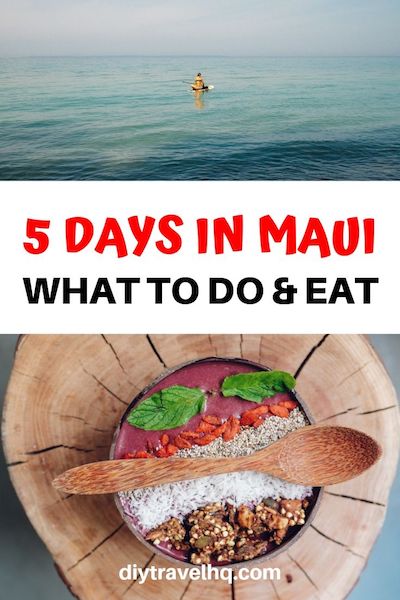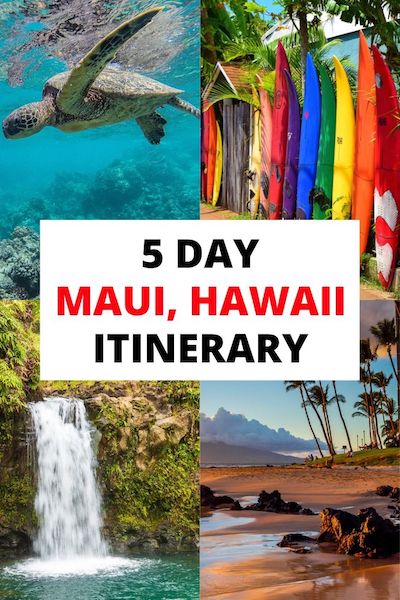 Thank you to Caresa for putting together this awesome Maui itinerary! Caresa is a travel and fashion blogger at This Spontaneous Life. She recently sold all her belongings to become a minimalist and to be able to travel the world without limitations.
Check out Caresa's blog and follow her on Facebook, Instagram & Pinterest!
Disclaimer: This post contains affiliate links which means that we receive a small commission if you click on a link & purchase something that we've recommended, at no extra cost to you.