Nepal is so much more than just Kathmandu and trekking to Everest Base Camp – from nature & wildlife to history and culture, travel deeper with us to the best destinations in Nepal.
I should really follow my own advice… I spent 3 weeks under the Roof of the World but until I started putting together this post, I didn't realise that there were so many interesting places to visit in Nepal. It's definitely one of the top solo travel destinations in Asia. Shout-outs to my fellow blogging buddies for these awesome recommendations!
Hindsight is a beautiful thing but at least I'm staying true to my purpose here on the blog – making the mistakes so you don't have to!
Seriously, by all means visit the hotspots, but do seek out some lesser-known destinations, especially if you love hiking and adventure. I thought I got a decent feel for Nepal, but now I can't wait to go back and explore more.
Check out Lonely Planet Nepal
for more tips & travel inspiration to help you plan your trip, or jump start your research with the best short treks in Nepal. Anyway we've got a lot to get through so without further ado, let's get started!
BEST DESTINATIONS IN NEPAL
1. Kathmandu
Practically every traveler to Nepal will begin their trip by flying into Kathmandu. Visas on arrival are offered to citizens of many countries. From the airport, most visitors head straight to Thamel, the tourist center of Kathmandu. From hotels and restaurants to tour agencies and outdoor stores, everything you need is at your doorstep.
It can be easy to get lost in the narrow, winding streets but you'll either soon get your bearings or be constantly asking for directions. Always be aware of pickpockets. We recommend wearing a money belt with RFID blocking & traveling with an anti-theft daypack.
Technically Thamel is supposed to be vehicle-free but that doesn't always apply, especially not to motorbikes and rickshaws. Outside in the real world, Kathmandu is dusty and chaotic. It's clearly still rebuilding from the devastating 7.8 magnitude earthquake in 2015, which toppled many buildings and killed almost 9000 people.
The main attractions in Kathmandu are:
Narayanhiti Palace Museum
Durbar Square
Swayambhunath (Monkey Temple)
Pashupatinath Temple
Boudha
Patan
Although many visitors stop only in Kathmandu it's worth getting out of the city to experience more of Nepal. Nearby day trips include Bhaktapur and Nagarkot while further destinations are well-connected by air and road if you have the stomach and patience for it…
* Tour options:
Things to do in Kathmandu
From food & attractions to money & day trips, find out everything else you need to know about visiting the beating heart of Nepal.
Read more
2. Bhaktapur
Eight miles east of Kathmandu lies Bhaktapur, home to Nepal's tallest pagoda temple, Nyatapola Temple. Together with Kathmandu and Patan, these three medieval towns are known as the royal cities of the Kathmandu Valley. In ancient Nepalese Bhasa, Bhaktapur translates into "the city of devotees."
Down winding alleyways, past weatherworn brick buildings, in every corner of this ancient stronghold, you'll find relics of the past. The devotion of its inhabitants to preserving the long-standing traditions of folk art and architecture has cemented Bhaktapur's title as the country's 'open museum.'
Don't be deterred by the 1500 NPR (~$15 USD) entrance fee as there are plenty of things to do in Bhaktapur. While it's hard to stomach the steep cost, all proceeds go towards conservation efforts, which is especially important in the wake of the 2015 earthquake that devastated the region. The ticket to the city is valid for one week and you must show your passport.
Highlights of Bhaktapur's Durbur Square include:
the deft metalwork of the Golden Gate
marking the entrance of the well-preserved royal courtyards
Pottery Square, the epicenter of Bhaktapur's ceramic industry
Nyatapola Temple is a standout. This ornate, five-story Hindu compound imitates the nearby mountains in height and grandeur. And due to the skilled architectural know-how of Bhaktapur's artisans, the temple incurred only minor damage during the 1934 and 2015 earthquakes. Walk all the way to the top of Nytapola to take in the beauty of the surrounding area.
Your approach to Bhaktapur should be unhurried, matching the slow tempo of this city frozen in time.
* Tour option: Bhaktapur Tour from Kathmandu
Izzy | The Next Somewhere
3. Mount Everest
Mount Everest in Nepal is the highest mountain in the world and has been fascinating the world's top adventurers for years. Only the world's best climbers, after months of preparation, attempt this strenuous specialist climb and many have lost their lives in the process.
Climbing Everest is a very expensive venture, with cost running over $40,000 with most popular operators. Trekking to basecamp where the climb starts is a very popular trek and is in itself a significant accomplishment. There are no roads traversing the gigantic Nepalese mountains to the starting point of the trek in the mountain village Lukla.
Flying in a small plane is the most popular way to get here. During this trek you will experience spectacular mountain scenery; mixed with fascinating Sherpa culture and warm Nepalese hospitality creating an unforgettable adventure.
Don't forget to purchase travel insurance before any trip to Nepal. We've been using World Nomads for over 10 years. It's the best-value provider we've come across and we've never had any hassles on the few occasions we've had to make a claim.
The 130km round trek to Everest Base Camp takes on average 13 days with Kalapatthar at 5550m above sea level being the highest point. A slow ascend is important at this altitude since AMS (altitude sickness) is a very real and dangerous risk. It is recommended that you do not ascend more than 600 vertical metres per day.
Many companies offer organised tours with a guide and porters, hiring a private guide or porter is also a common option. It is not too difficult to do this hike independent since the route is easy to follow with plenty of other hikers and there are many tea houses offering accommodation and food on the way doing it independent is significantly cheaper.
Whichever way you choose, trekking in the world's biggest mountains is a great challenge guaranteed to be an incredible adventure.
* Tour option: Flight over Everest and the Himalayas
Campbell | Stingy Nomads
Everest Base Camp FAQ
Hiking Everest Base Camp is one of life's great adventures. From accommodation & food to medication & tipping, find out everything you need to know on the road to the Roof of the World...
Read more
4. Khumbu Valley
Khumbu Valley, above Namche Bazaar, is a spot that most trekkers heading to Everest Base Camp will miss. It is a great place to acclimatise en route to Base Camp but it's also a good spot to explore in its own right. Here you'll find the school that was built by the hands of Sir Edmund Hilary – not just with the funds he raised, but he actually built it.
Here, too, is the Edmund Hillary hospital, in Khunde – the only doctors for miles – where local women walk for 3 or 4 hours to get their children vaccinated. It's worth a visit to speak with the doctors and learn about medical care here – and how it's provided for the Nepali people who live nearby.
The dry stone walls of the area hark to the Yorkshire Dales of northern England and they are immaculate. Khumjung is the home of the Khumjung Monastery where the skull of Yeti is said to be stored. It's possible to view it, when the monastery is open, for a small fee of course.
This area is stunning and a worthy stop en route to Everest Base Camp, not only will it help you acclimatise, especially if you climb up to the valley during the day and return to the relative lower altitude of Namche Bazaar for the night. You can also take a side short trek to the statue of Nepali hero Tenzing Norgay and watch the early morning sun as it strikes Everest. It's a truly stunning sight.
Sarah | ASocialNomad
5. Pokhara
Pokhara is Nepal's second biggest city after the capital city, Kathmandu, and a gorgeous place to visit to chill and relax by the lake. Pokhara is located around 120 miles (200 km) west from Kathmandu and is at an altitude of nearly 2,800 feet (850 metres) in the southern part and 5,710 feet (1,740 metres) in the north.
Most travellers to Pokhara use it as a base to either start or finish treks in the nearby Annapurna mountain range. As such there are many shops catering towards the trekking community, as well as many excellent yoga centres, bars and restaurants. Pokhara is also where the Gurkha soldiers can be found.
One of the popular highlights in Pokhara is the Phewa lake, which the city is based around. You can rent a kayak for the day to explore the lake. There are several stopovers you can make with your kayak, in particular the Tal Barahi Temple, which is a two story pagoda, located on an island within the lake.
Another lovely highlight to visit around the lake is the Peace Stupa. You can either reach it with your kayak/boat, or pay 600 rupees for a boatman to take you. Here you climb up the stairs for around 1 hour, which lead you to the stupa. The views from the top are worth the effort.
Transportation linking Kathmandu and Pokhara starts at $8 on a tourist bus.
6. Annapurna
Annapurna Conservation Area is one of the most scenic places in Nepal. There are a few world known high snowy mountain peaks, authentic villages, numerous famous treks.
One of the most popular treks there is Annapurna circuit. Due to its unique itinerary, you have a chance to pass numerous climate zones from tropics at the start to high altitude deserted mountains at Thorong-La. On the way, there are regular villages where you can stop over for the night.
Though tourism is really important for the local villagers, you can see that there are real schools and kindergartens where kids study and lead usual life.
The classic Circuit takes from 10 to 20 days depending on your walking speed and pace. Since the trek is marked with the indicators, plus there are daily information points in the villages, it's not hard to do it solo. There are also a few scenic side-treks, which are good for both acclimatization and offbeat experiences since less tourists go off the path.
The trek is built in a way that it is suitable even for beginners. Nevertheless, the fitter you are the more enjoyable will be this trek for you. Annapurna Circuit is one of the most rewarding experiences both physically and emotionally. If you are looking for new interesting challenges – definitely give it a try!
Natalia | My Trip Hack
* Tour option: 10 Day Annapurna Base Camp Trek
Hiker's Packing List
Feel confident & prepared to hike in all-weather conditions with our ultimate hiker's packing list – find out what to bring on a hike for safety & survival in the great outdoors...
Read more
7. Lumbini
Most visitors to Nepal would not know this but in the southern part of the country at Lumbini, this is known as the actual birthplace of the Buddha. The entire area around the city is filled with monasteries from around the world creating their own architecture, art and historic relics that portray the Buddha and his teachings in their culture and country.
Within the historic birthplace are holy gardens, relics and and old temple that housed the ruins and other important antiquities found on the site. The area of Lumbini is fascinating to explore even if you are not a Buddhist to experience the amazing monasteries, artwork and different cultures paying tribute to the Buddha and his teaches and influence to their own countries on a worldwide basis.
Noel | Travel Photo Discovery
8. Chitwan National Park
Chitwan National Park in Nepal is the first national park in Nepal. It is a World Heritage Site and has over 60 different mammals including the elusive Bengal tiger and the Asian one horned rhino.
Chitwan is located between India and Nepal and a stop along the Delhi to Kathmandu route. It covers over 1,000 square miles and is home to 800 rhinos, 200 sloth bears and 100 tigers. These numbers are on the rise as the government has protected this area.
This site is one of Nepal's top tourist attractions as people come for the flora and fauna and to take a walking safari, jeep safari or canoe through the jungle. The walking safaris are peaceful and we were able to see tiger prints near the water.
There is an opportunity to see the animals and birds but like most wildlife sightings they are not guaranteed. Even without a tiger sighting the other animals are beautiful to see and the kingfisher bird was one of my favourite photos I took from my time there.
This is a remote part of Nepal to visit but worth the trek if you would like to see wildlife. Transportation linking Kathmandu and Chitwan National Park starts at $8 on a tourist bus, or $10 from Pokhara.
Nicole | Travelgal Nicole
9. Ghandruk / Poon Hill
Ghandruk is a lovely small town of around 5000 people, that is typically visited when hiking the Poon Hill Circuit, in Nepal, either on the secondo or fourth day of the hike, depending on the starting point. Most of the tea houses geared to travelers are located on the hills, from where there is a great views of the town and of the Annapurna mountains around.
What makes it a nice place to visit is the possibility of getting in touch with the local community – a welcoming bunch, that won't let visitors go without throwing them a party and making sure they try all the local specialties.
Among the places of interest in Ghandruk there is a temple and even a small museum that contains a lot of artifacts of the traditional life in this part of the country. Most of the people living in Ghandruk are Gurung, a community that became famous for its women, who took up leading roles when men were called in the war effort by the British army.
Snowview Guesthouse is one of the best teahouses in the town. It has modest twin rooms and larger dorms, toilets and showers are outside. The food served is home cooked and genuine. The view from the rooms at sunrise is splendid – provided that it is not raining and the clouds are not covering it up!
Claudia | My Adventures Across the World
10. Bandipur
Bandipur has been building a reputation for itself these past years. More and more travelers know about the hidden paradise, making it a popular relaxing spot for travelers after their long treks.
Located in the middle of two major cities, Kathmandu and Pokhara, this elegant hilltop Newari town offers one of the best views in the country. Surrounded by hills, the panoramic view in Bandipur is an absolute killer. Shop owners are not allowed to approach travelers, which made your time there more enjoyable.
Getting up to Bandipur is a bit tricky if you don't want to spend the money. It requires taking bus to Dumre from either Kathmandu or Pokhara. After that, walk 10 minutes to the west to the gateway to Bandipur. Public bus will pass by there around every 30 minutes. It takes Rs60 for the ride. Most locals with cars will ask if you want a ride, don't be afraid to negotiate or reject if you don't accept their ridiculous price.
Alternative way to get to Bandipur from Dumre is by taking a private Jeep, which will cost a flat rate of Rs500 (around $5). While there's a lot of lovely accommodations up there, I definitely recommend checking out Bandipur Samira Homestay.
The laid-back town of Gorkha is approximately 4-6 hours west of Kathmandu and houses the sacred site of the Gorkha Durbar, one of the most famous temples in all of Nepal. Prithvi Narayan Shah was born in Gorkha in 1723, making the town a significant pilgrimage site for Newars who believe the Shahs are living incarnations of Vishnu.
It's also where the legendary Gurkha soldiers (a battalion of the British Army) originate.
Visitors can hike to the Durbar from the centre of town and if done in the morning the pathway offers beautiful views of the cloud-filled valley below. The path meanders slowly upward, through dusty streets, forest and past traditional smallholdings, before reaching a set of 1500 steps called the 'pilgrims stairway' that lead to the entrance.
The Durbar sits on a ridge and on a clear day offers beautiful views of the Annapurna and Manaslu mountain ranges in the distance. Although more low-key compared to the temples of Kathmandu, with the smell of incense, intricate wooden carvings and pilgrims quietly praying, it makes for a very atmospheric experience.
For more amazing Newari style architecture head to the Gorkha Museum in the centre of town. The actual exhibits are little unremarkable, although the larger-than-life sculptures representing the different ethnic groups of Nepal are informative (if a little cartoon-esque). However the building itself is well worth it. The courtyard inside is stunning and the gardens make for a peaceful afternoon stroll.
Gorkha offers a real glimpse into the lives of local Nepali's and it definitely worth an overnight trip on the way to Pokhara and is only a minor detour from the Kathmandu to Pokhara highway. For a really authentic experience, visitors can get to know a local family by staying in one of the town's homestays.
Laura | Two Stay Wild
12. Dolpa
Dolpa is a region of Western Nepal that is less frequently visited than it's Annapurna or Everest counterparts. Don't expect to find comfortable guesthouses, well maintained trails, or crowds of tourists here.
Rather, you could walk all day and hardly see any other people. You will be camping more nights than not, and forget about a shower while you're here. Oftentimes you will hike over passes that are upwards of 5,200 meters (17,000 feet). Dolpa is for those who are not afraid to rough it.
Along with challenges comes a unique insight into rural life in mountainous Nepal. Many Nepalese refer to Dolpa as "the real Nepal". It appears untouched by time.
You'll see temporary tent villages where locals live while they let their herds graze at higher elevations. The trails can be crumbling and on the edge of cliffs; potentially frightening for tourist, but no problem for locals. If you're lucky, you might even spot the scat or paw prints of the elusive snow leopards that live in Dolpa.
The lower region of Dolpa has an affordable permit price and trekkers can visit on their own. However, the higher region is guide mandatory and requires a $500 permit, putting it even farther off the tourist track.
If you're looking for a trek that delivers incredible, remote scenery and is a true outdoor adventure, then Dolpa is the place for you.
Megan | Appalachian Trail Girl
13. Mustang
Hiking in Nepal is much more than the tour of the Anapurnas or a hike to the Everest base camp, there are other places as interesting as these ones. One of the best areas for hiking in Nepal is the Mustang region, located in Northern Nepal close the border with Tibet.
Mustang was formerly known as the Kingdom of Lo until Nepal became a republic in 2008. This is a remote and isolated region of the Nepalese Himalayas and one of the most preserved regions in the world. The surrounding Himalayan Mountains always acted as a natural barrier to preserve Mustang's culture and traditions.
Indeed, despite being part of the Republic of Nepal, life in Mustang has not changed much and the majority of the population follow the Tibetan Buddhist and still speak traditional Tibetan languages.
Multi-day hiking tours (usually from 10 to 15 days) and the permits to enter Mustang can be arranged through some local agencies in Kathmandu. Because the way to Mustang is very tough, it is very common to reach the region by a small plane. Accommodation and food are basic, always in homestays.
What can hikers see in Mustang? Snow-capped mountains, endless river valleys, glaciers, little Buddhist temples, the former royal palace at Lo Manthang (the capital), and nice people always with the smile.
Elisa | World in Paris
14. Tamang Heritage Trail
Nepal is well-known for its impressive snow-capped peaks, home to some of the world's highest mountains. However, Nepal should also be famous for its people, its incredible communities that are so diverse and provide such an amazing cultural experience. One of the areas which should be visited for an authentic experience is Tamang.
The best way to visit the region is by choosing to do the Tamang Heritage Trek, a beautiful option for avoiding the crowds in areas such as the Annapurna or the Sagarmatha National Park, home of Mount Everest. What draws people here is the Tamang community, one of the many people calling Nepal their home.
For an immersion in the Tibetan culture, including the Tibetan Buddhism, the Tamang Region is a perfect candidate. That's because the Tamang people are actually Tibetans which have fled their country and moved to Nepal. However, they have kept their Tibetan traditions and way of life. Furthermore, their houses are different than in other areas of Nepal and have kept a lot of wooden sculptures on the walls or on the doors.
The Tamang Trek is not a difficult one, but it will guide for around two weeks through beautiful traditional villages, exemplifying the Nepali rural life. The people work a lot in the fields and then they spend their day preparing food and taking care of the household. But they are all exciting of meeting new people and sharing their stories.
So, for a mix of culture, the traditional way of living and great views, the Tamang region is a great place and deserve much more attention.
Andra | Our World to Wander
Did you enjoy reading our list of the Best Destinations in Nepal?!
Pin it and help others find it too!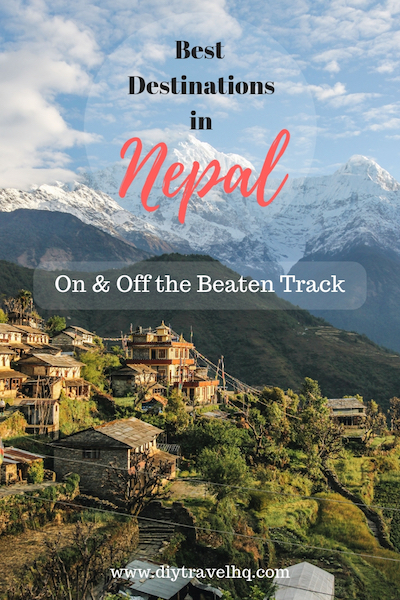 Disclaimer: This post contains affiliate links which means that we receive a small commission if you click on a link & purchase something that we've recommended – at no extra cost to you. This helps us to keep our site running so we can continue to provide free content. Thank you for your support!