These days it's fast & simple to cross the border from Thailand to Myanmar – find out how to take the boat from Ranong to the Kawthaung Border.

Ranong to Kawthaung Border Crossing
There are 4 official border points open between Thailand and Myanmar:
Mae Sai / Tachileik
Mae Sot / Myawaddy
Phunaron / Htee Kee
Ranong / Kawthoung
Here at DIY Travel HQ I crossed from Ranong, Thailand into Kawthoung, Myanmar
It was very straightforward.
* Don't forget to purchase travel insurance before any trip to Myanmar. We've been using World Nomads for over 10 years. It's the best-value provider we've found but there are other important things to consider. Check out our post and find out which of our claims were successful or denied.
Go to the immigration counter at the Saaphan Pla pier in Ranong, with your passport and departure form.
A tout will offer you a boat – mine asked me how much I wanted to pay, I asked him what the price was, he said 300 baht / $9, I offered 100 baht / $3 and he found me a boat.
It wasn't packed like sardines as expected, there were about 10 of us with room for more, and it left immediately.
It stopped at another Immigration point on the water, where Thai passports were taken up to be stamped. There was a Customs checkpoint next to it.
We passed stilt houses. And a tiny island with a Thai army presence.
All passports, including mine, were taken up to a Myanmar checkpoint on the water.
After approximately 30 minutes, the boat reached Kawthoung where many touts and men on motorbikes are waiting to greet you.
Upon disembarkation, turn left along and walk along this road:
After a couple of minutes you reach Myanmar Immigration – it's open between 7:00 am to 5:30 pm.
Enter and turn left at the jetty, and enter this building:
Everyone around was very friendly.
A policeman posed for photos, rather than deleting them (eg. when I crossed from Armenia to Azerbaijan):
An official gave me 5 baht / $0.15 to go and make a photocopy of my passport and visa:
English-speaking touts will give directions and be waiting for you to exit the office to offer a taxi ride, hotel, guide or suggestions on things to do in Kawthaung.
I got currency-confused and took a motorcycle to Penguin Hotel, one of the top 4 budget hotels in Kawthaung. The ride cost me 60 baht / $1.80 when it should have been around 20 baht / $0.60 or less. The driver hung around while I checked-in so I assume he was getting a cut for taking me to the hotel.
The Ranong-Kawthoung crossing has been a popular visa run route for Thai tourists for many years. Day or week-long stays in Kawthoung have been possible, along with onward travel to Yangon by plane.
Since August 2013, travelers have also been allowed to travel overland by speedboat and bus to Myeik, Dawei and beyond.
Trains and automobiles to come.
We also recommend Lonely Planet's Myanmar Travel Guide
to help you plan your trip.
Kawthaung Border Crossing Wrap-Up
Price of boat: 100 baht / $3 (bargained from 300 baht / $9)
Time on boat: 30 minutes
The Myanmar Immigration Office is open from 7:00 am to 5:30 pm
Bring a photocopy of your passport & visa
Did you enjoy reading Kawthaung Border Crossing to Myanmar by Boat?
Pin it and help others find it too!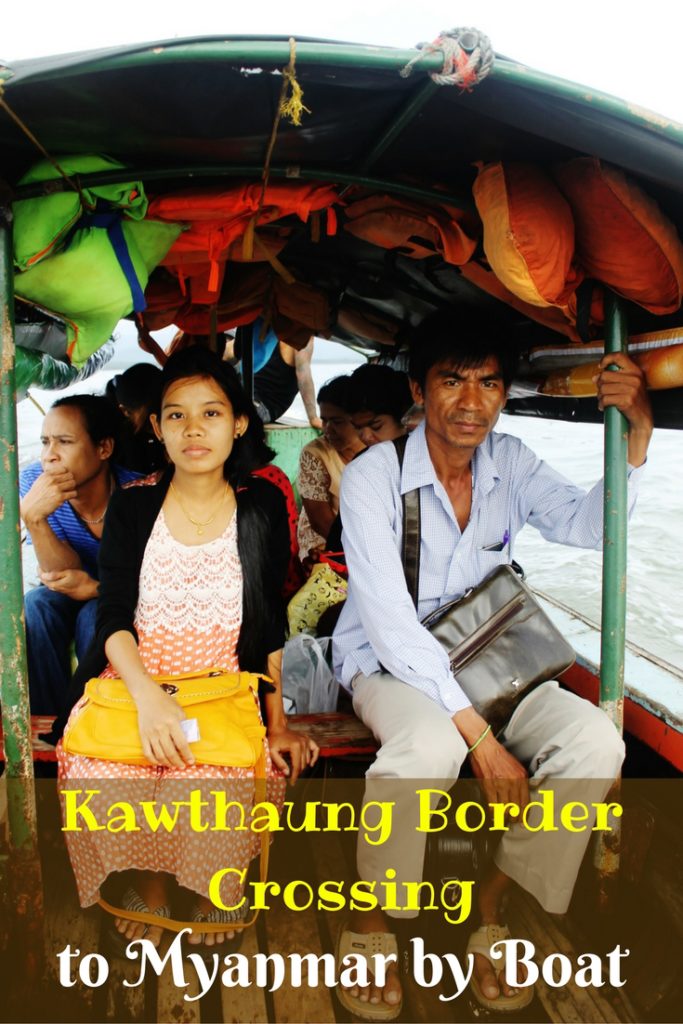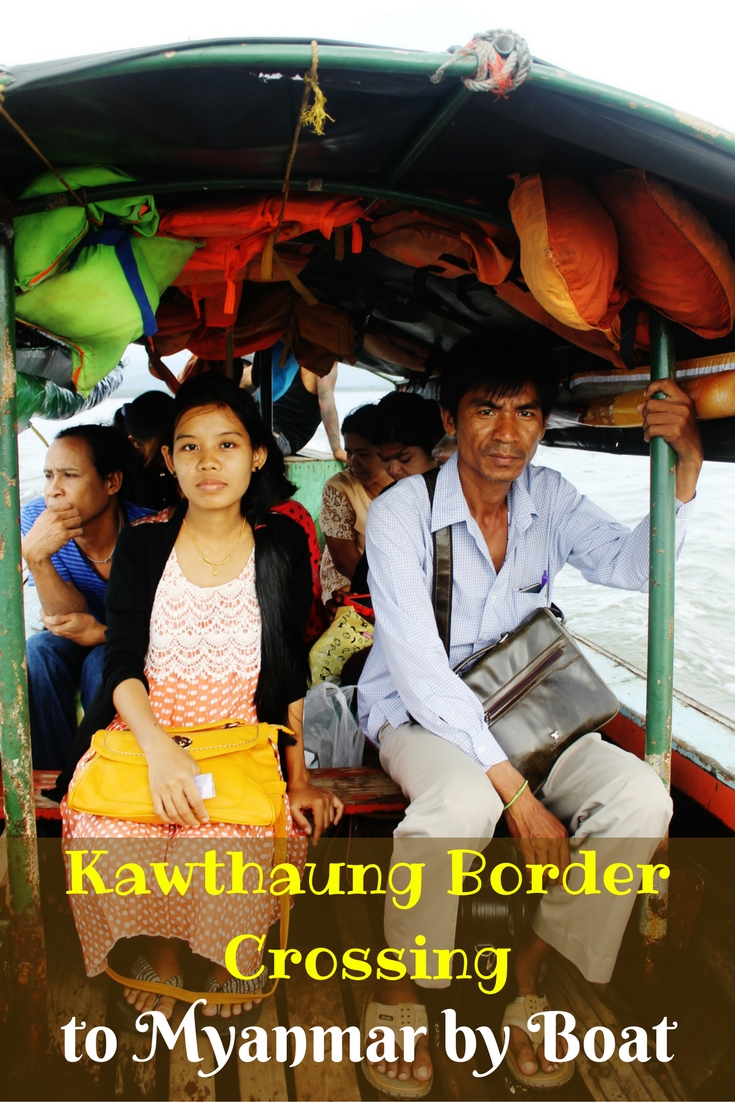 *** The Final Word – Crossing the border from Thailand to Myanmar by sea is just like DIY Travel: easy, cheap, fun & adventurous! ***
Have you crossed the Myanmar border by land?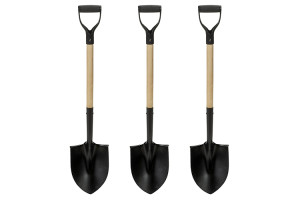 Accessible DIY travel to more distant locations via multiple connections or longer forms of public transport
* This post contains affiliate links, which means that we receive a small commission if you click on a link & purchase something that we have recommended – at no extra cost to you. This helps us to keep our site running so we can continue to provide free content. Thank you for your support!
Visited in May 2014