Livingston, Guatemala is either your first or last destination and completely different than anywhere else in the country – clear immigration, and start soaking up the local Garifuna culture.
Livingston, Guatemala is a remote town that sits at the mouth of the Rio Dulce, and is only reachable by boat. The main reason to visit Livingston is to soak up the Garifuna culture at a fraction of the cost in Belize.
Located on the Caribbean and surrounded by jungle, Livingston has several popular natural attractions nearby. The question is whether the things to do in Livingston are worth the effort to reach them.
Let's take a look at what will be covered in the Livingston, Guatemala travel guide below with a reoccurring theme highlighting Garifuna culture and required boat transportation.
Find more inspiration in one of the Guatemala guide books below!
Livingston, Guatemala Garifuna
The majority of Livingston, Guatemala's 18,000 inhabitants are of Garifuna ancestry and can be traced back to shipwrecked African slaves on the island of Saint Vincent in the 17th century.
A mixed African and indigenous Carib population were then deported to Roatan, Honduras by the British in 1796. They have since settled all along the Caribbean in Central America.
The Garifuna culture combines African and South American aspects creating a unique blend of language, religion, food, music, and customs.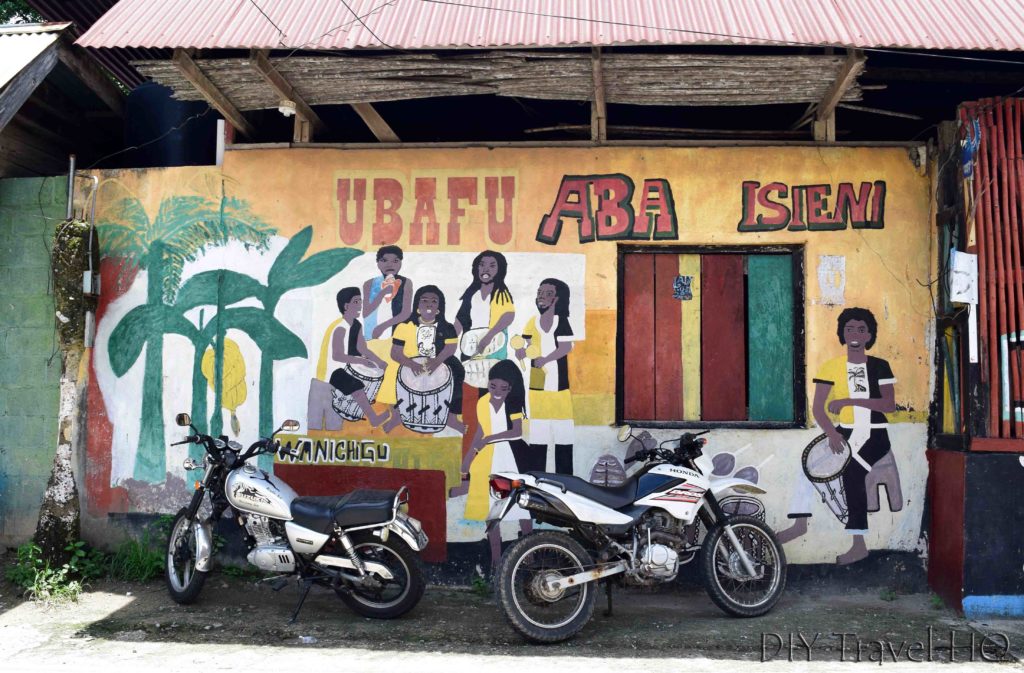 Garifuna Language
The Garifuna speak a creole language that is predominantly a mixture of Arawak and Carib with some French, English, and Spanish influence.
Garifuna Religion
Similar to the language, Garifuna practice a combination of Catholicism and traditional beliefs. These include worshiping saints, ancestral spirits referred to as gubida, and following shamans called buwiyes.
Some of their religious celebrations include singing, dancing, drumming, and feasts including alcohol. One of the more visible celebrations is the dugu ceremony in which the living offer gubida a feast. The purpose is to cure an ill person due to angered ancestral spirits.
Garifuna Food
Although the Garifuna language may not have much African influence, the food preparation is another story. Garifuna food is a blend of African methods with Carib ingredients such as rice, fish, coconut milk, plantains, bananas, and cassava. Here are some of the signature dishes to keep an eye out for:
Arebe – flatbread made from cassave
Pan de Coco – coconut bread
Tableta – dessert made from coconut, ginger, and brown sugar
Tapado – seafood mix, coconut milk, and plantains
Garifuna Music
The drum is the most integral part of Garifuna music with at least two drummers. One drummer will beat a consistent pattern while another varies the rhythm.
Similar to other music genres there are social, work, and traditional songs. Depending on the occasion, singing and dancing are also involved.
Top 7 Things to Do in Livingston, Guatemala
1. Explore Downtown Livingston
You will quickly get the lay of the land in Livingston, Guatemala. The majority of your time will be spent wandering the streets and people watching.
From hustlers near the docks, to women washing clothes at the communal station, to kids playing their version of double-dutch, the town is alive with activity.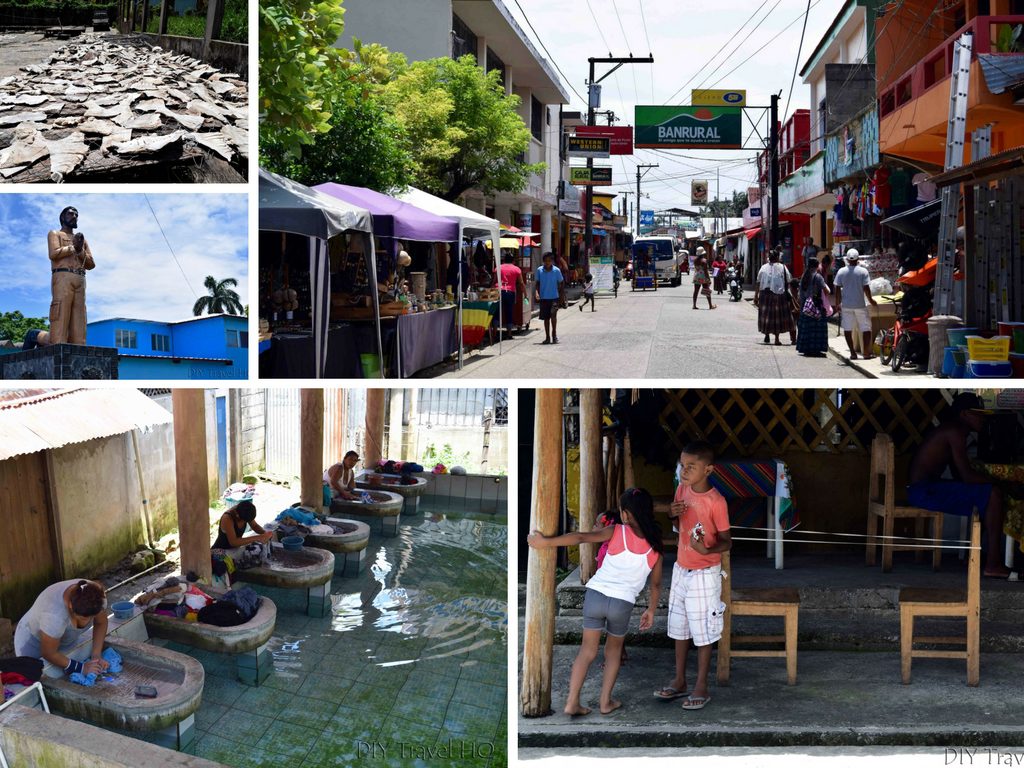 2. Rio Dulce Boat Tour (Public)
The residents of Livingston, Guatemala have combined their transportation to or from Rio Dulce Town into an expensive boat tour for tourists. It's now the main reason why most tourists visit the region.
Colectivo boats depart both Livingston and Rio Dulce Town at 9:30 am and 2:30 pm. One way is Q125 / $17.20 and same day return is Q200 / $27.50.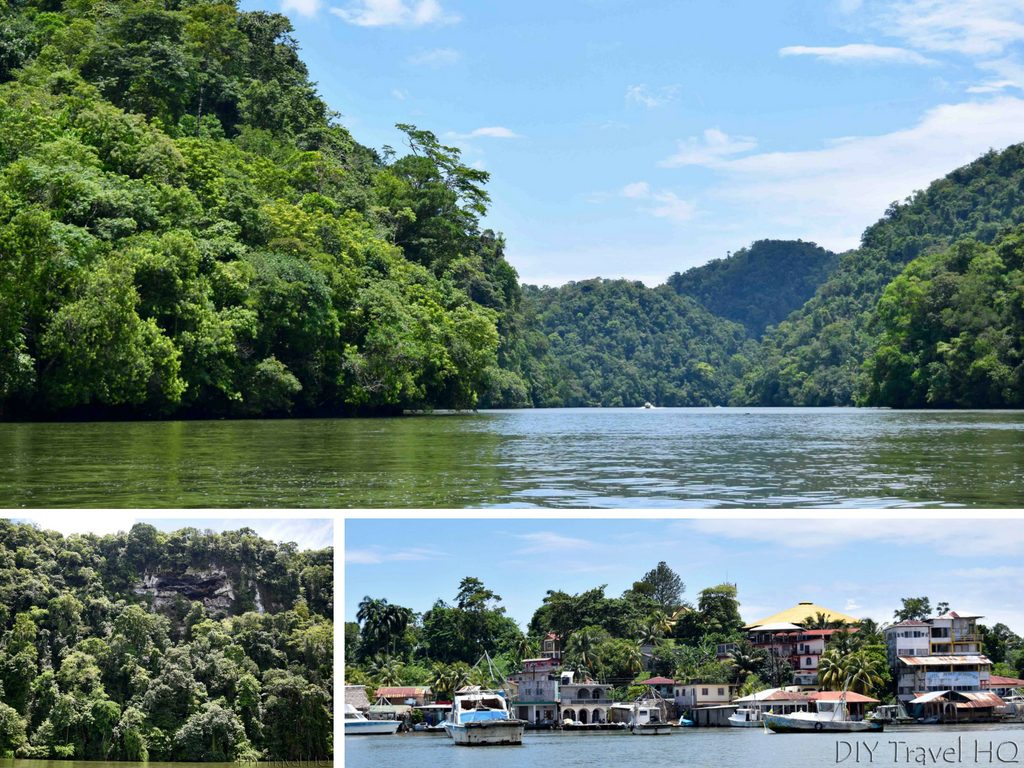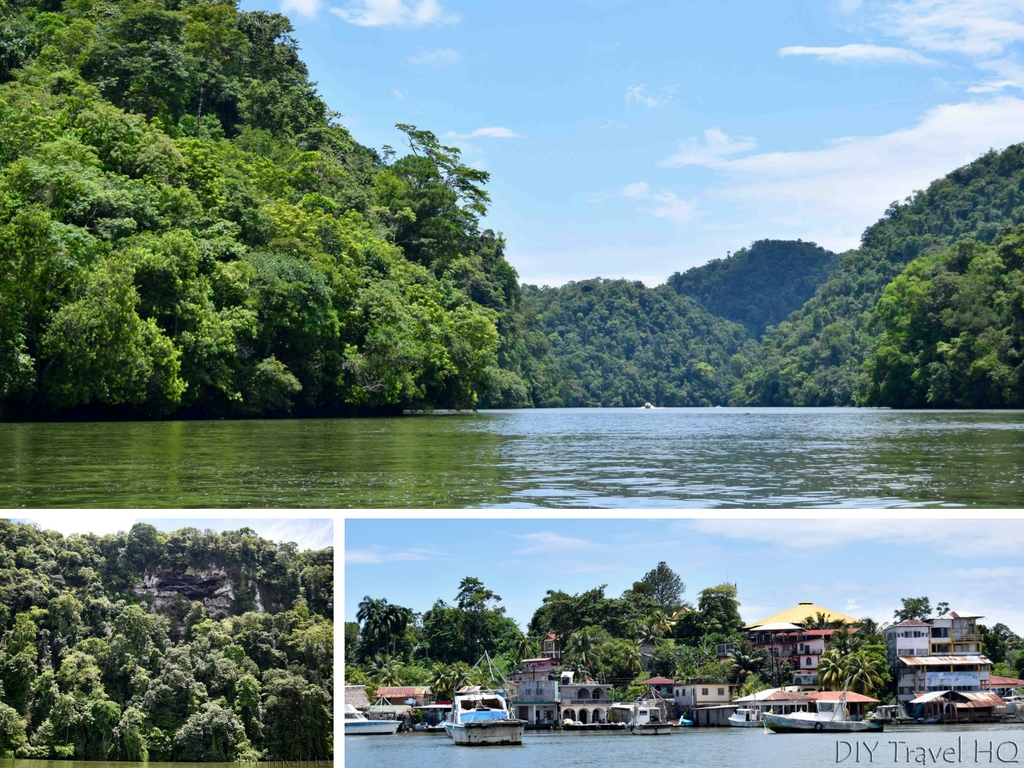 The trip takes 90 minutes for the complete tour, and only 45 minutes return if there are no new passengers. Hopefully you will not have to do the tour twice.
Boats can be caught near Parque Municipal at the pier in Livingston, but the tour isn't worth it unless your primary reason is transportation in Guatemala.
RIO DULCE BOAT TOUR ATTRACTIONS
The trip takes in five attractions on the water before arriving in Rio Dulce Town, which is a main transportation hub:
Zipping through a gorge on the way to Rio Dulce Town
Stopping at a hot spring on the banks of El Golfete
Floating past a garden of water lilies
Witnessing nesting cormorants and pelicans
Swinging by Castillo de San Felipe
Rio Dulce Boat Tour Attractions
Find out more details about each boat tour attraction, and what to do in Rio Dulce Town once you arrive!
Read more
3. Tiger Cave Tour
There are a handful of companies that will take you out on the Rio Dulce river with Reggae on the River being the most popular among Guatemala backpackers. Boats depart Casa de la Iguana hostel at 10:30 am.
Besides drinking beer and chilling to reggae on the river, the highlight is Tiger Cave. A 20 minute hike through the jungle leads you there, and the brave have the opportunity to jump into a subterranean pool in the dark.
4. Los Siete Altares
Los Siete Altares, or Seven Altars, entrance fee is Q20 and is a mini version of Semuc Champey near Livingston, Guatemala. The cascading waterfall has seven freshwater pools that lead from a waterfall down to the Caribbean coast.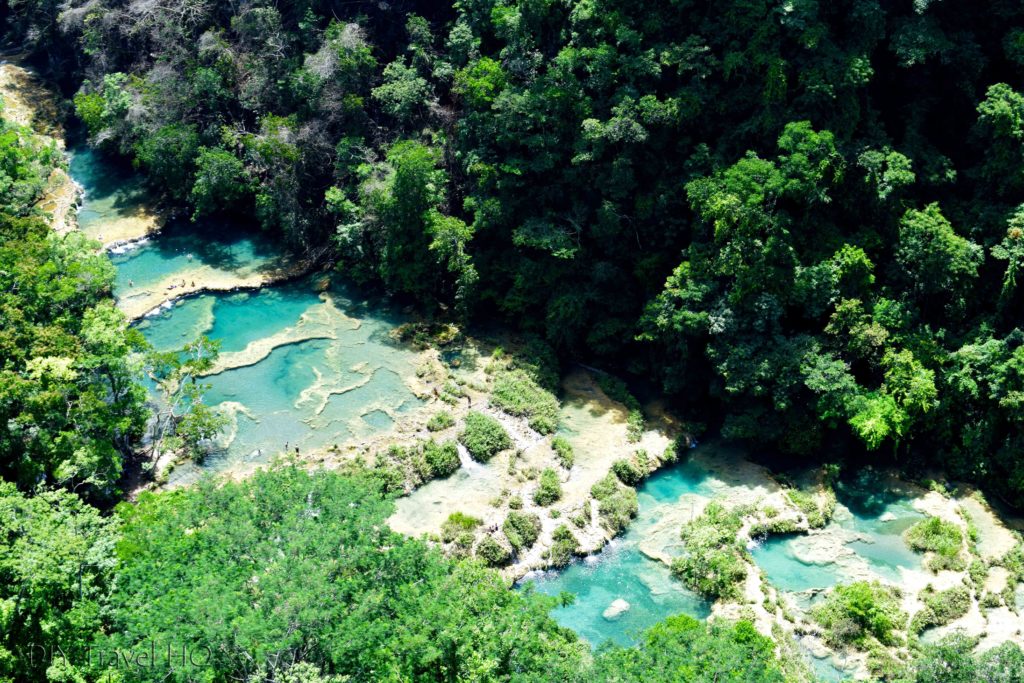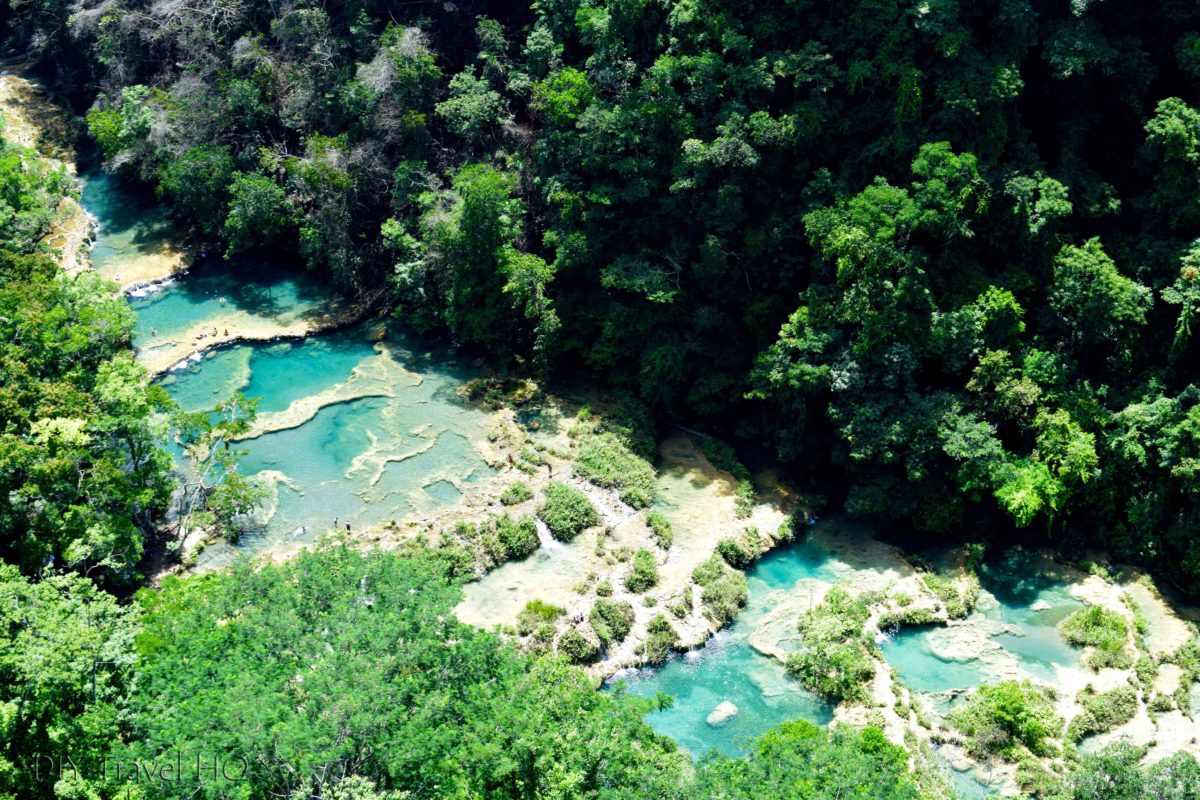 The largest pool for swimming is furthest from the coast, and reached along slippery rocks. Plan on getting your shoes wet, go barefoot, or try inexpensive water shoes that are perfect for these conditions.
Los Siete Altares is best visited during the rainy season during July and August. Try to avoid coming at the end of the dry season, April to May, as the waterfall will not be as impressive.
It is possible to reach Los Siete Altares from Livingston, Guatemala on a 5 km walk north along the beach. The hike takes roughly 1 to 2 hours each way, but has other drawbacks besides time.
The route to Los Siete Altares from Livingston is along an often polluted strip of beach filled with plastic. It is also important to consider the local tides that can severely limit the path.
Although not common, there runs the risk of assault on the remote beach between Livingston and Los Siete Altares. For these reasons, it may be worth taking a Q25 boat ride each way, or tour combined with Playa Blanca Izabal instead.
* Don't forget to purchase travel insurance before any trip to Guatemala. We've been using World Nomads for over 10 years – it's the best-value provider we've found but there are important things to consider. Check out our post & find out which of our claims were successful or denied.
5. Playa Blanca Izabal
There are several Livingston, Guatemala beaches, but the nicest is Playa Blanca Izabal. The entrance fee to the private beach is Q20 which allows you access to all the facilities and the best Caribbean beach in Guatemala.
Playa Blanca Izabal has regularly cleaned white sand and palm trees. Amenities include beach lounge chairs, hammocks, palapas, picnic tables, a restaurant, and bathrooms.
Although the water is warm, it is not the Caribbean turquoise you dream of. It is a muddy brown and filled with plastic many days of the year. You are better off relaxing on the 100 meter long beach and sipping on a coco loco (Q40).
Playa Blanca, Guatemala is only accessible by a 30 minute boat ride. You can arrange your own private boat, or join a Playa Blanca tour with Happy Fish. The tour costs $14 and includes visiting Los Siete Altares, but excludes both entrance fees totaling Q40.
If you do not want to venture to Playa Blanca Izabal, there are also a couple of Livingston, Guatemala beaches. However, the ones near town butt up against the jungle, or are unsafe to swim due to contaminated water. The beach is periodically cleaned of plastic.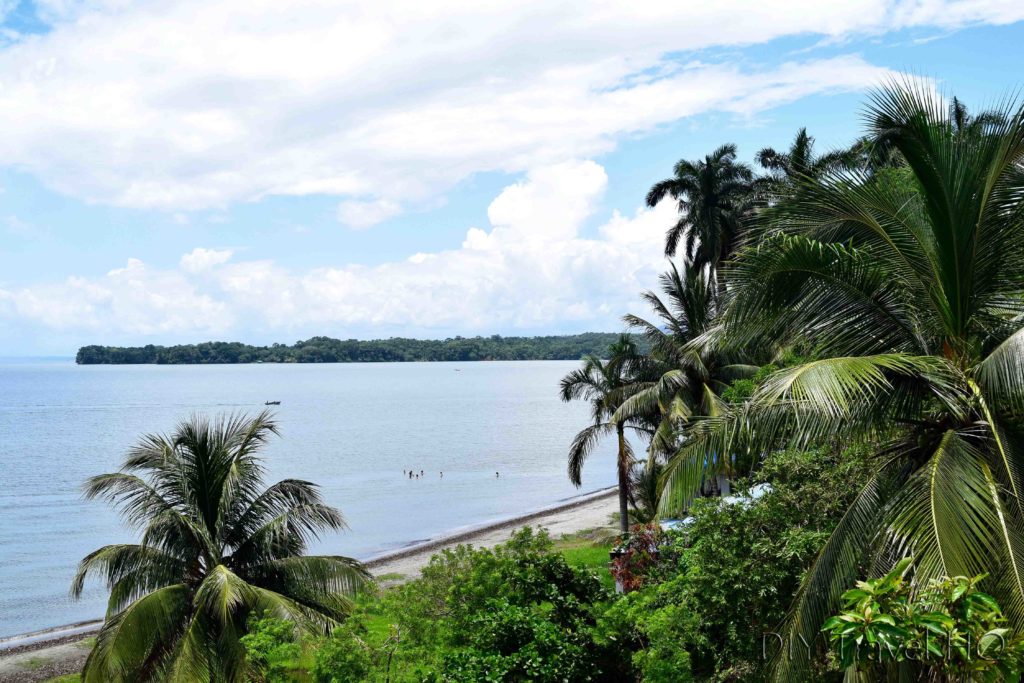 6. Rasta Mesa
Anyone looking to dive deeper into Garifuna culture needs to stop by Rasta Mesa. The low key cultural center offers Garifuna cooking, dancing, and drumming classes for Q125.
7. Fishing Tours
A large percentage of Livingston, Guatemala residents earn a living from either tourism or fishing. Some manage to combine the two for a great experience. Expect to catch the following fish in Amatique Bay:
Barracuda
Grouper
King Fish
Snapper
Spanish Mackerel
Tuna
How to Get to/from Livingston, Guatemala
Livingston, Guatemala is only accessible by boat and adds to the feeling of being on a remote island. There are both domestic and international options.
Livingston to Rio Dulce Town
The Rio Dulce boat tour to Rio Dulce Town costs Q125 / $17.20 one way or Q200 round trip / $27.50 and includes a 90 minute tour of five attractions on the water. Departure is at 9:30 am and 2:30 pm daily from both Livingston and Rio Dulce Town.
From Rio Dulce Town you can catch onward buses to: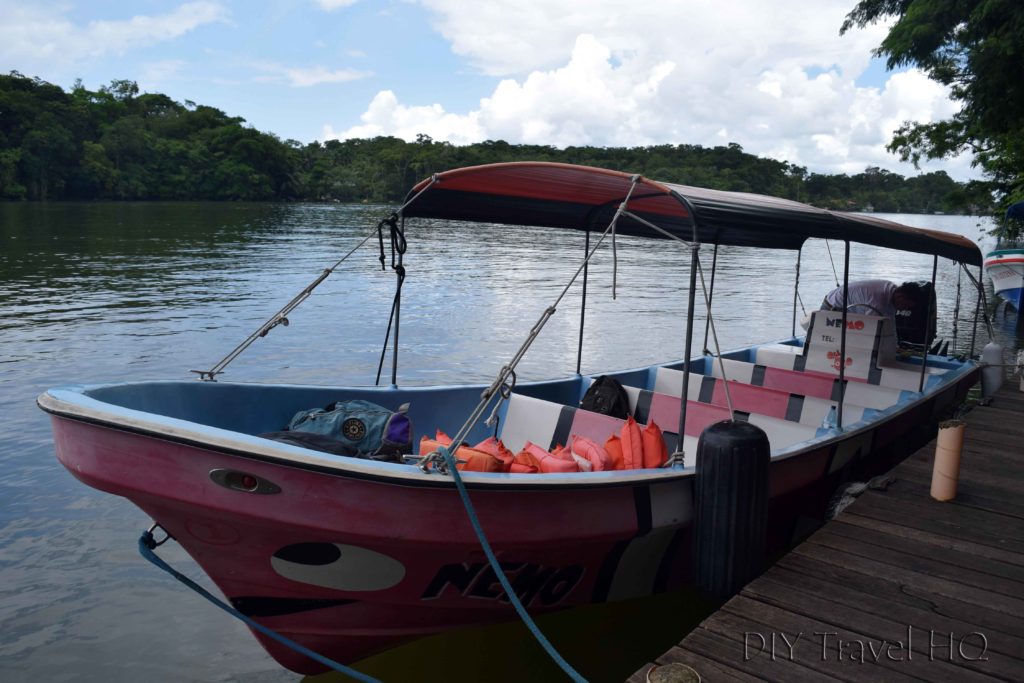 Livingston to Puerto Barrios
A cheaper but less scenic option for onward travel in Guatemala is to catch a boat to Puerto Barrios (Q35 / $4.80, 30 minutes). It connects well with Guatemala City, or transfer along the way to the destinations listed above.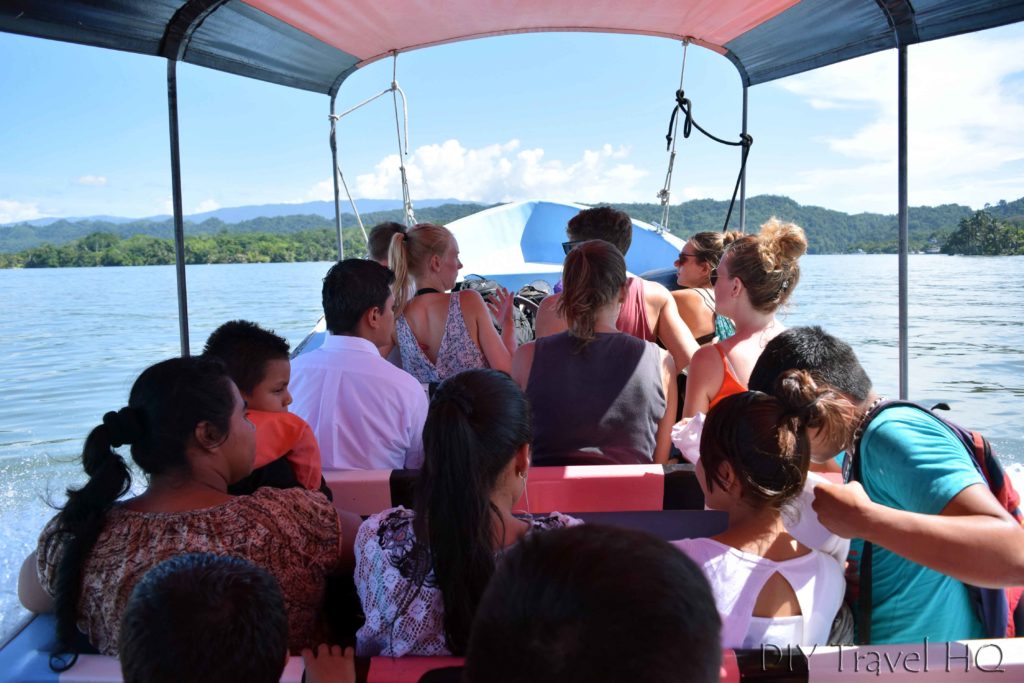 Livingston to Belize and Honduras
International boat departures from Livingston to Punta Gorda, Belize depart at 7:00 am Tuesday and Friday and cost Q200 / $27.50 (1 hour).
Exotic Travel arranges boat/shuttle packages to Honduras starting at Q350 / $48.15.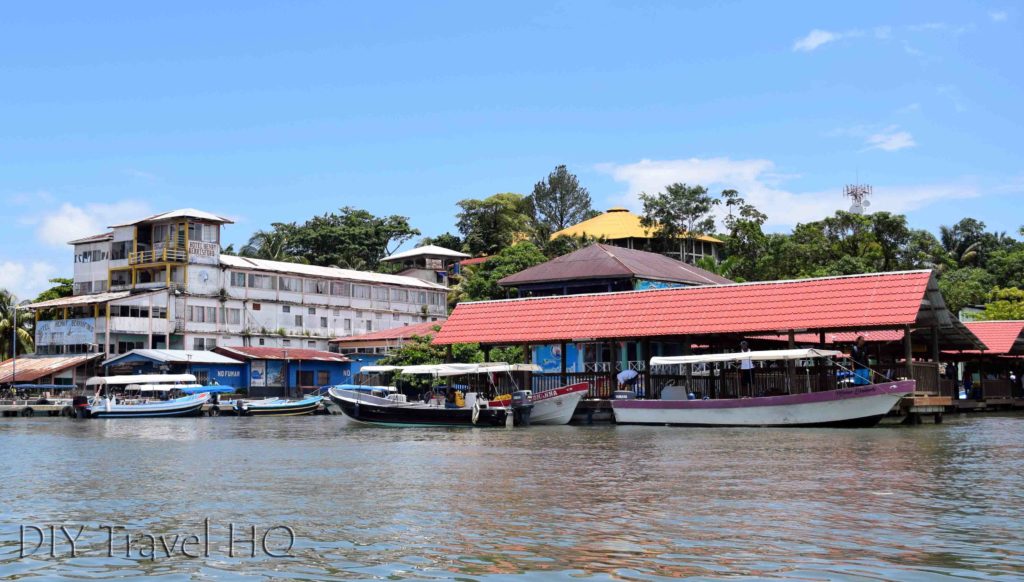 Taxi
Livingston, Guatemala isn't very large, but the standard taxi fare is Q20 anywhere in town. Just make sure you confirm in advance.
Livingston, Guatemala Immigration
For direct transfers to/from Belize or Honduras, visit the Immigration Office on Calle Principal (6 am -6 pm). For early departures, stamp out the day before.
You can change money at Banrural nearby, or withdraw money from the ATM. Benque to Melchor de Menchos is another border crossing between Guatemala & Belize.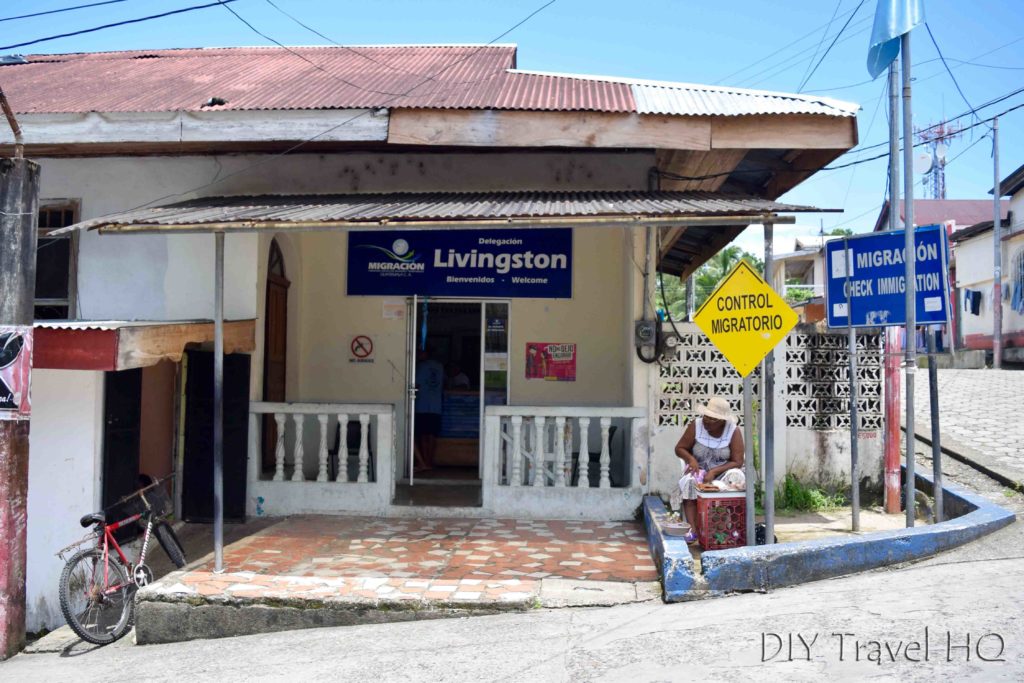 Livingston, Guatemala Restaurants
The food here has more flavor than the rest of Guatemala, so give some Garifuna recipes a try. Many restaurants are located along Calle Principal.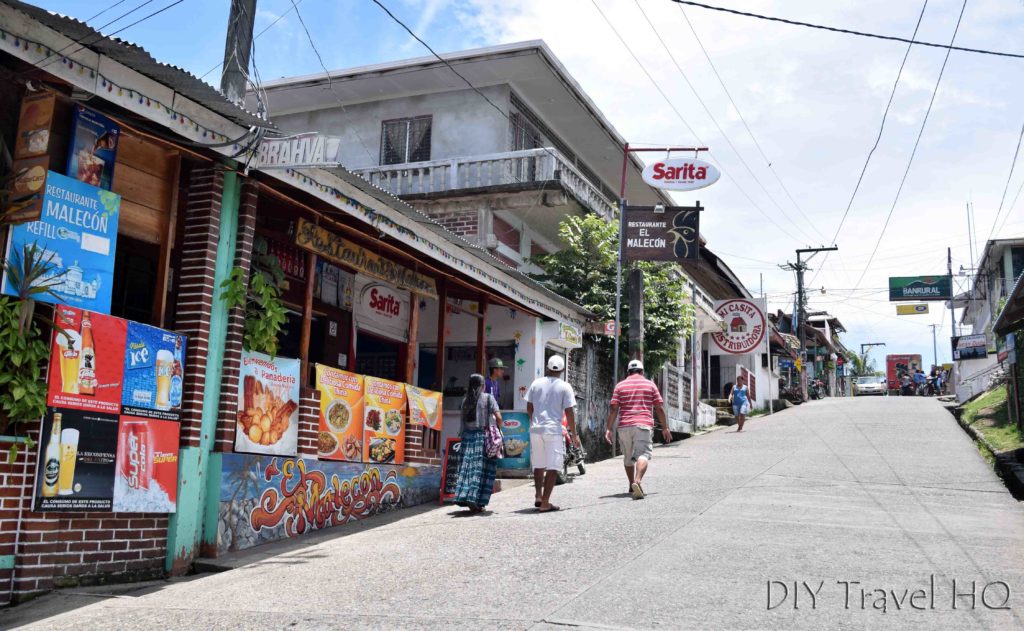 The most famous local dish is tapado, which consists of a collection of seafood, coconut milk, and plantains. Although on the pricey side, Casa Nostra has the best reviewed tapado.
In general food is a bit overpriced in Livingston, but that is understandable since everything needs to be shipped in. Those on a budget can always enjoy street food with pan de coco as a dessert.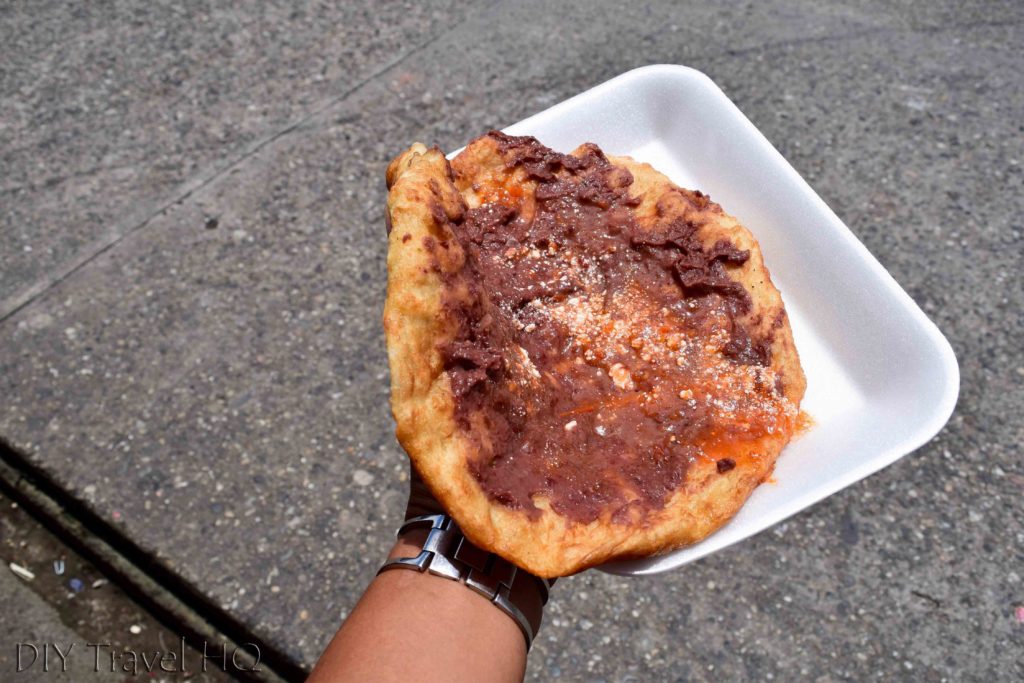 Bars
The best place to grab a drink is MC Tropic that has a daily happy hour and large cocktail menu that can be enjoyed on a large terrace.
Two specialties are coco loco where rum is added to a coconut, and gifiti. Gifiti is a Garifuna concoction of soaking roots and herbs in rum that allegedly has a medicinal effect.
Livingston, Guatemala Hotels
We were expecting a small backwater town when we first arrived. To our surprise, the hotels were better value than Rio Dulce Town.
We found two cheap places on the road heading left after passing the park from the dock. One even had a pool!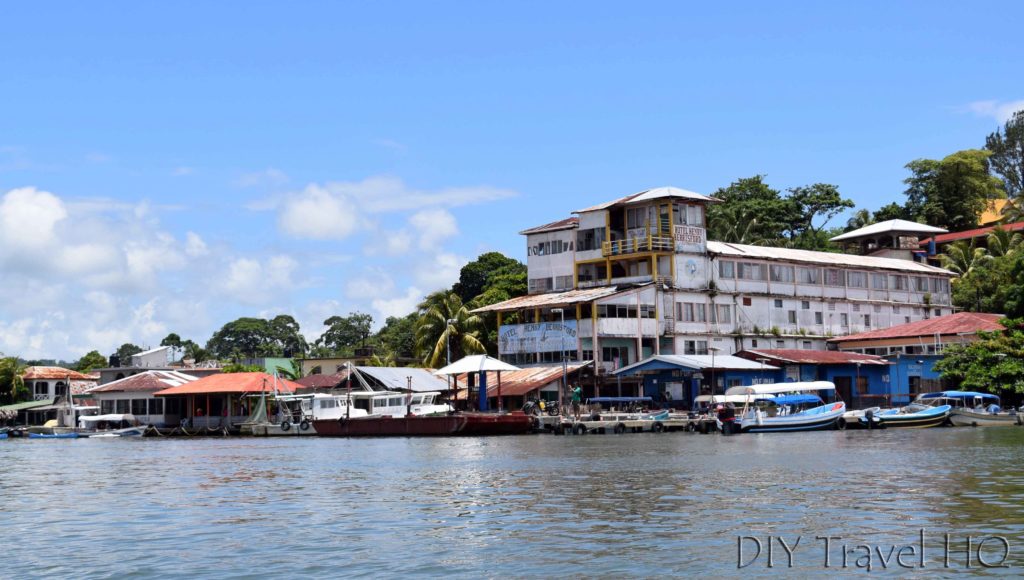 The best deals online are Casa de la Iguana that has 4-bed dorms for $8, and private rooms for $20. They cater to Guatemala backpackers, have an onsite bar, offer several tours, and have a communal dinner (Q45) that is great for meeting people.
Casa Nostra is a nice upgrade with $33 rooms that offer great communal spaces with pleasant views, access to free kayaks and bikes, and a delicious breakfast. Book ahead as rooms fill-up fast.
Is Livingston, Guatemala Worth Visiting?
There isn't a lot to do in Livingston, which is why we here at DIY Travel HQ recommend either not visiting or using it for transportation only. There are many other places to visit in Guatemala.
What makes this region of Guatemala unique is the Garifuna culture, which you can also find in Hopkins, Belize and is easier to reach.
The beaches are much nicer in the rest of Central America, and Semuc Champey blows Los Siete Altares away. Livingston may be unique in Guatemala, but doesn't compare to other nearby destinations.
***The Final Word – We don't recommend visiting Livingston, Guatemala unless you are traveling to or from Belize.***
What do you think of Livingston – love it or hate it?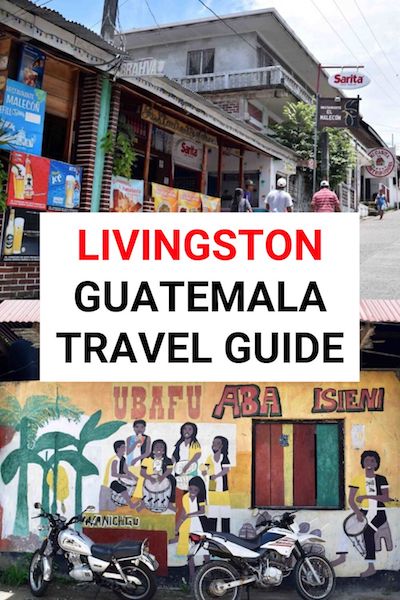 Visited in July 2016
Updated February 2020
Disclaimer: This post contains affiliate links which means that we receive a small commission if you click on a link and purchase something that we've recommended, at no extra cost to you.