Find out how to get to Fusterlandia & see how one man transformed an entire neigbourhood into a community art project of vibrant colour & mosaics… it's the best day trip from Havana, Cuba!
Who is Jose Fuster?
Before we delve in to how to get to Fusterlandia, Cuba let's take a look at the backstory.
Fusterlandia is the conception of Cuban artist Jose Rodriguez Fuster.
Born in 1946, Fuster has been a professional artist for over 50 years. He studied at the 'Escuela Nacional de Instructores de Arte' in Havana and specializes in ceramics, painting, engraving & drawing.
Fuster's work has been exhibited across the island and around the world, from Paris to New Delhi, in more than 600 collective and individual exhibitions.
How Fusterlandia Started
On a trip to Europe some 20-30 years ago, he was inspired by Gaudi & Picasso in Spain & Brancusi in Romania. Fuster returned to Cuba determined to create a world of his own.
In Fuster's words:
"When I got here my house was in wood, small. So I decided to do something about it. I started building my dream."
Little would he know how big his world would become. Fuster started by transforming his own home, little by little, tile by tile, into a ceramic wonderland.
Soon, every inch of his house was covered – roof to garden – in mosaic tiles.
His neighbours were enchanted & gave over their own homes to be renovated.
Over 80 homes, half of the neighbourhood, are now plastered in mosaic imagery & design, with no end in sight!
We think it's definitely one of the most unique & creative places to visit in Cuba!
Top 18 Cuba Destinations
Take full advantage of the 30 day visa & experience Cuba before it changes forever – find out where to go in Cuba in our 1 month itinerary!
Read more
Visiting Fusterlandia, Cuba
From the moment you enter Fusterlandia, the influence of Gaudi is clear – the artist himself makes no denial of the fact, declaring "Homenaje a Gaudi" at the entrance.
Your first stop should be at Fuster's own studio-residence – entry is free, Wed-Sun, 9am-4pm.
Gates, walls, benches, roofs, floors… everything is infused with love & passion in the form of mosaics.
The fantastical imagery includes fish, palm trees, mermaids, cowboys, horses, roosters, hearts, hands, kings & saints.
It's not a huge space but it's sure crammed with imagination & creativity over multiple levels, on spiraling walkways & around pools & fountains.
Park Guell & Gaudi, eat your heart out… almost!
There's a small gallery & shop where you can buy small souvenirs (postcards, books, etc.) and even original Fuster paintings & ceramics.
All the money from sales goes back into the community & funding more works in Fusterlandia.
The mish-mash of styles, colour & design you see in Fuster's studio-residence spills over into the surrounding houses & streets.
This includes more Cuban symbols such as the Cuban flag & Granma yacht, together with depictions of other Central American countries & icons.
Some may find Fusterlandia to be more gaudy than Gaudi but there's no denying its unmistakably Cuban spirit.
Visitor Info
Fusterlandia is 20km from downtown Havana or around a 30 minute drive by car or taxi. You can also get there by public transport but you'll need to give yourself a lot more time to get there and back.
It's free to visit but closed on Mondays and Tuesdays.
There are no tours or guides available but you'll be able to get a very good sense of the place just by walking around yourself.
If you're lucky, Fuster himself may be in the house. Otherwise assistants are usually around to ask any questions you may have.
Photography is allowed and it's an Instagrammer's dream destination. The fantastic thing is that you can touch, sit and pose on everything!
How to Get to Fusterlandia
#1. Public transport
From Havana, you can reach Fusterlandia by local transport – take a P-1 or P-10 bus to Playa for 0.40 pesos (there are other routes too).
Then change to another local bus to Jaimanitas (this costs a few pesos), follow your GPS or let the driver know to drop you off at Fusterlandia – locals seem to refer to it more as "Casa de Fuster".
#2. Hop-on Hop-off Bus
You can also take an all-day Havana hop-on hop-off bus (T-1) all the way to Restaurant La Cecilia in Miramar for CUC$5.
Then transfer to a T-2 bus for an extra CUC$1 (return trip) & let the driver know to drop you off at Fusterlandia.
#3. Taxi
Another option of how to get to Fusterlandia is by taxi. A taxi from Havana is only around 20 minutes – the price is negotiable but it will cost you around $20 one way.
It may be cheaper to arrange a taxi by the hour where you could also visit other attractions outside Havana on the same trip.
#4. Classic American Car Tour
Many tourists also visit Fusterlandia on a classic American car tour – you can book it here.
These are two good options if you're short on time – Fusterlandia is small, you can see all of it & be back in Havana within 90 minutes.
If you have extra time in Havana, it's worth trying to fit Fusterland into your One Week Cuban Itinerary.
Planning Your Visit
There are already many things to do in Havana so we'd recommend a half-day trip to Fusterlandia only if you have 3 or more days in the city (or if it's not your first trip to Cuba).
Pick up a guidebook for more travel inspiration and to help you plan your trip.
Havana Accommodation
It's not necessary to book your accommodation in advance in Havana or anywhere in Cuba. There are casa particulars everywhere and prices are negotiable.
However if you prefer to plan ahead (especially for the 1st nights) we recommend Booking.com as one of the most trustworthy site for reserving accommodation in Cuba. They also have a huge range of almost 2000 properties to choose from including casa particulars, guesthouses and hotels. Prices in Havana start from a $10 dorm at LIU Backpackers Adventure to a $400 room at Paseo 206 Boutique Hotel.
Airbnb has over 300 places to stay in Havana.
Backpackers will find better deals on 133 hostels listed on Hostelworld.
Travel Insurance
Although Cuba is a very safe country to travel in, we always recommend purchasing travel insurance before any trip. We've been using World Nomads in our travels through 80+ countries over the past 12 years. It's the best-value provider we've found in terms of price and coverage and we haven't had any issues when we've had to make (fortunately) minor claims.
For more details check out our World Nomads review here.
Know Before You Go
Fusterlandia Entrance Fee: Free
Opening Hours: Wednesday-Sunday, 9-4pm (sometimes closed for private events)
Transport: Local bus, hop-on hop-off bus, taxi or classic American car tour
Did you enjoy reading our post on Fusterlandia, Cuba?
Pin it and help others find it too!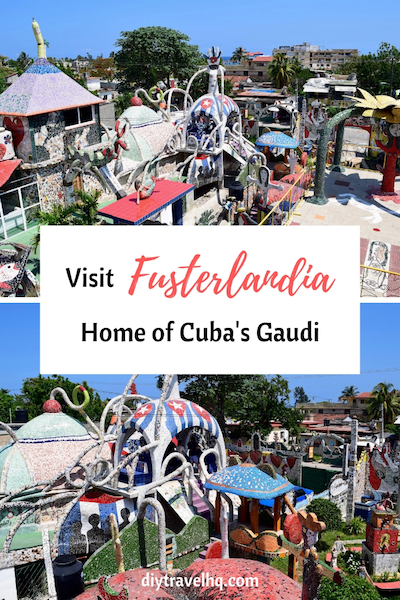 *** The Final Word: No matter how you get there, Fusterlandia is one of the easiest day trips from Havana ***
Do you think Fusterlandia is more Gaudi or gaudy?
Disclaimer: This post may contain affiliate links which means that we receive a small commission if you click on a link & purchase something that we've recommended, at no extra cost to you.
Visited in May 2016
This post was updated in April 2019