Roswell, New Mexico is the alien capital of the world, but all is not what it seems… find out which attractions are better than the UFO Museum.
Roswell, New Mexico Attractions
Despite being known worldwide for UFOs and aliens, we were surprised how few Roswell, New Mexico attractions there were. During our stopover, the art museums actually shined brighter than the flying saucers.
Let's explore some of the best things to do in Roswell, New Mexico during your visit…
Find more inspiration in one of the New Mexico guide books below!
1. International UFO Museum and Research Center
For UFO believers and skeptics alike, the ultimate destination in Roswell is the International UFO Museum and Research Center. This museum has collected a plethora of information on the Roswell Incident. Come prepared to read!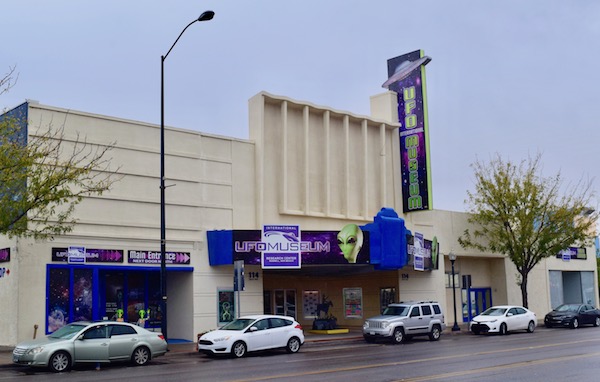 We stepped inside and saw newspaper clipping after newspaper clipping, and decided this wasn't the museum we were expecting. There are a few dioramas that provide photo opportunities inside.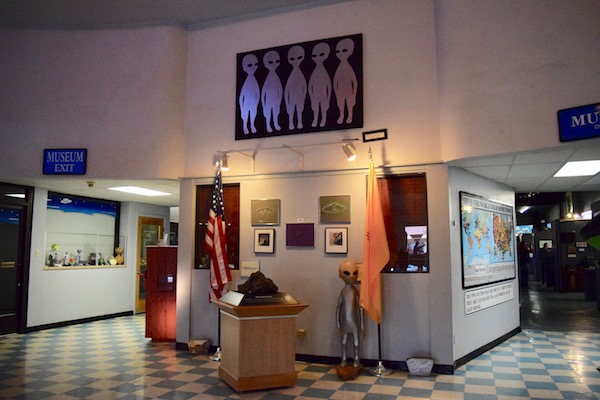 Entrance fee: $5
Opening Hours: 9 am to 5 pm Daily
2. Downtown Roswell Alien Strip
You can spot a fair share of aliens as you walk around South Main Street. There are green footprints that lead you to the International UFO Museum and Research Center, murals on the sides of buildings, and even alien head lamp posts.
Step into some of the stores for souvenirs and selfies with your favorite little green men and women. Even the national chains have gotten in on the action. Although you may spot aliens at Walmart and KFC, McDonald's steals the show with a saucer shaped restaurant!
3. Roswell Museum and Art Center
When we came to town, we were expecting to be wowed by fun and creative attractions related to aliens. Instead, we found the best things to do in Roswell, New Mexico were the art museums.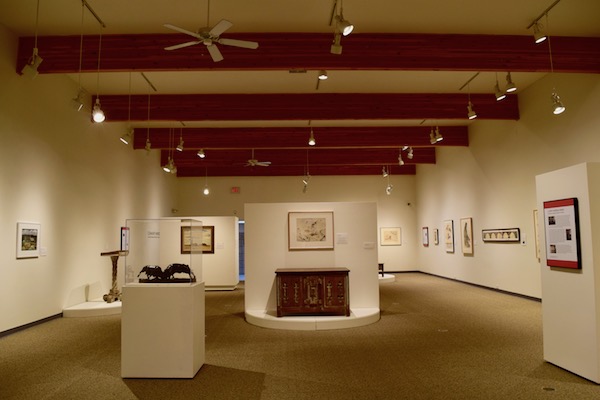 The Roswell Musuem and Art Center had a nice collection of art, but what stole the show was the Robert H. Goddard exhibit regarding the birth of rockets.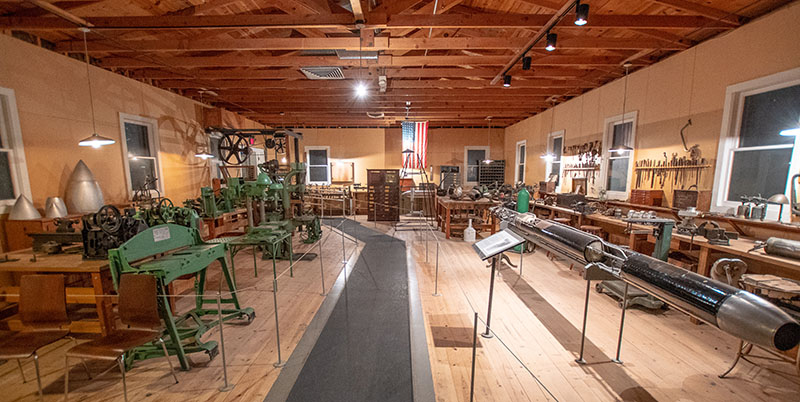 He is an American engineer and credited with creating the first liquid-fueled rocket despite not getting half the publicity of the German V-2 that you can see at White Sands Missile Range Museum.
Entrance fee: By donation
Opening hours: Tuesday to Saturday 9 am – 5 pm; Sunday 1 – 5 pm
4. Anderson Museum of Contemporary Art
The Anderson Museum of Contemporary Art has a truly unique way to curate their art collection. They house and provide a living stipend for six lucky artists that lasts a full year. This is a novel idea, and continues to pay off with creative artwork currently on display.
Entrance fee: By donation
Opening hours: Monday to Friday 9 am – 4 pm; Sunday 1 – 5 pm
5. Roswell Spacewalk
The Roswell Spacewalk was closed during our visit, but is once again open for business. Inside you can take a tour of an alien black light art installation. Based on the pictures it looks average, but at $2 it might be worth checking out.
Entrance fee: $2
Opening hours: 8 am – 6 pm Daily
6. Pecos Flavors Winery
Although California gets all the fame for wine on the west coast, New Mexico has some wineries of their own. Pecos Flavors Winery offers local wine, beer, and snacks for sampling and purchase.
Tasting fee: $5 for 3 one ounce pours
Opening hours: Monday to Saturday 10 am – 8 pm
7. Bitter Lake National Wildlife Sanctuary
Visitors to Roswell, NM not keen on aliens can take the short drive to Bitter Lake National Wildlife Sanctuary. The main draw are all the migratory birds, but there are a handful of mammals you can spot as well from viewing towers.
Entrance fee: Free
Opening hours: Monday to Saturday Dawn to Dusk
8. Alien Zone Roswell, New Mexico
We wish we had found Alien Zone when we visited the downtown Roswell, NM attractions. Hidden behind a retail front is a handful of alien sets prime for taking selfies with your favorite green friends. Between this and Roswell Spacewalk, this looks like the better kitsch attraction to visit in Roswell.
Entrance fee: $3
Opening hours: May – August: 10 am – 5 pm Daily; September – April: Monday to Saturday 10 am – 5 pm, 1 – 5 pm Sunday
1947 Roswell UFO Incident
In case you are unfamiliar with the history, Roswell was thrust into the spotlight in 1947 when rancher Mac Brazel discovered unidentifiable debris on his property. The local Air Base described it as a weather balloon, but newspapers sensationalized it as a flying saucer.
This started the frenzy of UFOs in Roswell and Area 51. Regardless which position you believe, downtown Roswell is full of little green men today.
Downtown Roswell Restaurants
If you are trying to visit several New Mexico destinations in one day, then you will probably want to grab lunch in Roswell. Here are your top choices.
Cowboy Café – This is one of the few restaurants in Roswell, New Mexico that has embraced the UFO kitsch, featuring an Alien Omelet and The Mothership Burger. Pay them a visit for breakfast or lunch only as they close at 2 pm.
Big D's Downtown Dive – They will put green chile on just about everything so come prepared – hamburgers, cheesesteaks, Mexican dishes…
If you are in need of fast food, the local saucer shaped McDonald's is our top pick as they went all in on their restaurant's alien design.
Hotels in Roswell, NM
There is a large assortment of affordable hotels in Roswell, NM with prices starting at $19 with breakfast included at Simple Rewards Inn. This is a great base not only for visiting Roswell, but Carlsbad Caverns National Park. Prices around there are more expensive so you may want to visit as a day trip instead.
Airbnb lists around 45 places to stay but there are no hostels in Roswell, NM.
Check accommodation prices in Roswell
Plan Your New Mexico Road Trip
In order to get around New Mexico, you need to have a car. We were surprised to find that Sheena was able to rent a car much cheaper as an Australian than I was as an American. If you're an international visitor, keep that in mind during your online research as this could save you a lot of money.
Although the U.S. is a relatively safe country for travel, medical costs are high so if you're an international visitor we recommend purchasing travel insurance before any trip. We've been using World Nomads through 80+ countries over the past 12 years and have been really happy with their coverage and services.
Places to visit around Roswell, NM include:
Know Before You Go
Top Attractions:
International UFO Museum and Research Center
Roswell Museum and Art Center
Anderson Museum of Contemporary Art
Hours: Businesses open at 9 am, and close between 4-5 pm. There are restricted hours on weekends.
Duration: 2-4 hours
Hotel: Simple Rewards Inn (starting at $19)
Restaurants: Cowboy's Café; Big D's Downtown Dive; McDonald's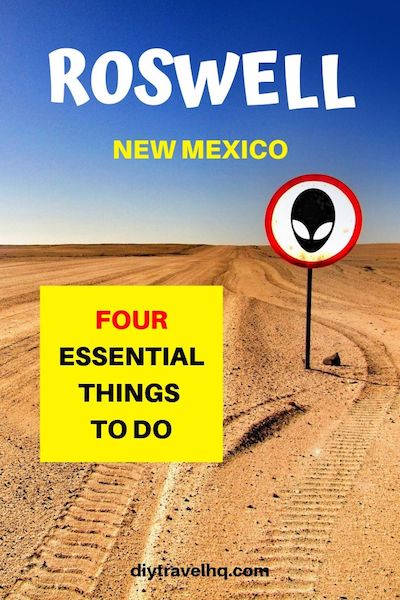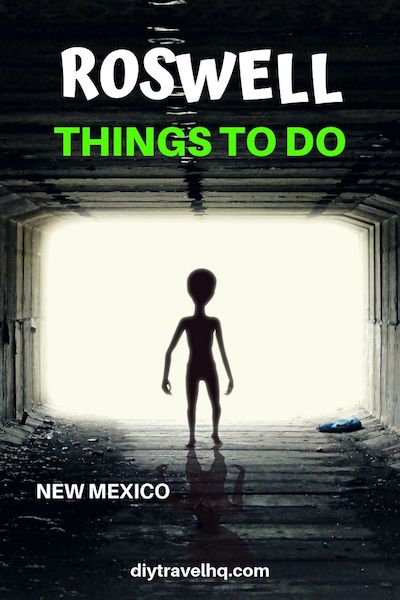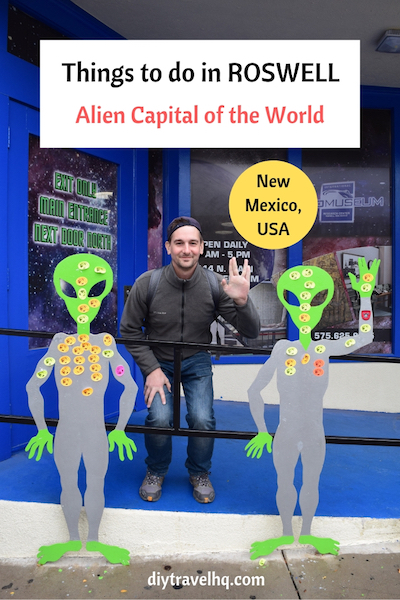 Disclaimer: This post contains affiliate links which means that we receive a small commission if you click on a link & purchase something that we've recommended, at no extra cost to you.
Visited in October 2018
Updated November 2019