Do you want to learn a foreign language? Find out the 5 best ways to learn Spanish for travel including resources, apps & software to help get you started!
Best Ways to Learn Spanish
There are so many language learning materials available on the internet that it can sometimes seem overwhelming. Where do you start?
Here at DIY Travel HQ I think it's important to streamline your learning so these are the 5 resources I am currently using to study Spanish – you can apply them to learning any language.
Some of these sources are free, some you need to purchase. I will list the prices & free alternatives to each one.
So are these the absolute top methods to become fluent in Spanish or any new language? I don't know but they work for me now & they've worked for me in the past when I was studying Chinese & French.
The key is to find methods that work for you.
Buena suerte! Good luck!
* If you want to learn Spanish for travel to Latin America I recommend getting started with a Spanish phrasebook
.
#1. Language School
You can take classes at a language school or with a private tutor.
Lessons are flexible in duration, time & location and they can be in groups or one-on-one.
Study Spanish in Guatemala
Find out why Spanish at San Pedro La Laguna is one of the most popular places to learn Spanish in Central America...
Read more
Pros:
If you've paid for classes, you're more likely to be committed to learning a language. You're likely to complete your homework each night, want to impress your teacher & keep up with your classmates.
Learn practical things you need to know
Language classes can be personalized to your needs, especially one-on-one tuition. A good teacher knows what you want & need to learn, based on your level & interests.
For many travelers in Latin America, top of the list of practical things to know is how to say 'Cheers' in Spanish!
Real-life speaking practice
Grammar & vocabulary is important but having the confidence to speak is essential. Language classes give you the opportunity to speak, without fear, in a supportive environment. A good teacher will have patience & speak clearly, correcting your mistakes when necessary.
Cons:
These days there are a lot of free language learning resources online so taking class is obviously one of the more expensive ways to learn Spanish or a new language.
Group classes not always beneficial
Group classes can either slow you down or feel too fast, because most of the time, not everyone is on the exact same level.
My Experience:
I was studying Spanish by myself for a long time before I took the plunge & signed up with a Spanish School.
I'm currently in traveling in Guatemala & this is one of the best countries in which to learn Spanish.
One-on-one classes at Spanish schools in Guatemala start from Q30 / $4.00 an hour but you can find local teachers from Q25 / $3.45. The cost of living is also very cheap, so you can afford to study for longer.
My favourite aspect of taking classes if being able to clarify queries I have & being able to ask my teacher anything at all.
I've progressed a lot faster attending a school than I have learning Spanish for travel on my own so for me this has been worth the investment, even for a short time.
* Don't forget to purchase travel insurance before any trip to abroad. I've been using World Nomads for over 10 years. It's the best-value provider we've found but there are other important things to consider. Check out my post and find out which of our claims were successful or denied.
 More Information:
Price: from Q30 / $4.00 per hour in a Spanish school in Guatemala (1-on-1 tuition)
* Free alternative: find a language exchange partner!
 Website: San Pedro Spanish School (my school in Guatemala)
#2. Rosetta Stone
Rosetta Stone
is a software program that uses text, images & sounds to teach grammar & words.
It's all done without translation – a method it calls "Dynamic Immersion".
Pros:
You can study with Rosetta Stone at any time, without needing to leave your home or have an internet connect. Your studying sessions can be as little or as often as you like.
With Rosetta Stone, you practice speaking, listening, reading & writing. There's a lot of repetition to help you consolidate new words & grammar. You can repeat exercises as often as you like.
Cons:
Rosetta Stone is an expensive software program to purchase.
There are no English translation on Rosetta Stone so you have to make guesses & hope it becomes clearer later in context or go to other sources for clarification.
Rosetta Stone doesn't teach verb conjugation, which is obviously very important in learning many languages, such as Spanish. Because it is a very visual program, you can make good guesses & learn patterns without knowing any of the grammar or structure. So you need to learn verb conjugation elsewhere to get the full benefit from Rosetta Stone.
 My Experience:
I love using Rosetta Stone, but that's because I got it for free… if you have the money for it & are seriously about learning a language, I would recommend it.
Rosetta Stone has speaking, listening, writing & reading exercises so you become a well-rounded language learner. However it can't replace interacting with real people so you still need to practice speaking in the real world.
The disadvantages to Rosetta Stone can also be seen as its advantages. For example, because you have paid a lot of money for the software, hopefully you will be more motivated to use it. And having no English translations offers you full immersion, which itself has its benefits.
More Information:
Price: different subscription levels available, a 12 month subscription costs $179.00
* Free alternative: find a way to download Rosetta Stone for free…
Website: Rosetta Stone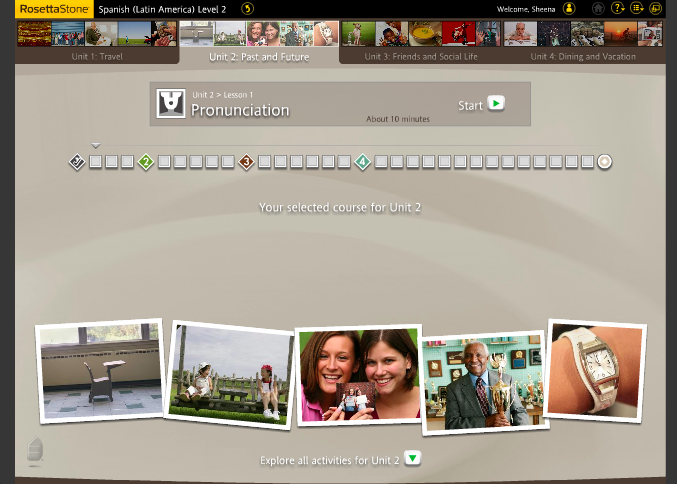 #3. Duolingo
Duolingo makes learning Spanish fun by gamifiation, such as point-scoring & competing with others.
Learn words & phrases by themes, unlock new levels & pass checkpoints before moving on to higher stages.
It's definitely one of the best apps to learn Spanish for free.
 Pros:
Lessons are divided into themes so you can learn & practice a lot of relevant words & phrases. Duolingo also lets you hover over words for additional meanings & conjugations.
Duolingo is easy & fun to use! It incorporates speaking, listening, reading & writing but each lesson is short – it makes you feel like you are progressing quickly, especially with the bright colours & sounds.
Duolingo is free, mobile & online. You can sometimes use it offline too, which offers great opportunities to practice when you're travelling.
Top 20 Free Backpacking Apps
Travel apps make traveling easier and who doesn't want that? Check out our complete list of the top 20 free backpacking apps for budget travel!
Read more
Cons:
Unreliable offline access
Duolingo is excellent for travellers, to be able to practice Spanish on long bus rides. However its offline service is hit or miss. At best you can do a few lessons before you need an internet connection to unlock more levels.
If you're serious about learning Spanish, you can't just rely on Duolingo. You can use it to learn Spanish or any language for free but think of it more as a supplement.
My Experience:
I love using Duolingo, especially as an offline app, but unfortunately this rarely works so that's frustrating.
When I'm connected to the Internet I have other distractions so I don't use it as often.
 More Information:
Price: free!
Website: Duolingo
#4. Spanish Dictionary Conjugator App
The verb conjugator/feature from Spanish Dictionary provides full Spanish conjugation for almost every Spanish verb.
You can conjugate verbs in tenses including preterite, imperfect, future, conditional, subjunctive, irregular & more.
Pros:
Love it or hate it, conjugating verbs is absolutely essential in learning Spanish. Use the Spanish Dictionary conjugator to supplement other resources like Rosetta Stone & Duolingo that don't teach verb conjugation.
You can conjugate any verb, in any tense. The app asks you to conjugate verbs & submit your answers – it will then make corrections & give you a score.
You an use the Spanish Dictionary conjugator app offline to practice, kill time or just to brush up on your verbs – whenever you have the time or need.
Cons:
The Spanish Dictionary conjugator app only allows you to do just that. Spanish Dictionary has plenty of other learning resources but they have to be downloaded separately.
 My experience:
Once I reached the intermediate level on Rosetta Stone, it started to get into past & future tenses. I needed something else to help me with this since Rosetta Stone doesn't – that's when I discovered the Conjugation app from Spanish Dictionary.
While Spanish Dictionary has other resources like translation, flash cards & grammar, I use them solely for conjugation to supplement what I'm learning in classes, Rosetta Stone & Duolingo.
 More Information:
Price: free!
Website: Spanish Dictionary
#5. Free Language Podcast
Free Language Podcasts feature a short dialogue, which is then gradually broken down & translated into English.
The topics are useful, interesting & up-to-date and it's one of the top free apps to learn Spanish.
The presenters are charming, easy to understand & the lessons take on a light-hearted tone.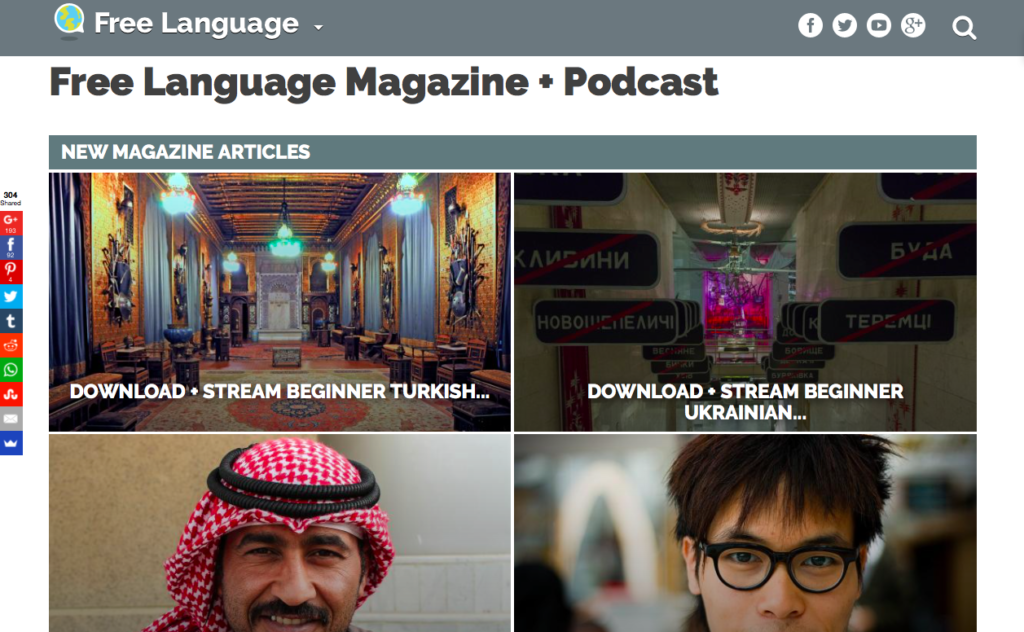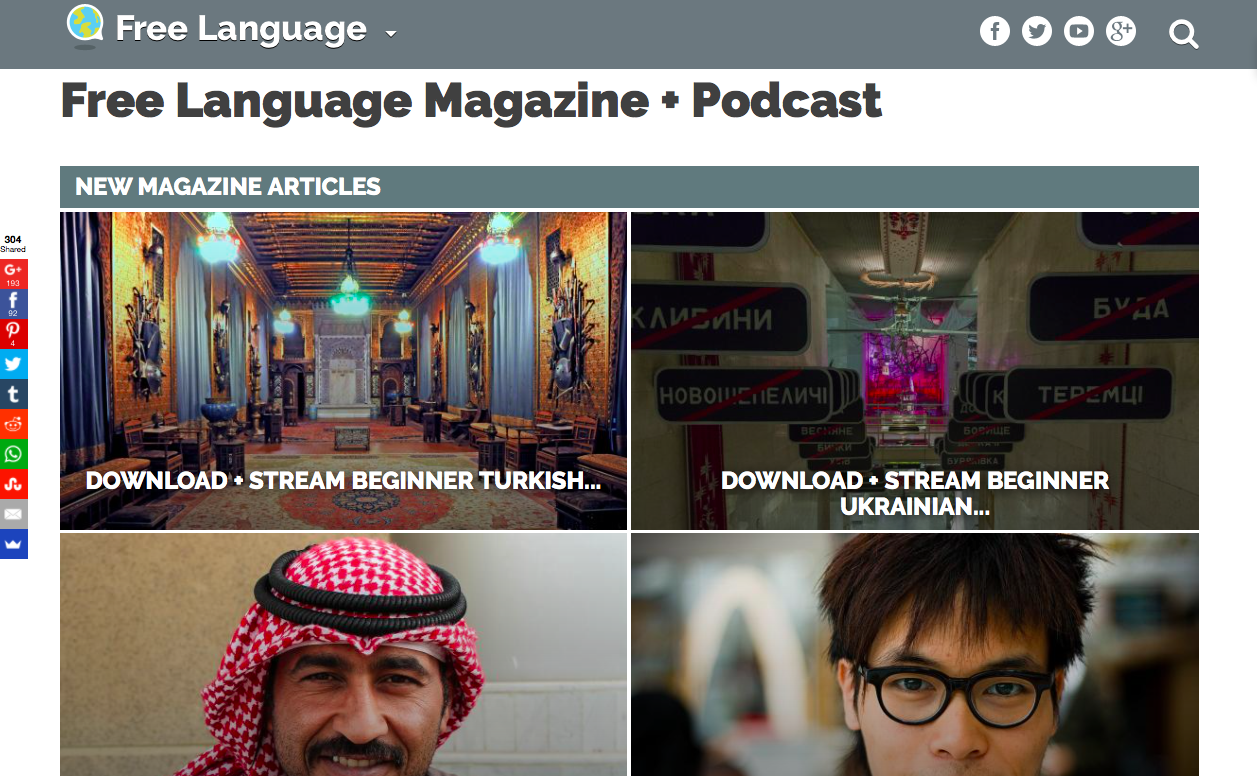 Pros:
Once you subscribe, you can download any podcasts to your mobile & listen to them anywhere, anytime.
You receive a broad variety of other resources with each podcast – these include PDFs with dialogues and translations, vocabulary lists, games, videos & review exercises.
Cons:
Different subscription levels
Limited access to Free Language Podcasts are free but to access their full library of resources, you need to buy a subscription: Basic, Premium or Premium+.
 My Experience:
When I first started learning Spanish, I listened to SpanishPod101 from Free Language Podcast all the time – at home, in the car, on the bus, walking to work, etc. I did this with new & old lessons.
Repetition can help you to progress rapidly – combine Spanish music, Spanish movies & telenovelas with Spanish podcasts for full immersion!
I don't listed to SpanishPod101 as much now that I'm travelling around Central America but I still highly recommend it as a great way to study Spanish.
 More Information:
Price: Free, Basic, Premium & Premium+ subscriptions available. A Basic subscription costs $8.00 a month or $96.00 per year.
* Free alternative: if you're not satisfied with the Free subscription at Free Language Podcast, try to find another service
 Website: Free Language Podcast
Honourable Mention
Immersing yourself in a foreign language is easy when you're travelling in its native country: you have opportunities to interact with local people everyday.
When you return home, it's easy to continue studying but you have less chances to practice speaking.
So consider joining a Language Meet-Up group in your home city, finding a language exchange partner or other ways to continue speaking Spanish!
Did you enjoy reading our list of ways to study Spanish?!
Pin it and help others find it too!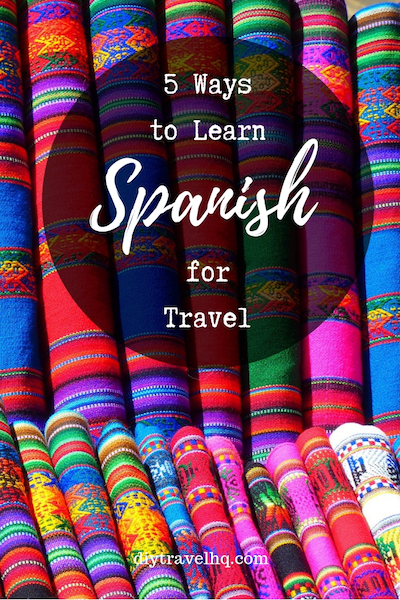 *** The Final Word – With some self-motivation, these methods of learning Spanish or any new language can take you very far! ***
Do you have any other recommendations for learning a foreign language?
Feature image courtesy of Supermarket.Webs