Varadero beach is Cuba's biggest resort area but there are many other things to do in Varadero – from attractions to food, find out how to do it all on a budget.
Varadero beach is a long, thin slice of paradise! You could easily spend your whole vacation swimming, strolling and sunbathing along its 20km of white sand and turquoise sea but there's more than meets the eye…
The top 8 things to do in Varadero are: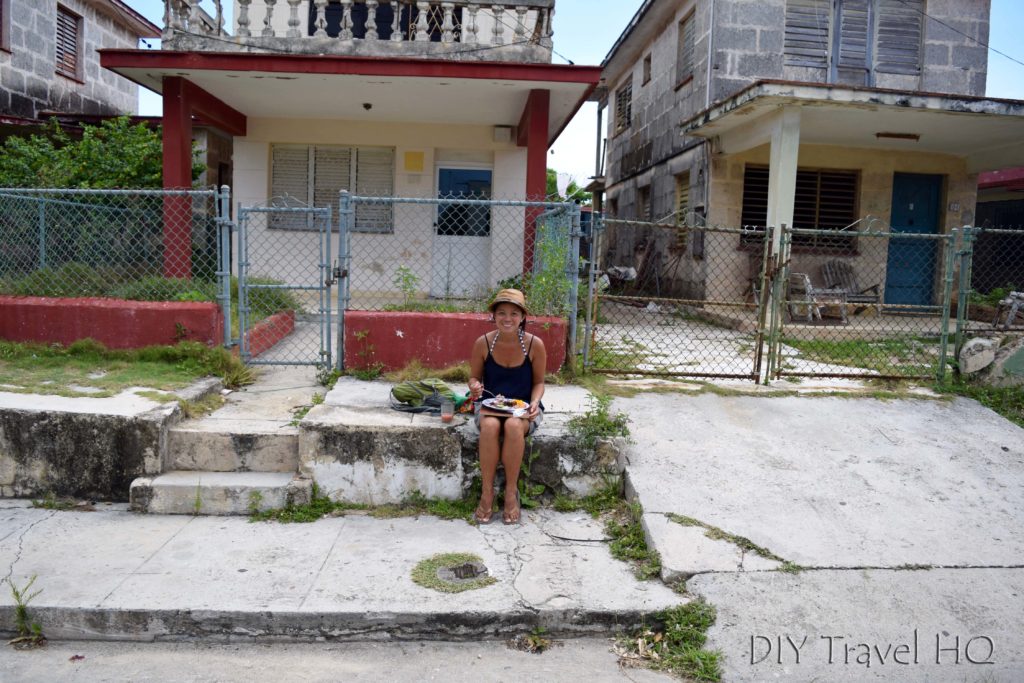 Other info you'll in this post:
Find more inspiration in one of the Cuba guide books below!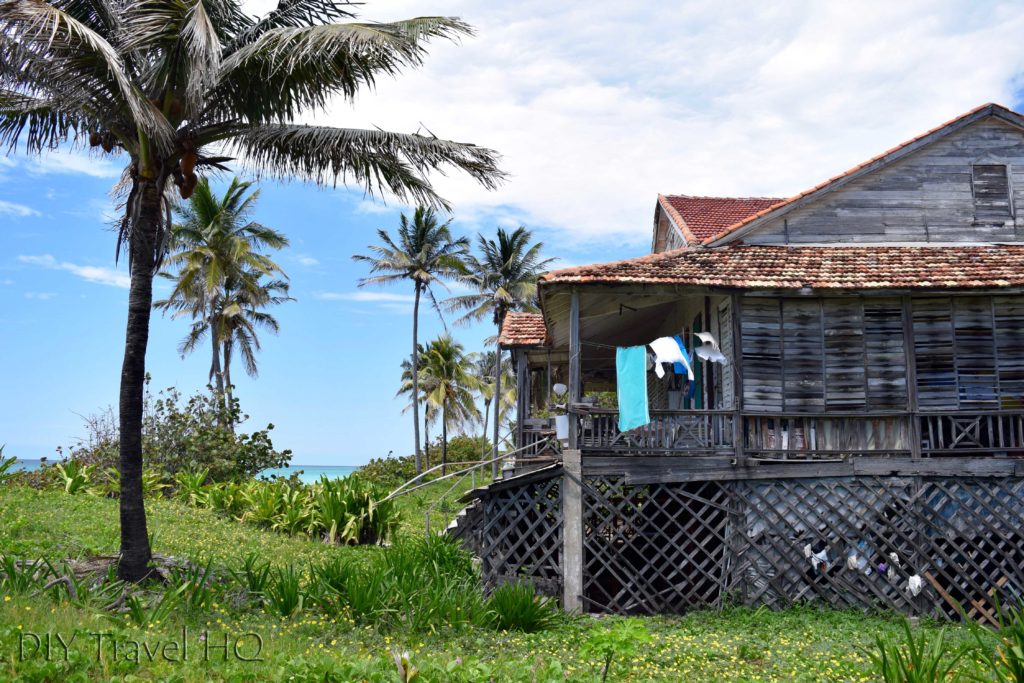 Things to do in Varadero
#1. Avenida 1
Coming from Matanzas, you enter the Varadero beach peninsula by crossing the bridge over Canal de Paso Malo.
Take the 1st or 2nd left off the Autopista (highway) & you'll end up on the main strip, Avenida 1.
Along with numerous bars, restaurants, cafes & souvenir stalls, there are also many convenience stores selling drinks, alcohol & snacks for the beach.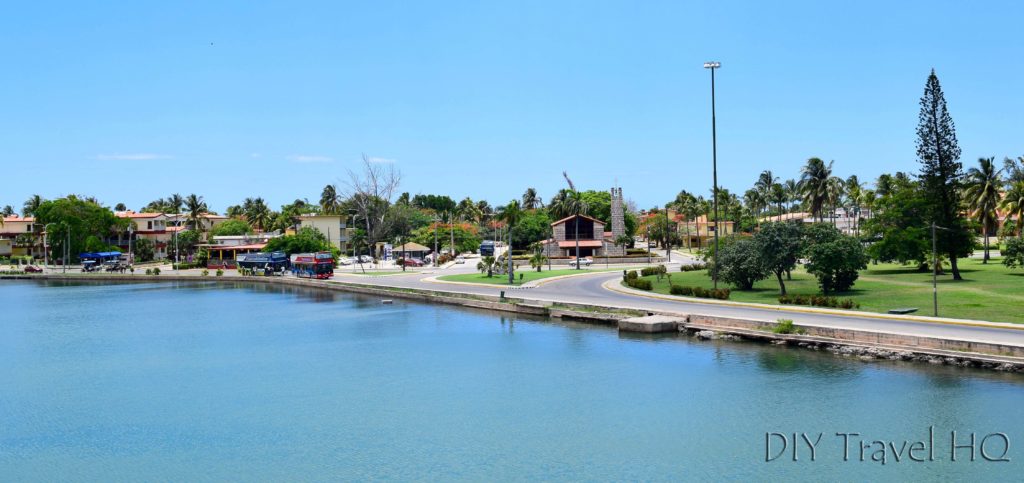 #2. Varadero Beach
People don't simply keep flying in from the other side of the world to spend their vacation at any old beach. After Havana, Varadero beach is holiday destination #1 in Cuba – and it delivers.
If you only have 1 week in Cuba, Varadero beach should make the list.
While the sand isn't as white as in the tourist brochures, it is a very pale blonde. Who cares when the beach is soft & silky, fronting clear turquoise waters. The beach seems to stretch on as endlessly as the ocean. It's definitely worthy of a postcard &#1 on our list of things to do in Varadero.
We visited the Western end & Varadero beach here was beautiful to relax & swim in: the waves are calm & water is warm & shallow.
The further west you are, the more crowded Varadero beach is. Kite-surfing is very popular & we even saw a wedding being set-up: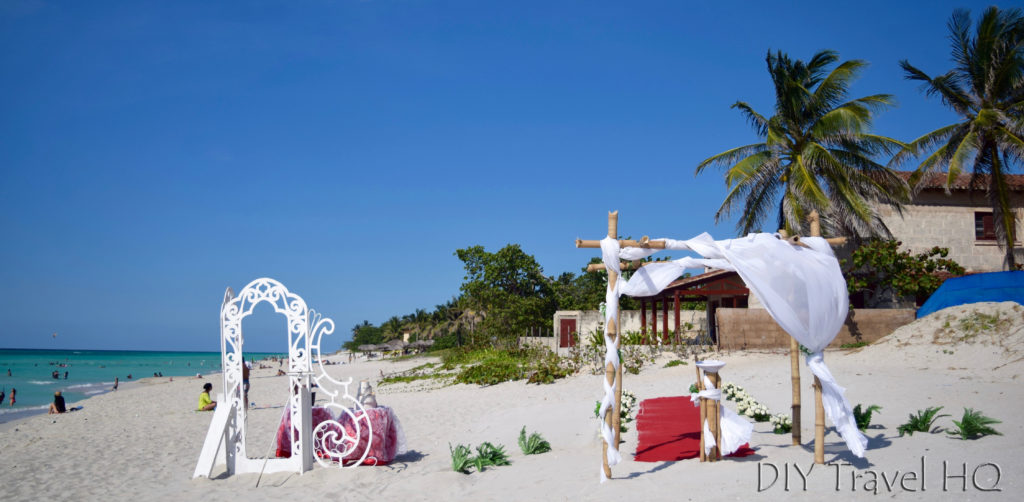 Cuban's haven't quite gotten the anti-litter message and as the beaches here are used almost exclusive by locals, there's sadly a lot of rubbish lying around. A lot of it is tied up in plastic bags though, so there's hope for the future.
We haven't been to any other Caribbean beach to compare it to but we flew in to Cuba from Cancun. While Varadero beach is stunning & very similar, it didn't quite take our breath away as much as its Mexican counterpart.
But for us, this still means that for now, Varadero beach ranks at the top of the best beaches in Cuba & in the Caribbean…
Top 5 Beaches in Cuba
Cuba is an island paradise with something for all budgets – find out the 5 best beaches in Cuba for snorkeling, diving or simply relaxing in the sun
Read more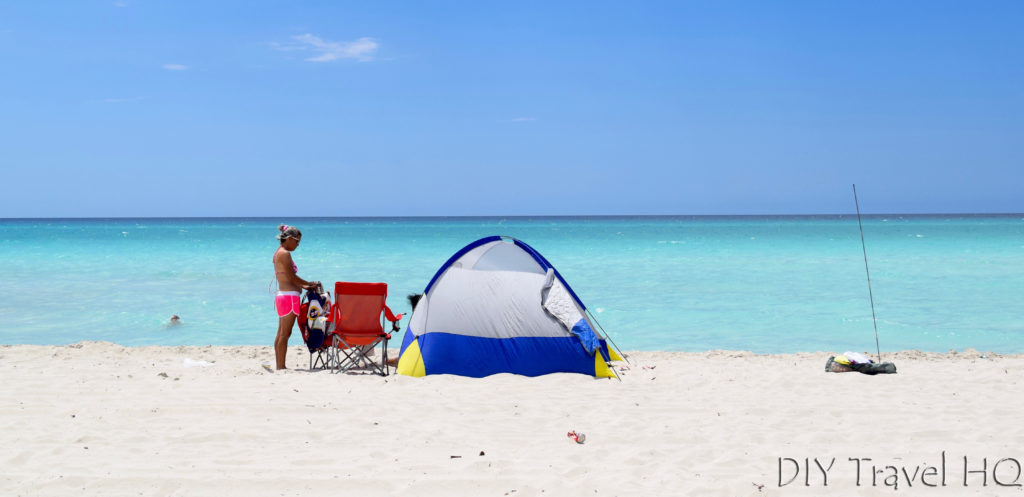 #3. Parque Josone
Besides the beach Parque Josone is one of the most popular Varadero attractions for local families. This makes it a great place for people watching in the centre of the town.
Relax on the grass under the shade of palm trees or enjoy a pleasant stroll around the lake crossing bridges back and forth. If you prefer to be on the water you can rent a paddle boat or water bike.
Have a drink at the Beatles Bar or a meal in the amazing cave restaurant. The atmosphere is unique and the food is really good especially the lobster.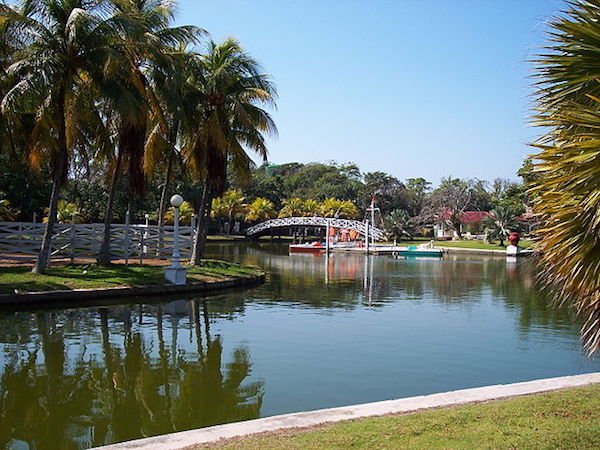 #4. Parque Central
Parque Central is smaller and not as nice as Parque Josone but here you'll find a nice handicrafts market. It's geared to tourists but there are some lovely artisan pieces for sale as well as the usual trinkets and souvenirs.
Check out the two monuments in the park. One is dedicated to the national hero Jose Marti and the other is a large monument to the martyrs of the Cuban revolution.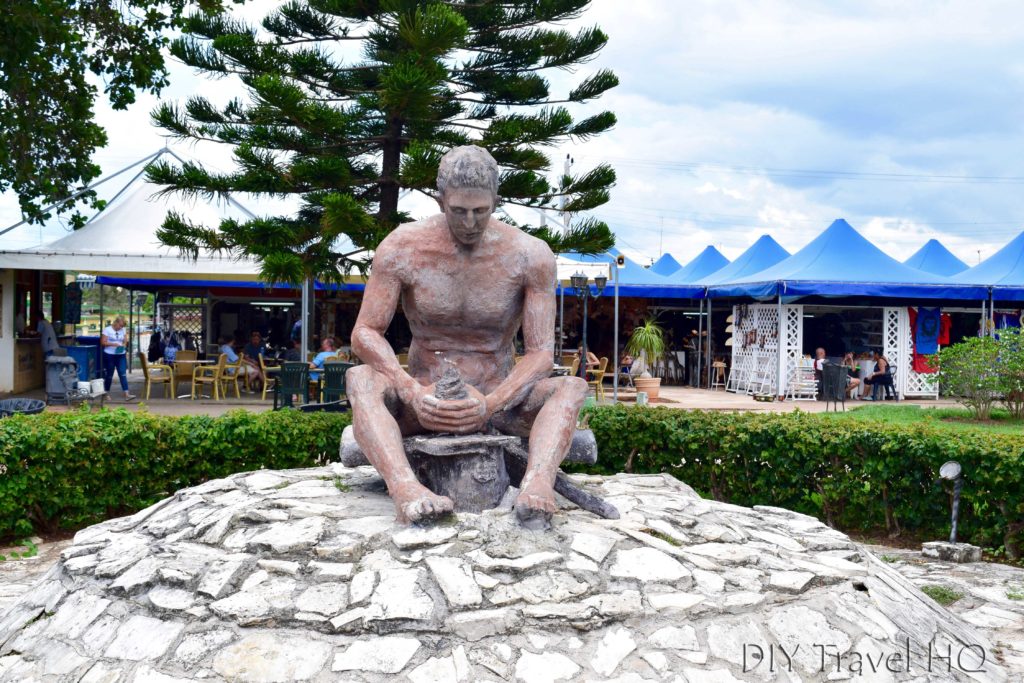 #5. Centro Comercial Hicacos
Next to Parque Central you'll find another green space (previously known as Parque de las 8000 Taquillas) that's been turned into a shopping mall. The design is quite interesting as it's made up of 6 circles that are semi-underground.
Here you'll find locals hanging out and you can also stop for a drink or something to eat. Browse through the shops or pick up a few things from the grocery and liquor stores.
#6. Iglesia de Santa Elvira
Nearby is the quaint Iglesia de Santa Elvira a small Catholic church that dates back to 1938. It's made of stone and wood and it features a little bell tower with a white cross on top.
Sunday mass is held in Spanish at 10:30 am and everyone is welcome. Some foreigners bring in goods to donate which are gratefully received. During the week the church is sometimes open and you can always walk around the grounds.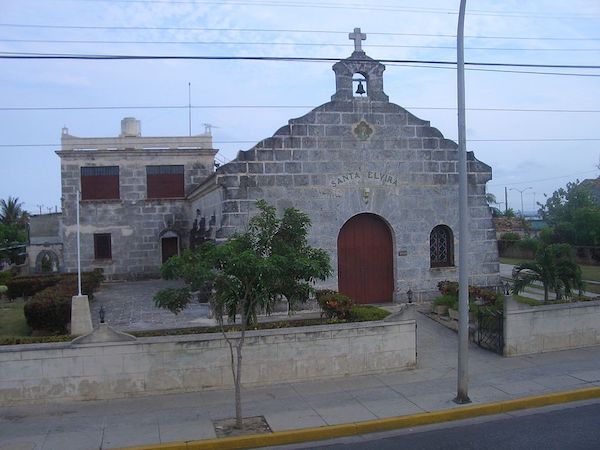 #7. Museo Municipal de Varadero
If it's open you can learn about Varadero's history at Museo Municipal de Varadero. Check out the period furniture as you make your way around various exhibits.
Otherwise admire the crumbling architecture of this wooden beach house, if it's still standing.
#8. Mansion Xanadu
Mansion Xanadu is the clubhouse of the Varadero golf club and it's a national monument in Cuba.
It was built in the 1920's by Irenee Dupont a French American millionaire who was once one of the richest men in America. These days it's a state-run hotel where you can stay in one of the 6 guest rooms eat at the restaurant or sip cocktails from the rooftop bar overlooking the ocean. The views are stunning.
Mansion Xanadu is a little run down but it still exudes a certain sense of grand luxury.
Although Cuba is a very safe country for travel, we recommend purchasing travel insurance before any trip. We've been using World Nomads through 80+ countries over the past 12 years and have been really happy with their coverage and services.
You can also find other handy tips in our Cuba Budget Travel guide.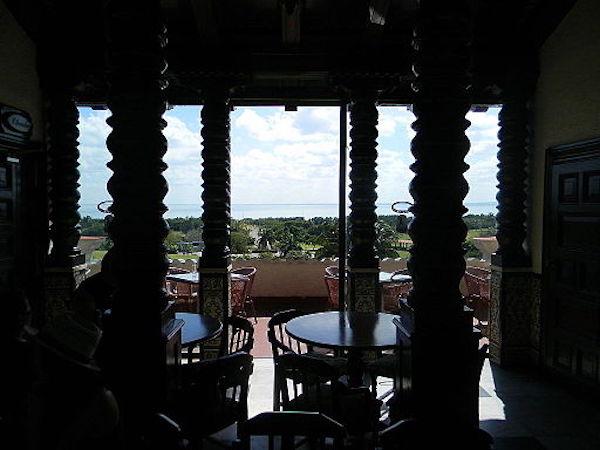 Varadero Tours
We traveled Cuba and Varadero on a budget doing everything on our own. If you want to make life a little easier for yourselves and see more of Varadero along the way check out these tours:
Crocodile Farm & Snorkle Tour
Experience the beautiful countryside around Varadero on a full-day excursion to Guamá. Cruise along the Hatiguanico River by speedboat and visit one of the largest crocodile breeding farms in the Americas. Snorkel at the Punta Perdiz Center and learn more about the indigenous Cubans at a replica Taino village.
Swim with Dolphins
Enjoy cocktails from an open bar as you relax on a luxury catamaran before jumping into the water to swim with dolphins.
Yumuri Valley Jeep Safari
Go on a jeep safari and enjoy the scenic drive to Yumuri Valley where you can go horseback riding. Ride down the Canimar River by boat and swim & snorkel at Playa Coral.
Cheap Food in Varadero
You might be hungry but don't give in to the CUC eateries… walk a little further down from the handicrafts market & there's a woman selling great food from her house on Calle 26, on your right – the restaurant-house is called "La Metchora".
The portions are huge – we enjoyed a lasagna (35 pesos / $1.40) & plate of bacon-pork chop, rice & beans & salad (40 pesos / $1.60).
Good local Cuban street food in pesos, that's not bread or pizza, is hard to find so take the chance for a delicious meal on the street.
If you're confused about CUC vs CUP peso prices, check out our guide to Cuba's dual currency system.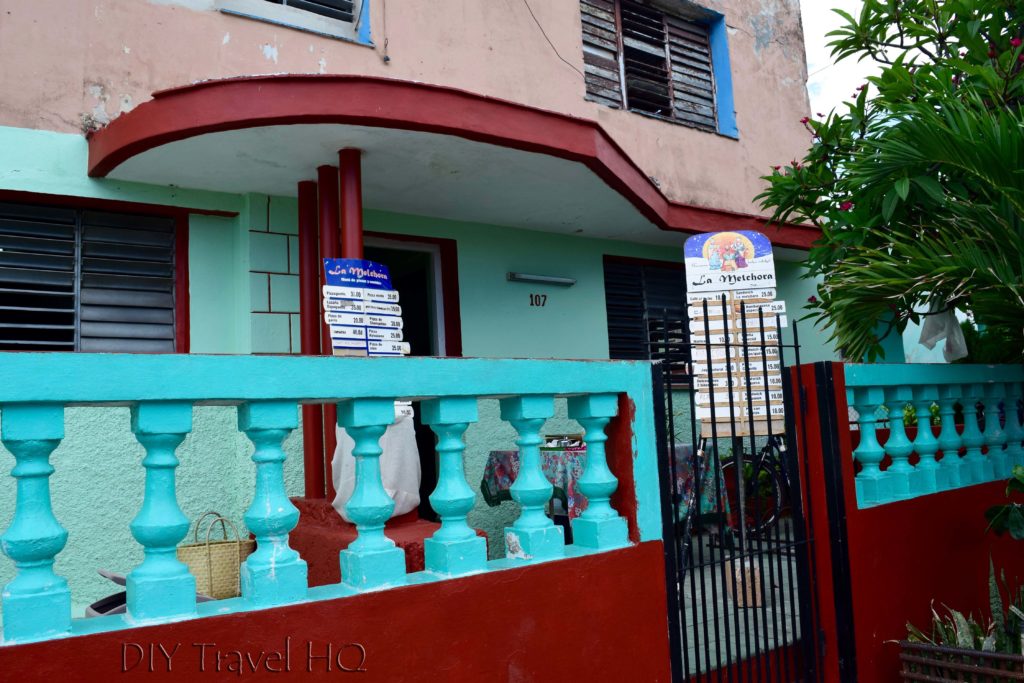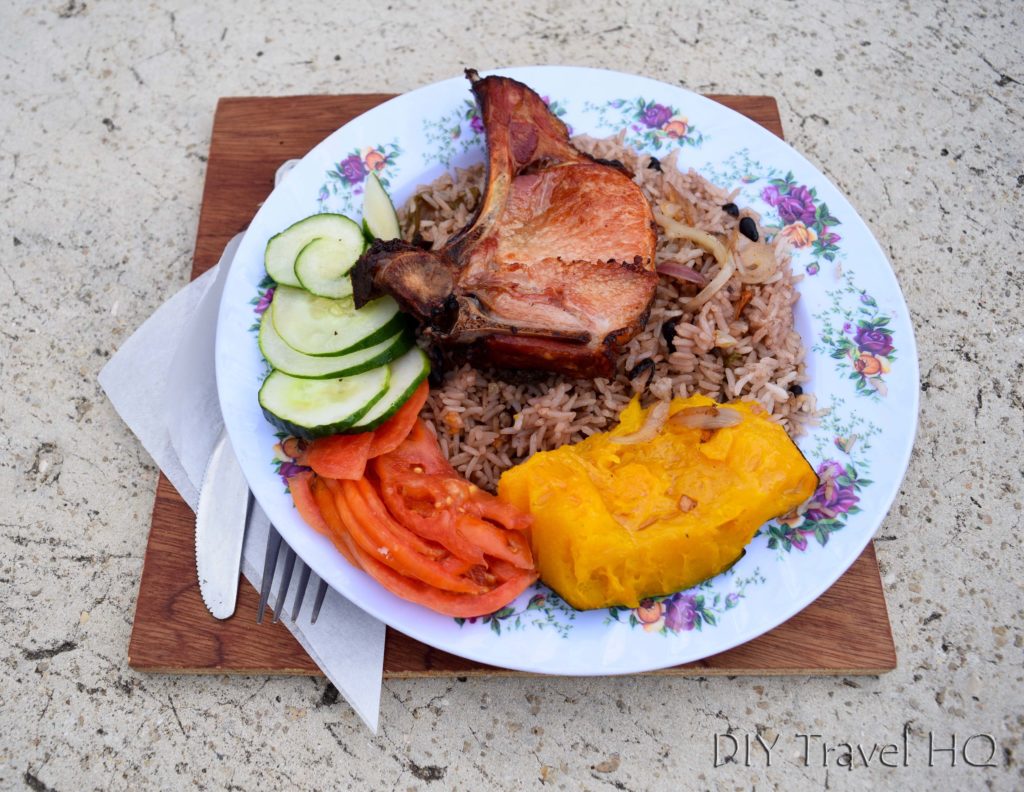 Varadero Accommodation
Hostels: Hostelworld lists 2 places in Varadero but neither of them are hostels or have dorm rooms.
Airbnb: There are hundreds of properties on Airbnb in Varadero with rooms starting from $10. The average nightly price is $45 though you can also rent luxury apartments and houses right on the beach for over $200.
Hotels: We recommend Booking.com as a trustworthy source of accommodation in Cuba. There are over 150 properties available with rooms starting from $14. You can find very nice places to stay for under $50 or treat yourself to a luxury resort.
Check hotel prices in Varadero
How to Get to Varadero
Varadero on a budget travellers can consider staying in Matanzas & visit Varadero beach as a daytrip.
From Matanzas, head to the intersection of Calle 79 & Calle 272, where there'll be two main roads branching out of Matanzas. Waiting on the right, you can take a local bus to Varadero for 10 pesos / $0.40.
We actually stopped at the town of Carbonera to snorkel at Playa Coral – from Matanzas, the bus cost 5 pesos.
Then from Carbonera, we caught a passing, small camiones to Varadero for 10 pesos / $0.40 (real price may be 5 pesos / $0.20).
How to Get Out of Varadero
There are camiones on Via Blanca, the road heading to Matanzas – the ride to Matanzas costs 10 pesos / $0.40 & takes around 40 minutes.
Things to do in Matanzas
There are a number of things to do in Matanzas, Cuba but none are outstanding – check out the accommodation & transport options and decide for yourself if it's worth the trip…
Read more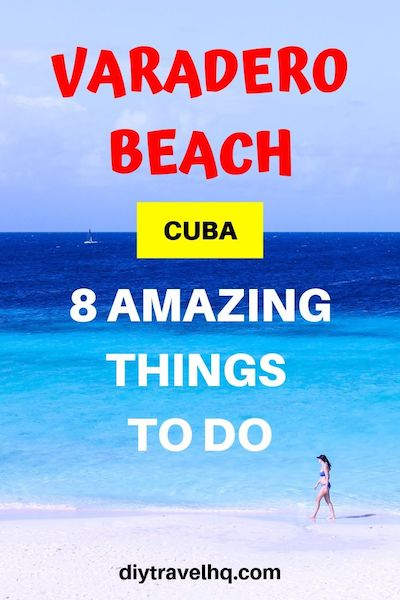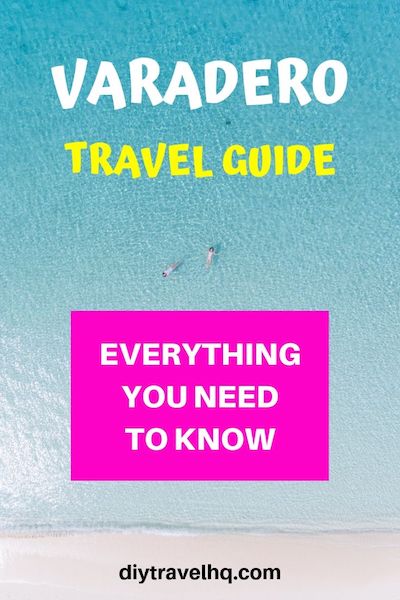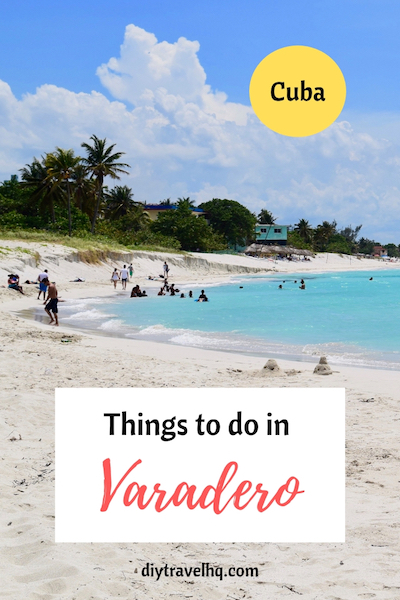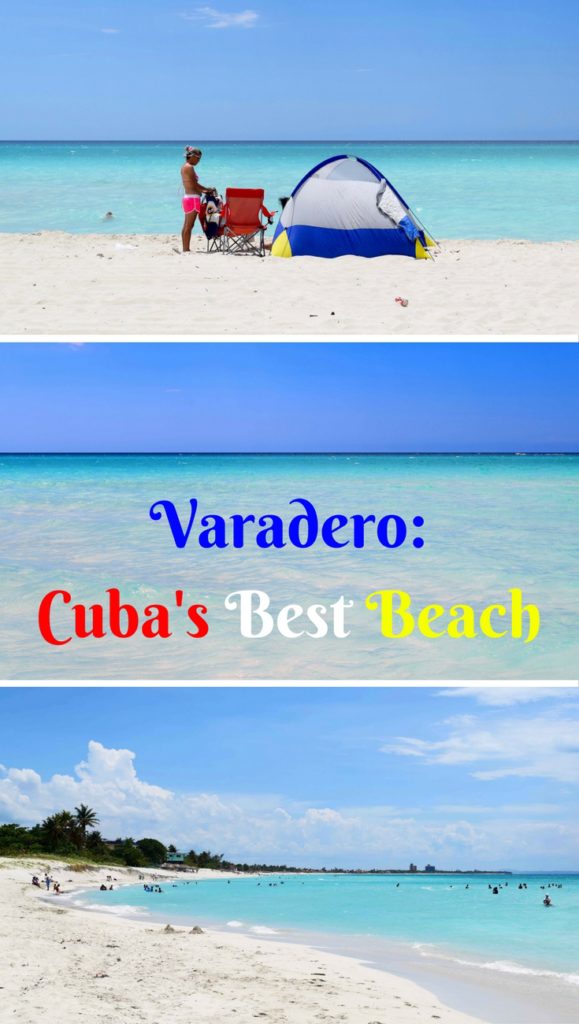 *** The Final Word – Experiencing Varadero beach on a budget is certainly possible at Cuba's best beach destination ***
What do you think is the best beach in the Caribbean?
* This post contains affiliate links, which means that we receive a small commission if you click on a link & purchase something that we have recommended, at no extra cost to you.
Visited in May 2016
Updated in April 2019