The clip-clop of horses' hooves on the 500 year old cobbled-stone streets is one of its many charms – our Trinidad, Cuba Travel Guide will show you why this World Heritage City is in a league of its own!
Trinidad, Cuba Travel Guide: Overview
With elegant plazas & pastel-coloured buildings, we here at DIY Travel HQ believe that Trinidad is Cuba's best-preserved colonial settlement.
There are many museums in the city, especially around Plaza Mayor, but we didn't go in any of them – who needs stuffy rooms with old artifacts & no English explanations when the streets outside are living outdoor exhibitions?
Plaza Mayor is the heart of the old town but it's well-worth exploring outside of the city centre too, for a taste of real Cuban life.
The local residential quarters are quite a contrast to the affluence of the historic areas, with small ramshackle dwellings & horse carts replacing lavish colonial buildings & classically restored American cars.
In these neighbourhoods, you're unlikely to see many, if any, tourists.
They're more likely to be enjoying the good life in any of Trinidad's increasing number of fashionable restaurants, bars or cafes, located well away from the gritty authenticity of suburbia and local street food in Cuba.
We don't really recommend it but the beach escape of Playa Ancon is 15km from Trinidad.
If you're travelling to the island nation, Trinidad is one of the top destinations in Cuba.
We fell completely in love with Trinidad – it's like nowhere else we've ever been.
You really do feel like you've stepped back in time, way way back…
* Trinidad, Cuba Travel Guide Top Tip: Beware, this city will leave you feeling like you never want to leave the 19th century…
* Don't forget to purchase travel insurance before any trip to Cuba. We've been using World Nomads for over 10 years – it's the best-value provider we've found & we've also never had any issues on the few occasions we've had to make a claim.
Trinidad, Cuba Travel Guide: History
Trinidad's riches come from the 19th century, in the middle of the sugar boom from the nearby Valle de los Ingenios (Valley of the Sugar Mills) plantations.
Introduced by the Spanish in the early 1500's, sugar quickly became Cuba's main industry.
The soil & climate were ideal for cultivation & by the late 18th century, Cuba had become the biggest producer of sugar in the world – no wonder the Hershey Train was built near Havana.
Thousands of African slaves were brought to the island to work in the sugar mills & in the fields (many descendants remain today).
However, after the Spanish abolished slavery in 1820, the Cuban slave trade decreased significantly.
Together with slave revolts, the depletion of arable land & the rise of the European sugar trade, Trinidad's economy came crashing down.
These days, tobacco processing is Trinidad's most important industry, followed by tourism. We recommend checking out the Alejandro Robaina Plantation Tour in Pinar del Rio if you have time.
The city has been growing in popularity since its historic center was placed on the UNESCO World Heritage List in 1988.
* Trinidad, Cuba Travel Guide Top Tip: Trinidad celebrated its 500-year anniversary in 2014 – there's no better time to visit than now!
Trinidad, Cuba Travel Guide: Attractions
Begin your Trinidad visit in Plaza Mayor, that's if you can tear yourself away from the enchanting streets on the way there…
White iron-picketed fencing separates the paved central courtyard from the cobble-stoned streets. This is in turn divided into 4 smaller squares with manicured gardens nurturing towering palm trees.
Surrounding the courtyard are lovely, colonial buildings – many of them converted into museums:
Museo Romantico
Museo de Arquitectura Trinitaria
Museo de Arqueología Guamuhaya
They all charge CUC$1-2 – we didn't pay for any but you can sneak a peak & get a good feel inside for each one.
There is also a church, Iglesia Parroquial de la Santísima Trinidad.
* Trinidad, Cuba Travel Guide Top Tip:  Plaza Mayor is Cuba's most romantic & photogenic square. The quietly dignified air & elegance is every reason to fall head over heels in love with Trinidad.
Museo Historico Municipal
Pages were torn out for Trinidad in our Lonely Planet so we missed out on checking out this building.
Apparently, it's the best museum in the city, showcasing the treasures of past wealthy dynasties, with an excellent view from the top of the tower.
Museo Histórico Municipal (also known as Museo de Historia) is located just off Plaza Mayor.
This 19th century building on Plaza Mayor is home to quality Cuban art, most of which is for sale & affordable.
Take your time looking around, there are many interesting & impressive works, a great insight into Cuban life & culture.
The artworks are displayed over 2 storeys.
Entrance fee: Free
* Trinidad, Cuba Travel Guide Top Tip: There's a fantastic view of Plaza Mayor from the top balcony.
Museo Nacional de la Lucha Contra Bandidos
This is a museum relating to the counter-revolutionary groups that operated illegally out of the Sierra del Escambray mountain ranges between 1960-1965.
There are maps, photos & weapons on display.
It's red cupola-topped yellow & white bell tower is a landmark of Trinidad – you can climb to the top for good views of the city.
Casa Templo de Santería Yemayá
This museum/home is dedicated to Santeria, the main Afro-Cuban religion on the island.
Santeria is a mix of African mythology, Christianity & Indigenous American traditions. It evolved in Cuba during the 16th century when African slaves were brought over to work in the sugar plantations.
This is an interesting place & worth a quick look. There's only 2 rooms – the front room has a black baby doll seated in a wooden chair in the corner & the back room has a large altar for worship.
Entrance fee: free
* Trinidad, Cuba Travel Guide Top Tip: There are no explanations but your might be able to listen in on a visiting tour group or ask around for more information.
Plaza Santa Ana is a dilapidated square located outside the city centre.
The equally run-down Iglesia de Santa Ana stands forlornly in one corner.
Besides that, there's nothing much here but the local streets around it are very colorful & fun.
This small pottery studio is in a residential home outside the historic centre – you can watch artists at work, see a traditional clay oven & browse & shop for ceramics.
Entrance fee: free
This is a lookout spot on a hill overlooking Trinidad & its surrounding mountains.
It's located north of the Plaza Mayor, follow the uneven stone & dirt paths leading uphill or ask locals for directions.
Along the way, you'll pass the ruined church of Ermita de la Popa as well as a cave nightclub, Disco Ayala.
Head to the antenna on the top of the hill. From here, there's an ok view of low-lying Trinidad on one side & lush green mountains on the other.
Accommodation in Trinidad
We stayed at Hostal Manuel y Maria – it was a casa despite the name, with a couple of rooms for rent.
For CUC$15 we got a room with private bathroom – and breakfast! This was one of the best-value budget casa particulates in Cuba which we stayed in.
This was one of the few places we stayed at in Cuba which included breakfast in the low prices we negotiated & it was such a luxury!
Hostal Manuel y Maria was a bargain in Trinidad with a great location in the city centre.
How to Get to Trinidad
From Cienfuegos, camiones depart from inside the bus station.eThere are blackboards that shew schedules & destinations but double check these with multiple people as the truck we waited 2 hours for was cancelled, despite numerous people telling us it was departing.
So we asked around & ended up making our way to a medical (?) university.
From here, we waited an hour for a camion to Yaguanabo, via the slow coastal road – teis ride cost 20 pesos / $0.80. Then we waited another hour for a bus to Trinidad for 1 peso / $0.04.
It took us all day to travel the 82km from Cienfuegos to Trinidad, including finding out where the camiones' were & dealing with touts in the morning.
On this occasion, Viazul would've been a lot more convenient – but we got to Trinidad in the end, for less than $1!
There are many colectivo shared taxis at the Cienfuegos camion/bus terminal travelling to Trinidad – from memory, the price is CUC$8, close to the same price as Viazul.
This price is extremely high for a colectivo but the drivers/touts do not budge – elsewhere in Cuba, you would be paying CUC$2.50-4 for the same distance.
Colectivos, Viazul buses & camiones are just few different ways of getting around in Cuba.
How to Get Out of Trinidad
From Trinidad, we took a colectivo taxi from the CUPET gas station on Circuito Sur, south of the city (you can it this on Maps.Me) – the shared ride to Sancti Spiritus cost CUC$2.50.
Camiones also depart from here but for they wanted to charge us a ridiculous amount – this was a first for trucks in Cuba but many people in Trinidad are always on the lookout to rip-off a tourist.
Did you enjoy reading Trinidad: Step Back in Time to the 1800's?
Pin it and help others find it too!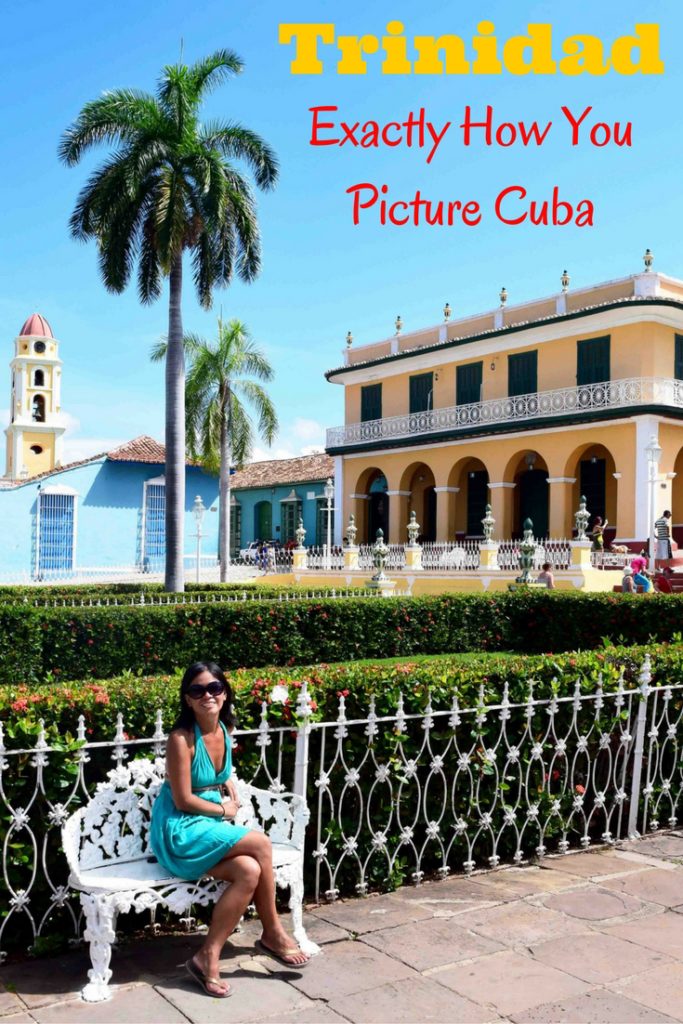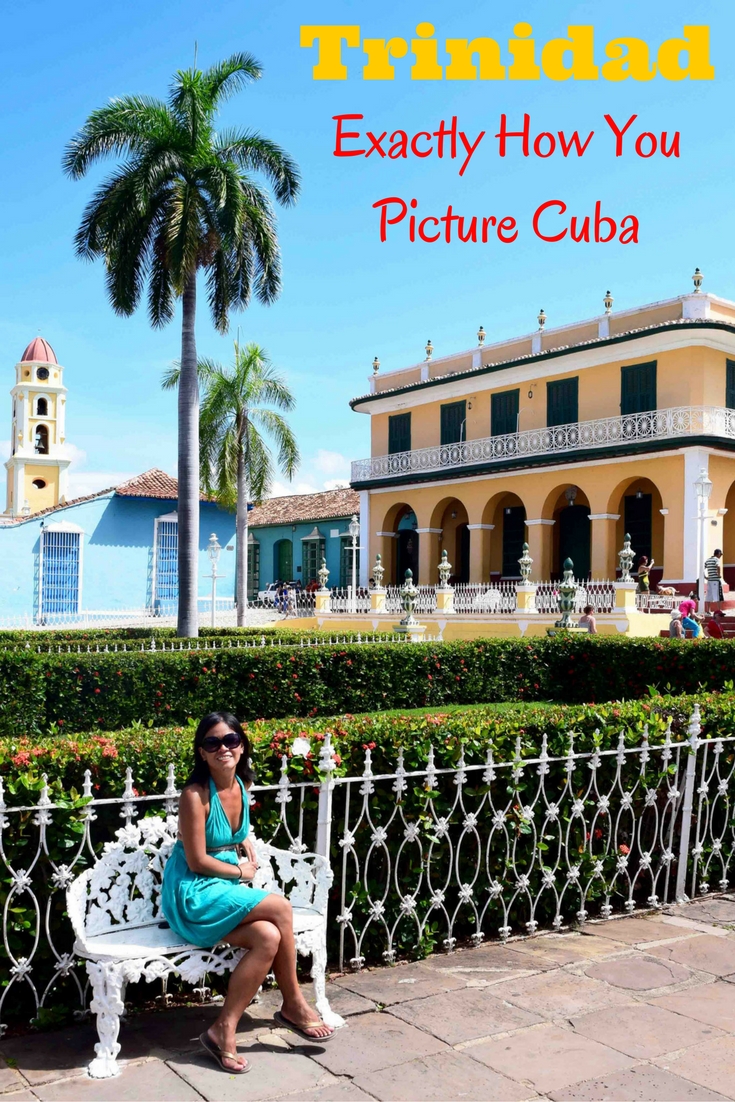 *** The Final Word – Don't miss the most charming city in Cuba! ***
Which is your favourite city in Cuba?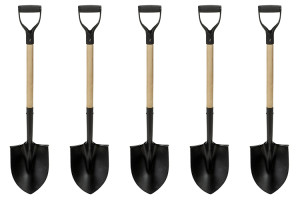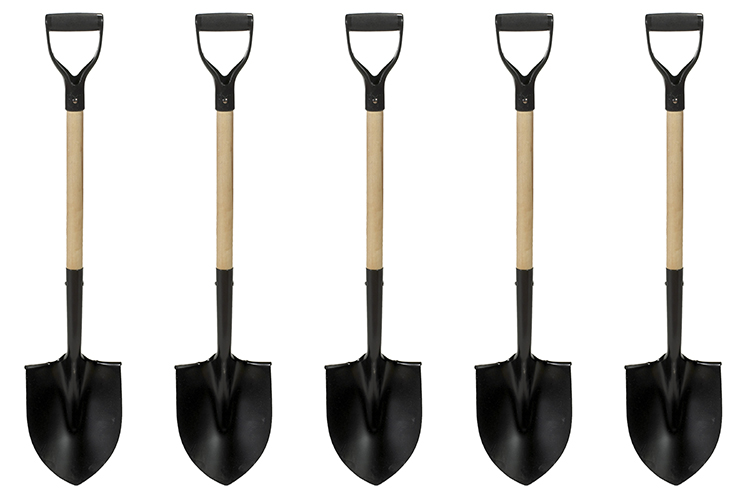 Super easy DIY travel around city centres
Visited in June 2016