It's easy to to take on the Colca Canyon trek without a tour or guide – with info on routes, transport & accommodation, let us show you one of Peru's best hikes!
With a depth of 10,725 ft (3,270m), the Colca Canyon in Peru is one of the deepest canyons in the world & twice that of the Grand Canyon.
It is commonly run as a tour from Arequipa, but here at DIY Travel HQ we did the Colca Canyon trek on our own, without a guide or tour.
* Don't forget to purchase travel insurance before any trip to Peru. We've been using World Nomads for over 10 years – it's the best-value provider we've found but there are important things to consider. Check out our post & find out which of our claims were successful or denied.
From Arequipa, take a bus some 5.5hrs to the little town of Cabanaconde (via Chivay).
Small shops can be found around the main square, where you can buy food, drinks, snacks & amenities.
There are limited options in the canyon, which are obviously going to be expensive, so carry as much as possible, especially water.
We always travel with our LifeStraw Go Water Filter Bottle
.
Essential Hiker's Gear Guide
Feel confident & prepared to hike in all-weather conditions with our ultimate hiker's packing list – find out what to bring on a hike for safety & survival in the great outdoors!
Read more
Day #1: Colca Canyon Trek, Peru
The permit to enter the canyon & the Colca region is S/70 ($28.00), however we did not buy this nor were we checked for tickets.
There are several trails into the canyon, leading to the oasis village of San Galle.
We decided to take the long, more circular, counter-clockwise route via San Juan de Chucho, but after crossing Andean terraces, a football field, a cemetery & a rocky gorge, we found ourselves on the track leading directly down to San Galle.
Be sure to keep your money & valuables secure by wearing a money belt with RFID blocking
 at all times on the trail.
7 hours of trekking just turned into 2.5! All downhill! Yes! This was looking a lot easier than our volcano hikes in Indonesia.
And the little doggy from Pachamama hostel where we were staying had followed us the whole way!
The views along the trail were spectacular, showing the expanse of the reddish-brown mountains, dry plateaus, shrubby grasslands, thriving cacti and rocky path into the canyon.
The zig-zag trail was sharp, sheer & steep; ruthless & relentless – and this was just going down.
This map shows it better, courtesy of Your Travel Gossip & Pachamama Hostel.
It should help you plan the Colca Canyon trek without a tour or guide.
You may also want to consider bringing along a first aid kit for emergencies
.
All I could think was, What Goes Down Must Go Up… and the return trip up this wicked way was already filling me with dread.
Pushing those thoughts aside, I focused on looking down & around, anywhere but up.
The view below was not so bad after all, with a literal oasis of palm & palta (avocado) trees & glistening pools awaiting at the bottom of the Colca Canyon.
Accommodation
At San Galle, there are around 5 different lodges side-by-side – you can check them all out as we did, comparing prices & styles.
Being at the bottom of a canyon, food & drinks are more expensive than on higher ground, but a basic 2 bed hut is around S/20 ($8.00).
Shared toilets/showers, no hot water, no electricity.
The next morning, we left the oasis & were faced with the reality of finding a way out of Colca Canyon.
Oh, what I haven't yet mentioned is the weather on the trek.
Cabanaconde can be downright chilly at an altitude of 3287m but down in the canyon on a bright sunny day, it is hot & humid so the swimming pools aren't just for show.
SPF 30 Sunscreen
& a headwrap
are pretty essential.
Day #2: Colca Canyon Trek Without a Tour
There was just no way we could imagine trekking out of the Colca Canyon the way we came in, up that cruel & crooked course.
We decided to head deeper into the Colca Canyon and then continue west, following the Colca river, which would eventually lead to a sealed road where vehicles would we waiting to whisk us away, or so we wished.
Well, with a lot of luck, dreams do come true… but not before stumbling through fields of cacti, lurching across a very recent rocky landslide, with fears & in tears, pondering quarries or quandaries, slipping & tripping, all in the midst of a majestic land.
Still, we were tired, hungry & rueing the decision to head west & not north.
Remember this if you're thinking of doing the trek without a tour or guide!
We weren't sure if we were on the right track, no proper roads were in sight & it was looking like we'd have to spend another night in the canyon – sans oasis.
We were walking through a village AND… we spotted a car!!! This was our chance! We ran after it, catching up when it stopped at a house.
In Spanglish, we managed to win a ride with them, all the way back to Cabanaconde. Our little doggy was STILL with us!
The car was a ute/pick-up truck in fact, so there was room for all of us, creatures 2 & 4 legged, including other passengers collected along the way.
The road was slow & winding, and a long one at that, some 45mins maybe.
The whole way, we were feeling so thankful we had come across a ride, and for another unforgettable experience!
How to Get to the Colca Canyon
From Arequipa, take a bus some 5.5hrs to the little town of Cabanaconde (via Chivay).
Buses depart Arequipa at 8am, 11:30am, 2pm, 1am & 3am.
From Cabanaconde you can continue by bus to Cusco where there are many things to do in the Sacred Valley and of course, visiting Machu Picchu.
Tickets cost S/17 soles (US$7.00).
Cabanaconde Accommodation
The bus will drop you off at the main square, from which it is a short walk to the colourful & cozy Pachamama hostel.
Dorms start from S/20 ($8.00).
Did you enjoy reading How to Hike Colca Canyon?!
Pin it and help others find it too!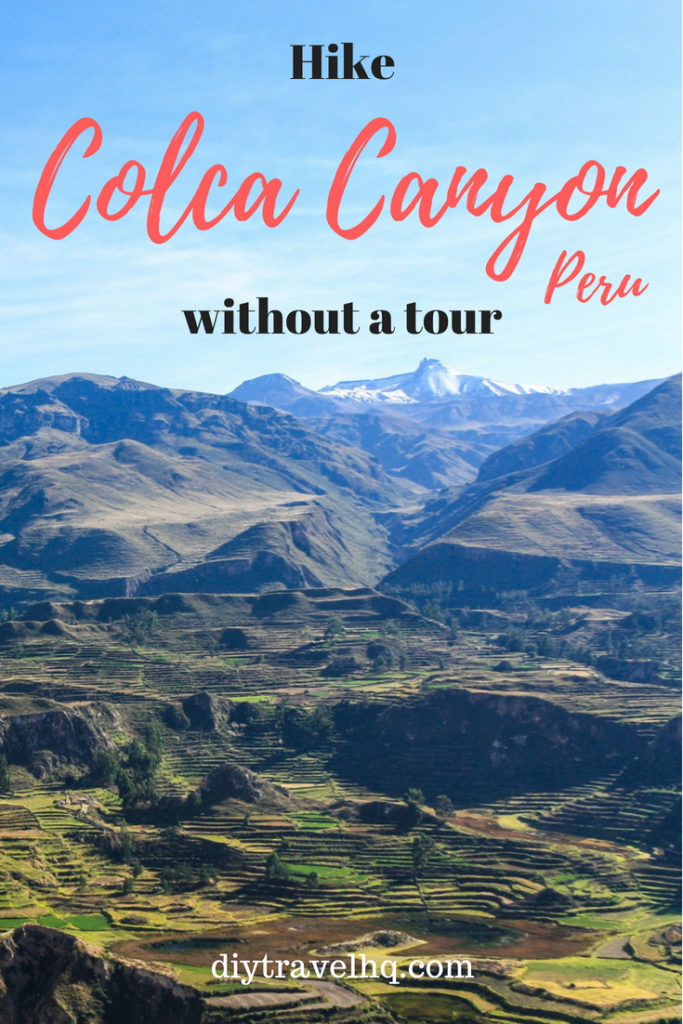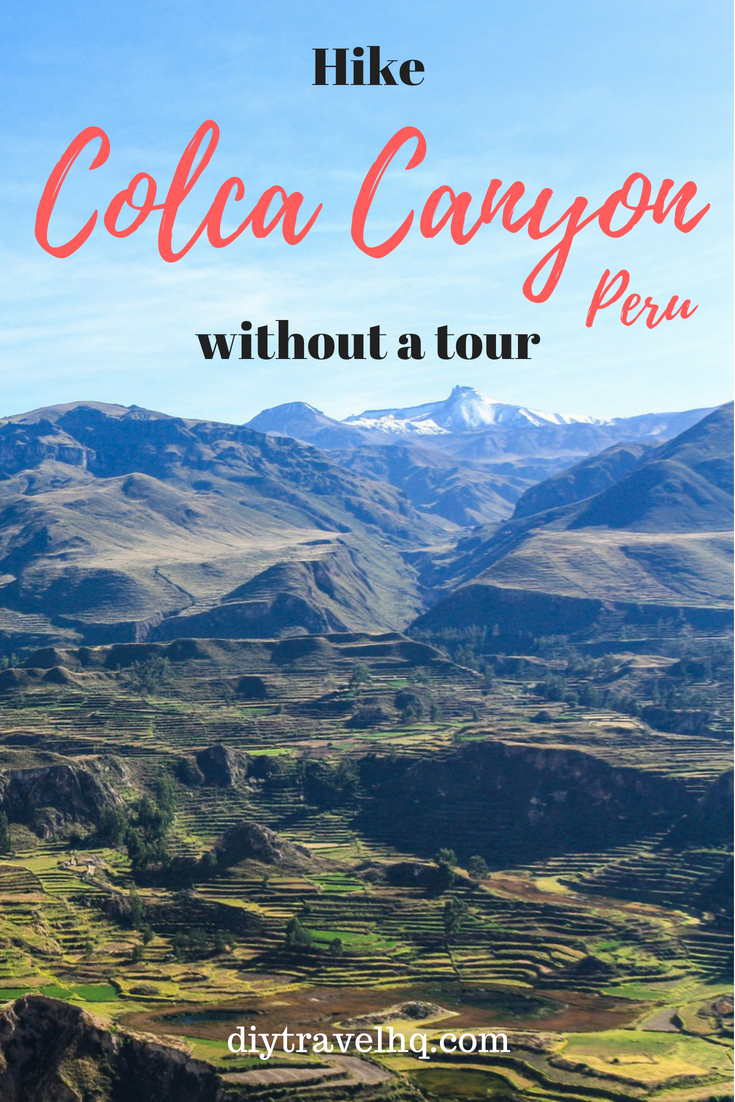 *** The Final Word: It's easy to do trek Colca Canyon trek but don't estimate the heat & humidity, especially if you'll be climbing straight out of the canyon *** 
Have you tackled Colca Canyon or hiked elsewhere in Peru?
Disclaimer: This post contains affiliate links, which means that we receive a small commission if you click on a link & purchase something that we have recommended – at no extra cost to you. This helps us to keep our site running so we can continue to provide free content. Thank you for your support!
Visited in January 2014