Zunil, Guatemala may not have a large Monday market anymore but you can still find San Simon and soak in Fuentes Georginas – find out the top things to do & how to get there from Xela.

We originally went to Zunil, Guatemala on Monday to take advantage of their large weekly market, one of the top things to do in Zunil.
Typically, these center around the main plaza. You can imagine our surprise when the square was empty besides chicken buses… Oddly enough, we went to San Andres Xecul to see its famous yellow church but it was blocked by a tent.
This just proves you never know what to expect when traveling in Guatemala!
Find more inspiration in one of the Guatemala guide books below!
Things to Do in Zunil, Guatemala
1. Soaking up the Views
Buses to Zunil will drop you off on the main road that runs parallel to a raging stream.
When crossing over the bridge, look down, and see how much foam is created from the churning water.
You also get excellent views of Santa Maria Volcano.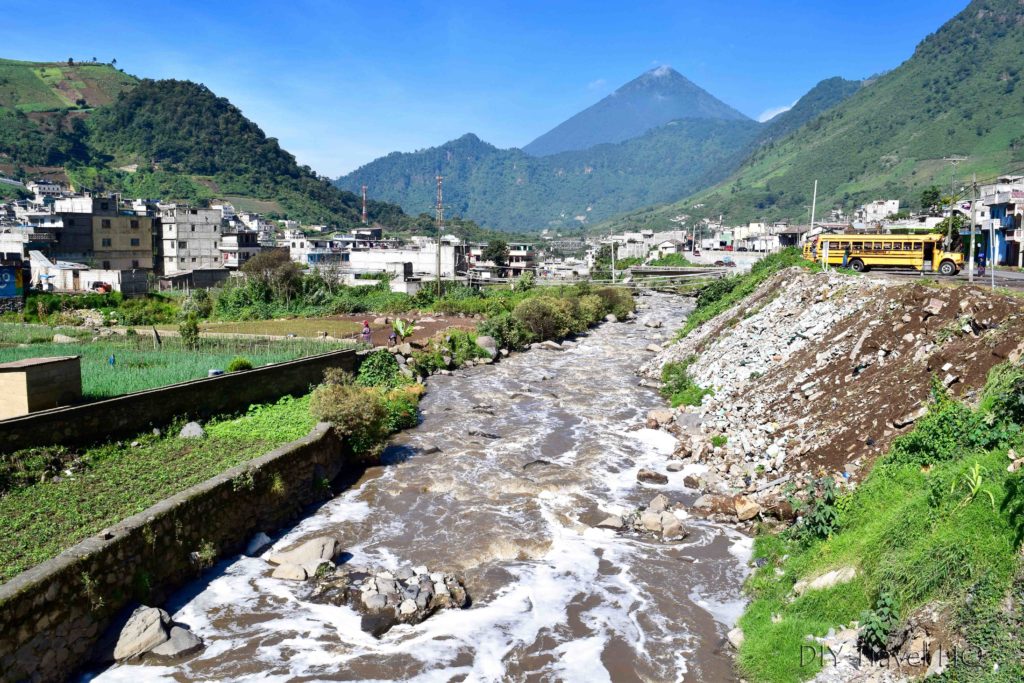 2. Main Plaza
If you continue down the road and make a right at the T-intersection, this street will bring you to the main plaza.
There is a fountain, and yet another yellow church with vines as décor however this one is a lot classier than the one at San Andres Xecul.
The vines and figures are completely white, which is a pleasant contrast.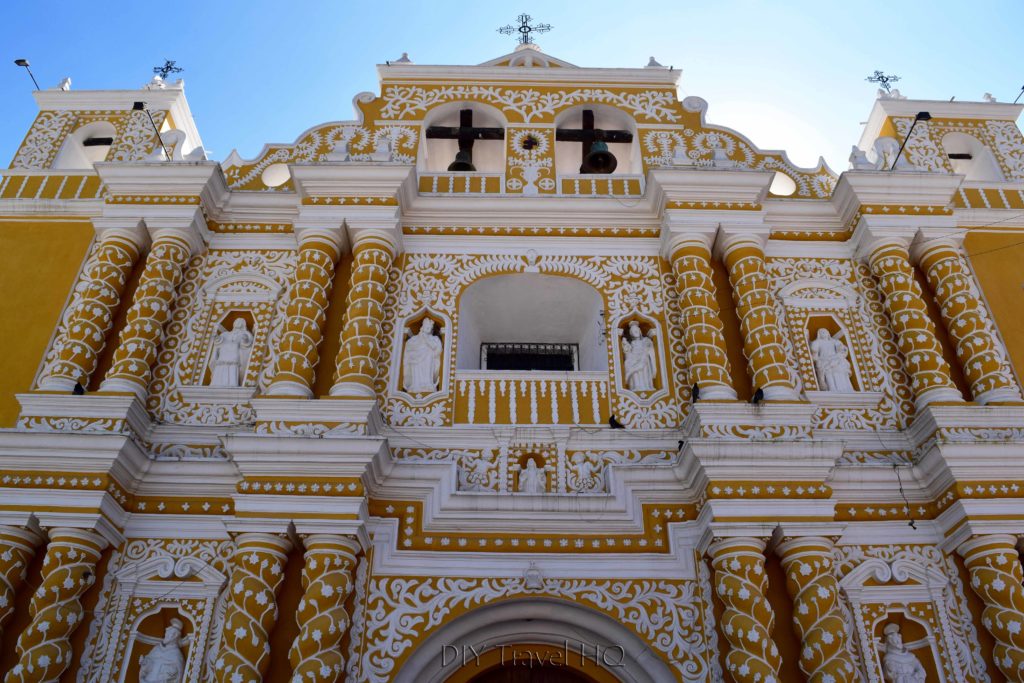 3. Zunil Market
Make a left whenever possible while heading back on the same street.
This will take you to the Zunil market that occurs every day, so there is no need to time a visit anymore.
Thankfully, many locals and vendors still wear traditional garments so it is still interesting and one of the main attractions in Zunil.
While there, grab some cheap fruits to eat while searching for San Simon.
Strawberries and blackberries cost Q3/ $0.40 lb, you can get 20 small bananas for Q5 / $0.70 and rambutans range between Q0.33-0.50 / $0.07 each.
Peanuts will set you back Q5 / $0.70 for a medium bag.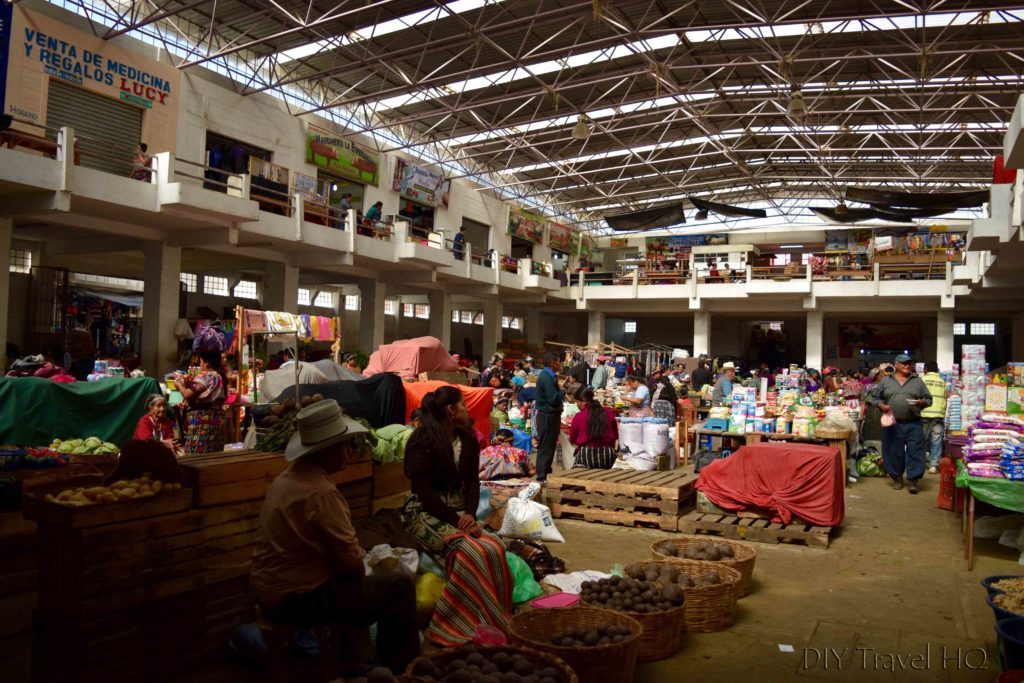 The weirdest item being sold at the market were white rocks. I'm guessing they are somehow used for cooking, but I'm not positive.
Please be sure to comment below if you have an idea…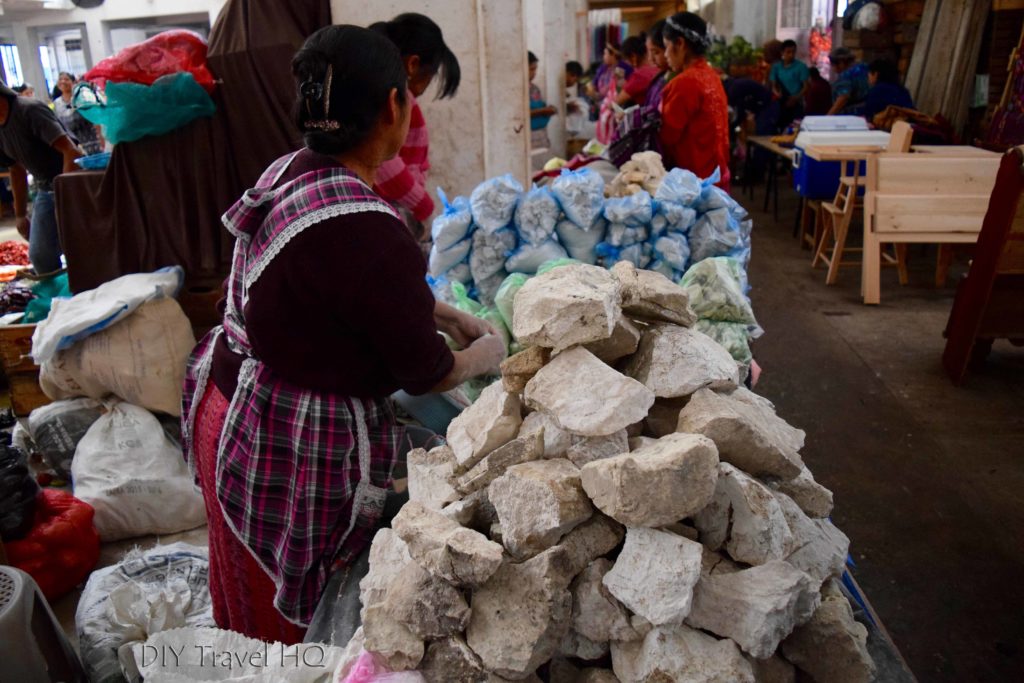 4. Finding San Simon
Who is San Simon, and why do I need to find him? Good questions!
San Simon, also known as Maximon, is a revered god to Guatemalans in the highlands.
He is part Mayan gods, Jesus, and even the Spanish conquistador Pedro de Alvarado.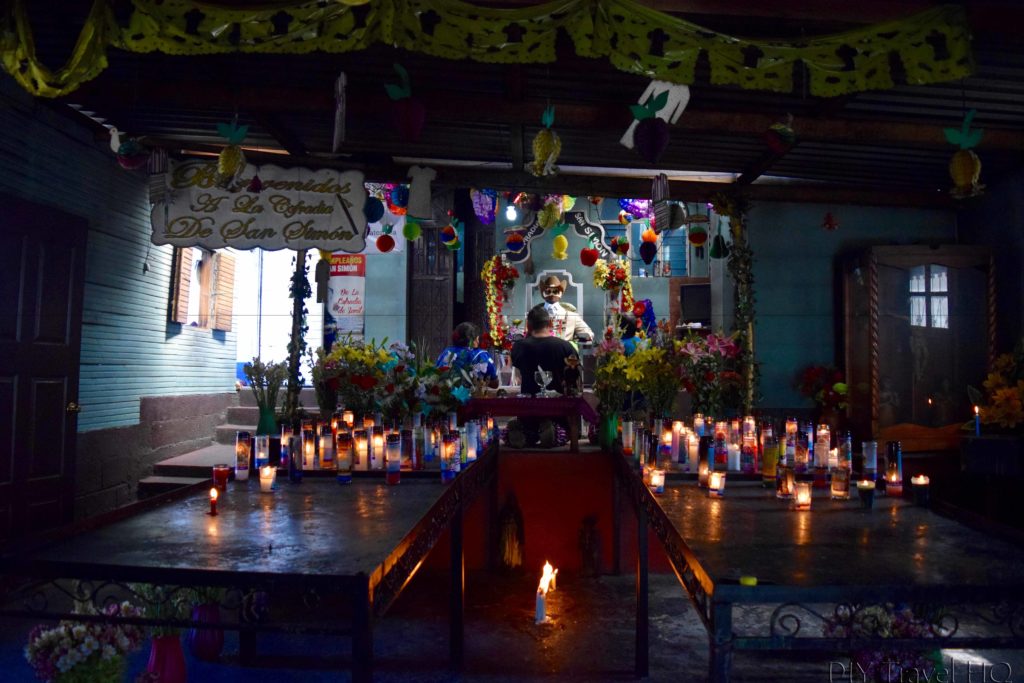 With that broad a following, it is hard to imagine anyone not asking San Simon for a blessing.
When we visited, people came all the way from Todos Santos to pay their respects (4-5 hours by bus).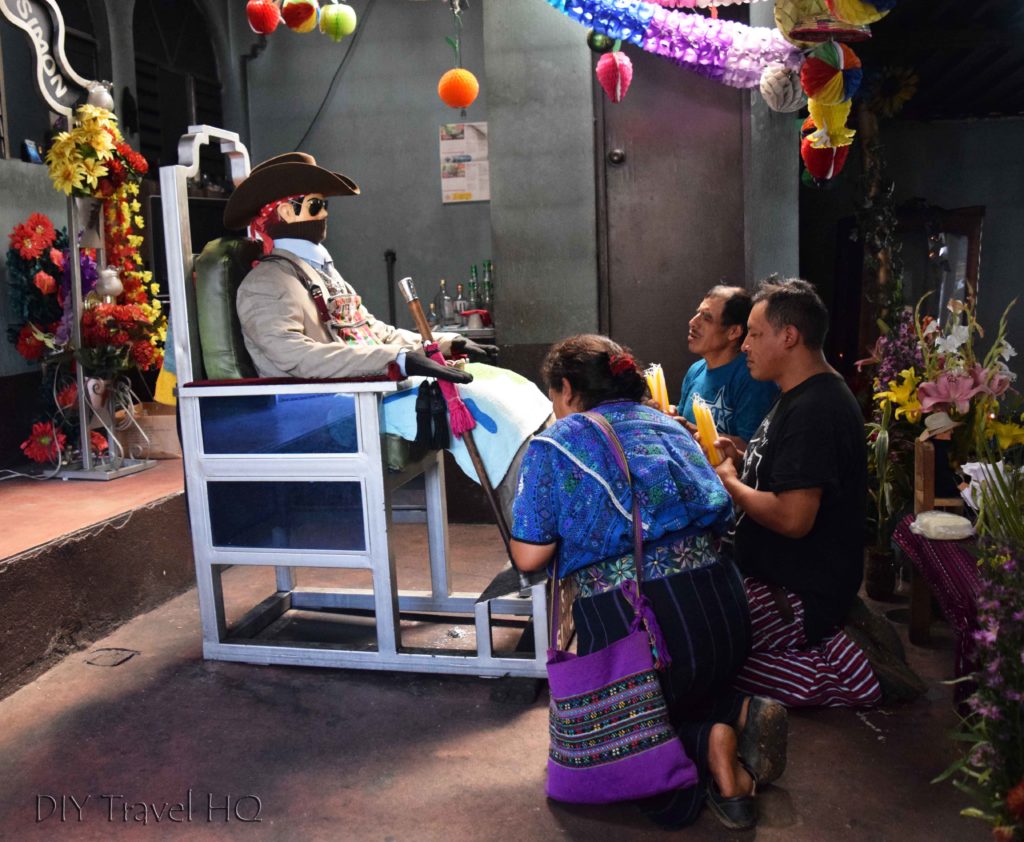 The main purpose of finding San Simon is that he is a bad-ass. Each village has different customs, but he usually likes offerings of tobacco, alcohol, and of course money.
How many gods do you pray to that have as many bad habits?!
San Simon moves locations year to year in order to maintain equilibrium in each village he resides. I could tell you where he is in Zunil in 2016, but that takes away part of the fun. Think of this challenge as an Amazing Race episode…
He's in more than one place too – you can also try finding San Simon on Lake Atitlan!
You will instantly know you found him when it occurs. There will be people suspiciously hanging around, and the room will be blazing with candles.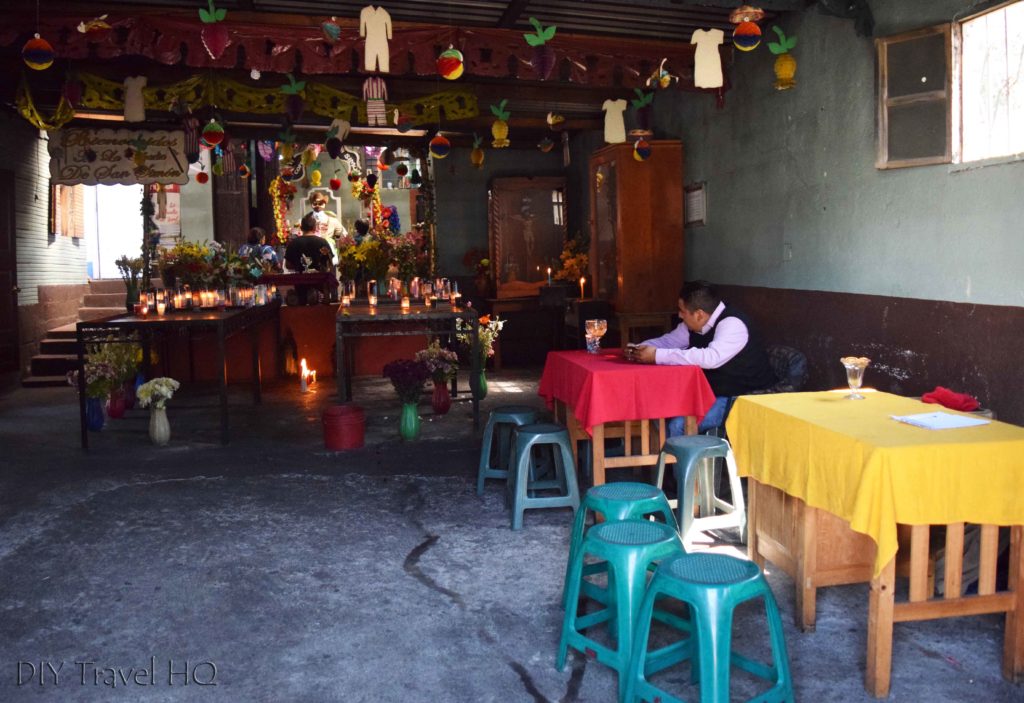 San Simon in Zunil looks like a bandit cowboy dressed in a suit and carrying a pimp walking stick. You just can't make these things up!
Hopefully this description has inspired you to find San Simon yourself…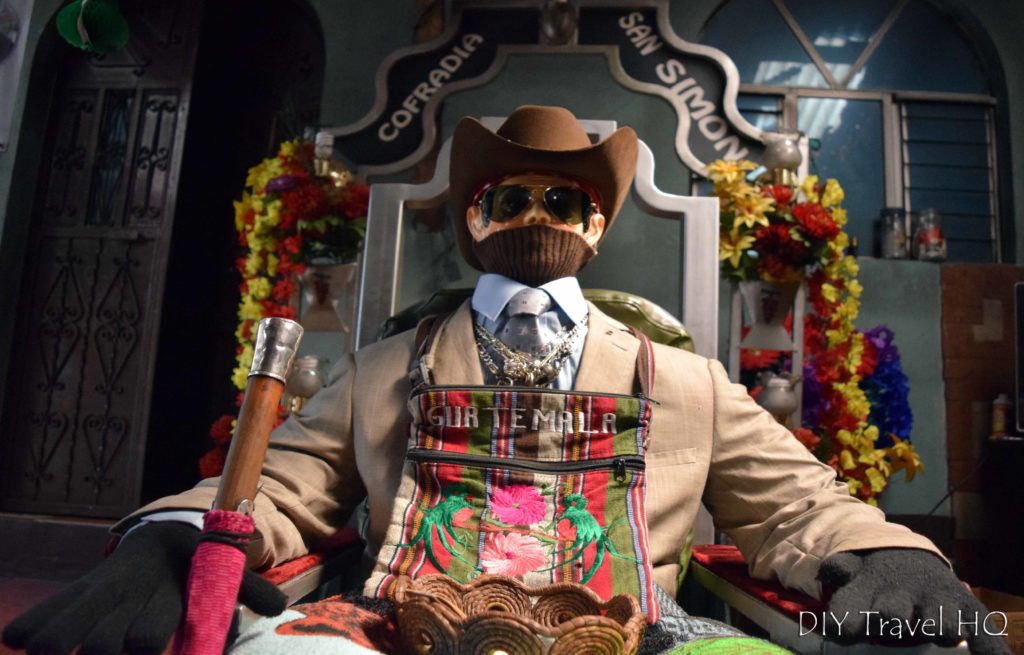 5. Fuentes Georginas
The most popular attraction around Zunil is Fuentes Georginas (Q50 / $6.85). Every driver around will offer to take you there.
The private hot springs have a series of pools with different temperatures, and are surrounded by walls filled with lush vegetation.
We read mixed reviews, and decided the entrance fee was too steep for us.
This section of Central America is awash with geothermal activity so Fuentes Georginas was not a do-or-die attraction for us.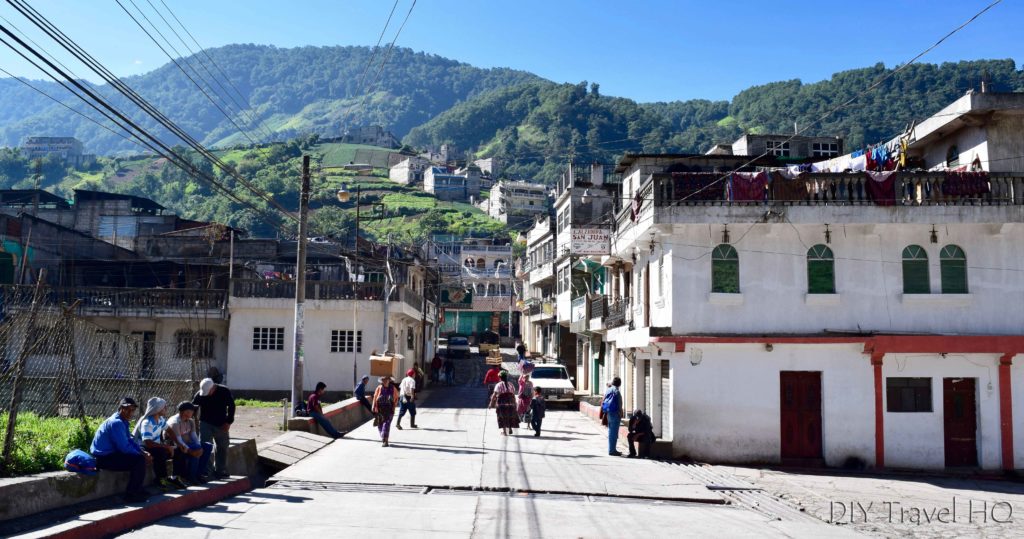 How to Get to Zunil
Zunil is an easy day trip from Xela.
Buses (Q5 / $0.70) originate at La Rotunda, and can be caught along Avenida la Independencia and 7a Avenida until 8a Calle.
Return buses from Zunil to Xela can be found near the bridge on the main road.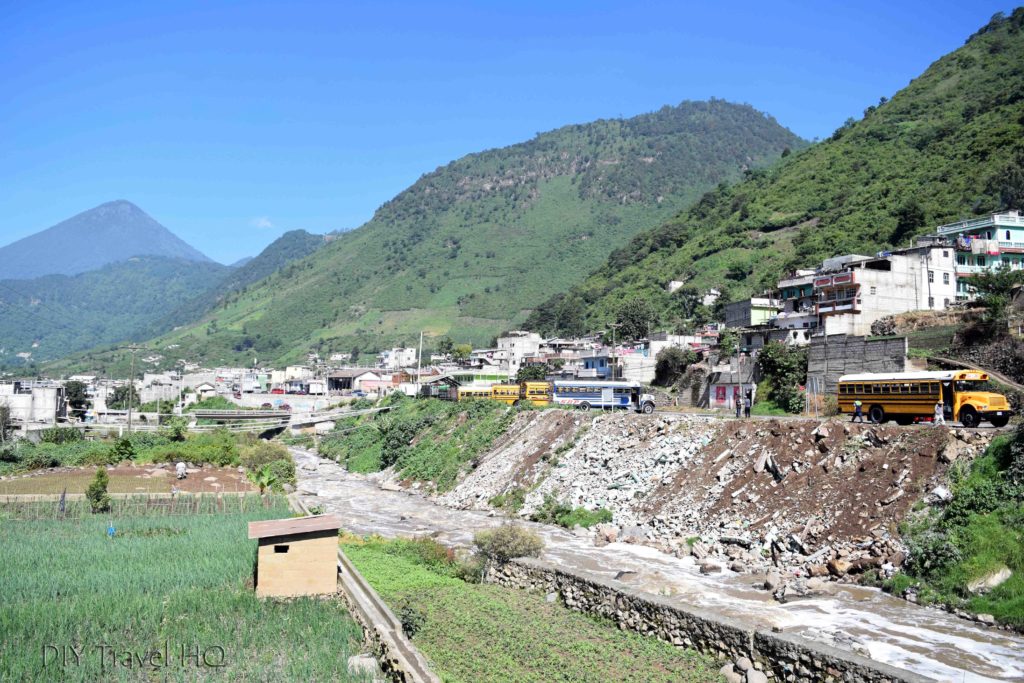 Those heading to Fuentes Georginas can choose to negotiate with the touts, or head to the single road that climbs 10 km to the hot springs.
It is possible to either hitchhike, or take a colectivo up from there.
Most people pay between Q10-15 / $1.35-$2.05 each way in a shared truck, or Q50 / $6.85 for a tuk tuk.
Try to have a plan for your return as there may not always be an option outside of walking.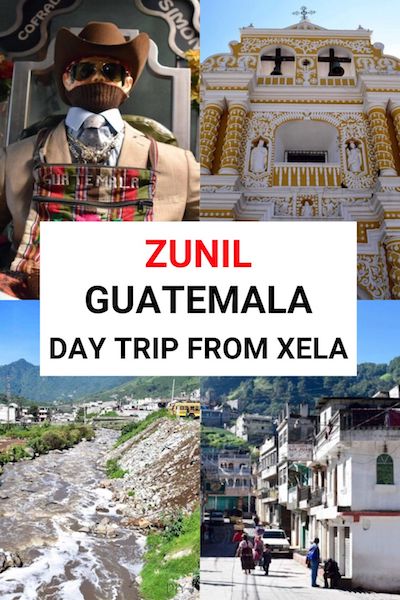 *** The Final Word – With a few interesting attractions, Zunil makes an excellent day trip form Xela ***
Disclaimer: This post contains affiliate links which means that we receive a small commission if you click on a link & purchase something that we've recommended, at no extra cost to you.
Visited in August 2016
Updated February 2020